CHEC bulletin for Week of
December 3, 2018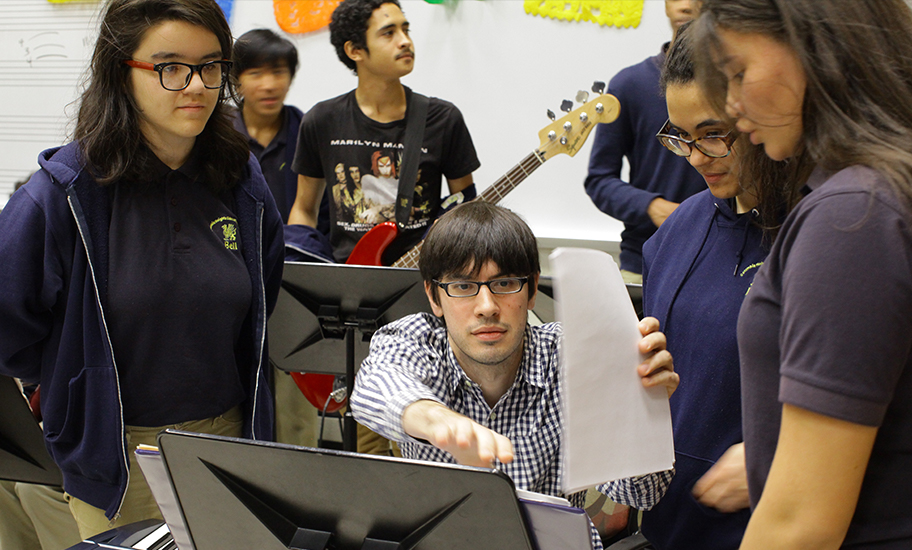 KENNEDY CENTER AND CHEC MUSICIANS IN COLLABORATION
MARIA TUKEVA'S (MT) MESSAGE:
HOLIDAY SEASON – SHARING WITH STUDENTS AND COMMUNITY
As we draw close to the holidays, we want to make sure to keep our classes motivating and rigorous, so that students will come to school and be engaged in learning all the way through Friday December 21. We also want our climate to be joyous and inviting for all students, so that CHEC feels like being "Home for the Holidays." Our International Dinner is an annual event that brings families and school staff together to celebrate as a community. This year's International Dinner will be on Thursday, December 13. In addition, as a school, we are planning a CHEC Holiday Spirit Week, December 17-21, so that for each day that week, there will be different holiday themed dress down options! Keep tuned to hear from the SGA what each day's attire will involve!
We also want to create a real feeling of giving and holiday traditions, so on Friday December 21, we would like to offer holiday cookies to all students at lunchtime. If you are able and willing to make some Holiday cookies, please let me know! Every little bit will help! We are looking for carolers as well. If you have any special holiday traditions that you would like to share during our Holiday Spirit Week, please let me know!
FOCUS ON COMPREHENSIVE SCHOOLPLAN
The academic year is close to the midpoint, and it is important to keep the pulse of student achievement in all key goal areas. Our PARCC and AP goals are some of our most critical and highly weighted goals, each week we will focus on one of those goal areas.
Our ANET 1 ELA results show some areas of celebration, as well as some areas to continue to focus on. ELA is a significant area, because it is one which all subject areas can support by focusing on the common core standards and incorporating literacy strategies into their daily instruction.
The schoolwide average for ANET 1, was 39%, as compared to 45% for the entire DCPS network. By grade level, our results were 29% for 6th grade, 50% for 7th grade, 40% for 8th grade, 43% for 9th grade, and 37% for 10th grade. The weakest standard for grades 6, 8, and 10 was the 6/8/10.1 standard, which is, "Cite strong and thorough textual evidence to support analysis of what the text says explicitly as well as inferences." Going forward, this is a standard that can be reinforced in all content areas, since all students must read and analyze text in their content areas. The strongest standard in Grade 6 and 7 and 9 was 6/7/9.2. "Determine a central idea of a text and how it is conveyed through particular details; provide a summary of the text distinct from personal opinions or judgments." In grade 8, the strongest standard was 8. 6, Determine an author's point of view or purpose in a text and analyze how the author acknowledges and responds to conflicting evidence or viewpoints," In grade 10 the strongest standard was 10.4, "Determine the meaning of words and phrases as they are used in a text, including figurative, connotative, and technical meanings; analyze the cumulative impact of specific word choices on meaning and tone."
We can see from these strong standards the areas where our curriculum and instruction are strong and aligned to key standards in each grade. By further analyzing as grade level teams, we can determine how to support each other as teachers in each grade. Non ELA courses can also align practices to support these important literacy standards as they delve into content. Our next ANET will be mid-January, and we will be excited to see how our students have progressed.
Kudos to all teachers and staff who came to Saturday Academy this past Saturday to prepare our scholars for success – Mr.Talarico, Mr. Pyram, Ms. Ermis, Mr. Olson, Mr. Rowe, Ms. Emilius, Mr. Schutt, Ms. Whitaker, Mr. Caceres, Mr. Jones and Ms. Henry!!!



Tuesday, December 4, 2018
High School fair for 8th grade in auditorium - 9:43 am - 10:48 am
Wednesday, December 5, 2018
Departmental Planning Period Meeting
Thursday, December 6, 2018
Departmental Planning Period Meeting
Monthly Faculty Meeting – PGT presents on SEL strategies for the Classroom
This Thursday, December 6, we will have our monthly faculty meeting. The PGT will be following up on their surveys and previous professional developments, to provide a session that explores how to incorporate social emotional learning into our practices.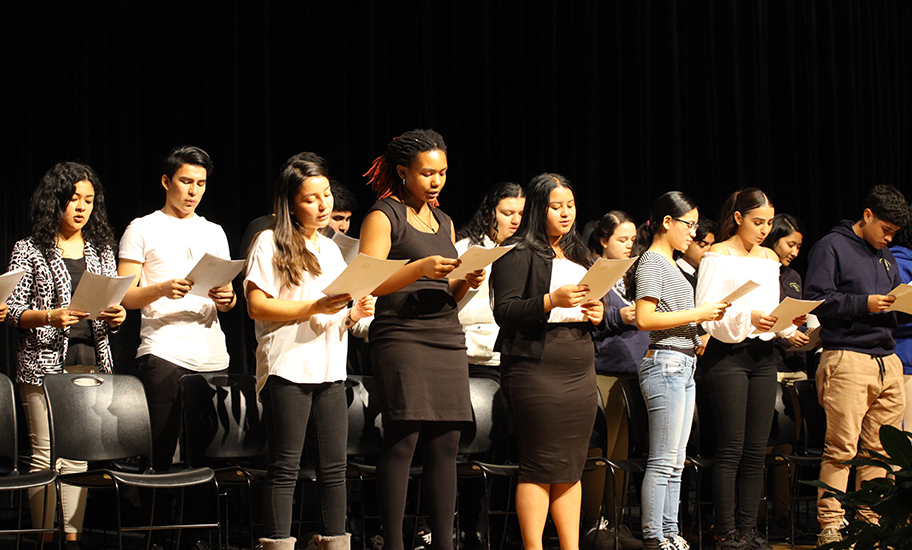 CHEC NATIONAL HONOR SOCIETY AT THE 2018 CONVOCATION
We will be doing further training for all staff to further improve our school culture and climate. The following are suggestions as we go forward that will help us to keep student safe and accountable and promote consistency in and out the classroom.
Build Positive Relationships

Follow the CHEC 5 Step Process

Proximity

Utilize Restorative Justice

Stay in constant communication with student and parent (Give positive praises and updates)

Restitution Speeches (Involve Culture Team)

Tap into student's interest (Sports, Performing Arts, etc.)

Tap into school resources (Social Workers, Mary's Center, etc.)

PBIS and/or in class incentives

Utilize a plan for success
Please make sure to use the new updated referral sheet that is attached to log behavioral infractions.
Please don't lose sight of the following:
Please do not lose sight of each of the following below, as they are crucial to maintaining and improving the culture that we desire:
Please share these important reminders with students and parents.
Sweaters/jackets – if they are out of uniform, they should be in lockers all day or confiscated. Lincoln and Bell sweaters can be bought from the Deans or the Main Office. Lincoln and Bell sweaters $21 and sweaters with the zipper $27.

Please call parents when you see students out of uniform and refusing to get in uniform to ensure it is very clear that they should be in full uniform at all times. Refer any further questions to Dean Aking, Dean Boone and Dean Galvan.
Detention is a first intervention we have for students to check and correct their behavior in your classrooms. Students being informed of this consequence is vital to the effectiveness of the consequence. Remember to use our 5 step process with fidelity so that our students will not earn a greater consequence of ISS and thus lose valuable class time.



We always need more support at dismissal from 3:15pm until 3:35pm (High School), 4:15pm until 4:35pm (Middle School). Please follow students all the way out to the front of the building. Students should be encouraged to move on toward their bus stops/metro quickly. Teachers and staff that can make themselves available to stay out front will be greatly appreciated.



All lunches have their ups and their downs. We always appreciate additional supports in the cafeteria on days that teachers are available. Check-ins with students build relationships and adult presence supports our daily procedures in lunch.
Athletics are an integral part of the educational program and a means to accomplish the goals of education. Our athletic program exists for the welfare of students and the contributions it makes to their educational experience. Athletic participation builds self-esteem and confidence and provides the necessary tools for success. The interaction between individuals on the fields of sport teaches students the value of teamwork, while developing the proper competitive spirit, combined with a sense of fairness.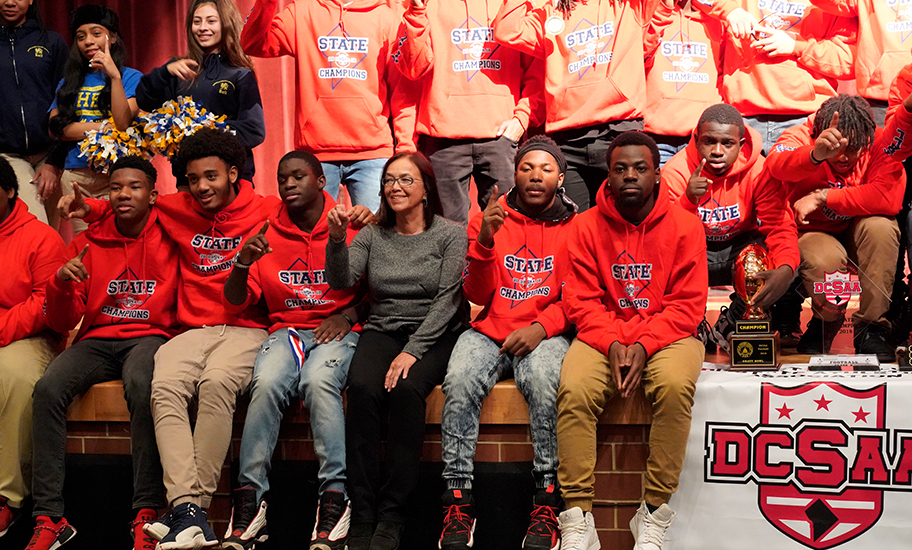 2018 DCSAA FOOTBALL CHAMPS!!!
Congratulations to our High School Indoor Track Team for a strong showing at the opening DCIAA Invitational. Congratulations also goes out to our High School Boys and Girls Basketball Teams who both defeated IDEA Public Charter School in their respective season openers. Home games start this week for Middle and High School basketball. The first two High School home games will be free for students. Middle School Basketball games are always free for spectators. Please come out and support your Knights and Griffins!
Varsity Girls Basketball: 1 - 0
Junior Varsity Basketball: 0 - 0
Varsity Basketball: 1 - 0
Varsity Basketball vs. EL Haynes at CHEC @ 6:30 p.m.
Middle School Girls Basketball vs. Walker-Jones at CHEC @ 4:45 p.m.
Middle School Basketball vs. Walker-Jones at CHEC @ 6:00 p.m.
Varsity Girls Basketball vs. Don Bosco at CHEC @ 5:30 p.m.
Varsity Basketball vs. Don Bosco at CHEC @ 6:00 p.m.
Junior Varsity Basketball vs. CMIT Academy at CMIT Academy @ 5:00 p.m.
Middle School Boys Basketball Wheatley at CHEC @ 6:00 p.m.
Varsity Girls Basketball vs. CMIT Academy at CMIT Academy @ 7:00 p.m.
Varsity Boys Basketball vs. Edmund Burke at CHEC @ 5:00 p.m.
High School Indoor track at Ed Bowie Classic at PG Sports and Learning Complex @ 9:00 a.m.
Middle School Wrestling at DCIAA Meet #1 at TBD @ 9:00 a.m.