DR. BARNETT'S 7TH &8TH GRADE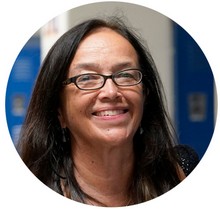 ---
This week's focus is on the phrase from the Mission,
Socio-emotional learning, empathy and restorative practices are the foundations of our school
climate and culture
.  
Last week's Faculty Meeting on moving from trauma informed to trauma responsive was enlightening and empowering. As we took time to express ourselves, together with students, we found joy in sharing and learning. One of the areas our students have identified as a priority for our school, is the area of mental health and socio-emotional and physical wellness. Some questions to reflect on include, 'How can we engage in activities that move beyond the strictly academic, to more integrative activities that build the mind and the heart? What do we need as adults, in order feel whole and comfortable in our work, and to be our best selves together with students?"
The first step in this journey, may be giving up the idea that we as adults need to find or provide the answers. To truly achieve student voice and choice, socio-emotional wellness and empathy, we need to embrace the idea that students are on the learning journey with us, side by side. The healing and trauma responsiveness that is needed is not only for students, but for us.
We will be exploring this in more detail throughout this year, and as Ms.DeVargas announced, in January we will launch a design sprint to work on this important area.
might want to change.
---
HOLIDAY SEASON UPDATE AND THE INTERNATIONAL DINNER
As a multicultural school, the way we celebrate holidays should reflect the many cultures of our students. Mr. Whitney, our Student Activity Coordinator, will be surveying students and staff to see what everyone would like to see represented in our holiday celebrations. One of our major events is the International Dinner, coming up this Thursday December 8! Please participate, bring food, or just come for the fun and camaraderie! See Victor Molina if you can assist!
---
VOLUNTEERS NEEDED FOR EDFEST- Saturday December 12 – 10 am to 2:00 pm
EDFEST is a citywide recruiting event, held every year as the lottery season opens. It is one of the primary ways we recruit students for the coming school year. If you can come for half an hour, on this Saturday, it would let potential students and parents see how amazing our staff is. Admin premium is available for those who come and represent.
---
XQ REDESIGN UPDATE

Shout out to all Redesign Team and Innovation Team members!
MCIP, CHEC's primary partner, has been awarded a grant from the Rotary Foundation to support the creation of a student run Community Development Corporation. The $100,000 grant is one of the largest ever given by the Rotary Foundation, and commemorates their Centennial. This grant will allow CHEC students to determine what their community needs, learn how to start a non-profit organization and student run businesses, to advocate for services and resources, and to design programs and initiatives to help our students and their community build generational wealth. Special shout out to the Design Team Members who presented the idea to the Foundation – Wendy Pugh, Daniel Bellido, Laura Freshley, Thomas Hearn, and Ydidia Nadew!
The Design Team met last week, and were updated on the findings of our Inspiration Visit. They gave reflections on what was seen and heard, and implications for our our redesign. Our two Innovation Teams – Food Equity and Interdisciplinary Projects/International Travel are now working on brainstorming and developing prototypes based on their research. Please put December 20, 5:00 pm, and December 21st, all lunch periods, on your calendar. All are invited to view the work of the Innovation Team and provide additional feedback on our prototypes!
We encourage all staff members to take a free, on line course, called "Design Thinking for the Greater Good."
The course takes about 8 to 10 hours, at your own pace, and is free and on line. Please sign up in the form below if you want to engage in this professional development opportunity. You can do it on your own schedule!
We will offer Admin Premium to all who complete the course, and will be forming study groups of those who engage in the course. If you would like to sign up of these study groups, please fill out the attached form.
If you have identified a problem you would like help in addressing through the design thinking process, please send a description of the problem. If you are interested in one of the innovations, please contact Maria Tukeva, Principal, Ms. Krishunda Penn Pearson, Redesign Director, your SLC Administrator, or any member of the XQ Redesign Team. Please join the Redesign Team, and please reach out to interested students or parents!
For attendance at Focus Groups or with Innovation Team meetings held after school we will offer Admin Premium, and up to 20 students who participate in the Innovation Teams will receive a $200 stipend and Community Service hours. Please speak with your students, and find students who would like to become involved in the design of one or more of the innovations.
---
HONORING ACADEMIC EXCELLENCE, CHARACTER, LEADERSHIP AND INTEGRITY

This Monday, we will have the first ever joint National Junior Honor Society (Middle School) and National Honor Society (High School) Induction, and will induct more members than ever before. Please come and celebrate with these students and their families. The ceremony will be held at 6:00 pm in the Auditorium. Shout out to Mr. H. Diaz, Kervin Smith, and Ms. Ramirez for organizing the event and process.
Shout out to all who supported our Test to Return on Monday!

Kudos to all who supported by calling students and parents about immunization! We reduced the numbers by 200!

Shout out to Ms. DeVargas, Ms. Cates-Bristol, Ms. Hanlon and Ms. Riesenberg for facilitating our Faculty Meeting on Thursday!

Shout out to Ms. Helme, Ms. Nimer, and our student mental health Ambassadors! They will be receiving an award on Friday for their outstanding work!
---