CHEC bulletin for
Week of October 5, 2020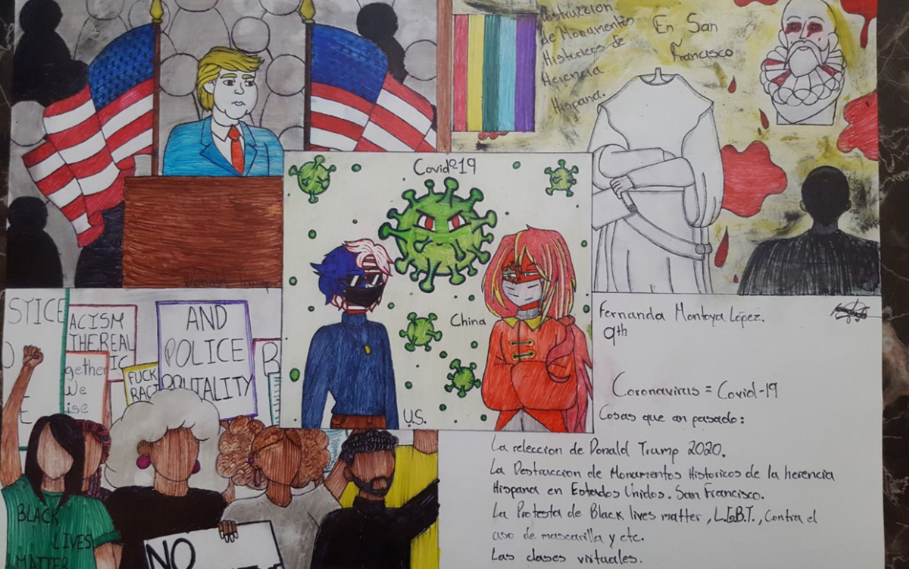 FERNANDA MONTOYA -
LTH PROJECT
MARIA TUKEVA'S (MT) MESSAGE:
All Departments and SLC's send individual notifications of their meetings
Term 1 PR Grades need to be in Aspen by 5:00 PM
Wednesday, October 7
, 2020
9:40 Impact Orientation Meeting in Lieu of Department Meetings
9:30am- CHEC Parent Workshop - en Espanol
Appian 6th grade Robotics starts
BOY Math I-ready End testing
Thursday,
October 8, 2020
11:30am- CHEC Parent Workshop - in English
Parent Teacher Conferences (No School for Students) 12-7 pm
Term 1 Progress Reports Mailed
Progress Reports Due – Oct. 6
Parent Teacher Conference Day – Oct. 9
CHEC WELCOMES PARENTS FOR PARENT TEACHER CONFERENCE DAY
This Friday we will welcome our parents to Parent Teacher Conference Day. Parents will have an opportunity to meet individually with teachers, counselors, coordinators, and administrators. There will also be rolling times for parents to meet with their grade level administrators.
Teachers should set up their meeting times for parents on Calendly or Bookings, and the links will be shared with parents through KinVo, as well as on our website. As we meet with parents, we want to reinforce the purpose, as described in our mission statement, "… teachers, administrators, students, parents, and community members all collaborate to achieve goals and overcome obstacles."
We know that this school year has continued to present us with challenges, and our students and parents are also facing these challenges, in some cases even more severe. The article linked below describes the experience of four DCPS students, including our own Alcides Lopez, and how they are navigating virtual education not only for themselves, but as interpreters and translators for their parents and siblings.
Our Comprehensive School Plan has the following two goals in relation to parent involvement:
By June 2021, we will engage 100% of our parents in at least two school events.




By June 2021, we will increase positive response rate on the parent Panorama survey regarding "I feel well informed about what is happening at my child's school" from 79% to 89% and "My school regularly communicates updates about my child's progress with me" from 79% to 89%.



We have already put in place many structures and tools to increase communication with our parents, including a parent communication hour on Wednesday, Virtual Town Halls by Grade Level before the school year started, and virtual Back to School Night with multiple times for participation. We have also offered College and Career sessions for parents, a Diversity Inclusion Academy (DIA) Parent Night, as well as IT/Engineering Academy Nights. Our PGT and Parent Coordinators continue our weekly Parent Support groups. Parents are reaching out more than ever to become a part of their child's education.
For this week's Parent Teacher Conference Session, during the SLC level sessions and the principal's sessions, we will do extensive outreach using social media and all other channels to encourage a high level of participation, give a feedback survey for parents to fill out to inform next steps for upcoming events, and also administer a mini-panorama survey to determine how parents are responding to the two questions we are focusing on. We will also communicate the most recent updates on when and how schools will reopen for in-person instruction.
Please also see below some suggestions and tools provided by DCPS from the Virtual Parent Meeting Toolkit. The resources highlighted below for communicating with our parents who speak languages other than English, are particularly helpful.
Families are playing a more active role in their child's learning than ever before. This experience should be acknowledged and leveraged. Ask families ahead of time what they want to talk about. This will give families a chance to suggest topics or issues that they feel are most critical to discuss. You can ask them to fill out this survey in advance and can also share a few tips so they know what to expect and feel prepared.

Staff can obtain interpretation via Language Line for conversations with families over Microsoft Teams. For details on how to dial Language Line through Teams, see here. If you need simultaneous interpretation for larger group meetings, please contact LAD. You can find information on additional language access tools here and on the Language Access Unit Canvas page.

HOW TO STRUCTURE CONFERENCES
Conferences should be scheduled for 15-20 minutes.




Consider other school staff who might have a stake in certain conversations (e.g. SpEd teacher, ELL teacher, counselor). Include these staff when possible.




Students, especially in secondary grades, should play an active role in the conference when appropriate. Parent Teacher Conferences are a great opportunity for teachers, students and families to come together as a collaborative team. Students should play an active role on that team when possible by sharing their own strengths, areas of growth and learning goals. Students can also play a role in inviting families to the conference and reminding them a day or two in advance.



WHAT TO DISCUSS WITH FAMILIES
Wellness check-in
Start conferences by asking families how they are doing and letting them know that we are here to support them through this difficult time. The Flamboyan Foundation has created a resource that can be used to guide these "wellness check-ins".

Essential needs
Conferences should focus on the unique needs of each family and student. The goal of Parent Teacher Conferences should be to discuss student academic and social and emotional progress, and if technology or wellness barriers come up, they can and should be discussed.




If families request additional support with wellness (mental or physical health concerns) or basic needs (housing, food security, employment) notify your principal and follow up to connect them with the right school POC.



Student data and goal setting
The definition of student data has expanded during learning at home. Evidence of academic progress might feel more qualitative and will likely be co-constructed by educators and families. You can adapt and use this sample worksheet and planning template to structure these collaborative conversations.

While discussing student data as it relates to benchmark assessments and setting goals, it is important to acknowledge changes to the testing environment this year and to be sure the data is reviewed in conjunction with other relevant data points via class assignments and/or anecdotal records.

Here is a resource with helpful guidance on how to communicate with families around academic data. Information shared should be easy to understand, and in the family's preferred language.

Here are guides in English and Spanish on how to access grades on Aspen's Parent Portal. The Parent Portal will be launching for families of students in grades PK-5 in early November. You can let elementary families know that they will be able to access attendance data, and the term 1 report card through the Parent Portal. Secondary families should continue to utilize the Parent Portal to monitor student grades, assignments and attendance.


After discussing student data and any other immediate needs, consider using some time for goal setting and sharing strategies to support learning at home moving forward.



Updates and ongoing communication
Parents will likely have questions on topics like grading and what the learning format will be during term 2. Schools should provide teachers with as much information as available on these topics before conferences. Teachers should also direct families to the DCPS ReopenStrong website for district-wide updates and guidance.


Teachers are not expected to have all the answers but should feel equipped to alleviate anxiety around the next term as best they can and offer a timeline on when more information will be provided.




After the conference, follow up with families to thank them, reiterate next steps and check for questions. Make sure families know when and how to expect communication to come from the school moving forward.
Resources for Families
24/7 Tech Support for Families: (202) 442-5885
---
SHOUT OUTS

Shout out to the entire CHEC Team for a great Week 5!

Shout out to the Dean Team and to all of members of the CHEC team for a successful first WUW!

Kudos to Mr. Smith for conducting Office Hours on the Grading process!

Shout out to Mr. Allen for developing a report for CANVAS badges and for CANVAS Attendance!

Shout out to Ms. Crivelli and PGT for coordinating the fabulous PD at our Staff Meeting

Kudos to Ms.Ameyaw, Ms. Freshley, Ms. Cummings and the DIA for a great DIA Parent Night!

Kudos to Ms. Thweatt and Mr. Molina for organizing the SGA Speeches and Town Hall!



WE HAVE A RECOGNITION! HONORED TEACHERS PARTNERSHIP CONTINUES THIS YEAR!
Columbia Heights Education Campus's great teachers deserve to be recognized! We're proud to partner with Honored Schools again this year to do just that! Go to HonoredSchools.org to tell Columbia Heights Education Campus teachers how they've made a difference. Please share this with parents and students! Once recognized, teachers get an email with your recognition story and we'll celebrate them! Last year our very own Ms. Ramirez won the Life-Changing Teacher Award and a $5000 cash award!
CHEC RECEIVES GRANT TO CONTINUE WHOLE SCHOOL SUPPORT FROM RESTORATIVE DC
Thanks to the proposal written by our fabulous Dean Team and the Development Office, our school has been granted continued whole school support through Restorative DC's Restorative Justice Technical Assistance for the SY 2020. This means that we will receive training, consultation, access to workshops, and support to continue our work in Restorative Justice. If you would like to get involved with our RJ committee, please see any member of the Dean Team, or Pankaj Rayamajhi.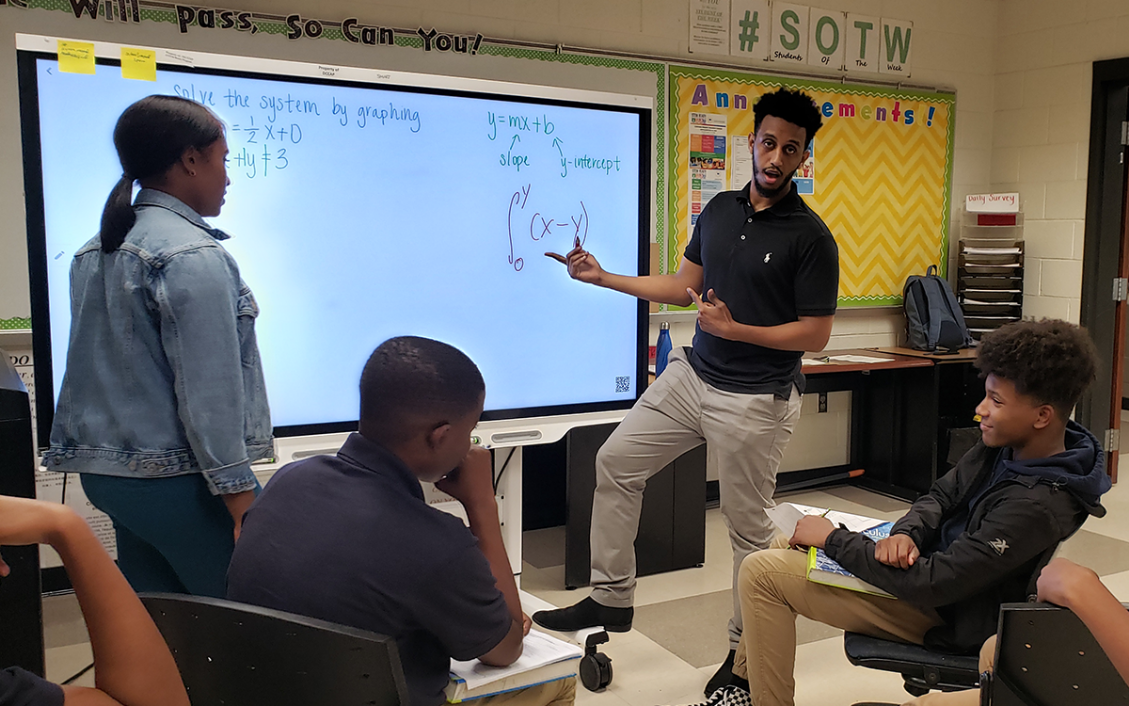 ONE YEAR AGO THIS WEEK -
CALEB TADESSE CHEC CLASS OF 2012 TEACHES A STEM READY CLASS
Progress Reports
Progress Reports are due on October 6 for all students. Please make sure you are following the grading weights and procedures as explained at pre-service. If you have any questions, or need assistance in putting grades in ASPEN, please see your SLC Administrator, or our Grade Manager, Roman Smith.
---
Living through History
This week we are continuing with Living Through History, with the creation of artifacts and products in all content classes. It is exciting to see how our students are documenting their journey through this moment in time. This week, the week of October 5, we will have lessons in Advisory to continue the curation and reflection on products, in preparation for putting them in the Time Capsule. The links to the lessons and the powerpoints to be used have been shared with you by your SLC. The Living Through History GRASPS can be found through this link, and you can see what each grade level and subject area are contributing to the project. The products and projects different teachers have designed are compelling and engaging, and aligned to our key standards as well.
Please see below updates from DCPS on LTH
DCPS families are an integral part of this Cornerstone. We have created several opportunities for families to engage by creating their own artifacts and contributing their individual perspective to this project that marks this unique time in our lives. Using this link you will find activities that can be shared with your families.



Time capsules are submission dates have been extended to October 16th to allow additional time for schools who may need it. Once your students have completed the full Cornerstone instructions for submissions can be found using the links below.
GRADES 6-12 SUBMISSION INSTRUCTIONS
Save the Date: The LTH Virtual Showcase will take place on October 28th, 2020 at 5pm. Details regarding this event will be shared early next month.



Some of the LTH Cornerstone Lessons reference student activities in the LTH OneNote. The Living Through History Cornerstone OneNote can be found in the OTL Curriculum Course Companion on SharePoint. These items can be added directly into your Class Notebook used with Canvas or with your students.



Take Action Lesson Update (SECONDARY TEACHERS ONLY)
Secondary Educators, please refer to email sent on September 11th that details out instructions on how to replace the necessary files in the Take Action lessons. After replacing the files, please complete the quick survey referenced in the email as well.
Connect student learning with a NEW OPPORTUNITY:
Virtual Field Trip: Smithsonian's National Air and Space Museum:
What does Air & Space have to do with pandemics and protests? Explore connections between student experiences at home during the COVID-19 pandemic and astronaut experiences during space exploration.
Content Deep-Dive: Learn about how astronauts experience quarantine and isolation during long term space travel and ways that NASA mitigates the associated biological and psychological impacts.




Hands-on Activities: Using astronaut hygiene and personal preference kits as models, students create and justify their own COVID-19 pandemic kits.




Artifact Immersion: Items are highlighted from our collection that were used by astronauts for hygiene and during quarantine and how this has changed over time.




Class-wide activity: The class will engage in a virtual breakout room that explores what satellites are teaching us about human impact on the environment during stay at home orders.



For more information and registration: https://airandspace.si.edu/virtual-field-trips
---
Now that we are moving fully into content, we should focus on utilizing our newly learned "best practices" in virtual instruction. Some of these are very similar to live instruction, just implemented differently:
Please continue with SEL openers, to continue to build community!




Please be sure to have a clear objective, unwrapped from a standard, that is shown visually and stated orally, in the beginning of the lesson, but available to be viewed throughout the lesson as needed.




Take advantage of technology to have visual and audio representations of content simultaneously – the immersive reader function on TEAMS works on all text, and even on the chat. Subtitles are also available, and this reaches students who need visual in addition to audio.




Continue to encourage students to come on camera, if only when they speak. Virtual equity sticks work in encouraging all voices of students! The CANVAS Badges for participation on camera also help!




The Discussion function on CANVAS is a great tool to encourage academic discourse and accountable talk!



As you discover new and effective tips and ideas, please continue to share them! We will publish them in our CHEC TECH TIPS, and in this section of the Bulletin
---
INSTRUCTIONAL CALENDAR

The Instructional Calendar is a living document that houses all the major curricular requirements, assessments, and schoolwide events. The Instructional Calendar is complete for the moment, however changes may be made and will be noted. If you have any requests for additions to the Instructional Calendar, please contact Mr. Magee, peter.magee@k12.dc.gov, or your SLC Administrator.
---
IMPACT UPDATES
You have all received the FAQ's of the adjustments of Impact this year. As a Summary:
There will be no IVA for teachers this year




There will be no student surveys this year




There will be EP observations for teachers this year, only 2 instead of 3. Observations for cycle 1 will begin on November 2nd, and every teacher will receive at least one informal observation before that date.

We will have focus groups to discuss the new adjusted EP Rubric in detail when it is finalized by DCPS.

Administrators and LEAP Leaders will continue calibrating for observations in classes this week, so please welcome observers to your classes. If you would like to participate in a calibrating observation, please let your SLC Administrator or M. Tukeva know via email.

There will be TAS for Teachers this year, however it will be expanded to allow for SEL or engagement goals as well as academic goals, and it will allow for shorter cycles, and mid-year revisions.

TAS guidelines will be provided this week, and we will have a schoolwide meeting on IMPACT and TAS on Wednesday, October 7.

The CSC rubric will be adjusted to add a sixth component for teachers teaching virtually, CSC 6.

Instead of a focus group, in order to provide an opportunity for all to give feedback, we will provide a link to provide feedback on the CSC rubric during our schoolwide Impact Meeting on October 7.

Non-teachers will receive adjusted expectations and rubrics will be applied accordingly, to reflect adjusted responsibilities.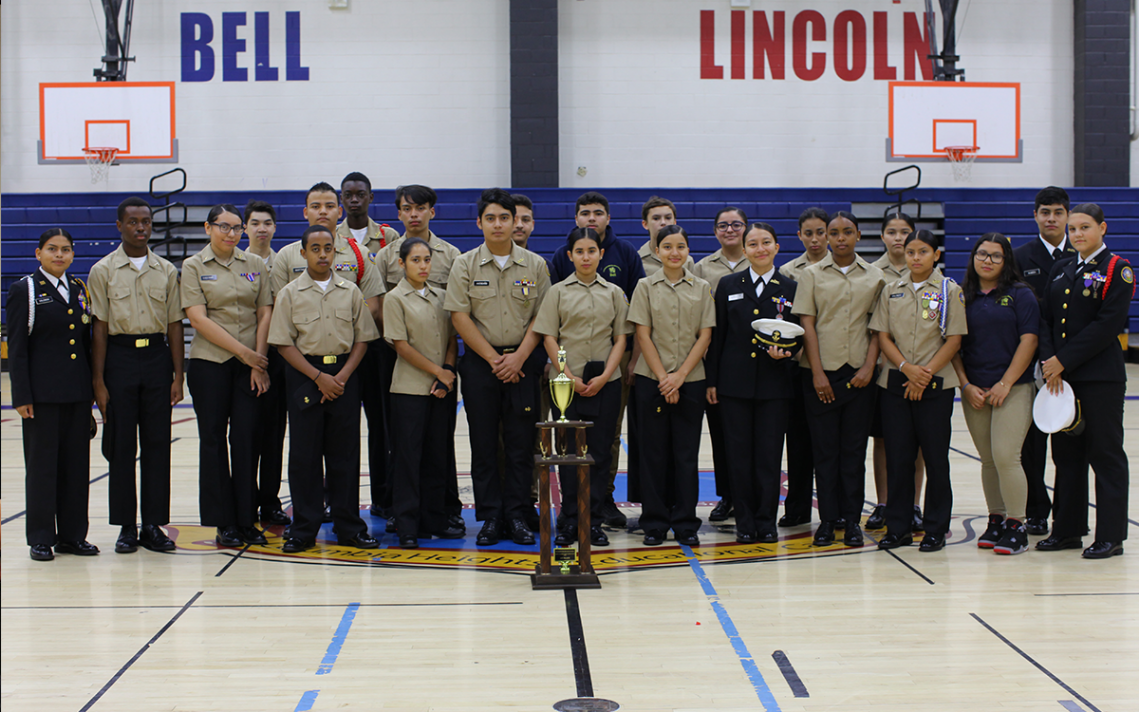 ONE YEAR AGO THIS WEEK
- NJROTC WINS COLOR GUARD COMPETITION
UPDATES FROM:
I
ACADEMIC LEADERSHIP TEAM
I
FACULTY MEETING
I
PROFESSIONAL DEVELOPMENT
I
COLLEGE AND CAREERS
I
OSSE
I
LIBRARY
I
SEL CORNER
I
GrantED
I
T
YLER MANNING - FINANCIAL CONSULTANT
I
ELLEVATION
---
The ALT team is a team of educators charged with the design and implementation of our mission aligned Comprehensive School Plan. The Team is composed of all LEAP leaders, Department Chairs, Administrative Team Members, and any interested educator or staff member. We seek to involve all perspectives and voices. All staff members are invited to attend any or all meetings. Our work is in the four domains of the CSP – Shared Leadership, Engagement, Culture of Achievement, and Academics. The first Leadership Team Meeting took place on Friday, September 11. The notes can be found in the Notebook section of the CHEC Team site. Meetings will be held every two weeks, rotating between Friday mornings at 7:30 am, and Tuesday afternoon's at 4:00 pm. The next meeting will be Friday, October 9 at 11:00 am (Parent Teacher Conference Day). At this meeting we will continue work on the CSP action steps.
---
This is a new section of our Bulletin, and within a few weeks it will be populated with a calendar of opportunities. Professional Development and learning is a priority for all of us, and we are all on a new learning curve. If you would like to get involved in either providing or receiving specific professional development, we look forward to getting your feedback to our PD Survey, which will be coming out within the next two weeks. We are able to compensate both those who provide, and those who attend professional development outside of school hours or in lieu of planning periods.
---
SPIN SCOOTER COMPANY IN DC – UNLIMITED 30 MINUTE RIDES FOR EDUCATIONAL PROFESSIONALS
My name is Alex Davis, and I'm a Community Partnerships Associate with Spin, a shared electric scooter company operating in DC. At Spin, we're dedicated to delivering alternative transportation services for DC residents, especially essential workers in the region. We're excited to announce that our Everyday Hero Program is being extended to staff members in the education sector.
What does this mean? It means that Spin will provide unlimited free 30 minute rides for educational professionals. As the school year is starting Spin wants to provide staff members in the education sector the support they need to move safely through the city. Whether it's running errands or a quick recreational break, we want to show our appreciation for the work you're doing to help DC communities run smoothly. Eligibility is open to anyone in the education sector including but not limited to teachers, administrators, tutors, and janitorial staff.
To get the discount activated we ask all eligible employees to fill out the application form and provide their educational association identification or paystub and government ID.
Thank you in advance for your consideration.
Community Partnerships Associate, Spin
---
CHEC OFFICE OF COLLEGE AND CAREER PROGRAMS
Thank you for your assistance in this year's POSSE nomination process. As a team, we successfully submitted 24 nominations for CHEC this year!
Last week, POSSE completed their final round of interviews, and four of our scholars were selected to move forward to the semi-finalist round. The following students will be competing for a full-tuition scholarship to one of the POSSE DC Partner Schools:
Estub Kedebe (LaLa)

Evelin Calix-Melendres

Kenia Cabera

Ariyah Greene
If you get a chance to speak with any of these students, please send words of encouragement and best wishes as they continue through the selection process.
---
AN IMPORTANT MESSAGE FROM THE DC OFFICE OF THE STATE SUPERINTENDENT OF EDUCATION (OSSE)
The Office of the State Superintendent of Education (OSSE) is collaborating with the Department of Behavioral Health (DBH) to monitor compliance with the mandatory youth behavioral health training for educators. DBH provides this youth behavioral health training at
https://supportdcyouth.kognito.com
District law mandates that all public and public charter school teachers and principals complete a behavioral health training once every two years (D.C. Law 14-56; DC Official Code § 7-1131.17(b)(1)).
Those who completed the trainings in calendar year 2020 do not need to retake the youth mental health trainings this fall. However, all new and returning building administrators and teachers who completed prior to January 1, 2020 must complete the 3 required modules by December 11, 2020. This calendar year will reset the compliance cycle so that all DC administrators and teachers will be required to complete on the same two-year cycle moving forward. Compliance tracking is the responsibility of building administrators.
The attached flyers for Teachers and for school Admin provide detailed information about this requirement, how to access the trainings and monthly completion status reports for your employees.
---
LINCOLN LIBRARY UPDATE: HISPANIC & LATINX HERITAGE MONTH RESOURCES
As we continue our celebration and recognition of Hispanic & Latinx Heritage Month, I would like to highlight *your* story and accomplishments as influential figures in students' lives. If interested in being featured, please email
angela.falkenberg@k12.dc.gov.
Middle school staff can find lessons, influential figures graphics, author visits, speakers & organizations, digital collection videos, and more here. Other website links can be found here. Contact your librarian for collaboration ideas or to help schedule virtual visitors.
Teach Central America Week
The second annual Teach Central America Week takes place October 5 - 11. This event is to encourage and support the teaching about Central America's history, culture, and literature despite the few resources found within US schools. Below are some events and resources.
Digital Library Collections
Ensure your students have access to their public and school libraries by scheduling a visit to class by Ms. Falkenberg or a Mt. Pleasant librarian. Video tutorials for the multiple digital library platforms can be found here.
Libro.fm offers FREE audiobooks for educators - new titles are released each month. October's titles of interest include: Three-Ring Circus: Kobe, Shaq, Phil, and the Crazy Years of the Lakers Dynasty; Good Night Stories for Rebel Girls: 100 Immigrant Women Who Changed the World. You'll find a variety of titles and it changes each month. The CHEC Team You can sign up for the program here - libro.fm/alc-program. Happy reading!
BELL LIBRARY UPDATE
Please check out the Bell High School Library website with Student, Faculty and Staff and Hispanic Heritage Month Resources and Events!
---
SEL CORNER
September Parents of the Month
Ms. Nadia Hernandez and Ms. Jawanza Zula were each awarded CHEC September Parent of the Month Honors. They are both our CHEC SEL Champions who contributed immeasurable time and effort to our Back 2 School Day! They kindly volunteered to make home videos sharing best practice strategies with other parents about how to navigate virtual learning in the home.
The SEL Team would like to recognize exceptional staff members who go above & beyond for their efforts around supporting social-emotional learning, wellness & trauma-responsive practices within the CHEC community!
For the month of SEPTEMBER, we would like to recognize:
MS -Ms Veronica Zuccarello
"Ms Z has become at the forefront and spearheaded plenty of organizations at CHEC. One organization in particular is advisory/PLT. She made sure our students not only receive the academic support during that time (MS and HS) but collaborated with counselors, social workers, and therapist to ensure students receive the socio emotional support as well."
"For several years, Ms Weiss has been a leader at CHEC when it relates to restorative practices and training teachers to conduct restorative circles. Ms. Wiess also provides yoga as a practice for not only students but also staff on a weekly basis through CHEC's social media page. "
And THANK YOU to all each of you do every single day around the social emotional wellness of our students, parents & school staff!
We will continue to recognize you, too!
---
GrantED OPPORTUNITIES FOR CHEC CLASSROOM MINI-GRANTS WILL BE CONTINUING
CHEC teachers, GrantEd will still be here to serve teachers for the 2020-2021 school year - CHEC will remain a partner school!
Last school year, GrantEd received 22 grant requests from CHEC and awarded 20 of them, for a total of $7,223.81 and they would love to continue supporting us. Grant Ed has already started accepting applications and granting funds for the upcoming school year.
Please don't hesitate to contact Julia at GrantEd if you have any questions.
GrantEd Foundation, Co-Founder
MESSAGE FROM TYLER MANNING - FINANCIAL CONSULTANT
Donors Choose is a great resource for all teachers. You can receive a mini grant to support a special project or initiative. Please see some of our recent Donors Choose grantees! You can reach out to them for support in obtaining your own grant!
I hope you are staying safe! I am sure you have a lot on your mind right now as a result of this COVID-19 chaos. I wanted to inform you that as a financial consultant with AXA Equitable, one of the approved providers of the supplemental retirement plans for DC, I am doing brief phone appointments with faculty and staff to help them get a better handle on how this market volatility affects their:
1. DC Pension
2. 403b supplemental retirement plan
3. 457b supplemental retirement plan
If you think you may benefit from this information, I have attached a PDF that provides insightful and contextual perspective to all this craziness. If there's another way I may be of assistance, please let me know!
Financial Consultant
3141 Fairview Park Drive, Suite #250
---
ACCESS for ELL's, ELLEVATION, and English Language Learners
Last year's ACCESS testing for ELL's was interrupted by the COVID 19 shut down, however some students were able to finish all or part of the assessment. As of September 29, these results will be on Ellevation. Please check ELLEVATION for your students, and you will find personalized activities aligned to their language needs, by domain.
As distance learning becomes the new norm for students across the country, a lot of families are playing an increased role in the day-to-day education of their child(ren).
The home-school connections added to the
Ellevation Distance Learning
activities allow educators to engage family members to share in the learning process.

Hello CHEC Family!
We hope you all are well. The Dean Team would like to share a few shout outs and friendly reminders.
Today the spotlight shines on two fantastic teachers Mr. Luke Wright and Mr. Eric Washington!
Mr. Wright is our Navy JROTC teacher. He has also impacted the lives of many students within his three years of service at CHEC. Mr. Wright shared the following when asked what has been the impact of using restorative practices this school year; "The ears are connected more to the mind, and the tongue is more in touch with the ego. I give students a chance to be heard because to be heard and understood are some of the deepest desires of man. When a person is not heard or understood, those needs develop into frustrations even the kindest words cannot contain." Thank you, Mr. Wright, for your commitment to your students and team.
Mr. Washington is our 7th-grade ELS teacher. He has recently joined the CHEC Team and has already impacted many students' lives through his service at CHEC. When asked what has been the impact of using restorative practices this school year, Mr. Washington shared the following. "Using restorative practices during virtual learning has turned my classroom into a community and my students into a family. My students are buying into the virtual classroom curriculum through an emphasis on relationship building and inclusiveness. They are more willing to be active participants, vulnerable sharers, and supportive classmates." Thank you, Mr. Washington, for your commitment to your students and team.
Everyone, please shine your light on Mr. Wright and Mr. Washington this week!
Please celebrate these students for their high earnings of PRIDE points!
RJ Circle Survey:
A few reminders before you headed to your classes. Please log the community-building circles facilitated during PLT/Advisory and any other circles you have completed throughout the week. This information is necessary for data tracking and proactive intervention purposes. Use the link below to complete the form: Chec DC Circle Tracker.
Also, we have created a padlet which has the student support form and the behavior referral form. Please bookmark this padlet for future reference:
CHEC Student Support Guide
. Feel free to connect with the Dean Team if you have any questions.
---
Student-athletes are now able to complete participation forms online and upload physicals for this school year. Participations forms are available via https://www.thedciaa.com/participation-forms. Parents should click on the link corresponding to the appropriate level, whether middle or high school. Online forms are also available in Spanish. Additionally, please see the updated current team meet up times during virtual learning! This list will continue to grow! Also, our list of head coaches is below. Reach out to the coaches directly if you are a student-athlete, teacher, or parent for team meet up login information or if you have any other questions. If you haven't done so yet, follow us on Instagram @checsports.
Middle School
Baseball: Wed. via MS Teams on WUW (1st Block)
Cheer: Mon, Wed, Fri at 4:00 via Zoom
Girls Basketball/Volleyball: Wed via MS Teams on WUW (2nd Block)
High School
Baseball: Wed via MS Teams on WUW (1st Block)
Basketball: Wed via MS Teams at 4:00
Cheer: Mon, Wed, Fri at 4:00 via Zoom
Girls Basketball: Wed at 4:00 via MS Teams
Football: Tue, Thurs at 7:00 via Zoom
Softball: Wed via MS Teams on WUW (2nd Block)
Girls XC & Track: Tue, Thurs at 5:00 via Zoom & W via WUW (1st Block)
---