CHEC bulletin for
Week of May 31
, 2021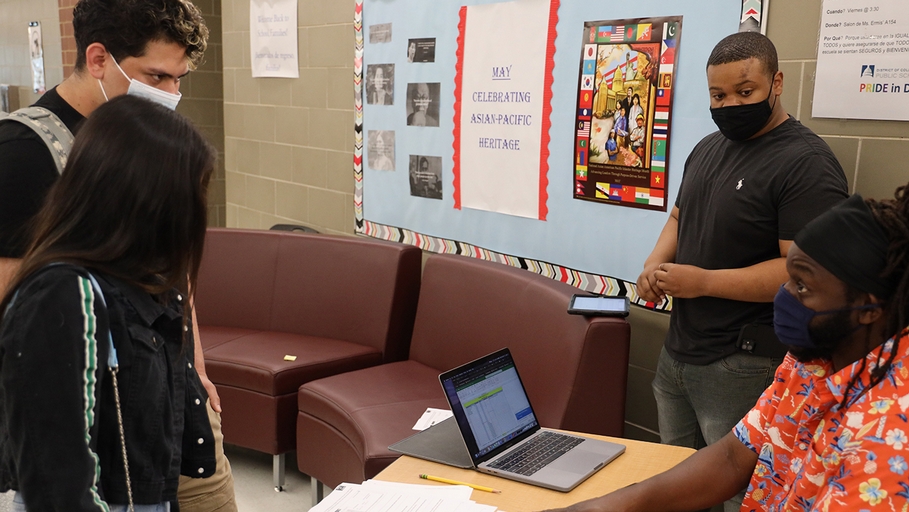 SENIORS DAVID QUINTEROS AND MARICELLA JACINTO CHECKING IN WITH MR. JONES FOR AP EXAMS
MARIA TUKEVA'S (MT) MESSAGE:
IN MEMORY OF KASSIUS-KOHN GLAY
Today as a school, we mourn the loss of Kassius-Kohn Glay. Kassius was an 11th grader, a vibrant and dynamic presence in class and in the school, a scholar, athlete, and beloved and caring classmate. Our thoughts and prayers go out to his family and friends, and we as his school family, are grieving as well. We will have resources available for students and faculty, and we are all encouraged to utilize these resources. In order to support our students, we need to take the time and space to grieve as well. Please review the correspondence sent by the PGT, for details of how we would like to process this loss as a community.
The loss of one so young is always unfathomable, yet we must seek to cherish his memory, and keep it alive through our feelings and thoughts. Below is an excerpt from a Memorial fundraising site, and a link to the Gofund me to support his family.
Kassius-Kohn Glay
was a son, brother, friend, student, and young king who brought joy and light to all whose presence he graced.
A natural-born leader, Kassius' energy was magnetic. He had dreams and ambition to graduate from high school, attend college, and make his mother, father, and siblings proud.
On Friday, May 28th, 2021, heaven gained another angel due to the senseless gun violence here in DC stealing the promise of our future. The purpose of these funds is to help offset the cost of the funeral for his family. All sized donations are welcomed.
---
JUNE IS LGBTQ+ PRIDE MONTH
During June we celebrate LGBTQ+ history as well as explore current social justice issues within our curriculum. As a school committed to anti-racism and equity, we celebrate the richness of our community holds in gender identity, race, culture, faiths, language and national origin. Ms. Ermis has sent communication and resources that all of us should use. Please reach out to with ideas for whole school activities during this month.
---
REENROLLMENT TIME
Please help us reach our enrollment target of 1,500 students for SY 21-22. To date, we have enrolled 880 students, or 58% of our goal. Please make re-enrollment announcements part of your daily announcements or updates. We are offering incentives to the teachers, counselors and support staff who help us enroll or re-enroll the most students, as well as administrative premium for reaching out outside of normal school hours.
---
COURAGEOUS CONVERSATIONS CONTINUE IN JUNE FACULTY MEETING
We will continue our Courageous Conversations about Race in this week's Faculty Meeting. Following the feedback received from our May 19th Courageous Conversation, we have seen a groundswell of support and interest in continuing these important conversations. In this week's Conversation, we will focus on reflecting on our curriculum, and how it reflects and responds to our students cultural identities. Curriculum is everything we say, do, read, write and think about while we are in school. In order to design a curriculum that is anti-racist and built on equity, we need to have constant reflection and refinement through Courageous Conversations about Race and Curriculum.
---
RECOVERY/ACCELERATION PLAN APPROVED
We have now submitted our budget spending plan for Summer Acceleration, and are extremely excited about what we will be able to offer this summer! We have already started recruiting staff and students. If you are interested in working in our creative and innovative Summer Acceleration plan, please reach out and apply. Within the next two weeks, we will begin to work on the spending plan for the Acceleration and Recovery Activities to be held in during the school year. The outline of our goals and programming can be seen by
clicking here.
---
4TH ADVISORY IN PERSON LEARNING
We have increased our In Person Learning in Advisory 4, to close to 30% of our total enrollment. A big shout out to all teachers and staff who are coming in person in the 4th Advisory. If you are new to In-Person, please be sure to register and take the webinar described below:
Audience: Mandatory for all staff beginning an in-person assignment in Term 4
---
Shout out to the Fine Arts Department and Dean Team for the Amazing AAPI Heritage Assembly!

Continuing Shout out to all of our Amazing AP teachers for preparing our students for the AP Exam!

Shout out to the ALT team for their work on our CSP Evaluation!

Kudos to all Counselors for continuing work on scheduling and summer school!
WE HAVE A RECOGNITION! HONORED TEACHERS PARTNERSHIP CONTINUES THIS YEAR!
Columbia Heights Education Campus's great teachers deserve to be recognized! We're proud to partner with Honored Schools again this year to do just that! Go to HonoredSchools.org to tell Columbia Heights Education Campus teachers how they've made a difference. Please share this with parents and students! Once recognized, teachers get an email with your recognition story and we'll celebrate them! Last year our very own Ms. Ramirez won the Life-Changing Teacher Award and a $5000 cash award!
All Departments and SLC's send individual notifications of their meetings
Memorial Day – No School for Students and Staff
AP English Literature Exam 12:00 p.m.
AP Computer Science Exam 4:00 p.m. (Digital Home and at School)
AP US History Exam 12:00 p.m. (Digital Home and at School)
11:30 a.m. - CHEC Parent Workshop - in English and en Espanol
AP Psychology Exam 4:00 p.m. (Digital Home and at School)
Faculty Meeting 4:00 p.m.
ALT Team Meeting 7:30 a.m.
UPCOMING EVENTS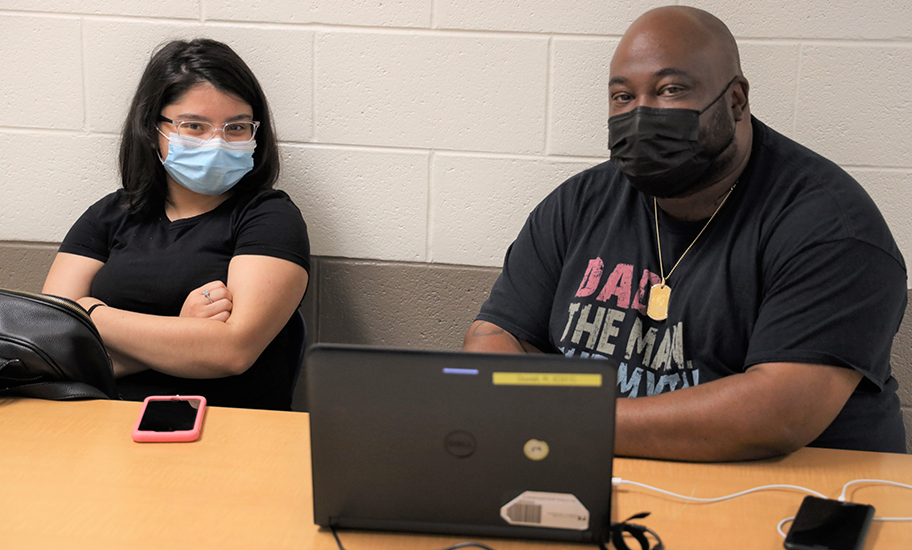 RESTORATIVE JUSTICE MR. DUVALL WITH 9TH GRADE STUDENT ANA MENDOZA
By this week, all students should be starting their second GRASPS, or completing their first. Portfolio Presentations are in three weeks, and we have allotted a whole week (June 14-18) for presentations, in order to improve the quality and time for reflection.
In order to make sure all students complete their GRASPS, work should be completed incrementally each day on different standards aligned parts of the GRASPS. Our goal over the past advisory has been to improve the portfolio process by making sure students know how to organize their work in an e-portfolio format, either on CANVAS, or in Summit. That process begins with the first project of the advisory.
AP Testing continues this week. Please see the instructional calendar for all of the dates of the different exams. Please encourage all of your students who take AP, to do their best, and let them know how proud you are of them!
The Instructional Calendar is a living document that houses all the major curricular requirements, assessments, and schoolwide events. The Instructional Calendar is complete for the moment, however changes may be made and will be noted. If you have any requests for additions to the Instructional Calendar, please contact Mr. Magee,
, peter.magee@k12.dc.gov, or your SLC Administrator.
---
IMPACT UPDATES
Cycle 2 Observations are now taking place through June 17, for those who did not opt out of the second observation. CSC Conferences will be held between May 26 and June 17. If you need assistance in preparing for your CSC Conference, please contact your SLC Administrator or Department Chairperson. If you would like to share a best practice for CSC preparation, please send it to M. Tukeva, and we will share.
PROFESSIONAL DEVELOPMENT:
PROFESSIONAL DEVELOPMENT
---
Are you trying to find a way to have a source book like you did during in-person learning? Join Mr. Magee during his office hours to learn how to use OneNote Class Notebook as a source book. Office hours and links are below.
Are you preparing for the combined teaching model? Do you want to talk through what this will look like and what to expect? Join Ms. Ferguson on Wednesday to begin discuss the Combined Teaching Model.
Are you looking for resources for Black History Month, SEL, or other premade lessons in Nearpod? Are you looking to adapt and incorporate a premade lesson from Nearpod? Join Ms. Ferguson on Thursday 12:30-1:15 pm Click this link to join Nearpod Premade lessons
Ms. Ramirez - Office Hours
Will provide support on the following items on the listed days.
Monday (4-5)- Support students in completing missing work from the previous advisory/term and tech support
Tuesday- (10-11:30 and 4-5) Workshop Creation and tech support.
Wednesday (4-5)- How to help students feel that they should care and tech support
Thursday (4-5)- Resetting expectations for students who are failing and tech support.
Friday (4-5)- Tech support.
Ms. Z is excited to help with aligning Summit project checkpoints and final products for third advisory and rebooting notetaking and workshop creation for PLT.
Ms. Vialpando's Office Hours
Ms. Vialpando is having weekly office hours to support our language learners and instructional strategies for reading. Her office hours will take place on Thursdays from 3:30-5 pm
This office hour/block will cover how to support students/families who are experiencing transition or who do not have stable housing. We will cover mandates, homeless liaison role, community referrals, and how CHEC/staff community can support our students who are in transition, MTSS supports, and behavior interventions.
PGT Support w/Various members of the Personal Growth Team
You can receive support with social/emotional supports, behavioral supports, mandated reporter supports, at-risk students, MTSS supports, and other concerns

.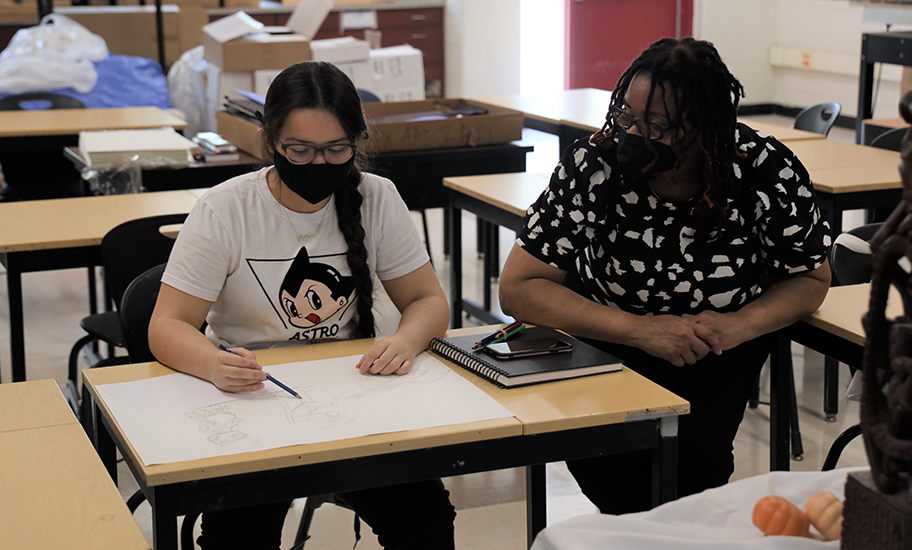 ART STUDY HALL - SENIOR TABITHA VASQUEZ WITH MS. SHAW
UPDATES FROM:
I
FRANCIS ON THE HILL
I
AMERICAN EXPERIANCE FOUNDATION
I
YOUTH ESSAY CONTEST
I
VIRTUAL SERVICE ACADEMY SENDOFF
I
NEW HEIGHTS ARTICLE
I
DONORS CHOOSE
I
INTERNATIONAL NETWORK
I
TRINITY GRAD PROGRAMS
I
CGEORGE MASON GRAD PROGRAMS
I
LIBRARY UPDATE
I
CHEC GARDEN
I
---
CHEC TEAM SHINES - LETTER FROM FRANCIS ON THE HILL
Over the past several months, the CHEC Team, Mr. Rayamahji, Ms. Carino, Mr. Molina, Mr. Best, Ms. Lemus, Mr. Tobias, and several others have been working with local CBO and partner Francis on the Hill for food and diaper distribution for the families in out community. Most recently, Francis on the Hill's diaper distribution at CHEC on Friday, May 21st ran efficiently and smoothly - distributing an amazing 10,075 diapers in just one hour. Since January 2021 the Francis on the Hill Emergency Diaper Hub and the dedicated at CHEC have distributed nearly 228,500 diapers valued at $66,205!
In contrast to the first community distribution in April, where in a very slow start only two to three people arrived within the first 20 minutes, las week there were close to 20-25 people in line. It was pretty much a non-stop hour-long distribution.
A sincere thank you to the boots on the ground team for always showing up with smiles and contribution of time:
Judy Oversby connected us with Roz Overstreet Gonzalez who provided translation for the event—there really are not words for how grateful we are to have had her join us! It was my first time meeting Roz and she truly is a force of nature with a kind and generous demeanor. We look forward to having her join us for future distributions.
Trulie and Alex Coonrod sorted, fulfilled and, handed out the diaper requests to the community keeping the line moving and safely distanced. Marion Lobred distributed punch-cards to new recipients and assisted with the data collection to track new vs. returning recipients. And Victor Molina! Wow! The entire CHEC team's dedication to the success of this program is amazing and so very appreciated.
And thank you to our transportation, delivery and data keeping team members; Jack and Hilly, Bryan Marks, Court Funk, Tim Letzkus and Owen Cooper!
It is a joy to work with you all at CHEC to be able to provide as an Emergency Hub for the Greater DC Diaper Bank to ease some of an incredibly large need in for the families in our communities.
---
THREE CURRENT CHEC STUDENTS AND ONE CHEC ALUM RECEIVED AMERICAN EXPERIENCE FOUNDATION (AEF) SCHOLARSHIPS THIS YEAR!
The American Experience Foundation is pleased to announce the winners for the 2021 AEF Scholarships! Three current CHEC students and one CHEC alum were among the awardees.
This year's applicant pool was very strong. We were all very impressed with how these young people have navigated this difficult year. Their success is a testament to the hard work you all do each and every day to support their journey and growth.
Congratulations to this year's winners:
AEF Alumni Scholarship - $2,500
Perpetua Nkem (Morgan State University) – CHEC Alum
Anura Sharma (Columbia Heights Educational Campus)
Gregory McCarthy Award for Leadership - $1,500
Tanielle Parker (Columbia Heights Educational Campus)
Cenaria Fells-Watson (Columbia Heights Educational Campus)
American Experience Foundation
---
CHEC STUDENTS RECEIVED HONORABLE MENTIONS IN THE 33RD "CELEBRATION OF YOUTH" ESSAY CONTEST
I just wanted to let you know two of our 8th graders were recognized in the Global Harmony Through Personal Excellence Celebration of Youth Essay competition. Miracle Fortune and Camya Perrier won Honorable mentions which includes a $125 prize and certificate. Next year we hope to get the entire middle school involved!
7th/8th Grade English Teacher
---
CONGRESSWOMAN ELEANOR HOLMES NORTON INVITES STUDENTS AND THEIR PARENTS TO PARTICIPATE IN A VIRTUAL SERVICE ACADEMY SENDOFF FOR HIGH SCHOOL SENIORS
Congresswoman Norton's office would like to invite interested D.C. students and their parents to participate in a Virtual Service Academy Sendoff for high school seniors who will be attending a Service Academy in the fall and graduating Service Academy seniors.
Please also note that Tania Hernandez, Columbia Heights Education Campus, has accepted an appointment at the US Naval Academy Prep School and will be honored that evening. Additionally, Meryem Yucel-Lazo, (Columbia Heights Education Campus Class of 2020, Naval Academy Prep School Class of 2021) has accepted an appointment at the US Naval Academy and will be honored as well.
The pertinent details are below:
Who: All interested D.C. students and their families
What: A Virtual Service Academy Send Off Celebration
Where: Please email NortonEvents@mail.house.gov to RSVP for the event and receive the Zoom link
This event is open to all interested D.C. students and their parents. Please feel welcome to share this information widely as you deem fit.
Thank you, and we look forward to welcoming you!
Congresswoman Eleanor Holmes Norton (DC)
District of Columbia Main District Office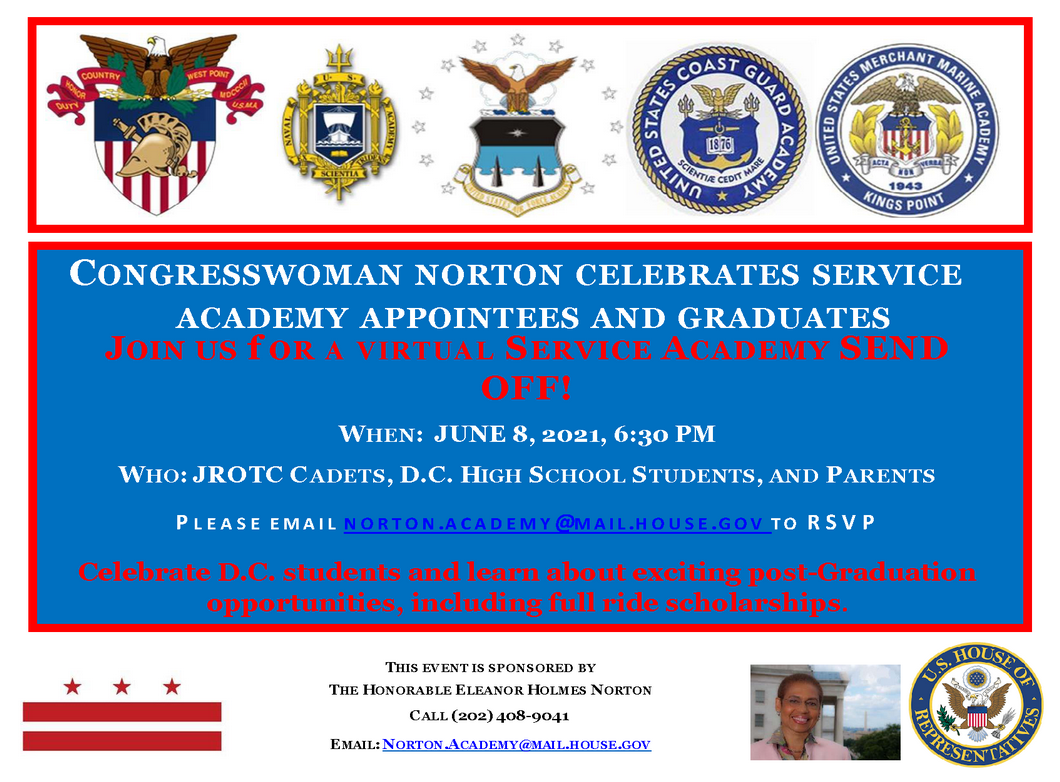 ---
NEW HEIGHTS ARTICLE AND CHEC DAYCARE CENTER
Street Sense/ Monique Wilson
Since the 1990s, an instrumental part of decreasing teen pregnancies in Washington, D.C. has been the New Heights program. However, in recent years, the program has faced uncertainty due to proposed budget cuts and reorganization. Its remaining staff have shown resilience, increasing the number of schools and members each person supports.
Communications and Engagement Office
Office of the Chief of Staff
District of Columbia Public Schools
---
DONORS CHOOSE - MS. ERICKSON HAS A PROJECT FUNDED
MY STUDENTS
My ninety 8th-grade students are intellectually-curious, creative, and resilient scholars who work hard each day in class to fulfill our school's mission "to succeed in college and civic life as leaders in the quest for social justice." These students are mostly Latino and African American. Many are immigrants or the children of immigrants. Many are learning English. Despite the obstacles that face our students, they are incredibly hardworking and diligent, focused on their studies and achieving their goals.
Our current golf team is made up of 10 students, only one of whom has ever played golf before.
We practice for two hours twice a week at East Potomac Golf course and learn the fundamentals of golf. Golf clubs are provided by the program, enabling all students to play.
Our students look forward to each day on the course. On the golf team, students have enjoyed making new friends, being outdoors and active, gaining new sources of motivation for academic and other goals, and growing a love of the game.
Golf is an incredible opportunity for young people to get outside, be active, and enjoy a unique and life-changing sport--now more than ever during these difficult times when students are spending much of their time indoors in virtual classes. Additionally, golf opens many opportunities for young people for careers and even scholarships--many of which go unused every year. Golf is an international sport and a lifelong sport that brings many benefits to individuals and helps students to cultivate life skills, including patience, persistence, and sportsmanship.
They are diligent and strong students, taking feedback seriously, and their skills have already grown a lot in a short period of time. It is the highlight of my week to see their joy and enthusiasm at the course. They are enjoying playing golf so much, and as their coach, I want to do everything I can to help them have the best possible experience, playing golf for the first time, to grow their love of the game and all of its benefits for years to come.
Many young people face barriers to access opportunities to play golf due to the cost of equipment. I am requesting funding for equipment to enhance their current experience in our spring golf program by giving them what they need to make the most of the program and also prepare them with the resources they need to play in the future. Our students will be so grateful to have access to the equipment they need to continue to grow their love of the game.
The resources for this project include:
Strike Golf Five-Pack (5pk) All-Leather White Soft Cabretta Leather Men's Golf Gloves Medium (Left Glove for Right-Handed Golfer) x 1




Five-Pack (5pk) White Leather Golf Gloves Made with Soft Cabretta Leather Small (Left Glove for Right-Handed Golfer) x 1




Srixon Z-Star 2017 Golf Balls, White (One Dozen) x 3




Callaway 4-in-1 Golf Divot Repair Tool x 10




GoSports 3.25" XL Premium Wooden Golf Tees - 200 XL Tee Player's Pack Driver and Iron/Hybrid Tees, Choose Your Tee Color x 2



P.S. Check out your school page at DonorsChoose to see all the teachers posting projects from your school. You can trade tips and tricks with colleagues to get your projects funded.
---
PD OPPORTUNITY FROM THE INTERNATIONAL NETWORK
Tuesday, May 25, 3:30p - 5:00p ET/12:30p - 2:00p PT
Curriculum Development Session: Incorporating Student Voices into Our Own Reflection and Planning
How can we leverage student voices to engage all members of the school community in self-reflection and planning? In this session, we will explore numerous methods of leveraging student voices, including empathy interviews, cogenerative dialogues, surveys, and self-reflection. Ample time for discussion, application, and planning will be provided.
You can always check out our PD Offerings website here for more details about all of our future PD offerings.
Manager of Programs + Events
---
FOR TEACHERS – GRADUATE EDUCATION PROGRAMS AT TRINITY UNIVERSITY WASHINGTON
Trinity University Washington is currently accepting applications for both the Summer and Fall of this year for Graduate Education Programs as well as several newly launched certificate programs. For more information please contact Zach Turner at turnerz@trinitydc.edu – he would be happy to schedule a meeting with you to discuss course offerings.
Recruiter for Graduate Counseling and Education Programs
Trinity Washington University
---
FOR TEACHERS – GRADUATE PROGRAM FOR STUDIES AT GEORGE MASON UNIVERSITY – BLENDED AND ONLINE TEACHING WEBINARS AND GRAD PROGRAM

George Mason University's Learning Technologies in Schools graduate program is focused on supporting teachers as they navigate and lead during this time of change.
We are offering the following webinars:
Roomers and Zoomers: Tips for Working with In-Person and Virtual Students Concurrently
Planning for the Future: Principles to Guide Teaching and Learning in the New Normal
GRADUATE PROGRAM ON BLENDED AND ONLINE TEACHING
George Mason University's Learning Technology in Schools Master's Degree (30 credits) and graduate certificate (15-18 credits) will help teachers navigate and lead during this time of change. We focus on preparing PK-12 teachers for blended, online, and/or technology-infused teaching environments. The graduate program is teacher-friendly with tuition discounts for educators (approximately 15% for in-state and 40% for out-ot-state tuition).
Teachers can email Jered Borup (jborup@gmu.edu) with any questions or for the dates and times of our online information sessions.
Jered Borup, Associate Professor
jborup@gmu.edu : 703.993.3137
Division of Learning Technologies
College of Education and Human Development
---
SUMMER TEACHER INSTITUTE - THREE BRANCHES OF GOVERNMENT
The White House Historical Association, United States Capitol Historical Society, and the Supreme Court Historical Society are working together to present a virtual Teacher Institute July 20-22 from 2-4pm each day focused on the three branches of government. Teachers will learn how to use the Hub and share other resources about the Capitol, the White House and the Supreme Court. We made special arrangements that at least 10 slots will be held for DC teachers. Participants will earn a certificate for 6 hours of professional development. Participants will also enjoy the educators' premier of Beautiful Agitators, a virtual play reading available as an open educational resource to teach about the history of civil rights.
PEN/Faulkner Foundation Writing Workshops for Students
An opportunity for students through our community partner, PEN/Faulkner Foundation:
Writing Workshop with Derrick Weston Brown
For rising 6th – 12th graders
Tuesday, June 29 from Noon – 1pm EST
Register here
How do we connect who we are to what we write? In this workshop, young writers will discover just how powerful their words can be by exploring different styles and approaches to the craft of writing.
DERRICK WESTON BROWN'S debut poetry collection is Wisdom Teeth, and his second collection is On All Fronts. He has been nominated for the Pushcart Prize, and is a graduate of the Cave Canem and VONA Voices workshops. A native of Charlotte, North Carolina, he now lives in Maryland.
College Personal Statement Crash Course!
For high school students applying to college
Wednesday, June 30 from 1pm – 3pm EST
Register here
The dreaded words: personal statement. Colleges require them, but how do you begin to put yourself on paper? In this two-hour crash course, we'll lead you through brainstorming ideas and clarifying those ideas into a topic. We'll also cover the basic structure of the personal statement. You'll leave with clear ideas about what to write and have the tools to move forward on your own to draft a transformative, powerful story about yourself.
Columbia Heights EC - Lincoln MS
---
THE CHEC GARDEN

Dr. Baker completed the set up the irrigation system this week and classes were out in the garden throughout the week. All of our seedlings, now in the garden beds and growing thanks to the nutritious soil amendments that Dr. Baker and many students worked on. Students will be out to maintain the garden this week and for all, the gate will be open during school hours. Please feel free to visit with your class. Ask your students – "Are there vegetables that you would like to grow in the garden?"
Send all requests to
robin.winer@dc.gov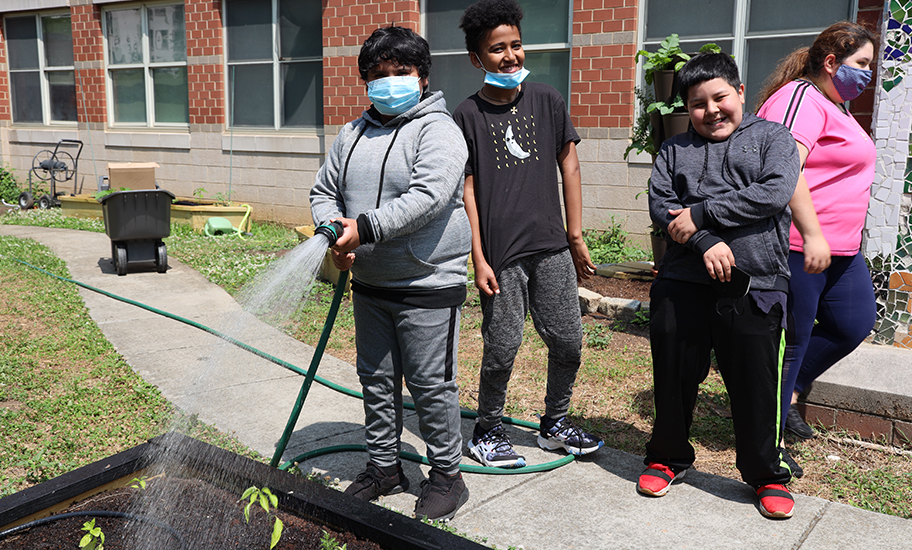 Wilson Garcia, Yafet Lemessa, and Joel Dominguez happy to be in the CHEC Garden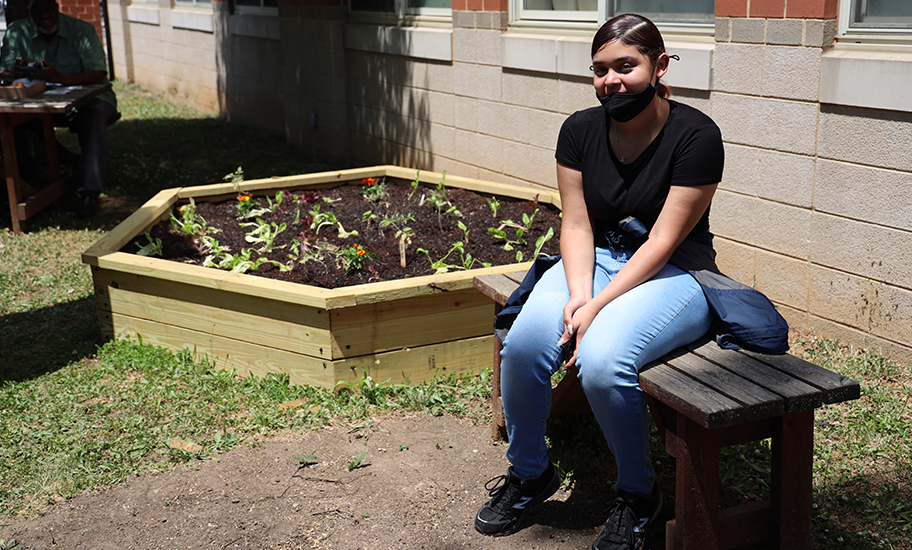 Enilia Amaya Ramirez – Ms. Hartwill's Biology Class in the CHEC Garden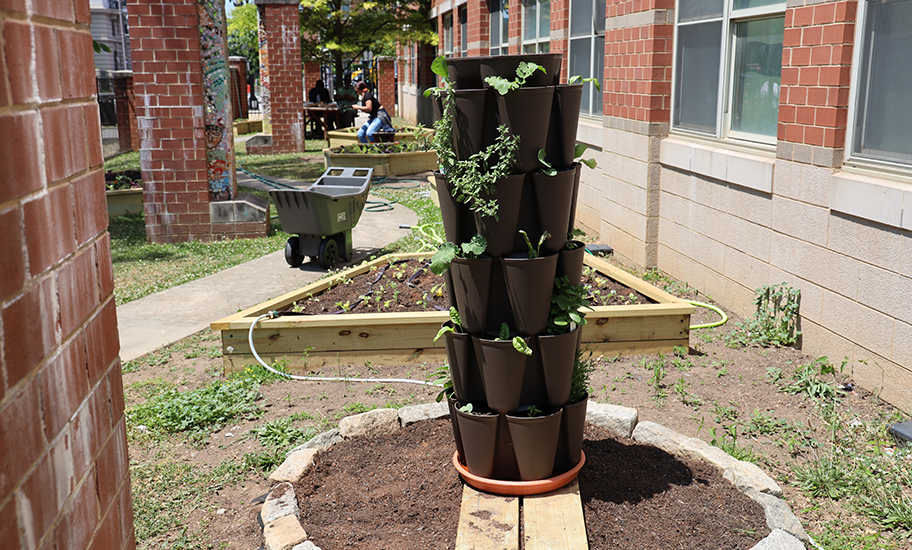 The Vegetable Stack – Nutrition Happening in the CHEC Garden
---
We hope you all are well. The Dean Team would like to share a few shout-outs and PD opportunities.
Special shout out to the following teachers listed below! These amazing teachers have given over 100 PBIS points to students last week!
Special shout out to the following teachers listed below! These amazing teachers have given over 200 PBIS points to students last week!
Huge shout-out to Kristian Ellingsen for giving 392 PBIS points to students last week ! These teachers have given over 300 PBIS points to students last week!
Jada Thompson

Larron Metcalf

22
Please celebrate these students for their high earnings of PRIDE points!
Student Support Forms:

Also, we have created a platform that has the student support form and the behavior referral form.
. Please bookmark this link for future reference:
CHEC Student Support Guide
. Feel free to connect with the Dean Team if you have any questions.
Please celebrate these students for their high earnings of PRIDE points!
Student Support Forms:

Also, we have created a platform that has the student support form and the behavior referral form.
. Please bookmark this link for future reference:
CHEC Student Support Guide
. Feel free to connect with the Dean Team if you have any questions.
Athletics are an integral part of the educational program and a means to accomplish the goals of education. Our athletic program exists for the welfare of students and the contributions it makes to their educational experience. Athletic participation builds self-esteem and confidence and provides the necessary tools for success. The interaction between individuals on the fields of sport teaches students the value of teamwork, while developing the proper competitive spirit, combined with a sense of fairness.
LAST WEEK'S RESULTS
HS SB defeated Banneker and lost to Wilson. HS Baseball lost to SWW.
---
Monday:
DCIAA Developmental Track Meet @ 1:00 at Spingarn
MS & HS Golf @ 2:00 at Potomac Golf Course
Tennis at DCSAA Tournament @3:30 at SE Learning Tennis Center
SB vs. Maret @ 4:15 at Maret (DCSAA Playoff)
DCIAA Developmental Track Meet @ 1:00 at Spingarn (Field Events Only)
MS & HS Golf @ 2:00 at Potomac Golf Course
BB vs. Cardozo @ 4:00 at Maury Wills
BB vs. Phelps @ 4:00 at Maury Wills
---
If you are still interested in participating in spring sports and/or working out with your fall/winter sports team, you must have completed your online participation forms, which includes uploading your up to date physical.
Forms are available at https://www.thedciaa.com/participation-forms. If you have any questions, please contact Coach A at desmond.alexander@k12.dc.gov. Follow us on Instagram @checsports for the latest updates on team interest meetings. Or email your spring sports coach for more information!