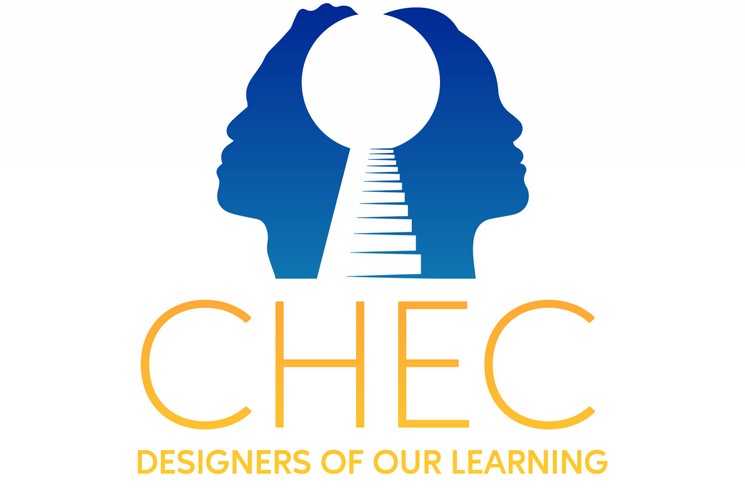 Our journey in redesigning how we learn and how teach at CHEC is now seriously underway. Within the past 20 days, three separate teams have achieved the following:
Each of these ventures by themselves are firsts for CHEC and DCPS. Taken together, they represent the breadth and scope of our ambitions as a school of the future.
Professional Development and Record Keeping Day
Schedule sent in previous Email
WEDNESDAY,
APRIL 26
, 2023
SLC Morning Meeting/MTSS Meetings
Departmental Planning Period Meeting
Departmental Planning Period Meeting
11
th
and 12
th
Grade AP Pep Rally – 4
th
Period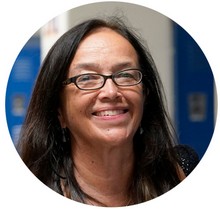 ---
This week's focus is on the following phrase from the CHEC Mission:
"We trust one another to continually improve our practices."

WE HAVE A RECOGNITION!
APRIL 26 IS NATIONAL ADMINISTRATIVE PROFESSIONALS DAY
Wednesday, April 26 the country celebrates National Administrative Professionals Day! At CHEC we have dedicated and talented administrative professionals, who support teaching, learning, operations, counseling, and mental health services. These talented individuals support every single person in the building. In fact, most of our every day actions and support of students could not take place without them! Their focus on customer service and collaboration is outstanding. Please take some time this week to show your love and appreciation to our administrative professionals:
Billy Oliva, Coordinator of Strategy and Logistics

Hamdel Tobias, Manager of Strategy and Logistics

Angela Doctor, Administrative Assistant

Dora Lemus, Administrative Assistant

Carmen Dileyn Lora, Registrar

Luz Del Cid, Administrative Assistant

Luz Lemus, Parent Coordinator

Victor Molina, Parent Coordinator,

Antonia Lora, Attendance Counselor

Lance Swinto, Attendance Counselor

Nicholas Padilla, Technology Aide
CULTURE AND CLIMATE

Our norms are more important than ever during the last advisory of the year. We must continue to improve in making sure students arrive to, and remain engaged in, all classes, every period. When students leave the classroom, it should only be for clear and approved purposes, such as going to the restroom, to get water, for an approved and written appointment for the nurse, tech, mental health services or counseling. All of these purposes require a written appointment slip for that purpose. In other words, if a student says, " I need to see someone for technology", if they do not have a written appointment slip, they should not be permitted to go. All of our professionals have schedules and appointments, and cannot accommodate walk ins.
Passes should be uniform, and have all of the important information on them – where the student is going, why, who the teacher is, and when they left. You have received information from the Climate team on our new color coded pass system. This has been made necessary since many students have misplaced their agendas, and we do not have a consistent hall pass system. However, for any system to work, it must be implemented consistently by ALL staff members. Please support our new revised system of passes, so that we can eliminate unnecessary lost instructional time, and ensure that all students are moving safely and with purpose during the entire school day. To make sure students can own their learning through full and active participation in class, continue emphasizing on time arrival to class, a strong opening and close to class, and minimizing time out of class. Please make your focus on engaging students with ideas and activities that are interesting, aligned to standards, and relevant to their lives and cultures. Our project based approach to instruction is a great vehicle, especially when we design the projects with students in mind.
---
"How might we reinvent how we do school using Design Thinking?"
Our entire faculty has been engaged in designing learning through either Inspiration visits, Design Sprints, or field experiences. Students are now being engaged in designing their learning through field experiences, design sprints, and pilots of student co-designed projects. Ultimately our goal is for design thinking and learning to be the way we "do" school. During our May Faculty Meeting, we will have an open space technology to share our experiences and learn from one another. In our June Faculty meeting, all SLC's will have an opportunity to do learning launches of their prototypes.
Our Admin team is receiving leadership training in how to facilitate or host conversations on design, and will be documenting our journey to design thinking using an app called the "Small Wins Dashboard." Each small step we take towards changing how we approach school, is a success, and it is important to tell our story.
One of our Design Pillars is, Students will be Designers of Rigorous, Multicultural Learning Experiences. During the break, two student teams brought this pillar to life by designing their learning in Cat Island Bahamas and Chicago, Illinois. We will arrange for these student teams to share their experience in designing a field experience and how it promoted their learning. Faculty members are also designing their learning as members the Wellness Design Sprint attended a conference during break on Brain Science and Learning.
All of our learning experiences and increased capacity for redesign will be documented for the next step in the XQ application process. We have received information on the next steps in applying to be a part of the next XQ Cohort. We are to prepare a proposal with artifacts responding to the XQ design criteria, providing documentation of our progress toward meeting the XQ design principles in our new design. The proposal and artifacts are due on May 5th, and a presentation will be made to XQ and Central Office staff on May 19th. Based on that presentation, we will be notified if we are accepted to the next cohort. Regardless of the outcome of that presentation, we will continue on our journey to designing our learning. "We trust one another to continually improve our practices."
---
NEW FIELD TRIP PROTOCOLS
Field Trip Office Hours for Trip Sponsor Role (Week of 1/23 and ongoing)
All field trips taking place after January 3, 2023, must be entered via the new Field Trip QuickBase app. The Field Trip QB User Guide and additional resources are available in the DCPS Way Field Trip Folder. Trip Sponsors to attend upcoming office hours for support with the new app: 
Before loading the trip onto the App, please still fill out the CHEC Internal Field Trip Form and get it signed before proceeding.
Shout out to Mr. Henggeler and Ms. Pugh for the Cyber security quad contest!

Shout out to Ms. Sanchez and Mr. Stewart for their Field Trip to Library of Congress!

Kudos to Mr. Best and team for their Spring Cleaning during Break!

Shout out to Ms. Appelquist for her Socratic Seminar!

Kudos to Mr. Alvarado for chaperoning the Cat Island Trip, and Ms. Pugh for logistics!

Shout out to Ms. Weiss for Chaperoning our student design thinkers to present at a conference in Chicago!

Kudos to the Instructional Coaches for organizing a great choice PD Day on April 10!

Shout out to all who attended the Brain Science Conference – Mr. Edmonds, Ms. DeVargas, Ms. J. Alvarado, and Mr. Boone!
---
MR. ARABIAN'S 9TH GRADE ESL CLASS
Week 11 of Semester 2 and Advisory 4
It is the second week of the Fourth Advisory! We are officially in assessment season!
As your class begins the process of taking PARCC, build their investment in the process by reminding them that they are prepared, by virtue of the standards aligned classes they have been receiving, and their work on Standards Aligned Projects. It is important to build confidence and a growth mind set as students approach this assessment, so that they can give full engagement.
In kicking off the fourth advisory, be creative with your new GRASPS. Get student input and ideas on how to improve the GRASPS! If you need assistance or support, please see your Department Chair or SLC administrator.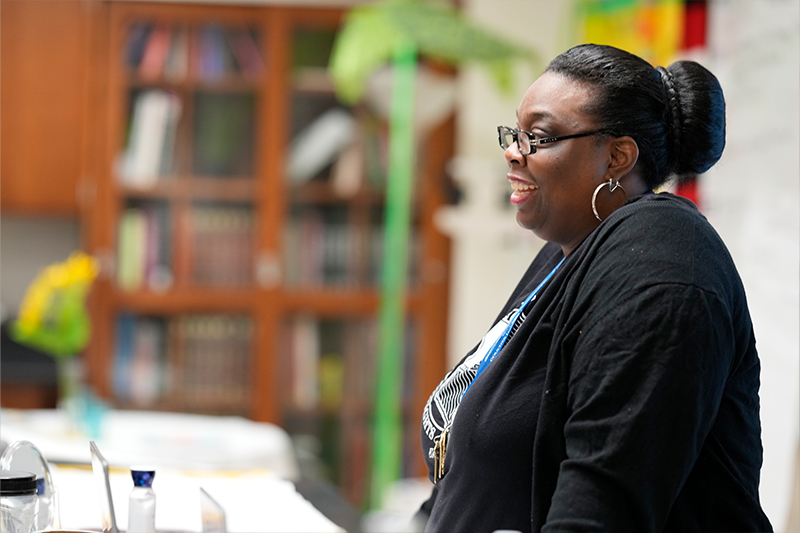 SEL is a great way to relax, relate and to release. As the weather is getting warmer, taking the time to enjoy nature is key having some great SEL moments. Ms. B and Ms. Planter's students helped out at the mini farm beside the schools tennis courts . We planted Kale, cabbage, mustard greens and a host of other items. This is a great way to get your whole child antiracist initiative flowing for your students. If you would like to get involved in more social emotional learning please see any whole child teacher lead.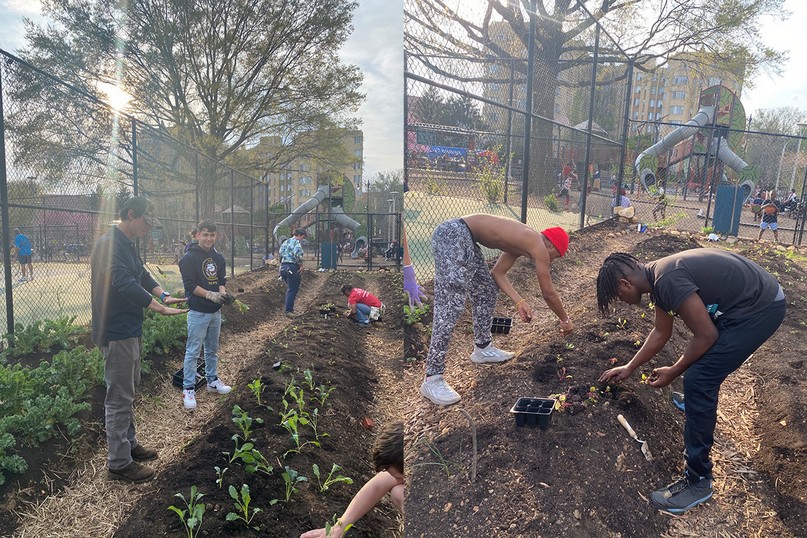 Environmental Science Teacher
To Live, To Learn, To Love!
The Instructional Calendar is a living document that houses all the major curricular requirements, assessments, and schoolwide events. The Instructional Calendar is complete for the moment, however cha
nges may be made and will be noted.
If you have any requests for additions to the Instructional Calendar, please contact Mr. Magee,
peter.magee@k12.dc.gov, maria.tukeva@k12.dc.gov or your SLC Administrator.
---
I hope that you have enjoyed a wonderful, restful Spring Break! As we return to school we will look to complete our MSAA ('Alternate PARCC') exam with our self-contained students. May 1st will see the start of our school-wide PARCC sprint. Please consult with the table below for major PARCC testing dates . Please note: I will be coordinating with Ms. Ameyaw and the Special Education team to complete any and all 1-on-1 PARCC testing.
If you know of students and families in need of assistance, please send the information to our Bulletin, where we will publish opportunities to show love and empathy. Please share these with your networks.
Professional Develoment / Record Keeping Day
ALT TEAM

The ALT Team met on April 11 to discuss the role of the ALT team in our Redesign process. The next ALT team meeting will be April 25 at 3:30 pm. We will focus on clarifying the ALT Team role in Redesign and planning professional development for the summer and for next year. All are invited to the ALT Team meetings!
---
NOW OPEN: BELL COLLEGE SCHOLARSHIP APPLICATION

Applications are now being accepted for the Bell College Scholarship. Apply here:
Eligibility Requirements:

Must attend Bell Multicultural High School at CHEC

Senior year and college bound

Grade point average (GPA) of 2.75 or higher

Attendance: No more than ten days of unexcused absences or tardies between the school year dates of August 29, 2022 and June 23, 2023

Discipline: Must have no disciplinary referrals whatsoever during their senior year. The Scholarship Committee will contact the Dean of Students and Attendance Counselor to confirm this.
Required Documents:

Personal Essay (2 pages max): How has your background and identity shaped your journey to college? How will you use your education to become a leader in the quest for social justice?

Academic Transcript

1-2 letters of recommendation

The recommendation(s) can come from a teacher, counselor, internship supervisor, school administrator, employer, or member of the community

College Acceptance Letter(s)

Financial Aid Award Letter(s) (if applicable)
Applications will be reviewed on the basis of: grades, conduct, attendance, financial need, personal narrative, letter of recommendation, education and employment history, and community service involvement.
The Gala Scholarship Committee will recommend names and tiers to the School Principal, and the Principal will make all final decisions. The Scholarship Committee will notify all applicants in writing with the outcome of their applications.
Complete applications must be turned in to your counselor no later than Friday, April 28th, 2023 by 4:00 p.m
---
NOW OPEN THROUGH JUNE 30TH:
EVERYDAY DC PHOTOGRAPHY EXHIBIT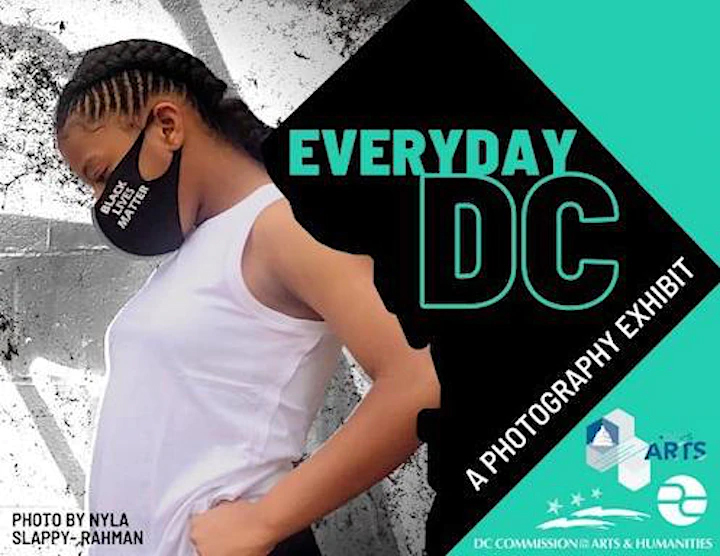 "Everyday DC," a photography exhibition that visualizes daily life in Washington, D.C., through the eyes of D.C. middle school students citywide, opened on March 30, 2023. The exhibition is open to the public every Monday to Friday, through June 30, from 10 a.m. to 4 p.m. Admission is free. Please come by to see the exhibition and support our middle school artists:
Angel Garcia-Giron

Zuri Smith

Jesus Hernandez

Jakelin Salmeron-Sorto

Summer Anderson

Jason Lopez-Valladares

Tyevontay Blackman
---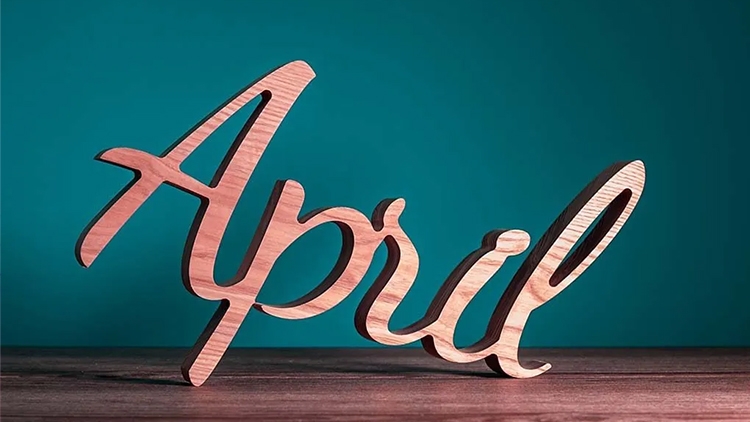 Message from Deans:

Welcome back, welcome back, welcome back!!!!

We hope that everyone had a restful Spring Break, is recharged and ready to finish the school year out with a bang! Like any return from a break, we know that it may take students some time to re-acclimate themselves to being back in school. It is very important that we remain consistent and firm with our norms and expectations, but also find a healthy balance of grace at the same time. Take time this week to reset the culture of your classes and maybe do a team-building activity or "Welcome Circle" to start your week off.
As a reminder, WE ARE DESIGN THINKERS and must be creative with how we keep students engaged.

START CLASSES STRONG AND END STRONG

.
Think of one thing you can change or improve in your classroom management to keep students engaged and excited to come to your classes and remain there until the end. The goal is to help remind students the importance of being on time and that every moment counts!
School Culture Updates, Reminders and Shoutouts
The Culture Team has created a new hall pass for all classes that will be effective on Monday, April 24th.

All passes have been placed on your desk and/or board in your classroom. If you are unable to locate the pass, please reach out to a Culture Team member.




NOTE: Each class will have ONE pass. If the pass comes us missing, you should contact a Culture Team Member on your floor for a replacement.



Students should not be in the hallways outside of transition without this pass. They will be sent back to your classes. Hand-written passes will no longer be permissible.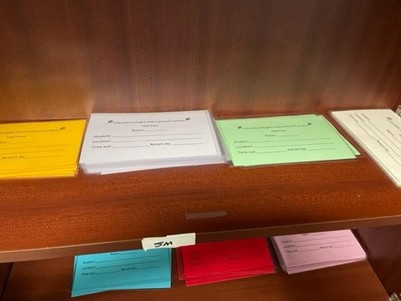 4th Floor: White

3rd Floor: Green

2nd Floor: Lavender

1st Floor: Yellow
MS Side
3rd Floor: Purple

2nd Floor: Blue

1st Floor: Red
Best Practices
Please make sure you give passes at all times

Always write students' Time Out and Return Time

Only one student should be out of class at a time

The 15-15 Rule
Reminder: Hall sweeps that will be conducted during PLT, 2nd, and 4th Period during the first 15 and last 15 minutes.
Thank you in advance for your support and partnership as we work to build a rich culture of high expectations of students.
UPCOMING PBIS INCENTIVES
(Please note that this schedule is tentative and is subject to change at the discretion of Culture Team Leaders.)
We will provide an update on the next incentive in next week's bulletin. Thank you for your grace.
PBIS
Reminders and Celebrations

Teacher All-Stars
(500+ Highest Interactions from 04/10--04/16)
Maria Borrego (1,168)

Latrice Quickley (525)
Kickboard norms reminder

Currently, we have less than 50% participation in staff rewarding students with Kickboard points. Remember, Kickboard helps to build positive classroom culture and should be integrated in your classroom incentives, norms and strategies to manage your classroom.
15 interactions per class and 45 interactions per day (minimum)


DO NOT deduct student dollars




Do not attempt to inflate the day of the incentive




Use the first 15 and last 15 of class to give dollars




Create in-class incentives (Do not deduct dollars)



---
STAFF RESOURCES AND PROFESSIONAL DEVELOPMENT OPPORTUNITIES
Restorative DC Professional Development Opportunities:
Reminder: Please bookmark this link for future behavioral referrals:
Use this form to recognize students for Student of the Week and Month:
Athletics are an integral part of the educational program and a means to accomplish the goals of education. Our athletic program exists for the welfare of students and the contributions it makes to their educational experience. Athletic participation builds self-esteem and confidence and provides the necessary tools for success. The interaction between individuals on the fields of sport teaches students the value of teamwork, while developing the proper competitive spirit, combined with a sense of fairness.
The HS baseball team won all three games it participated in the annual Maury Wills spring break tournament.
MONDAY:
HS BB vs. Jackson-Reed at Ft. Reno @ 4:00
HS Tennis vs. Anacostia at Turkey Thicket @ 4:00
HS Flag FB vs. Eastern at Roosevelt @ 6:00
TUESDAY

HS SB vs. Banneker at CHEC @ 4:00
MS SB vs. Hardy at Banneker Rec. @ 4:00
HS BB vs. McKinley at Turkey Thicket @ 4:00
HS Tennis vs. McKinley Tech at Langdon Communicty Ctr. @ 4:00
HS Flag FB vs. Banneker at Coolidge @ 5:00
THURSDAY:

HS SB vs. Cardozo at Banneker Rec. @ 4:00
HS Outdoor Track at Penn Relays
MS SB vs. Eliot-Hine at CHEC @ 4:00
HS BB vs. Cardozo at Maury Wills @ 4:00
HS Outdoor Track at Penn Relays
SATURDAY:

HS Outdoor Track at Penn Relays
To participate in sports, including tryouts, students must complete participation paperwork and upload their physical via https://www.thedciaa.com/participation-forms.
Anyone with questions, should contact the CHEC athletic director, Coach A in room D236, or via email at desmond.alexander@k12.dc.gov.
It is too late to join fall sports.
Spring sports practice have begun.
---
Desmond Alexander, CAA
Columbia Heights Educational Campus
Bell/Lincoln Multicultural Schools
(202) 939-7700 Ext: 5207 (office)