MR. STEARMAN AND MS. REZA TEAM TEACH
LINEAR REGRESSION
IN STATISTICS CLASS
WEEK OF DEC. 6, 2021

Tuesday, Dec. 7, 2021
Term 2 Progress reports due in ASPEN
COVID 19 SERT Team Meeting 3:45 High School Library and Virtual
Wednesday, Dec. 8, 2021
Thursday, Dec. 9, 2021
Friday, Dec. 10, 2021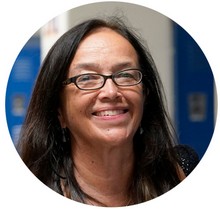 ---
DECEMBER 6, 2021: THIS WEEK'S FOCUS
This week, the focus is on the section of the mission which states,
"
Socio-emotional learning, empathy and restorative practices
are the foundations of our school climate and culture.
We foster a growth mindset and find joy and purpose in learning and collaborating.

We value student choice and voice

, and a rich learning environment that includes sports, the arts, and extracurriculars."
We are also focused on the following CSP Goals and Sub-Goals:
By June 2022, we will increase the student satisfaction – Index from 93% to 95%.
Sub-Goal 1: Increase the percentage of students who feel loved from 56% to 61% by June 2022

Sub-Goal 2: Increase the percentage of students who feel prepared from 55% to 65% by June 2022
Our process of reuniting with our students and community after 18 months of virtual learning and isolation, is one that truly requires us to focus on that portion of the mission and CSP. The Panorama Survey results which we just received, points to the importance of focusing on student wellness and sense of belonging. In the Fall Panorama we received the following results: the percentage who felt loved dropped by 10% to 46%, and the percentage who feel prepared increased by 1% to 56%. These results show that the process is going to take time. Every action we take to listen to student voice and perception, allows us to make moves and responses that will increase their and our sense of belonging and community.
Our work on Culture and Climate, and clarifying how our norms and expectations can be jointly held and supported by both students and staff, can only be accomplished through deep and ongoing conversations with students.
As grade level teams, we are developing a calendar of circles where we can organically discuss norms and build agreement on how we will live them as a school community. The empathy interviews we conducted in
last week's Faculty Meeting also built on this approach of true dialogue with students. These conversations provided a wealth of important information and feedback about what moves our students. We will utilize the anecdotal data and from these interviews to guide our next steps.
Thank you to all for your commitment, participation and patience as we navigate the somewhat turbulent waters of our reunited and reconstructed school community.
PLEASE COMPLETE THE INSIGHT SURVEY
Last week, on Thursday, all teachers received a link to the Insight Survey. At this time, we have a 38% response rate, and we need an 80% response rate. The survey closes on Friday December 10, and we truly need all teachers to respond. We take these results very seriously, and work on them as part of our CSP. If you need another link, please let us know! Thank you!
BUILDING COMMUNITY THROUGH LITERACY – An Open Letter
Hello All CHEC Team Members
On Friday, I ran into Pankaj and Reiss Allen who both shared they had read the book 10th grade is currently reading:
The Distance Between Us.
Then that afternoon a sub came to me to tell me one of my students was very passionately (perhaps a little too much) expressing her hatred for one of the characters in the book. It got me thinking that sharing with my students who in the building has read our book would a) help build community and b) show them that other people aside from me read. I'd like to make a poster telling students looking to talk about the book to find the adults listed who have read it. This is where I need your help.
As department heads and leaders in the building, can you help me spread the word to make my list of people who have read the book? Please have anyone who has read the book send me an email, text, or just pop by my room quickly. Your help will be immensely helpful in reaching all adults in the building, to really show students reading is something everyone does. Thanks in advance!
Noel Emilius, Ed.D.
---
COVID 19 UPDATES
The COVID 19 SERT Team will meet again on Tuesday, December 7, at 3:45 in the High School Library and virtually.
Update on Testing and Cases:
Since the last update, we tested over 300 students, and there have been four additional self reported positive cases. This week our testing day is Tuesday, and we must test again 30%, or 460 students.
We must continually reinforce proper wearing of masks – we will reintroduce our COVID 19 prevention videos, our student health ambassadors will be visiting classes to support adherence to all norms and protocols.




Limiting unnecessary passes for students is critical to limiting transmission. The Agenda book is the only pass, and it must be signed and dated.
---
SHOUT OUTS
Kudos to Ms. Warren, Ms. Weiss, Ms. DeVargas, Ms. Zuccarello, Ms. Mintz, and Mr. Rosenberg for attending a Reunion Dinner with parents and students who participated in the Summer Equity CDI! There were about 20 family members and students who attended to discuss their experience with curriculum design!

Shout out to all who have supported WIDA model Testing! We are almost there!

Shout out to all who facilitated Empathy Interviews with our students!

Shout out to Ms. Savage, Counselors, Advisors, and the Blueprint for their ongoing work with Senior College Applications!

Shout out to all teachers and coordinators of our Acceleration Academy!

Shout out to the Dean Team for another great asymptomatic Testing!


Shout out to Pankaj and the Ops team for our COVID 19 and other Vaccination clinics!
---
WE HAVE A RECOGNITION! HONORED TEACHERS PARTNERSHIP CONTINUES THIS YEAR!
Columbia Heights Education Campus's great teachers deserve to be recognized! We're proud to partner with Honored Schools again this year to do just that! Go to HonoredSchools.org to tell Columbia Heights Education Campus teachers how they've made a difference. Please share this with parents and students! Once recognized, teachers get an email with your recognition story and we'll celebrate them! Last year our very own Ms. Ramirez won the Life-Changing Teacher Award and a $5,000 cash award!
MS. DIVETTA'S ITALIAN CLASS
We are now entering the fifth week of the second advisory, and believe it or not, Progress Reports are already due by COB on December 7th. Please build reflection time into class so that students can reflect on what work they need to hand in in order to have the best possible grade. Since students should be well into their GRASPS, it is recommended to build in class time in for peer review and revision of the GRASPS.
World Language Classes will be administering the STAMP test in class this week
This week CHEC is celebrating computer science week with the following daily activities
A 5 minute PowerPoint to introduce the week in all Math classes




Women in engineering fireside chat in the library



Latinx in AI fireside chat in the library



Lunch and Code in the library. Students will eat pizza in the library and participate in Hour of Code during all 3 lunches



Black girls hack Fireside chat in the library



Drawing for Computer science gift bags.




5 for middle school and 5 for high school



The Instructional Calendar is a living document that houses all the major curricular requirements, assessments, and schoolwide events. The Instructional Calendar is complete for the moment, however changes may be made and will be noted. If you have any requests for additions to the Instructional Calendar, please contact Mr. Magee, peter.magee@k12.dc.gov, or your SLC Administrator.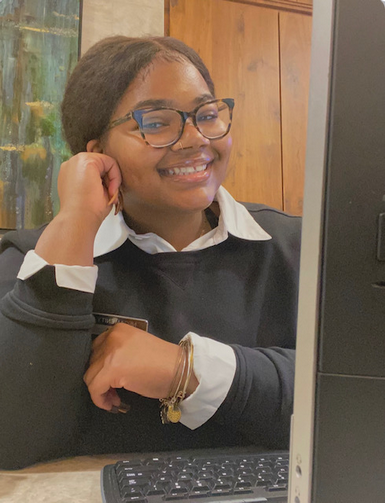 Cayla Lewis, Class of '19

We are excited to share that Class of 2019 alumna, Cayla Lewis, has accepted a sales position at Destination DC - a longtime partner of our Academy of Hospitality and Tourism. Destination DC is the official tourism company of the District of Columbia and leads many of the DC events and activities millions of visitors enjoy each year. The DDC team shared that Cayla stood out among dozens of applicants and felt that she can join one of the busiest teams in the company.
"I am so excited to begin this new chapter and thank the CHEC Academy of Hospitality & Tourism for recommending me for the role," said Cayla.
We look forward to sharing updates on Cayla's experience and highlighting other CHEC alum throughout the year.
BECOME A SOCIAL-EMOTIONAL ACADEMIC DEVELOPMENT (SEAD) FELLOW!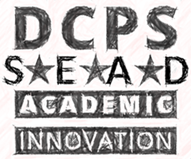 Apply by Monday, December 13th for the SEAD Fellowship. The Academic Innovations team is launching a social-emotional academic development (SEAD) Fellowship for K-12 teachers. Teachers will learn how to meaningfully incorporate SEAD design into their unit plans and instructional pedagogy by participating in professional learning opportunities and a SEAD PLC from December-April. Teachers will implement their revised SEAD units and receive instructional coaching and feedback. Participants will earn PLUs for their time as well as a stipend of $1250 upon the completion of the Fellowship and implementation of SEAD unit. This is a natural extension of your work as CI Fellows and we hope to work more deeply with this new PLC! Kick-Off is December with the Fellowship taking place January-April 2022. Email me or Madison Kantzer, CC'd here, with any questions!
Dear CHEC family,
I am pleased to inform you that the following 40 seniors applied to two or more colleges in November:
College and Career Coordinator
Bell Multicultural High School
Columbia Heights Education Campus
District of Columbia Public Schools
3101 16th St. NW Washington, DC 20010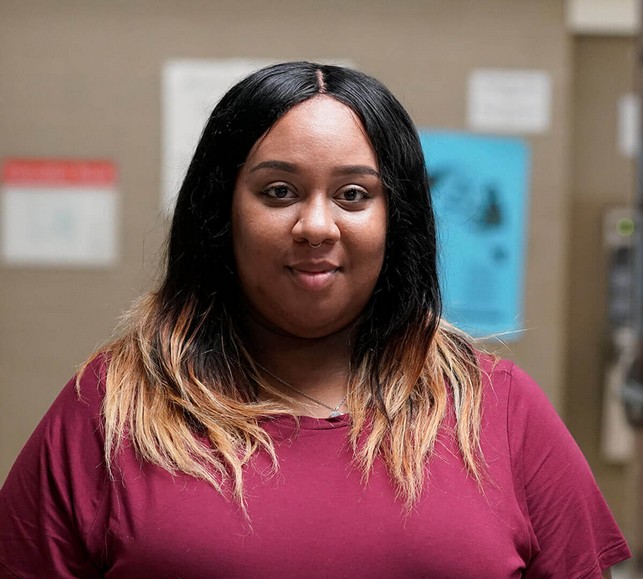 My Students

I am teaching a wonderful group of 9th graders. My main focus will be in special education, reading and writing at our school! Many students struggle with having the necessary supplies for their school year! No student should ever have to face these circumstances. That is why I am seeking out donations, so I can supply my students with these materials. This will be one less burden they will have to worry about.
.
My Project
These books will continue to enhance the print-rich classroom that I strive to create. My classroom library is a place that my students will enjoy while increasing their reading level. Every student book that is placed in my library is treated with love and care, and they are thankful for the opportunities to read. All of these books have been chosen with my students in mind-I have watched them the past few weeks of school read titles just like these, and I have also asked them what type of books they would enjoy reading. Students will be able to choose books, which will help them continue to enjoy independent reading time. With these new books, my students will be able to choose from a variety of books that will allow them to read independently at their own grade level.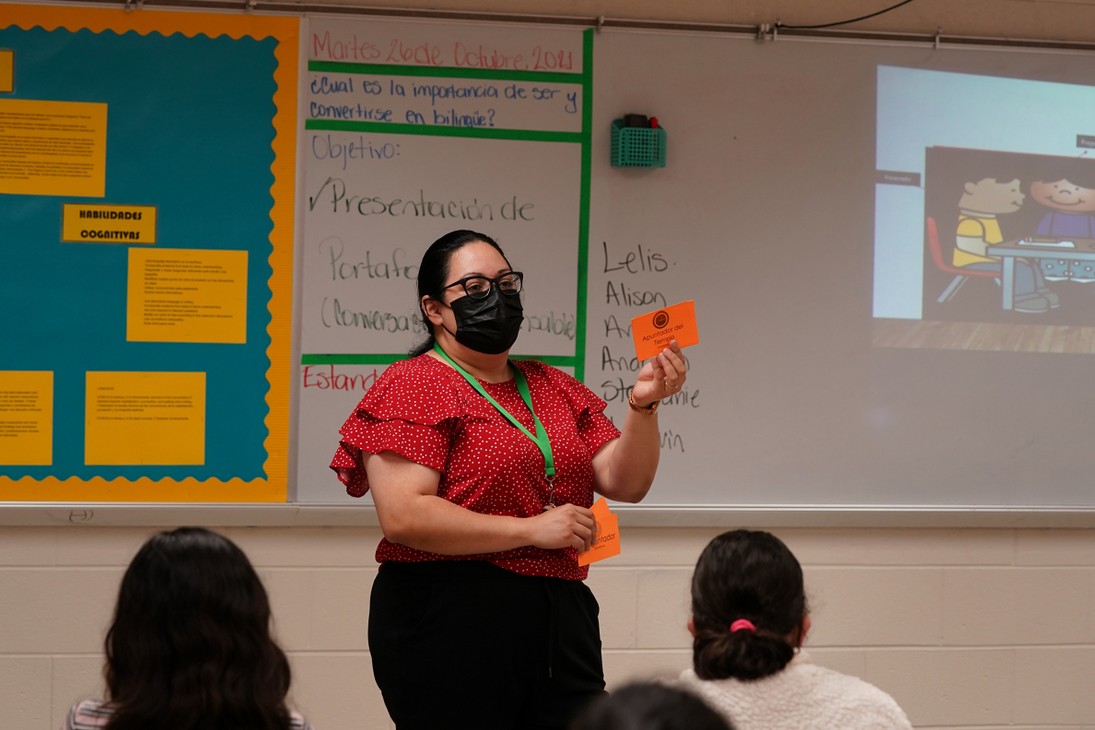 My Students

My students are very diverse with a lot of characteristics that make them special. You can walk into any classroom and meet people from all over the world. We are a low-income community, and 100% of our students are economically disadvantaged. My students are part of a Spanish immersion program where kids from different cultures and backgrounds have the opportunity to be in contact with a different language that will provide them with skills that help them stand out.
My Project
My kids are so excited to come back to school after a long time at home! I feel that this year we are all starting from scratch so it is a great opportunity for everyone with the great energy that we are bringing to the class.I want to make sure my students have individual sets of materials to ensure safety and equitable access. Students will need markers, composition notebooks, erasers, facemasks, bandaids, and pencil pouches for everyday use. They will store their notebooks in the classroom for the week. This will support them with having what they need to feel safe as well as prepared for learning!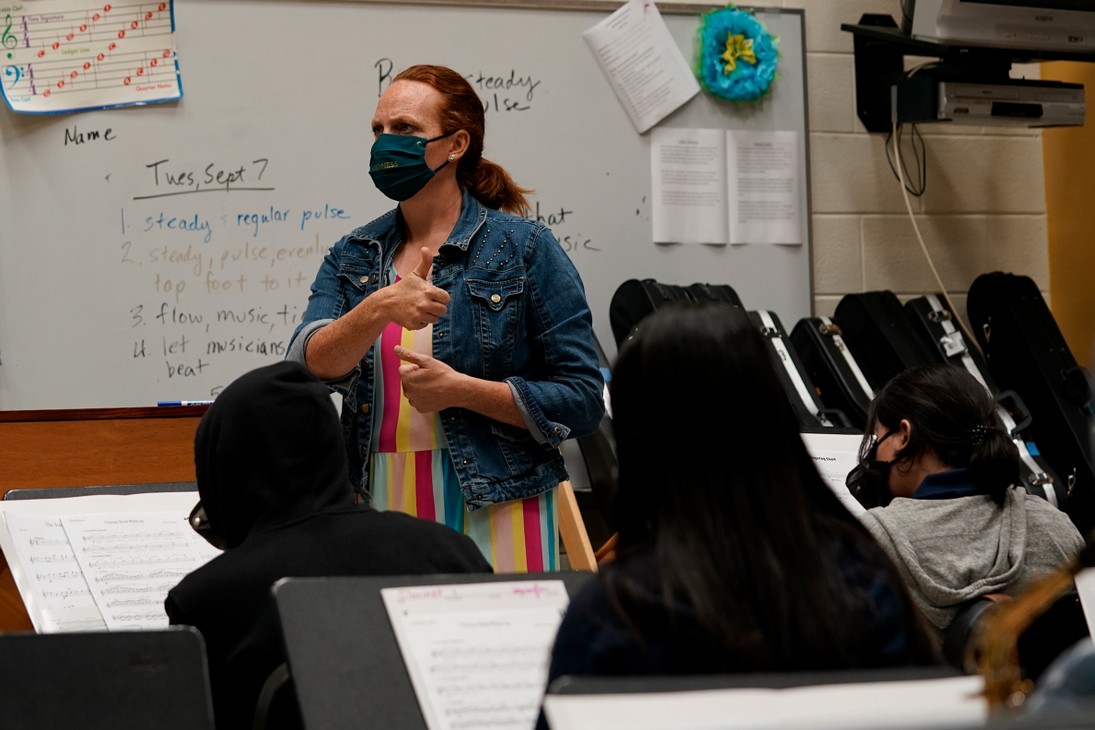 My Students

The students at our school are some of the most hard working, engaged, and creative students in the DC Public Schools. Their ability to manage rigorous curriculum and explore and expand their own creativity is truly remarkable. In addition, many of our students think outside of the box in regards to their future jobs and opportunities while understanding that their music education will only serve to enrich and enhance their lives. Students also use the music program as an expressive outlet.
My Project
Currently, we have five students without instruments to use in our sixth grade orchestra. They look so sad without an instrument to play. Because of our history of having supporters who care about music learning and our students at CHEC, it is rare our students go without for long. Being an educational campus and maintaining relationships with our students for seven years, I know that with this donation, we can offer students the opportunity to learn and study throughout middle school, high school, and hopefully, for the rest of their lives.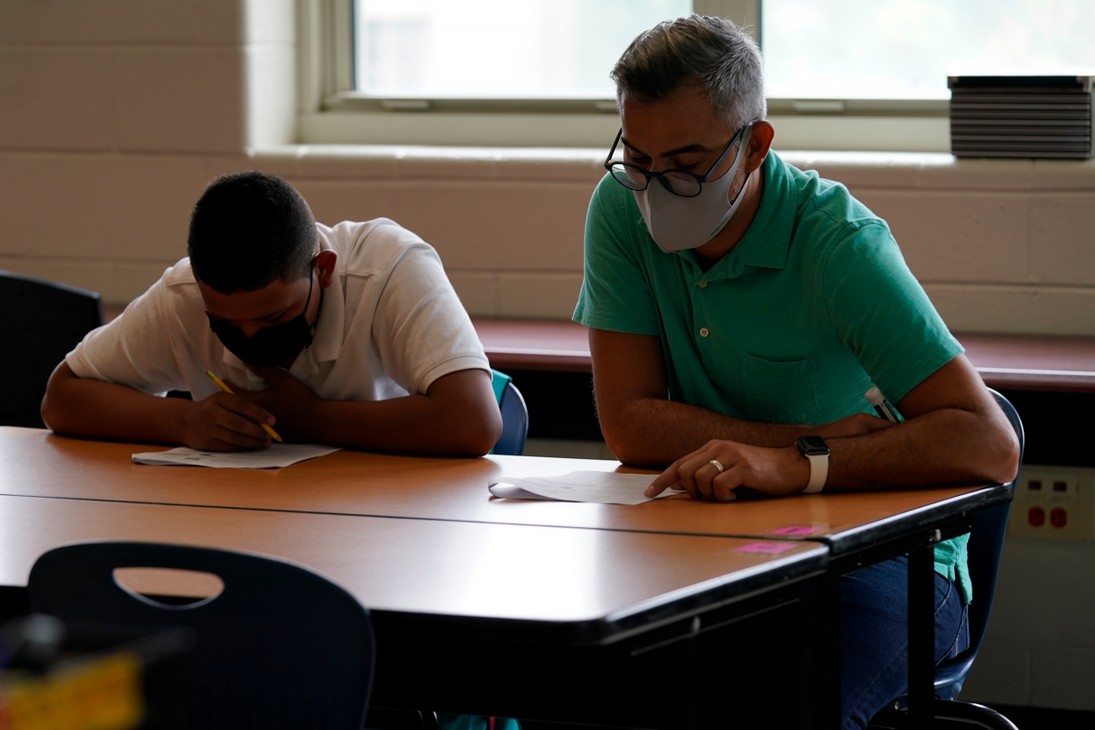 My Students

My students are a wonderful group of High school kids, many who have immigrated from countries like El Salvador, Guatemala, Honduras, Mexico, Philippines, Ethiopia, Laos, and the Dominican Republic amongst other. 90% of students at my school are language learners - whether that is learning Spanish for the first time, or learning English. We are a dual language community that works together to learn about societal issues, poetry, theatre, and short stories.
My Project
My students are some of the most resilient people I have ever met. Many of them have fled their home country because of violence, political corruption, and poverty. All my students are English language learners and some have experienced interrupted education. However, they do not let their current or past struggles get in the way of pursuing a better future for themselves and their families. My students invest time in their education. They stay after school, on Saturdays, and even come in the summer just so they can catch up to the rest of their peers.
MS. HANLON HAS CREATED A NEW PROJECT FOR HER STUDENTS: "ADDRESSING TRAUMATIC EVENTS USING SEL ACTIVITIES"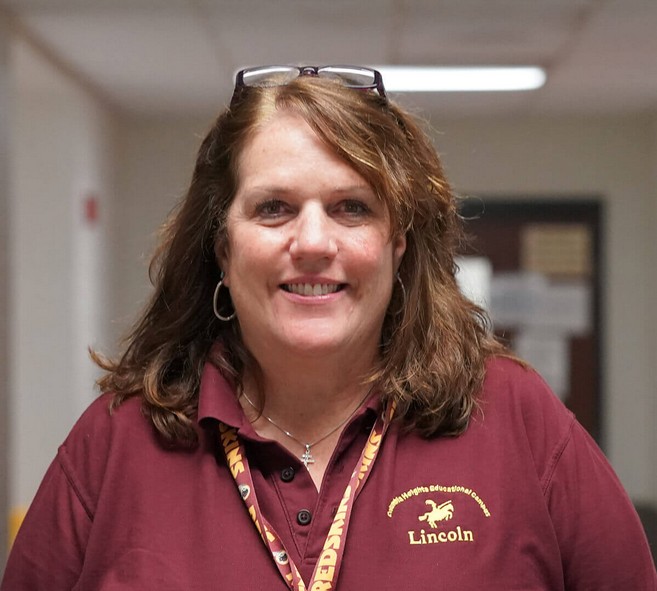 My Students

My students are 6 – 8th graders. We believe that all students who graduate will be prepared to succeed in college and civic life as leaders in the quest for social justice and anti-racism.
.
My Project
My project will be to group the students into small learning communities or groups. Then, by using an Evidence Based Treatment Curriculum, (EBT) I hope to help my students to recognize their traumatic event(s) and understand how they have been impacted both behaviorally and academically. Then by using the EBT curriculum, help them to navigate and work through their struggles to improve their whole self both academically and behaviorally.
.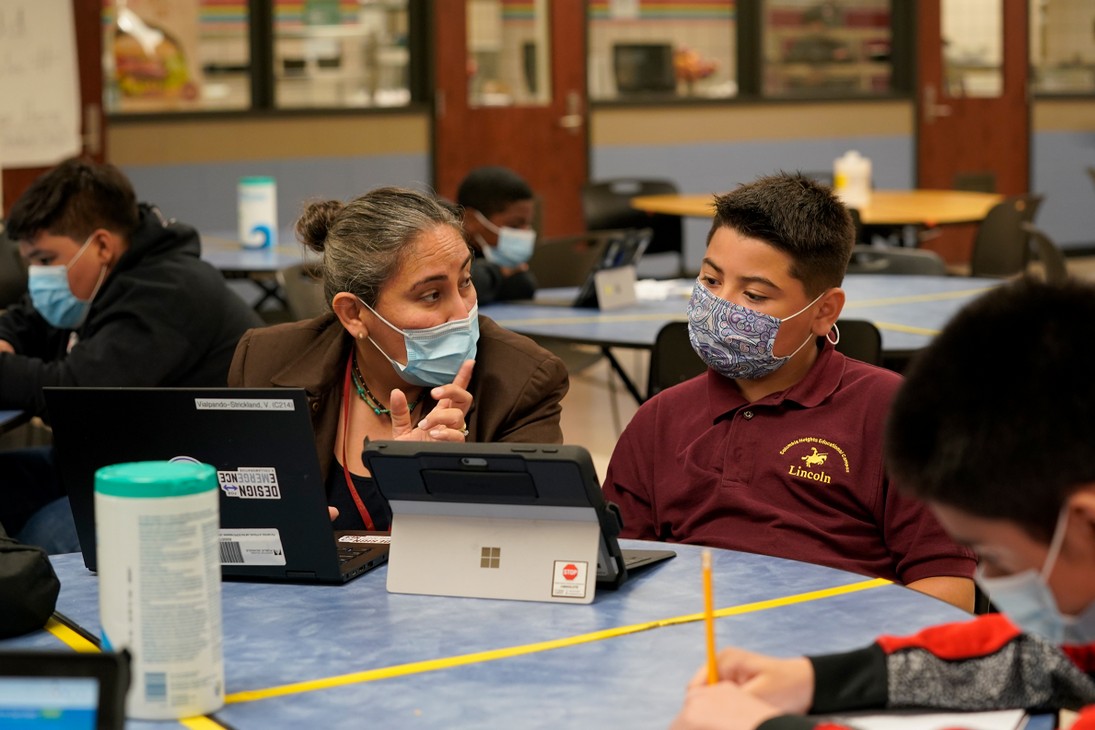 My Students

My students are spirited and joyful 6th graders, who are interested in coding, enjoy writing and socializing. A third of my class is ESL, a few are SPED and a couple have tailored 504 plans. They enjoy storytelling and recognizing each other and supporting each other on good days and bad ones. Lately, my computer freezes or is slow. The glitches increase and have a negative impact on my students' achievement and they want to learn how to code. Each student requires my personalized attention every day to provide academic assistance and encouragement during virtual instruction and learning.
My Project
We will learn about the 1619 Project and learn from our diverse backgrounds. Students will explore the topic of social justice from diverse writers. We learn together. We Grow from our mistakes. Our lessons will focus on learning about social justice and how we are critical thinkers and advocates for ourselves as well for our communities. Students will reflect on the writers' point of view and what each book is communicating. Students will also be asked to write their own children's book similar to " I am Enough." Students will share with our local daycare.
Schedule Library Visits and Collaborations
Email angela.falkenberg@k12.dc.gov or call extension 4018 to schedule Library Visits and/or lesson collaborations. These collaborations include co-teaching, resource curations, reading promotions, GRASP assistance, etc.
Columbia Heights EC - Lincoln MS
Athletics are an integral part of the educational program and a means to accomplish the goals of education. Our athletic program exists for the welfare of students and the contributions it makes to their educational experience. Athletic participation builds self-esteem and confidence and provides the necessary tools for success. The interaction between individuals on the fields of sport teaches students the value of teamwork, while developing the proper competitive spirit, combined with a sense of fairness.
Congratulations to our HS boys soccer team on winning the DCIAA championship over Wilson 2 - 1. Congratulations also goes out to Almera Carter who shaved 3 seconds off her time at the DCIAA Cross Country Championships. Finally, congratulations to our MS GSOC, MS BSOC, and HS GSOC teams on great seasons. The MS GSOC team lost to Hardy. The HS GSOC team lost to SWW in the DCIAA semifinals. The MS VB team defeated Brookland. The HS VB team defeated Anacostia to end its regular season and defeated Eastern in the quarterfinals of the DCIAA playoffs. This upcoming week wraps all our fall sports regular seasons. Playoffs and championships will continue this week. Winter sports practice start this week.
HS BOYS SOCCER TEAM RETURNS DCIAA CHAMPIONSHIP TO CHEC IN COME FROM BEHIND WIN!
CONGRATULATIONS TO CHEC'S 2021 HIGH SCHOOL SOCCER ALL LEAGUE AWARDEES:

GIRLS COACH OF THE YEAR

GIRLS ALL LEAGUE AWARDS
HS BSOC vs. Georgetown Day at Cardozo @ 2:45pm (State Playoffs)
HS VB vs. Sidwell Friends at CHEC @ 5pm (State Playoffs)
HS BSOC State Playoffs con't at Georgetown Day @ 2:45pm
HS VB State Playoffs con't at Banneker @ 5pm
HS VB State Playoffs con't at TBD @ 5pm
HS BSOC State Playoffs con't at TBD @ 2:45
HS VB State Championships TBD
HS FB vs. McKinley Tech at Cardozo @ 6pm (DCIAA playoff semifinals)
HS BSOC State Championship at TBD @ 5pm
To participate in sports, including tryouts, students must complete participation paperwork and upload their physical via https://www.thedciaa.com/participation-forms. Additionally, all student-athletes, who are older than 12, must be vaccinated by November 1st to begin or continue to participate in sports. Anyone with questions, should contact the CHEC athletic director, Coach A in room D236, or via email at desmond.alexander@k12.dc.gov . Winter sports practice begins November 1st.
Winter sports include: