TUESDAY, OCTOBER 31
,
2023
ALT Team Meeting -3:30 pm MS Library
WEDNESDAY, NOVEMBER 1,
2023
SLC/MTSS morning meetings
THURSDAY, NOVEM
BER 2
,
2023
November Faculty Meeting – Focus on the Library – 3:30 pm
Professional Development and Recordkeeping Day – No Students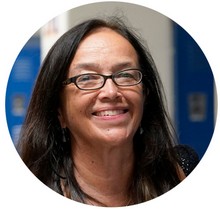 ---
WE ARE DESIGNERS OF OUR LEARNING
This week the focus is on the phrase from our mission, "We value student choice and voice, and a rich learning environment that includes sports, the arts, and extracurriculars."
Let's continue to design for joy, belonging and celebration, as we celebrate Halloween week and the end of the Advisory with our students! Staff are going to bring on the cheese with the Cheesy Sweater Contest, and students can elect to wear costumes on Tuesday and be a part of the Costume Contest. There are prizes for both contests!
When students are excited to come to school for organized, collaborative fun activities, that translates to their engagement and commitment to their work. We have heard from students that they want school to be "more fun." During this last week of the Advisory, please provide time for reflection and make-up, so that all students can improve their grade. Our CSP goal is for 95% of our students to pass their core classes – as we wrap up Advisory 1, we can provide the time and place for students to achieve this.
How Might We Use Design Thinking to Transform our School through Student Voice and Choice?"
As we continue in our journey to increased student voice and choice, it is important to reflect upon why we began this journey. In our original educational audit in March of 2021, we saw in the data that too many students were failing early on in their high school career (9th grade) and never recovering, eventually leaving school or just scraping by. In speaking with students, we heard that failure often was a result of their lack of interest and engagement in certain courses, and the feeling that they were not able to take the courses they really want to take. They also cited needing more responsiveness to their socio-emotional needs, and wanting to be involved in decision making about their lives and futures. Because of these needs, our Redesign has focused squarely on the themes we heard.
School wide Youth Voice and Choice and Design Thinking
So far, we have had over 72 students attend at least one meeting – we are almost one quarter of the way to our goal of 25%, or 400 students attending at least one leadership meeting. We are working to create a safe space where students feel their voices are heard. This can be supported as well in the classroom by making the classroom a place where student talk is prioritized. Students are developing more confidence in sharing their voices as we provide more ongoing purpose and opportunities for the sharing.
Last week, three members of our team, Ms. Penn, Mr. Smith, and Ms. Avila, along with students Abide Kao, Gustavo Rosas, and Daniel Delgado presented on the theme of student voice at a conference at the Nueva School in California. Daniel, who is in the seventh grade said, "I felt good attending the Admin team meeting because I shared my ideas, and no one laughed at me."
Community Development Pilot
All students at CHEC are required to do 100 hours of community service. Often, students have difficulty deciding what to do for service, and where to do it. Our Social Issues Class is focused on having students assessing their communities' needs, and determining a topic they want to explore deeply in order to engage in service learning. During the PBL training, Mr. Bellido designed this project such that the students in the class will hold a Community Service Fair to engage their classmates in service.
Flex Schedule Pilot
We got excellent feedback at the faculty meeting and will continue to reach out to the rest of the faculty and students to collect feedback on how the master schedule is being experienced. In last week's Student Government Meeting, SGA members reported that many students are finding it difficult to manage their time and assignments with the A day B day schedule. They reported on their classmates feeling and have asked that we revisit it for the second semester.
Advisory Pilot
During the PD time available on Friday, we will have a design team meeting to look at the feedback on Advisory, and use it to make improvements for second advisory and beyond. If you are interested in being a part of the Advisory Redesign Team, please come to the Middle School Library at 8:30 am on Friday.
Co-Designed PBL Pilot

During Friday's PD time, all departments will have time to reflect on the learnings from the PBL Works professional development two weeks ago. The PBL pilot teachers have received training in the process of co-design and co-planning with students. We will be offering a professional development in co-designing on November 15 – details forthcoming.
Last week, we had visits by Restorative DC and the DCPS Becoming Office.
We got a great deal of positive feedback about the "feel" of the building, and the level of joy expressed by students and staff. Walk throughs and observations can provide significant data in the form of an "uncommon measure", in other words specific anecdotal data.
This change in the culture is do the hard work of all staff and students, and our focus on making sure all students feel a sense of belonging.
This week, we will continue the focus on having a warm welcome to the building and to every class.
It is also important to utilize the color-coded passes. If you need another one, please let the culture team know. You have received information from the Culture team on these initiatives, as well as how our Culture team will support all staff in maintaining a positive culture. The norms have been discussed in detail in Advisory over the first four weeks, and it is important to continue to use the language of the norms throughout the school year, in a co-regulatory fashion.
Shout out to the whole CHEC Team for an Nonpareil Ninth Week of School!

Thank you to all for a great Homecoming! Special shout out to Mr. Whitney, Ms. Burnett and Mr. Molina for overall coordination along with SGA!

Kudos to all who supported the Pep Rally – Mr. Duvall, Mr. Jacobs and the Band, Major Wright and MsSgt Deschamps and the NJROTC, Ms. Burnett and Ms. Donahoue and the Cheerleaders!

Shout out to Coach A, Mr. Boone, Ms. Donahoue, Mr. Whitney, Ms. Hogan and Ms. Burnett for a great homecoming game – and victory!

Kudos to all who supported the Homecoming Dance – Mr. Whitney, Mr. Molina, Ms. Blankson, Mr. Hunter, Mr. Mendez, Mr. Bueno and Ops, and Ms. Hogan!

Shout out to all who supported our Bahamian Exchange Program, especially Ms. Pugh, Mr. Bermudez, Dr. Lainez, Mr.K.Alvarado, and Ms. Jaffee!!!

Shout out to Ms. Yamashita for coordinating the visit of our Japanese Exchange students, as well as a three way meeting with students from CHEC and Cat Island!

Shout out to High School Admin for supporting in Mr. Smith's and Ms. Avila's absence! Special shout out to Mr. Jones, Ms. Thweatt and Mr. Boone for holding it down and being visible with our middle school little ones!

Shout out to Ms. Penn, Mr. Smith, Ms. Avila for representing and presenting at the Nueva School Conference in Cali!

Shout out to Ms. Thweatt, Mr. Jones, Ms. Savage and Mr. Whitney for a great Senior Convocation/Junior Pinning Ceremony!
MR. BELLIDO TEACHES PRINCIPLES OF
COMMUNITY DEVELOPMENT FOR XQ CLASS
Week 10 of Advisory 1 - almost in the books
We are beginning week 10 of the school year and the end of the First Advisory~
This week please provide feedback and time to all students to complete any pending work, or re-take any assessments they need to do better on. Our goal is to have no failures! A tier 1 Intervention for this is called a Learning Contract. This happens during regular class time. Students are led to review their ASPEN gradebook and identify which assignments or tests they need to do in order to receive a passing grade, or improve their grade. Then, on a form provided by the teacher, students commit during that class period to complete those assignments, or re-take that assessment during that class period. Since this is done during regular class time, students are provided an objective and clear norms related to the Learning Contract work period. There are four days left – two A days and two B days. Please provide at least one of these days for a Learning Contract work make up period.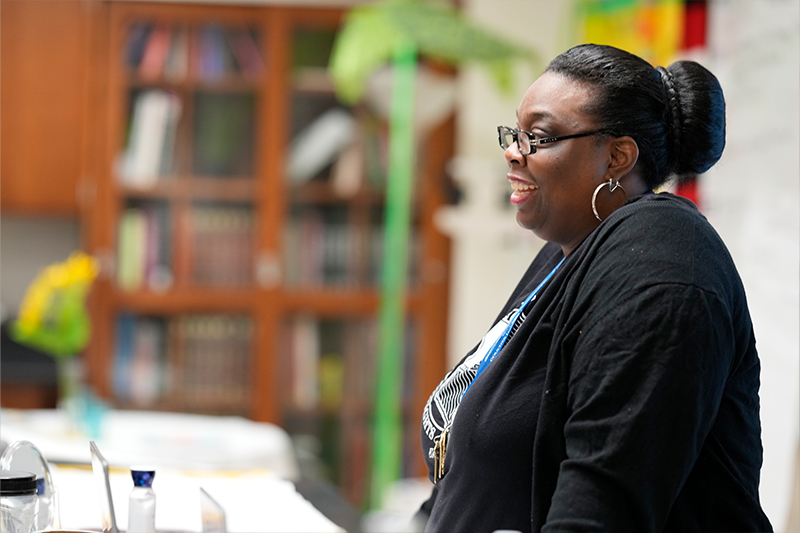 Hello and welcome to the Whole Child Antiracist teacher edition. This section will be for teachers to have their questions answered and highlight teachers who are celebrating and continuing the whole child movement with DCPS. Our school is a pilot school for the Whole Child Antiracist initiative and I am the Whole Child Antiracist teacher lead.
This week on the whole child antiracist continuum I would like to highlight creating supportive environments and building trust amongst students. Here are some pictures of creating a supportive environment and trust building interactions. In the first picture, Ms. Planter and student Harmony pose together to show school spirit. Ms. Planter matched with Harmony on the school spirit day of teachers dressing as students. This is a great way to build trust and show a supportive environment to the student Harmony to let her know I support your dress no matter how creative you are I support you.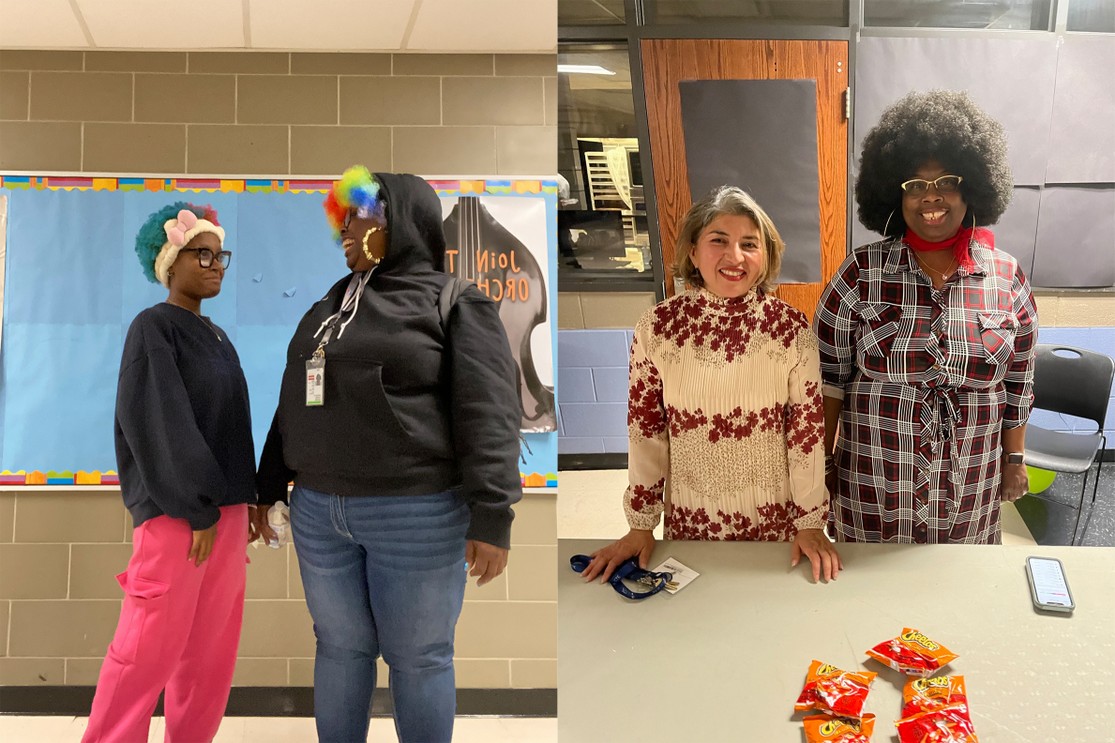 In the next picture, Ms. Planter and Dr. Lainez show support at homecoming on 70's night. It was great seeing their support of students at homecoming. If you as a teacher have pictures of support of trust building interactions, please let Ms. Planter know through email at angenette.planter @k12.dc.gov. Thank so much for all you do teachers and thank you for showing supportive environments daily.
---
A Buddy Teacher is a veteran CHEC teacher who will be paired with a new teacher (new to teaching or an experienced teacher new to CHEC) to provide support throughout the 2023-2024 school year. A Buddy Teacher is expected to introduce themselves and check-in with their buddy regularly. Buddy Teachers will provide their buddy guidance on navigating things ranging from how to print to IMPACT to classroom management tips and tricks. Buddy Teachers are not expected to be experts on all topics but, when needed, should point their buddies to the people in the building who are experts. Our goals through the Buddy Teacher Program are to a) provide new teachers with more supports, b) create a stronger sense of belonging for new teachers, c) cultivate an environment where all teachers feel they have the resources they need to succeed, and d) foster a culture of shared leadership within our CHEC community.
The Instructional Calendar is a living document that houses all the major curricular requirements, assessments, and schoolwide events. The Instructional Calendar can be found on the CHEC Corner on Canvas, and you have also received an invitation to share the calendar. If you have any requests for additions to the Instructional Calendar, please contact Ms. Massoni, Mr. Whitney, or Ms. Bruemmer.
This Friday is a record keeping/professional development day. Professional Development time will be in the morning, and Record Keeping in the afternoon. Our professional development time will be focused on providing time for teachers to work on curricular documents for Advisory 2. This can involve reflecting on the upcoming GRASPS, and ways to make it more responsive to student interests. We will hold an optional design meeting for all those interested in reviewing feedback on Advisory Curriculum, and working on mapping out the next three advisories.
The ALT team is serving to guide our Redesign and our Comprehensive School Plan, and will be meeting every two weeks. The fourth ALT team Meeting was Tuesday, October 17. Notes can be found here
. Notes can be found here.
The agenda included reviewing feedback from the Faculty Meeting, and deciding on next steps. We need to hear all voices on the ALT! The next ALT Team Meeting will be on Tuesday, October 31st at 3:30 pm in the middle school library. W
e will continue to look at first advisory data and make adjustments to our practices as needed, we will also begin the process of focusing on collecting data on "small wins" or indicators of what is working.
CHEC HOSTS CULTURAL DISCUSSION WITH EXCHANGE
STUDENTS
FROM JAPAN AND CAT ISLAND - THE BAHAMAS
JAPANESE STUDENTS
PRESENT TO CHEC STUDENTS
October is Growing Healthy Schools Month (GHSM)! GHSM celebrates how schools are creating healthy places for all students.
You can take the pledge here. All it takes is 5 minutes! Please share with your staff and teachers at Columbia Heights Education Campus, the more pledges the better!
Please contact the GHSM team at OSSE.Nutritionprogram@dc.gov with any questions.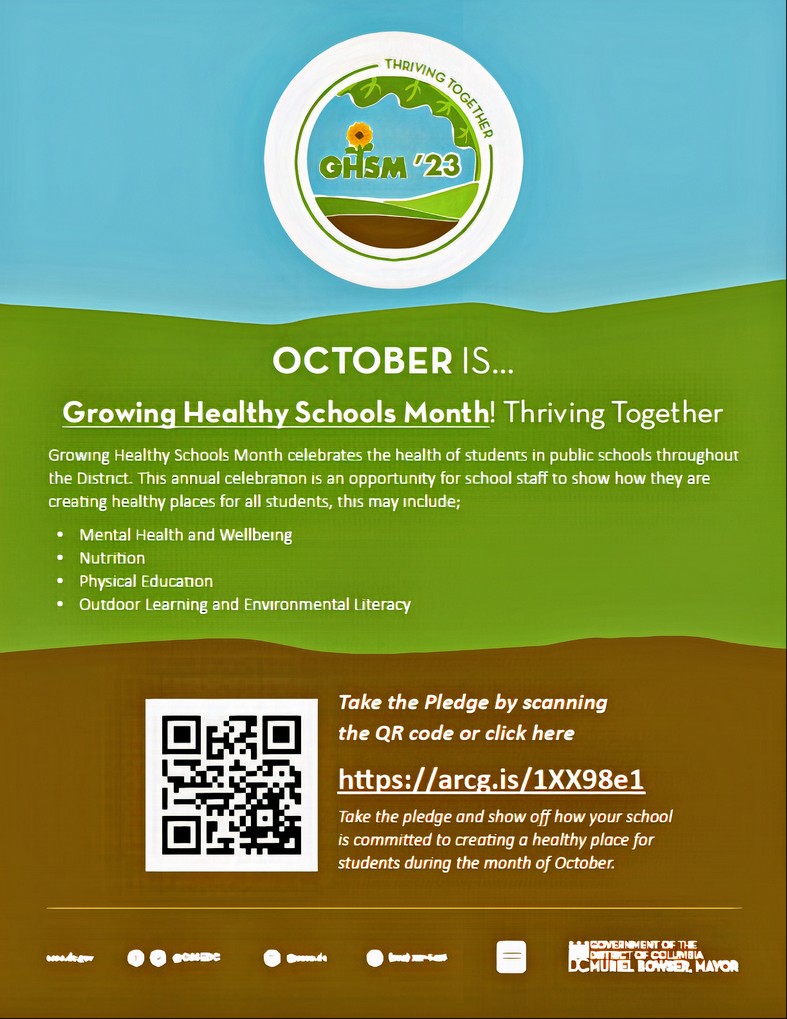 Happy Homecoming Week Griffins!!!!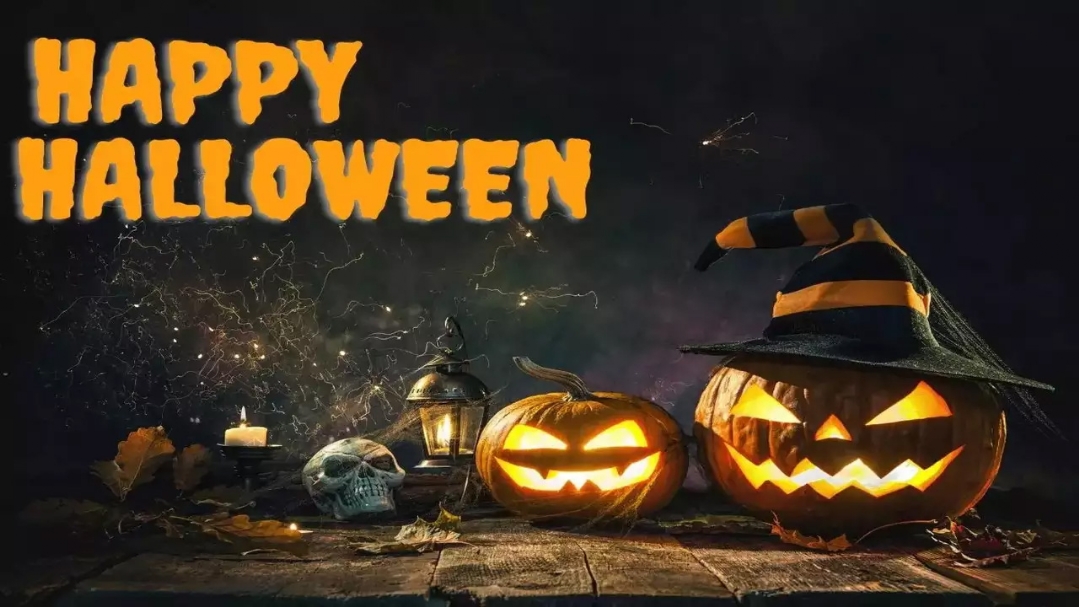 Message from Deans:

Kudos to everyone for an amazing Homecoming Week!   It was so great to see many students and staff members engaging in the daily themes. The Activity Team hosted two amazing Pep Rally's where student athletes and performers were celebrated! Friday the football team defeated McKinley Tech while we also celebrated Senior athletes and our Homecoming Court.
Thank you for supporting the Panorama Survey, we surpassed our goal of 80% and have one of the highest completion rates for our cluster. This would not be possible without the support of our teachers and administrators. We are still shooting for our goal of 100% with Monday, October 30th being the last day students can complete the survey. Please see the list of students that need to complete the survey in the Culture Weekly Update sent by Mr. Boone.
As a reminder, during transitions, all teachers and available staff should be present in hallways to welcome students to class.  This is a great opportunity to support school culture and make it a norm for students to see teachers they may not have classes with also greeting and engaging with them halls, reinforcing that WE ALL BELONG at CHEC.  
Thank you for your dedication and hard work!
SHOUT OUTS AND KUDOS!!!!



Shoutout to Mr. Whitney and Ms. Burnett for planning a fun and engaging spirit week, Pep Rally, Halftime Show, and Dance!!

Shout out to 2nd floor Lincoln and 1st floor Bell (MCA) hallways for consistently greeting students at their doors!!

Shout out to Ms. Masoni for supporting the multi grade field trip!!
SCHOOL CULTURE UPDATES AND REMINDERS
Check out this week's Spirit Week Activities!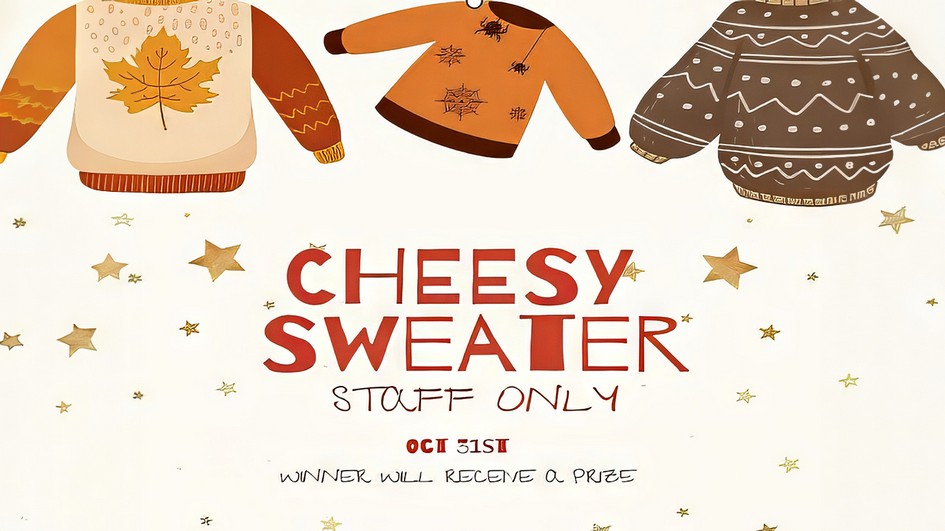 Winner from each SLC will be awarded with being able to miss a meeting and posted on the CHEC Instagram page!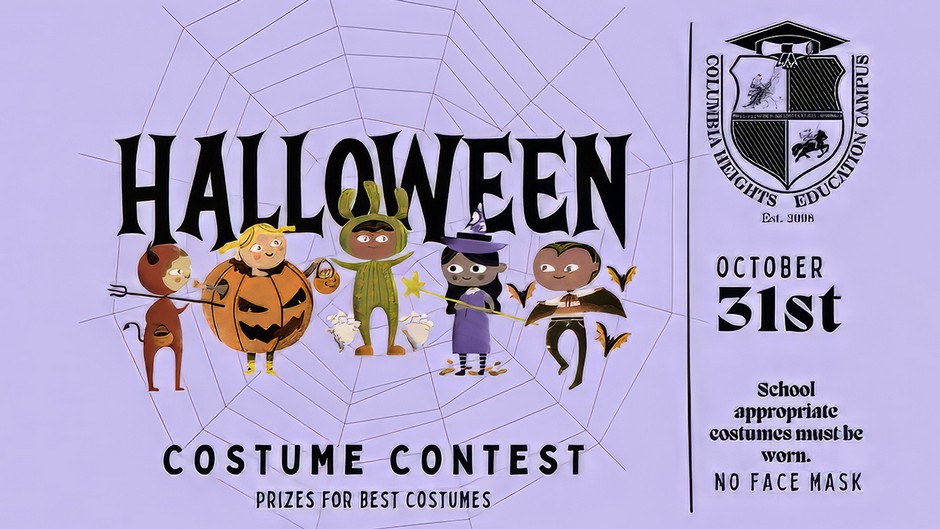 October is Bullying Prevention Month. All month we will have activities to bring more awareness to bullying and continue to keep CHEC a safe bully free school.
To close out Bullying Prevention Month, share this video in your advisory class this week to bring more awareness to bullying: Video: Be Someone's Hero
About one in five teens reports being bullied, which is harmful but preventable. Anyone can stand up and speak out and be someone's hero by safely intervening to stop bullying.
Culture Team has a hub for all things Culture and MTSS!!!!

CHEC Culture and MTSS Page
Look for this icon on the "CHEC Corner Page"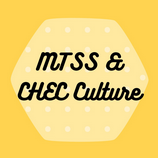 Please ensure that you have a hall pass. If you do not, please inform a member of the culture team. Students are required to have a laminated colored pass to use the restrooms and travel to authorized locations in general.

Best Practices
Please make sure you give passes at all times

Always write students'

Time Out

and

Return Time

Only one student should be out of class at a time

Enforce the 10/10 Rule (No passes during the first 10 and last 10 minute of class.

Do not issue passes during lunch periods. Students should have taken care of their needs during lunch or transitions.
---
Athletics are an integral part of the educational program and a means to accomplish the goals of education. Our athletic program exists for the welfare of students and the contributions it makes to their educational experience. Athletic participation builds self-esteem and confidence and provides the necessary tools for success. The interaction between individuals on the fields of sport teaches students the value of teamwork, while developing the proper competitive spirit, combined with a sense of fairness.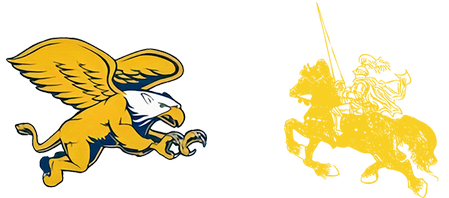 WEEKLY PHOTO GALLERIES BY MCIP INTERNS: JOSUE AND LISBETH
---
Desmond Alexander, CAA
Columbia Heights Educational Campus
Bell/Lincoln Multicultural Schools
(202) 939-7700 Ext: 5207 (office)