COLLEGE AND CAREER FAIR AT CHEC
TUESDAY, OCTOBER 24
,
2023
Senior Convocation – During Advisory – Juniors and Seniors
WEDNESDAY, OCTOBER 25,
2023
SLC/MTSS morning meetings
THURSDAY,
OCTOBER 26
,
2023
SLC/MTSS morning meetings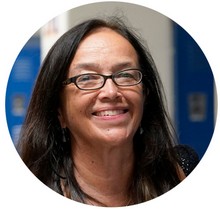 ---
WE ARE DESIGNERS OF OUR LEARNING

Our focus this week is on these phrases from the mission statement, "All Columbia Heights Education Campus graduates will be prepared to succeed in college, careers and civic life as leaders in the quest for social justice and anti-racism.  Our scholars are self-motivated, intellectually curious critical thinkers who value multilingualism and diversity."
Homecoming is a time to reflect on part of the mission statement, and designed to promote a sense of belonging beyond the years. During homecoming, students and faculty reflect on their experiences and we welcome alumni and others to return and celebrate with us. One indication of how well we are reaching that aspect of the mission, is by observing where our alumni have chosen to work in their chosen career. We are extremely fortunate at CHEC to have created strong belonging and relationships, such that 24 members of our staff – 10% of the staff - are CHEC alumni! During Homecoming, let's recognize and thank our CHEC alumni who have returned to serve their community and school:
Kenrry Alvarado, Fernando Arce, Alejandro Bermudez, Helena Burnett, Shuk Kuen Chiu, Heber Diaz, Angela Doctor, Jorge Escobar, Amy Eslava, Ismenia Garcia, Klem Garcia, Alexandra Hall, Evelyn Iraheta, Jarmar Layne, Victor Molina, Ivan Navas, Patricia Ortez, Lesly Paz, Jennifer Portillo, Eduardo Reyes, Kia Ross, Sharon Sidney, Lance Swinton, and Shamia Wells.
Please show your spirit, and join in the themed attire for Homecoming Week, and attend one of our Sports Teams Games and the Pep Rallies! Let's Go Griffins and Knights!
CHEC – CAT ISLAND BAHAMAS EXCHANGE PROGRAM
An important part of our mission is developing "cultural ambassadors." This week, 8 students from Cat Island Bahamas, will be visiting CHEC as part of our ten year exchange program with Arthurstown High School in Cat Island. The focus of our exchange program has always been on the environment and sustainability. The students who are here this year all presented business proposals to start small environmentally focused businesses. Please welcome Devonte Turner, Cassara Turner, Walter Paige, Ashtan Webb, Marcus Thacker, Malia Thacker, Kendall Seymour, and Antonio Major. They are accompanied by their teacher, Desa Bodie, and Teacher Assistant, Maria Curtis. During their time here (one week), they will attend classes with their host students (Ne'Kareo Rawlings, Angy Castillo, Brian Burl, Jenni Pineda, Juan Bermudez, Miguel Abarca, and Daniela Velasquez) visit local museums, monuments and other sites, engage in fun activities, and work on continuing their business plans, this time with a DC focus. They are invited to our Admin Team Meeting for a brief introduction and discussion of what they have been learning so far. If you would like to engage in the process and support in chaperoning any of the events, please let us know!
We also have seven students from Japan visiting for the day on Wednesday, through Ms. Yamashita's class. We will have both groups unite for a multi-national exchange experience.
"How Might We Use Design Thinking to Transform our School through Student Voice and Choice?"
School wide Youth Voice and Choice and Design Thinking-
Last week, we had 12 students attend the Administrative Team Meeting, and another 15 students attended the ALT team meeting. Students are developing more confidence in sharing their voices as we provide more ongoing purpose and opportunities for the sharing.
As mentioned above, this week, CHEC is hosting 8 students from the Bahamas, who are staying with student families, and working on designing business plans for environmentally focused business. The itinerary for the visit was designed with input and in consultation with both the Cat Island students and our CHEC students.
Also this week, three members of our team, Ms. Penn, Mr. Smith, and Ms. Avila, will present on the theme of student voice at a conference at the Nueva School in California.
Community Development Pilot
All students at CHEC are required to do 100 hours of community service. Often, students have difficulty deciding what to do for service, and where to do it. Our Social Issues Class is focused on having students assessing their communities' needs, and determining a topic they want to explore deeply in order to engage in service learning. During the PBL training, Mr. Bellido designed this project such that the students in the class will hold a Community Service Fair to engage their classmates in service.
Flex Schedule Pilot
We got excellent feedback at the faculty meeting and will continue to reach out to the rest of the faculty and students to collect feedback on how the master schedule is being experienced. We should be able to review this data by next week. Choice day is now being implemented throughout the whole school implementing Choice Day.
We are now on our sixth Design Thinking lesson! We all need support in internalizing the Advisory Curriculum, and we are continually working on making it accessible in the CHEC Corner. We also got feedback on Advisory during the Faculty meeting, and will share this in order to continue to refine advisory. Please reach out to your grade level planning team and learn about the Wayfinder and We do it for the Culture Curriculum in order to enrich Advisory.
The PBL pilot teachers received training in the process of co-design and co-planning with students. All members of the admin team, Department Chairs, coaches and teachers who are piloting the Co-designed PBL project attended the three day PBL training, October 18, 19, and 20 here at CHEC, and during the initial planning of the project, 14 students attended to give feedback on the projects.
This week, we will continue the focus on having a warm welcome to the building and to every class. As we enter the ninth week, we should now know all of our students, and it is important to maintain relationships and engagement through our focus on a warm welcome to every class and promoting student discourse and involvement in every class. This also will ensure that students are arriving on time, ready to begin instruction on time.
It is also important to utilize the color-coded passes. If you need another one, please let the culture team know. You have received information from the Culture team on these initiatives, as well as how our Culture team will support all staff in maintaining a positive culture. The norms have been discussed in detail in Advisory over the first four weeks, and it is important to continue to use the language of the norms throughout the school year, in a co-regulatory fashion.
Shout out to the whole CHEC Team for an Exemplary Eighth Week of School!

Shout out to Ms. Savage and the College and Career Team for a fantastic College and Career Fair! We had numerous seniors accepted on site, and many more seniors were inspired in their college and career journey!

Shout out to Mr. Molina, Ms. Lemus, The Culture Team, the Admin Team, Mental Health Team, Counseling Team, Teachers, Student Volunteers, Parent Volunteers, and all who made Parent Teacher Conferences a great success! We had 506 parents attend! 10th Grade led with 87 parents, and 11th was a close second with 85!

Shout out to Mr. Whitney and Ms. Burnett for coordinating Homecoming Activities!

Shout out to all members of the team who attended our PBL Works training! 35 educators received the training!

Shout out to Mr. Odom, Mr. Galvan, Mr. Aguilar and Mr. Stearman for assisting with our visitors from Kazakhstan last week!

Shout out to Dr. Lainez and Mr. Bermudez for supporting the arrival of our Bahamian Exchange students during the Arrival Dinner on Saturday! Shout to Dr. Lainez for hosting the Bahamian Teacher, and Mr. Bermudez for hosting two students!
MS. GUTIERREZ, MS. PEREZ AND MS. MORALES
TEAM TEACH 6TH GRADE DUAL LANGUAGE SCIENCE CLASS
This week is Portfolio Presentation Week. Please use this time to have students reflect on their GRASPS/project, and discuss with classmates their learning, and how they want to revise their work going forward. The essential question or other questions developed during the project can assist with this reflection, as can the project rubric. The focus is on having students reflect on their work on what they have learned. As a reflection, the work doesn't have to be perfect, or even complete. The important aspect is having students select the work they want to present, analyze where it does or doesn't meet standards, and show their revisions or planned revisions. A portfolio gives a student the opportunity to make their own choices in order to show what they know are able to do. They should be able to say, "This is who I am and what I can do."
Now that students have access to their progress reports, please build in time for reflection during class and Advisory. Our goal is for all students to pass all of their courses, and in order to do so they need to know what they must do to be successful in the course. Please set up a time and protocol to review and reflect on progress reports this week.
A Buddy Teacher is a veteran CHEC teacher who will be paired with a new teacher (new to teaching or an experienced teacher new to CHEC) to provide support throughout the 2023-2024 school year. A Buddy Teacher is expected to introduce themselves and check-in with their buddy regularly. Buddy Teachers will provide their buddy guidance on navigating things ranging from how to print to IMPACT to classroom management tips and tricks. Buddy Teachers are not expected to be experts on all topics but, when needed, should point their buddies to the people in the building who are experts. Our goals through the Buddy Teacher Program are to a) provide new teachers with more supports, b) create a stronger sense of belonging for new teachers, c) cultivate an environment where all teachers feel they have the resources they need to succeed, and d) foster a culture of shared leadership within our CHEC community.
The Instructional Calendar is a living document that houses all the major curricular requirements, assessments, and schoolwide events. The Instructional Calendar can be found on the CHEC Corner on Canvas, and you have also received an invitation to share the calendar. If you have any requests for additions to the Instructional Calendar, please contact Ms. Massoni, Mr. Whitney, or Ms. Bruemmer.
Thank you to all for engaging with PD Day! The Instructional Coaches are working on a PD plan for the year. Details are forthcoming!
The ALT team is serving to guide our Redesign and our Comprehensive School Plan, and will be meeting every two weeks. The fourth ALT team Meeting was Tuesday, October 17. Notes can be found here
. Notes can be found here.
The agenda included reviewing feedback from the Faculty Meeting, and deciding on next steps. We need to hear all voices on the ALT! The next ALT Team Meeting will be on Tuesday, October 31st at 3:30 pm in the middle school library.
.
KAYLA JONES, CLASS OF 2020, WAS ACCEPTED INTO THE ADVANCED PATHWAYS TO LAW SCHOOL (APLS) AT NORTH CAROLINA AT&T STATE UNIVERSITY. KAYLA WAS ALSO INDUCTED INTO THE: INTERNATIONAL LAW FRATERNITY, PHI ALPHA DELTA, PRE-LAW
October is Growing Healthy Schools Month (GHSM)! GHSM celebrates how schools are creating healthy places for all students.
You can take the pledge here. All it takes is 5 minutes! Please share with your staff and teachers at Columbia Heights Education Campus, the more pledges the better!
Please contact the GHSM team at OSSE.Nutritionprogram@dc.gov with any questions.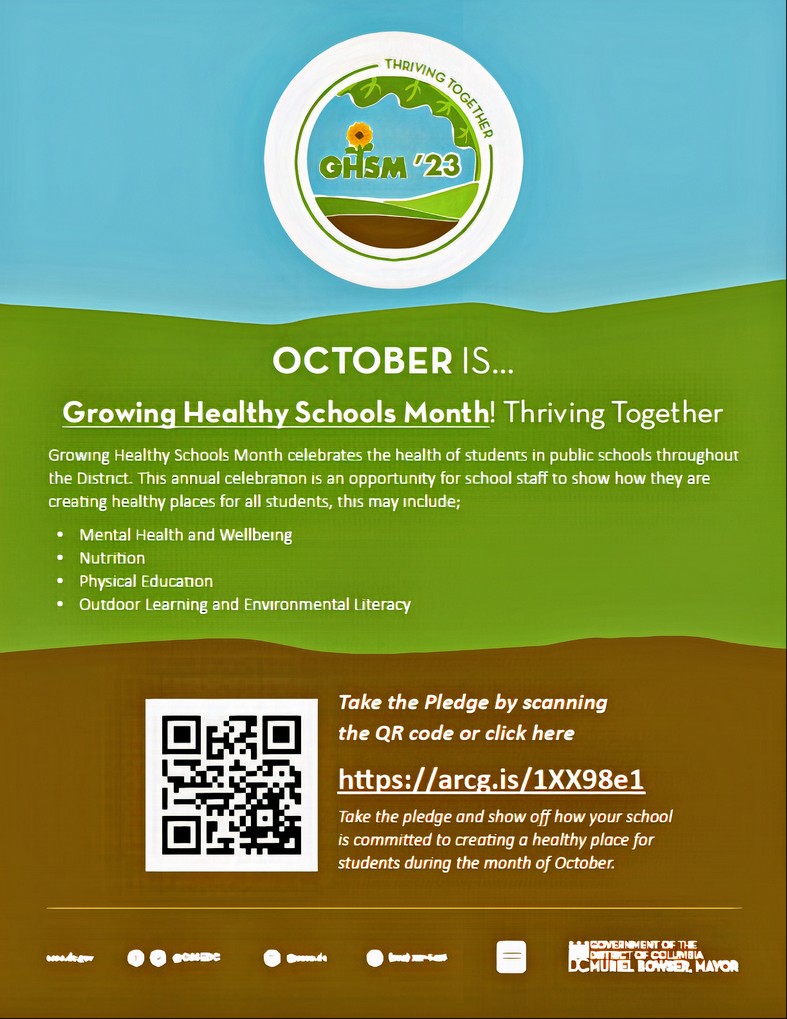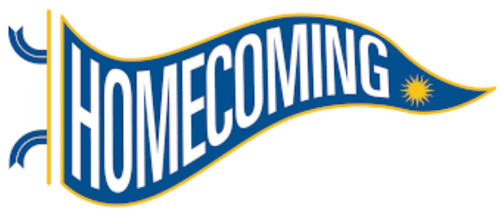 Happy Homecoming Week Griffins!!!!
Message from Deans:

Kudos to everyone for an amazing PTC day! It was so great to see many parents and teachers engaging. The Culture Team hosted Parent Town Halls throughout the day to talk about Culture, Climate and Belonging at CHEC. Parents asked some great questions and gave positive feedback on this school year. Shoutout to everyone's contribution for changing the perspective of students and families.
As a reminder, during transitions, all teachers and available staff should be present in hallways to welcome students to class. This is a great opportunity to support school culture and make it a norm for students to see teachers they may not have classes with also greeting and engaging with them halls, reinforcing that WE ALL BELONG at CHEC.
Thank you for your dedication and hard work!
SHOUT OUTS AND KUDOS!!!!



Shoutout to the 11th and 12th grade team for hosting an amazing field trip to see a Shakespearean play! Students gave positive feedback and seemed to really enjoy the experience!

Shoutout to Mr. Whitney and Ms. Burnett for planning a fun and engaging spirit week!

Shoutout to Ms. Garcia and the hospitality to students for serving and supporting PTC day. If you need a CHEC event managed, reach out to Ms. Garcia for more information on how the hospitality team can support.

Shoutout to the cafeteria and food services and all those on the design sprint. We are seeing more students enjoy and eat lunch this year!
SCHOOL CULTURE UPDATES AND REMINDERS
Check out this week's Spirit Week Activities!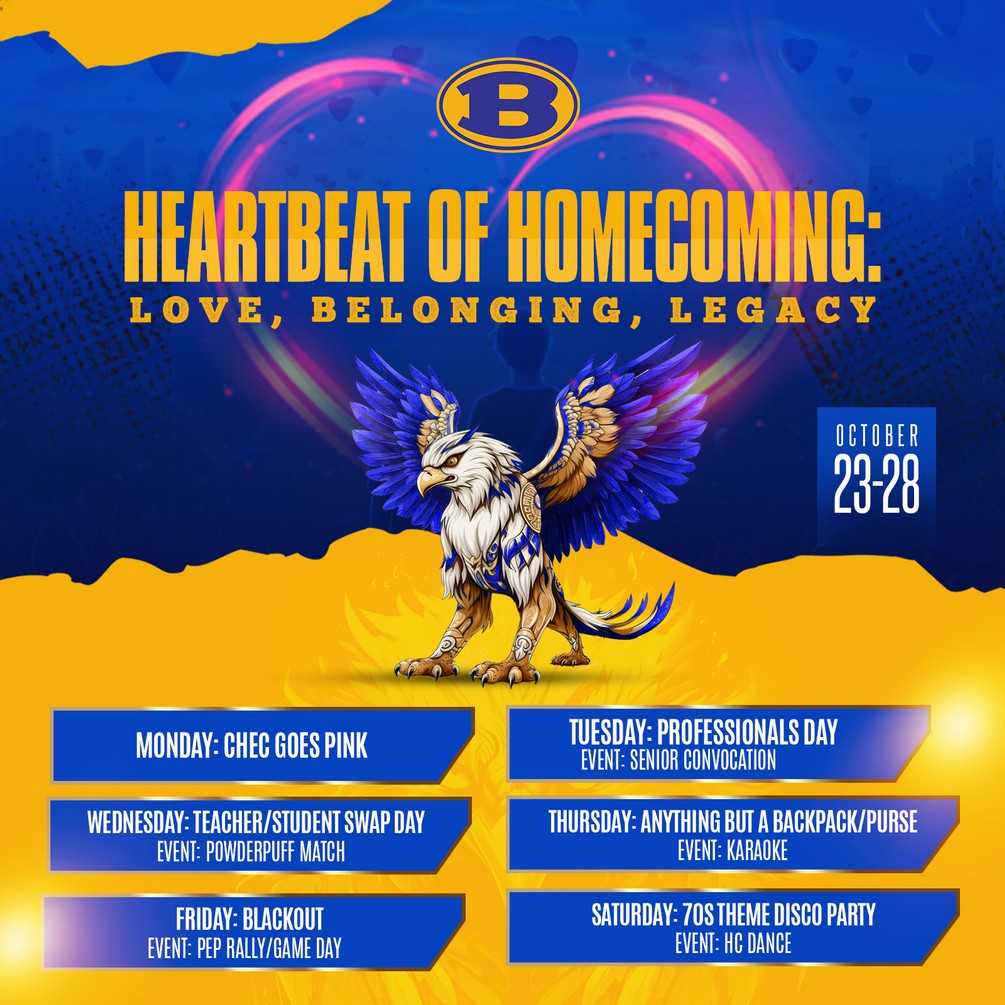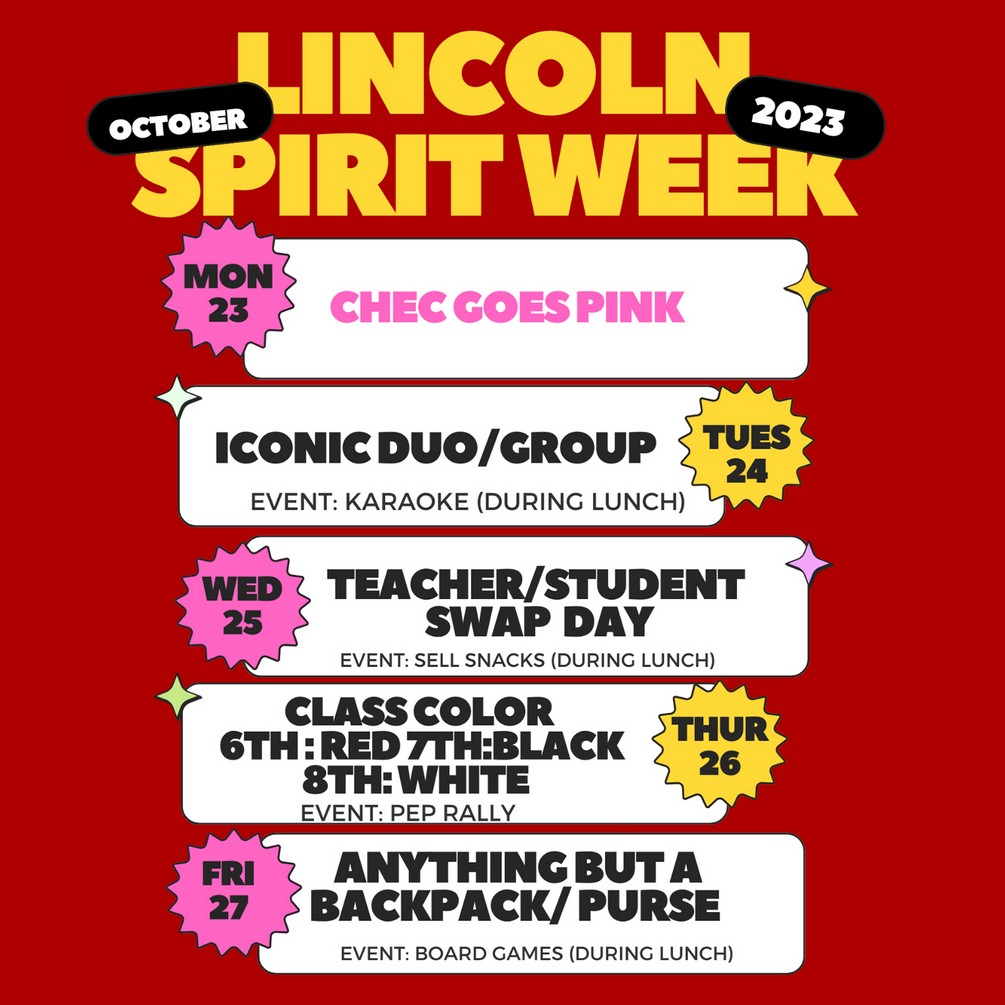 October is Bullying Prevention Month. All month we will have activities to bring more awareness to bullying and continue to keep CHEC a safe bully free school.
To close out Bullying Prevention Month, share this video in your advisory class this week to bring more awareness to bullying: Video: Be Someone's Hero
About one in five teens reports being bullied, which is harmful but preventable. Anyone can stand up and speak out and be someone's hero by safely intervening to stop bullying.
Culture Team has a hub for all things Culture and MTSS!!!!

CHEC Culture and MTSS Page
Look for this icon on the "CHEC Corner Page"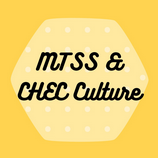 Please ensure that you have a hall pass. If you do not, please inform a member of the culture team. Students are required to have a laminated colored pass to use the restrooms and travel to authorized locations in general.

Best Practices
Please make sure you give passes at all times

Always write students'

Time Out

and

Return Time

Only one student should be out of class at a time

Enforce the 10/10 Rule (No passes during the first 10 and last 10 minute of class.

Do not issue passes during lunch periods. Students should have taken care of their needs during lunch or transitions.
---
PROFESSIONAL DEVELOPMENT OPPORTUNITIES
Athletics are an integral part of the educational program and a means to accomplish the goals of education. Our athletic program exists for the welfare of students and the contributions it makes to their educational experience. Athletic participation builds self-esteem and confidence and provides the necessary tools for success. The interaction between individuals on the fields of sport teaches students the value of teamwork, while developing the proper competitive spirit, combined with a sense of fairness.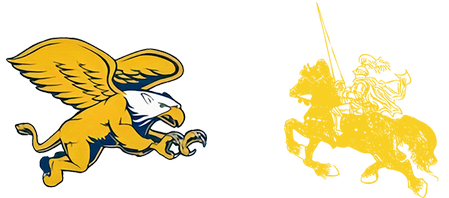 WEEKLY PHOTO GALLERIES BY MCIP INTERNS: JOSUE AND LISBETH
---
Desmond Alexander, CAA
Columbia Heights Educational Campus
Bell/Lincoln Multicultural Schools
(202) 939-7700 Ext: 5207 (office)