CHEC'S NEWEST PARTNER, APPIAN, BEGINS ROBOTICS AND MENTORING MIDDLE SCHOOL PROGRAM. WELCOME AND THANK YOU!!!!
WEEK OF OCT. 18, 2021

Tuesday, October 19, 2021

Final Exams - Period 1/ 3
ALT Team Meeting 3:45 pm – High School Library
Wednesday, October 20, 2021

Final exams Period 2 and 4
Friday, October 21, 2021

Hispanic Heritage Assembly in MS Advisory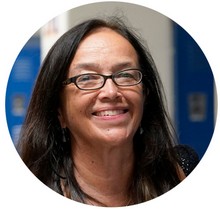 ---
This week CHEC celebrates its 40th Homecoming Festivities! Homecoming is a time to celebrate all who have graduated from our school as well as an opportunity for students to build camaraderie and school pride. Please join in the Spirit Week Attire, a Hallway Parade of champions, the Homecoming Game on Friday, October 22nd and lunchtime homecoming festivities on the field. All activities will be safe and follow COVID protocols. Please look out for announcements from SGA on the activities.
This week, the focus is on the phrase from the mission which states, "All Columbia Heights Education Campus graduates will be prepared to succeed in college.."
This aligns to the Culture of Achievement Domain, which has as one of its goals:
By June 2022, we will reduce the percentage of students receiving one or more F by 30%




Subgoal – By June 2022, 100% of all classes will have a failure rate of less than 10%
We have shared the first progress reports with students, and families, and we now have data on how our students are performing in their classes, and how close we are to meeting this goal. Based on progress reports, we are not yet meeting this goal. According to the progress reports, 22%, almost one quarter of all students, have one or more F. In looking at the subgroups, we see again that males have a higher percentage of F's (27%) than females (16%). In addition, SPED students have the highest rate of receiving one or more F, at 28%, followed by ELL's at 24%, then Hispanic at 22% and Black students at 21%. The grade with the highest rate of receiving one or more F is 9th grade, with 35%, followed by 11th grade, with 29%, 12th with 21%, 10th at 21%, 6th grade at 13%, 8th grade at 11% and 7th grade at 6%.
One of our tier 1 strategies is grade calibration, the practice of looking at grading design, grading patterns, student work, and subgroup data, in order to develop more objective, consistent and aligned ways of assigning grades, as well as more opportunities to improve grades. The wide variations we are seeing by gender, subgroup and grade, are an indication that we need to work towards further alignment, as well as provide other Tier 1 interventions to the subgroups who are struggling the most. This will be the focus of our ALT Team meeting and the Grading Subcommittee this week.
---
The COVID 19 SERT Team will meet again on Tuesday, October 26, at 3:45 in the High School Library and virtually.
UPDATE – CHEC has been selected as a Vaccination Site! As you may have heard, we will be hosting a 4 days a week COVID – 19 vaccine camp here @ CHEC starting October 12 (Tuesday). Depending on how well we do, we may be authorized to hold more camps in November. Currently, this is only for October. Please share this information with your students and families!
The camps will run Tuesday – Thursday (3:30 PM – 8:00 PM) and Saturday (12:00 – 5:00 PM).




First 200 adults will receive a $51 gift card.




First 200 students will receive Apple AirPods (or they can choose a gift card, if still available).




If only students get vaccinated, 200 will receive cards and 200 will receive AirPods.
Update on Testing and Cases:
Since the last update, we have tested 239 students, and there has been one additional positive case. This case was self reported, not from the asymptomatic testing. Below are the notes from the lasts COVID 19 SERT meeting, as well as recommendations and suggestions.
In response to the need to maintain a healthy and safe environment, we will be implementing the following:
The student Health Ambassadors will post signs and make presentations in classes, starting this week.




All desks in classes should be facing forward.




We must continually reinforce proper wearing of masks – we will reintroduce our COVID 19 prevention videos, and will train student health ambassadors to support adherence to all norms and protocols.




Limiting unnecessary passes for students is critical to limiting transmission. The Agenda book is the only pass, and it must be signed and dated.
---
Shout out to the team for coordinating a successful PSAT/SAT Day 0 Ms. Thweatt, Ms. Spinks, Ms. Penn, Mr. Jones, Ms. Castro, Mr. Yeboah, Mr. Odom, Dr. Iraheta, Ms. Partelow and all of our teachers who served as PSAT SAT Proctors!




Kudos to Ms. Moore and Ms. Thomas for our Faculty Meeting Presentation on MTSS on Thursday!




Shout out to Ms. Ferguson for supporting all Chairpersons and Departments in preparing for E-portfolios!




Shout out to the Dean Team for the Circle Training and coordinating the Asymptomatic Testing!



---
WE HAVE A RECOGNITION! HONORED TEACHERS PARTNERSHIP CONTINUES THIS YEAR!
Columbia Heights Education Campus's great teachers deserve to be recognized! We're proud to partner with Honored Schools again this year to do just that! Go to
HonoredSchools.org
to tell Columbia Heights Education Campus teachers how they've made a difference. Please share this with parents and students! Once recognized, teachers get an email with your recognition story and we'll celebrate them! Last year our very own Ms. Ramirez won the Life-Changing Teacher Award and a $5,000 cash award!
INSTRUCTON:
WEEK 8 OF ADVISORY 1
During this week, students are taking their final exams, Period 1 and 3 on Tuesday, Periods 2 and 4 on Wednesday. Portfolio presentations are next week, on October 26 and 27. In order to present portfolios, students should be keeping their work in e-Portfolios on CANVAS, or in One Drive. If you need support with this process, please see your Department Chairperson.
As we discussed in the professional development day, the amount of content is not as important as the students' depth of understanding, and their development of "soft" skills such as organization, planning, time management. Preparing for portfolios can be a celebration and reflection on work as opposed to a stressful experience. Thank you to all Departments for brainstorming how to make the portfolio presentation process a reflective activity that builds student confidence and perseverance.
In order to build on our themes of consistency and relationship building ,we will use the Agenda Book as a tool. The Books have arrived and will be distributed by PLT in Middle School, and by ELA class in high school. Agenda books are the only approved pass for moving throughout the building, and it is important for all staff members to use this tool consistently.
---
The Instructional Calendar is a living document that houses all the major curricular requirements, assessments, and schoolwide events. The Instructional Calendar is complete for the moment, however changes may be made and will be noted. If you have any requests for additions to the Instructional Calendar, please contact Mr. Magee,, peter.magee@k12.dc.gov, or your SLC Administrator.
Please view the
Instructional Calendar for 2021-22
here
.
MS. PEDDYREDDY'S 4TH PERIOD INTRO TO ENGINEERING DESIGN CLASS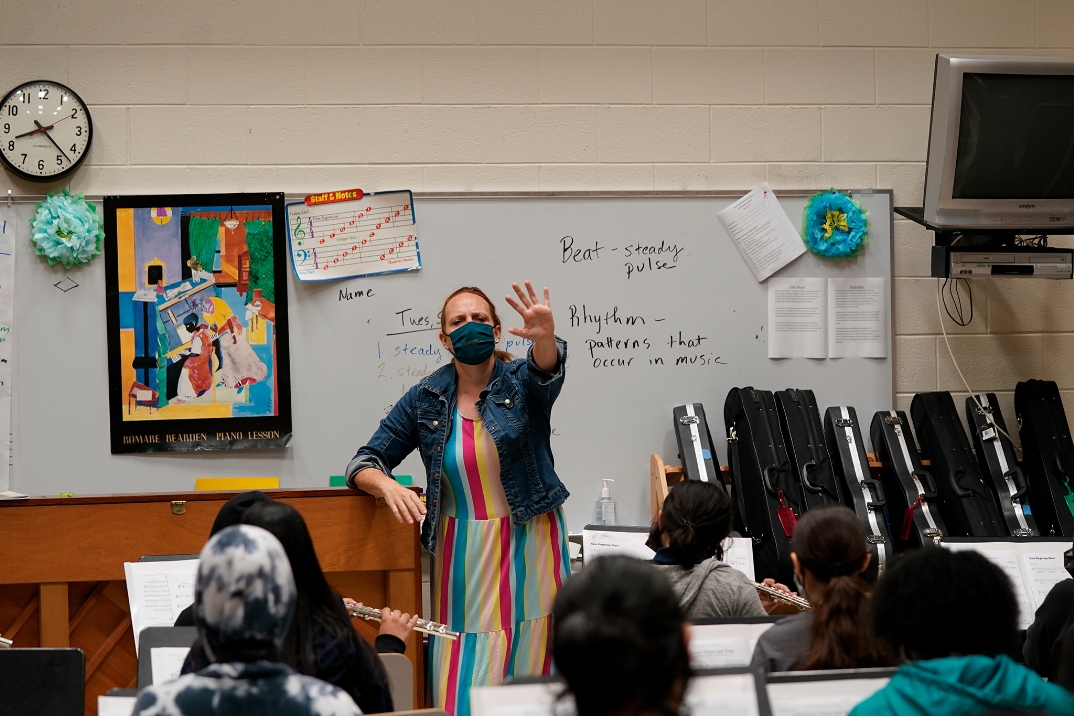 UPDATES FROM:
I
DONORS CHOOSE - DR. AMYLIA BARNETT
I
LIBRARY NEWS
---
DONORS CHOOSE - DR. BARNETT HAS CREATED A NEW FUNDING PROJECT FOR HER STUDENTS!
The students at our school are some of the most hard working, engaged, and creative students in the DC Public Schools. Their ability to manage rigorous curriculum and explore and expand their own creativity is truly remarkable. In addition, many of our students think outside of the box in regards to their future jobs and opportunities while understanding that their music education will only serve to enrich and enhance their lives. Students also use the music program as an expressive outlet.

Since we've been back to school in-person, we've had an overwhelming interest in our middle school string orchestra. I love the enthusiasm of our students and never want to turn anyone away. Currently, we have five students without instruments to use in our sixth grade orchestra. They look so sad without an instrument to play. Because of our history of having supporters who care about music learning and our students at CHEC, it is rare our students go without for long. Being an educational campus and maintaining relationships with our students for seven years, I know that with this donation, we can offer students the opportunity to learn and study throughout middle school, high school, and hopefully, for the rest of their lives.
The DonorsChoose team

P.S. Check out your school page at DonorsChoose to see all the teachers posting projects from your school. You can trade tips and tricks with colleagues to get your projects funded.
---
Lincoln Library Closed on Fridays

Ms. Falkenberg will open and manage the Bell HS Library on Fridays for Bell students and staff until the HS Librarian starts. Please note, book check out will be unavailable to Lincoln MS students during this time. Thanks for your understanding and flexibility. Email angela.falkenberg@k12.dc.gov to schedule HS Library visits.
Schedule Library Visits and Collaborations
Email angela.falkenberg@k12.dc.gov or call extension 4018 to schedule Library Visits and/or lesson collaborations. These collaborations include co-teaching, resource curations, reading promotions, GRASP assistance, etc.
Angela Falkenberg (she, her, hers)
Columbia Heights EC - Lincoln MS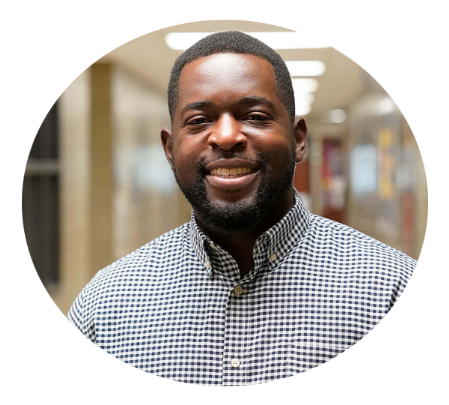 KANEIL WILLIAMS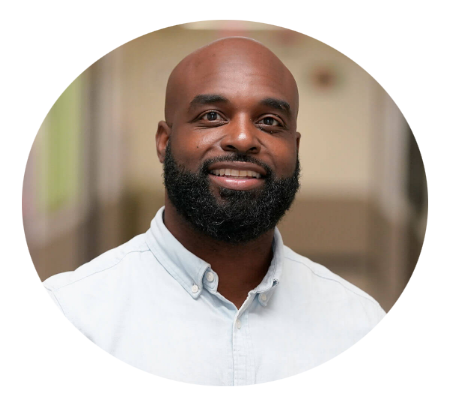 DEWAYNE BOONE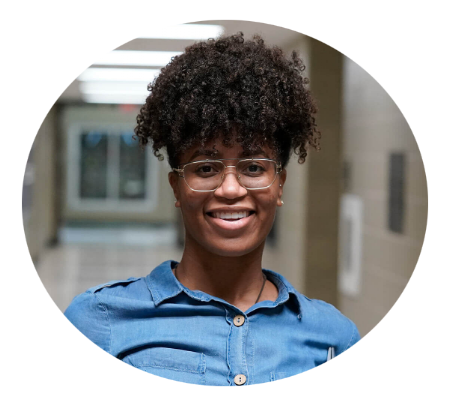 LEALA BOWENS
We hope you all are well. The Dean Team is here with another announcement!
What's happening at CHEC? We made it to WEEK 7 of School. Huge shout-out to all staff and students for a great week 7! As we continue our Mindful Moment Mondays with our community, hoping that you all begin to use these practices in your classes.
Student of the Week Winners:
Christopher Crespin-Romero

Jostin Imanol Guerra Mercado
Please celebrate these students for being nominated for student of the week

Student Support Forms:

Also, we have created a platform that has the student support form and the behavior referral form. Please bookmark this link for future reference: CHEC Student Support Guide.
Athletics are an integral part of the educational program and a means to accomplish the goals of education. Our athletic program exists for the welfare of students and the contributions it makes to their educational experience. Athletic participation builds self-esteem and confidence and provides the necessary tools for success. The interaction between individuals on the fields of sport teaches students the value of teamwork, while developing the proper competitive spirit, combined with a sense of fairness.
The MS GSOC team lost to Eliot-Hine. The MS BSOC team defeated Brookland and lost to Oyster Adams. The HS FB team lost to Anacostia. The HS VB team defeated Phelps and HD Woodson.
VIDEO RECAP: OCTOBER 15, 2021 - BELL VS. ANACOSTIA
HS BSOC vs. EL Haynes at CHEC @ 4pm
HS GSOC vs. Roosevelt at Roosevelt @ 4pm
MS VB vs. Jefferson at CHEC @ 5:30pm
MS GSOC vs. Deal at CHEC @ 4pm
MS BSOC vs. Deal at CHEC @ 5pm
HS VB vs. SWW at Banneker @ 5pm
HS BSOC vs. Cardozo at Cardozo @ 4pm
HS GSOC vs. Wilson at Wilson @ 4pm
MS VB vs. Oyster Adams at Johnson @ 4:30pm
HS XC Meet at Kenilworth Rec. Center @ 1pm
HS GSOC vs. Stuart Hobson at CHEC @ 4pm
HS BSOC vs. Stuart Hobson at Randall Field @ 4:30pm
HS VB vs. Wilson at Banneker @ 5pm
FB vs. McKinley Tech at McKinley Tech @ 6pm (Homecoming & Senior Night)
---
Fall sports include:

Columbia Heights Educational Campus
Bell/Lincoln Multicultural Schools
(202)939-7700 Ext: 5207 (office)