NOT JUST BOOKS: DC SCHOOL LIBRARIAN
CREATES A SANCTUARY FOR STUDENTS
WEEK OF MAY 2, 2022

Monday, May 2, 2022

STAMP Testing
AP US Gov and Politics 8am
AP Spanish Literature 12pm
STAMP Testing
AP English Literature 8am
AP Computer Science A 12pm
TEACHER APPRECIATION LUNCHEON – ALL LUNCHES
Visit from the Schusterman Foundation – 8:10 – 12:30
STAMP Testing Make-Up Day
Upcoming Events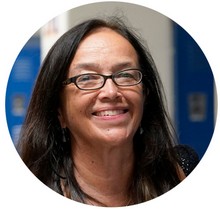 ---
MAY 2, 2022: THIS WEEK'S FOCUS: HAPPY TEACHER APPRECIATION WEEK!
This week, the entire nation celebrates and shares appreciation to all who are in the field of education. A week is surely insufficient to recognize the role that teachers and educators play in the lives of our nation's children, youth and adults. Even before the pandemic, it was clear that educators have an impact beyond the walls of the school, and are an integral part of the academic, personal, and social development of students.
Teachers and educators have been among the first to return to work in person, because we know that our work can best be done when we are in the presence of our students, and when we can communicate directly. The bravery, commitment, and resilience of our educators is truly astounding.
On a personal note, I feel blessed to work with the calibre of educators we have at CHEC. Every day, in ways large and small, you change lives, and you inspire others. Your collegiality and collaboration has allowed all of us to weather the many difficulties and challenges we face, and to do it with a focus on our students.
Thank you CHEC Team, for choosing to be educators, for choosing to be the force behind the progress of our youth. You have my utmost respect, admiration and appreciation. Please know that although it might not be stated every day, you are also truly appreciated by students, parents, and the community. I know that because of your dedication to education, your greatest joy comes from seeing your students soar. Now as we near the end of the school year, please know that 1565 young people, are continuing their journey to college and careers, because of you.
Thank you again, and HAPPY TEACHER APPRECIATION WEEK! We will celebrate with a wonderful catered luncheon – exact date and time to be announced!
---
SCHOOL YEAR 2022-23
Even as we draw to the end of SY 21-22 we are preparing for the new school year. If you would like to serve on our Interviewing committee, to interview new staff members for next year, please contact Pankaj Rayamajhi. We need your involvement! Also, if you are willing to serve on our ReEnrollment team, and help parents re enroll their children, please also see or email Pankaj Rayamajhi, or Billy Oliva. Thank you in advance in being part of our development for next year.
---
XQ UPDATE
As part of developing our Redesign Proposal for XQ, members of our team are visiting two XQ Redesigned Schools, one in Memphis Tennessee and the other in Grand Rapids Michigan on Monday and Tuesday of this week. The members of the team will share their observations and how those observations can guide our journey, at next week's Faculty Meeting (May 12).
---
FOUNDATION VISIT TO CHEC
On Friday, May 6, CHEC will be visited by a national foundation, the Charles and Lynn Schusterman Family Philanthropies. Racial equity undergirds the work of this Foundation, and on education, they focus on the instructional core and student experiences in the classroom, specifically Black and Latino students. They are having a team retreat, and would like to learn from both our teachers and students. If you would like to be part of a conversation with the Foundation members on Friday May 6 from 8:10 to 8:50 (with coffee and donuts), please let me know. If you would like your class to be visited either first or second period, please also indicate.
---
Thank you to all for your collaboration and engagement as we make sure we are communicating clearly to all students what our norms are, and why they are important to our whole school community. This week's Focus will be on cycling back through all of the norms, and building them into daily actions. This week we will focus on Empathy and Respect. SLC's are working collaboratively to develop the lessons
An important part of reinforcing the norms, are incentives. One incentive that the SGA has advocated for, is an opportunity to go off campus for lunch (chaperoned by staff). Each week, we will select one class, nominated by a teacher, to go off campus for lunch.
For last week, the winner Ms. Garcia-Pinilla's 4th period Spanish Class!
Congratulations!
The process is the following:
1.Please nominate a class that you have, that has for the most part (90% of the class 90% of the time) demonstrated the first two norms – Owning their Learning, and Digital Citizenship.
2.All nominated classes will be put into a random selection process, (Plicker wheel) and only one be selected to go off campus for lunch. Each student in the class will be provided with $6.00 to support the purchase of their lunch (they can use their own money as well).
3.If there are any students in the nominated class with less than 85% attendance, or with multiple discipline referrals, they will not be included in the lunch off campus.
5.There will be more incentives coming – please participate in our incentive survey coming up this week!
---
Please refer to the memo sent earlier to all staff for the new mandates on masking.
The COVID 19 SERT Team met on Wednesday, March 9, and will meet again on Wednesday, May 4, at 3:45 in the High School Library and virtually. We will discuss the new DCPS and CDC Guidelines.
Update on Testing and Cases:
There were three new cases last week.
Please limit unnecessary passes and movement for students is critical to limiting transmission. The Agenda book is the only pass, and it must be signed and dated. Passes should be limited and not given for breaks or other non essential tasks such as going to the bathroom.



---
Shout out to all who assisted PARCC TESTING LAST WEEK!




Shout out to teachers who are giving incentive points in Kickboard!




Shout out to the HS Dean Team for a great Incentive Friday




Kudos to the entire middle school team for a great PARCC Pep Rally Basketball game! The Staff won!




Shout out to all for a successful Fire Drill on Friday!!!




Kudos to Pankaj , Mr. Galvan, Mr. Swinton, Mr. Oliva, Ms. L. Lemus, Andrea Guerra, Ms. Brea, Mr. Best, and all who supported Enrollment Saturday. We have enrolled more students for next year!




Kudos to all teachers who are nominating their classes for off campus lunch incentives!




Shout out to all teachers and staff who have been covering classes!




Kudos to the Ops Team, Admin Team and Dean Team for their coordination of COVID 19 testing, contact tracing, and prevention



---
WE HAVE A RECOGNITION! HONORED TEACHERS PARTNERSHIP CONTINUES THIS YEAR!
Columbia Heights Education Campus's great teachers deserve to be recognized! We're proud to partner with Honored Schools again this year to do just that! Go to HonoredSchools.org to tell Columbia Heights Education Campus teachers how they've made a difference. Please share this with parents and students! Once recognized, teachers get an email with your recognition story and we'll celebrate them! Please see below our Honored Teachers from last week, and go to the website to read the wonderful things their students say about them!
---
Please contact Mya Ferguson or M. Tukeva if you would like to offer Office Hours, or if there is a topic you would like to see offered in Office Hours.
MR. PERRY AND MR. ATHMER TEAM TEACH GEOMETRYCLASS
We are now entering the 2nd week of the fourth advisory, and we are continuing with assessments! Please make sure you have taught the routines, rituals, and protocols for assessments, and are aware of the proctoring or other responsibilities, so that all students can be successful and that it is a powerful learning experience. By maintaining routines, structure and calmness, we can ensure that all students are as successful as possible! When not in assessments, classes should be focused on the instruction of the GRASPS, using the workshop model.
The Instructional Calendar is a living document that houses all the major curricular requirements, assessments, and schoolwide events. The Instructional Calendar is complete for the moment, however changes may be made and will be noted.
If you have any requests for additions to the Instructional Calendar, please contact Mr. Magee, peter.magee@k12.dc.gov, or your SLC Administrator.
ANURA SHARMA (LEFT) AND BITANEYA CHIROTAW ALTAYA
ANURA SHARMA AND BITANEYA CHIROTAW ALTAYA WIN
2022 DAVID RUBENSTEIN/ECONOMIC CLUB SCHOLARSHIP
CHEC seniors Anura Sharma and Bitaneya Chirotaw Altaya are the new recipients of the 2022 David Rubenstein/ Economic Club of Washington, D.C. Scholarship
These prestigious scholarships totaling $20,000 each, along with associated programming, are meant to help them complete college and transition to the workforce. This spring, the Economic Club is planning a virtual celebration to honor Anura and Bitaneya. Congratulations to you both!

My Project
My students stay afterschool every Monday through Thursday from 3:30-4:30 to receive additional English and Math Support. Not only do they stay afterschool every day, but they also start their day an hour earlier than the rest of the school with an additional English support class during zero period. Their day is so long that by the time they get to their afterschool program they are HUNGRY!
These snacks will help students stay fueled for their very long learning days Monday- Thursday.
In addition, we have selected a few sweet rewards to give for fun activities and competitions like Kahoot!
Our students work so hard all day long, and they deserve to be treated and rewarded.
I work at a very special Title I high school. The majority of my students receive free or reduced-price lunch and come from a home where English is not the predominant language spoken at home!
High school will look very different this year and I would like to encourage students to stay safe and healthy by providing personal water bottles.
New safety protocols have been enforced and students will be wearing masks all day long and will definitely need to stay hydrated. In order to stop the spread of the virus, students will reuse their water bottles and sanitize them at the end of each day!
Research indicates that your brain is mostly water so drinking it helps improve concentration and cognition as well as help to balance mood and emotions. With new classroom routines implemented, instruction will be much smoother if each student has their own water bottle and holder. Having a water bottle within reach encourages students to drink more water. Think of all the health benefits that occur when water is readily available!
Interculturality is one of the goals of our school. That is why we receive students from different countries who belong to very different cultures every year. Most of the teenagers who take my class are students who have just arrived in the country from Central America (El Salvador, Honduras, Guatemala). Students who are beginning to get in touch with the standards of our school district, with English, and with a new society.
The majority of our students come from low-income households, and have difficulty obtaining the necessary materials to follow my classes.
With the help of the supplies included in this project, I will be able to ensure that everyone has the same opportunities to be successful in their education.
It's almost the end of the school year and I want to give my Algebra 1 students the best resources such as projects and activities that can be purchased from Teachers pay Teachers.
The donations to this project will help to improve my students' understanding of Algebra concepts.
The variety of activities and projects that will be purchased are engaging and challenging and will help my students be prepared for the next school year. I want to give them projects that are hands-on. The purchased activities can also be used next school year for my Algebra 1 students.
CHEC Lincoln Library Canvas Page

Check your email (called Lincoln Library Canvas Buttons; sent 1/13) for Canvas buttons and links to add to your class Canvas pages
. As you update your Canvas pages, include access to the library for independent reading, research resources, and technology support. As a reminder, our digital library collections are accessible through Clever under the Library Resources section. Need help? Email angela.falkenberg@k12.dc.gov to schedule assistance.
Schedule Library Visits and Collaborations

Email angela.falkenberg@k12.dc.gov or call extension 4018 to schedule Library Visits and/or lesson collaborations. These collaborations include co-teaching, resource curations, reading promotions, GRASP assistance, etc.
Columbia Heights EC - Lincoln MS
Athletics are an integral part of the educational program and a means to accomplish the goals of education. Our athletic program exists for the welfare of students and the contributions it makes to their educational experience. Athletic participation builds self-esteem and confidence and provides the necessary tools for success. The interaction between individuals on the fields of sport teaches students the value of teamwork, while developing the proper competitive spirit, combined with a sense of fairness.
LAST WEEK'S RESULTS

The MS softball team defeated to Hart and Eliot-Hine. The HS flag football team lost to Coolidge and Banneker. The HS baseball team defeated Coolidge but lost to McKinley Tech and Wilson. The HS softball team lost to Wilson. Playoffs take place this week for HS softball and tennis.
HS BB vs. Dunbar at Taft @ 4:00pm
HS Flag FB vs. Roosevelt at Roosevelt @ 5:00pm
HS BB vs. Ron Brown at Kelly Miller @ 4:00pm
Tennis Playoffs at Fort Lincoln @ 2:00pm
HS SB vs. Banneker at TBD @ TBD (Playoff semifinals)
HS Track at Mullins Russell Invitational at HD Woodson @ 9:00am
HS BB vs. Ballou at Turkey Thicket @ 2:00pm
To participate in sports, including tryouts, students must complete participation paperwork and upload their physical via https://www.thedciaa.com/participation-forms.
Additionally, all student-athletes, who are 12 and older than must be vaccinated to participate in sports or have an approved medical or religious exemption and test weekly.
Anyone with questions, should contact the CHEC athletic director, Coach A in room D236, or via email at desmond.alexander@k12.dc.gov.
Spring sports practice has begun.
---
Desmond Alexander, CAA
Columbia Heights Educational Campus
Bell/Lincoln Multicultural Schools
(202)939-7700 Ext: 5207 (office)