CHEC hosts students from Cat Island - The Bahamas as part of the study abroad program.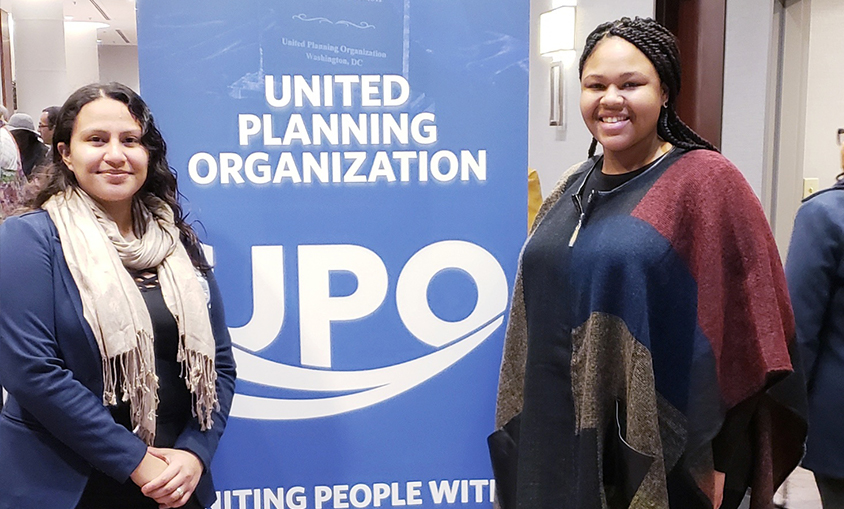 UPO SCHOLARSHIP RECIPIENT - KEIRI SANCHEZ
UPDATES FROM: LEADERSHIP TEAM
I
ADULT CITIZENSHIP
I
VISUAL ARTS PD
I
DONORS CHOOSE
I
GLOBALIZE DC
I
CANVAS
I
WILDERNESS LEADERSHIP AND LEARNING
I
LIBRARIES
I
FLAMBOYAN
I
Shawn Chakrabarti, a local resident who for many years has taught ESL to adult immigrants in Columbia Heights, and who is currently employed by the Office of Citizenship, invites teachers, volunteers, parent engagement coordinators, and evening adult program administrators to an adult citizenship educator training on March 5th in Virginia. All are welcome and it should be a great opportunity to network with other immigrant-serving organizations.
CHEC SENIORS RECEIVE GREATER WASHINGTON URBAN LEAGUE SCHOLARSHIPS
We just found out that Gerardo Hernandez, Maritza Mundo, and Jessica Amaya received scholarships through the Greater Washington Urban League (GWUL).

Gerardo received the Yancey Eights Scholarship for $8000.

Maritza and Jessica both received the Safeway Scholarship for $2500.

They will be honored at the GWUL Gala on March 15th at the Ronald Reagan Building.
FEREBEE FRIDAYS
Acting Chancellor Ferebee is hosting his third community meet-up, a part of our Ferebee Fridays series, this Friday at the Latin American Youth Center from 4:00 PM-5:30 PM. Parents, families, and members of the CHEC community are invited to drop in to meet Dr. Ferebee. Here is a flyer with more information:
Kennedy Center Office of Curriculum Visits CHEC
On Thursday February 7th a team from the Kennedy Center Office of Curriculum and Administration visited CHEC for some interactive student demonstrations of their work in music and art. Speaking for the guests, Kennedy Center Program Director Nathan Diamond said "all on the trip came back raving about CHEC, the thoughtfulness of the student work, their maturity, and the care for student needs. I am continually impressed by the work that is happening at CHEC and so glad that we were able to share this with our national network." They are definitely looking forward to many more connections in the future!
Department of State Opportunity for DCPS Teachers
Greetings from the U.S. Department of State! We are pleased to share an exciting opportunity for DCPS teachers and school librarians in grades 6-12: The United States Department of State Teacher Institute.
Applications will close at 11:59 p.m. on March 1, 2019.
The program is very competitive. Selected educators will participate in an intensive training led by the United States Diplomacy Center and the Diplomatic Reception Rooms from July 15-19, 2019 at the U.S. Department of State. Participants will learn to incorporate the history and practice of diplomacy into their classroom by discovering the people who conduct diplomacy, the places where the U.S. Department of State engages in diplomacy, the issues diplomacy helps resolve, and the tools to integrate diplomacy into their classroom. Participants will learn to conduct diplomacy simulations that foster global competency skills and become proficient in object-based teaching. Participants will gain unparalleled access to the historic art and objects in the U.S. Department of State's collections and will utilize these resources to create dynamic lesson plans that help engage students in active learning and teaches the importance of diplomacy.
To learn more about the Teacher Institute, please click here:
The 5-day institute, available to 6th-12th grade teachers from Montgomery County, Fairfax County, and District of Colombia public schools, is structured to provide an array of engaging opportunities including diplomatic simulations, object-based learning, historic background, classroom techniques, and more.
To learn more about the educational initiatives of the Diplomatic Reception Rooms and United States Diplomacy Center, please watch these short videos:
The Institute is open to teachers of social studies, the visual or performing arts, English language arts, world language teachers, school librarians, or those interested in bringing a global perspective into their classroom working with students in grades 6 to 12. Educators and schools selected for this prestigious program will be recognized in the press, and educators will receive PD credit and a stipend. To apply, educators can visit at:
https://goo.gl/forms/sumz33810GYF3MNn1
Senior Advisor, Education & Outreach
Diplomatic Reception Rooms
OPPORTUNITY – MARCH 5th – FULL DAY TRAINING – ADULT CITIZENSHIP EDUCATION
Strategies for ELL's, and STEM strategies. The next ALT Team meeting will be on Wednesday, February 13 at 3:30 pm, and we will analyze Science and Social Studies writing products for alignment to PARCC and AP, and calibrate student work from those departments.
Please see this flyer for more details.
VISUAL ARTS PD OPPORTUNITY IN EL SALVADOR
Caroline Lacey, an artist, educator and native Washingtonian has lived and worked in El Salvador with
Laberinto Projects
, an arts and education non-profit. This past summer
Laberinto Projects
held a pilot for a professional development program in El Salvador for educators in the MD/DC/VA area and were thrilled with the overwhelmingly positive response to the course, an incredible and intimate learning experience on the ground in El Salvador.
Laberinto Projects
is officially launching four dates for 2019 and they wanted to share those with you. (PFD attached for printing and sharing).
The course, Visual Literacy as a Tool for Cultural Proficiency in the Classroom: El Salvador as a Case Study, is a professional development pre-immersion, in-country travel and post-immersion, 3-credit course for teachers in the Washington, D.C. area. It promotes teacher collaboration and applies standards-aligned tasks with direct impact on classroom learning, while fostering cultural proficiency and academic excellence. Teachers will acquire the tools needed to integrate the diversity of cultures and experiences that are represented in their classrooms through the exploration of a Central American art archive and through object-based learning, visual literacy skills and global competency. The course will be taught by Muriel Hasbun, a long time professor of the Corcoran Gallery and College of Art + Design. The 3-credit course is accredited through Washington Trinity University.
CHEC TEACHERS - DONORS CHOOSE GIVES YOU A GREAT OPPORTUNITY TO FUND CLASSROOM PROJECTS
If you have not already done so, consider Donors Choose for funding for any of your classroom projects. To date, 28 CHEC teachers have done so, as reported here. We recently learned that there is about $175,000 remaining in a particular fund that has been earmarked for all DC Public School Donors Choose requests (from the A. James and Alice B. Clark Foundation). Recent project amounts range from $300 - $1,000 – by Ms. Falkenberg (twice!), Ms. Alvarado, Mr. Khafra, Mr. Spoth, Ms. Malcolm, Mr. Talarico, Ms. Warren, Ms. Nunez, Mr. Magee, Ms. Docena, Ms. Patterson, Ms. Peddyreddy, and Ms. Hartwill.
The process is easy – if you would like to create an account to receive project funding, just go to this link:
OPPORTUNITY FROM GLOBALIZE DC
Globalize DC shares information about free global opportunities open to DC educators, students, and schools. They send information out by email and on their website. These great global opportunities as a "Global Alert" are included at the following link for sharing within the CHEC community – there are trips and other great programs that may be of interest.
For any students who need assistance to log into Canvas, follow the directions below. If there are any students that cannot log into Canvas please have them email the Canvas support team at
dcps.canvas@dc.gov
.
Student Login Information:
Password: Birthdate (MMDDYY) (Note: include a zero in front of single digits. For instance, 01/09/05 would be 010905)
WILDERNESS LEADERSHIP AND LEARNING OPPORTUNITY
Wilderness Leadership and Learning (WILL) is a holistic 12-month experiential learning, youth leadership and life skills development program for DC 9th to 11th graders. WILL is beginning to recruit for its 15th class. There have been Bell students in WILL every year. Please refer a student to be part of this amazing program to strengthen student's leadership, life skills, cultural awareness, empathy, compassion, and Environmental Awareness.
Contact Ms. Elmore, College and Career Center, A126. Milagros.Lopez@dc.gov with student referrals.
Technology Knights Are Here to Help!
8th grade students have been selected to serve as technology leaders during second semester. Students have been assigned carts and teachers to provide help as issues arise and assist in inventory or other tech needs. Follow the link below for students introductions and cart assignments. More information will be added periodically.
Black History Month Resources
Thank you for the feedback from last week's staff meeting. Please fill out the survey link so we can better assist you during Black History Month or throughout the school year. Resources to Black History Month lessons, podcasts, and other ideas can be found below.
Articles to Read:
Ten Ways Teacher Librarians Improve Literacy in Schools
STEM Role Models Posters - Nevertheless Podcast
Audiobooks to Listen to During Black History Month
FREE Poster Downloads: Women in Science - Women's History Month
Top Bell Library Patrons for the Month of January:
1. Rashard Thompson
2. Zion Marcellous Caudle
4. Armando Abarca-Salvador
Please reserve using the Bell library via our reservation platform, Skedda:
(https://reservechecbelllibrary.skedda.com/booking). Once booking your first reservation you will be prompted to create a quick login. Users will be able to see when space is available and when space is unavailable. This will allow for transparency and comfort in knowing that the time that you have requested, is available. There is also a space for *notes. If you would like to request AV material (i.e. projector), please let Mr. Stewart know.
For Black Lives Matter Week and Black History Month--on February 5, 2019 Ballou High School student authors will join us to discuss their book, Our Lives Matter. If you and your students would like to attend this Bell Library event, 10:15 AM- 11:45 AM, please let me know. Each participant will receive a copy of the book that will be signed by the authors-- limited space, please reserve soon! December's author talk with students from the LAYC entitled, Voces Sin Fronteras: Our Stories, Our Truth was amazing with CHEC students asking prudent and deep diving questions.
Please remind students to log their books for the 25 Books Campaign and Winter Challenge via Clever. If you have any questions please let me know.
Whether it's PARCC, the SAT, ACT or simply because you want to be the best you--according to researchers at the University of Wisconsin- Madison, Kids connect with Robot Reading partners and reading friends which in turn enhances their desire and enthusiasm to read and learn. Educators please identify students who you believe would benefit from a reading partner or buddy! These students will be paired and the reading fun will begin!
Bell Library Reservations
The CHEC Bell High School Library would love to invite teachers and staff to reserve library space via our new platform,
Skedda
(
https://reservechecbelllibrary.skedda.com/booking
). Once booking your first reservation you will be prompted to create a quick login. Users will be able to see when space is available and when space is unavailable. This will allow for transparency and comfort in knowing that the time that you have requested, is available. There is also a space for *notes. If you would like to request AV material (i.e. projector) I can have that available and set-up for you.
Bell Library Writing Center
Days: Tuesdays & Thursdays
Time: 8 AM- 8:50 AM & lunch periods
Location: Bell High School Library
We all need help! Great authors and writers have editors...the library will assist with:
Interpreting a writing assignment
Locating and sharpening a thesis statement
Organizing ideas and research
Developing a logical argument
Identifying recurrent errors and strategies for revising.
"The Brunch" held, once a month starting Monday, November 5th [beginning of hypothermia season] has been a great way to connect to the community through books and food (all free)! In our Nation's Capitol we have an epidemic when it comes to poverty and homelessness, including heightened illiteracy rates for several populations. Street Sense, a District of Columbia based newspaper that employs formerly and currently homeless individuals and, provides articles that touch on important issues concerning the homeless population will be interviewing me about the Brunch with the CHEC/Bell Librarian: Food, Lit. & Book Discussion program my work on ending homelessness and poverty in the District of Columbia and beyond, including the home for the homeless (no more) that I am opening this winter.
A strong body of research shows that family engagement matters for student success.
Students do better in school and in life when their parents are engaged in their education. Family engagement contributes to a range of positive student outcomes, including improved student achievement, decreased disciplinary issues, and improved parent-child and teacher-child relationships. Emerging evidence also suggests that family engagement can have important benefits for the inner-functioning of schools, including school staff having higher expectations for students, more shared ownership and trust across their faculty, and, ultimately, stronger school performance.
All families can be capable guides, partners, and advocates in their child's education.
Regardless of a parent's circumstances, family engagement is not a static enterprise - with the right interventions parents can change their behaviors in relationship to their child's education. In focus groups conducted in 2009, District parents in all wards were clear that they cared about and wanted to support their child's learning but needed additional skills and knowledge to do so. Furthermore, they pointed out that they wanted schools to be more welcoming and responsive to their involvement.
Families play specific roles that support student achievement.
Although there is widespread consensus about the importance of family engagement, there is a diversity of opinions about what, exactly, family engagement means. Research about the impact of different types of family engagement help address this challenge. Meta-analyses find that, when it comes to how strongly parent involvement predicts student achievement, a parent's participation in school itself is a blip on the radar screen compared to a parent holding high expectations and setting goals for their individual child, monitoring progress and holding them accountable, and supporting learning at home, among other things. Although many of these forms of family engagement are difficult for school staff to see, schools still play an important role in affecting them.
Please join us in giving every student the gift of Family Engagement! Please reach out to your family engagement team, Jessica Gonzalez and Kristen Whitaker if you have any questions or concerns! We look forward to supporting you in this work!