CHEC hosts students from Cat Island - The Bahamas as part of the study abroad program.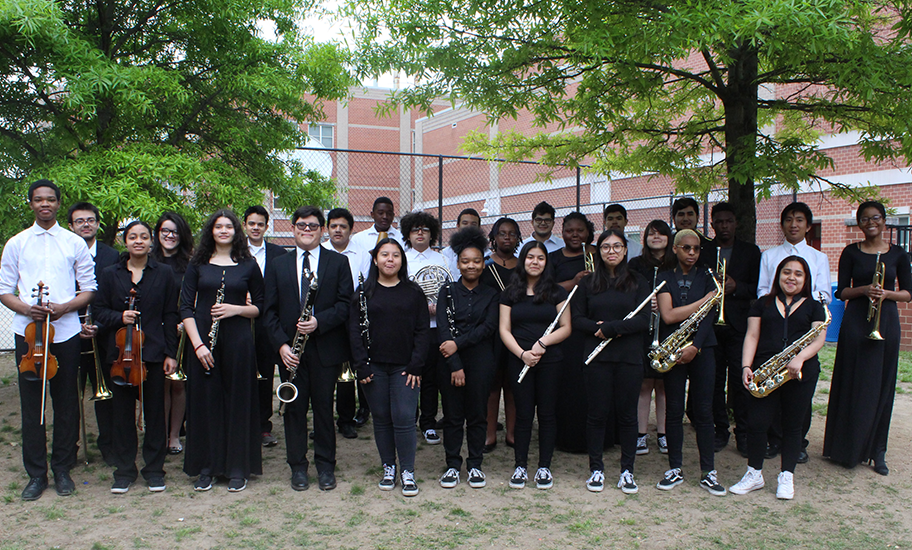 CHEC BAND ON THEIR WAY TO PERFORM AT THE KENNEDY CENTER ON MAY 21ST
UPDATES FROM: LEADERSHIP TEAM
I
UNIFIED SOCCER TEAM
I
MARY'S CENTER
I
INTERACT CLUB
I
LIBRARIES
I
The last ALT Team Meeting was held on March 29, 2019. The team looked at student portfolio products and simulated how a student would present using the redesigned rubric. The next meeting will be on Wednesday April 24 at 3:30 pm.
CHEC UNIFIED SOCCER TEAM WINS GOLD
The CHEC Unified Soccer Team won GOLD at Thursday's Soccer Championships! This team, with assistant coach David Lee, was comprised of students with and without intellectual disabilities: Jessica Amaya, Michael Carter, Nelson Contreras, Brenda Flores, Omar Mendoza, Javon Murray, Cintia Sosa, Cristian Salvador-Campos, and Meryem Yucel. They beat Woodson 7-6 in the gold medal match! Soccer, and sports in general, is one way we can bring more inclusivity to CHEC and our whole community! Special shout out to our "Fans in the Stands": Victor Carballo, Kevin Cruz, Juliana Franco, and Jennifer Garcia.
Thanks for your continued support of Special Olympics, and especially of our Unified Sports events!
MS. HANLON RECEIVES MARY'S CENTER HONORS AT PARTNER APPRECIATION EVENT
On May 22
nd
, our very own Ms. Hanlon received an award at the Mary's Center Partnership Celebration, for Outstanding School Social Worker. The award honored her efforts as a wonderful, engaged social worker and her outstanding ability to partner with Mary's Center staff members to aid and support students. The Center was so excited to honor her – it was a long time coming! Thank you, Ms. Hanlon for all that you do for Lincoln Middle School.
CHEC INTERACT CLUB RAISES FUNDS FOR SCHOOL SUPPLIES IN EL SALVADOR
On behalf of the Interact Club, I would like to thank you for supporting our first ever fundraiser! We made over $500 and all our profits will be going to purchasing school supplies for students in El Salvador. We are partnering with an international Rotary club, Rotary Club Rotario Satellite de San Salvador Cuscatlan D4240. They will be purchasing backpacks and putting school supplies inside for local schools in the Jucuaran. Here are pictures of last year's event, and we hope we will be able to support at a greater capacity next year.
For those who donated school supplies, thank you so much! We will be donating those supplies to The National Center for Children and Families located in DC. They help create healthy living environments for vulnerable children, youth, and families.
Students will be coming around today/tomorrow to pick up any final payments/pledges. In addition, since this was our first time doing a Car Wash, we would really appreciate your feedback. If there is something we should do better for next time, please let us know! Below are pictures of last year's backpack giveaway.
Lincoln

James Patterson and Scholastic Book Clubs: Giveaways for Classroom Libraries
4,000 teachers (4+ years) will receive $250 and 250 bonus points
500 NEW teachers (0-3 years) will receive $500 and 500 bonus points
Author James Patterson is partnering with Scholastic to provide grants to purchase books for K-12 classroom libraries. Classroom libraries are an important resource for students to continue their reading habits and skills in addition to visits to the public or school library. If selected, funds will be provided directly to you and bonus points will be applied for additional book purchases. The deadline is July 31st and winners will be announced on or around September 5, 2019. More details can be found here: http://www.scholastic.com/pattersonpartnership/pdfs/rules.pdf
Submit an application here: http://www.scholastic.com/pattersonpartnership/
PBS Media Literacy Education
PBS will now offer a free credential in Media Literacy through the completion of modules centered around a variety of topics. The courses include evaluating online information, analyzing media, creating a code of conduct, evaluating online tools for classroom use, and more. Follow the link below for more information and to start the courses.
Bell Library Update
Happy LGBTQIA Month! As we end another amazing school year, I hope you can join me and my family at the Capital Pride Interfaith Service at Adas Israel 2850 Quebec Street, NW Washington, DC 20008 (Cleveland Park Metro). This free event is an ecumenical experience that embodies unity, collaboration and love.
Check out the Bell High School Library June 2019 UPDATE!
The library website will be updated periodically throughout the summer with new webinars, events and information.
The following are students who applied to and received the CHEC/ Bell High School Library College & Vocational School Textbook & Tech Scholarship:
Derman Anthony




Honey Asfaw




Hans Matthew Baes




Vanessa Cruz




Fatima M. Guevara




Jerusalem E. Hernandez




Tamia Hill




Tania Latin




Yasmin Marcia




Diem Nguyen




Hafsah Nur




Treisy Primitivo




Nohemy Salomon




Keiri Sanchez




Esha Sharma




Juniene Shelton




Lirian S. Spolaore




Madelin Umana



Each student who applied to the scholarship received an award. A huge shout-out to these amazing students who are trailblazers and innovators. This scholarship was made possible due to The Bell Library receiving a $2,000.00 donation from a local foundation.
On Friday, May 31st, Bell Library students had the opportunity to visit the World Bank Group Visitor Center. Students learned about Human Capital and envisioning a world free of poverty and hunger. Each student was able to have a virtual reality experience that transports visitors to a particular country where the World Bank has created a project in collaboration with the community. This state-of-art Oculus headset helped create an alternate reality that placed students in the villages and then, the tears started... students were able to experience children, teens and adults in other countries who lived in poverty, hunger and experienced starvation. These realities help place an emphasis on compassionate and authentic storytelling. Students learned that they have the heart and intellect to alter the current state of poverty and deprivation in our world.
On Monday, New York Times Best Selling author and Winner of the 2018 PEN American Award for Young Adult Literature Robin Benway showed up and showed out, thanks to An Open Book Foundation. Benway spoke to 10th-12th grade students about the difficulty she had in high school and how she overcame the many failures [lessons] by writing her truth. Her latest book, Far From The Tree, a National book Award Winning title speaks truth to power about the adversities of life and how we as humans, are brilliant.
Check out the Summer Reading & Events via the Bell High School Library website! The Bell High School Library Knowledge & Power Summer Reading Program starts on June 17th.
JOIN the Bell High School Library Classroom where you will find the
Knowledge & Power Summer Reading Program
1. Go to Classroom.google.com
2. Sign-in to your google email
3. At the top of the page click (add) + > JOIN CLASS
4. Enter the class code: zakciq
2019-2020 School Year-- Things To Look Forward To:
Book Exhibition On The Streets
Literary Workshop on the Beach (Spring 2020)

Building Homeless Shelter Libraries

Building A Library in Africa in Collaboration with the Community (Spring Break 2020)

Bell High School Library Student Authors (exploring the role of student as transformational leader)
I have had the pleasure of learning from some of the most amazing students and educators in the world. I am so excited to continue to share in this journey with you, next school year. Have a beautifully bright and peaceful summer!