CHEC hosts students from Cat Island - The Bahamas as part of the study abroad program.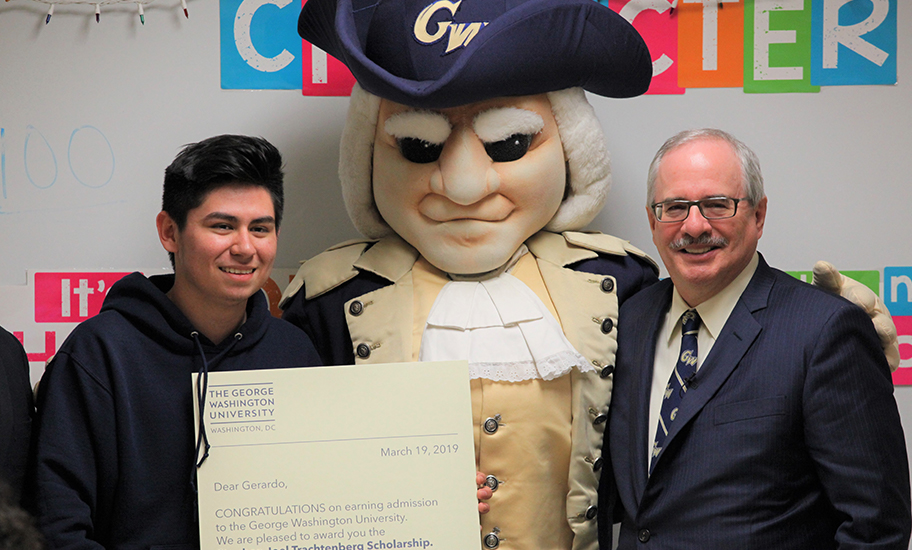 GERARDO HERNANDEZ RECEIVES TRACHTENBERG SCHOLARSHIP TO GW UNIVERSITY
UPDATES FROM: LEADERSHIP TEAM
I
HOSPITALITY ACADEMY
I
CANVAS
I
LIBRARIES
I
FLAMBOYAN
I
The last ALT Team Meeting was held on March 29, 2019. The team looked at student portfolio products and simulated how a student would present using the redesigned rubric. The next meeting will be on Wednesday April 24 at 3:30 pm.
ACADEMY OF HOSPITALITY AND TOURISM (AOHT) NEWS
AOHT hosted Marketing Pitch Night on Tuesday, March 26th
Industry Executives, partners and friends came out to give students feedback on their creative pitches for the Hospitality Marketing classes. Groups in each class came up with a mock tourist attraction and mission statement for their business. Each student pitched individual marketing plans/creative concepts to the "chiefs of their department" (or our career professionals). The winning concepts in each group will be invited to attend a student entrepreneurship conference next month, where they will share their projects for a chance to win $1,500.
CHEC AOHT is one of Eighty-Six Academies Nationwide in the National Academy Foundation Network to Reach Distinguished Level – NAF's Highest Level of Achievement
For any students who need assistance to log into Canvas, follow the directions below. If there are any students that cannot log into Canvas please have them email the Canvas support team at
dcps.canvas@dc.gov
.
Student Login Information:
Password: Birthdate (MMDDYY) (Note: include a zero in front of single digits. For instance, 01/09/05 would be 010905)
James Patterson and Scholastic Book Clubs: Giveaways for Classroom Libraries

4,000 teachers (4+ years) will receive $250 and 250 bonus points
500 NEW teachers (0-3 years) will receive $500 and 500 bonus points
Author James Patterson is partnering with Scholastic to provide grants to purchase books for K-12 classroom libraries. Classroom libraries are an important resource for students to continue their reading habits and skills in addition to visits to the public or school library. If selected, funds will be provided directly to you and bonus points will be applied for additional book purchases. The deadline is July 31st and winners will be announced on or around September 5, 2019. More details can be found here:
http://www.scholastic.com/pattersonpartnership/pdfs/rules.pdf
Lincoln Technology Knights are Here to Help!
8th grade students have been selected to serve as technology leaders during second semester. Students have been assigned carts and teachers to provide help as issues arise and assist in inventory or other tech needs. Follow the link below for students introductions and cart assignments. More information will be added periodically.
PBS Media Literacy Education
PBS will now offer a free credential in Media Literacy through the completion of modules centered around a variety of topics. The courses include evaluating online information, analyzing media, creating a code of conduct, evaluating online tools for classroom use, and more. Follow the link below for more information and to start the courses.
Check out one or more of these title from your CHEC Libraries - be rebellious!
Find curriculum support and standards connections to teach students of all ages about financial responsibility and possibilities.
April is Financial Literacy Month! On April 23, 2019 the Financial Literacy Society is having its second meeting. Students will have the opportunity to discuss savings, investments, the S & P 500, Nasdaq, stocks and mutual funds. Students will select stocks to invest in using TD Ameritrade trading platform.
A big thank you to Chipotle for their partnership and generosity. In conjunction with the 25 Books Campaign for the Bell High School Library, Chipotle is donating coupons for each high school student to receive 50% off of lunch.
Please check out the Bell High School Library Website for information pertaining to student and parent resources and free educator webinars! As we prepare for PARCC and AP testing, please let me know if you would like a a student tutorial on accommodations.
A Round of Applause to the Students with the most Circulations for the month of March!
Please reserve using the Bell library via our reservation platform, Skedda:
(https://reservechecbelllibrary.skedda.com/booking). Once booking your first reservation you will be prompted to create a quick login. Users will be able to see when space is available and when space is unavailable. This will allow for transparency and comfort in knowing that the time that you have requested, is available. There is also a space for *notes. If you would like to request AV material (i.e. projector), please let Mr. Stewart know.
Whether it's PARCC, the SAT, ACT or simply because you want to be the best you--according to researchers at the University of Wisconsin- Madison,
Kids connect with Robot Reading partners
and reading friends which in turn enhances their desire and enthusiasm to read and learn. Educators please identify students who you believe would benefit from a reading partner or buddy! These students will be paired and the reading fun will begin!
Bell Library Reservations
The CHEC Bell High School Library would love to invite teachers and staff to reserve library space via our new platform,
Skedda
(
https://reservechecbelllibrary.skedda.com/booking
). Once booking your first reservation you will be prompted to create a quick login. Users will be able to see when space is available and when space is unavailable. This will allow for transparency and comfort in knowing that the time that you have requested, is available. There is also a space for *notes. If you would like to request AV material (i.e. projector) I can have that available and set-up for you.
Bell Library Writing Center
Days: Tuesdays & Thursdays
Time: 8 AM- 8:50 AM & lunch periods
Location: Bell High School Library
We all need help! Great authors and writers have editors...the library will assist with:
Interpreting a writing assignment
Locating and sharpening a thesis statement
Organizing ideas and research
Developing a logical argument
Identifying recurrent errors and strategies for revising.
A strong body of research shows that family engagement matters for student success.
Students do better in school and in life when their parents are engaged in their education. Family engagement contributes to a range of positive student outcomes, including improved student achievement, decreased disciplinary issues, and improved parent-child and teacher-child relationships. Emerging evidence also suggests that family engagement can have important benefits for the inner-functioning of schools, including school staff having higher expectations for students, more shared ownership and trust across their faculty, and, ultimately, stronger school performance.
All families can be capable guides, partners, and advocates in their child's education.
Regardless of a parent's circumstances, family engagement is not a static enterprise - with the right interventions parents can change their behaviors in relationship to their child's education. In focus groups conducted in 2009, District parents in all wards were clear that they cared about and wanted to support their child's learning but needed additional skills and knowledge to do so. Furthermore, they pointed out that they wanted schools to be more welcoming and responsive to their involvement.
Families play specific roles that support student achievement.
Although there is widespread consensus about the importance of family engagement, there is a diversity of opinions about what, exactly, family engagement means. Research about the impact of different types of family engagement help address this challenge. Meta-analyses find that, when it comes to how strongly parent involvement predicts student achievement, a parent's participation in school itself is a blip on the radar screen compared to a parent holding high expectations and setting goals for their individual child, monitoring progress and holding them accountable, and supporting learning at home, among other things. Although many of these forms of family engagement are difficult for school staff to see, schools still play an important role in affecting them.
Please join us in giving every student the gift of Family Engagement! Please reach out to your family engagement team, Jessica Gonzalez and Kristen Whitaker if you have any questions or concerns! We look forward to supporting you in this work!