Principal's Message for Week of February 4 - February 8, 2019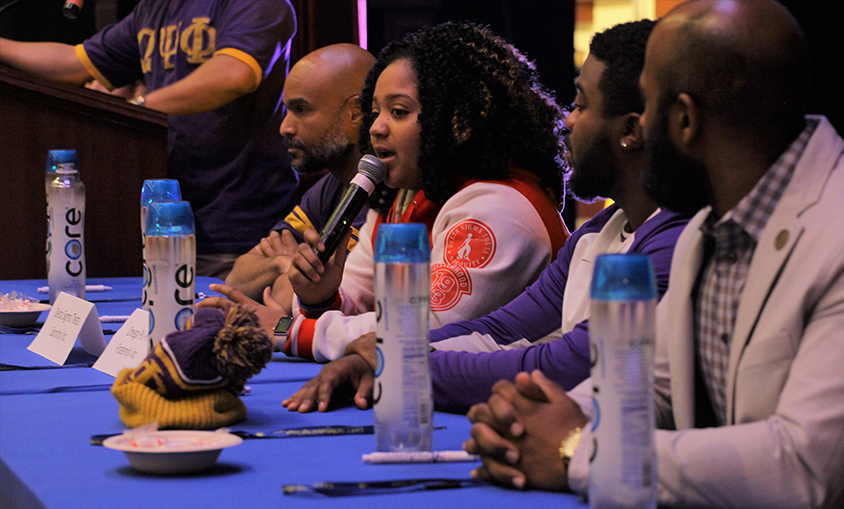 JAYCEE RUFFIN FROM WPGC SPEAKS AT THE CHEC GREEK LIFE SESSION
CELEBRATING BLACK HISTORY MONTH AND BEYOND

Black History Month is extremely important to CHEC as a school committed to equity and social justice. Since its creation in 1926 by Carter G. Woodson, Black History month has grown in scope and impact, and is celebrated now in multiple countries around the world. In our continuous journey to achieve equity in all of our practices, Black History Month calls upon us as educators to build our knowledge, and to celebrate and to illuminate the history, accomplishments, achievements and triumphs of African Americans in the United States, and throughout the diaspora. History books and curricula never have, and still do not, tell this history in its full scope and importance. It is our mission to seek new knowledge, and expand our curriculum to fully include African American History for our students and for ourselves.
A month is not enough time to do justice to African American history, however it is a time to redouble our focus, recommit to our search for knowledge, and to use it as a catalyst to continue to build classrooms where our African American students see themselves represented and celebrated in texts, discussions, and activities. Let's celebrate Black History Month, as a time to continue our critical conversations about race and equity, and to build our capacity as educators committed to social justice.
---
BUDGET FOR SCHOOL YEAR 2019-2020
Thank you to all for actively participating in our discussions about the CSP, Star Rating, and their implications for our School budget. We still have not received our budget, nor indication of when it will be received. The LSAT will analyze the results of the survey, and be prepared to make recommendations once the budgets are released. We will keep you posted on the process.
---
Shout out to Coach A, Ms. Spinks, and the Hospitality Academy for a wonderful Fall Sports Banquet!

Shout out to Mr. Stewart for arranging for students from Ballou to read their Life Stories in the Library, with Deputy Chancellor Alexander in attendance!
Shout Out to LSAT members for leading the discussion on CSP, STAR data, and the School Budget – Ms. McCulloch, Mr. Rahman, Mr. Gonzalez, Mr. Morden Snipper, Ms. Gonzalez, Ms. Ferguson, Mr. Athmer!!!
Thu. February 7 3:30 p.m.
This month's Faculty Meeting will be facilitated by our fantastic Librarians, Ms. Falkenberg and Mr. Stewart, and will focus on our Literacy efforts by sharing updates on reading accomplishments, library programming to support literacy, and resources and ideas to highlight Black History month in our classrooms and throughout the school.
Monday, February 4, 2019

Tuesday, February 5, 2019
Term 2 Report Cards Mailed
Wednesday, February 6, 2019
Thursday,
February 7, 2019
Departmental Planning Period Meetings
Monthly Faculty Meeting 3:30 pm
Kennedy Center – Alvin Ailey – 11:00 a.m.
No Meetings
Unit 3 Common Lit. ELA Testing Window Closes
MOY Reading Inventory Window Closes
MOY i-Ready Window Closes
Saturday,
February 9, 2019