TRIFILIO TANGO DAZZLES AT CHEC!!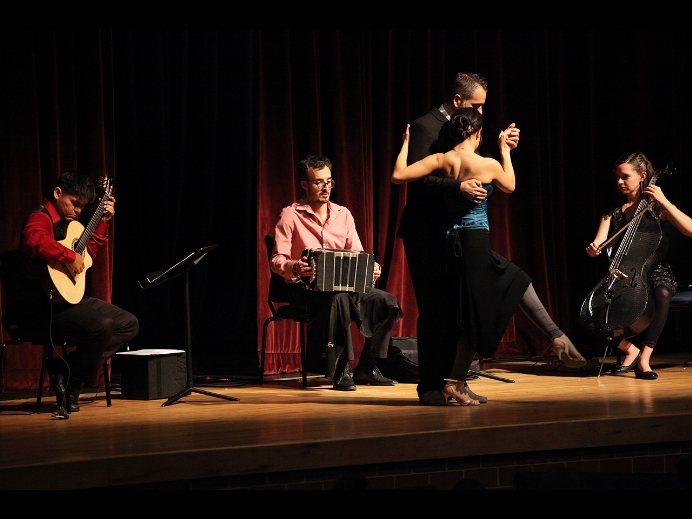 CHEC LAUNCHES SCHOOLWIDE COMMUNITY SERVICE INITIATIVE FOR HIGH SCHOOL STUDENTS AND ENRICHMENT AND SERVICE OPPORTUNITIES FOR MIDDLE SCHOOL STUDENTS
The CHEC Mission focuses on developing "leaders in the quest for social justice…. and contributing community members." In alignment with our mission, all students are required to do at least 100 hours of community service before they graduate. Many students, due to work schedules and other obligations, due to not have sufficient time to complete community service. This year CHEC will provide high school students with the time and support necessary to engage in ongoing community service, through an early release day every other Wednesday. Middle school students will have opportunities for service, as well as enrichment and exploration activities, during early release days.
Studies have shown that students who are involved in community service, are more likely to be involved in civic life, and to participate actively in our democracy, particularly when the service is aligned to their classwork and learning. Community service builds empathy and compassion for others.
Additional benefits of community service are the development of soft skills related to the workplace, and the development of a resume for college applications.
All students in the high school have had the opportunity to select a community service site that is related to their interest in a particular social justice issue. Middle school students have been surveyed to determine what activities they wish to pursue on site during early release.
We have developed advisory lessons that can be used to support the program by involving students in reflecting, talking and writing about what they are experiencing at their community service placements.
Thank you to all staff for your support of this expansion of our community service program. We are extremely excited to provide this opportunity and support to our students and community.
CHEC PROFESSIONAL DEVELOPMENT OPPORTUNITIES EXPAND WITH BIWEEKLY COLLABORATION/PROFESSIONAL DEVELOPMENT TIME

While students are engaged in community service, we as faculty will have dedicated time for our work as a professional learning community. Our essential questions are:
What do we want all students to learn?
How will we know when they have learned it?
What will we do when they don't learn it?
What will we do if they already know it?
We conducted a survey of the staff to determine priorities for the use of our time together. 61 staff members responded, and the summary of the responses can be found here.
An analysis of the responses showed that within the four large categories of Curriculum Development, Data Driven Instruction, Social Emotional Learning, and Professional Development in Specific Areas, Curriculum Development was a top two choice for 33 staff members, DDI was a top two choice for 14 staff members, SEL was a top two choice for 9, and PD in specific areas for 8.
Within Curriculum Development sub categories, the top priority was Development and Tuning of Curricular Documents, followed by Summit Curricular planning, and then with equal interest Dual language immersion cross curricular planning, Cross Curricular Planning, and Vertical Alignment.
Within Data Driven Instruction, the top priority was development and tuning of assessments and loading on Mastery Connect, followed by Data Analysis. In the category of Professional Development in specific areas, Strategies for ELL's and SLL's was the top choice, followed by Differentiation and Group Strategies, and then Strategies for Special Needs Students.
Finally, within Social Emotional Learning, the use of Restorative Circles was the top choice, followed by Classroom Management, Cultural Competence, Case Presentations and RTI, Foundations of SEL, and collaboration with Social Workers and Counselors.
With this in mind, for teachers, we have developed a cycle of sessions including all four categories, but providing a heavier concentration of time for Curriculum Development and DDI, as reflected in the survey. There will also be sessions allocated for specific PD's for specific areas, and socioemotional learning. With our focus on results, every session must involve student work and data, thus the cycle is coordinated with key assessments and the standards based instruction process. A draft initial calendar for the first semester can be found here.
We will conduct a similar survey for Counselors, Social Workers, and other support staff. To set the tone for our work as colleagues, as well as address our focus on student circles, the first CHEC Early Release PD session on September 20 will focus on the use of restorative circles. Based on feedback, student achievement, and results, the cycle will be flexible for modification and adjustment. We look forward to powerful collaboration, resulting in high levels of achievement and growth for all students.
THERE ARE NO WORDS TO EXPRESS OUR GRATITUDE....
Shout out to Ms. Lopez-Elmore for organizing a great community service sign up fair!!



Kudos to our Read 180 teachers, Ms. Nakpil and Ms. Nunez-Kitchen - they were highlighted by our central office Read 180 Supervisor for Excellent Rotations and Room Environment!!!
Shout out to Ms. Edwards for coordinating STEM Night - over 100 parents attended!!!
Shout out to Ms. Whitaker for being recognized by DCPS central office as an outstanding evening credit recovery coordinator!!!
Shout out to the Music Department for arranging for Tango Trifilio Trio to perform for our school!!!
Shout out to all facilitators at our faculty meeting and kudos to all faculty and staff for participation – Ms. Thweatt, Mr. Lessek, Mr. Talarico, Ms. Malcolm, Mr. Aguilar, Ms. Ferguson, Mr. Magee, Ms. Penn-Pearson, Mr. Alexander, Ms. Weiss, Ms. McCulloch, Mr. Onley, Ms. Stevenson, Ms. West, Mr. Connor, Mr. Hernandez, Ms. Strickland, Ms. Edwards and Ms. Hinkson!!!!!
Shout out to Ms. Hinkson, Mr. Jones, Mr. Aking, Mr. Lessek, Ms. Thweatt, Mr. Campbell, Ms. Edwards, Ms. West, Ms. Strickland, Ms. Weiss, and Ms. Crivelli for guiding students in the very successful DACA activities.
INSTRUCTION
During week 5, all students should have completed and revised their first GRASPS, and the exemplary work, should be posted on the bulletin board, or placed in the actual portfolio. Students should have engaged in self assessment using the rubric, and once revised, the project should have a rubric graded by you, indicating the work is on standard.
If you have an electronic portfolio, the document should be saved there. If you are using paper portfolio, please make sure you have gotten the folders from the main office and students have set up their portfolios/ In order to support all classes in making the connection, this week during walk throughs and visits to classes, members of the leadership team will be asking students higher order questions about their GRASPS, and what they have learned through the process of working on the project. We will also be looking at student work related to the GRASPS.
September 18 - September 22, 2017
IN THIS ISSUE

Leadership Team and Other Updates
Opportunities and Updates
Ambiente, creating a climate for learning
Upcoming Events and Activities
LAST WEEK'S RESULTS
The Middle School Volleyball team lost to Browne. The High School Boys Soccer team defeated Magruder but lost to Quince Orchard. The High School Volleyball team defeated Coolidge. The High School Football team lost to Falls Church.
THIS WEEK'S SPORTS SCHEDULE
Monday
MS Girls Soccer vs. Eliot-Hine
MS Boys Soccer vs. Raymond
MS Girls Volleyball vs. Leckie
HS Boys Soccer vs. Wilson
HS Girls Volleyball vs. Phelps
MS Girls Soccer vs. MacFarland
HS Boys Soccer vs. Banneker
HS Girls Volleyball vs. Eastern
HS Football vs. Wilson at Wilson @ 6:00
WEEKLY CALENDAR
Monday

HITEC Foundation / Freddie Mac Visit CHEC - 9:00 a.m. – 11:00 a.m.
Early Release Day - Community Service/Enrichment for Students.
Teacher Professional Development -Restorative Justice Circles
Term 1 Progress Report Marks Due in ASPEN
Thursday

Senior Town Hall – 10:30 a.m.
Departmental Planning Period Meeting
Friday
Teacher Professional Development Day (All teachers should sign up through the Catalogue)
No school for students
RESULTS OF THE SGA ELECTIONS

6th grade

Vice President - Sinaya Richardson
Secretary - Graciela Solorzano
Treasurer - Caylynn Blakney
President - Francisco Hernandez
Vice President - Geo'mani Williams
Treasurer - Calvin Armstrong
8th grade
Vice President - Dream Muschette
Secretary - Fatiya Hassan
Treasurer - Sintia Madrid
9th grade
President - Katherine Diaz
Vice President - Fernando Jurado
Secretary - Adna Coronado
Treasurer - Gabriela Ayala
10th grade
President - Stephany Chavez
Vice President - Maryem Yucel
Secretary - Kendrys Martinez
Treasurer - Fatima Gonzalez
11th Grade
Vice President - Jessica Amaya
Secretary - Julian Hernandez
Treasurer - Jamilet Rivera
12th Grade
President - Kamashae Tolliver
Vice-President - Karina Alay
Secretary - Kimberly Turcios
UPCOMING EVENTS AND ACTIVITIES
CHEC library receives huge shipment of books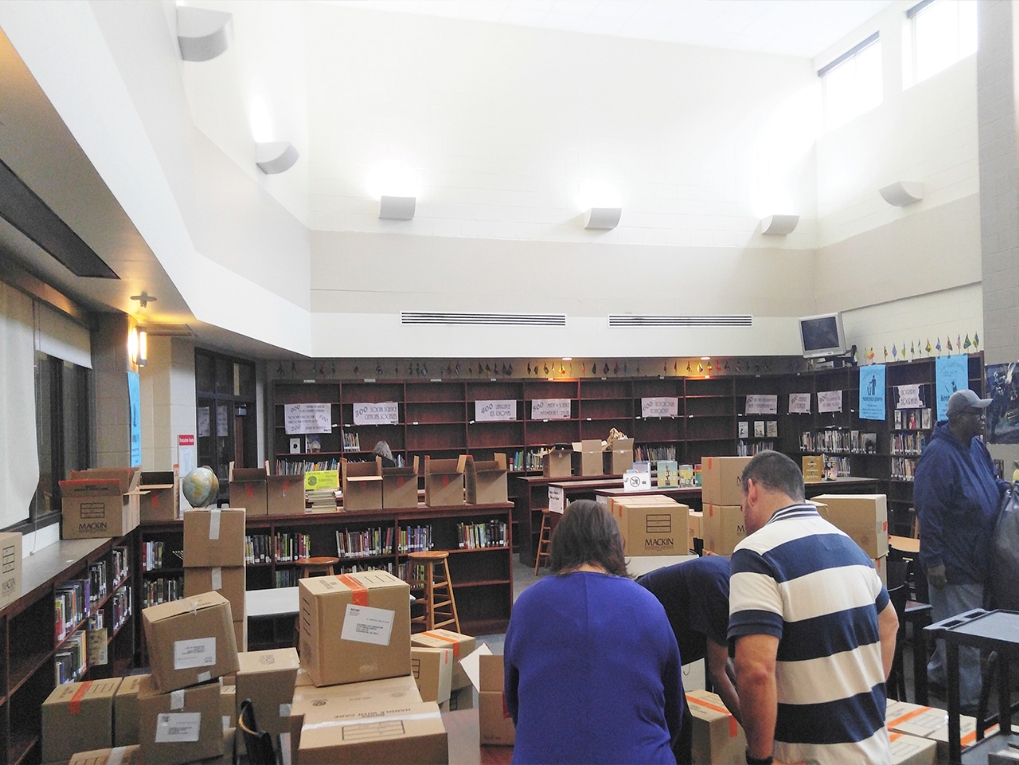 UPDATES FROM: LEADERSHIP DACA INVITE
LIBRARIES EMOC
FLAMBOYAN
The Leadership Team will continue to meet on Wednesdays this year. Last week, on Wednesday September 13, the team worked on the Comprehensive School Plan. Team members provided feedback and recommendations on the draft plan, and also identified use of the resources we will have available. CHEC has received $95,250 in additional funding to assist us in improving the achievement of our level 1 and 2 (PARCC) students. The team also discussed the plan and format for Early Release days, as well as the activity for the Faculty meeting. The next Leadership Team meeting will be Wednesday, September 27. The Leadership Team is a group of teachers, counselors, and administrators who meet every week to discuss school needs, and plan for improvements. The Leadership Team designs the school's comprehensive school plan, and helps in its implementation. Please consider joining the Leadership Team this year. It is open to all faculty and staff. We need the involvement and voices of all. Remember, Leadership team meetings are open to all who are interested in schoolwide decision-making and leadership. You can come once, or as many times as you like, but please make your voice heard!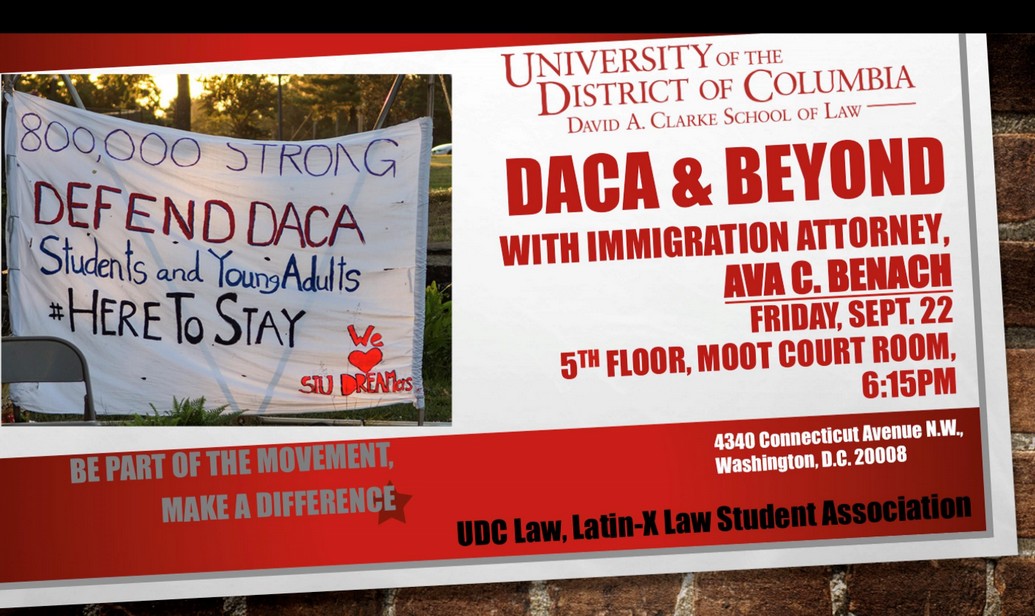 Please RSVP for our DACA and Beyond event through - https://www.eventbrite.com/e/daca-beyond-tickets-37941003563 (6:15 pm, Friday, September 22, 5th Floor Moot Court Room, UDC Law, 4340 Connecticut Ave., NW)
We are bringing a wonderful immigration attorney, Ava Benach, to our school to talk about:
1. What DACA is and who will be most impacted and how; and
2. What forms of relief are available for undocumented people when they are placed in removal proceedings.
3. Ms. Benach will also be available to answer individual questions you may have.
This event is open for everyone, law students, alumni and the community at large. Please come and bring everyone who may benefit.
UDC Law Latino/a Law Students Association
Contact UDC LLSA at
latinolawstudentassociationudc@gmail.com
Friday, Sept. 22, 6:15pm @ moot court room
September is Library Card Signup Month. Encourage students to visit Mt. Pleasant Public Library to ensure their DC One Cards are also activated as library cards. You can email me and/or public librarian Amanda Epperson (
amanda.epperson@dc.gov)
to schedule visits to our local library.
DCPL Educator Cards update: As of 9/12, all existing educator cards have been renewed for this school year. This unique card gives you extra check out privileges and guarantees access to DCPL databases.
New teachers will receive their cards in the coming weeks. More information will come as it is given to me.
Fill out
this form
if you still need to sign up for a library card.
New books for both Bell and Lincoln libraries are here and shelved. Browse the new materials for classroom use or schedule class library visits.
EMOC at CHEC COMMUNITY FAIR
On Wednesday, September 13, 2017, CHEC hosted a Community Fair, where various organizations tabled and shared opportunities for extracurricular activity. CHEC Bellmen were present to introduce the Bellmen mission and vision to prospective members. Male and female students alike showed interest in the chance to develop their physical, mental, spiritual, financial, creative, and social selves. The Bellmen program will officially kick off in October. All students and staff are welcome to take advantage of the program and its feature "Stay'n Charge" challenge. Young men who take the challenge are eligible to achieve Bellmen status, which includes a ceremonial induction, exclusive access to select experiences, opportunities, and rewards. To get involved with administering the Bellmen program or CHEC's initiative to start a "sister" organization, please contact EMOC program director, DeMario Hardmon-Fort, at
dhf@speaklight.org
.
To date, we have had 32 home visits completed by 12 teachers! That's an increase of 28 home visits and 8 teachers in 2 short weeks!! Kudos to 7th and 9th grade for having the highest numbers of home visits completed!
Teachers! Have you been thinking about taking a World Language Class to better communicate and serve our students, families, and community all while earning CSC points!?!?!?! Sign up for a class on Edgenuity! All teachers should already have an account! Visit edgenuity.com, your username should be your email address and your password is teacher. If you have trouble, Contact the Edgenuity Support Team by phone at (877) 202-0338 ext. 3. Currently, they offer the following languages; Chinese, French, German, Latin, and Spanish!
If you have any questions or concerns, please see Ms. Gonzalez and Ms. Whitaker for support!!
Creating a climate for learning. DACA Activities.
We're very excited to announce that we've added a returning staff member to our team Mr. Kirkland. He will serve as our Behavioral Teach working alongside the Deans and collaborating with teachers to seek out unique ways of supporting our students in their daily lives. You can expect Mr. Kirkland to initiate action, take responsibility and motivate others in setting and achieving our school wide goals.
First Incentives of the Year: Successful to Say the Least!
High school found a great way to celebrate those students arriving to school on time with an after school event called the "The Breakfast Club" for all early arrival and Middle school hosted their first PBIS incentive where students participated in a dodgeball tournament. What a fun way to celebrate our students who have been contributing consistently to CHEC have a positive community. This is not only a reflection of our student's behavior thus far, but also a reflection of how well we are doing to celebrate their successes. Keep up the good work!
EXTRA thanks and shout outs to all the staff that supported both events! This was a great example of us coming together as a CHEC Family to celebrate our students. THANKS!
Areas of Emphasis this Week
Detention: We still have students skipping detention in the afternoons. Detention is a first intervention we have for students to check and correct their behavior in your classrooms. Students being informed of this consequence is vital to the effectiveness of the consequence. Remember to use our 5 step process with fidelity so that our students will not earn a greater consequence of ISS and thus lose valuable class time.
Uniforms: We've done a nice job keeping high standards with our uniforms this year, but let's not let that slip. Students should be in full uniform throughout the day. Let's continue to support one another by checking all students throughout day.
Hallways: Scholars are expected to walk, to stay to the right, to be in full uniform, use Level 1 voices and to move with a purpose in our hallways. Adults should support these expectations by reiterating expectations frequently, with strong presence in the hallways, by addressing behavior in the hallways, by actively monitoring with teacher-voices and watchful eyes throughout transitions.
Dismissal: We always need more support at dismissal from 3:15pm until 3:35pm (High School), 4:15pm until 4:35pm (Middle School). Please follow students all the way out to the front of the building. Students should be encouraged to move on toward their bus stops/metro quickly. Teachers and staff that can make themselves available to stay out front will be greatly appreciated.
Decreasing the Use of Passes
Over the last week, administrators and security staff have noticed an excessive amount of students in the hallways. These students have agendas/lanyards, but are often fooling around in the hallways, rather than moving to and from the restrooms with a purpose. These students are wasting precious learning time, and their lack of supervision is a safety issue.
This week, please do the following:
• Own the use of the bathroom tracker system and enforce it consistently.
• Reset expectations regarding limiting the number of passes you are allowing during your classes.
• Protect sacred teaching time; students should be in the classroom learning during the heart of your lesson.
• Use discretion when allowing students to leave
• Decrease the amount of passes you are allowing during your class
• Pay attention to the amount of time students are out of the classroom or remove their pass privileges if they do not return quickly enough
The administrative and security teams will support by:
• Asking students for agendas/lanyards when found in the hallway
• Returning students to class when the hallways are too full
• Checking for evidence of bathroom tracker during classroom observations
Also, please be especially discriminatory with passes to the nurse. The nurse is required to accept students that come to her with a pass; when there is a large volume of students coming to visit her, it takes longer for her to treat them, which means an increased loss of instructional time. Use appropriate discretion about who needs to see the nurse, and who does not.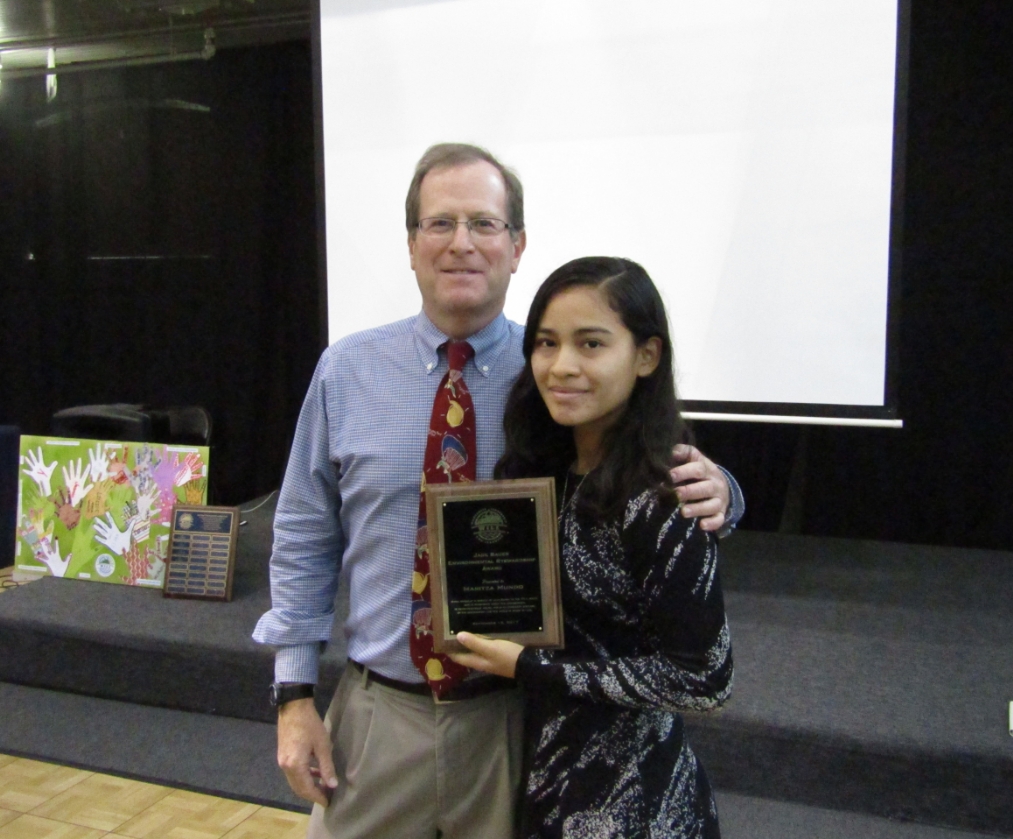 Shout out to Bell student Maritza Mundi who received the Wilderness Leadership & Learning, Inc. Jack Bauer Environmental Stewardship Award at the 13th WILL Class Graduation. The award is presented annually to the WILL youth who, like Jack Bauer, is environmentally aware and is passionate about being an excellent steward of the environment and the world in which we live. In addition to the plaque, Ms. Mundi received an award of $100.
LINCOLN AND BELL STUDENTS VOTE FOR NEW SGA LEADERSHIP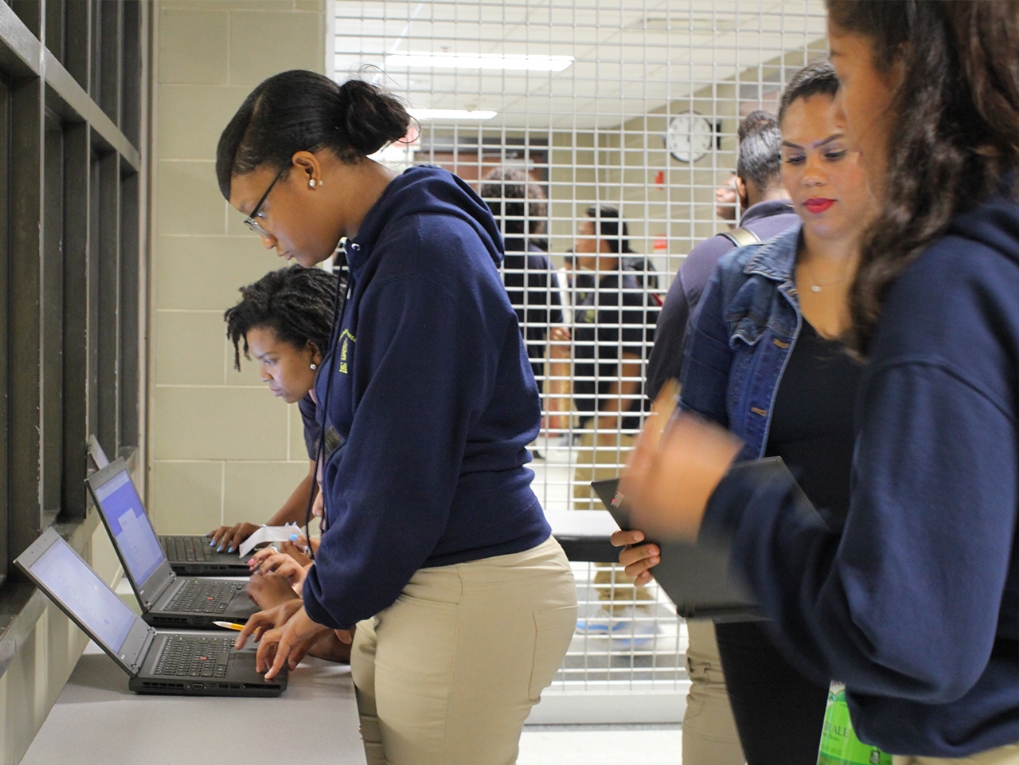 HITEC FOUNDATION AND FREDDIE MAC AWARD COLUMBIA HEIGHTS EDUCATIONAL CAMPUS (CHEC) $30,000 FOR TECHNOLOGY
The grant establishes the first mobile Lab at Lincoln Middle School
Washington, D.C., (June 28, 2017) - The HITEC Foundation announced that the Multicultural Career Intern Program (MCIP) is the recipient of a $30,000 grant for the purchase of portable laptop learning devices for the 440 middle school students at Columbia Heights Educational Campus (CHEC). The grant is part of the HITEC Foundation's mission, to shape the technology of tomorrow through cultivation of the leadership potential of today's Hispanic youths and to increase their representation in STEM (science, technology, engineering and math) related pursuits.
"It is a privilege to partner with Freddie Mac to establish the first mobile lab at CHEC," said Frank DeArmas, chairman of the HITEC Foundation. "We are committed to cultivating an early interest in STEM, especially among underserved middle and high schools with high Hispanic populations and improving their access to technology. Our goal is to give young people the opportunity to obtain the skills they need to pursue their aspirations in today's information economy."
"Freddie Mac recognizes the importance of providing students with access to educational opportunities, particularly as it relates to technology," said James Dalton, Vice President of Application Services in IT at Freddie Mac. "Computers open up a world of possibilities and can spark an interest in science, technology, engineering and mathematics. We are proud to do our part with the HITEC Foundation to help these students discover the wonders of STEM education."
CHEC is a DC Public School that serves over 1,400 students from grades 6-12. The Campus is rooted by a community-based, 36-year history of open enrollment access to education aimed at propelling students to college.
"This is such a thoughtful and innovative opportunity to provide deeper personalization of learning for our students," said Maria Tukeva, principal of CHEC. "Our community is very committed to addressing the issue of the need for technology in education to impact underserved students. We will use this grant to extend our global approach to education and look forward to embracing new strategies and platforms to engage students in anytime and anywhere learning." Tukeva added, "We are grateful to the breathtaking vision and generosity of the HITEC Foundation and Freddie Mac."
About the HITEC Foundation
The HITEC (Hispanic IT Executive Council) Foundation is committed to early academic engagement of Hispanic youths, as well as their persistence through degree completion. At the middle-school level, it provides grants so that students can attend technology-based programs. It also awards scholarships to Hispanic high school students who have demonstrated interest in and talent for STEM. In order to retain college and university students, the HITEC Foundation provides internship and mentorship opportunities with its corporate partners, thereby ensuring a smoother transition into technical careers.
Freddie Mac makes home possible for millions of families and individuals by providing mortgage capital to lenders. Since our creation by Congress in 1970, we've made housing more accessible and affordable for homebuyers and renters in communities nationwide. We are building a better housing finance system for homebuyers, renters, lenders and taxpayers. Learn more at FreddieMac.com, Twitter @FreddieMac and Freddie Mac's blog FreddieMac.com/blog.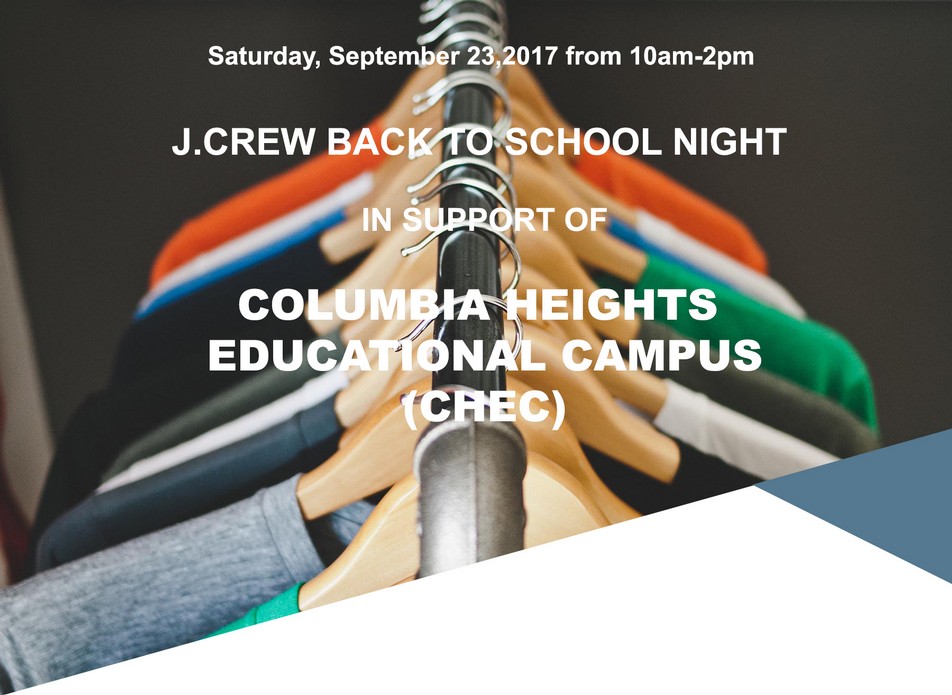 Great Opportunity to Support Fundraising for New Furniture in the Library
J.Crew at the Chevy Chase Pavilion (5335 Wisconsin Avenue, NW) is hosting a Shop & Share opportunity in support of the CHEC Library on Saturday, September 23rd, from 10:00 a.m. until 2:00 p.m. J.Crew has just added new product to their store and to celebrate, they are partnering with CHEC for this special event.
Everyone from the CHEC community will have a 20% off their purchase of $125 or more and the store will donate up to 15% of the event proceeds back to CHEC!
STAFF WELLNESS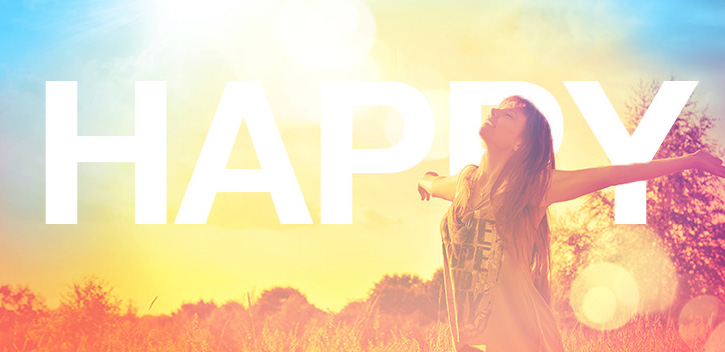 POSITIVE EMOTIONS ARE MEDICINE

It is generally agreed that positive emotions are crucial to our health, our relationships, and the quality of our lives. It turns out that research in the world of yoga has shown that there is a clear connection between positive emotions and yoga.
POSITIVE EMOTIONS HAVE A POSITIVE PHYSIOLOGICAL EFFECT.

Researchers argue that one of the evolutionary effects of positive emotions is their "undoing effects" on negative emotions. It's probably no surprise, then, that negative emotions increase the activation of the sympathetic nervous system. For example, you may have noticed that when you feel fear your heart rate increases, your breath constricts, and basic bodily functions, such as digestion, are stifled. This is a common outcome of negative emotions. Positive emotions, on the other hand, have a neutralizing effect on negative emotions by activating the para-sympathetic which moves the body into rest, digest, heal mode.
POSITIVE EMOTIONS INCREASE "THOUGHT-ACTION REPERTOIRES."

Another great phenomenon about positive emotions is that they increase the number of perceived actions a person can take in response to a feeling. When we are experiencing positive emotions, it is easier to imagine a variety of different responses to any given situation. Likewise, when we are experiencing negative emotions we have a limited number of perceived responses. Think about the well-known response to fear: fight, flight, or freeze. Not too many options, right? Positive emotions have the ability to broaden our attention and our actions—they have implicit benefits. People experiencing positive affect show patterns of thought that are notably unusual, flexible and inclusive, creative, integrative, open to information, and efficient.
YOGA INDUCES POSITIVE MIND-STATES.

How does this relate to yoga? In many studies (at Kripalu Center for Yoga and Health) before a yoga class participants have been invited to write about a current issue or struggle they are dealing with. Then, they practice yoga. At the end of the yoga class, they write about the troubling situation again and how they might take a step to resolve it. The consistent result: Participants almost always walk away from the experience with a clearer, more creative way to handle the situation—a way of managing the situation that had not occurred to them before the practice. Essentially, practicing yoga increases the "thought-action repertoire." There is something about yoga that helps to develop a new way of being and acting in the world.
Why? We know from research that yoga increases positive affect (or positive emotions) in participants. Yoga induces a positive mind state: We feel better after yoga, happier, more content, more at ease. Subsequently, when we are under the influence of a positive emotion it is easier to make choices that are more reflective, and, hopefully, more life-affirming.
HOW TO USE THIS INFORMATION IN DAILY LIFE.

Next time you notice you are experiencing a negative emotion, pause. Observe. See if when you feel a negative emotion like fear or anger your attention narrows. Likewise, when you are feeling happy or joyful, notice if your attention feels broader, if you can, think of the various ways you might respond to situations in your life. See if the theory is true for you. If you are experiencing a negative emotion take a few minutes to do your favorite yoga poses or yogic breathing. Perhaps you'll have more ideas afterward on how to manage whatever it may be that is bothering you. Use positive emotions as medicine.
YOU CAN BE A PART

At CHEC, you can come see for yourself if yoga sparks positivity for you. We practice together in community on Wednesdays at 4:30 in the Yoga Studio (E205). You don't need to know anything about yoga or already be flexible or in peak condition to join us. The thing is to get yourself to class and see if you can glean a benefit.
(Ref. Article by Angela Wilson, MA, RYT in Studies, News, and Trends, Yoga)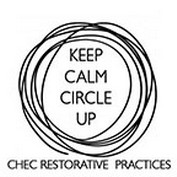 Checking-In with Guidelines Circle I

Setting Our Intentions
PURPOSE
To periodically check-in on the effectiveness of the guidelines in everyday life in the classroom; to encourage participants to reflect on their behavior and its alignment with the shared agreements in the classroom.
MATERIALS
Talking piece; pen and paper; list of classroom agreements/values.
PREPARATION
Arrange everyone in a circle of chairs with no other furniture.
Welcome to the space of the Circle.
MINDFULNESS MOMENT
Pause, breathe, and listen to the sound.
OPENING Read the quote or create your own.
CHECKIN ROUND
Say your name and tell us how are you doing? Is there anything particular on your mind that is important for us to know and that you feel comfortable sharing with the group?
Main Activity Aligning Actions with Intentions
Remind the group of the values and guidelines they have created in previous Circles. Review the list of classroom values and agreements. Ask each student to write down a single value and/or agreement that they really need to practice and honor today.
ROUND
Please share your value and explain why you chose it.
ROUND
Can you describe an action or behavior that you can do that will help you practice your value?
ROUND
Can you think of anything your fellow classmates could do to help you practice that value?
CHECKOUT ROUND
How do you feel about the Circle today?
CLOSING
Re-read the quote or create your own.
"It's easy to get on the
path to Mastery. The
real challenge is
staying on it."
Thank everyone for participating in the Circle!