BACK TO SCHOOL NIGHT WAS A BIG SUCCESS!!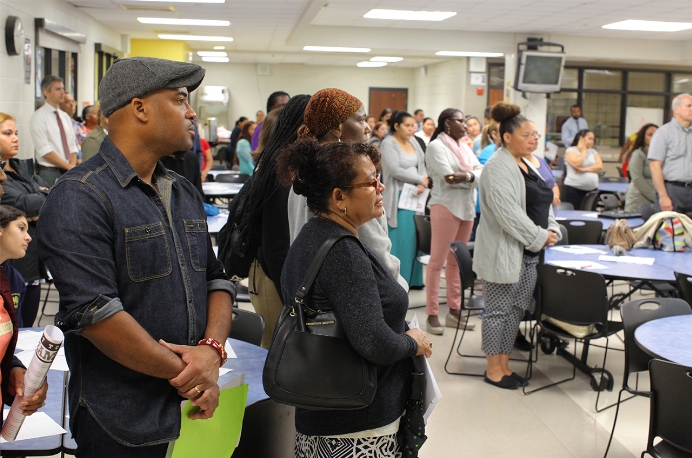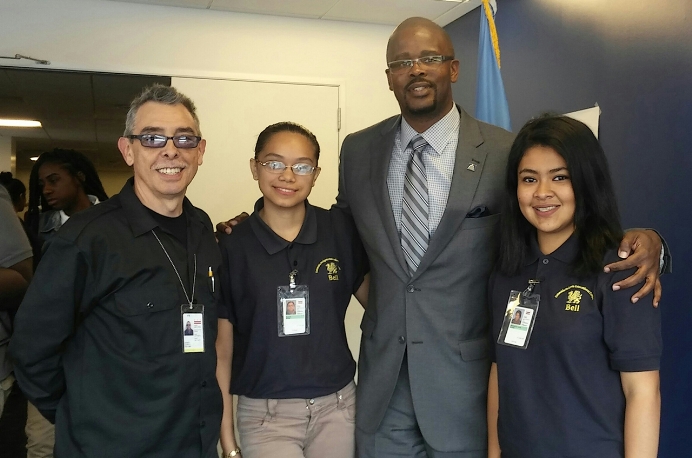 Reina Ramos and Fatima Gonzalez joined other high school students in interviewing the Chancellor about the DCPS Strategic Plan on Monday. Mr. Arango coordinated their participation.
WEEK 4 --APPROACHING MID ADVISORY – SHARING DATA AND REFLECTIONS WITH STUDENTS
Congratulations on a great week 3! We are now in Week 4, almost at the mid-point of the advisory. Although we have been giving feedback to students and parents since the beginning of the year, it is now time to prepare mid advisory progress reports, so that students and their families are clear on where they are strong, and where they have to work to improve. Even though all students have access to their grades and progress on Aspen or the Summit platform, the reflection process with you as the teacher is the most powerful tool for student growth.
Mid-Advisory is an excellent time to reflect upon the PLC Essential Questions:
What do we want all students to learn?




How will we know when they have learned it?




What will we do if they don't learn it?




What will we do if they already know it?



One best practice during mid-advisory progress report time, is to have brief one on one check-ins with students during the work period (or PLT) of class. Think about how to tweak these same questions to use with the students. "What is your understanding of what you are learning in this class? How do you know you have learned it? What should you and I do about the things you haven't yet learned? What should we do to provide you more challenge if you already know it?" This personal conversation helps you to find out what students really understand, what they need help with, or perhaps what challenge they would like to take on in the class.
The school will be mailing out progress reports, however you can draft up a letter to parents to send home with students, or communicate with them by email, so that they can contact you to follow up on the progress reports.
Another way to focus students on the mid-advisory point, is by having your data walls up to date. The data you share with the class should be aligned to your class SMART goals, so it can include percentage completion of GRASPS, attendance rate by class, percentage mastery on quizzes, percentage completion of homework, completion of focus areas (Summit), or diagnostic data alongside your SMART goals. The Data Wall plays a critical role in motivating students as a class "team." It can serve as a visual reference point during your reflective check-ins with students.
The window is already open for mid-advisory progress reports, and the deadline to enter them is Wednesday, September 20. Please remember that mid-advisory reports must be completed for every student in your class. If a student is in danger of failing, it must be
indicated on the mid-advisory report, and parents must be personally contacted. We cannot give a student an "F" unless we have taken all of the above steps to assist them in being successful.
Thank you, and let's have a great week 4!
Thank you to all who completed the survey regarding the best use of time during our upcoming Early Release Days. As a reminder, we will have our first Early Release Day next Wednesday, September 20. In this week's ALT Team Meeting, we will be discussing the results of the survey and making recommendations and an initial calendar and outline which will be shared at the Faculty Meeting. There will of course be flexibility, as different needs arise.
September's Faculty Meeting will be held on this Thursday, September 14, at 3:30 pm in the Cafeteria. In keeping with our professional learning community principles, we will be collaborating on the Impact Essential Practices rubric, and interpreting and calibrating the rubrics so that we can develop a common language of instruction, and use them as learning tools for growth throughout the year.
THERE ARE NO WORDS TO EXPRESS OUR GRATITUDE....
Thank you and congratulations on a wonderful Back to School Event for parents and families. It was great to see parents getting involved, participating in sharing their hopes and dreams, and establishing contact with teachers and counselors. Thanks to your care and communication with parents, we have started off the year with a strong foundation of collaboration with our families. Special thanks to Mr. Molina, Ms. L. Lemus and our student volunteers for their overall coordination. Muchas Gracias a todos!



CHEC students Pedro Ramirez and Dylan Rivera were selected through a competitive application process as Lily McKee Fellows at the Folger Shakespeare Theatre for the 2017-2018 school year. Through this fellowship, Pedro and Dylan will read, perform, and research the works of William Shakespeare. Bell is the only school in the entire DMV with two students selected. More information about the program can be found here:

http://www.folger.edu/lily-mckee-high-school-fellowship-program.
SHOUT out to the CHEC Latin Jazz Ensemble for participating in the 2017 AEP Annual Convening!!!



September 11 - September 15, 2017
IN THIS ISSUE

Leadership Team and Other Updates
Opportunities and Updates
Ambiente, creating a climate for learning
Upcoming Events and Activities
LAST WEEK'S RESULTS
The middle school Volleyball team lost to Hardy. The high school volleyball team defeated HD Woodson. The high school football team defeated Richard Wright.
THIS WEEK'S SPORTS SCHEDULE
Monday

​Tuesday

Wednesday
MS VB vs. Browne at Browne @ 5:30
Thursday
HS VB vs. Coolidge at Coolidge @ 6:00
Friday

HS FB vs. Falls Church at Falls Church @ 7:00
​Saturday

HS BSOC at Magruder Tournament at Magruder @ 12:00
WEEKLY CALENDAR
Monday

Thursday

Department Meetings
Trifilio Tango Performance
UPCOMING EVENTS AND ACTIVITIES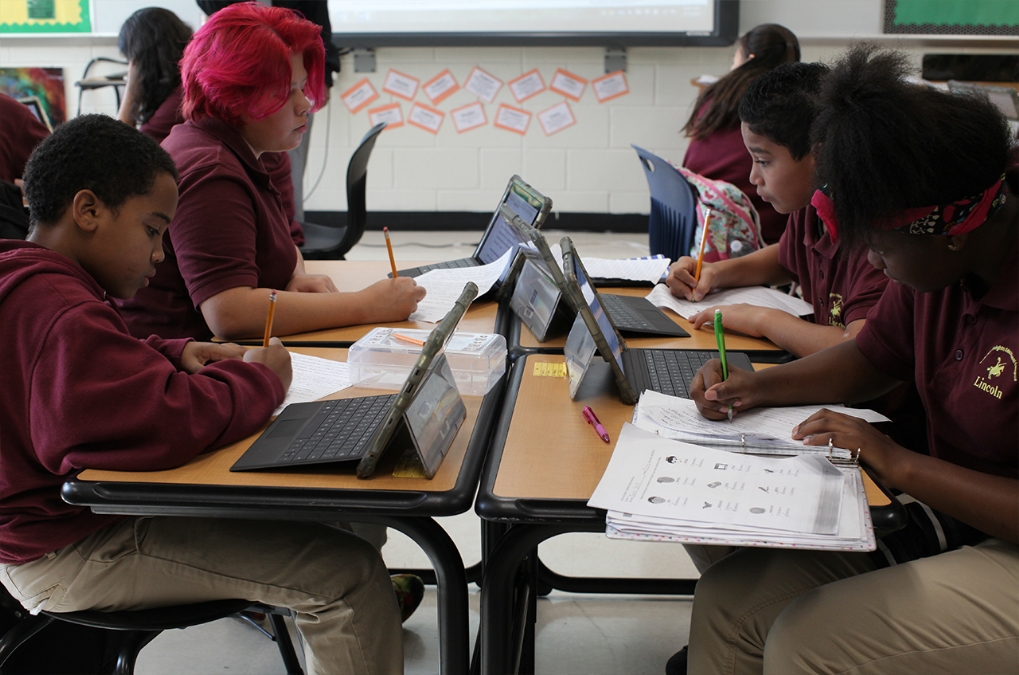 During week 4, all students should be close to completing their first GRASPS, and the drafts of work in progress, and exemplary work, should be posted on the bulletin board, or placed in the actual portfolio. Students should have engaged in self assessment using the rubric, and once revised, the project should have a rubric graded by you, indicating the work is on standard.
If you have an electronic portfolio, the document should be saved there. If you are using paper portfolio, please make sure you have gotten the folders from the main office and students have set up their portfolios/ In order to support all classes in making the connection, this week during walk throughs and visits to classes, members of the leadership team will be asking students higher order questions about their GRASPS, and what they have learned through the process of working on the project. We will also be looking at student work related to the GRASPS.
THE 25 BOOK CAMPAIGN
As you know, CHEC has a 25 book campaign, through which every student is expected to read the equivalent of 25 books per year. 25 books are the equivalent of one million words, which is the average number of words read by proficient readers, according to research. This campaign also supports our mission goal of being "prepared to succeed in college and as leaders in the quest for social justice. Students can read books, graphic novels, magazine articles, NEWSELA articles, or other texts used in class. Students keep track of pages read in their classes, on the attached Annotated Bibliography sheet, which is to be kept in their portfolios as well (this can be kept electronically if you wish). In addition to what they read in class, students are expected to engage in independent reading, which is supported by our librarian. When students present their portfolios at the end of the advisory, they should be able to present their evidence of progress toward reading 25 books. If you have questions or need support with this initiative, please see our Librarian, Ms. Falkenberg, or your SLC administrator.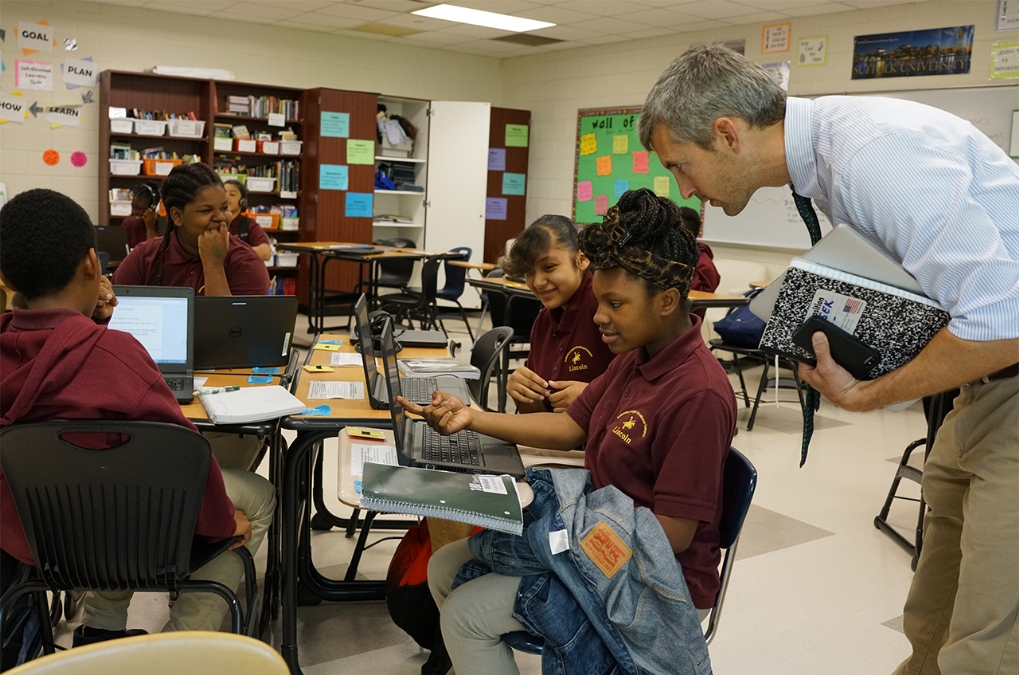 UPDATES FROM: LEADERSHIP COMMON GROUND
LIBRARIES COMMUNITY FAIR GLOBAL CLASSROOM
PGT CHEC MUSIC FLAMBOYAN
The Leadership Team will continue to meet on Wednesdays this year. This week, on Wednesday September 13, the team will meet at 3:30 pm in the High School Library and work on the Comprehensive School Plan. We have surveyed teachers regarding the design of the Early Release Day, so the Leadership Team can discuss and plan for the format for those days. The Leadership Team is a group of teachers, counsellors, and administrators who meet every week to discuss school needs, and plan for improvements. The Leadership Team designs the school's comprehensive school plan, and helps in its implementation. Please consider joining the Leadership Team this year. It is open to all faculty and staff. We need the involvement and voices of all. Remember, Leadership team meetings are open to all who are interested in schoolwide decision-making and leadership. You can come once, or as many times as you like, but please make your voice heard!
The following initiative has been brought to us from CHEC Alum Roger Sanchez (Class of 2013).
VOLUNTEER TEACHERS NEEDED
Common Ground, an initiative of American University's School of Education, is looking for teachers to help run a weekly afterschool program that bridges two DC high schools through art, culture and community development.
Common Ground is an afterschool program that equips D.C. high schoolers with the research, critical thinking and creative problem-solving skills they need to be active in the design and decisions surrounding public space in their communities. We bring students from two historically-divided communities together to develop and implement creative placemaking projects - projects that reimagine and reinvent public space as the heart of a community through art, culture and creativity - in both of their neighborhoods. By facilitating collaboration between young leaders across D.C. communities, we encourage students to celebrate their differences and work towards mutual benefit, while creating places that reflect this culture of civic and community engagement. Common Ground envisions a united generation of leaders in the District of Columbia passionate about giving back and amplifying the voices of their communities. Read more here.
CHEC LIBRARIES

This week the CHEC Library Program is thrilled to receive a large shipment of books to help update collections in both libraries. Pardon the mess and displacement of usable space as we organize and set up new resources. Updates include more informational texts in math, science, social sciences, and more fiction titles. Schedule a visit with your classes to check out the new materials soon!
COMMUNITY FAIR FOR EARLY RELEASE

Wednesday, September 13, 2017
There will be tables set up for all HS students to pick an organization of their interest.
A schedule will follow shortly for all HS teachers to escort your class to the gym.
Please contact Ms. Elmore for details.
GLOBAL CLASSROOM DC

For any interested teachers – seeking an advisor for a CHEC Model UN Club.
Global Classrooms DC 2017 - 2018 Program Registration
Global Classrooms® DC (GCDC) is the flagship program of United Nations Association of the National Capital Area (UNA-NCA). GCDC works with students grades 6-12* in DC, Maryland, Virginia, and abroad to improve their public speaking, develop conflict management skills, and expand their understanding of global issues. We strive to expose our students to the rich resources of our nation's capital. Our successful approach to global education includes mentoring, professional development, curriculum, and events.
Our programming is open to all public, private, and international schools in the US and abroad. For more information on GCDC, please visit:
http://bit.ly/GCDC_MUN
There is an upcoming Model UN Conference with the topic: Human Rights of Refugees on November 16th, hosted at the Pan American Health Organization. Please see attached for more details.
OPPORTUNITIY FOR MENTORING FOR LATINA FEMALES
From Paula Crivelli, PGET Team Leader
WE NEED YOUR HELP to identify 11th & 12th Grade LATINA FEMALES to sign up for an amazing mentoring program, Advancing Latinas for Leadership (ALL), run by Ms. Elsie Guerrero.
Attached are fliers and information. Also you may share/visit the website at:
Application for new mentee:
Please help by spreading the word to high school Latinas who would be interested in the program
OPPORTUNITY FOR CLASSROOM WORKSHOPS --- SUBSTANCE PREVENTION
We are fortunate to have the DC Prevention Center (housed @ LAYC) offer 2-3 classroom workshops for 8 different CHEC classrooms (between MS & HS).
WHAT WOULD THE WORKSHOPS LOOK LIKE?
The DC Prevention Center would structure their classroom workshops based on "Community Conversations", which would include a brief initial assessment, psychoeducation around substance prevention followed by 1-2 additional workshops in the same classrooms to deepen their Community Conversations regarding prevention and encourage more open dialogue with youth. Workshops can be offered in Spanish or English or bilingually.
Days/times for workshops are determined by teacher hosting the workshop.
WHAT DO I NEED TO DO IF I AM INTERESTED IN HAVING THIS WORKSHOP IN MY CLASSROOM?
CHEC MUSIC DEPARTMENT AND KENNEDY CENTER FOR THE ARTS

Attached is an opportunity to hear the film score and watch the movie Selma live. If you know of teachers or if you would like to plan for students to go to this event. Please fill out the registration form and fax to the attached number on the form. Seating is limited so the sooner the better.
We would like to extend an invitation to Selma: A Film and Live Music Event with the NSO Pops, Jason Moran, and Others, Friday, September 22, 2017 3:30pm. Part of JFKC: A Centennial Celebration of John F. Kennedy Admission is free. Please find attached school registration form for this event. If interested complete the form and either email or fax it back to us. If you have additional questions feel free to contact the School Registration office at 202-416-8835.
FLAMBOYAN UPDATE

To date we have 14 home visits completed! Leading the count on the high school side 9th and 10th grade teams Ms. Alvarado and Mr. Aguilar followed by Mr. Arbian, Ms. Coss, Ms. Emilius and representing on the Middle school side Mr. Lopez-Febres!
• Helpful Hints*Offer incentives to students to encourage their parents to have home visits! (ex. PBIS points or raffle tickets)
• If families are hesitant to have you go to their homes, offer to meet them somewhere in the community, BUT NOT AT THE SCHOOL!!!!
• As a reminder teachers can conduct home visit during their planning period.
• If you have any questions or concerns, please see Ms. Gonzalez ext. 4061 and Ms. Whitaker ext. 5062 for support!!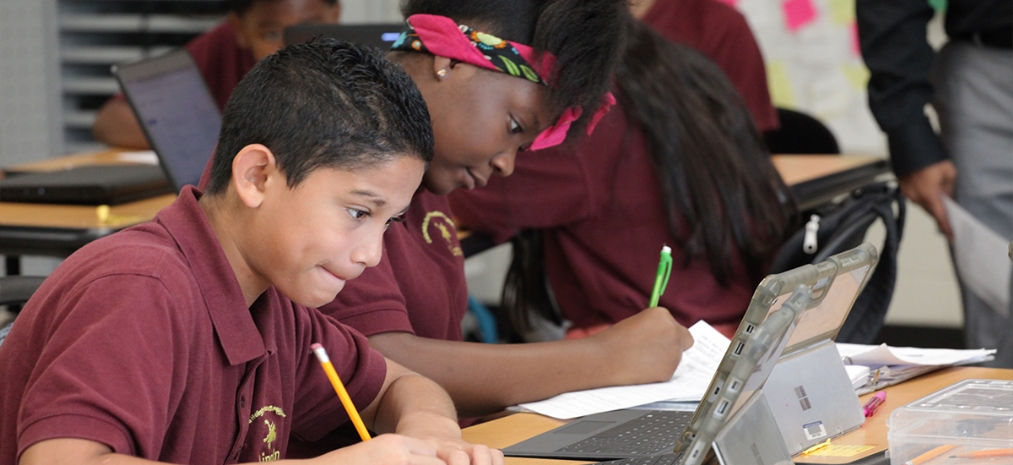 CLIMATE
Purposes:
To introduce the talking piece, to begin practicing using a talking piece and to explore the concept of Circle.
Materials:
Talking piece, paper, markers (one for each person in the circle).
Prep:
Arrange chairs in a Circle.
Mindfulness Moment:
Pause. Breathe. Listen to the sound (Bell or breathing)
Suggested Opening Ritual:
Quote –
Everything the Power of the World does is done in a circle. The sky is round, and I have heard that the earth is round like a ball, and so are all the stars. The wind, in its greatest power whirls. Birds make their nest in circles, for theirs is the same religion as ours. The sun comes forth and goes down again in a circle. The moon does the same and both are round. Even the seasons form a great circle in their changing, and always come back again to where they were. The life of a man is a circle from childhood to childhood, and so it is in everything where power moves.
--Black Elk Speaks : being the life story of a holy man of the Ogalala Sioux
Introduce a "ROUND": A "Round" is a pass of the talking piece around the circle. The keeper poses a question and, as a participant, may answer first. The keeper then passes the talking piece to the person to his or her left or right, indicating which direction the talking piece will continue to move around the circle. On the first round, participants are invited to say their name as well as respond to the question. Remember it is OK for participants to pass.
Introduce the Talking Piece: Explain how the Talking Piece works and introduce the actual TP that you chose and its significance, story or meaning.
Main Activity: Responding to Political Climate (DACA Decision) in the classroom
R1: Regarding the DACA decision, how are you feeling today? (What's on your mind? Whats on your heart?)
R2: What do you worry about or think of the impact on you family or other families is?
R3: What might be a strength or character value that can help guide you as you navigate this news?
R4: What is one action you can offer to yourself or someone else impacted by this news to feel more hopeful?
R5: If you are impacted yourself or feeling worried for others, what is one support you could reach out to feel more supportive of yourself and your community?
R6: How was this experience for you?
HITEC FOUNDATION AND FREDDIE MAC AWARD COLUMBIA HEIGHTS EDUCATIONAL CAMPUS (CHEC) $30,000 FOR TECHNOLOGY
The grant establishes the first mobile Lab at Lincoln Middle School
Washington, D.C., (June 28, 2017) - The HITEC Foundation announced that the Multicultural Career Intern Program (MCIP) is the recipient of a $30,000 grant for the purchase of portable laptop learning devices for the 440 middle school students at Columbia Heights Educational Campus (CHEC). The grant is part of the HITEC Foundation's mission, to shape the technology of tomorrow through cultivation of the leadership potential of today's Hispanic youths and to increase their representation in STEM (science, technology, engineering and math) related pursuits.
"It is a privilege to partner with Freddie Mac to establish the first mobile lab at CHEC," said Frank DeArmas, chairman of the HITEC Foundation. "We are committed to cultivating an early interest in STEM, especially among underserved middle and high schools with high Hispanic populations and improving their access to technology. Our goal is to give young people the opportunity to obtain the skills they need to pursue their aspirations in today's information economy."
"Freddie Mac recognizes the importance of providing students with access to educational opportunities, particularly as it relates to technology," said James Dalton, Vice President of Application Services in IT at Freddie Mac. "Computers open up a world of possibilities and can spark an interest in science, technology, engineering and mathematics. We are proud to do our part with the HITEC Foundation to help these students discover the wonders of STEM education."
CHEC is a DC Public School that serves over 1,400 students from grades 6-12. The Campus is rooted by a community-based, 36-year history of open enrollment access to education aimed at propelling students to college.
"This is such a thoughtful and innovative opportunity to provide deeper personalization of learning for our students," said Maria Tukeva, principal of CHEC. "Our community is very committed to addressing the issue of the need for technology in education to impact underserved students. We will use this grant to extend our global approach to education and look forward to embracing new strategies and platforms to engage students in anytime and anywhere learning." Tukeva added, "We are grateful to the breathtaking vision and generosity of the HITEC Foundation and Freddie Mac."
About the HITEC Foundation
The HITEC (Hispanic IT Executive Council) Foundation is committed to early academic engagement of Hispanic youths, as well as their persistence through degree completion. At the middle-school level, it provides grants so that students can attend technology-based programs. It also awards scholarships to Hispanic high school students who have demonstrated interest in and talent for STEM. In order to retain college and university students, the HITEC Foundation provides internship and mentorship opportunities with its corporate partners, thereby ensuring a smoother transition into technical careers.
Freddie Mac makes home possible for millions of families and individuals by providing mortgage capital to lenders. Since our creation by Congress in 1970, we've made housing more accessible and affordable for homebuyers and renters in communities nationwide. We are building a better housing finance system for homebuyers, renters, lenders and taxpayers. Learn more at FreddieMac.com, Twitter @FreddieMac and Freddie Mac's blog FreddieMac.com/blog.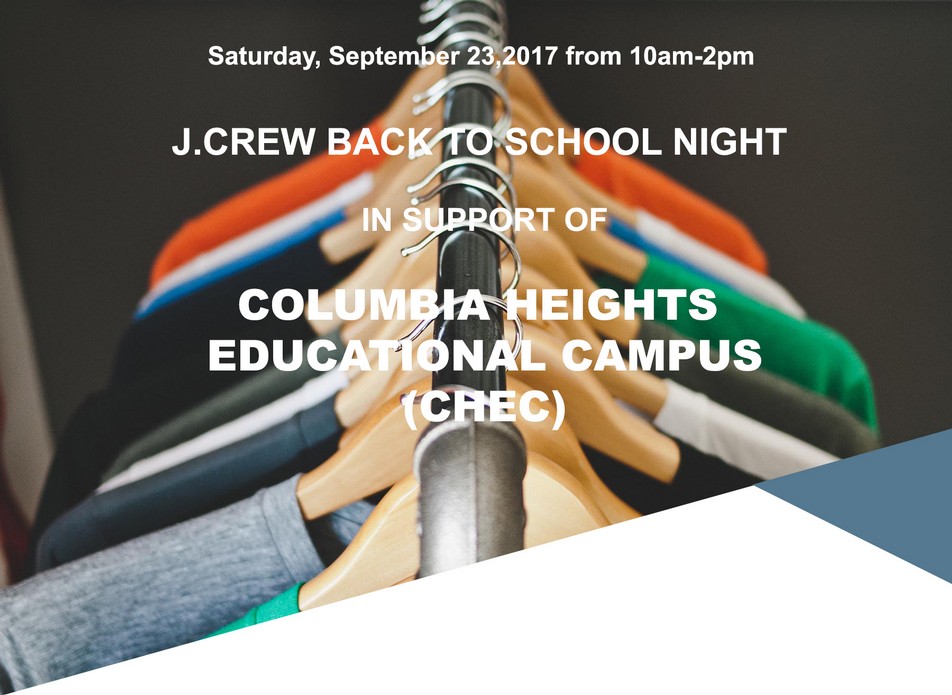 Great Opportunity to Support Fundraising for New Furniture in the Library
J.Crew at the Chevy Chase Pavilion (5335 Wisconsin Avenue, NW) is hosting a Shop & Share opportunity in support of the CHEC Library on Saturday, September 23rd, from 10:00 a.m. until 2:00 p.m. J.Crew has just added new product to their store and to celebrate, they are partnering with CHEC for this special event.
Everyone from the CHEC community will have a 20% off their purchase of $125 or more and the store will donate up to 15% of the event proceeds back to CHEC!


Exploring Our Values-in-Action Circles
PURPOSE
To understand how values are expressed in behavior in order to create an intentionally safe school classroom.
MATERIALS
Paper plates, markers, and a talking piece.
PREPARATION
Arrange everyone in a circle of chairs with no other furniture. Welcome to the space of the Circle.
MINDFULNESS MOMENT
Pause, breathe, and listen to the sound.
OPENING
Create your own or use this quote
Keep knocking, and the joy inside
will eventually open a window
and look out to see who's there.
Re-INTRODUCE "ROUNDS
"
A "round" is a pass of the talking piece around the Circle. The keeper poses a question and, as a participant, usually answers first. The keeper then passes the talking piece to the person to his/her left or right. On the first round, participants are invited to say their name as well as respond to the question. Remember, it is always okay for a participant to pass.
CHECKIN ROUND
How are you doing?
Main Activity Naming Positive Values and the Behavior that Goes with Them
Distribute the paper plates and markers to the participants. Ask students to choose a value that is important to them and the way they want to be treated in school. Write that value on the outer rim of the paper plate.
ROUND
Share the value you wrote and explain what it means to you and why you chose it. Ask each student to write in the center of the plate one behavior or action in the classroom that would express that value.
ROUND
Explain how the behavior you wrote embodies the value that is most important to you. The teacher gathers the paper plates and develops a list of values and actions that are important to the group.
CHECKOUT ROUND
How do you feel about the Circle today?
CLOSING
Create your own or use this quote
"The entire ocean in a drop"
You are not a drop in the ocean.
You are the entire ocean, In a drop.
Thank everyone for participating in the Circle!