CHEC bulletin for
Week of October 28
, 2019
CHEC HISPANIC HERITAGE MONTH PERFORMANCE
MARIA TUKEVA'S (MT) MESSAGE:
CSP ALIGNMENT UPDATE - ACADEMICS
As the First Advisory comes to a close, it is important to review our progress in the CSP area of Academics. The Academic SMART goals of focus are:
Decrease Level 1 in PARCC by 10% in ELA

Increase Level 4/5 in PARCC by 10% in ELA
Decrease the achievement gap between ELL and non-ELLs in ELA to 10% from 28%

Decrease achievement gap between SPED and non-SPED to 10% from 26% in ELA



There are two key modes of assessment that allow us to see how well we are progressing towards these goals. The first is ANET, which is a PARCC aligned assessment, and which strong predicts performance on PARCC. We are extremely excited to share initial data on ANET 1
6th Grade – 28%
7th Grade – 56% -- Highest in the school!!!
8th Grade 48% -- is ahead of the District Average!!
9th Grade – 39%
10th Grade 38% -
We are still in the process of grading the writing portion, and will share that data when available. As part of deeper data dives, we will be analyzing the gap between ELL and SPED students and non-ELL and SPED students, and planning for reteach and reassessments in order to continually support students. Teacher data meetings in ELA will take place this week, and student data talks in ELA classes will take place next week. Thank you to all for supporting our ANET assessment!
The second assessment strand we use to support our scholar's development is our Portfolio process, and this week all students will present their portfolios in all of their classes. During the portfolio presentations, students are demonstrating their mastery of the Common Core listening and speaking standards, and the work they are presenting is aligned to the Common Core reading and writing standards, as well as Math standards and other specific content standards.
During the process of preparing for portfolios, students have the opportunity to get feedback and revise their work, unlike the setting of a standardized test. It is a more student centered and authentic process, and it also allows us as educators to analyze in the moment how well the curriculum is being mastered. It also creates more student engagement and investment, since the portfolio projects are aligned to rigor, relevance and social justice.
On Tuesday, October 29, all students in morning classes (periods 1-4) will present, and on Wednesday, October 20, all students in afternoon classes will present (Periods 3 and 4 for high school, periods 6 and 7 for middle school). Please be sure all of your scholars are ready to present, as we will have parents attending on both days. It is necessary for all classes to follow the schedule, as parents will be taking time off work to attend these presentations. If you need any assistance with portfolio presentations, or would like to highlight one of your projects, please let your SLC administrator know. Please also welcome parents, a recommendation is to have a student ambassador welcome parents.
---
Kudos to Mr. Navas, Dr. Barnett, Mr. Onley. Mr. Jacobs, Ms. Weiss, Mr. Aguilar, and all who helped to make our Hispanic Heritage Assembly a huge success!!! Congratulations to all on a magnificent performance!

Thank you to all grade 6-10 teachers, administrators and counselors for a successful first administration of ANET this year!

Shout out to Ms. Pugh and Mr. Diaz for helping to coordinate our Cat Island Exchange this year!! Shout out to all who supported the visit in a variety of ways: Ms. Penn, Ms. Henry, Mr. AbuSabha, Mr. Aguilar, Mr. Odom, Mr. McFaden, Mr. Jackson, Mr. Connor, Ms. McCulloch, Coach A, Ms. Ermis, Mr. Hunter, Ms. Patterson, Mr. Pyram, Mr. Schutt, Mr. Shoenthal, Mr. Talarico!!!!

Kudos to Ms. Yamashita for organizing the Onigiri Action last Wednesday to bring awareness to world hunger!

Shout out to Ms. Docena for organizing student participation in the University of Maryland Math Competition!!! Kudos to Mr. Allen for providing the pizza!! All students persevered for 75 minutes of intense problem solving!!

Kudos to Mr. Jacobs and the Marching Band for performing at the Marine Corp Marathon on Sunday!!!!

Shout out to the entire CHEC Team for sharing our practices in the Cluster Walk through on last Wednesday! A special shout out to teachers whose classes were visited: Mr. Olson, Mr. Schutt, Mr. Jackson, Mr. McFadden, Ms. Shaw, Ms. Kamal, Ms. Warren, Mr. Talarico, Mr. Diaz, Mr. AbuSabha, Ms. Alvarado, Ms. Benjamin and Mr. Perry!!

Shout out to Ms. Lewis for coordinating our HD Cooke visit, and to Mr. Odom for attending two recruitment events last week!
CHEC Marching Band – Marine Corps Marathon Performance
Tuesday, October 29, 2019
Morning SLC Meeting
Portfolio Presentations (Periods 1, 2) Department members to visit each others' classroom in lieu of department meetings
College Application Workshop 3:30 p.m. – 5:30 p.m.
Wednesday, October 30, 2019
Portfolio Presentations (Periods 3, 4, or 6 and 7 middle school)
No Department Meetings – Department members visit portfolio presentations
SAT Makeup Date for Seniors
Capstone Night – 4:30 p.m. Reception – 5:00 p.m. Presentations
College Application Workshop 3:30 p.m. – 5:30 p.m.
Thursday, October 31, 2019
AP English Language Interim (Rhetorical Analysis)
AP English Literature Interim (Poetry& Prose Analysis)
ALT Team Meeting 7:30 a.m.
Final Exams (periods 2, 4)
Morgan State University College Tour 9:00 a.m. – 4:00 p.m.
AP English Language Interim (Rhetorical Analysis)
Saturday, November 2, 2019
VCU Primeros Pasos Dia Event 9:00 a.m. – 4:00 p.m.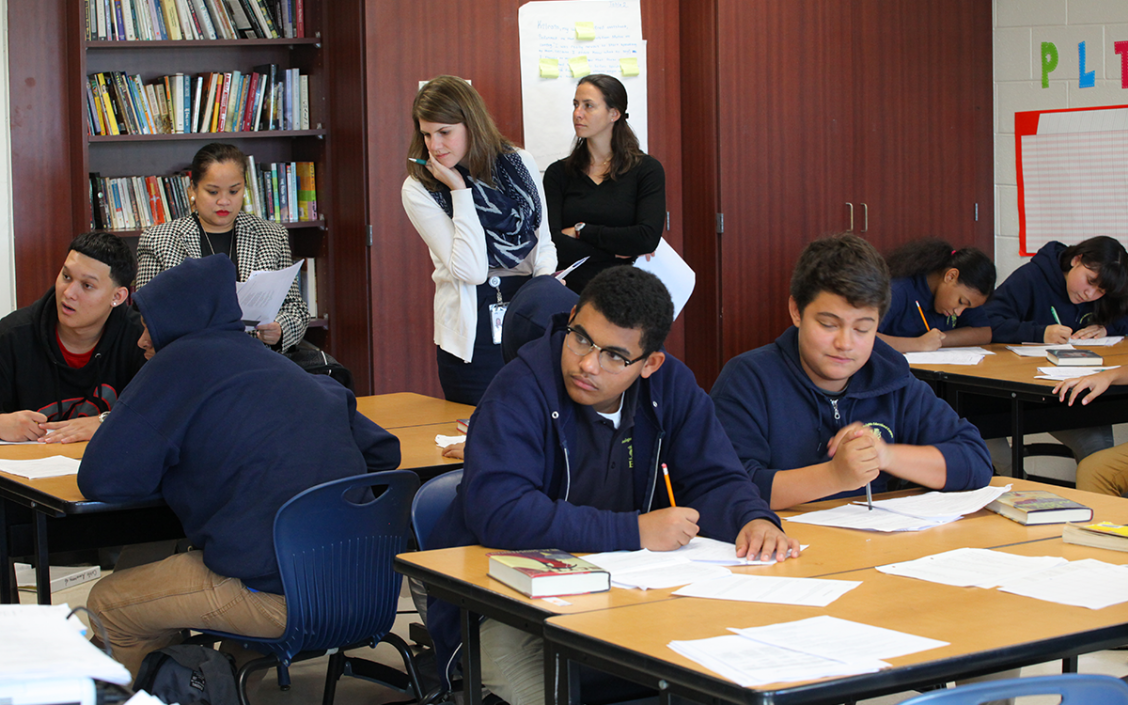 DCPS CLUSTER WALK THROUGH
This is week 10 of the First Advisory, and the final week of the First Advisory. This is Portfolio Presentation Week!! All classes will present on October 29 and 30. We will also be administering finals and mid-terms on Thursday and Friday of this week.
The Instructional Calendar is a living document that houses all of the major curricular requirements, assessments, and schoolwide events. Please check it weekly, as it changes as events are added or moved. Please note some additions - the specific dates for each interim have been added, so please check out the calendar! The calendar is curated by members of the Admin team, and Mr. Magee, Science LEAP lead, curates and adds events or items that are submitted by Department Chairs. If you have an event or item that you think should be added to the Instructional Calendar, please submit it to your Department Chairperson first, and then your Department Chair will submit for inclusion if appropriate.
FIELD TRIP PROTOCOL REMINDERS AND UPDATES
Field Trips are valuable and important ways to engage and excite students about the content of their classes, as well as to draw cross-curricular connections. However, field trips can also result in a shortage of teachers and difficulty in covering all classes. In order to make sure we are balancing field trip approval with instructional needs, please be sure to follow the field trip protocol:
All requests for field trips must be submitted two weeks prior to the anticipated trip, and must be approved in writing before further plans are made for the field trip.

There must be a clearly described purpose and curricular alignment for the trip on the field trip request form.

Please keep the number of chaperones to a minimum, as it is extremely difficult to obtain substitutes.

Students must have the permission slip signed by their parents AND the teachers of their other classes, indicating that they are in good standing to attend the trip.

NEW – All approved field trips will be shown on a google calendar linked to the bulletin, and any field trip that is not on this calendar will not be authorized. The google calendar is under construction, and will be launched by the end of the week.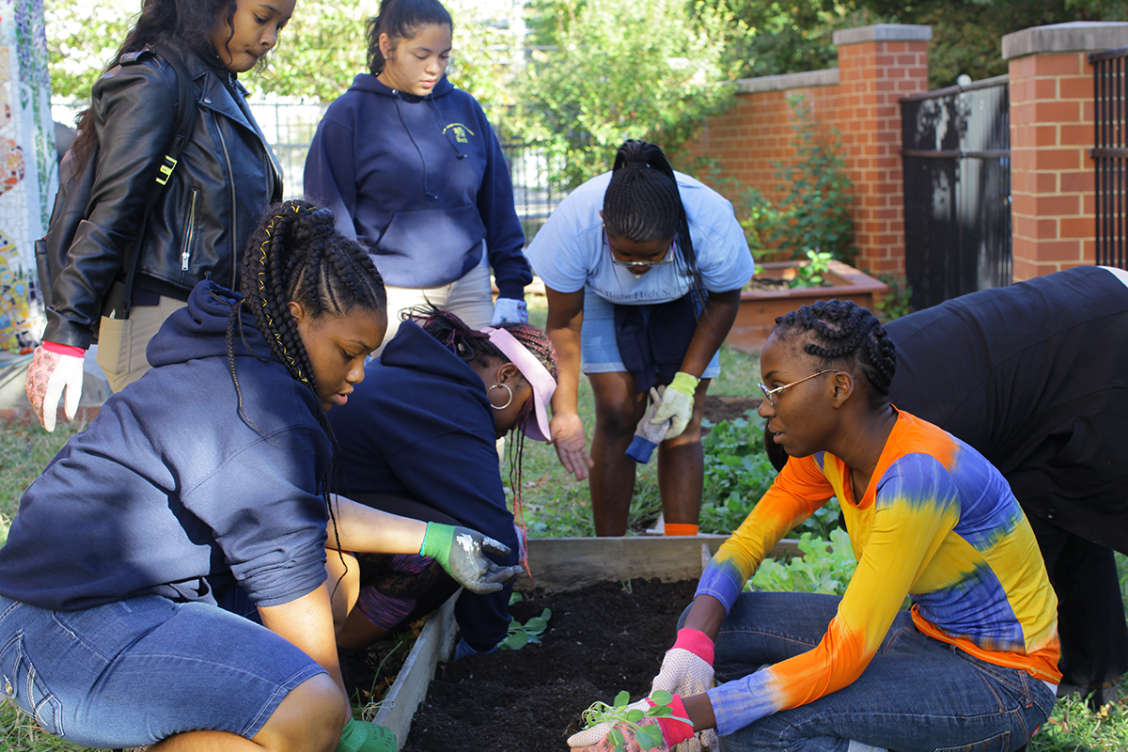 CHEC SCHOOL GARDEN 10-28-19 WITH CAT ISLAND BAHAMAS EXCHANGE STUDENTS
UPDATES FROM:
ACADEMIC LEADERSHIP TEAM
I
JEREMY CROSS
I
UNIVERSITY OF MARYLAND MATH COMPETITION
I
DISABILITY AWARENESS MONTH
I
BULLYING PREVENTION MONTH
I
COATS FOR OUR STUDENTS
I
CHEC MUSIC AND DANCE
I
DONORS CHOOSE
I
PROFESSIONAL DEVELOPMENT LINK
I
COLLEGE APPLICATION WORKSHOPS
I
LIBRARY UPDATE
I
OFFICE DEPOT GIVE BACK
I
ACADEMIC LEADERSHIP TEAM
The Academic Leadership Team (ALT) consists of all administrators, LEAP leads, Department Chairs, and any interested faculty or staff. Meetings are held twice a month, alternating between Early Release Days and morning meetings. The ALT team designs and monitors the Comprehensive School Plan. All are welcome to attend, either for one meeting or for all. At last week's meeting, the ALT team reviewed the comments and findings of the Cluster Walkthrough team and created Walk through Look for's for our own internal walk throughs. Starting next week, we will schedule our own internal walk throughs to give each feedback on our progress towards the goals in the CSP. If you would like to participate in a walk through, please come to the next ALT Team meeting
The next ALT meeting will be Friday, November 8, at 7:30 am.
---
FOLLOW IN THE STEPS OF JEREMY CROSS - THE GLOBE TROTTER TRAVEL ABROAD, BUILD GLOBAL FRIENDSHIPS & EXPERIENCE INTERNATIONAL STUDIES
The Jeremy Cross Foundation was created in September of 2019 after the sudden and tragic passing of Jeremy Cross on August 29, 2019 from injuries sustained from a motorcycle accident. Jeremy was 22 years old at the time of his passing, but had managed to visit 15 countries on 4 continents and study abroad in Spain, Costa Rica and Italy. Jeremy's passion for traveling came from his mom, Dr. Sheila Mosee who introduced him to traveling with an organization called CISV at the tender age of 11; the same age she traveled to Japan with CISV when she was a child.
The purpose of the Jeremey Cross Foundation is to keep Jeremy's legacy alive by giving the opportunity to travel aboard, build global friendships and experience international studies to young boys (ages 11 -15) who wouldn't normally have that opportunity.
For the summer of 2020, the Jeremy Cross Foundation will select 1 male applicant, and cover 100% of the program expenses to travel with the CISV – Washington, DC chapter. Program locations, dates and details will be provided on the CISV DC website after October 27, 2019. If you know of a male student age 11 – 15 years old who you believe would benefit from an opportunity like this please encourage them to applyusing the CISV Youth Delegate Application (attached here) and submit for consideration by November 15, 2019.
Important Dates: • 10/27/19: 2020 Summer Programs (dates and locations) are revealed at an Open House Reception at Marymount University (optional to attend)
10/30/10: 2020 Summer Program dates and locations listed on CISV – Washington, DC website (www.cisvdc.org)




11/15/19: Applications due for the Jeremy Cross Foundation (email completed application to Jennifer@cisvdc.org)




12/6/19 – 12/8/19: Selected finalist are invited to participate in a weekend Mini-Camp (simulated summer program experience). Expenses paid for all finalists.




1/2020: Selected finalists interviews




2/2020: Announcement of Jeremy Cross 2020 Fellow to travel with a CISV International Summer Program.



For more information contact CISV – Washington, DC representative: Jennifer Drew – cisvdc.org - Jennifer@cisvdc.org
---
CHEC STUDENTS PARTICIPATE IN THE UNIVERSITY OF MARYLAND ANNUAL HIGH SCHOOL MATHEMATICS COMPETITION
Every autumn, the University of Maryland organizes a High School Mathematics Competition, open to high school students enrolled in Maryland or the District of Columbia. The Competition provides students stimulation, feedback and the opportunity for achievement. The top three scorers each year are awarded a scholarship for full tuition and expenses at the University of Maryland.
The competition consists of two examinations. Generally, about 2000 students take the Part I examination. Students who score well on the Part I exam are invited to participate in Part II of the Competition (a considerably more challenging exam). The exams require a sound knowledge of high school mathematics up to, but not including, calculus. Both parts require mathematical insight and ingenuity.
CHEC is registered for the University of Maryland Annual High School Mathematics Competition and to date there are several CHEC contestants for Part I of the competition. They all persevered in 75 minutes of intense problem solving! They might seem discouraged for Part II after seeing how challenging Part I was but hopefully they can still give it a try. If you see them around, give them props and encourage them to keep up the drive for critical and logical thinking - 12th graders Victor Amaya Aparicio, Marvin Lazo, Jocelyn Diaz, and Dethaloun Singsawatdy and 11th graders Mekdes Wondimagegn and Allan Paz Lopez.
---
OCTOBER IS DISABILITY AWARENESS MONTH
October is Disability Awareness Month and the American Psychological Association (APA) is offering two free webinars to help you to better work with young people with disabilities.
On October 29 (12:00-1:00 pm, ET), please join us for "Building Culturally Responsive Systems with Refugee and Immigrant Youth with Disabilities" with Dr. Aydin Bal (University of Wisconsin-Madison). Dr. Bal will present a collective problem-solving and design process, Learning Lab, to build culturally responsive prevention and intervention systems in schools and other organizations for refugees and immigrants with disabilities. Register Today!
On October 31 (3:00-4:00 pm, ET), please join us for "Expanding Pathways to Science, Technology, Engineering, and Math (STEM) Careers for Students with Disabilities" with Dr. Dolores Cimini (University of Albany). Dr. Cimini will discuss the adverse effects of excluding students with disabilities in STEM education. She will also review best practices for inclusive curricula design and resources for educators and stakeholders in k-12 and higher education settings. Register Today!
Sign Language Interpreting and Real-time captioning will be provided for both webinars.
Please share this information with your networks!
Maggie K. Butler, PhD, CRC
Director, Office on Disability Issues in Psychology
Public Interest Directorate
American Psychological Association
---
NATIONAL BULLYING PREVENTION MONTH
October is National Bullying Prevention Month! Please join the movement! Click on the following links:
For students that get involved, they will be added to a list PGT is creating and be allowed to participate in a dress down day this Thursday - they wear BLUE in honor of bullying prevention month & pay $1 at the door. IF STUDENTS ARE NOT ON OUR LIST, THEY CANNOT PARTICIPATE IN THE DRESS DOWN. So please encourage your students to get involved so they can then earn a dress down!
---
We would love your support to keep our students warm this winter. From now through January we are taking donations for winter coats (lightly used) to share with them and their families if possible.
If you want to find out more ways to help our community please contact Ms. Nunez in room C231
---
UPCOMING EVENTS CHEC MUSIC AND DANCE:
October 27 Marine Corp Marathon - CHEC Marching Band




November 14 National Women's Democratic Club - CHEC Jazz Band




December 12 International Night Performance & Dinner




December 17 CHEC Music Department Winter Concert



---
Donors Choose is a great resource for all teachers. You can receive a mini grant to support a special project or initiative. Please see some of our recent Donors Choose grantees! You can reach out to them for support in obtaining your own grant!
MS. NUNEZ HAS A PROJECT FUNDED BY DONORSCHOOSE.ORG
Ms. Nunez had her classroom project "All We Need!" recently funded. The resources for this project include:
Mrs. Meyer's Clean Day Multi-Surface Concentrate, Lemon Verbena, 32 fl oz, 2 ct x 3

Mrs. Meyer's Clean Day Room Freshener, Lavender Scent, 8 Ounce Non-aerosol Spray Bottle (Pack of 3) x 1

OXO Good Grips Sweep Set with Extendable Broom x 1

TOPS Prism Plus 100% Recycled Legal Pad, 5 x 8 Inches, Perforated, Assorted Colors: Pink, Orchid, Blue, Narrow Rule, 50 Sheets per Pad, 2 Sets of 6 Pads, Total of 12 Pads (63016) x 2

STYLIO Dry Erase Calendar Whiteboard. Set of 3 Magnetic Calendars for Refrigerator: Monthly, Weekly Organizer & Daily Notepad. Wall & Fridge Family Calendar. 4 Fine Point Markers & Eraser Included x 1

Expo 80001 Low Odor Chisel Point Dry Erase Markers, Low Odor Alcohol-Based Ink, Designed for Whiteboards, Glass and Most Non-Porous Surfaces, Black, 12 Units per Box, Pack of 1 Box x 1

TICONDEROGA Graphite Pencils, Wood-Cased #2 HB Soft, With Eraser, Yellow, 72-Pack (33904) x 3

Bounty Select-A-Size, 8 Rolls (Packaging May Vary) x 1

Kleenex Trusted Care Facial Tissues, 18 Flat Boxes, 190 Tissues per Box, 190 Count (Pack of 18) x 1

Clorox Disinfecting Wipes plus Clorox Disinfecting Wipes with Micro-Scrubbers Value Pack (2 Pack of 75

Count, 1 Pack of 70 Count), Bleach Free Cleaning Wipes, 1 Set x 2

DESIGNA 3-Tier Metal Rolling Utility Cart with Handle, Craft Art Carts & Extra Office Storage Accessories White x 1

AmazonBasics Pre-sharpened Wood Cased #2 HB Pencils, 150 Pack x 1

Blue Panda Reward Stickers - 1000-Count Spanish Encouragement Sticker Roll for Kids, Motivational Stickers with Cute Animals for Students, Teachers, Classroom Use, 8 Designs, 1.5 Inches Diameter x 5
MY PROJECT
These classroom basic supplies will help my students to have everything they need for class. If they need something and we have it available in the classroom we can start working focusing only in Spanish class.
As you might know pencils are never enough in every middle school class so having them always available for my kids is a necessity. We also need Expo dry erase markers, a dry erase calendar, and reward stickers. Also, the utility cart will allow us to have the classroom materials available when they needed the most. And now that the cold season has officially started we need to be cleaning surfaces all the time to prevent virus from spreading across the class. I am asking for Bounty paper towels, room freshener, and Clorox disinfecting wipes.
---
GREAT PROFESSIONAL DEVELOPMENT NEWSLETTER LINK
Here is a link for a monthly newsletter from OSSE about PD opportunities for a bunch of subjects/areas.
It has ELL, SpEd, SEL, H & PE, RTI, literacy, math and more.
---
COLLEGE APPLICATION WORKSHOPS
Time: Wednesday's after-school from 3:30 p.m. to 5:30 p.m. (Beginning October, 2019)
Length: The workshops begin first week of October and end by Christmas Break
Students: 25 to 30 students - ALL WELCOME!
Volunteer Duties: Volunteers will provide essay writing support – Common App Essays – helping decide structure, students have stories to share but need help capturing stories in an essay.
Additional Info: There is no need for curriculum/books, but college student volunteers will bring their applications, essays to share with students. A collection of sample Common App and supplemental essays will be provided.
Students will be working to apply to a list of 5 schools they have developed with CHEC College Counselor. Ms. Henry.
---
Book Fair Update
Thank you for your support in this year's Book Fair! Lincoln Library raised three times its sales as the fair at the end of last school year. With these funds, the middle school library will add makerspace and STEM materials to build student curiosity and creativity.
Portfolio Presentations: Beanstack Help
As portfolio presentations near, one of the rubric points includes the 25 Books Campaign. Beanstack is an online book logging system connected through Clever. Students can explain their progress in their reading goals as part of the portfolio presentations. Contact your MS Librarian (angela.falkenberg@k12.dc.gov) or HS Librarian (christopher.stewart2@k12.dc.gov) for assistance prior to presentations.
Improve Literacy Growth for ELLs and Dual Language Learners Using Shared Reading webinar: October 24
"Shared reading is an opportunity to support your language learners with all they need to become proficient readers. Research shows that students who are learning a new language need content and language instruction to be integrated and meaningful.
During this edWebinar, you'll explore the ways you can support phonics, vocabulary, and language while at the same time supporting your students' literacy growth. Introduce your students to a variety of genres and forms with the support they will need and also teach your students the strategies to read a variety of genres.
This edWebinar will be of interest to teachers, librarians, and school and district leaders of all levels. There will be time to get your questions answered at the end of the presentation."
Check out the Bell High School Library LGBTQIA Resources for Educators and Staff, Students and Parents!
Exciting Books and Articles are located in the Bell Library!
The CHEC/ Bell High School Library would love to invite teachers and staff to reserve library space (check out the pictures) via our reservation platform, Skedda (
https://reservechecbelllibrary.skedda.com/booking
). Once booking your first reservation you will be prompted to create a quick login. Users will be able to see when space is available and when space is unavailable. This will allow for transparency and comfort in knowing that the time that you have requested, is available. There is also a space for *notes. If you would like to request AV material (i.e. projector) I can have that available and set-up for you. The first space is the main library and the second space is Peace & Love Room/ Makerspace.
We have some amazing things planned for the 2019-2020 school year! Please check out the
Bell Library Website
with new programming, resources for students and parents and new faculty webinars.
In our Nations Capital and all over the world we have literary deserts that have prevented many from exploring the beauty of equitable literacy. I had the pleasure of being a part of a Summer Curriculum Development Institute at CHEC taught by Mr. Darry Strickland. Each participant developed a UbD (Understanding by Design), a framework used to improve student achievement. Because of the amazing feedback from all involved in the institute and students as well as new teachers, Bell Library's finished project is Building Through Community Relationships: Providing Opportunities to Literary Deserts. We have developed a new partnership with Christ House, a medical facility with "comprehensive and compassionate health care to sick, homeless persons in the District of Columbia, and to assist them in addressing critical issues to help break the cycle of homelessness." (christhouse.org)
The Bell Library along with students and educators will replenish their living room library and create a library in their 52-bed residence known as Kairos. "The Kairos Program participants are capable of living independently, but due to chronic illness, are unable to hold full-time employment. Volunteer service is a key element of the program and each member serves based on his gifts and abilities. They escort Christ House patients to medical appointments, staff the clothing room, work in the kitchen, and assist with mailings and other administrative activities. Some participants also work part-time jobs at Christ House or in the neighborhood." (https://christhouse.org/services-2/kairos-program/) Students will complete empathetic interviews and create a collection that will be sure to rival University of Michigan's- Cook Research Library. If you are interested in helping expand and create a library, please reach out to me!
DCPL Educator Cards will be in within the next few weeks. For new educators or educators who would like a new card, please email me.
I look forward to seeing you soon for a library tour and, serving you well. If you have any questions please don't hesitate to call, email or drop by the library- A205!
---
Office Depot has a Give Back to Schools program that provides 5% credit from people's purchases to help schools buy supplies throughout the year. Below is more info and our school ID numbers that people can share at in-store or online check out. The site provides graphics to share online as well.
'Simply make a purchase of qualifying school supplies, provide your school ID at checkout and your school will receive 5% back in credits for FREE supplies!'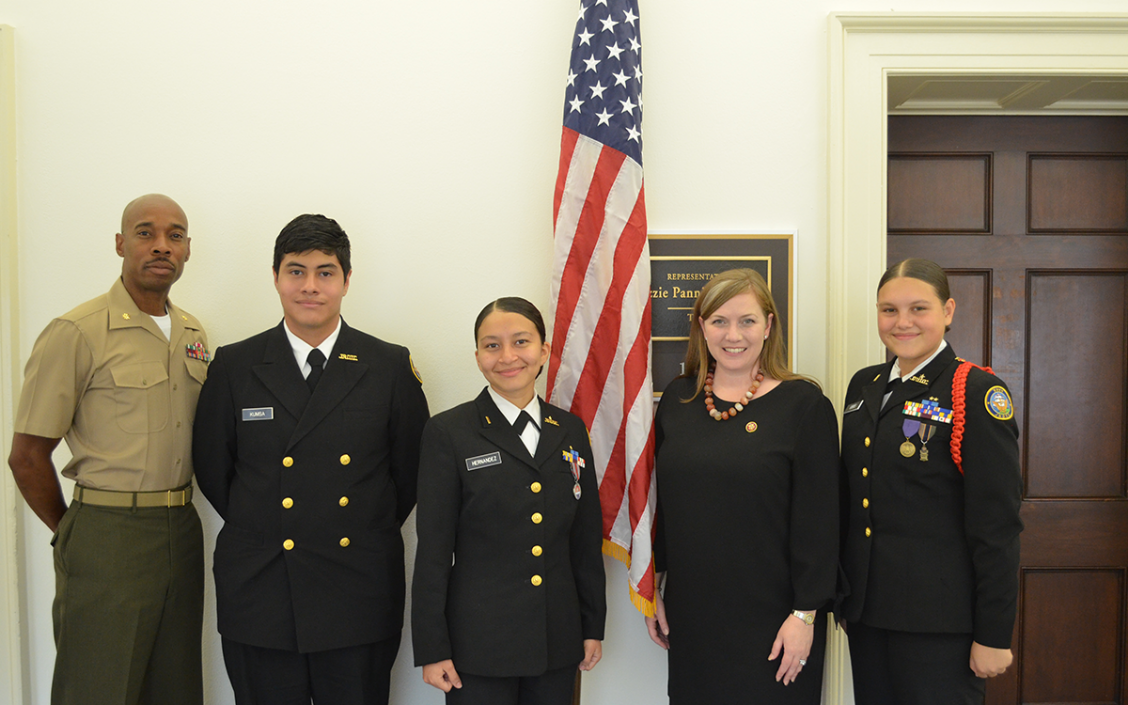 MICHAEL RODRIGUEZ, TANIA HERNANDEZ AND ALEJANDRA GIBBS WITH CONGRESSWOMAN LIZZY FLETCHER
Below is the Google Survey/Referral link that the entire CHEC school community will be using to send behavior referrals. If you have any questions or concerns please reach out to your appropriate Dean directly.
Student Culture Intervention Form - Behavior Referral:
Please use this link to send any behavior concerns after using the 5-step discipline process and any care system you have in place to support your student's social-emotional learning. You may also use this link to bring to the Dean's attention the need for a restorative circle and/or when students are tardy to your class more than three times. The Dean Team will actively monitor this live document to support all teachers.
Students that are Out-of-Area
During the past school year, we noticed a pattern of middle and high school students wandering into the wrong school. For this new year, please be mindful that Middle School students should not be in the High School at all, and certainly not without a pass. High School students should only be in the Middle School on the Lincoln 3rd floor. The route for High School students to the 3rd floor Lincoln is through the Bell 2nd floor and on to Lincoln 2nd floor landing and up the stairs to the 3rd floor. They should not use the 1st or 2nd floor Lincoln to get to the 3rd floor Lincoln. Students that are not complying should be written a referral, so they can earn a consequence.
Detention is a first intervention we have for students to check and correct their behavior in your classrooms. Students being informed of this consequence is vital to the effectiveness of the consequence. Remember to use our 5 step process with fidelity so that our students will not earn a greater consequence of ISS and thus lose valuable class time
We always need more support at dismissal from 3:15pm until 3:35pm (High School), 4:15pm until 4:35pm (Middle School). Please follow students all the way out to the front of the building. Students should be encouraged to move on toward their bus stops/metro quickly. Teachers and staff that can make themselves available to stay out front will be greatly appreciated.
All lunches have their ups and their downs. We always appreciate additional supports in the cafeteria on days that teachers are available. Check-ins with students build relationships and adult presence supports our daily procedures in lunch.
Athletics are an integral part of the educational program and a means to accomplish the goals of education. Our athletic program exists for the welfare of students and the contributions it makes to their educational experience. Athletic participation builds self-esteem and confidence and provides the necessary tools for success. The interaction between individuals on the fields of sport teaches students the value of teamwork, while developing the proper competitive spirit, combined with a sense of fairness.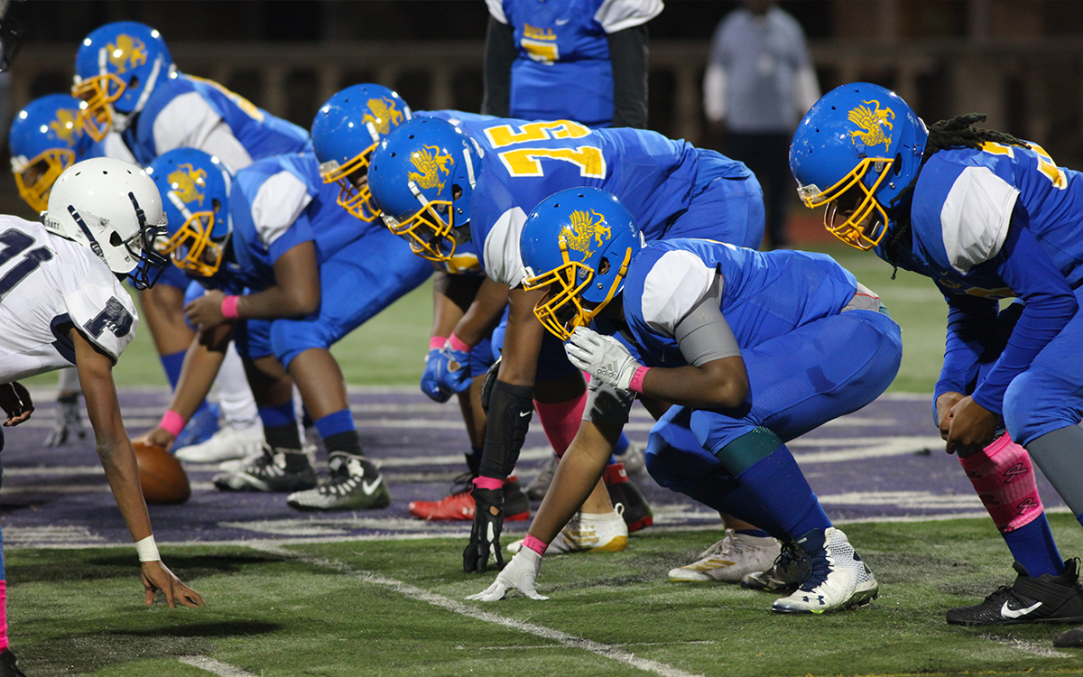 BELL FOOTBALL - HOMECOMING GAME
The Middle School Archery Team lost to Leckie. The Middle School Volleyball Team defeated McKinley and lost to Stuart Hobson. The Middle School Girls Soccer Team defeated Eliot-Hine. The High School Boys Soccer Team tied Wilson. The High School Volleyball Team lost to School Without Walls. The High School Girls Cross Country team took 5th place in the DCIAA championships. Playoffs take place this week for High School Volleyball and Soccer. Let's go Knights and Griffins!
DCIAA 2019 High School Soccer All-League Award Winners Announced
All votes have been cast and on behalf of the DCIAA and the following participants received 2019 HS Soccer All League Honors and 2019 High School Volleyball All-League Honors. The Soccer awards will be presented on Thursday, October 31, 2019 at the conclusion of the HS Soccer Girls Championship game at Dunbar High School and the Volleyball awards will be presented on Saturday, November 2, 2019, at the conclusion of the High School Volleyball Championship game at Trinity University.
2019 High School Girls Soccer
Girls All League - Erika Valencia, Bell High School
Girls All League – Jessika Valencia – Bell High School
Girls Player of the Year – Ariana Reyes – Bell High School
2019 High School Boys Soccer
Boys All League - Juan Camillo Castillo – Bell High School
Boys Player of the Year – Jeison Martinez – Bell High School
2019 High School Volleyball
Girls 2nd Team All League – Chairley Morel-Feliz – Bell High School
Middle School Boys Soccer vs. Hardy at CHEC @ 4:00 p.m.
Middle School Volleyball vs. Hardy at Deal @ 4:30 p.m.
Tuesday,
October 29
, 2019
Middle School Archery vs. Deal at Deal @ 4:00 p.m.
High School Girls Soccer vs. School Without Walls at RFK @ 4:00 p.m. (DCIAA Playoff Semifinals)
High School Boys Soccer vs. School Without Walls at RFK @ 4:30 p.m. (DCIAA Playoff Semifinals)
High School Volleyball vs. McKinley at Wilson @ 6:00 p.m. (DCIAA Playoff Quarterfinals)
Wednesday,
October 30
, 2019
Middle School Girls Soccer vs. MacFarland at CHEC @ 4:00 p.m.
Middle School Boys Soccer vs. MacFarland at CHEC @ 5:00 p.m
Thursday,
October
31, 2019
High School Girls Soccer Championship at Dunbar @ 5:00 p.m.
High School Volleyball Semifinals at Wilson @ 6:00 p.m.
High School Boys Soccer Championship at Dunbar @ 7:00 p.m.
Bell Senior High School Football vs. Ron Brown at Spingarn @ 6:00 p.m.
Saturday,
November 2
, 2019
Senior High School Volleyball Championship @ Trinity University @ 3:00 p.m.