CHEC bulletin for
Week of October 21
, 2019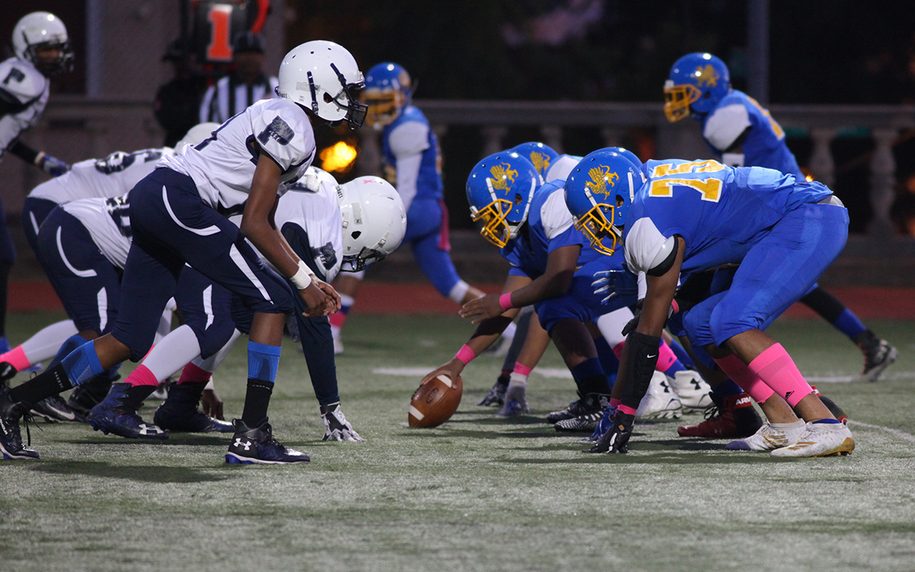 GRIFFINS TAKE CARE OF BUSINESS IN 38-0 ROUTING OF THE PHELPS PANTHERS AT HOMECOMING
MARIA TUKEVA'S (MT) MESSAGE:
CSP ALIGNMENT UPDATE - SHARED LEADERSHIP
We have received initial data on BOY mini-survey on Shared Leadership, Operations and Learning Environment was launched two weeks ago, and we had a 42% response rate, among all faculty, and 39% response rate for teachers. While this is not as high as we were aspiring to, it can give us a picture of our progress. The response rate for different SLC's was 33% middle school, 11% 9th grade, 19% 10th grade, 16% MCA, and 19% MSB. The results show the following progress towards our goals.
GOAL - INCREASE INSIGHT SURVEY RESULTS BY 20% IN THE THREE QUESTIONS REGARDING VISION, UNDERSTANDING ACTIONS, AND FEEDBACK
My school leaders articulate a clear overarching vision that drives priorities, goals and decision making within the school. Declined from 65% to 49% in agreement –

BOY – 78% Agreed or Strongly Agreed – Currently on target to reach goal.

Teachers understand how our actions contribute to school priorities and goals. Declined from 67% to 49%

BOY – 67.4 Agreed or Strongly Agreed – Currently close to on target to reach goal.

Leaders at my school seek out feedback from teachers -Declined from 48% to 25%

BOY – 69.6 % Agreed or Strongly Agreed – Currently on Target to reach or exceed goal.
GOAL - INCREASE OUTREACH TO STAFF MEMBERS TO TAKE ON POSITIONS OF LEADERSHIP OR CREATE NEW POSITIONS OF LEADERSHIP
In last year's Insight Survey the response to the question "A leader at my school identified opportunities for teacher leadership, " was 20% in agreement. In our BOY survey, 53.3% agreed or strongly agreed.
We are encouraged by the results of the initial survey, but recognize that we need to get feedback from a larger set of our faculty.
Any ideas or thoughts on how to increase survey feedback will be greatly appreciated.
There will be more opportunities to monitor our progress, with the actual Fall Insight Survey, which will launch on November 5, and then the school MOY Mini-Survey, which we will launch in January 2020.
Thank you to all for your participation, and we will continue to enhance and refine our shared leadership approaches and personal growth as leaders in the quest for social justice!
MISSION ALIGNMENT - " We develop intellectually curious scholars who are articulate communicate in two languages, critical thinkers and consumers, cultural ambassadors, and contributing community members. "
This week we are hosting four exchange students from Cat Island, Bahamas, and two adult chaperones. For the past seven years, CHEC has had a sister school relationship with two high schools in Cat Island. Each spring, a delegation of CHEC students and chaperones go to Cat Island to participate in Earth Day and engage in community service, and in the fall, Cat Island students come to Washington DC, for education and service. During this trip, our goal is reach out and gather supplies and resources to send to the Bahamian Islands that were most devastated by Hurricane Dorian, Abaco and Grand Bahama.
This year our guests include Garth King, the recently retired Superintendent of Cat Island Schools, and Daisy Mae Hunter a local historian and owner of a farm on Cat Island. The four students are Missy Major, Lucinda Pratt, Tatiana Major and Zoe Turner. They are being hosted by Bela Artis, Miryam Yucel, Jeni Paniagua and Gloria Flores. The students will be shadowing their hosts, so please be sure to welcome them to your classes. The adults will also be visiting classes, and will want to meet with you to find our more about our work. Ms. Pugh, Mr. H. Diaz and I are coordinating the visit, please reach out to any of us.
---
A huge shout out to Mr. Jackson and the Hospitality students for a Fabulous Homecoming Dance!

Thank you to all staff who chaperoned and assisted in the Haunted Hallway!! It was truly scary!!!

Kudos to Coach A, Mr. Odom, and the SGA for a great Pep Rally on Friday! CHEC has got spirit!!!

Shout out to the Proctors, Counseling Team, Admin Team, Math Department, ELA Department, and all who made the SAT/PSAT day a Success!! We tested 92% of our 9th through 12th graders!

Shout out to the Middle School Admin Team for coordinating activities for our Middle School Students on Early Release Day!

Major Wright and MSgt DesChamps are shouting out all who have helped to build the NJROTC programs – Ms. Glascoe for the sailing program, Ms. Elmore and Ms. Henry for college preparation, the Counselors for scheduling students!! The program is growing!



12th Grade Town Hall – 2:30 pm.
Tuesday, October 22, 2019
Morning SLC Meeting
MS 8th Grade – Kennedy Center – 10:00 a.m. – 1:00 p.m.
College Application Workshop 3:30 p.m. – 5:00 p.m. – A204
Wednesday, October 23, 2019
CASAS Testing @ CHEC – 9:00 a.m. – 12:00 p.m.
College Application Workshop 3:30 p.m. – 5:00 p.m. – A204
ALT Team Meeting 3:30 p.m.
Department Planning Period Meeting
Thursday, October 24, 2019
Girl Power Celebrating Women in Music – Grades 6-8 at the Kennedy Center
1st Period Public Health Fair – Library
Hispanic Heritage Assembly (2) 2:00 p.m. and 6:00 pm.
Middle School Math Interim
Department Planning Period Meeting
Hispanic Heritage Assembly (2) 9:00 a.m. and 10:00 am.
4th Period Public Health Fair – Library
Middle School Math Interim
Saturday, October 26, 2019
PARENT TEACHER CONFERENCES
This is week 9 of the First Advisory, and by now, students should have completed two GRASPS, and be preparing for Portfolio Presentations next week. This week we will administer our first Interim assessments in ELA and Math, and next week AP courses will administer interims. Interim assessments are designed to give us information on student mastery of key standards aligned to PARCC or AP, and to inform our instruction. Please be sure to impress upon students that these tests are not for a grade, but to give us better information on how they are progressing.
TAS goals were due on October 17. Members of the Admin Team will be reviewing the TAS goals, and providing feedback as necessary in order to ensure that they can be approved by October 25. TAS goals are the first step in a formative assessment cycle of goal setting, instruction, follow up assessment, adjustment of instruction, and re-assessment. We will be revisiting progress towards the TAS goals throughout the year.
The Instructional Calendar is a living document that houses all of the major curricular requirements, assessments, and schoolwide events. Please check it weekly, as it changes as events are added or moved. Please note some additions - the specific dates for each interim have been added, so please check out the calendar! The calendar is curated by members of the Admin team, and Mr. Magee, Science LEAP lead, curates and adds events or items that are submitted by Department Chairs. If you have an event or item that you think should be added to the Instructional Calendar, please submit it to your Department Chairperson first, and then your Department Chair will submit for inclusion if appropriate.
FIELD TRIP PROTOCOL REMINDERS AND UPDATES
Field Trips are valuable and important ways to engage and excite students about the content of their classes, as well as to draw cross-curricular connections. However, field trips can also result in a shortage of teachers and difficulty in covering all classes. In order to make sure we are balancing field trip approval with instructional needs, please be sure to follow the field trip protocol:
All requests for field trips must be submitted two weeks prior to the anticipated trip, and must be approved in writing before further plans are made for the field trip.

There must be a clearly described purpose and curricular alignment for the trip on the field trip request form.

Please keep the number of chaperones to a minimum, as it is extremely difficult to obtain substitutes.

Students must have the permission slip signed by their parents AND the teachers of their other classes, indicating that they are in good standing to attend the trip.

NEW – All approved field trips will be shown on a google calendar linked to the bulletin, and any field trip that is not on this calendar will not be authorized.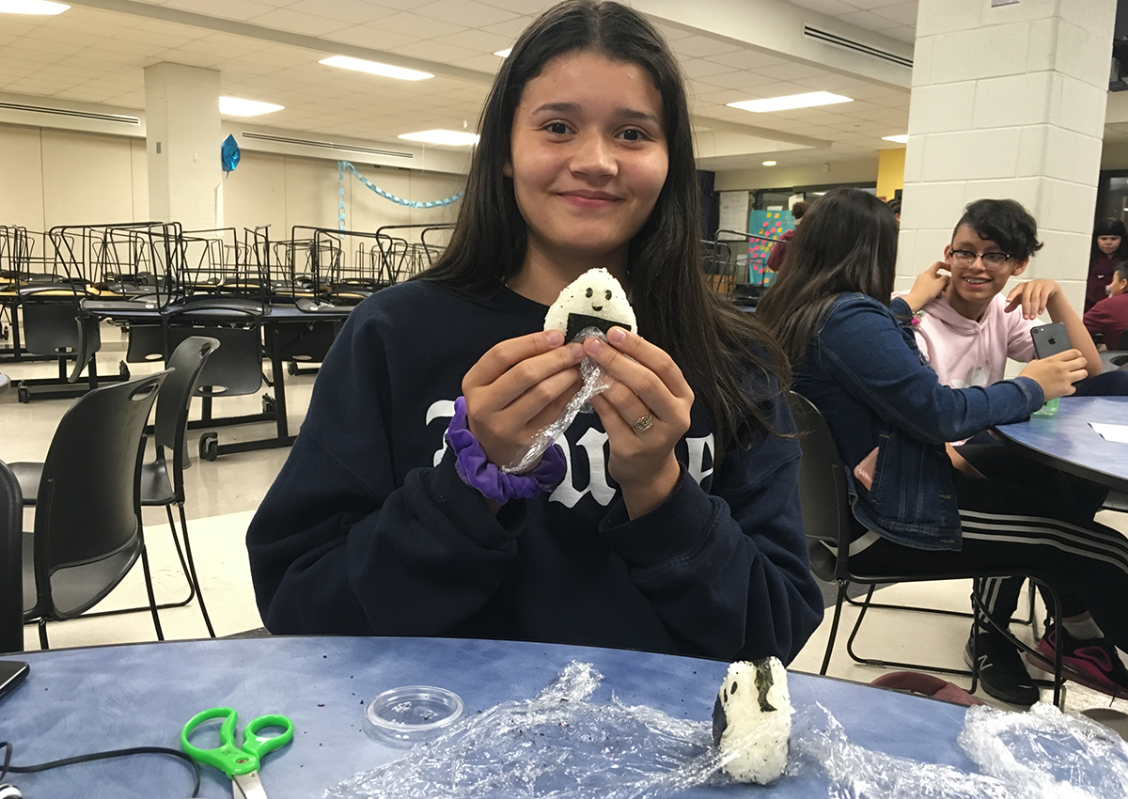 CINDY GUEVARA AND ONIGIRI ACTION
UPDATES FROM:
LEADERSHIP TEAM
I
EDUCATION JUSTICE WEBINAR
I
DISABILITY AWARENESS MONTH
I
C
HEC ROTC CADETS
I
BULLYING PREVENTION
I
COATS FOR OUR STUDENTS
I
HISPANIC HERITAGE MONTH PERFORMANCES
I
DONORS CHOOSE
I
PROFESSIONAL DEVELOPMENT LINK
I
COLLEGE APPLICATION WORKSHOPS
I
LIBRARY UPDATE
I
OFFICE DEPOT GIVE BACK
I
ACADEMIC LEADERSHIP TEAM
The Academic Leadership Team (ALT) consists of all administrators, LEAP leads, Department Chairs, and any interested faculty or staff. Meetings are held twice a month, alternating between Early Release Days and morning meetings. The ALT team designs and monitors the Comprehensive School Plan. All are welcome to attend, either for one meeting or for all.

During the last ALT meeting, the team reviewed recommendations and comments from the Faculty Deep Dive into the CSP, and incorporated them into the CSP. The Equity team reported out on the Equity Audit they have been conducting. The next ALT meeting will be Wednesday, October 23 at 3:30 pm.
---
EDUCATION JUSTICE WEBINAR: HOW EDUCATORS CAN BEST SUPPORT UNDOCUMENTED STUDENTS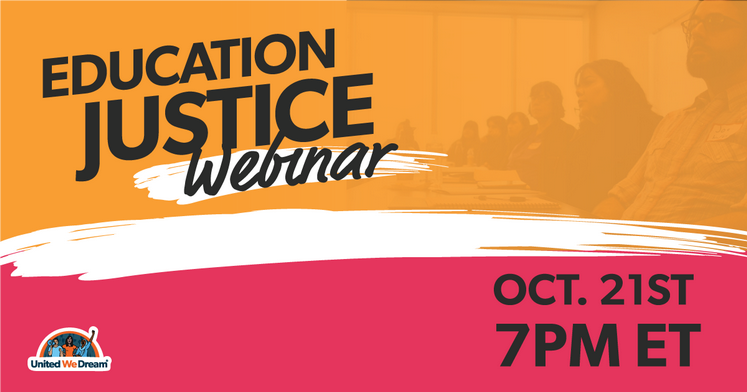 Join our Education Justice team for a free webinar for educators to get an update with latest on DACA and how they can best support their undocumented students. Listen in, ask questions, and bring back the information to your school.
The webinar will be held live on October 21, 2019 at 7:00pm ET / 4:00pm PT.
RSVP to receive your unique link to join
Raquel Ortiz
Coordinator, Community Action Team
Office of the Chief of Staff
Office of Communications and Engagement
District of Columbia Public Schools
---
OCTOBER IS DISABILITY AWARENESS MONTH

October is Disability Awareness Month and the American Psychological Association (APA) is offering two free webinars to help you to better work with young people with disabilities.

On October 29 (12:00-1:00 pm, ET), please join us for "Building Culturally Responsive Systems with Refugee and Immigrant Youth with Disabilities" with Dr. Aydin Bal (University of Wisconsin-Madison). Dr. Bal will present a collective problem-solving and design process, Learning Lab, to build culturally responsive prevention and intervention systems in schools and other organizations for refugees and immigrants with disabilities. Register Today!

On October 31 (3:00-4:00 pm, ET), please join us for "Expanding Pathways to Science, Technology, Engineering, and Math (STEM) Careers for Students with Disabilities" with Dr. Dolores Cimini (University of Albany). Dr. Cimini will discuss the adverse effects of excluding students with disabilities in STEM education. She will also review best practices for inclusive curricula design and resources for educators and stakeholders in k-12 and higher education settings. Register Today!

Sign Language Interpreting and Real-time captioning will be provided for both webinars.




Please share this information with your networks!




Maggie K. Butler, PhD, CRC

Director, Office on Disability Issues in Psychology

Public Interest Directorate

American Psychological Association



---
CHEC ROTC CADETS MEET CONGRESSWOMAN LIZZY FLETCHER (D-TX 7TH DISTRICT)
On October 17th three CHEC Navy JROTC cadets, Tania Hernandez, Michael Rodriguez, Alejandra Gibbs had a personal meeting in the office of Congresswoman Lizzy Fletcher at the Senate Building. The cadets engaged with Congresswoman Fletcher and asked her questions about her experience thus far as a member of Congress, the challenges she has experienced as woman in Congress, and issues concerning motivating and leading others.
They also received a personal tour of the US Capital afterwards.
---
NATIONAL BULLYING PREVENTION MONTH
October is National Bullying Prevention Month! Please join the movement! Click on the following links:
For students that get involved, they will be added to a list PGT is creating and be allowed to participate in a dress down day this Thursday - they wear BLUE in honor of bullying prevention month & pay $1 at the door. IF STUDENTS ARE NOT ON OUR LIST, THEY CANNOT PARTICIPATE IN THE DRESS DOWN. So please encourage your students to get involved so they can then earn a dress down!
---
We would love your support to keep our students warm this winter. From now through January we are taking donations for winter coats (lightly used) to share with them and their families if possible.
If you want to find out more ways to help our community please contact Ms. Nunez in room C231
---
THE CHEC HISPANIC HERITAGE MONTH PERFORMANCES
CHEC Arts is proud to announce their upcoming Hispanic Heritage Month Performance entitled El Ritmo de las Americas. El Ritmo de las Amerias es una celebracion of Latin American, Carribbean, AfroCuban, and indigenous music and dance. La Familia de Arte de CHEC will be showcasing ritmos highlighting the cultural influences of their Spanish and African raices con mucho swing y sabor.
As a member of CHEC Familia Unida which includes teacher, students, administrators, and staff, we would like you to share sus talentos de musicales, bailes, autores, y poetas. We also would love for maestros to contribute to the celebration in regards to curriculum development so that we can celebrate Hispanic Heritage Month, not just during September and October but throughout the entire year.
The assemblies this year will take place on 2 pm and 6 pm on Thursday, October 24, and at 9 am and 10:30 am on Friday, October 25. Mr. Navas, Ms. Menendez, and I are so excited to collaborate with you, our wonderful familia. Please complete the following form if you are interested in participating:
OTHER UPCOMING EVENTS CHEC MUSIC AND DANCE:
October 24 Hispanic Heritage Assembly, 2 pm, 6 pm




October 25 Hispanic Heritage Assembly, 9 am, 10:30 am




October 27 Marine Corp Marathon - CHEC Marching Band




November 14 National Women's Democratic Club - CHEC Jazz Band




December 12 International Night Performance & Dinner




December 17 CHEC Music Department Winter Concert



---
Donors Choose is a great resource for all teachers. You can receive a mini grant to support a special project or initiative. Please see some of our recent Donors Choose grantees! You can reach out to them for support in obtaining your own grant!
MS. MALCOLM HAS A PROJECT FUNDED BY DONORSCHOOSE.ORG
The Distance Between Us: A Memoir x 30

MY PROJECT
When we are studying a text as a class, it is essential that each student has their own copy of the book. With the additional copies, my students will be able to have their own copy to take home and read each evening. This also allows them to continue the conversation about the text long after the last school bell rings.
In particular, this book is important for my students because it offers a first-hand narrative of the immigrant experience.
Many of my students can connect with the author's struggles, while others are able to build empathy for their peers by reading the story.
In our current moment, it is tremendously important that students are able to engage with current issues in the English classroom. Therefore, it is critical that we have contemporary stories, like "The Distance Between Us" as a part of our curriculum.
---
GREAT PROFESSIONAL DEVELOPMENT NEWSLETTER LINK
Here is a link for a monthly newsletter from OSSE about PD opportunities for a bunch of subjects/areas.
It has ELL, SpEd, SEL, H & PE, RTI, literacy, math and more.
---
COLLEGE APPLICATION WORKSHOPS
Time: Wednesday's after-school from 3:30 p.m. to 5:30 p.m. (Beginning October, 2019)
Length: The workshops begin first week of October and end by Christmas Break
Students: 25 to 30 students - ALL WELCOME!
Volunteer Duties: Volunteers will provide essay writing support – Common App Essays – helping decide structure, students have stories to share but need help capturing stories in an essay.
Additional Info: There is no need for curriculum/books, but college student volunteers will bring their applications, essays to share with students. A collection of sample Common App and supplemental essays will be provided.
Students will be working to apply to a list of 5 schools they have developed with CHEC College Counselor. Ms. Henry.
---
Book Fair Update
Thank you for your support in this year's Book Fair! Lincoln Library raised three times its sales as the fair at the end of last school year. With these funds, the middle school library will add makerspace and STEM materials to build student curiosity and creativity.
Portfolio Presentations: Beanstack Help
As portfolio presentations near, one of the rubric points includes the 25 Books Campaign. Beanstack is an online book logging system connected through Clever. Students can explain their progress in their reading goals as part of the portfolio presentations. Contact your MS Librarian (angela.falkenberg@k12.dc.gov) or HS Librarian (christopher.stewart2@k12.dc.gov) for assistance prior to presentations.
Improve Literacy Growth for ELLs and Dual Language Learners Using Shared Reading webinar: October 24
"Shared reading is an opportunity to support your language learners with all they need to become proficient readers. Research shows that students who are learning a new language need content and language instruction to be integrated and meaningful.
During this edWebinar, you'll explore the ways you can support phonics, vocabulary, and language while at the same time supporting your students' literacy growth. Introduce your students to a variety of genres and forms with the support they will need and also teach your students the strategies to read a variety of genres.
This edWebinar will be of interest to teachers, librarians, and school and district leaders of all levels. There will be time to get your questions answered at the end of the presentation."
Check out the Bell High School Library LGBTQIA Resources for Educators and Staff, Students and Parents!
Exciting Books and Articles are located in the Bell Library!
The CHEC/ Bell High School Library would love to invite teachers and staff to reserve library space (check out the pictures) via our reservation platform, Skedda (
https://reservechecbelllibrary.skedda.com/booking
). Once booking your first reservation you will be prompted to create a quick login. Users will be able to see when space is available and when space is unavailable. This will allow for transparency and comfort in knowing that the time that you have requested, is available. There is also a space for *notes. If you would like to request AV material (i.e. projector) I can have that available and set-up for you. The first space is the main library and the second space is Peace & Love Room/ Makerspace.
We have some amazing things planned for the 2019-2020 school year! Please check out the
Bell Library Website
with new programming, resources for students and parents and new faculty webinars.
In our Nations Capital and all over the world we have literary deserts that have prevented many from exploring the beauty of equitable literacy. I had the pleasure of being a part of a Summer Curriculum Development Institute at CHEC taught by Mr. Darry Strickland. Each participant developed a UbD (Understanding by Design), a framework used to improve student achievement. Because of the amazing feedback from all involved in the institute and students as well as new teachers, Bell Library's finished project is Building Through Community Relationships: Providing Opportunities to Literary Deserts. We have developed a new partnership with Christ House, a medical facility with "comprehensive and compassionate health care to sick, homeless persons in the District of Columbia, and to assist them in addressing critical issues to help break the cycle of homelessness." (christhouse.org)
The Bell Library along with students and educators will replenish their living room library and create a library in their 52-bed residence known as Kairos. "The Kairos Program participants are capable of living independently, but due to chronic illness, are unable to hold full-time employment. Volunteer service is a key element of the program and each member serves based on his gifts and abilities. They escort Christ House patients to medical appointments, staff the clothing room, work in the kitchen, and assist with mailings and other administrative activities. Some participants also work part-time jobs at Christ House or in the neighborhood." (https://christhouse.org/services-2/kairos-program/) Students will complete empathetic interviews and create a collection that will be sure to rival University of Michigan's- Cook Research Library. If you are interested in helping expand and create a library, please reach out to me!
DCPL Educator Cards will be in within the next few weeks. For new educators or educators who would like a new card, please email me.
I look forward to seeing you soon for a library tour and, serving you well. If you have any questions please don't hesitate to call, email or drop by the library- A205!
---
Office Depot has a Give Back to Schools program that provides 5% credit from people's purchases to help schools buy supplies throughout the year. Below is more info and our school ID numbers that people can share at in-store or online check out. The site provides graphics to share online as well.
'Simply make a purchase of qualifying school supplies, provide your school ID at checkout and your school will receive 5% back in credits for FREE supplies!'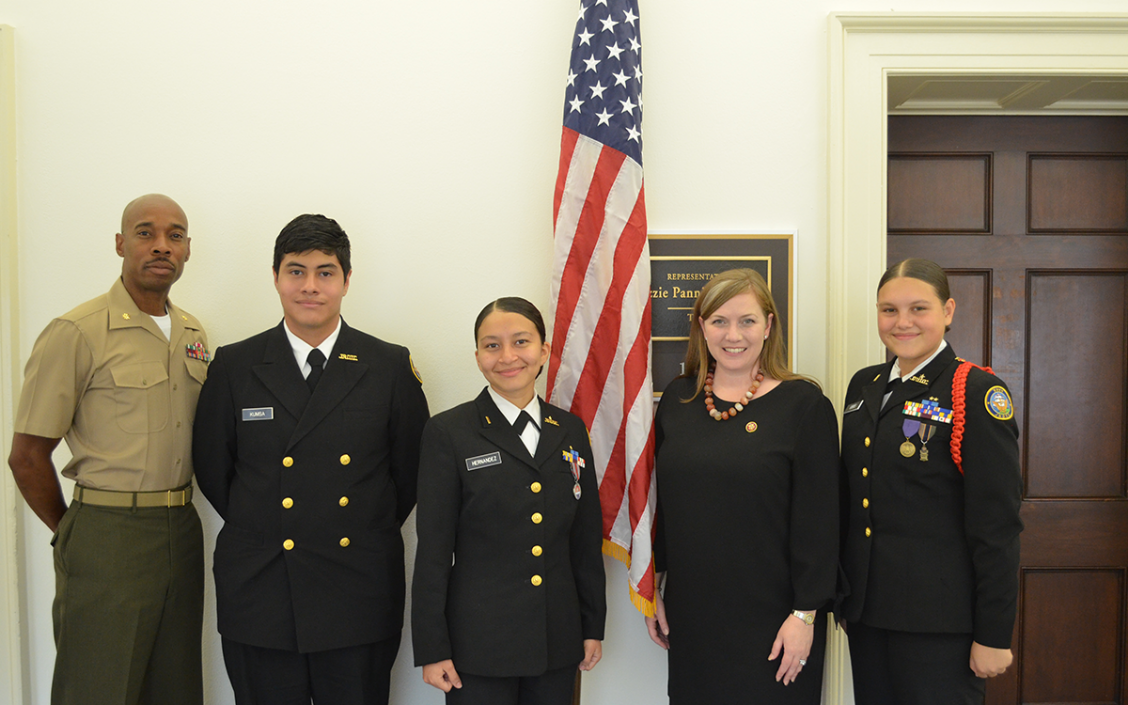 MICHAEL RODRIGUEZ, TANIA HERNANDEZ AND ALEJANDRA GIBBS WITH CONGRESSWOMAN LIZZY FLETCHER
Below is the Google Survey/Referral link that the entire CHEC school community will be using to send behavior referrals. If you have any questions or concerns please reach out to your appropriate Dean directly.
Student Culture Intervention Form - Behavior Referral:
Please use this link to send any behavior concerns after using the 5-step discipline process and any care system you have in place to support your student's social-emotional learning. You may also use this link to bring to the Dean's attention the need for a restorative circle and/or when students are tardy to your class more than three times. The Dean Team will actively monitor this live document to support all teachers.
Students that are Out-of-Area
During the past school year, we noticed a pattern of middle and high school students wandering into the wrong school. For this new year, please be mindful that Middle School students should not be in the High School at all, and certainly not without a pass. High School students should only be in the Middle School on the Lincoln 3rd floor. The route for High School students to the 3rd floor Lincoln is through the Bell 2nd floor and on to Lincoln 2nd floor landing and up the stairs to the 3rd floor. They should not use the 1st or 2nd floor Lincoln to get to the 3rd floor Lincoln. Students that are not complying should be written a referral, so they can earn a consequence.
Detention is a first intervention we have for students to check and correct their behavior in your classrooms. Students being informed of this consequence is vital to the effectiveness of the consequence. Remember to use our 5 step process with fidelity so that our students will not earn a greater consequence of ISS and thus lose valuable class time
We always need more support at dismissal from 3:15pm until 3:35pm (High School), 4:15pm until 4:35pm (Middle School). Please follow students all the way out to the front of the building. Students should be encouraged to move on toward their bus stops/metro quickly. Teachers and staff that can make themselves available to stay out front will be greatly appreciated.
All lunches have their ups and their downs. We always appreciate additional supports in the cafeteria on days that teachers are available. Check-ins with students build relationships and adult presence supports our daily procedures in lunch.
Athletics are an integral part of the educational program and a means to accomplish the goals of education. Our athletic program exists for the welfare of students and the contributions it makes to their educational experience. Athletic participation builds self-esteem and confidence and provides the necessary tools for success. The interaction between individuals on the fields of sport teaches students the value of teamwork, while developing the proper competitive spirit, combined with a sense of fairness.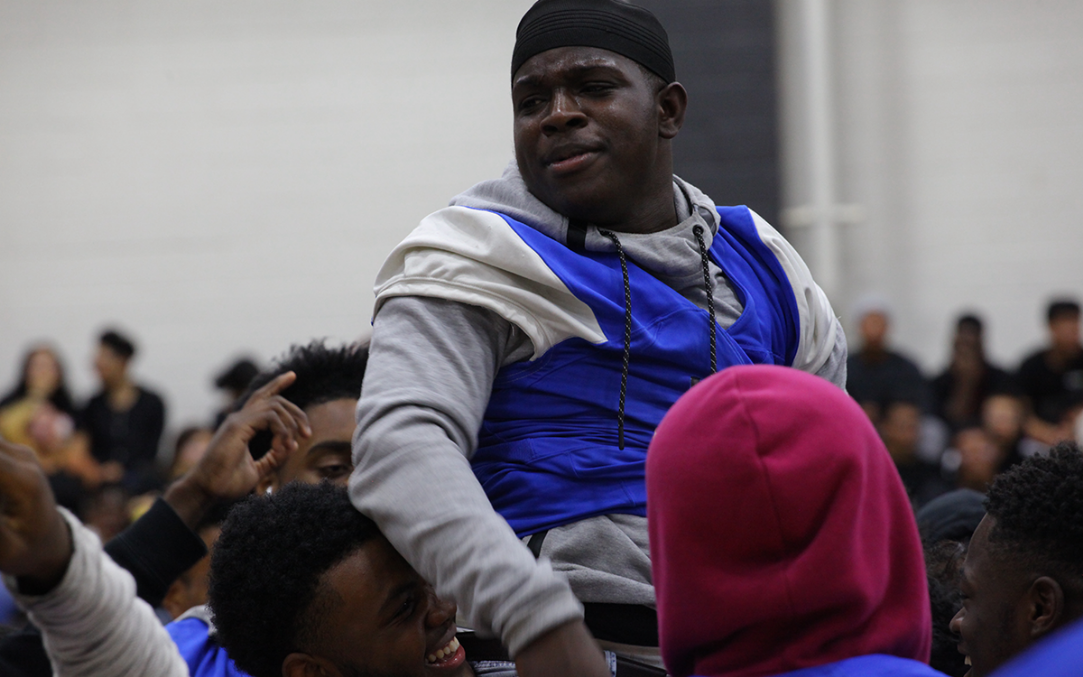 BELL FOOTBALL - HOMECOMING PEP RALLY
The middle school archery team lost to Stuart Hobson. The middle school volleyball team defeated Browne and Leckie. The middle school girls soccer team lost to Deal. The middle school boys soccer team tied Deal. The high school boys soccer team defeated Cardozo The high school girls soccer team defeated Banneker. The high school football team defeated Cardozo. The high school volleyball team defeated Ballou and Banneker. The high school girls cross country team took 5th place in their last cross country meet. Let's go Knights and Griffins!
Bell SHS Boys Soccer vs. Wilson @ Riggs LaSalle at 3:00 p.m.
Middle School Volleyball vs. McKinley at Brookland @ 4:30 p.m.
Tuesday,
October 22
, 2019
Bell SHS Volleyball vs. School Without Walls @ Roosevelt @ 5:00 p.m. (Home Game)
Middle School Cross Country Championships at Kenilworth Rec Center @ 12:30 p.m.
Middle School Archery vs. Leckie at CHEC @ 4:00 p.m.
Wednesday,
October 23
, 2019
High School Boys Soccer vs. Coolidge at Riggs LaSalle @ 3:00 p.m.
Middle School Volleyball vs. Stuart Hobson at Stuart Hobson @ 5:30 p.m.
Thursday,
October
24, 2019
Cross Country – High School Championships @ Colmar Manor @ 1:00 p.m.
Middle School Girls Soccer vs. Eliot-Hine at Randall @ 3:30 p.m.
Saturday,
October 26
, 2019