CHEC bulletin for Week of September 17, 2018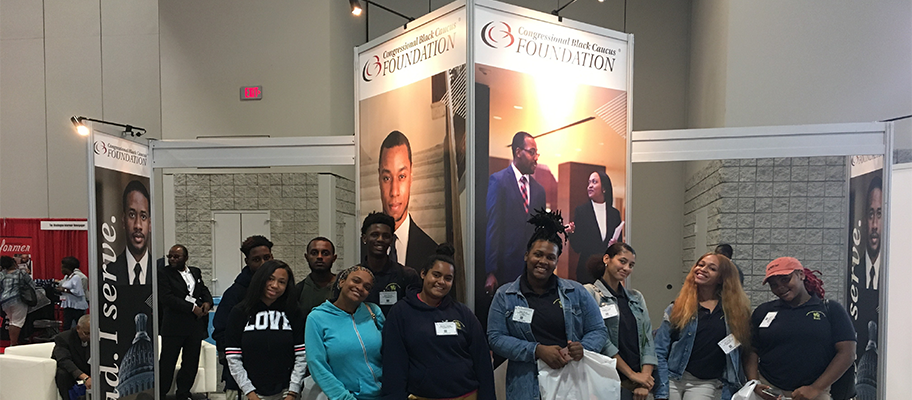 CHEC Students at the HBCU College Fair
MARIA TUKEVA'S (MT) MESSAGE:
This is the fifth week of the school year, and also the beginning of Hispanic Heritage Month! At this point of the advisory, it is important to let all students and parents know where they are in terms of their grades and assessments. We are also wrapping up our first unit, and look forward to seeing the first GRASPS on bulletin boards and in portfolios.
COMPREHENSIVE SCHOOL PLAN FOCUS
In each week's bulletin, we will reflect on our progress toward meeting the goals of our Comprehensive School Plan. This week, the focus is on our Attendance goal– "Increase the average daily attendance rate from 87.8% to 90% by the end of the school year." We have a related goal, which is to reduce the number of chronically absent students from 41.5% (2017-18) by 5% in SY 2018/19. Chronic Absence is defined as when a student misses more than 9% of the total school days. We will be tracking attendance weekly in order to intervene as necessary. Last week, our attendance rate by grade was: Grade 6 = 90.7%, Grade 7 = 90.2%, Grade 8 = 93% Grade 9 = 90.5% Grade 10 = 90% Grade 11 = 86% Grade 12 = 87% School = 88.9%. As of September 14, 41% of our students had 2 or more unexcused absences, which puts them on track to be considered chronically absent. In order to achieve our goals of increasing the attendance rate and decreasing the chronically absent rate, we must all provide a clear message to our students and parents about the importance of attendance, as well as support and intervene when there are obstacles to attendance.
Monday, September 10, 2018
Tuesday, September 11, 2018
Wednesday, September 12, 2018
Thursday, September 13, 2018
Friday, September 14, 2018
Academic Leadership Team Meeting
We know that there were many concerns expressed at the presentation on attendance provided by DCPS two weeks ago, especially since it seems the policies have become less stringent than last year. In response to that the Academic Leadership Team conducted a brainstorming session last week, and developed some strategies and school based policies designed to help improve our attendance. This week, we will conduct student focus groups to get their ideas, and next week the policies and incentives will be presented to all students and staff in town halls, and to parents in an after school parent meeting. The full report of the ideas and strategies can be found in the link to the notes of the ALT team meeting. If you have other ideas or thoughts to contribute, please feel free to add them.
A shout-out to Mr. Soto and Ms Nunez who held it down this past Saturday with 15 students and 5 parents, double from last week!

Kudos to Mr.Connor for organizing the CHEC trip to see Hamilton, and for all of the chaperones who assisted!!!
UPDATES FROM: LEADERSHIP
I
CANVAS
I
CULTURAL ARTS COMMITTEE
I
DC SCHOOL AND COMMUNITY INITIATIVES
I
WILDERNESS LEADERSHIP AND LEARNING
I
DCPS OFFICE OF TEACHING AND LEARNING
I
DONORS CHOOSE
I
LIBRARIES
I
PERSONAL GROWTH TEAM
I
FLAMBOYAN
I
CHEC Academy of Hospitality and Tourism (AOHT) Town Hall
ACADEMIC LEADERSHIP TEAM 2018-19
The second Academic Leadership Team Meeting took place on September 14, and was attended by 34 staff members! This year, the Team will meet every other week, rotating meetings one week on Wednesday at 3:30 pm, and the following week on Friday at 7:45 am, in order to provide opportunity for those who teach extended day to become involved.
The meeting focused on attendance, and planning for school based incentives and consequences. The notes are available
through this link
. The next meeting will be held on Wednesday, September 26 at 3:30 pm and will continue to focus on which data should be collected on a weekly, monthly and advisory basis, in order to measure our progress towards the goals of our Comprehensive School Plan. The agenda will be sent to the entire staff beforehand, and will focus on completing our data. Please get involved and join us at the Academic Leadership Team Meeting.
LOGGING IN TO CANVAS
For any students who need assistance to log into Canvas, follow the directions below. If there are any students that cannot log into Canvas please have them email the Canvas support team at
dcps.canvas@dc.gov
.
Student Login Information:
Password: Birthdate (MMDDYY) (Note: include a zero in front of single digits. For instance, 01/09/05 would be 010905)
BE A PART OF THE CHEC CULTURAL ARTS COMMITTEE

At CHEC, we take time to honor multiculturalism and diversity through our assemblies. This year, we will be forming committees for each assembly.
The Hispanic Heritage Assembly is already scheduled for Thursday, October 4. Our first meeting for the Hispanic Heritage Assembly will take place on Tuesday, September 11, in E111. Students are also encouraged to attend.
There will be two meetings for teachers who teach extended day. One will take place at 3:30 pm, and the other will take place at 4:15 pm. If you cannot make it, but would like to participate, please Dr. Amylia Barnett know, and she will send you all the information - Amylia.Barnett@dc.gov
If you are interested in being part of the Cultural Arts Committee and helping with any or all of the assemblies, please complete the form below. Thank you.
Cultural Arts Committee Link
OPPORTUNITY FROM DC SCHOOL AND COMMUNITY INITIATIVES
Good day CHEC — on behalf of the DC School and Community Partnerships team at the Kennedy Center, we would like to invite you to attend Opera in the Outfield event on Saturday, September 29th, 2018 at Nationals Park. This event is FREE and open to the public. Feel free to invite your students, teachers, families and friends. Everyone is welcome!
The Kennedy Center will be providing transportation and reserved seating for groups from our DC Partnership Schools! If you would like to book a bus and/or reserve seats for your school group, please let me know by Friday, Sept. 21st, 2018. Please note: resources are first come, first served.
If you are not planning to bring a group, you are still welcome to invite students, teachers, and their families to attend on their own. You do not have to RSVP if you do not need reserved seating or buses to transport you. The event is free and open to the public, so you are welcome to attend without a RSVP! Also, the event is easily accessible by public transportation (Navy Yard Station on Green Line).
Gates open at 5:00pm with many pre-show activities to participate in including face painting, costume try-ons, instrument petting zoo, free candy and prizes, and performances by Kennedy Center Partnership Schools Garfield Elementary and Duke Ellington School students. The comedic, family-friendly opera Barber of Seville will be broadcast live from the Kennedy Center Opera House onto the Nationals Park Jumbo Tron Screen beginning at 7:00pm.
For more information contact Sirena Dib, Program Coordinator, DC School and Community Initiatives (202) 416-8803
sgdib@kennedy-center.org
WILDERNESS LEADERSHIP AND LEARNING OPPORTUNITY
Wilderness Leadership and Learning (WILL) is a holistic 12-month experiential learning, youth leadership and life skills development program for DC 9th to 11th graders. WILL is beginning to recruit for its 15th class. There have been Bell students in WILL every year. Please refer a student to be part of this amazing program to strengthen student's leadership, life skills, cultural awareness, empathy, compassion, and Environmental Awareness.
MESSAGE FROM THE DCPS OFFICE OF TEACHING AND LEARNING

We are delighted to share that after careful review, the DCPS Global Education team has selected Jessica Gonzalez to serve as a Travel Ambassador for the DCPS Study Abroad program in school year 2018-2019, with travel in summer 2019. DCPS Study Abroad is a fully funded, award-winning global travel program for DCPS middle and high school students. Travel Ambassadors are the school-based staff responsible for recruiting, selecting, preparing, and leading the students who will participate in global travel, as well as engaging student alumni –as a Travel Ambassadors, Ms. Gonzalez is vital to the success of the DCPS Study Abroad program
MS. FALKENBERG RECEIVES RESOURCES FROM DONORS CHOOSE
Give Ms. Falkenberg a high five!
She recently earned funding for
"Colorful & Comfortable: Designing a Welcoming Library"
.
These will be added to the library:
Essentials Micro Fiber Set of Four (4) Chair Pad Seat Cushions Comfortable, Indoor, Dining Living Room, Kitchen, Office, Den, Washable, Fabric Ties, Barn Red, 4 Piece, quantity 8, $37.61 each

Shagalicious Bedrest, Turquoise, quantity 2, $24.99 each

Brentwood Shagalicious Bedrest, Hot Pink, quantity 2, $24.99 each

Brentwood Originals Shagalicious Bedrest, Lime, quantity 2, $24.99 each
MS. PATERSON RECEIVES RESOURCES FROM DONORS CHOOSE
Give Ms. Patterson a high five! She recently earned funding for "Measuring My Students". The resources for Ms. Patterson's classroom will arrive soon:
Seca 700 Physician's Balance Beam Scale with Height Rod, quantity 1, $191.58 each



MS. HARTWILL RECEIVES RESOURCES FROM DONORS CHOOSE
Give Ms. Hartwill a high five! Ms. Hartwill recently earned funding for "Lab Materials for Introductory Science". The resources for this project will arrive soon:
Evolution in Real Time: Bacteria and Antibiotic Resistance 8-Station Kit (with prepaid coupon), quantity 2, $110.70 each



CHEC LIBRARIES

LINCOLN LIBRARY UPDATES

Hispanic Heritage Month
Hispanic Heritage Month runs Sept. 15th - Oct. 15th. Need ideas and resources to use in the classroom? Visit the Library of Congress page for exhibits, visuals, and resources. Lincoln Library will also have books on display highlighting Hispanic culture, authors, and topics. Contact Ms. Falkenberg with any partnership ideas. http://www.hispanicheritagemonth.gov
Beanstack Workshops
Kudos to Ms. Chatalian, Mr. Rahman, Ms. Zuccarello, and Ms. Abbondanza for scheduling Beanstack workshops! Students can register for both the 25 Books Campaign and the 5 Million Minutes Challenge through Clever. Reading can happen in ALL contents and languages so contact Ms. Falkenberg if you would like help using the site yourself or for your students.
Class Collaborations
Shout out to Ms. Garcia and her art classes' collaboration with the library to integrate technology and writing into art. Students created Kidblog profiles and will share their art portfolios. Kidblog connects through Clever and is a creative way to share and build writing skills. Send an email or chat with Ms. Falkenberg if you want to find out more about using Kidblog in your class.
DonorsChoose in the Library
Like your classrooms, designing a comfortable, welcoming environment is important for student academic success and SEL growth. Through DonorsChoose, new cushions were added to the wooden chairs and students can use back pillows to create reading or school work nooks.
Contact her to schedule library visits, co-teaching opportunities, book tastings, online tools suggestions, author visits, etc.
25 Books Campaign
The 25 Books Campaign integration with Beanstack was a success thanks to you! Students, staff, and parents will be able to log minutes, book titles, magazine / newspaper articles, and pages. Some data is syncing up between the site and Central Office so the goal is to advertise and start the program in September. Be on the lookout for more information about this year's program soon.
New this year: Participants can access Beanstack through Clever! Staff can log in to Clever using first.last (username) and e-mail password. Students will log in using their Student ID (username) and birth date MMDDYY (password).
Newseum Teacher Open House
Save the date - October 6th, 9:00 a.m. - 5:00 p.m.
Register here: http://www.newseum.org/event/2018-teacher-open-house/
Go behind-the-scenes and connect with the EDCollection materials. This is an excellent opportunity to plan field trips, pick up free materials, see special galleries, and join in discussions around education and the First Amendment. Educators may bring guests for a discounted price ($11).
BELL LIBRARY UPDATES

The Hate U Give is not only the first book club reading for the 2018-2019 school year on October 17th but, book club students will also have an opportunity to see the movie on Friday, October 19th (flyer attached).
The BazanED and Twentieth Century Fox Films is hosting an Educators Only (grades 8-12) screening and discussion of The Hate U Give on September 24th, 2018 from 6:00 PM- 9:00 PM at Smithsonian American History Museum.
Whether it's PARCC, the SAT, ACT or simply because you want to be the best you--according to researchers at the University of Wisconsin- Madison, Kids connect with Robot Reading partners and reading friends which in turn enhances their desire and enthusiasm to read and learn. Educators please identify students who you believe would benefit from a reading partner or buddy! These students will be paired and the reading fun will begin!
If you have any questions, please feel free to reach Mr. Stewart via email: christopher.stewart2@dc.gov or call: (202) 939-7700 Ext. 5118
Bell Library Reservations

The CHEC Bell High School Library would love to invite teachers and staff to reserve library space via our new platform, Skedda (https://reservechecbelllibrary.skedda.com/booking). Once booking your first reservation you will be prompted to create a quick login. Users will be able to see when space is available and when space is unavailable. This will allow for transparency and comfort in knowing that the time that you have requested, is available. There is also a space for *notes. If you would like to request AV material (i.e. projector) I can have that available and set-up for you.
Bell Library Writing Center
Days: Tuesdays & Thursdays
Time: 8 AM- 8:50 AM & lunch periods
Location: Bell High School Library
We all need help! Great authors and writers have editors...the library will assist with:
Interpreting a writing assignment
Locating and sharpening a thesis statement
Organizing ideas and research
Developing a logical argument
Identifying recurrent errors and strategies for revising.
Bell Library Exhibit
Journey to Africa: Elephants Exhibit
Come see this traveling exhibit that will test your elephant knowledge, discuss the war on elephants, while challenging you to save them!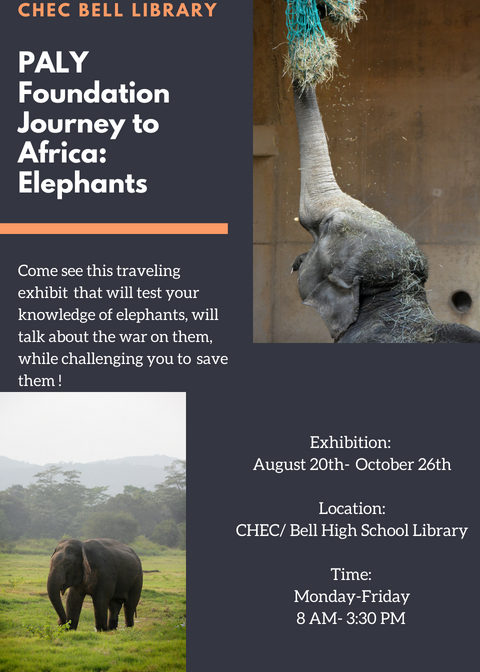 Exhibition: August 20th- October 26th
Location: Bell High School Library
PERSONAL GROWTH TEAM

Meet the Personal Growth Team (PGT) @ CHEC!
The Personal Growth Team (aka PGT) is a group of mental health and social service providers that are here to support the social emotional, behavioral and academic challenges that our students experience. We are comprised of a School Psychologist, School Social Workers, DBH & Mary's Center Mental Health Clinicians, and a Healthy Relationships Team.
► Social Emotional Referrals (Tier II/III):
HARM TO SELF/OTHER: a student may state threats of harming self or others (suicidal or homicidal ideations)

ABUSE: Sexual, verbal, physical abuse, domestic violence, running away, feeling unsafe

SEVERE MENTAL HEALTH CONCERNS: self-cutting, depression, anxiety, hallucinations, intoxication

FAMILY STRESSORS: evictions, death, dying, fires, deportations, homeless, hospitalizations

SEXUAL HEALTH CONCERNS: risky behaviors/ relationships, testing, pregnancy

RESOURCE NEEDS: health insurance, need for employment assistance, rental assistance, public benefits, emergency food /transportation/ clothing/ eye glasses/ emergency dental
►Academic/ Behavior Referral:
AFTER TIER I INTERVENTIONS HAVE BEEN ATTEMPTED, ATTACH RTI TIER I DOCUMENTATION TO PGT REFERRAL - for ongoing concerns such as:

ACADEMIC: low/failing grades

BEHAVIOR: not completing work, not engaging in the classroom, sudden changes in behavior, easily provoked, skipping class, ongoing absences from school
Please complete the PERSONAL GROWTH TEAM (PGT) Referral Form – contact Ms. Crivelli Diamond (ext. 5052 or at Paula.Crivelli-Diamond@dc.gov ) - Also, as a reminder, an email was sent to all staff (by Mr Billy Oliva) on 8/20, "PGT Team & PGT Referral Form SY 18-19", with the 2 attachments above, for you to reference throughout the year, as needed!
Always feel free to contact any one of us with any questions or concerns you may have! The Personal Growth Team thanks you for all the work you do to support our student's social emotional wellbeing!
CHEC PGT Social Emotional Learning (SEL) Corner
All CHEC teachers will begin receiving the following SEL-focused trainings over the next few weeks to ensure an equitable and responsive learning community:
Seminar #1- The SEAD Focused Classroom Experience
Seminar #2- The role of the teacher in establishing a SEAD Focused Classroom Experience
Seminar #3- The role of the student in creating a SEAD Focused Classroom Experience
Training will be provided by LEAP Leads/Department Chair Leads through Department Meetings!
Want to join the SEL Team?
If creating a Social Emotional Learning (SEL) classroom experience is something you are excited about, please join our SEL Team! Anyone can join! Please email Ms Crivelli, SEL Lead, at paula.crivelli-diamond@dc.gov to join us as we rollout SEL @ CHEC this school year!
FLAMBOYAN UPDATE

The Office of the State Superintendent of Education (OSSE) is pleased to announce that the fifth Annual DC Parent and Family Engagement Summit will be held on Saturday, Sept. 29, 2018, from 10 a.m. - 3 p.m. at the Walter E. Washington Convention Center.
Information provided at the Summit will engage, inform, and empower parents and families to effectively support the highest level of quality education for all the children in the District of Columbia. The Summit will also allow parents to provide feedback to OSSE on the state education plan. Please tell your students and families about this free event! Free registration is available via eventbrite! If you have any questions, please contact Ms. Whitaker ex 5062
Setting the Stage: Why Family Engagement?
A strong body of research shows that family engagement matters for student success.
Students do better in school and in life when their parents are engaged in their education. Family engagement contributes to a range of positive student outcomes, including improved student achievement, decreased disciplinary issues, and improved parent-child and teacher-child relationships. Emerging evidence also suggests that family engagement can have important benefits for the inner-functioning of schools, including school staff having higher expectations for students, more shared ownership and trust across their faculty, and, ultimately, stronger school performance.
All families can be capable guides, partners, and advocates in their child's education.
Regardless of a parent's circumstances, family engagement is not a static enterprise - with the right interventions parents can change their behaviors in relationship to their child's education. In focus groups conducted in 2009, District parents in all wards were clear that they cared about and wanted to support their child's learning but needed additional skills and knowledge to do so. Furthermore, they pointed out that they wanted schools to be more welcoming and responsive to their involvement.
Families play specific roles that support student achievement.
Although there is widespread consensus about the importance of family engagement, there is a diversity of opinions about what, exactly, family engagement means. Research about the impact of different types of family engagement help address this challenge. Meta-analyses find that, when it comes to how strongly parent involvement predicts student achievement, a parent's participation in school itself is a blip on the radar screen compared to a parent holding high expectations and setting goals for their individual child, monitoring progress and holding them accountable, and supporting learning at home, among other things. Although many of these forms of family engagement are difficult for school staff to see, schools still play an important role in affecting them.
Please join us in giving every student the gift of Family Engagement! Please reach out to your family engagement team, Jessica Gonzalez and Kristen Whitaker if you have any questions or concerns! We look forward to supporting you in this work!
Kudos to Jessica Alvarado and Omar Lopez for conducting the first home visit of the 2018-19 school year!! Thanks for getting us started!

HISPANIC HERITAGE MONTH
(reprinted from www.HispanicHeritageMonth.org)
During National Hispanic Heritage Month (September 15 to October 15) we recognize the contributions made and the important presence of Hispanic and Latino Americans to the United States and celebrate their heritage and culture.
Hispanics have had a profound and positive influence on our country through their strong commitment to family, faith, hard work, and service. They have enhanced and shaped our national character with centuries-old traditions that reflect the multiethnic and multicultural customs of their community.
Hispanic Heritage Month, whose roots go back to 1968, begins each year on September 15, the anniversary of independence of five Latin American countries: Costa Rica, El Salvador, Guatemala, Honduras and Nicaragua. Mexico, Chile and Belize also celebrate their independence days during this period and Columbus Day (Día de la Raza) is October 12.
The term Hispanic or Latino, refers to Puerto Rican, South or Central American, or other Spanish culture or origin regardless of race. On the 2010 Census form, people of Spanish, Hispanic and/or Latino origin could identify themselves as Mexican, Mexican American, Chicano, Puerto Rican, Cuban, or "another Hispanic, Latino, or Spanish origin."
Today, 57.5 million people or 18% of the American population are of Hispanic or Latino origin. This represents a significant increase from 2000, which registered the Hispanic population at 35.3 million or 13% of the total U.S. population.
Share in this special annual tribute by learning and celebrating the generations of Hispanic and Latino Americans who have positively influenced and enriched our nation and society. Please see the website above for more information on how to integrate this celebration into your instruction.
At CHEC, we have a culminating event for every heritage month, and this year's Assembly is being coordinated by a Committee headed by Dr. Amylia Barnett. Please be on the look out for information about committee meetings and how you can become involved!
Athletics are an integral part of the educational program and a means to accomplish the goals of education. Our athletic program exists for the welfare of students and the contributions it makes to their educational experience. Athletic participation builds self-esteem and confidence and provides the necessary tools for success. The interaction between individuals on the fields of sport teaches students the value of teamwork, while developing the proper competitive spirit, combined with a sense of fairness.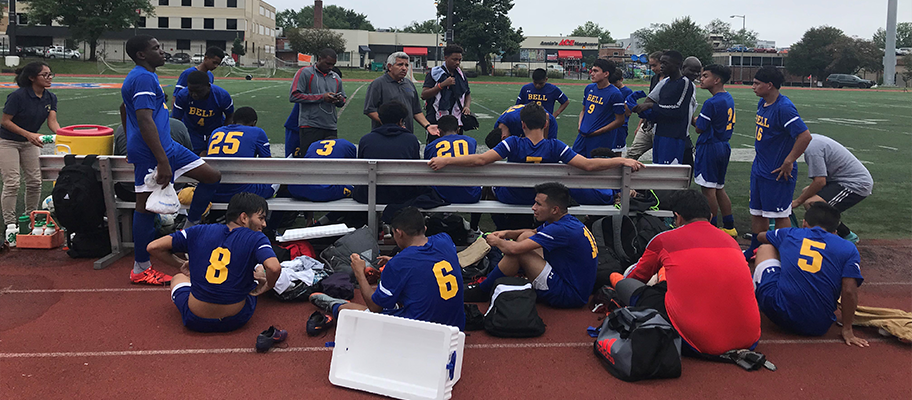 The
Middle School volleyball team
lost
to Browne and Deal. The Middle School girls soccer team lost to MacFarland. The Middle School boys soccer team tied with Deal. The High School volleyball team defeated Dunbar but lost to HD Woodson. The High School girls soccer team defeated Dunbar. The High School boys soccer team defeated Paul and Capital City PCS. The High School football team defeated Falls Church.
High School Girls Soccer vs. Washington Latin at Washington Latin @ 4:00 p.m.
High School Boys Soccer vs. Washington Latin at Washington Latin @ 5:30 p.m.
Middle School Volleyball vs. Johnson at Johnson @ 5:30 p.m.
Middle School Boys Soccer vs. Raymond at Spingarn @ 5:00 p.m.
High School Volleyball vs. Wilson at Wilson @ 6:00 p.m.
High School Boys Soccer vs. School Without Walls at Riggs LaSalle @ 4:30 p.m.
Middle School Volleyball vs. Brookland at Stuart Hobson @ 4:30 p.m.
Cross Country at Lafayette Invitational at Colmar Manor @ 12:00 noon
Middle School Girls Soccer vs. Deal at Deal @ 4:00 p.m.
High School Volleyball vs. Ballou at Ballou @ 5:00 p.m.
High School Football vs. Coolidge at Coolidge @ 6:00 p.m.
High School Girls Soccer vs. McKinley Tech at McKinley Tech @ 10:00 a.m.
High School Boys Soccer vs. McKinley Tech at McKinley Tech @ 12:00 noon