CHEC bulletin for
Week of
September 9, 2019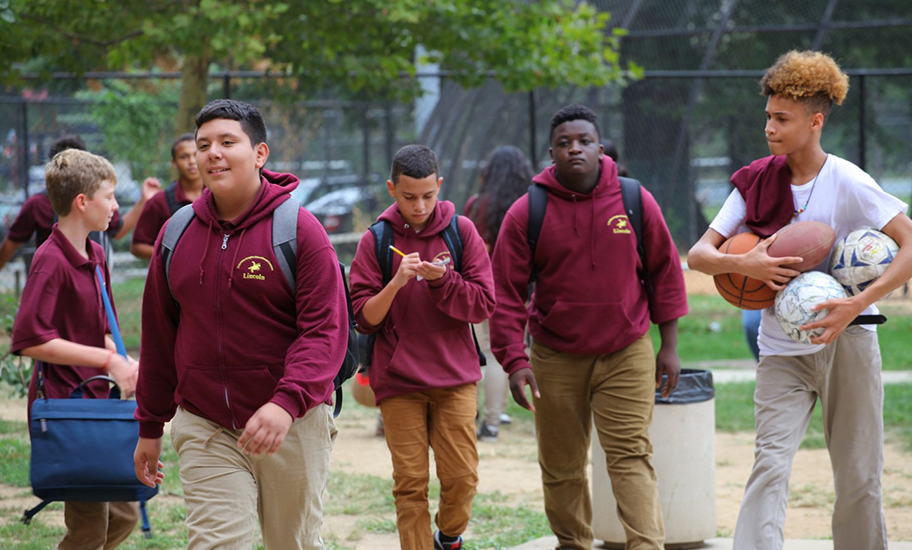 MARIA TUKEVA'S (MT) MESSAGE:
COMPREHENSIVE SCHOOL PLAN FOCUS -ENGAGEMENT OF PARENTS
This week we will focus on engagement, specifically the engagement of our most important stakeholders in addition to students – our parents. This week we will celebrate Back to School Night, with a morning session and evening session on September 11.
The practice of developing leadership capacity of all staff including teachers by creating leadership roles or decision-making opportunities. CHEC Mission Alignment:
"As lifelong learners in the pursuit of excellence and innovation, we foster a growth mindset through which teachers, administrators, students, parents, and community members all collaborate to achieve goals…We trust one another to continually improve our practice."
Our CSP Smart Goals for Engagement of Parents are:
Increase Parent attendance at Parent Teacher Conference days to an average of 50% of the parents at each Parent Teacher Conference Day by the end of the school year.




Increase the percentage of parents attending at least one portfolio presentation a year to at least 30% by arranging for portfolio presentations at different times and places.




Increase overall Parent Satisfaction to 87% by Spring 2019



The rationale for selecting these goals is based on some of the data from last school year. For example, last year parent attendance at Parent Teacher Conference Day stayed constant, averaging about 450 parents, or 30% of the population. Home Visits continued but declined slightly in number. Parent attendance at Portfolio Presentations remained constant at about 15%.
In perceptual data, the Panorama survey revealed an increase in the number of students who felt that their family was welcomed at school, to 94% from 92%. We want to build on this strength by welcoming all of parents at Back to School night and throughout the year!
An area of growth that we identified was the percent of parents who said they understand what their child is learning at school – there was a decline to 77% from 83%. Perceptual data also points to parents feeling the need for support in motivating their children to do unpleasant tasks if it will help them to achieve their goals. Only 52%, down from 63%, felt that their child was able to do this.
With this data in mind, some of our strategies for this year involve supporting all staff members to develop relationships with parents, and by building this trust, parents and educators can be allies in building the resilience of the students. In addition, by increasing our home visits and finding ways to incentivize parents to participate in home visits, we can build stronger relationships. When there are stronger relationships, more parents will attend portfolio presentations, and become better informed about what their children are learning.
Please use this great opportunity of Back to School night to share
your syllabus with parents
, discuss what is exciting about what you are teaching, and let them know how they can support at home.
You can give personal invitations to portfolio presentations or do as Mr. Abu Sabha shared at the faculty meeting – give parents small reminders to put on their key chains with the dates of portfolio presentations!
It is also a great time to set up home visits, which can be held anywhere in the community, or can be part of a community event. Home visits can happen at lunch time, during your planning period, or after school, or on the weekend. It is all about getting to know our parents and having them get to know us. Our new Flamboyan Liaison, Jessika Alvarado, can assist you in this process.
Administrators, counselors and other support staff, it is an ideal time to give your personal contact information, a list of the services you provide, and set up individual or group parent conferences.
Give parents a list of the dates of your parent workshops and ask them what workshops they would like to see. Let's use our first Back to school night to get ideas from parents of what they would like and what is convenient for their schedules!
---
Shout out to our Deans Boone and Avila for continuing the strong start to the year with norms and expectations for students!

Kudos to all of our presenters at the Faculty Meeting – Ms. Ferguson, Mr. Magee, Ms. Chatalian, Ms. Bruggeman, Ms. McCulloch, Ms. Ryan, Ms. Abbondanza, Mr. Lopez, Mr. H. Diaz, Mr. Olson, Mr. McFadden, Mr. Salas, Ms. Vialpando, Ms. Chiu, Ms. Thweatt, Ms. Nakpil, Ms. West, Ms. Malcolm, Mr. Schutt, Mr. Athmer, Mr. Connor, and Mr. Rahman!!! They were fabulous!!!!

Thank you to all who attended our After-School Design Meeting on September 3! Your ideas and suggestions were greatly appreciated and will be put into action as we redesign our program!
Monday, September 9, 2019
No meetings
Tuesday, September 10, 2019
SLC Morning Meeting
Middle School 6th Grade Town Hall 3:15 p.m.
Wednesday, September 11, 2019
SLC Morning Meeting
Middle School 7th Grade Town Hall 3:15 p.m.
Back to School Day/Night 9:00 am and 6:00 pm
Departmental Planning Period Meetings
Washington Adventist University Lunch Visit 12:30 p.m. – 2:00 p.m.
Thursday, September 12, 2019
Departmental Planning Period Meetings
Middle School 8th Grade Town Hall
Virginia Commonwealth University Lunch Visit 12:30 p.m. – 2:00 p.m.
Friday, September 13, 2019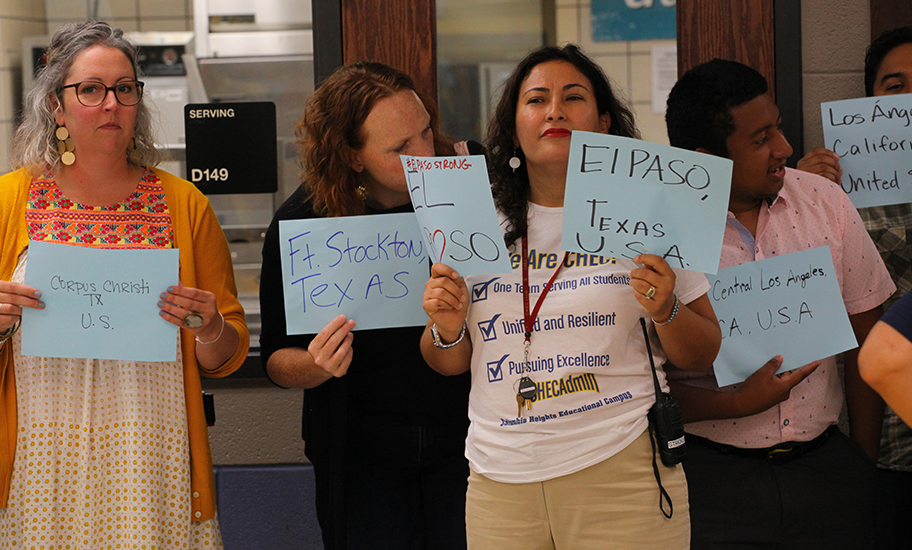 PROUD TEXANS AT WELCOME BACK DAY
This is week 3 of the First Advisory, and by now, all classes should have established norms and built community. As we learned in our Faculty meeting presentations, providing the GRASPS early on allows for time for students to complete and revise their projects, and have them ready in plenty of time for their portfolio presentations. Please try out some of the tips you learned at our Open Space Technology! We look forward to supporting you in teaching the standards and content of the GRASPS in an integrated fashion. Please also be sure to analyze diagnostic results with your students, so they can complete their POP sheets and take ownership of their learning.
The Instructional Calendar is a living document that houses all of the major curricular requirements, assessments, and schoolwide events. Please check it weekly, as it changes as events are added or moved. The calendar is curated by members of the Admin team, and Mr. Magee, Science LEAP lead, curates and adds events or items that are submitted by Department Chairs. If you have an event or item that you think should be added to the Instructional Calendar, please submit it to your Department Chairperson first, and then your Department Chair will submit for inclusion if appropriate.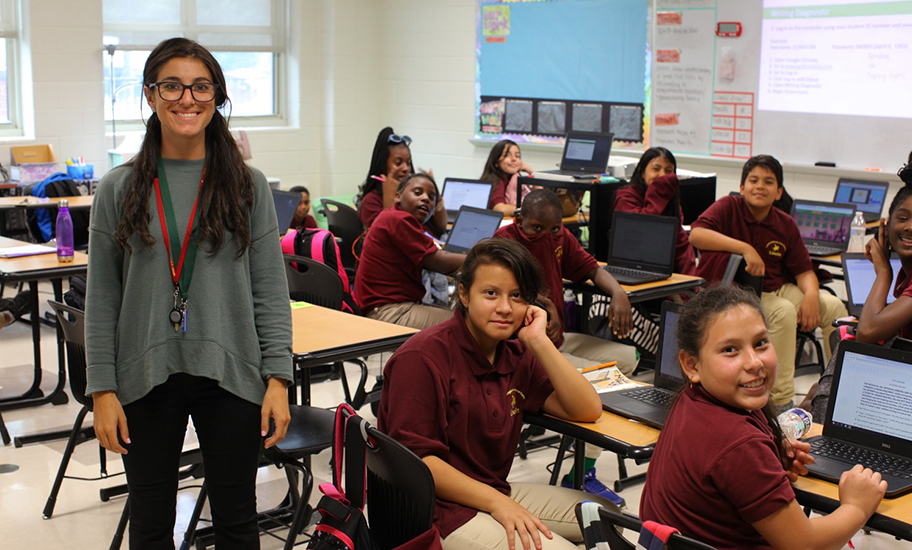 MS. ZUCCARELLO - BLENDED LEARNING AT CHEC
UPDATES FROM: LEADERSHIP TEAM
I
AFTER SCHOOL DESIGN PROGRAMMING
I
PD
I
TRAUMA INFORMED PD
I
DCPS GLOBAL PROGRAMS
I
COLLEGE ACCESS TUTORING
I
COLLEGE APPLICATION WORKSHOPS
I
COLLEGE ACADEMY
I
LIBRARY UPDATE
I
OFFICE DEPOT GIVE BACK
I
Diana Perez will serve as Chairperson for the Dual Language Department!
Kimberly Troy will serve as Counseling Department Chairperson!
Ismenia Garcia-Carmona will serve as Coordinator of Middle School Extended Day!
Bridget Bruggeman will serve as World Language Department Chairperson!
Please congratulate all of our new leaders!
JOIN THE CHEC ALT TEAM FOR SY 2019-20!
Thank you to all for a great start to the school year! This is to provide an update to all on our Academic Leadership Team (ALT) for school year 2019-2020. The purpose of the ALT is to provide guidance for our implementation of our Comprehensive School Plan (CSP). All LEAP Leads and Department Chairpersons, as well as Coordinators, are members of the ALT, however membership and meetings are open to all staff members. If you would like to serve in a temporary capacity in order to participate in a given issue, or in a permanent capacity for the entire year, you are welcome and invited to attend. The first meeting will be Wednesday, September 4, at 3:30 pm in the High School Library. We alternate the meetings between afternoon and morning meetings, so that they are accessible to all staff. During our first meeting the agenda will be:
Define our purpose as an ALT Team
Read and analyze the Comprehensive School Plan
Organize subgroups and committees to work on different parts of the plan
Please consider becoming a member of our ALT team!
DESIGN MEETING FOR AFTER SCHOOL PROGRAMS
As you know, at CHEC we have a strong after school program in order to support all of our learners. This year, we have acquired two more grants to support and enhance after school programming for both the middle school and high school. In order to ensure that what we offer is what students and families both need and want, we will be holding a Design Team Session to gain input into designing the after school offerings. All members of the CHEC community, faculty, support staff, students and parents are invited to the Design Team Session. The grants have the following focus areas which we will consider in our design:
Special Education Students – at least 50 of the participating students must be Special Education

ELL Students are a priority for services

Academic Focus – ELA and Math

STEM Focus – providing hands on and innovative classes that combine math and real life experiences and careers

SEL Focus – providing sessions and workshops to develop students SEL

Enrichment- providing activities that students are interested in, from sports to arts to STEM

Parent Engagement – providing classes to parents in English for those learning English, and in Spanish for those learning Spanish

Community Service – engaging students in service learning activities
If you are interested in helping us further build our after school program with additional enhancements, please attend the Design Team Session. It will be held between 3:30 and 6:30 on Tuesday, September 3 in the CHEC Cafeteria. You can come for part or all of the time, it is not necessary to stay the whole time period.
TEACHERS NEEDED FOR MIDDLE SCHOOL AFTER SCHOOL CLASSES
We are in need of teachers to support our Middle School Extended Day classes. Extended Day provides our middle school students with enrichment and intervention. This year we are redesigning the extended day to make sure it meets students needs for what they need in terms of intervention, and offers choice for their enrichment. Teachers are paid $43.00 per hour for Extended Day. Currently we need teachers to teach Spanish as a Second Language, Chess, Sports Activities, and STEM Activities! We also need more Special Education Teachers to serve our students in Extended Day. Please see our Extended Day Coordinator, Ismenia Garcia-Carmona, our Assistant Principals Roman Smith and Joseph Lewis, if you are able to support our middle school youth!
TRAUMA INFORMED PD OPPORTUNITY
The DC Arts and Humanities Education Collaborative and DC C
ommission on the Arts and Humanities are hosting a
Trauma Informed Professional Development Institute
on Saturday, September 21 from 9AM - 3:30 PM.
The theme of this PD Institute is "Unpacking a Safe Space". Join teaching artists as they share practices for the creation of physically and emotionally safe spaces through trauma-informed processes, where risk-taking is encouraged and student voice and agency are promoted. More information about sessions will be provided next week.
This event is completely free and includes a complimentary light breakfast, lunch, and the opportunity to win raffle prizes. The school who has the most teachers attend will win an in-school workshop hosted by one of our presenters! Participants will also be provided with a participation certificate for 5.5 contact hours to turn in for relicensure credits. Reserve your space by September 16th as space is very limited. The flyer for this PD is here.
GREAT PROFESSIONAL DEVELOPMENT NEWSLETTER LINK
Here is a link for a monthly newsletter from OSSE about PD opportunities for a bunch of subjects/areas.
It has ELL, SpEd, SEL, H & PE, RTI, literacy, math and more.
A message from Kayla Gatalica – DCPS Manager of Global Programs in the Office of Teaching and Learning:
I hope the school year is off to a wonderful start for you all. The DCPS Study Abroad program is recruiting Travel Ambassadors for the 2019-2020 school year, with travel in summer 2020. DCPS Study Abroad is a fully funded, award-winning global travel program for middle and high school students who are studying world languages.
Travel Ambassadors are vital to a school's recruitment and retention success in DCPS Study Abroad, so I'm reaching out to ask that you encourage strong candidates at your school to apply. The application deadline is Thursday, September 12th at 9:00 AM EST.  Educators can apply here. A list of Travel Ambassador duties is attached for reference.
Thanks for your time and commitment to global education!
Office of Teaching and Learning
Social Emotional Academic Development
District of Columbia Public Schools
COLLEGE ACCESS TUTORING FOR SENIORS
Curran Chopra and Akshar Patel are forming a team of volunteers who plan to tutor seniors for all aspect of college applications and college access during this fall. Presently, they are recruiting a cohort of college student volunteers from Howard University, Trinity Washington University, American University and Georgetown.
Mr. Chopra began this project the DC Learn and Serve program, to provide low-income DC high school students with the resources, motivation, and mentorship to perform to their capabilities on standardized testing required for college and navigate through the college application process. His vision is to connect undergraduate students with high school juniors so the college students who have the experience of taking the SAT/ACT and applying to college can offer their expertise and knowledge to their younger peers.
Thanks for your continued support of Special Olympics, and especially of our Unified Sports events!
COLLEGE APPLICATION WORKSHOPS
Time: Wednesday's after-school from 3:30 p.m. to 5:30 p.m. (Beginning October, 2019)
Length: The workshops begin first week of October and end by Christmas Break
Location: Computer Lab (Room 407)
Students: 25 to 30 students
Volunteer Duties: Volunteers will provide essay writing support – Common App Essays – helping decide structure, students have stories to share but need help capturing stories in an essay.
Additional Info: There is no need for curriculum/books, but college student volunteers will bring their applications, essays to share with students. A collection of sample Common App and supplemental essays will be provided.
Students will be working to apply to a list of 5 schools they have developed with CHEC College Counselor. Ms. Henry.
Time: Saturdays from 9 a.m. to 12 p.m.
Length: The program begins in September
Volunteer Duties: volunteer will help students work on applications, essay-writing, resumes, other preparation for a post-secondary education
Snacks will be provided at the sessions.
Raffles at the sessions will have prizes of college paraphernalia – when students complete the workshop and their essays, they can enter raffle and win paraphernalia
College tours will be discussed and planned.
I already see this being one of the most incredible school years, yet! The CHEC/ Bell High School Library would love to invite teachers and staff to reserve library space (check out the pictures) via our reservation platform, Skedda (https://reservechecbelllibrary.skedda.com/booking). Once booking your first reservation you will be prompted to create a quick login. Users will be able to see when space is available and when space is unavailable. This will allow for transparency and comfort in knowing that the time that you have requested, is available. There is also a space for *notes. If you would like to request AV material (i.e. projector) I can have that available and set-up for you. The first space is the main library and the second space is Peace & Love Room/ Makerspace.
We have some amazing things planned for the 2019-2020 school year! Please check out the Bell Library Website with new programming, resources for students and parents and new faculty webinars.
In our Nations Capital and all over the world we have literary deserts that have prevented many from exploring the beauty of equitable literacy. I had the pleasure of being a part of a Summer Curriculum Development Institute at CHEC taught by Mr. Darry Strickland. Each participant developed a UbD (Understanding by Design), a framework used to improve student achievement. Because of the amazing feedback from all involved in the institute and students as well as new teachers, Bell Library's finished project is Building Through Community Relationships: Providing Opportunities to Literary Deserts. We have developed a new partnership with Christ House, a medical facility with "comprehensive and compassionate health care to sick, homeless persons in the District of Columbia, and to assist them in addressing critical issues to help break the cycle of homelessness." (christhouse.org)
The Bell Library along with students and educators will replenish their living room library and create a library in their 52-bed residence known as Kairos. "The Kairos Program participants are capable of living independently, but due to chronic illness, are unable to hold full-time employment. Volunteer service is a key element of the program and each member serves based on his gifts and abilities. They escort Christ House patients to medical appointments, staff the clothing room, work in the kitchen, and assist with mailings and other administrative activities. Some participants also work part-time jobs at Christ House or in the neighborhood." (https://christhouse.org/services-2/kairos-program/) Students will complete empathetic interviews and create a collection that will be sure to rival University of Michigan's- Cook Research Library. If you are interested in helping expand and create a library, please reach out to me!
DCPL Educator Cards will be in within the next few weeks. For new educators or educators who would like a new card, please email me.
I look forward to seeing you soon for a library tour and, serving you well. If you have any questions please don't hesitate to call, email or drop by the library- A205!
Office Depot has a Give Back to Schools program that provides 5% credit from people's purchases to help schools buy supplies throughout the year. Below is more info and our school ID numbers that people can share at in-store or online check out. The site provides graphics to share online as well.
'Simply make a purchase of qualifying school supplies, provide your school ID at checkout and your school will receive 5% back in credits for FREE supplies!'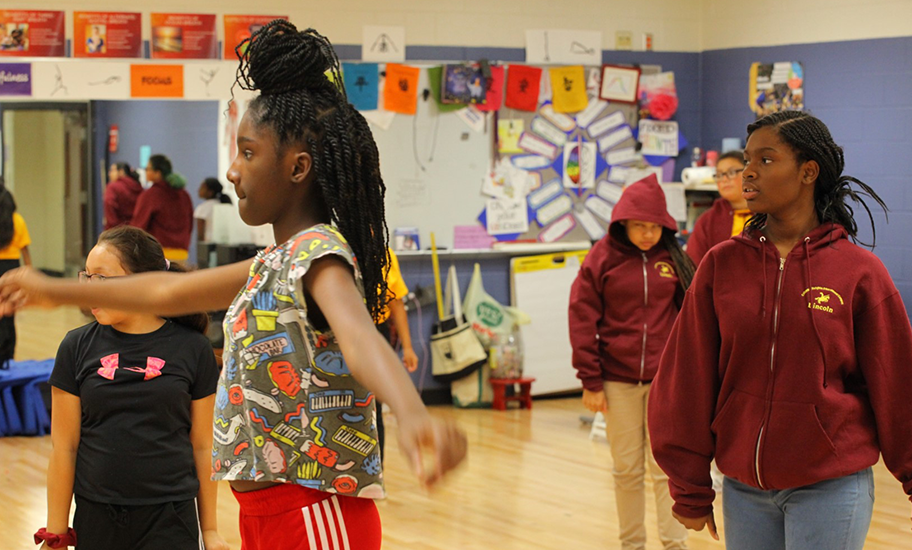 MS. MENENDEZ' DANCE CLASS
Below is the Google Survey/Referral link that the entire CHEC school community will be using to send behavior referrals. If you have any questions or concerns please reach out to your appropriate Dean directly.
Student Culture Intervention Form - Behavior Referral:
Please use this link to send any behavior concerns after using the 5-step discipline process and any care system you have in place to support your student's social-emotional learning. You may also use this link to bring to the Dean's attention the need for a restorative circle and/or when students are tardy to your class more than three times. The Dean Team will actively monitor this live document to support all teachers.
Students that are Out-of-Area
During the past school year, we noticed a pattern of middle and high school students wandering into the wrong school. For this new year, please be mindful that Middle School students should not be in the High School at all, and certainly not without a pass. High School students should only be in the Middle School on the Lincoln 3rd floor. The route for High School students to the 3rd floor Lincoln is through the Bell 2nd floor and on to Lincoln 2nd floor landing and up the stairs to the 3rd floor. They should not use the 1st or 2nd floor Lincoln to get to the 3rd floor Lincoln. Students that are not complying should be written a referral, so they can earn a consequence.
Detention is a first intervention we have for students to check and correct their behavior in your classrooms. Students being informed of this consequence is vital to the effectiveness of the consequence. Remember to use our 5 step process with fidelity so that our students will not earn a greater consequence of ISS and thus lose valuable class time
We always need more support at dismissal from 3:15pm until 3:35pm (High School), 4:15pm until 4:35pm (Middle School). Please follow students all the way out to the front of the building. Students should be encouraged to move on toward their bus stops/metro quickly. Teachers and staff that can make themselves available to stay out front will be greatly appreciated.
All lunches have their ups and their downs. We always appreciate additional supports in the cafeteria on days that teachers are available. Check-ins with students build relationships and adult presence supports our daily procedures in lunch.
Athletics are an integral part of the educational program and a means to accomplish the goals of education. Our athletic program exists for the welfare of students and the contributions it makes to their educational experience. Athletic participation builds self-esteem and confidence and provides the necessary tools for success. The interaction between individuals on the fields of sport teaches students the value of teamwork, while developing the proper competitive spirit, combined with a sense of fairness.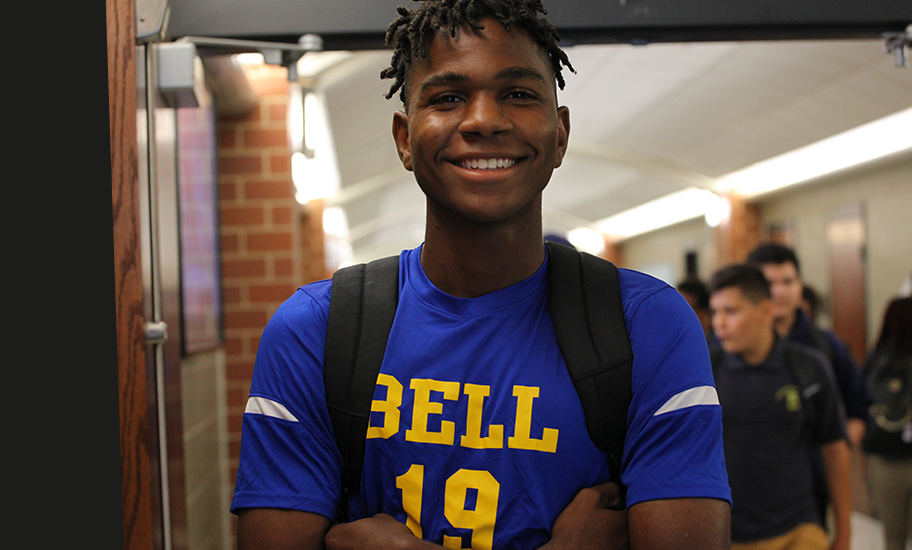 CHEC FOOTBALL 1ST GAME VS BALLOU AUGUST 30
The High School Boys Soccer Team defeated Banneker School 13 – 1. The High School Girls Soccer Team defeated DCI 4 - 2. The High School Football Team lost to Dunbar. Middle School Soccer and High School Volleyball starts this week!
Monday September 9

Bell SHS Girls Soccer vs, Wilson at Riggs LaSalle 3:00 PM – Home Game
Bell SHS Boys Soccer vs. Paul at CHEC @ 4:00 PM
Tuesday September 10

Bell High School Volleyball vs. Wilson at Roosevelt – 5:00 PM
Wednesday September 11

No games
Thursday September 12

Middle School Boys Soccer vs. Oyster Adams @ CHEC @ 5:00 PM
Bell High School Volleyball vs. Anacostia at CHEC – 6:00 PM
Friday September 13
No games
Saturday September 14
Bell SHS Football vs. Eastern @ Eastern – 2:00 PM
Bell High School Volleyball – DCI Tournament - @ DCI – 8:00 AM