CHEC bulletin for Week of August 20, 2018
Dear Dynamic and Courageous CHEC Team:
The first day of School Year 2018-19 is here, and I am excited and inspired to begin this new chapter in our educational journey! We have much to be proud of, and new challenges to overcome. Counselors, thank you for your relentless effort to complete quality schedules for each of our students. Teachers, thank you for all of your hard work in preparing your curriculum and your rooms for our scholars, so that they arrive on day 1 to a place where they know that learning is the priority. To our custodians, operations and support staff, thank you for having the building clean, organized and ready for students on Day 1. To our administrative team, thank you for coordinating the many details that go into opening school.
The first day and week of school set the tone for the whole year. We want our scholars to feel a sense of community, where their individual goals and dreams can thrive. So as we head into Day 1 of School Year 2018 -19, let's keep our eyes on the mission - "CHEC students will be prepared to succeed in college and civic life as leaders in the quest for social justice." Learning and instruction start on day 1, there is no time to lose. Together with our scholars and their families, we will make this mission a reality.
Have a wonderful, inspiring, and fun school year 2018-19!
Sincerely,

UPDATES FROM: SUMMER PDs
I
DONORSCHOOSE.ORG
I
PGT
I
TRAVEL ABROAD AMBASSADORS
I
CHEC GOES TO ODNI
I
SUMMER PROFESSIONAL DEVELOPMENT
DR. IRAHETA ATTENDS THE AMERICAN SCHOOL COUNSELOR ASSOCIATION SUMMER CONFERENCE
In July, CHEC Counselor Dr. Iraheta join approximately 3,600 school counseling professionals for four days of inspirational keynote sessions, informative breakout sessions, and in-depth looks at hot topics in the school counseling profession. Dr. Iraheta gave a well-received speech on how at CHEC, we strive to help teachers practice trauma-based classrooms and the use of restorative practices. CHEC was seen an exemplar for other schools.
Here are some conference photos: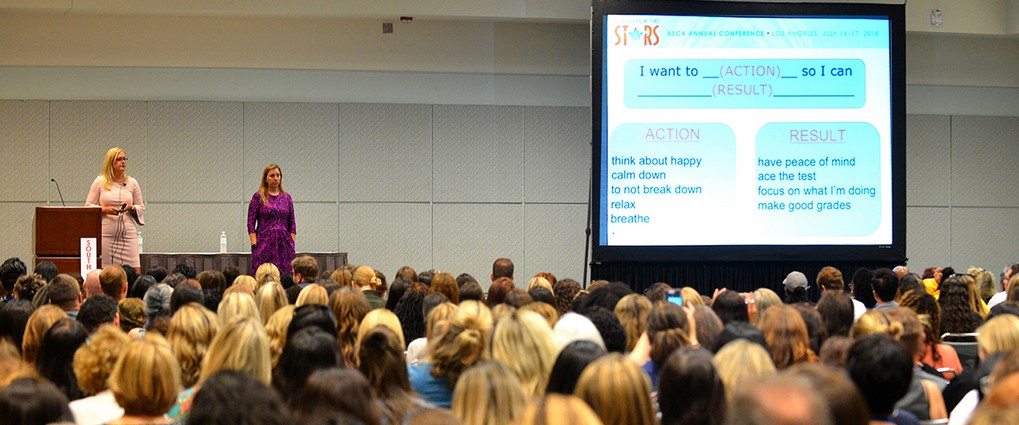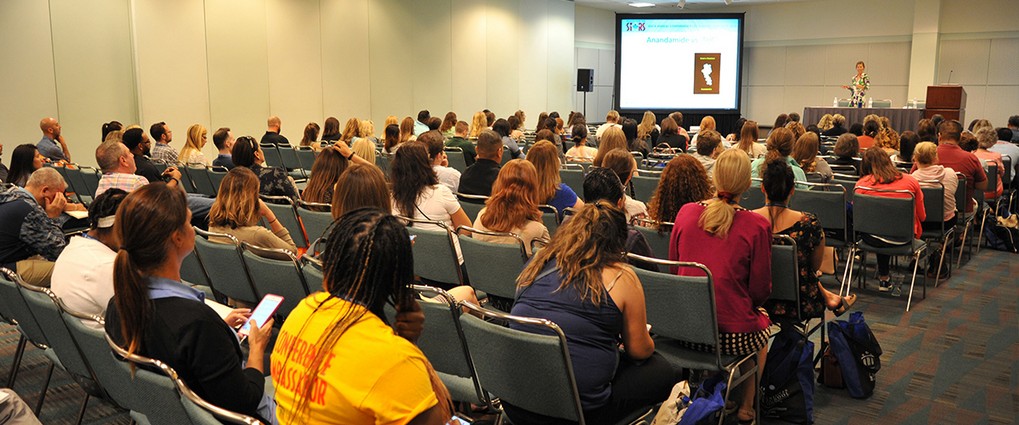 MS. NUNEZ AND DONORSCHOOSE.ORG
This summer, through the philanthropic site DonorsChoose.org Ms. Nunez proposed Hablamos Español, a fundable project that was successful in garnering numerous supplies for her classroom. Following is a summary of the request and project:
My students need dry erase boards, a pencil sharpener, scissors and Spanish poster verbs to learn about verb conjugation.
My Students
My students are very diverse with a lot of characteristics that make them special. You can walk into any classroom and meet people from all over the world. We are a low income community, and 100 percent of our students are economically disadvantaged.
My students are part of Spanish immersion program where kids from different cultures and backgrounds have the opportunity to be in contact with a different language that will provide them with skills that help them stand out.
My Project
Students love to compete, and they can benefit a lot from that! To get their attention in the classroom, I usually invite them to compete in different teams to practice what they have learned in the lesson. For that purpose, we will use the dry erase boards and also include the verb posters when learning new words. To help them improve their fluency, we will use the conversations cards to give them different options. That way they can pick something that makes them feel comfortable.
By donating to our project, you will help us learn in a fun and different way, and you will help us increase academic achievement.
With these new materials, my students will have options and something different to do. I'm sure they will love it.
Here is what Ms. Nunez received:
TREND enterprises, Inc. Playful Combo Ready Letters




Nekmit Monthly Desk Pad Calendar, July 2018 - December 2019

School Smart Electric Heavy-Duty Pencil Sharpener

Reward Stickers - 1000-Count Spanish Encouragement Sticker Roll for Kids, Motivational Stickers with Cute Animals for Students

TableTopics Espanol: Family

PlayMonster Lauri Calendar Pocket Chart (English/Spanish)

Scissors, VERONES 8 inch Soft Comfort-Grip

Creative Teaching Press Chalk It up! Spanish Inspire U Poster

Spanish Verbs & Beginner Vocabulary Classroom Variety Posters

Dry Erase Board [30pc Classroom Pack] with ClearWipe Coating! Lapboards

Creative Teaching Press Spanish Basic Skills
PERSONAL GROWTH TEAM (PGT)
Elsie Guerrero of ALL (Advancing Latinas for Leadership) Mentoring Program will return to Bell for SY 18-19 to continue growing this great program for more upper house females heading to college! This is Ms. Guerrero's third year volunteering this service to CHEC youth.
TRAVEL ABROAD AMBASSADORS
The DCPS Study Abroad program is currently recruiting Travel Ambassadors for the 2018-2019 school year, with travel expected in summer 2019. DCPS Study Abroad is a fully funded, award-winning global travel program for middle and high school students. The application deadline for educators is Monday, August 27, 2018 at 9:00 AM EST. Please consider applying now!
Travel Ambassadors are responsible for recruiting, selecting, preparing, and leading the students who will participate in global travel to destinations in the USA and around the world. Current DCPS educators or school-based staff at the secondary level with two or more years of experience in education will have strong preference. A full list of Travel Ambassador duties is attached. Learn more about DCPS Study Abroad at dcpsglobaled.org. Educators with questions can be directed to study.abroad@dc.gov.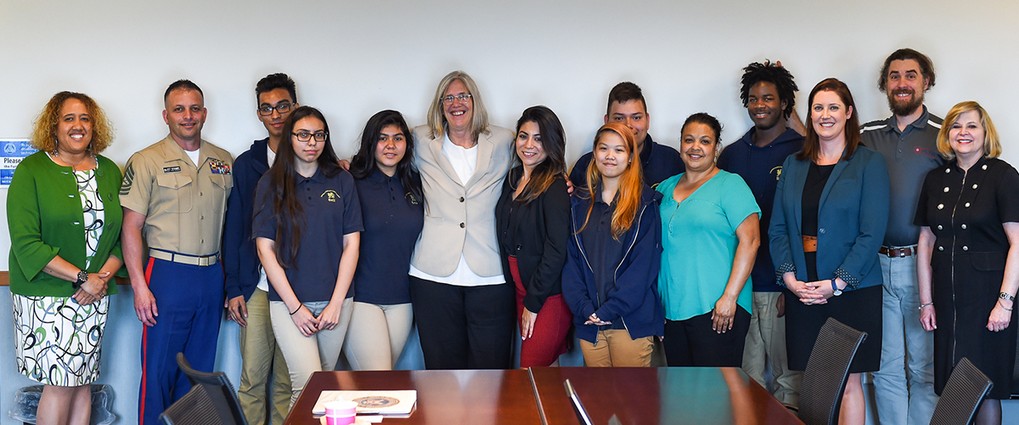 On June 12
th
, CHEC students visited the Office of the Director of National Intelli
gence for an Intelligence
Summit. As part of the adopted school partnership with ODNI, the stu
dents attended a counter-
intelligence game and simulation presentation related to their CHEC stu
dies in science, technology,
engineering and math as well as foreign languages. The partnership has been mad
e possible by Ms.
Berta Gonzalez, CHEC alum (Class of 2008).
DEBATE SHINES AT ORNSTEIN SUMMER DEBATE INSTITUTE
This summer, more than 140 students representing 45 D.C. and Prince George's County Public Schools gathered at Washington Latin PCS for the 4th Annual Matthew Ornstein Summer Debate Institute.
The institute, named for Matthew H Ornstein, a former debater who tragically passed away, recruits some of the best and brightest debate coaches from around the nation to offer a free summer debate program for area students. At the end of the institute, students put what they've learned to the test in an end of institute tournament. This year's competition was hosted by Trinity Washington University.
CHEC Debate Team Captain Eric Clarke once again stole the show. He and Paris Smalley (Charles Flowers HS) won the Varsity Division. He was also the 2nd overall speaker (behind Paris) in the tournament!
Keep up the good work Coach Cohen!
Washington Urban Debate League
Students that are Out-of-Area
During the previous school year, we noticed a pattern of middle and high school students wandering into the wrong school. For this new year, please be mindful that

Middle School students should not be in the High School at all, and certainly not without a pass. High School students should only be in the Middle School on the Lincoln 3rd floor. The route for High School students to the 3rd floor Lincoln is through the Bell 2nd floor and on to Lincoln 2nd floor landing and up the stairs to the 3rd floor. They should not use the 1st or 2nd floor Lincoln to get to the 3rd floor Lincoln. Students that are not complying should be written a referral, so they can earn a consequence.
Detention is a first intervention we have for students to check and correct their behavior in your classrooms. Students being informed of this consequence is vital to the effectiveness of the consequence. Remember to use our 5 step process with fidelity so that our students will not earn a greater consequence of ISS and thus lose valuable class time



We always need more support at dismissal from 3:15pm until 3:35pm (High School), 4:15pm until 4:35pm (Middle School). Please follow students all the way out to the front of the building. Students should be encouraged to move on toward their bus stops/metro quickly. Teachers and staff that can make themselves available to stay out front will be greatly appreciated.



All lunches have their ups and their downs. We always appreciate additional supports in the cafeteria on days that teachers are available. Check-ins with students build relationships and adult presence supports our daily procedures in lunch.
In the fall, we have High School and Middle School Football, High School and Middle School Boys and Girls Soccer, and High School and Middle School Girls Volleyball, as well as Cross Country. Please come out and support the teams.
The schedule will be published soon!
---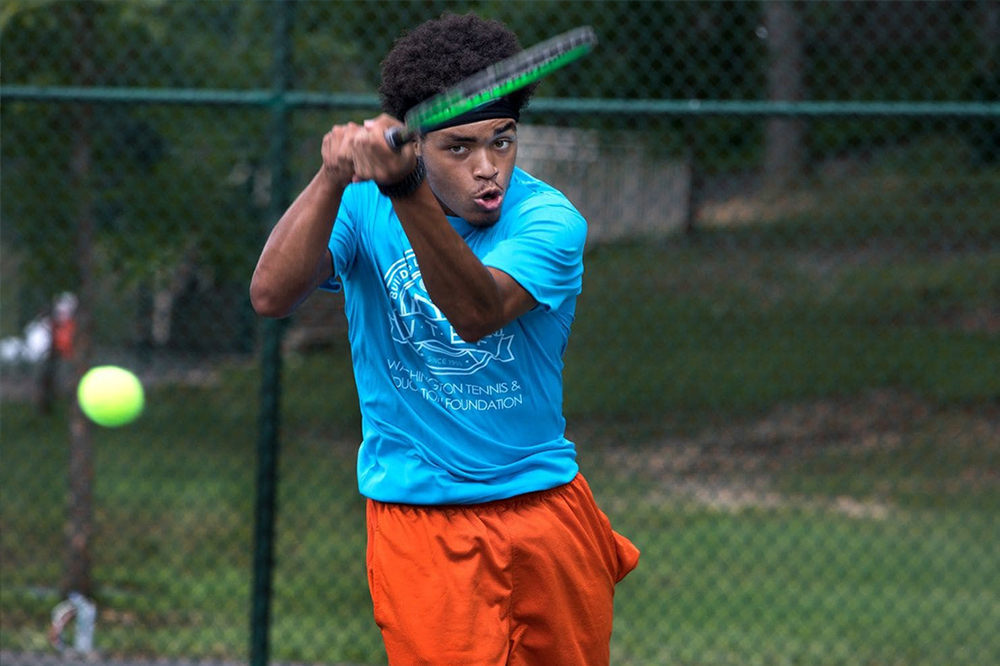 Xxavier Boone, a high schooler in the District, credits his coaches and tutors at the Washington Tennis and Education Foundation with raising his
grades and his college ambitions. (Evelyn Hockstein/For The Washington Post)
Andy Murray knows what it takes to become a Grand Slam champion, having won the U.S. Open in 2012 and Wimbledon in 2013 and 2016.
And the former world No. 1 has chosen Washington's Citi Open as his next step on his carefully calibrated return to competition following hip surgery in January. The tournament will challenge him with hot, humid conditions akin to those he will face at the U.S. Open, which gets underway Aug. 27, and test his readiness against a 48-player field that includes three of the world's top 10 — defending champion Alexander Zverev (No. 3), Wimbledon finalist Kevin Anderson (No. 5) and top-ranked American John Isner (No. 9).
But the Citi Open represents an equally significant steppingstone for 17-year-old Xxavier Boone, a rising senior at Bell Multicultural High in the District whose aspiration isn't winning another major title but earning a college scholarship.
Unique among tennis tournaments, the Citi Open is owned by the nonprofit Washington Tennis & Education Foundation and devotes a portion of its proceeds to funding its mission of breaking the cycle of poverty in the city's historically underserved communities through free tennis and educational programs for children.
Boone credits the lessons he has learned from coaches and tutors at the WTEF's East Capitol Campus, just a few blocks from his home in Ward 7, with raising his grade-point average (from 2.0 in middle school to 3.5 today) and his college-going ambitions.
"It never really saved me from a lifestyle that might lead to trouble; it made me so I didn't need to be saved from that lifestyle," Boone explained. Enrolled in the program since fifth grade, he comes to the tennis center directly after school each day to spend 90 minutes on homework, followed by 90 minutes on the court.
"You're not always going to win. Even if you give it your best, you can still end up on the short end," Boone said. "But it's not about giving up and telling yourself, 'I can't do this.' It's about seeing what went wrong and trying to fix that problem, so if that problem arises again you'll be ready for it."