CHEC bulletin for
Week of
April 27, 2020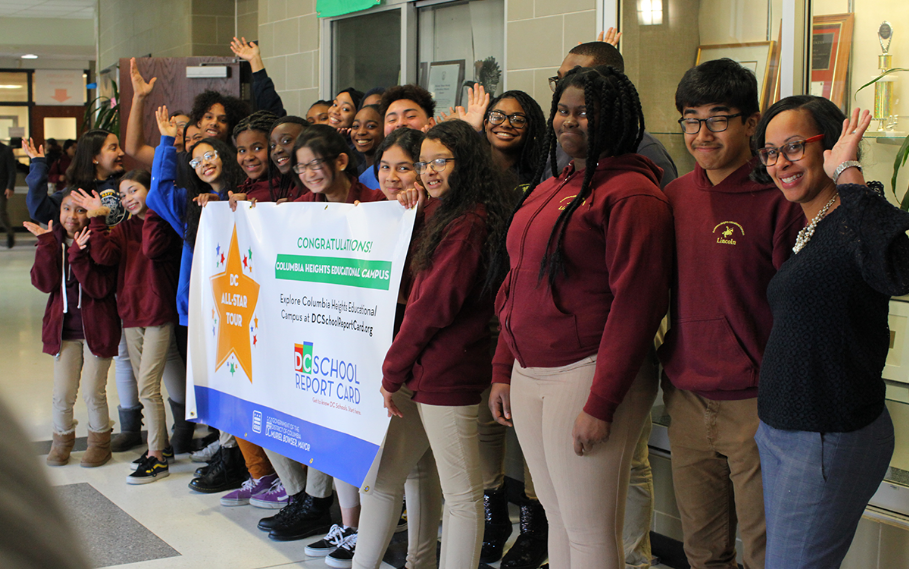 PRECIOUS MOMENTS - CHEC SHINES ON THE DC ALL STAR TOUR
MARIA TUKEVA'S (MT) MESSAGE:
All Departments and SLC's send individual notifications of their meetings
Faculty Meeting 3:00 p.m.
Wednesday, April 29
, 2020
Deadline for students to submit Work for Learning at Home
Deadline for submission of Advisory 3 Work
Ending Strong so We Can Start Strong – Advisory 4 of School Year 2019-2020
I hope all continue to be safe and well! In the midst of the turmoil and change around us, there were bright spots to remind us of how our school mission is changing lives. The news of CHEC's selection as one of the top schools in DC, and its ranking among the nation's schools, is a testament to the work of every individual in our school. It reflects the teamwork of staff, students and families, and reflects a victory of relentless focus over incredible obstacles. Please take the time to congratulate and appreciate yourself for all you do for our nation's most vulnerable, yet also most resilient and inspiring, young people. Thank you!
As we begin the last, and very short advisory of this very unique school year, it is important to lay the groundwork for a steady finish, so we can begin the new year, whenever it begins, with as a strong a foundation as possible. That means that within the constraints we have, we combine empathy with high expectations, and support with independence, so that students learn some of the key skills and knowledge they will need to succeed not only next year, but in college and career. We have a unique opportunity to truly personalize and build student agency, by designing compelling and relevant GRASPS, and teaching the soft skills of self-management, in the design of our assignments and check ins. By planning backwards from our signature authentic assessment of portfolio presentations and reflections, we can empower every student to take charge of their learning, by using their voice and perspective. The final GRASPS of the year is an opportunity to truly build "intellectually curious scholars," and "leaders in the quest for social justice."
Together with our students we are writing a history and legacy of overcoming adversity and leaning into learning. Someone will write these books – it should be all of us. It is important to document this story as we live it and experience it with our students. How will you and your students document the journey for posterity?
---
Special, special shout outs to all who have come to the school and are collaborating with our tech initiative, feeding initiative,

and staffing the building!!

Shout out to Mr. Magee, Ms. Bruggeman, Mr. Stearman, Ms. Ferguson and Ms. McCulloch for coordinating our Virtual PD!

Kudos to our LEAP Leads and Department Chairs for facilitating Department meetings and PD's on Friday – Dr. Barnett, Mr. Aguilar, Ms. McCulloch, Mr. Talarico, Ms. Chatalian, Ms. Perez, Ms. Abbondanza, Ms. Bruggeman, Ms. Ferguson, Ms. Chiu, Mr. Magee, Mr. Connor, Ms. Athmer, Ms. Vialpando, and Ms. Troy!!

Shout out to Ms. Henry, Ms. Spinks and Ms. Thweatt for organizing a Virtual Senior Town Hall!

Kudos to Pankaj, Ms. Nimer, Ms. Crivelli, and Ms. Carino for continuing to find a way to get the funds to our neediest families!

SHOUT OUT TO ALL OF THE CHEC TEAM FOR CONTINUING TO BE AMAZING!
---
CHEC RANKS #6 IN DC IN US NEWS AND WORLD REPORT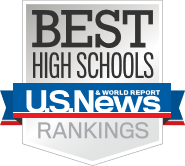 We have fabulous news to share for the week – In the latest US News and World Report on top US high schools, CHEC ranks #6 in DC, #298 among magnet schools and 2,651 in the entire nation!
The 2020 U.S. News Best High Schools rankings include data on more than 23,000 public high schools in 50 states and the District of Columbia. More than 17,700 schools were ranked on six factors based on their performance on state assessments and how well they serve all of their students, regardless of economic or ethnic background, to prepare them for college
Here is a link with more information:
The six factors that make up the rankings are:
College Readiness|30% - The proportions of 12th graders who took and passed at least one AP or IB exam. Passing is worth three times more than just taking.



Math and Reading Proficiency|20% - Aggregated scores on state assessments that students may be required to pass for graduation.



Math and Reading Performance|20% - How aggregated scores on state assessments compare to U.S. News's expectations given the proportions of students who are black, Hispanic and from low-income households.



Underserved Student Performance|10% - Scores on state assessments aggregated just among students who are black, Hispanic and from low-income households. These scores are compared to what is typical in the state for non-undeserved students, with parity or higher being the goal.



College Curriculum Breadth|10% - The proportions of 12th graders who took and passed AP and IB exams in multiple areas. More exams are valued more than fewer exams up to a maximum of four. Passing an exam is worth three times more than taking.



Graduation Rate|10% - The proportion of entering 9th graders who graduated four academic years later.



CHEC WINS FIRST PLACE FOR KIWANIS STUDENT LEADER AWARDS
Sharing some great news! CHEC won first place in the Kiwanis student leader awards for the 3rd year in a row! Cindy Guevara was named the top scholar and will receive a $20,000 scholarship. Marilyn Chica came in 2nd place and will get a $15,000 scholarship. In addition, Tania Mendez received the Presidential Award. The following students were semi-finalists and will receive laptops: Walter Mundo and Jeffrey Williams. More information can be found at this link: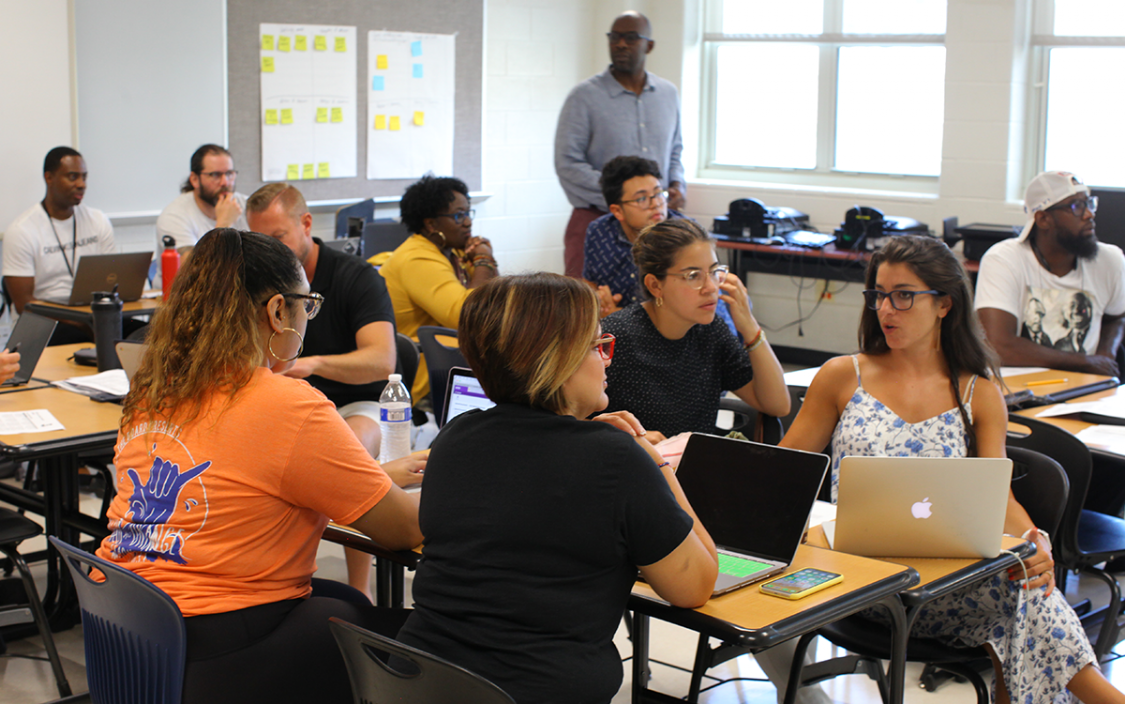 PRECIOUS MOMENTS - CHEC SUMMER PD
We are beginning Advisory 4 on Monday, the advisory will run for five weeks, and will end on May 29, which will also be the last day of school for students. All departments are planning backwards from the end of the year, with one GRASPS, and portfolio presentations as a reflection on learning. The first GRASPS should be launched this week. Please refer to the 4th Advisory grading guidance as you design the assignments for this advisory.
The Instructional Calendar is a living document that houses all the major curricular requirements, assessments, and schoolwide events. The Instructional Calendar has now been updated to reflect the most recent information.
Please view the Instructional Calendar here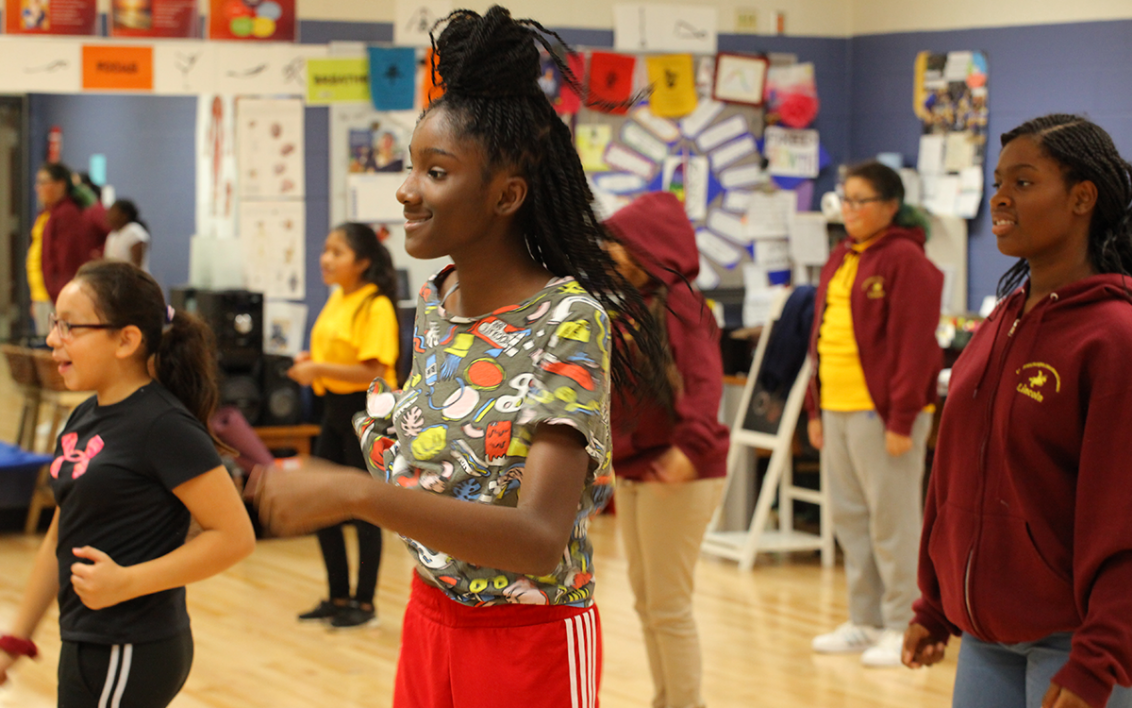 PRECIOUS MOMENTS - STUDENTS ENGAGED
UPDATES FROM:
I
FACULTY MEETING
I
ACADEMIC LEADERSHIP TEAM
I
OFFICE DEPOT GIFT CARDS
I
GrantED FUNDING NEWS
I
DC ARTS AND HUMANITIES EDUCATION COLLABORATIVE
I
T
YLER MANNING - FINANCIAL CONSULTANT
I
DONORS CHOOSE
I
PROFESSIONAL DEVELOPMENT LINK
I
LIBRARY UPDATE
I
OFFICE DEPOT GIVE BACK
I
NEWSELSA
We will have our Bi-weekly Faculty Meeting on Tuesday, April 28 at 3:00 pm on TEAMS. If you are unable to attend, please advise your SLC Administrator. The meeting will be recorded and available afterwards.
The Agenda will include Celebrations, FAQ's on Fourth Advisory Grading, the Comprehensive School Plan, and Planning Backwards from the End of the Year.
A detailed Agenda is forthcoming.
---
The Academic Leadership Team (ALT) consists of all administrators, LEAP leads, Department Chairs, and any interested faculty or staff. Meetings are held twice a month. The ALT team designs and monitors the Comprehensive School Plan. All are welcome to attend, either for one meeting or for all.
The last ALT meeting was Wednesday, April 22 at 8:00 am. The team continued the process of completing the Needs Assessment for our Comprehensive School Plan, by moving into Breakout Groups on TEAMS. The agenda and minutes are posted on TEAMS. The next ALT team meeting will be Wednesday, May 6 at 8:00 am. Our agenda will include continuing work on the Needs Assessment for the Comprehensive School Plan.
I hope everyone is well and safe! Please see the attached flyer regarding $50 gift cards from Office Depot for distance learning supplies. Please note that it must be used by May 29, 2020. The e-gift card will come from officedepotgiftcardsupport@cashstar.com. Only WTU and select CSO members will receive this (same people that received the $200 gift card at the start of the school year). If you do not receive your electronic gift card by May 1 to your DCPS e-mail, please contact the e-mail addresses contained within the flyer.
---
KATHLEEN RYAN RECEIVES GrantED FUNDING
We are happy to share that Kathleen Ryan has been awarded a grant of $80.51 for a Wacom Intuos Wireless Graphics Drawing Tablet $80.51.
GrantEd Foundation, Co-Founder
www.grantedfoundation.org
---
DC ARTS AND HUMANITIES EDUCATION COLLABORATIVE
We hope that you're doing well. In order to best support our school partners in these uncertain times, the DC Collaborative is excited to announce the launch of our online Distance Learning Resource Database. These resources encompass curricular guides, virtual field trips, and other educational activities to enhance students' at-home learning experiences. We hope that you're able to use the resources in your distance learning efforts.
Please feel free to share this resource with other educators and parents in your community. We know this is a challenging time on many fronts and we will support you and your students in any way that we can. Do let us know if you have any questions, feedback, or additional resources to share.
Manager of School Partnerships
DC Arts and Humanities Education Collaborative
Office Hours: Monday - Friday: 8AM - 4PM
#CollectiveImpact #CollaborativeEffect #ArtsAndHumanitiesForEveryStudent
Starting Monday, March 16th
DC Collaborative Daily ZoomChats
will take place daily at 11:00am
to provide arts and humanities education community updates and opportunity to chat with DC Collaborative staff in response to COVID-19:
https://zoom.us/j/8531648236
---
MESSAGE FROM TYLER MANNING - FINANCIAL CONSULTANT
Donors Choose is a great resource for all teachers. You can receive a mini grant to support a special project or initiative. Please see some of our recent Donors Choose grantees! You can reach out to them for support in obtaining your own grant!
I hope you are staying safe! I am sure you have a lot on your mind right now as a result of this COVID-19 chaos. I wanted to inform you that as a financial consultant with AXA Equitable, one of the approved providers of the supplemental retirement plans for DC, I am doing brief phone appointments with faculty and staff to help them get a better handle on how this market volatility affects their:
1. DC Pension
2. 403b supplemental retirement plan
3. 457b supplemental retirement plan
If you think you may benefit from this information, I have attached a PDF that provides insightful and contextual perspective to all this craziness. If there's another way I may be of assistance, please let me know!
Financial Consultant
3141 Fairview Park Drive, Suite #250
---
Donors Choose is a great resource for all teachers. You can receive a mini grant to support a special project or initiative. Please see some of our recent Donors Choose grantees! You can reach out to them for support in obtaining your own grant!
MS. EASON HAS A PROJECT FUNDED BY DONORSCHOOSE.ORG
Ms. Eason had her classroom
project
"Designing SEL Classroom Reflection Space Tool Kits - "7th" Grade"
recently funded. The resources for this project include:
More Good Vibes Coloring Book (Coloring is Fun) (Design Originals) 32 Beginner-Friendly Uplifting & Creative Art Activities on High-Quality Extra-Thick Perforated Paper that Resists Bleed Through x 5




Harmony Mandala Coloring Book: 100 unique mandalas and inspirational quotes x 4




Creative Coloring Inspirations: Art Activity Pages to Relax and Enjoy! (Design Originals) 30 Motivating & Creative Art Activities on High-Quality, Extra-Thick Perforated Pages that Won't Bleed Through x 4




Inspirational Quotes: Motivational Sayings and Positive Affirmations for Confidence and Relaxation Adult Coloring Book x 5




An Inspirational Coloring Book For Everyone: Be Fearless In The Pursuit Of What Sets Your Soul On Fire x 5




Inspirational Quotes: An Adult Coloring Book with Motivational Sayings and Positive Affirmations for Confidence and Relaxation x 5




Take It Easy Sudoku: 100 Large Print Puzzles x 7




Play-Doh Modeling Compound 36-Pack Case of Colors, Non-Toxic, Assorted Colors, 3-Ounce Cans (Amazon Exclusive) x 2




Sudoku Puzzle - Easy - Vol 1 - My Favorite Puzzle Book (My Favorite Puzzle Book - Sudoku) (Volume 10) x 13




Kiddokids 24 PCs Sensory Fidget Stress Relief Calming Toys Liquid Motion Timer; Grape Ball; Infinity Cube; Mesh Marble; Mochi Squishy for Kids and Adults for ADHD Autism Anxiety Therapy Toys x 5




Crayola Classic Colors Fine Line 10 Markers Per Pack (Pack of 6) 60 Markers In Total x 5




Mazes For Teens - Super Fun Activity Book x 13




Mindfulness for Teens in 10 Minutes a Day: Exercises to Feel Calm, Stay Focused & Be Your Best Self x 13




Large Print Spanish Word Search Puzzles (Sopas de Letras en Español) (Volume 1) (Spanish Edition) x 26




Be Mindful Card Deck for Teens x 13




IRIS USA, Inc. TB-28 Stack & Pull Box, 31.75 Quart, Clear, 6 Pack x 5



MY PROJECT
CHEC is making a strategic shift with our classroom discipline procedure called the 5-Step Discipline Process. To strengthen Social Emotional Learning (SEL), teachers are being asked to create a space in their classrooms for students to go and self-reflect prior to being given a consequence, referral, or call home.
The Reflection Space Toolkit would include all materials needed for each teacher at CHEC and includes mindfulness based activity books, Sudoku books, Crossword puzzle books, figit toys, manipulatives, signage, storage box.
---
GREAT PROFESSIONAL DEVELOPMENT NEWSLETTER LINK
Here is a link for a monthly newsletter from OSSE about PD opportunities for a bunch of subjects/areas.
It has ELL, SpEd, SEL, H & PE, RTI, literacy, math and more.
---
Celebrate School Library Month & Win Prizes!

Each April we celebrate School Library Month - a time to recognize the impact and roles strong school libraries have in their school communities. The week of April 19th is also National Library Week to celebrate all libraries across the US. WTU and Every Library are partnering for the DCPS Librarians' "I Love My Library Media Specialist" essay contest. Prior to school closing, DCPS school librarians started a movement to encourage the district to rethink the position as optional (25 schools have petitioned away their LMS with a few successfully eliminating the positions for next school year). This contest encourages creative, intentional writing to share the influence school libraries have in students' lives and academics. Reach out to Ms. Falkenberg for questions or support. Share the contest info photos on your social media to spread awareness and use the following hashtags: #DCPSSchoolLibraries #librariestransform #SchoolLibraryMonth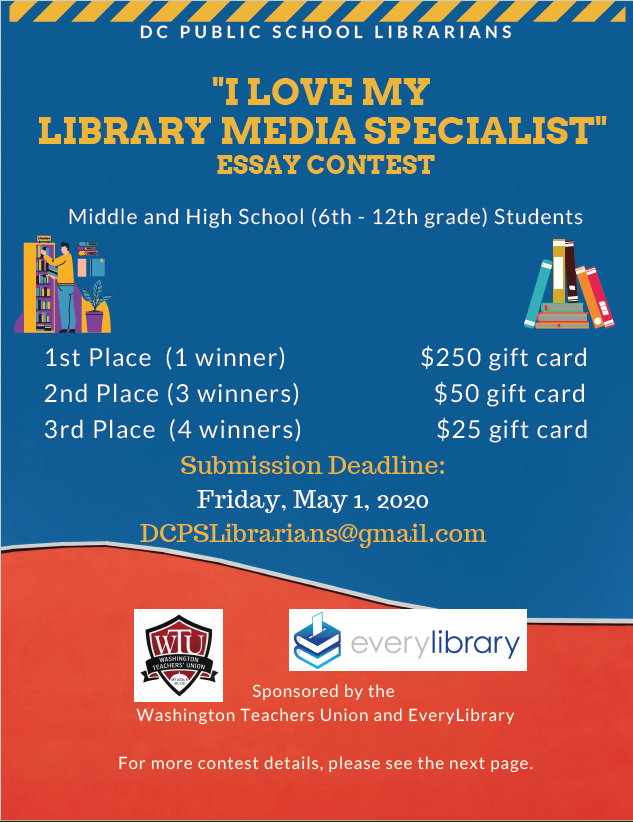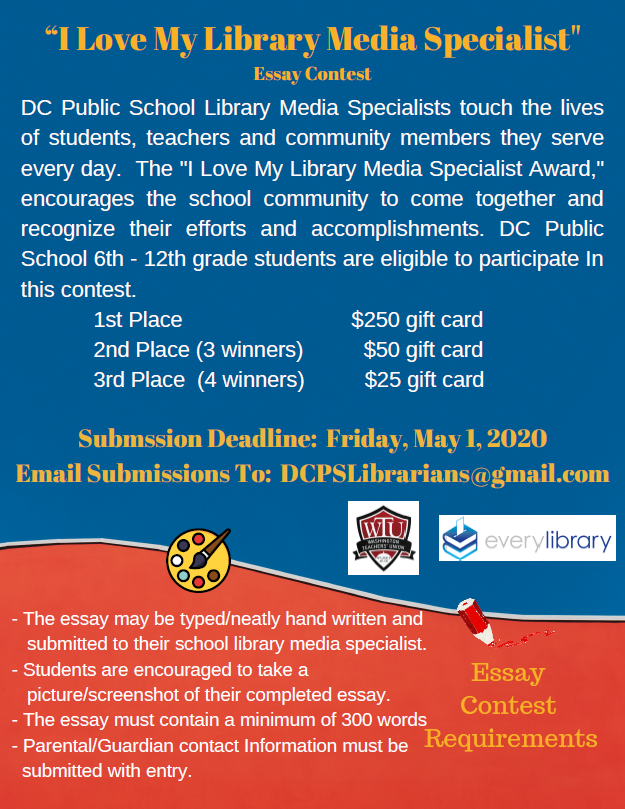 25 Books Campaign
The physical library is closed but the digital collection remains available for you and students to access. As we continue with distance learning, students (and you!) can continue to log what they're reading through Beanstack on Clever or through the app. ELA teachers have received video tutorials and book recommendations to share to encourage the use of DC Public Library and Lincoln digital resources. If you would like these videos or information, send Ms. Falkenberg an email.
Please send any photos of you reading to Ms. Falkenberg to be promoted on social media - encourage students to read by modeling your reading (teachers and admin!). Your CHEC Librarians will share out more reading events and promotions such as read alouds, PBIS incentives, bilingual read alouds, and more. Graphics will be designed and shared for promotion on your social media. If you want to design your own, fantastic! You're encouraged to use the hashtags or tags #DCPSReads #CHECReads #DCPSSchoolLibraries #DCPSatHome @dcpublicschools
---
Sending peace and love your way as we navigate unfamiliar personal and educational territory. This is an unprecedented time. Taking this time to practice constant self-love and care is essential. Washingtonian Taraji P. Henson's, Boris Lawrence Henson Foundation, named after her father, is offering (5) COVID-19 Free Virtual Therapy sessions (please review eligibility).
I had the great pleasure of distributing sanitized text books to Ms. Lainez' amazing students...please see the attached Show and Tell video. Bell High School Library picture album coming soon!
As we get ready to re-introduce the 25 Books Campaign, just in time for the summer, be on the lookout for author talks and additional programming that will be located on the Bell Library website. Also, check out the website for updated resources and tabs!
Come ALL! The Bell Library Virtual Book Club kicks off Thursday, April 30th at 2 PM. Bring your favorite book and food...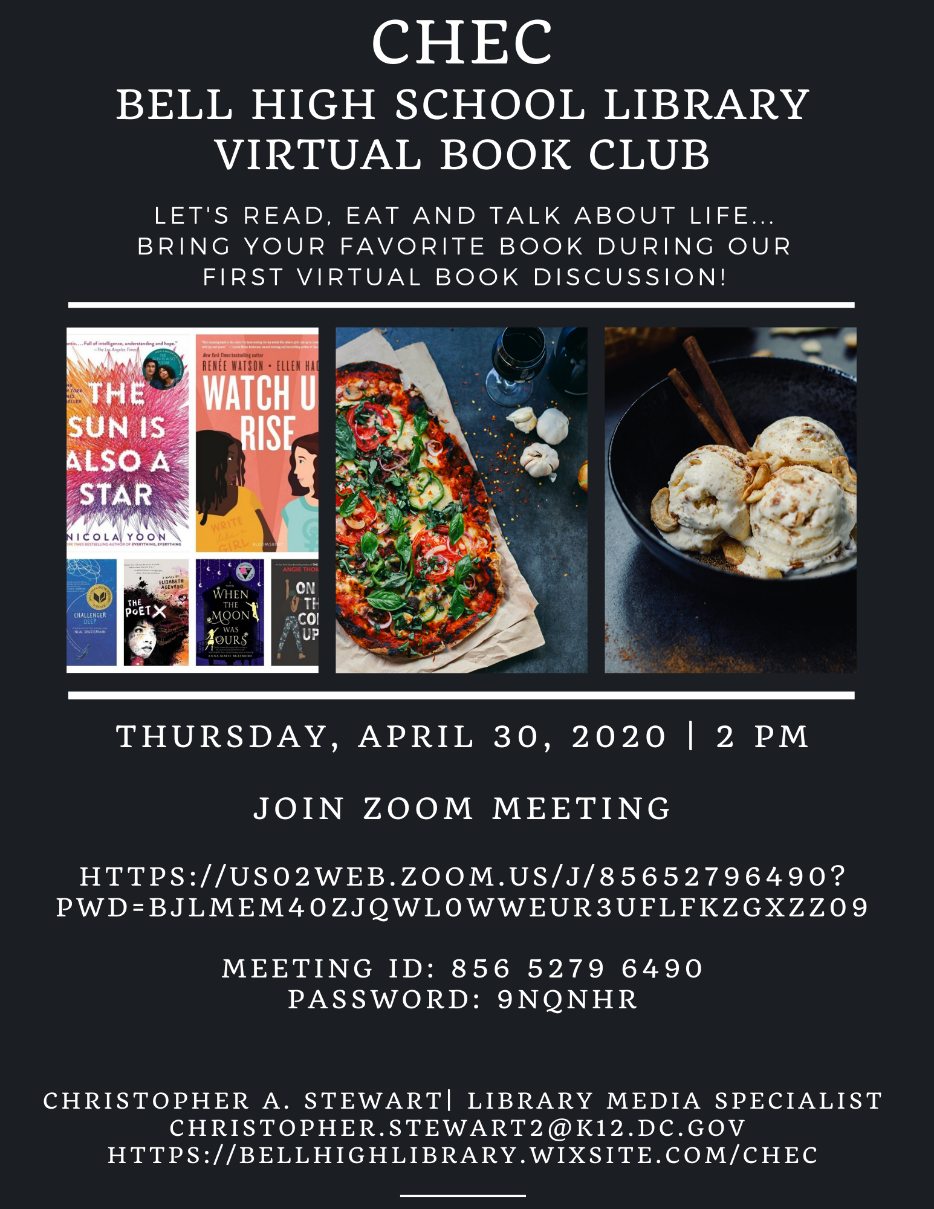 Office Depot has a Give Back to Schools program that provides 5% credit from people's purchases to help schools buy supplies throughout the year. Below is more info and our school ID numbers that people can share at in-store or online check out. The site provides graphics to share online as well.
'Simply make a purchase of qualifying school supplies, provide your school ID at checkout and your school will receive 5% back in credits for FREE supplies!'
---
FREE ON LINE RESOURCES AND PD OPPORTUNITIES
Your teachers now have free access to our entire new product suite through the end of the 2019-2020 school year. That includes Newsela ELA, Newsela Social Studies, Newsela Science, and The Newsela Social-Emotional Learning Collection.
All teachers at your district will begin receiving getting started emails from Newsela within 7 days. Please get in touch with your Newsela representative or reply back to this email if you would like to pause emails from Newsela at this time.
High school students, like everyone else, are cooped up at home. So The New York Times came up with a smart plan to help those students kill time, stay informed and maybe drum up some more readers. Through a deal with Verizon, the Times will offer students and teachers in U.S. high schools free digital access to NYTimes.com. The deal is from now through July 6. (Here are the details to sign up.)
It's from the Poynter news media daily update.
As distance learning becomes the new norm for students across the country, a lot of families are playing an increased role in the day-to-day education of their child(ren).
The home-school connections added to the Ellevation Distance Learning activities allow educators to engage family members to share in the learning process.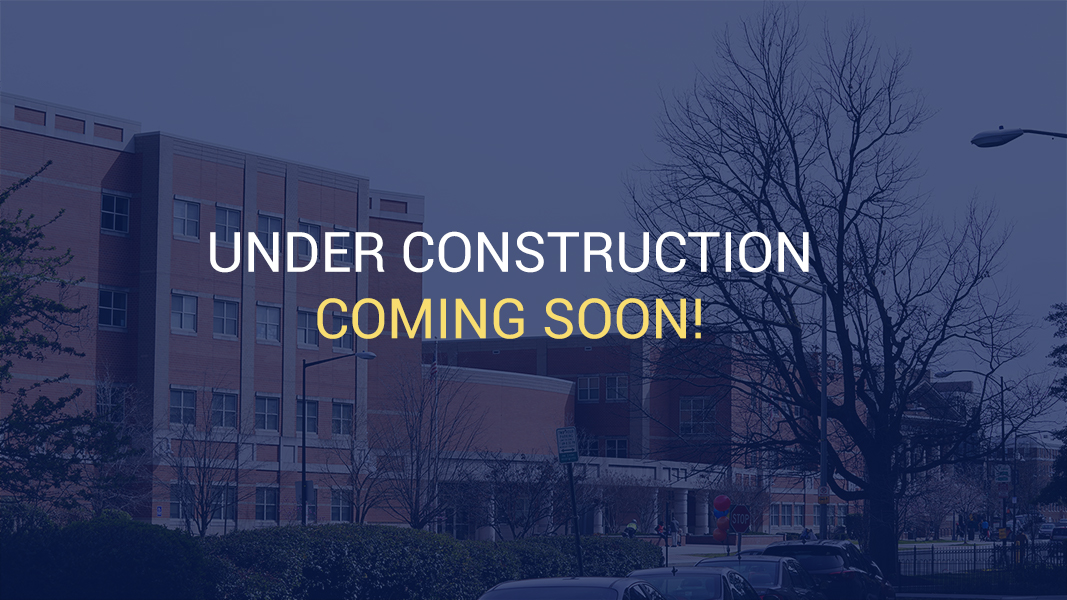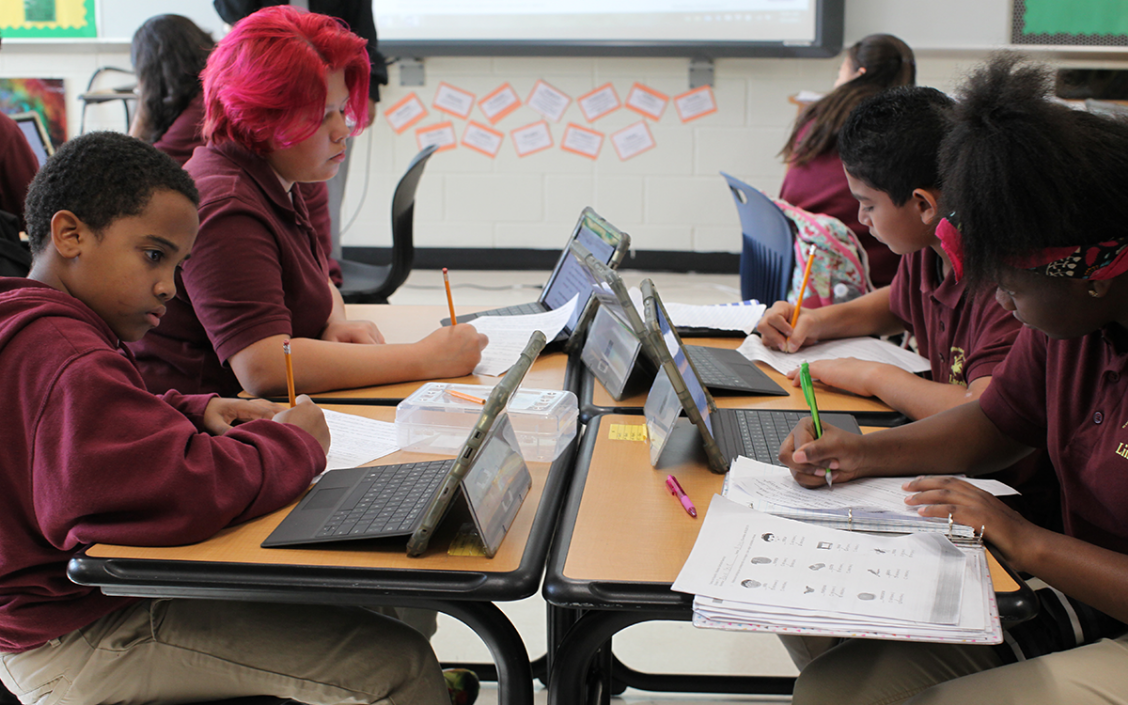 RESOURCE CORNER FOR EDUCATORS
VIRTUAL EDUCATION RESOURCES FROM FORMATIVE
I hope you and the educators at Columbia Heights EC are safe and well at this time! We know that your virtual classroom environments are essential to the future success of your students, so we have some new resources to share with you. Please pass these along to your team:
---
Happy Sunday! I hope all is well with you and your family. Below are the infographics for this coming week's extracurricular activities.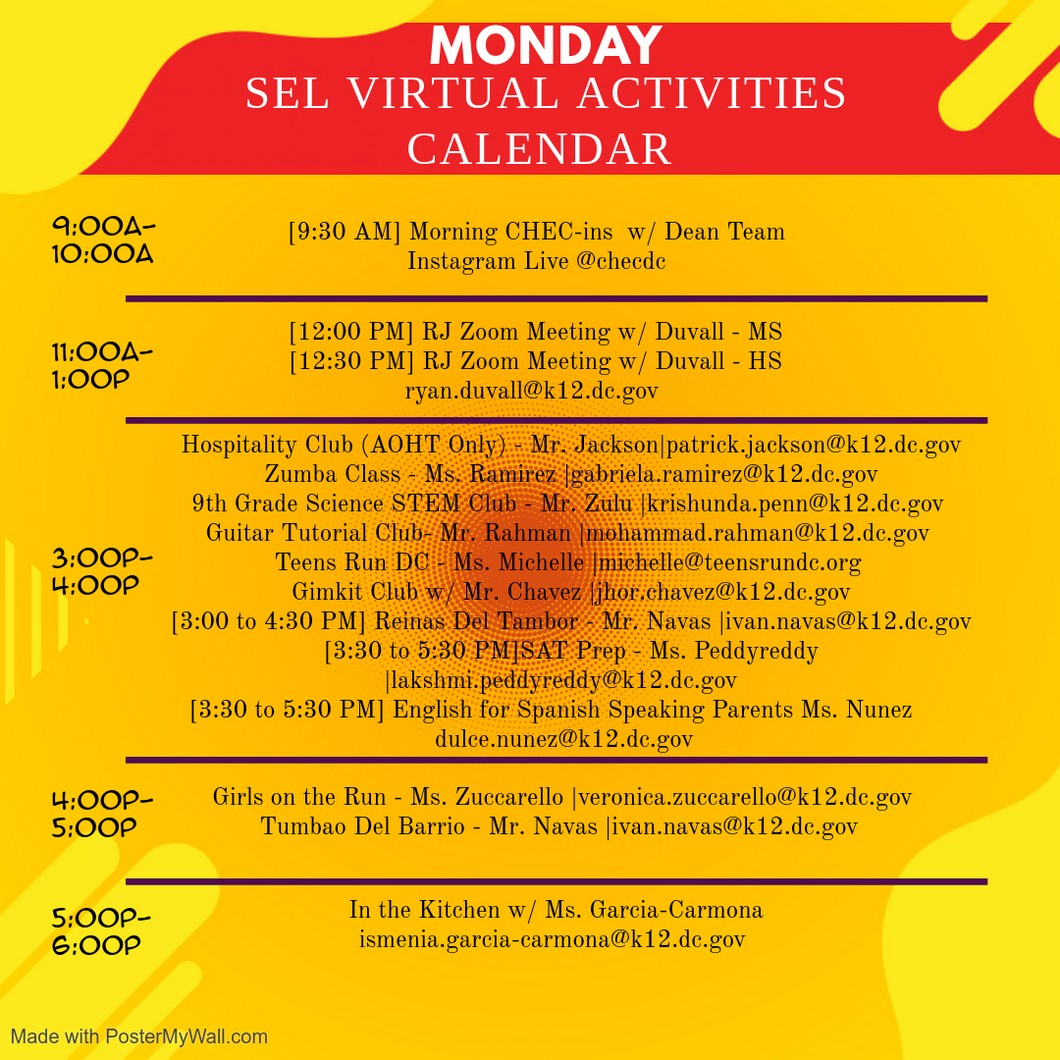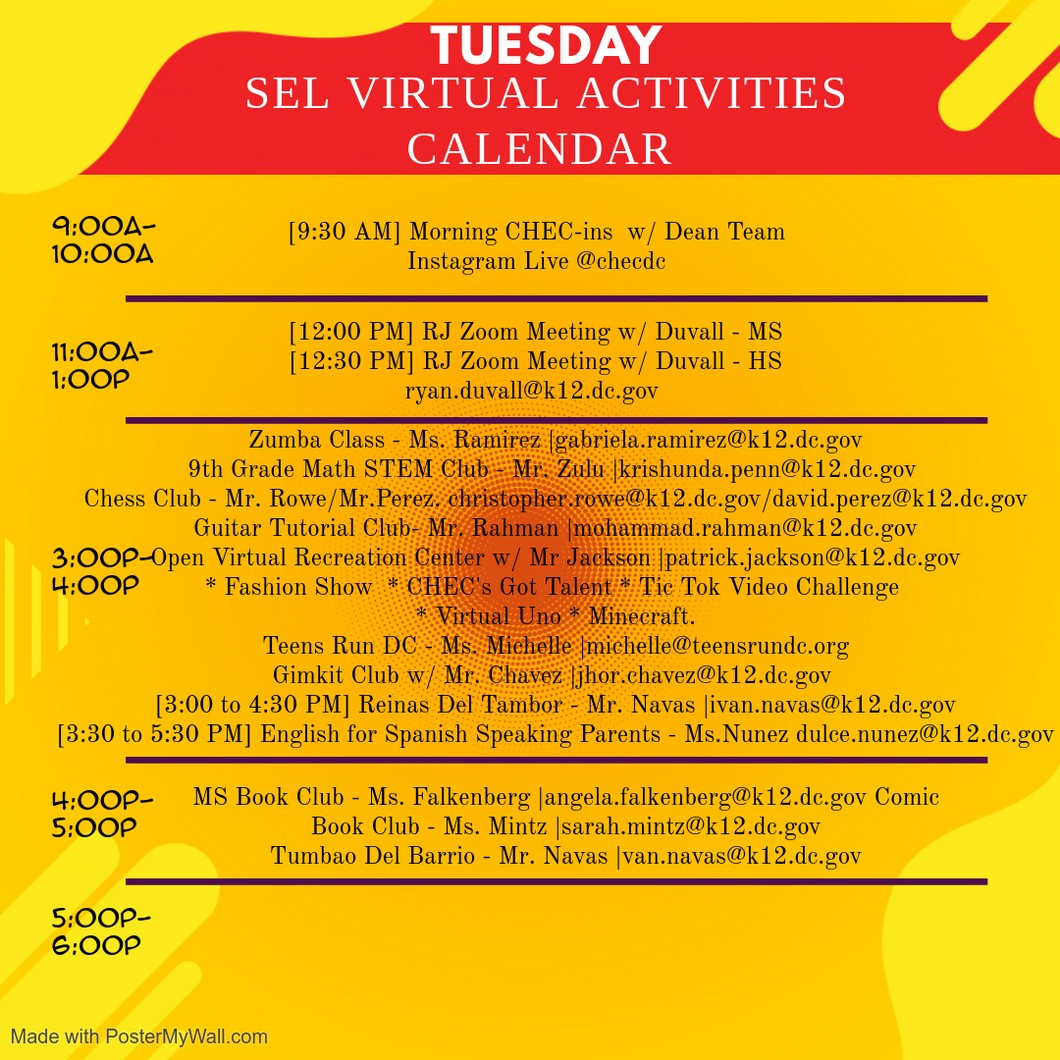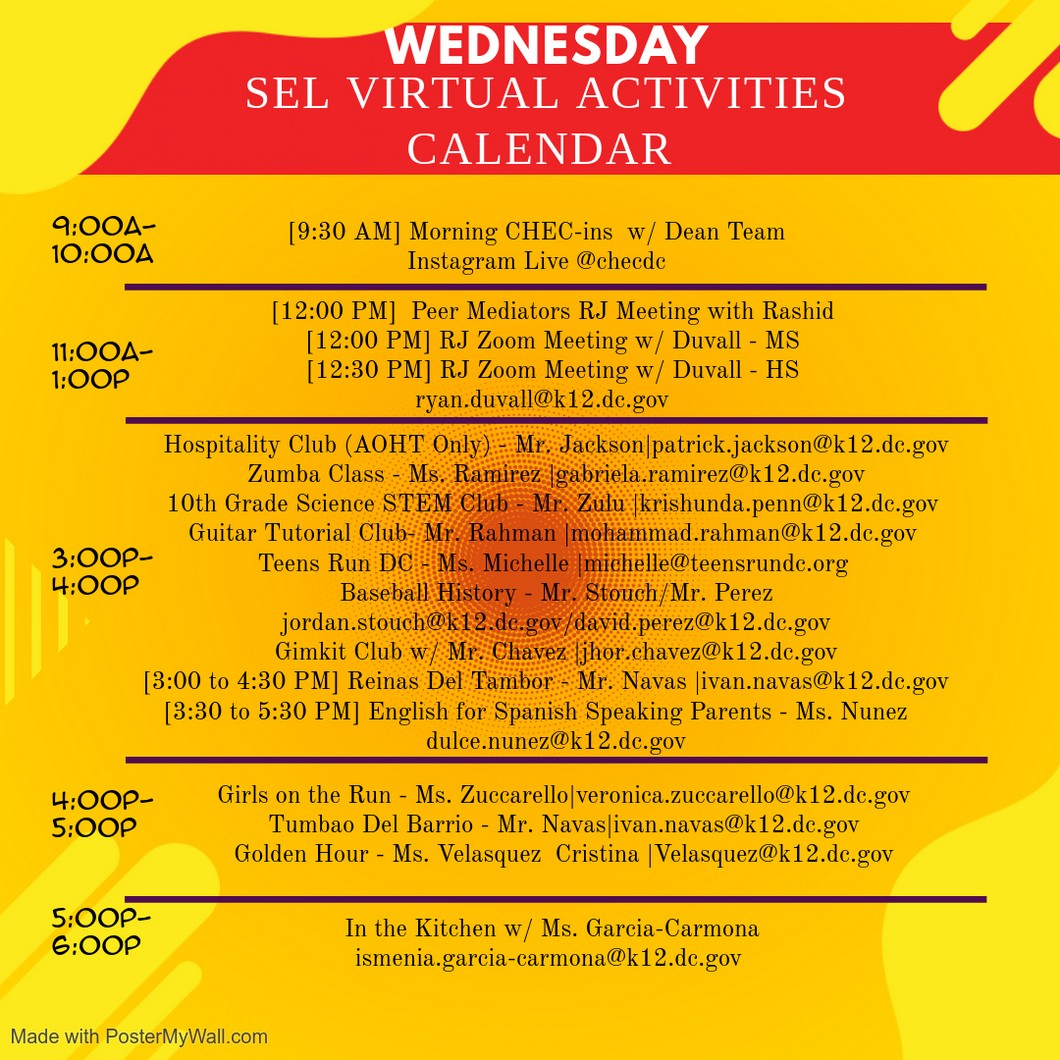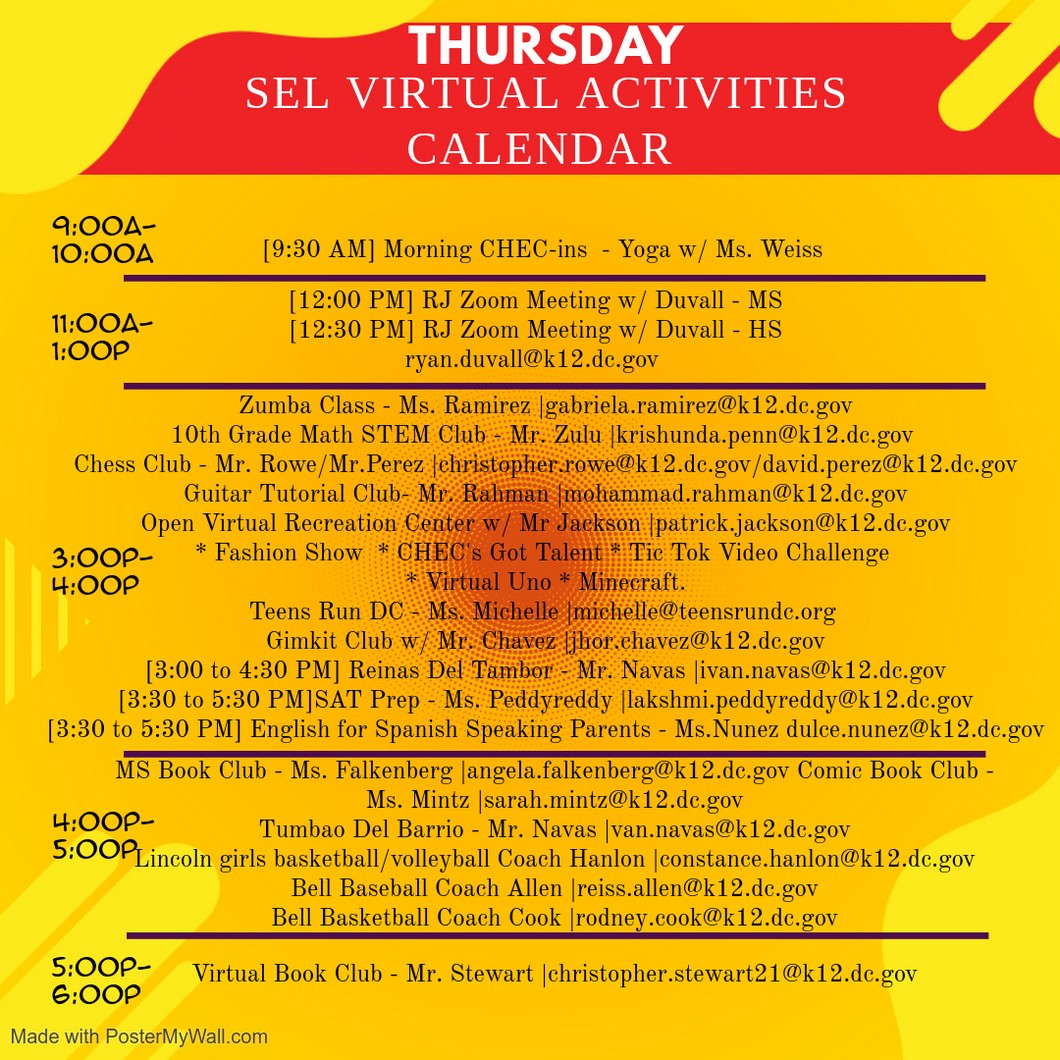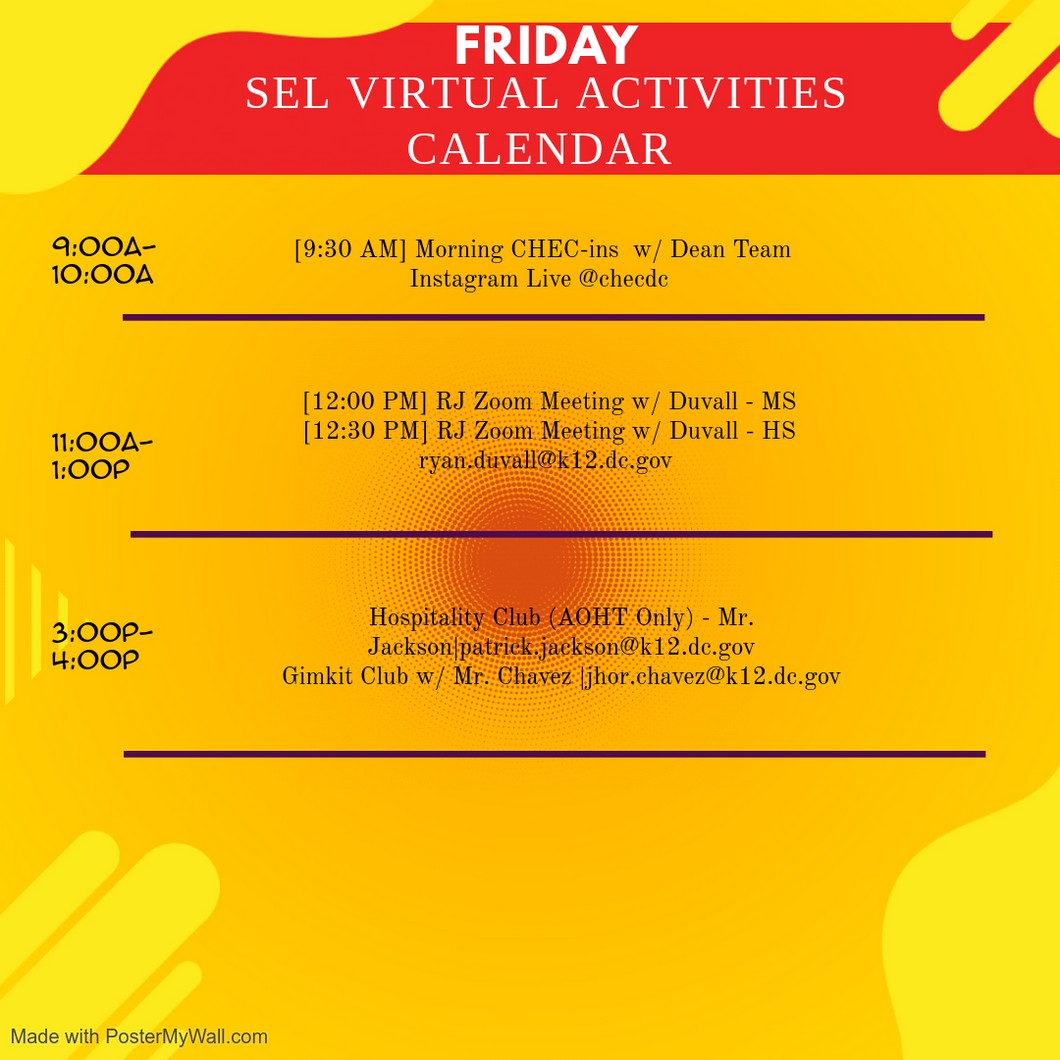 ---
Please find the CHEC Counselor's Weekly news at this link (English), and this link Spanish.
This week the culture team is excited to announce we will have RJ circles w/ Mali to support self- care amongst staff. On Friday, April, Mali and the dean team will host a Wellness circle for 3p –4p. We invite all staff interested in participating to register. We only have 30 virtual seats available, so be sure to sign-up and reserve your seat! Registration Link is coming soon!
Our student's RJ theme this week is on self- confidence. Last week we talked about empathy and understanding other's perspective and feelings. As we move forward, we want to remind students to be confident in themselves and how they are engaging in direct instruction. We are still actively hosting RJ circles each day between 12p and 1p w/ Mr. Duvall for our MS and HS students. Also, we will be reaching out to teachers individually to host an RJ check-in before or after direct instruction. We are pushing to have 100% of students, and staff members receive SEL resources to enhance relationships, build community as well as support their emotional health. Please continue to encourage our students to participate in our RJ check-ins. We want to hear from more students and fill the need.
Click this link to check out the article:
Restorative Responses to COVID-19: A Call for Dialogue and Action for Restorative Practitioners.
Last but not least, follow us on IG @checdc