CHEC bulletin for
Week of March 2
, 2020
CHEC BLACK HISTORY MONTH PERFORMANCE
MARIA TUKEVA'S (MT) MESSAGE:
SLC Morning Meeting
12th Grade ACCESS - Writing
SLC Morning Meeting
In-School SAT Day for Juniors
Department Planning Period Meetings
(except for SAT proctors)
Term 3 Progress Reports Due in Aspen
Department Planning Period Meetings
12th Grade ACCESS Speaking
DCPS Goes to College Tour
Marymount University 9:00 a.m. – 1:00 p.m.
9:00 a.m. – 1:00 p.m. – Gymnasium
DCPS Honor Ensemble Festival
DCPS Honor Ensemble Festival
UPDATE ON DCPS PROTOCOLS FOR CORONAVIRUS
The following is a letter being sent to all students and families from Chancellor Ferebee. We will be sending this letter home on paper, and through the mail. Please take some time to go over the key points with students, so they are clear on what is known so far, and what is recommended. If you see or hear anything of concern, please report it to your SLC Administrator, or to me.
To Students and Families: At DC Public Schools (DCPS), we are committed to ensuring the well-being of our students. Communicating home about issues that impact school communities is important to fostering strong partnerships with families, and I would like to provide an important update around coronavirus (also known as COVID-19). On Friday, Mayor Bowser signed a Mayor's Order to establish DC Health and the DC Homeland Security and Emergency Management Agency as the lead agencies directing the District's preparation, monitoring, and response. As of Sunday, March 1, DC Health reports there are no confirmed cases of coronavirus in Washington, DC. But as with any public health concern, we need to be prepared and informed. Prevention is our priority at this time, especially during cold and flu season. Common coronaviruses can cause symptoms similar to a common cold, such as fever, cough, sore throat, and feeling unwell. The symptoms that are currently being seen with the current coronavirus infection are fever and respiratory symptoms such as cough and shortness of breath. DC Health continues to recommend the same precautions that help to prevent the spread of those common illnesses:
• Wash hands with soap and water for at least 20 seconds. An alcohol-based hand sanitizer can be used if soap and water are not available. • Avoid touching eyes, nose and mouth with unwashed hands. • Avoid close contact with people who are sick. • Stay home when feeling sick. • Cover your cough or sneeze with a tissue, then throw the tissue in a trash. • Clean and disinfect frequently touched objects and surfaces.
We are ensuring that all school bathrooms are stocked with soap and schools have hand sanitizer, as well as maintaining custodial protocols for cleaning and disinfecting. The Centers for Disease Control and Prevention (CDC) has a helpful handwashing resource page with activities for families and videos in English and Spanish. We are monitoring the situation and working closely with DC Health and other District agencies on emergency preparedness procedures, as well as following guidance from the CDC regarding planning for a coronavirus outbreak. As the situation evolves, we will consider alternative learning environments to ensure the safety of our students, staff, and families, while minimizing disruption to the school year. We are also considering alternative plans for students scheduled to take international trips this spring and summer. The District Government will continue to share critical updates around coronavirus on the DC Health website, dchealth.dc.gov/coronavirus. Please be assured that the health and safety of our students and staff is always paramount. If you have any further questions, please email chancellor@k12.dc.gov.
Lewis D. Ferebee, Ed.D. Chancellor
---
COUNTDOWN TO PARCC AND AP TESTING
It is now six weeks until PARCC, and 8 weeks until the AP exams. We have been working hard all year to prepare students, and now in the time leading up to the test, we need to consolidate and concentrate our efforts, to create the best possible testing conditions and process. Each SLC will be creating an overall plan with the following components:
Part 1- Close Analysis of Short Cycles and Interims and current Action Plan:

Strategic Standards – What are they and are they represented in your Objective Calendars?




Stations and Differentiation – Is it apparent in the objective calendar? Are the right students being differentiated for?




Are ELL and SPED strategies clear and apparent?




Are accommodations being utilized in classes for them?




Finalize Dates and Formats for ANET 3 and AP Interims (Full Length tests)




Your prediction by name of who will be proficient and advanced (or 3 and above on AP) who will move from level 1 to level 2



Part 2 Engagement, understanding and commitment of Students, Parents and Staff
Incentives




Motivational activities




Feedback on progress




Communication and Signage




Getting Buy In and support of all SLC members



Part 3 Saturday Academy and After School
Recruitment, follow up, and targeting of instruction




March Madness competition



Part 4 Monitoring and Logistics
How and when will you monitor progress on a weekly basis?




Timelines for all logistics pieces




Training of proctors




Preparation of technology




Make Up Plan



---
Kudos to Ms. Spinks, Dr. Barnett and Mr. Jackson for coordinating the Black History Month Assembly! Shout out to all teachers and staff who supported – Mr. Onley, Mr. Navas, Mr. Jacobs, Ms. Menendez, Ms. Joseph, Mr. Hunter, and all others who participated!

Shout out to Ms. Warren and the Equity Team for coordinating our Early Release Professional Development, and facilitating a powerful conversation with over 75 parents with the faculty and staff!

Shout out to High School Math Teachers Mr. Cook, Mr. Perry, Mr. Olson, Ms. Alao, and Ms. Alvarado, for meeting with students after school to prepare them for PARCC!!

Shout out to Pankaj, Mr. Gallion and Mr. Best for coordinating Kojo in the Community last week at CHEC!

Kudos to Ms. Alvarado and Mr. H. Diaz for participating in the discussion during Kojo in the Community!

Shout out to Mr. Stewart for coordinating a library visit of authors Jason Reynolds and Ibram Kendi, who spoke to students about their newest book, Stamped . It will air on NPR on March 3rd!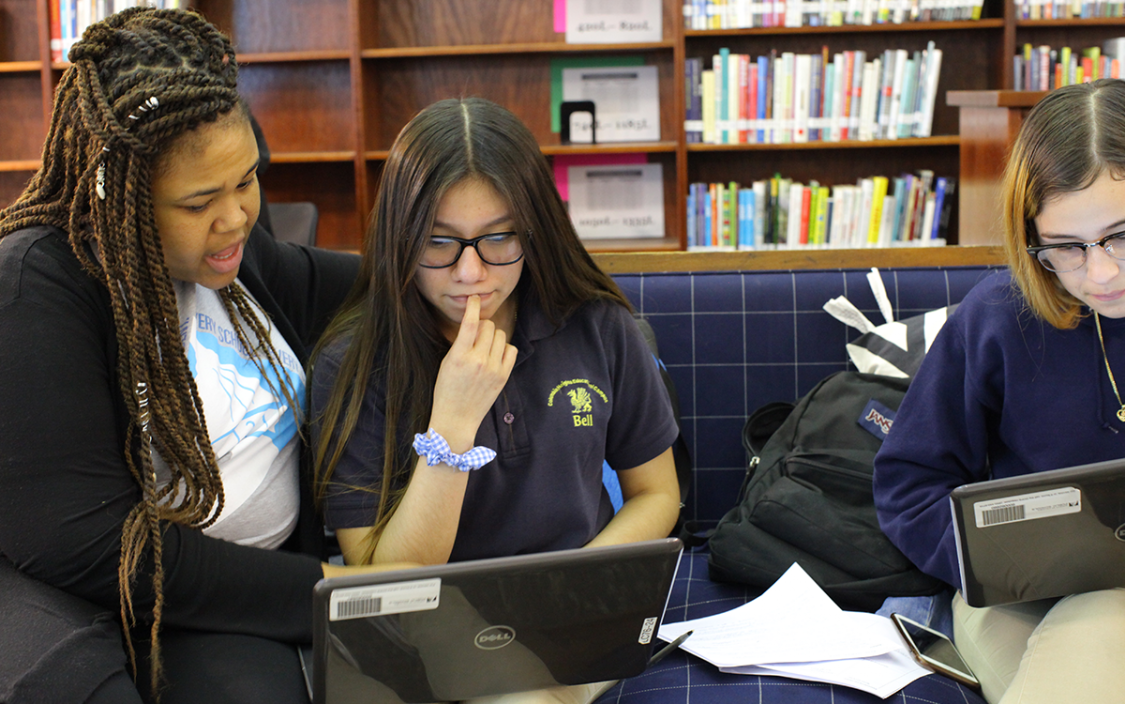 BELL COLLEGE APPLICATION WORKSHOP
This is the fifth week of the Third Advisory! Progress Reports for the third advisory are due by close of business on Wednesday, March 4 in ASPEN. It is extremely important to provide students and parents with this feedback in a timely fashion. Please be sure to not only enter the progress reports, but have discussions with students about their progress, and engage them in reflecting on their progress.
The first GRASPS should be complete by now. Students should be engaged in self and peer revisions, and using the rubric to improve their work and bring it to standards.
As we draw closer to PARCC and AP testing, please be sure to follow the action plan developed after the last interim, in order to differentiate and help students to improve in the standards where they are the weakest.
Please support our Juniors in doing their best on the SAT this Wednesday. All teachers who are involved have received specific information on proctors, testing sites, and procedures for that day.
MARCH FACULTY MEETING
On Thursday, March 5, our Faculty Meeting will be coordinated by the PGT, and will have an SEL focus.
PGT together with Insite Solutions will provde a training on
Brain-Based Skills for the Classroom
. The training will include SEL practices, focusing on being more trauma-informed in the classroom.
The Instructional Calendar is a living document that houses all of the major curricular requirements, assessments, and schoolwide events. Please check it weekly, as it changes as events are added or moved. Please note some additions - the specific dates for each interim have been added, so please check out the calendar! The calendar is curated by members of the Admin team, and Mr. Magee, Science LEAP lead, curates and adds events or items that are submitted by Department Chairs. If you have an event or item that you think should be added to the Instructional Calendar, please submit it to your Department Chairperson first, and then your Department Chair will submit for inclusion if appropriate.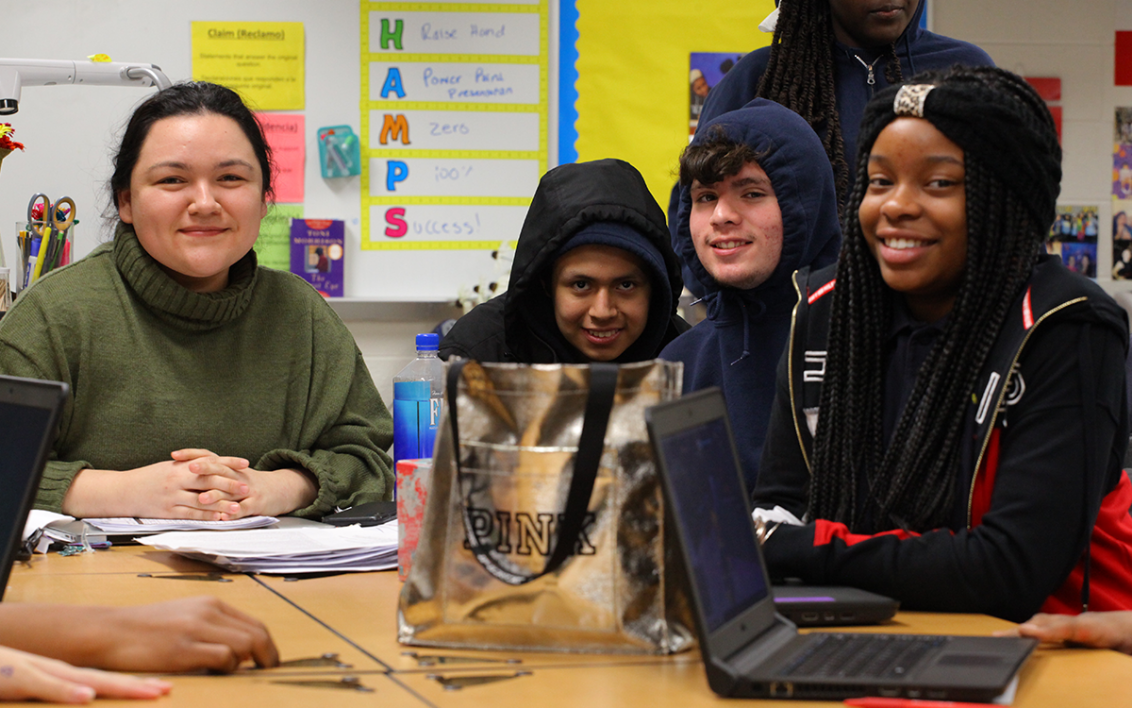 MS. ALVARADO'S MATH CLASS
UPDATES FROM:
I
ACADEMIC LEADERSHIP TEAM
I
MARCH 4TH NEXT GENERATION LEARNING CHALLENGES VISIT
I
DONORS CHOOSE
I
PROFESSIONAL DEVELOPMENT LINK
I
LIBRARY UPDATE
I
OFFICE DEPOT GIVE BACK
I
---
The Academic Leadership Team (ALT) consists of all administrators, LEAP leads, Department Chairs, and any interested faculty or staff. Meetings are held twice a month, alternating between Early Release Days and morning meetings. The ALT team designs and monitors the Comprehensive School Plan. All are welcome to attend, either for one meeting or for all. At the February 14 meeting, the ALT team reflected on worked on the data collected from our internal walk-throughs and discussed the budget for School Year 20-21.
The next ALT meeting will be Friday, March 13 at 7:30 am.
The notes from this week's ALT meeting can be found at this link.
In the attached link, you can find the entire year schedule of ALT team meetings and proposed meeting focus here.
---
NEXT GENERATION LEARNING CHALLENGES AND BOSTON PUBLIC SCHOOLS VISIT CHEC ON MARCH 4

On Wednesday, March 4, from 11:45 to 2:45 pm, the NGLC and 30 principals and administrators from the Boston Public Schools will visit CHEC to engage in a learning walk. They will be visiting classes, and will talk with a panel of teachers and students. If you are interested in having a visit to your class to get feedback on a specific practice, or in sitting on the panel, please let your SLC administrator know. Thank you in advance!
---
Donors Choose is a great resource for all teachers. You can receive a mini grant to support a special project or initiative. Please see some of our recent Donors Choose grantees! You can reach out to them for support in obtaining your own grant!
---
GREAT PROFESSIONAL DEVELOPMENT NEWSLETTER LINK
Here is a link for a monthly newsletter from OSSE about PD opportunities for a bunch of subjects/areas.
It has ELL, SpEd, SEL, H & PE, RTI, literacy, math and more.
---
Important Articles about School Libraries, Teacher-Librarian Collaborations, & Education
Is Your School a De Facto Book Desert?
Library of Congress Summer Teacher Institute
"The Library of Congress (LOC) is accepting applications for its week-long summer institutes workshop for K-12 educators. This professional development opportunity provides educators from all disciplines with resources and strategies to effectively integrate primary sources into K-12 classroom teaching."
June 15-19, 2020 - STI Session 1 (Open Session)




June 22-26, 2020 - STI Session 2 (Open Session)




July 6-10, 2020 - STI Session 3 (Science, Technology and Engineering Focus)




July 13-17, 2020 - STI Session 4 (Civics Focus)



Smithsonian American Art Museum: Teaching Humanities through Art
"Be inspired this summer! Attend one of the Smithsonian American Art Museum's week-long institutes in the nation's capital. Join a community of educators from across the country for an exciting exploration of the connections among American art, social studies, history, and English/language arts.
Through interactive sessions with museum professionals, you'll gain skills and comfort in using American art to make interdisciplinary connections, foster critical thinking skills, and develop visual literacy. You'll walk away with a tool kit of practical strategies for integrating art into your curriculum, as well as lesson ideas developed by your cohort that you can immediately put to use in your classroom."
Week 1: Monday, June 22–Friday, June 26, 2020 (Middle and High School Teachers)



Week 2: Monday, July 13–Friday, July 17, 2020 (Middle and High School Teachers)


Week 3: Monday, July 27–Friday, July 31, 2020 (New for Elementary Teachers)



Black History Month Resources

As you incorporate and celebrate Black History Month within your lessons, here are some resources that will generate discussions, inquiry, and empathy.
Biography reports about key figures (STEM, Sports, Literature, Arts, historical movements, and more)




Daily facts / Current events to start the period




Showcase recent, diverse YA titles in your classroom libraries




Play audiobooks or read aloud chapters




Include video clips, music, etc. from resources below






DC Public Library
DC Educators for Social Justice
Library of Congress
Visit
the Main Reading Room as they highlight Black History Month Resources: Feb. 17th @ 10:00 a.m. - 3:00 p.m.
Lincoln Library has 300+ print and digital materials that connect to Black History Month so contact
angela.falkenberg@k12.dc.gov
to borrow materials, plan lesson collaborations, and more.
Local Events

Jason Reynolds and Ibram X. Kendi, Stamped: Racism, Antiracism, and You Book Talk
Sunday, March 8th 7:00 PM
Capitol Hill United Methodist Church
421 Seward Square Southeast
East City Bookshop welcomes award-winning authors Jason Reynolds and Ibram X. Kendi with Stamped: Racism, Antiracism, and You, a remix of Kendi's National Book Award-winning Stamped from the Beginning for young readers. Reynolds and Kendi will be in conversation with The Washington Post's Everdeen Mason.
This event is open to the public, but tickets are required. One book is included with each ticket, and you can choose to purchase additional tickets here or at the event.
The conversation will begin at 7pm, and doors will open at 6:30pm. A book signing will follow the talk.
#WinterRead2020 Challenge

Welcome to the third annual Winter Reading Challenge! We join hundreds of other schools and libraries across the United States as participants in this exciting event. We challenge you to read at least 5 books during the month of January and track those books here in Beanstack. Share your progress on social media using #WinterRead2020!
Iconic publishing imprint Penguin Random House (PRH) is sponsoring this third annual Beanstack Winter Reading Challenge in support of public libraries, school systems, and YOU achieving your reading goals! Last year's Winter Reading Challenge enrolled 65,323 readers nationwide, who logged over 150,000 books and 13.5M minutes of reading.
Top-performing libraries and schools will earn the Golden Penguin and Random House awards. PRH pledges to donate $50,000 in prizes, including author visits and new books, to be shared among the winners.
Let's light up the mind this winter! Happy reading, LINCOLN KNIGHTS!
Staff Technology Lessons
Do you want to implement more technology in your projects or with your departments but are unsure what to use? Are you wondering how to create or navigate using the tools shared by your school librarians? Contact Ms. Falkenberg (
angela.falkenberg@k12.dc.gov
) or pop by the library to schedule technology lessons. Lesson ideas include Office 365 apps, PPT alternative tools, book talks, video creations, podcasts, DC Library databases, and more. Library media specialists are both your instructional partners and technology navigators, engineers, and cheerleaders. When you are more confident using tech, students will be as well.
---
Please visit the Creative Teaching tab of the library website to explore 2020 (winter, fall and summer) funding opportunities before the deadline.
Third quarter is fast approaching, I am excited to be teaching A Conversation: Critical Approaches to Race, Ethnicity and Representation during 2nd period. We will visit some amazing places including, the Supreme Court to explore landmark cases, the Rayburn House Office Building, Russell Senate Office Building, University lectures and DC State Board of Education. Students will write an anthology that will be published during the start of the 2020-2021 school year and throughout the course, students will discover and rediscover humanity as a familial force.
---
Bring your yoga clothes to school!
4:30 p.m. in the New Yoga Studio
---
Office Depot has a Give Back to Schools program that provides 5% credit from people's purchases to help schools buy supplies throughout the year. Below is more info and our school ID numbers that people can share at in-store or online check out. The site provides graphics to share online as well.
'Simply make a purchase of qualifying school supplies, provide your school ID at checkout and your school will receive 5% back in credits for FREE supplies!'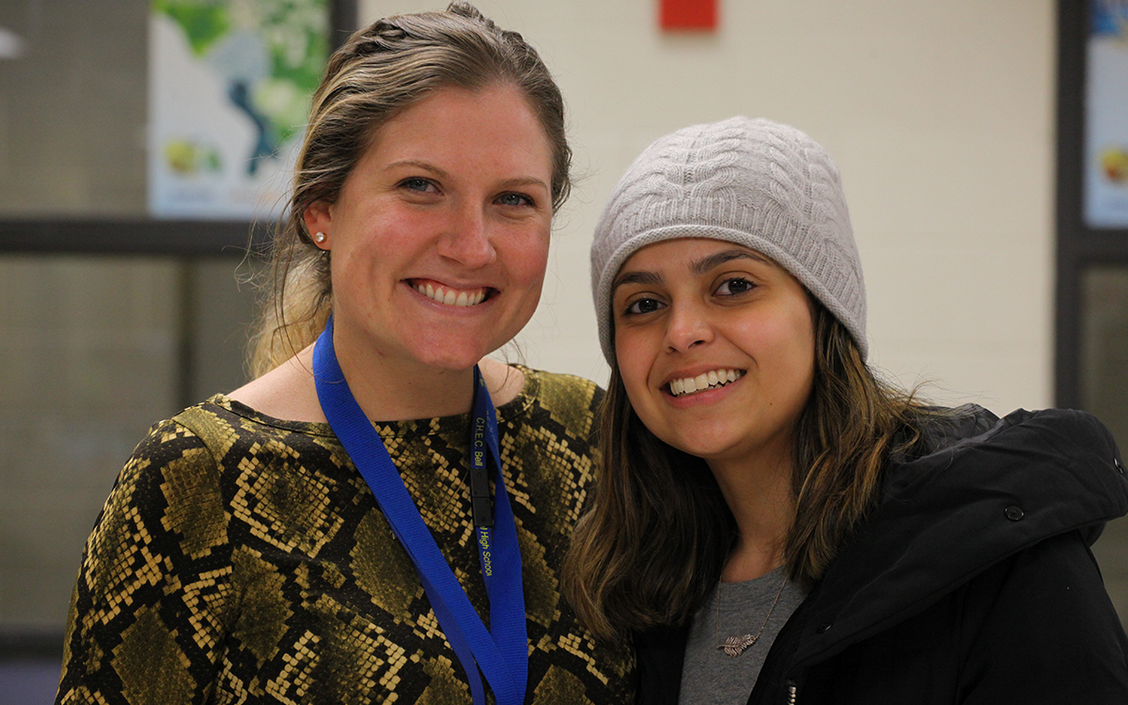 MS. WEST WITH CHEC ALUM LEILA VILLACORTA
Below is the Google Survey/Referral link that the entire CHEC school community will be using to send behavior referrals. If you have any questions or concerns please reach out to your appropriate Dean directly.
Student Culture Intervention Form - Behavior Referral:
Please use this link to send any behavior concerns after using the 5-step discipline process and any care system you have in place to support your student's social-emotional learning. You may also use this link to bring to the Dean's attention the need for a restorative circle and/or when students are tardy to your class more than three times. The Dean Team will actively monitor this live document to support all teachers.
Students that are Out-of-Area
During the past school year, we noticed a pattern of middle and high school students wandering into the wrong school. For this new year, please be mindful that Middle School students should not be in the High School at all, and certainly not without a pass. High School students should only be in the Middle School on the Lincoln 3rd floor. The route for High School students to the 3rd floor Lincoln is through the Bell 2nd floor and on to Lincoln 2nd floor landing and up the stairs to the 3rd floor. They should not use the 1st or 2nd floor Lincoln to get to the 3rd floor Lincoln. Students that are not complying should be written a referral, so they can earn a consequence.
Detention is a first intervention we have for students to check and correct their behavior in your classrooms. Students being informed of this consequence is vital to the effectiveness of the consequence. Remember to use our 5 step process with fidelity so that our students will not earn a greater consequence of ISS and thus lose valuable class time
We always need more support at dismissal from 3:15pm until 3:35pm (High School), 4:15pm until 4:35pm (Middle School). Please follow students all the way out to the front of the building. Students should be encouraged to move on toward their bus stops/metro quickly. Teachers and staff that can make themselves available to stay out front will be greatly appreciated.
All lunches have their ups and their downs. We always appreciate additional supports in the cafeteria on days that teachers are available. Check-ins with students build relationships and adult presence supports our daily procedures in lunch.
Athletics are an integral part of the educational program and a means to accomplish the goals of education. Our athletic program exists for the welfare of students and the contributions it makes to their educational experience. Athletic participation builds self-esteem and confidence and provides the necessary tools for success. The interaction between individuals on the fields of sport teaches students the value of teamwork, while developing the proper competitive spirit, combined with a sense of fairness.
BELL SHS GIRLS SOCCER TEAM SY 2019-20
The High School Bowling Team defeated HD Woodson. The High School Basketball Teams defeated Phelps.
Junior Varsity Basketball: 5 – 9
Varsity Boys Basketball: 8 – 7
Varsity Girls Basketball: 3 – 12
Tuesday, January 28, 2020
Middle School Wrestling Meet at Hardy @ 4:00 p.m.
High School Bowling vs. HD Woodson at Bolling AFB @ 4:00 p.m.
Wednesday, January 29
, 2020
Thursday, January 30, 2020
Middle School Wrestling Meet at Johnson @ 4:00 p.m.
Middle School Swim Meet at HD Woodson @ 5:30 p.m.
Saturday, February 1, 2020