CHEC bulletin for Week of
January 28, 2019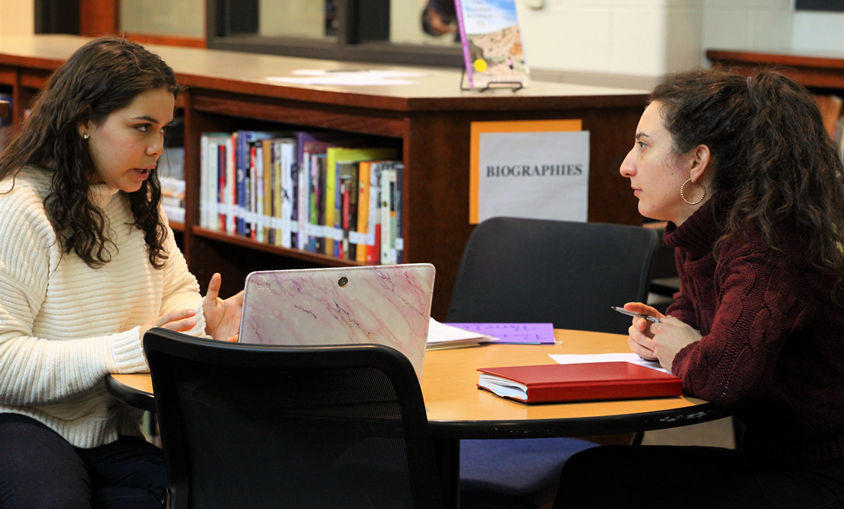 SENIOR PORTFOLIO PRESENTATIONS: MADALYN GOMEZ AND NIKOLE BEST
MARIA TUKEVA'S (MT) MESSAGE:
ACHIEVING OUR CSP SMART GOALS
Prediction Exercises - Interim and Short Cycle Assessments – Pop Sheets -Action Plans – Why do we have to do all of these and how do they fit together!!???
This is probably a question you have heard, thought about or discussed, and as we are now in the midst of our school year, it is worthwhile to reflect upon how this process can move us towards our ultimate goal of "preparing 100% of our students to be successful in post-secondary education and careers.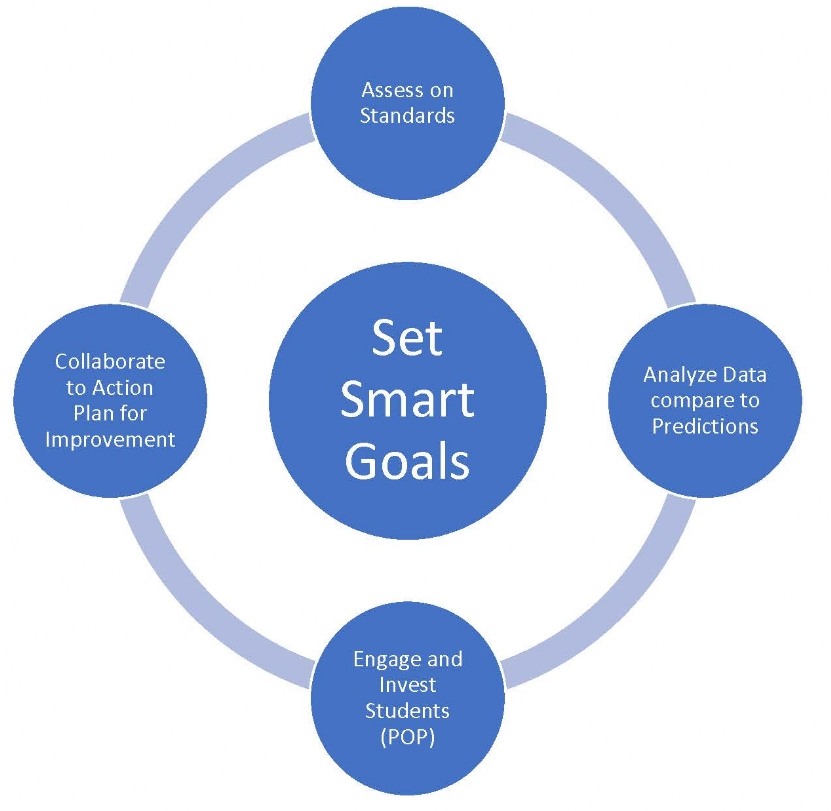 The chart above illustrates a Cycle of Continuous Improvement as it applies to planning and instruction here at CHEC. As you may know, the Cycle of Continuous Improvement was originally developed by an engineer, William Edward Deming, as a tool to improve any process, service or product. When we apply it to our work as educators, it allows us to act as continual learners and researchers with the ultimate goal of improving the educational process for all students. Each of these steps are critically important, and when we collaborate to continuously use this cycle, we move closer to reaching our goals.
We thank all members of our professional learning community for your hard work and thoughtfulness in analyzing and using data with students so that they can all grow and improve. This week's Early Release Day and Department meeting will provide for additional time for us to delve deeper into our process of continual improvement.
---
BUDGET FOR SCHOOL YEAR 2019-2020

School budgets for next school year are being released to schools over the next week. Every year, the Local School Advisory Team (LSAT), a group with elected members from teachers, students, parents and the community, works with the principal to develop the budget based on input from all stakeholders. In developing the budget, a variety of factors are considered, however the most important consideration is the creating a budget that will help us reach the goals of our Comprehensive School Plan. In order to do this, we will review data on our progress towards meeting our SMART Goals and our mission, to determine where resources should be targeted. The LSAT will meet this Wednesday, January 30 at 4:15 pm to begin the discussion on budget resources. Over the next two weeks, we will once again provide an on line survey to get feedback from stakeholders on priorities for our School Year 2019-2020 budget. Please be on the look out for updates and meeting times.
---
Shout out to Dr. Barnett for coordinating our NSO in the neighborhood concert on January 10!!!

Shout out to Ms. Strickland for coordinating our Spelling Bee, and to our judges and pronouncers, Major Wright, Mr. Stewart, Ms. Falkenberg, and Ms. Hanlon!! Special shout out to our winner, Jeffrey Williams!!!



Kudos to the intrepid staff members who supported the Senior Lock In!! Ms.Thweatt,Mr. Jones, Mr.Rayamajhi, Sgt. Ramirez, Ms. Henry, Mr. Levingston, Ms. Warren, Mr. Hunter, Mr. Zinzarella, Mr. Duvall, Ms. Elmore, Dr. Greene, Ms. Gonzalez, Ms. Edwards, and Mr. Talarico!!! Kudos to Mr. Gallion for setting up the gym and building for a great experience!!
Shout out to Ms. Dulce Nunez for organizing a funding drive for our government workers!!

Shout out to Mr. Odom for the many school shadow visits he has coordinated!!

Kudos to Ms. Edwards for multiple high school recruiting nights!!

Shout out to Ms. Hall, Ms. Hinkson and Ms. Lewis for multiple middle school recruiting efforts!!
Kudos to Ms. Edwards and all counselors for preparing semester 2 student schedules!!



Monday, January 28, 2019

Tuesday,
January 29, 2019
Term 2 Marks Due in Aspen
Wednesday,
January 30, 2019
Departmental Time – Data Cycle
Senior Portfolios – Math and Science
LSAT Meeting - 4:15 pm - Cafeteria
Thursday,
January 31, 2019
Departmental Planning Period Meetings
Senior Portfolios – Math and Science
Advisory
Saturday, January 12, 2019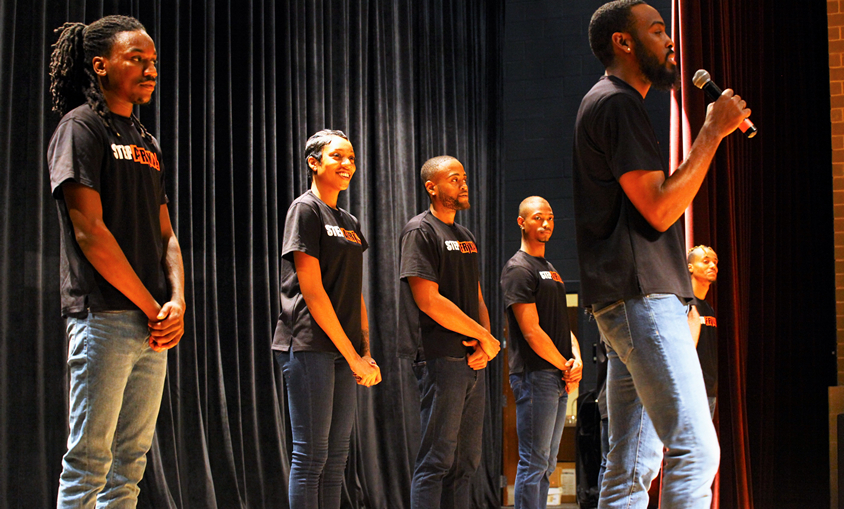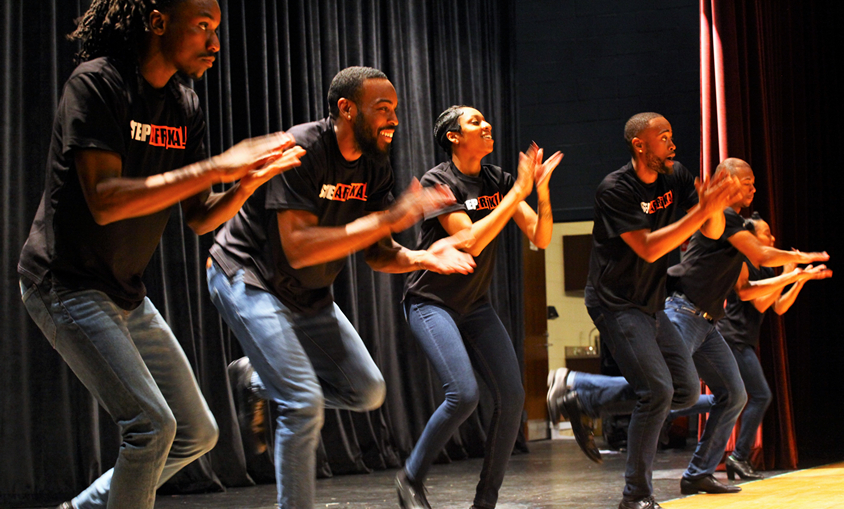 STEP AFRIKA PERFORMS FOR CHEC
UPDATES FROM: LEADERSHIP TEAM
I
BEE TEAM
I
VISUAL ARTS PD
I
DONORS CHOOSE
I
CHEC ARTS
I
GLOBALIZE DC
I
OSSE SCHOLARS
I
ERIC CLARKE
I
CANVAS
I
WILDERNESS LEADERSHIP AND LEARNING
I
LIBRARIES
I
FLAMBOYAN
I
The last ALT Team Meeting was held on January 5, 2019. The agenda included calibration of student work from PARCC and Advanced Placement, in order to develop a common language of how to assess the quality of student work, and implications for instruction. The next ALT Team meeting will be on Friday, February 1, and we will analyze our STAR rating data in order to make recommendations for the next year's budget.
BUZZ< BUZZ --- DEAR CHEC BEE TEAM:

THANK YOU for all your collaboration and contributions!
Our CHEC BEE CHAMPION is TIMOTHY WILLIAMS--GRADE 8!



Our 2nd place winner is George Tefora Grade 7!



Our 3rd place winner is Billy Contreras Grade 7!



All three students will be participating in the DCPS cluster Bee in February.
VISUAL ARTS PD OPPORTUNITY IN EL SALVADOR
Caroline Lacey, an artist, educator and native Washingtonian has lived and worked in El Salvador with
Laberinto Projects
, an arts and education non-profit. This past summer
Laberinto Projects
held a pilot for a professional development program in El Salvador for educators in the MD/DC/VA area and were thrilled with the overwhelmingly positive response to the course, an incredible and intimate learning experience on the ground in El Salvador.
Laberinto Projects
is officially launching four dates for 2019 and they wanted to share those with you. (PFD attached for printing and sharing).
The course, Visual Literacy as a Tool for Cultural Proficiency in the Classroom: El Salvador as a Case Study, is a professional development pre-immersion, in-country travel and post-immersion, 3-credit course for teachers in the Washington, D.C. area. It promotes teacher collaboration and applies standards-aligned tasks with direct impact on classroom learning, while fostering cultural proficiency and academic excellence. Teachers will acquire the tools needed to integrate the diversity of cultures and experiences that are represented in their classrooms through the exploration of a Central American art archive and through object-based learning, visual literacy skills and global competency. The course will be taught by Muriel Hasbun, a long time professor of the Corcoran Gallery and College of Art + Design. The 3-credit course is accredited through Washington Trinity University.
DONORS CHOOSE FOR MS. GARCIA-CARMONA
Give Ms. Garcia-Carmona a high five! Her classroom project "Bring Tech to CHEC" was recently funded by Donors Choose. The resources for this project include:
Three Lenovo N42-20 Chromebooks - 14' - Celeron N3060 - 2 GB RAM - 16 GB SSD and an Insignia - USB Keyboard.
CHEC TEACHERS - DONORS CHOOSE GIVES YOU A GREAT OPPORTUNITY TO FUND CLASSROOM PROJECTS
If you have not already done so, consider Donors Choose for funding for any of your classroom projects. To date, 28 CHEC teachers have done so, as reported here. We recently learned that there is about $175,000 remaining in a particular fund that has been earmarked for all DC Public School Donors Choose requests (from the A. James and Alice B. Clark Foundation). Recent project amounts range from $300 - $1,000 – by Ms. Falkenberg (twice!), Ms. Alvarado, Mr. Khafra, Mr. Spoth, Ms. Malcolm, Mr. Talarico, Ms. Warren, Ms. Nunez, Mr. Magee, Ms. Docena, Ms. Patterson, Ms. Peddyreddy, and Ms. Hartwill.
The process is easy – if you would like to create an account to receive project funding, just go to this link:
CHEC ART DEPARTMENT RECEIVES GrantED FUNDS - AN OPPORTUNITY FOR ALL TEACHERS
CHEC Photography teacher Mandy McCulloch submitted a proposal to GrantED and was granted funds to purchase tripods. Ms. McCulloch would like to share with all CHEC teachers that GrantEd provides DC public school educators with a resource to fund nearly any classroom expense with an accessible way to apply for fast-cycle, micro-grants using their smartphones.
https://www.grantedfoundation.org/
OPPORTUNITY FROM GLOBALIZE DC
Globalize DC shares information about free global opportunities open to DC educators, students, and schools. They send information out by email and on their website. These great global opportunities as a "Global Alert" are included at the following link for sharing within the CHEC community – there are trips and other great programs that may be of interest.
ERIC CLARKE SHINES AT THE JULIA BURKE INVITATIONAL
This past weekend, more than 120 teams from across D.C. and Prince George's County gathered at Greenbelt Middle School for the Julia Burke Invitational. After the tournament, more than 250 members of the WUDL community received tickets to the kickoff of Michelle Obama's I Am Becoming Tour at the Capitol One Arena.
In Varsity, Eric Clarke was the 2nd overall speaker in the division.
In Novice, Angel Guzman and Jason Vasquez broke out and wrote themselves a 1 way ticket to JV. Angel and Jason placed 8th overall, and took home the 10th and 7th place speaker awards, respectively.
Congrats to the team, and keep up the good work Coach Cohen!
For any students who need assistance to log into Canvas, follow the directions below. If there are any students that cannot log into Canvas please have them email the Canvas support team at
dcps.canvas@dc.gov
.
Student Login Information:
Password: Birthdate (MMDDYY) (Note: include a zero in front of single digits. For instance, 01/09/05 would be 010905)
WILDERNESS LEADERSHIP AND LEARNING OPPORTUNITY
Wilderness Leadership and Learning (WILL) is a holistic 12-month experiential learning, youth leadership and life skills development program for DC 9th to 11th graders. WILL is beginning to recruit for its 15th class. There have been Bell students in WILL every year. Please refer a student to be part of this amazing program to strengthen student's leadership, life skills, cultural awareness, empathy, compassion, and Environmental Awareness.
Contact Ms. Elmore, College and Career Center, A126. Milagros.Lopez@dc.gov with student referrals.
Scholastic Scope Write-a-Story Contest
The winner will have their story published in Scholastic Scope Online. The winner's teacher will receive a free one-year subscription to Scope. The winner's class will receive copies of Jason Reynolds' Ghost novel.
Author Jason Reynolds needs your help! Reynolds wrote three first lines and wants you to finish the story. Choose one of the lines and in 800 - 3,000 words, finish the story. Edit, revise, and submit online or through the mail. More information can be
found here
. Contact Ms. Falkenberg with any questions or for help.
Please make sure students travel to the library with a pass or you can call ahead of time if you're planning to send a large group to ensure everyone can be accommodated. Lincoln Library should only be used my middle school students. High school students must use Bell Library. Each library has resources that best fit their audience and printing materials can be limited.
If you send items to the middle or high school library printers, remember to pick materials up in a timely manner. Paper is wasted and large quantities can lead to jams. When sending students, send those who are comfortable making copies independently - librarians can help assist but we are not responsible for making copies.
Letters about Literature Writing Contest
The Library of Congress and the Dollar General Literacy Foundation have partnered for a writing contest for Grades 4 - 12. In 400 - 800 words, students write a personal letter to the author of their selected piece of literature (fiction, nonfiction, short story, poem, essay or speech - NO song lyrics) explaining how the work changed the student's view of themselves or their world. The letter's aim is to create a conversation with the author in which the student expresses thoughts, feelings, and / or ideas inspired by the author's writing, as well as its impact on the student's life.
Due date is January 11th. National Prize is $2000 cash award. National Honorable Mention Prize is $500 cash award. Winners will be posted in late spring 2019. Middle school students may visit Ms. Falkenberg in Lincoln Library for help or more details.
Education Chats on Twitter
Curious how educators use Twitter? Looking for new ideas to implement in the classroom? Need some inspiration? Consider following or participating in Education Chats on Twitter. Weekly chats occur among all educational roles across the US and world through the use of specific hashtags. Follow the link to explore hashtags on your own time or to plan to participate in discussion with fellow educators.
Webinars
"Dr. Ellis will be joined by educators in several diverse urban schools as they speak to their efforts around increasing student interest and success through a culturally responsive approach that engages cultural, linguistic, and communal knowledge."
"In this webinar, Panorama will present new research on the connections between students' social-emotional learning and critical student outcomes. Panorama's research team will provide recommendations for districts to approach and monitor social-emotional learning in ways that are responsive to key district priorities. "
Top Bell Library Patrons for the Month of December:
7. Rosa Gutierrez-Hernandez
8. Angelica Hernandez-Vasquez
Please reserve using the Bell library via our reservation platform, Skedda:
(https://reservechecbelllibrary.skedda.com/booking). Once booking your first reservation you will be prompted to create a quick login. Users will be able to see when space is available and when space is unavailable. This will allow for transparency and comfort in knowing that the time that you have requested, is available. There is also a space for *notes. If you would like to request AV material (i.e. projector), please let Mr. Stewart know.
For Black Lives Matter Week and Black History Month--on February 5, 2019 Ballou High School student authors will join us to discuss their book, Our Lives Matter. If you and your students would like to attend this Bell Library event, 10:15 AM- 11:45 AM, please let me know. Each participant will receive a copy of the book that will be signed by the authors-- limited space, please reserve soon! December's author talk with students from the LAYC entitled, Voces Sin Fronteras: Our Stories, Our Truth was amazing with CHEC students asking prudent and deep diving questions.
Please remind students to log their books for the 25 Books Campaign and Winter Challenge via Clever. If you have any questions please let me know.
Whether it's PARCC, the SAT, ACT or simply because you want to be the best you--according to researchers at the University of Wisconsin- Madison, Kids connect with Robot Reading partners and reading friends which in turn enhances their desire and enthusiasm to read and learn. Educators please identify students who you believe would benefit from a reading partner or buddy! These students will be paired and the reading fun will begin!
Bell Library Reservations
The CHEC Bell High School Library would love to invite teachers and staff to reserve library space via our new platform,
Skedda
(
https://reservechecbelllibrary.skedda.com/booking
). Once booking your first reservation you will be prompted to create a quick login. Users will be able to see when space is available and when space is unavailable. This will allow for transparency and comfort in knowing that the time that you have requested, is available. There is also a space for *notes. If you would like to request AV material (i.e. projector) I can have that available and set-up for you.
Bell Library Writing Center
Days: Tuesdays & Thursdays
Time: 8 AM- 8:50 AM & lunch periods
Location: Bell High School Library
We all need help! Great authors and writers have editors...the library will assist with:
Interpreting a writing assignment
Locating and sharpening a thesis statement
Organizing ideas and research
Developing a logical argument
Identifying recurrent errors and strategies for revising.
"The Brunch" held, once a month starting Monday, November 5th [beginning of hypothermia season] has been a great way to connect to the community through books and food (all free)! In our Nation's Capitol we have an epidemic when it comes to poverty and homelessness, including heightened illiteracy rates for several populations. Street Sense, a District of Columbia based newspaper that employs formerly and currently homeless individuals and, provides articles that touch on important issues concerning the homeless population will be interviewing me about the Brunch with the CHEC/Bell Librarian: Food, Lit. & Book Discussion program my work on ending homelessness and poverty in the District of Columbia and beyond, including the home for the homeless (no more) that I am opening this winter.
Setting the Stage: Why Family Engagement?
A strong body of research shows that family engagement matters for student success.
Students do better in school and in life when their parents are engaged in their education. Family engagement contributes to a range of positive student outcomes, including improved student achievement, decreased disciplinary issues, and improved parent-child and teacher-child relationships. Emerging evidence also suggests that family engagement can have important benefits for the inner-functioning of schools, including school staff having higher expectations for students, more shared ownership and trust across their faculty, and, ultimately, stronger school performance.
All families can be capable guides, partners, and advocates in their child's education.
Regardless of a parent's circumstances, family engagement is not a static enterprise - with the right interventions parents can change their behaviors in relationship to their child's education. In focus groups conducted in 2009, District parents in all wards were clear that they cared about and wanted to support their child's learning but needed additional skills and knowledge to do so. Furthermore, they pointed out that they wanted schools to be more welcoming and responsive to their involvement.
Families play specific roles that support student achievement.
Although there is widespread consensus about the importance of family engagement, there is a diversity of opinions about what, exactly, family engagement means. Research about the impact of different types of family engagement help address this challenge. Meta-analyses find that, when it comes to how strongly parent involvement predicts student achievement, a parent's participation in school itself is a blip on the radar screen compared to a parent holding high expectations and setting goals for their individual child, monitoring progress and holding them accountable, and supporting learning at home, among other things. Although many of these forms of family engagement are difficult for school staff to see, schools still play an important role in affecting them.
Please join us in giving every student the gift of Family Engagement! Please reach out to your family engagement team, Jessica Gonzalez and Kristen Whitaker if you have any questions or concerns! We look forward to supporting you in this work!
Kudos to Jessica Alvarado and Omar Lopez for conducting the first home visit of the 2018-19 school year!! Thanks for getting us started!
Culture Update with Middle School Dean – Mr. Bode Aking
"The art of acceptance is the art of making someone who has just done you a small favor wish the he might have done you a greater one." –Dr. Martin Luther King, Jr.
.
I hope everyone had a great weekend and that you were able to honor the life and work of Martin Luther King, Jr. at some point this weekend as well. Education is "the civil rights issue of our time," and this work was begun by Dr. King's movement and there is still a lot of work to be done. We know this when we speak to, work with and care for our students at CHEC. But we are making progress. And we will continue to make progress if we continue to plan for and to love on our students with consistency.
As I considered the words of Dr. King above, I realized that they reflect the same principle for why we spend so much time talking about celebrating our students and why we need do more celebrating. We celebrate the small stuff (just as we "sweat" the small stuff) so that students will wish to do
more
of the small stuff. Inevitably the celebrations of the small stuff cause the small steps to turn into big successes.
How will you celebrate the small gains, behaviorally and academically, this week? Consider the following:
Give PBIS points when a student that often has a tough day completes all of his or her work.

Recognize when a student gets back on track after a redirection.

Honor publicly students who turn in homework, especially when they've struggled to do so in the past.

Catch students "doing good," transitioning appropriately, speaking to one another kindly—point them out and give them PBIS points.
Let's spend these next week's celebrating the small stuff, the small efforts and the small progresses.
Please don't lose sight of the following:
Please do not lose sight of each of the following below, as they are crucial to maintaining and improving the culture that we desire:
Please share these important reminders with students and parents.
Sweaters/jackets – if they are out of uniform, they should be in lockers all day or confiscated. Lincoln and Bell sweaters can be bought from the Deans or the Main Office. Lincoln and Bell sweaters $21 and sweaters with the zipper $27.

Please call parents when you see students out of uniform and refusing to get in uniform to ensure it is very clear that they should be in full uniform at all times. Refer any further questions to Dean Aking, Dean Boone and Dean Galvan.
Detention is a first intervention we have for students to check and correct their behavior in your classrooms. Students being informed of this consequence is vital to the effectiveness of the consequence. Remember to use our 5 step process with fidelity so that our students will not earn a greater consequence of ISS and thus lose valuable class time.



We always need more support at dismissal from 3:15pm until 3:35pm (High School), 4:15pm until 4:35pm (Middle School). Please follow students all the way out to the front of the building. Students should be encouraged to move on toward their bus stops/metro quickly. Teachers and staff that can make themselves available to stay out front will be greatly appreciated.



All lunches have their ups and their downs. We always appreciate additional supports in the cafeteria on days that teachers are available. Check-ins with students build relationships and adult presence supports our daily procedures in lunch.
Athletics are an integral part of the educational program and a means to accomplish the goals of education. Our athletic program exists for the welfare of students and the contributions it makes to their educational experience. Athletic participation builds self-esteem and confidence and provides the necessary tools for success. The interaction between individuals on the fields of sport teaches students the value of teamwork, while developing the proper competitive spirit, combined with a sense of fairness.
2018 DCSAA FOOTBALL CHAMPS!!!
Congratulations to Bamlak Bahiru who took 4th place in the shot put for the DCIAA championships.
Congratulations also goes out to Ariyah Green for making All League DCIAA for Indoor Track. The Middle School Girls Basketball team defeated Francis-Stevens. The Middle School Boys Basketball team lost to Leckie. The Junior Varsity Boys Basketball team defeated Roosevelt. The Varsity Boys and Girls Basketball teams lost to Roosevelt. Please come out and support your Knights and Griffins!
Congratulations to Coach Alvarado and the Middle School Wrestling Team who finished second in the DCIAA championships.
Varsity Girls Basketball: 6 – 10
Junior Varsity Basketball: 9 – 3
Varsity Basketball: 9 – 8
High School Swim Meet at Dunbar @ 5:00 p.m.
Middle School Girls Basketball vs. Deal at Deal @ 4:45 p.m.
Middle School Boys Basketball vs. Deal at Deal @ 6:00 p.m.
Middle School Girls Basketball vs. Takoma at Takoma @ 4:45 p.m.
Junior Varsity Basketball vs. HD Woodson at CHEC @ 5:00 p.m.
Varsity Boys Basketball vs. HD Woodson at CHEC @ 7:00 p.m
Middle School Boys Basketball vs. Takoma at Takoma @ 4:45 p.m.
High School Fall Sports Banquet at CHEC @ 5:30 p.m.
Middle School Girls Basketball vs. West at CHEC @ 4:45 p.m.
Middle School Boys Basketball vs. West at CHEC @ 6:00 p.m.
Junior Varsity Basketball vs. Kingsman Academy at CHEC @ 4:00 p.m.
Varsity Girls Basketball vs. Kingsman Academy at CHEC @ 6:00 p.m. (senior night)
Varsity Boys Basketball vs. Kingsman Academy at CHEC @ 8:00 p.m. (senior night)
DCIAA Cheer Showcase at Ballou @ 11:00 a.m.