CHEC bulletin for
Week of January 13
, 2020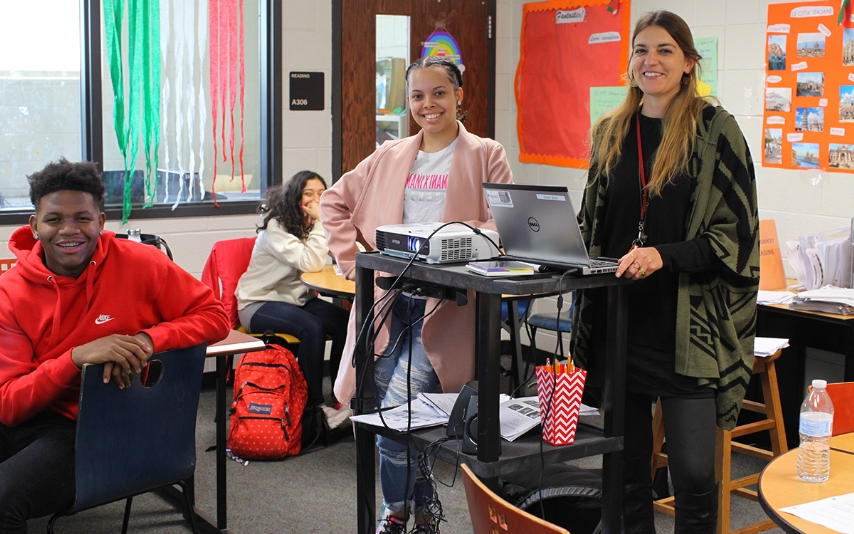 ITALIAN LANGUAGE INSTRUCTOR, ELIS MARCHI, ON MISSION
MARIA TUKEVA'S (MT) MESSAGE:
Tuesday, January 14, 2020
11th and 12th Grade RI MOY Periods 1-3
Wednesday, January 15, 2020
Department Planning Period Meetings
Kennedy Center – My Fair Lady – 12:30 p.m. – 3:30 p.m.
APUSH/Psychology/Calculus Interims
Thursday, January 16, 2020
ANET Window Closes (Scoring Deadline)
Department Planning Period Meetings
OSSE visits selected Dual Language Classrooms for Coaching
APUSH/Psychology/Calculus Interims
Parent – Teacher Conference Day (no school for students)
Math Affirm Test Window Closes
Final Senior Make-Up Portraits (E205 Dance Studio)
As we end the Second Advisory, we have rich opportunities for reflection – for our students, our parents, and for ourselves. We also have opportunities to make progress towards some key goals of our Comprehensive School Plan.
In the area of Engagement our goals are:
Increase Parent attendance at Parent Teacher Conference days to an average of 50% of the parents at each Parent Teacher Conference Day by the end of the school year.
Increase the percentage of parents attending at least one portfolio presentation a year to at least 30% by arranging for portfolio
On this Friday, January 17, we will be welcoming parents to our second Parent Teacher Conference Day of the year. Last meeting, we had 41 % of our parents attend Parent Teacher Conferences, which was our highest ever, and about 200 parents attend portfolio presentations. For this week's parent teacher conferences, we want to make sure that we are giving parents rich information about their child's progress in the following areas:
Grades, portfolio readiness, performance on Interim Assessments, Attendance, and Focus areas (for Summit Grades). It is the mid point of the year, and the grades for the semester will have an impact on promotion. In addition, assessment performance should drive decisions about interventions that may be necessary. Parents of students who may need a higher level of intervention should know about the opportunities and options available to them.
With Parent Teacher Conferences happening so close to portfolio presentations and exams, it is an ideal opportunity to invite parents to these presentations, and to give them a preview of what they will be seeing. For students who are in danger of failing, this is the time to let parents know exactly what they need to do in order to pass the class.
Please be sure to have all data, student work and key points you want to share with parents ready to share. Give them a copy of the GRASPS, so that they can be aware of what they should be seeing students present on Portfolio presentation days. In your classes this week, let students know how excited you are to be seeing their parents, and offer them extra credit if their parents come to the meeting or to the portfolio presentations. Personal invitations to parents via google voice or phone calls are also very effective. Let's push towards our goal of 60% of parents at Parent Teacher Conferences, and 30% at Portfolio Presentations. We know that when parents are involved and engaged, students will achieve and excel.
---
Kudos to all teachers, proctors, counselors, administrators and support staff for an excellent team approach to Affirm, AP and ANET testing last week!

Shout out to the PGT team for an outstanding Faculty Professional Development last week!

Shout out to Equity Team Members Ms. Warren, Mr. Hunter, Mr. Talarico and Mr. Rosenberg for hosting Central Office visitors last week and sharing our Equity Work!

Shout out to Pankaj and Mr. Galvan for hosting our first Open House of the year last week! We hosted 8 interested families who have applied for next year!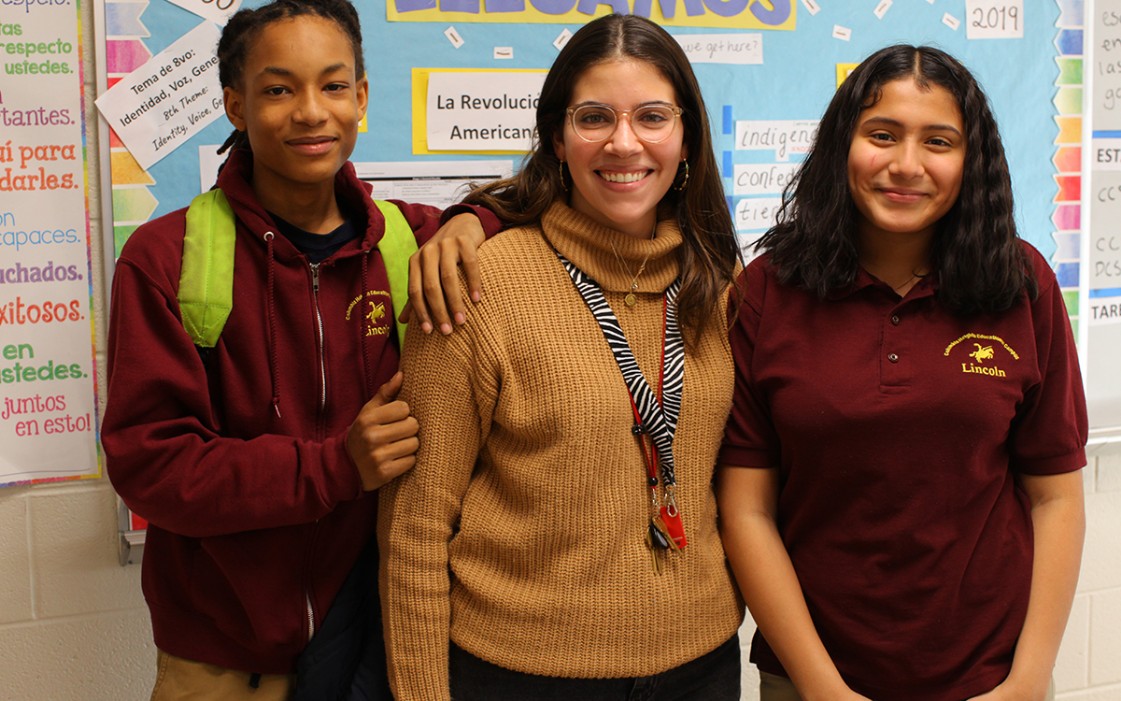 MIDDLE SCHOOL LANGUAGE TEACHER CRISTINE VELASQUEZ
This is the 9th week of the Second Advisory! This week and next are both short weeks, and the focus must be on preparing students for portfolios and final exams, which take place next week. Part of the preparation for presentations involves time for developing higher order questions as a class, peer revision, review of key standards aligned to the GRASPS, discussion of essential questions and global themes, and time for students to read their work and determine how they have achieved the standards. The portfolio review and preparation process also serves as a review and preparation for exams. Practicing the presentation process, is also necessary prior to presentations.
The Instructional Calendar is a living document that houses all of the major curricular requirements, assessments, and schoolwide events. Please check it weekly, as it changes as events are added or moved. Please note some additions - the specific dates for each interim have been added, so please check out the calendar! The calendar is curated by members of the Admin team, and Mr. Magee, Science LEAP lead, curates and adds events or items that are submitted by Department Chairs. If you have an event or item that you think should be added to the Instructional Calendar, please submit it to your Department Chairperson first, and then your Department Chair will submit for inclusion if appropriate.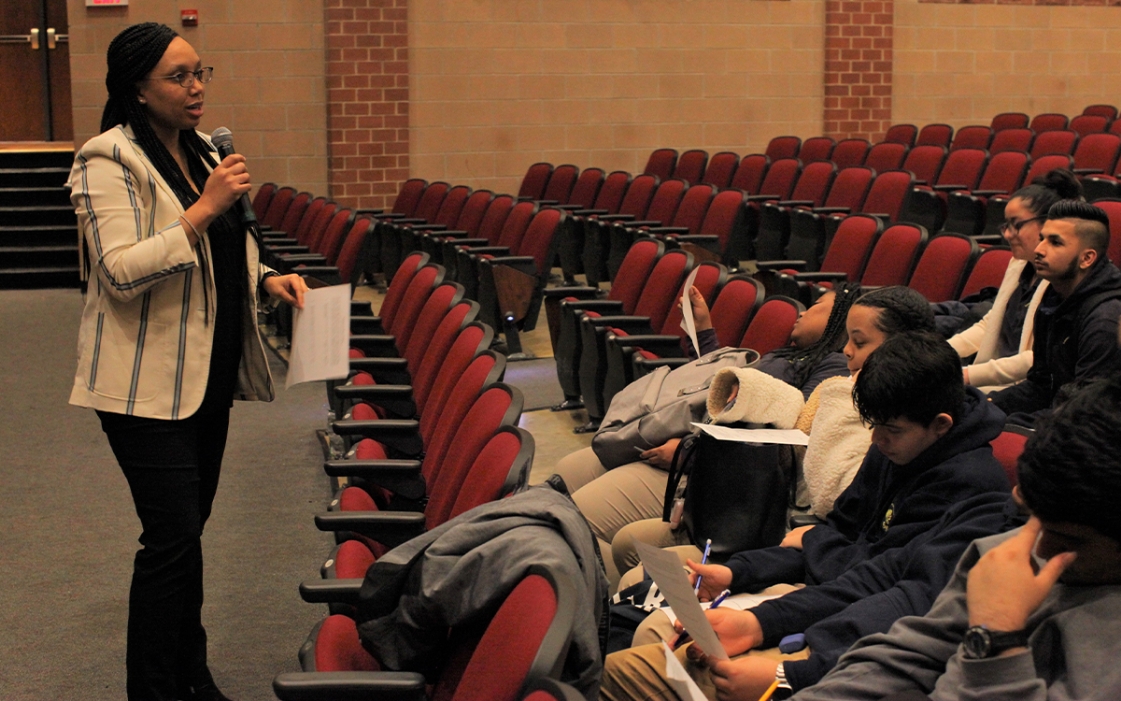 CHARISMA HOWELL BRIEFS STUDENTS ON GEORGETOWN LAW
UPDATES FROM:
ACADEMIC LEADERSHIP TEAM
I
NICOLE HALLERMAN
I
DONORS CHOOSE
I
DUAL LANGUAGE
I
PROFESSIONAL DEVELOPMENT LINK
I
COLLEGE AND CAREER
I
LIBRARY UPDATE
I
SUMMER EDUCATION CAMP
I
OFFICE DEPOT GIVE BACK
I
The Academic Leadership Team (ALT) consists of all administrators, LEAP leads, Department Chairs, and any interested faculty or staff. Meetings are held twice a month, alternating between Early Release Days and morning meetings. The ALT team designs and monitors the Comprehensive School Plan. All are welcome to attend, either for one meeting or for all. At the January 10 meeting, the ALT team reviewed the data collected from our internal walk-throughs, and planned for January Walk throughs.
The next ALT meeting will be Wednesday, January 29 at 3:30 pm. During this meeting we will receive a training from central office on the TEAMS platform in Office 365, so that we can house all of our documents and plans in an accessible place.
In the attached link, you can find the entire year schedule of ALT team meetings and proposed
meeting focus here
---
NICOLE HALLERMAN ACCEPTED TO AU 2020 LEADERSHIP INSTITUTE IN SECONDARY SPECIAL EDUCATION
We are excited to share that Special Education teacher Nicole Hallerman has been accepted to the 2020 Leadership Institute in Secondary Special Education (LISSE), an intensive professional development program provided by American University's Institute for Innovation in Education in partnership with the Office of the State Superintendent of Education (OSSE).
The 2020 LISSE program aims to support innovative, highly effective teachers who work with secondary special education populations to use evidence-based practices to integrate the Common Core State Standards and Individualized Education Program (IEP) goals within the curriculum for secondary students with disabilities.
More specifically, this select group of DC teacher leaders will:
(1) Conduct an analysis of student data to determine the areas of greatest need among students with disabilities in his/her school;
(2) Select an evidence-based practice to target the area of greatest need among students with disabilities;
(3) Develop a plan (including instructional strategies, assessments, and an evaluation) to teach colleagues how to implement the chosen evidence-based practice;
(4) Present his/her findings and plan for school-based professional development at an American University-sponsored institute on May 2, 2020. (You will receive an invitation to this event.)
(5) Evaluate the quality of the PD plan, prepare to implement it in the fall of 2020, and gain the skills to evaluate its intended outcomes.
We look forward to the professional development that will be designed by Ms. Hallerman and her colleagues in the program.
---
Donors Choose is a great resource for all teachers. You can receive a mini grant to support a special project or initiative. Please see some of our recent Donors Choose grantees! You can reach out to them for support in obtaining your own grant!
Ms. Warren has a project funded by DonorsChoose.org
Ms. Warren had her classroom project "Dictionaries to Support Vocabulary Expansion!" recently funded. The resources for this project include:
Webster's Everyday Spanish-English Dictionary x 30

Webster's American English Dictionary x 30
MY PROJECT
Developing a robust vocabulary is a must for every student. Additionally, when students encounter words they are unfamiliar with, it is imperative that they have a resource to help them understand. A class set of dictionaries will ensure that no student has to be confused. I also teach students who are in the process of learning the English language. Spanish to English dictionaries are a necessary part of their language development.
The ability to employ diverse diction is a skill that my students are learning, but need your help and support in order to continue with their learning journey.
Ms.Carcia-Carmona has a project funded by DonorsChoose.org
Ms. Garcia-Carmona had her classroom project "Hey, Look Ma, I Made It!" recently funded. The resources for this project include:
24 Pockets - SimpleHouseware Crystal Clear Over The Door Hanging Shoe Organizer, Gray (64'' x 19'') x 1




Hasbro Connect 4 Game x 1




Mattel Games: The Official Uno Tin [Amazon Exclusive] x 1




Loteria Mexican Bingo Game Kit –Set of 20 Jumbo Boards - Game for 20 Players – with 2 Decks of Cards and Boards – Includes 240 Free Markers – No Age Limit – Great for Improving Spanish x 1




Jenga Classic Game x 1




Frito-Lay Fiery Mix Variety Pack, 40 Count x 4




OREO Mini Sandwich Cookies, Assorted Flavors, 20 Snack Packs (15 Chocolate Minis, 5 Golden Minis) x 4




Quaker Chewy Granola Bars, Chocolate Chip, 58 Bars x 2




Sharpie Electro Pop Permanent Markers, Fine Point, Assorted Colors, 24 Count x 1




Carson Dellosa – Hipster Stars Colorful Cut-Outs, Classroom Décor, 36 Pieces x 14



As the school year is in full swing, I am constantly looking for ways to praise our students when they pass exams/quizzes or excel in an area that was once difficult for them. Recently, I have been hanging stars with the names of my students on it on my door to share their progress. I also send pictures home to inform parents of the amazing work their students are doing. Parents/Guardians also love the pictures and being involved in the daily progress of their students.
The materials I am requesting are for more stars to include all of my students on the wall of progress. I am also requesting snacks as incentives when they pass an assessment.
The games requested are also for an incentive opportunity to allow students to work together. The show-storage is to store our materials in a visible area, so that students have access to them as well.
---
OPPORTUNITY FOR CHEC DUAL LANGUAGE STUDENTS
Can you help us spread the word?
We are providing a very exciting opportunity for dual language, middle and high schools students. We have reserved a space at the fair for DL students who offer any type of service paid/unpaid to their communities (e.g. tutoring, babysitting, translation, coaching, etc.). We will offer an exhibiting space free of charge. Would you help us spread the word? Here is the application form.
---
GREAT PROFESSIONAL DEVELOPMENT NEWSLETTER LINK
Here is a link for a monthly newsletter from OSSE about PD opportunities for a bunch of subjects/areas.
It has ELL, SpEd, SEL, H & PE, RTI, literacy, math and more.
---
COLLEGE APPLICATION WORKSHOPS
Time: Wednesday's after-school from 3:30 p.m. to 5:30 p.m. (Beginning October, 2019)
Length: The workshops begin first week of October and end by Christmas Break
Students: 25 to 30 students - ALL WELCOME!
Volunteer Duties: Volunteers will provide essay writing support – Common App Essays – helping decide structure, students have stories to share but need help capturing stories in an essay.
Additional Info: There is no need for curriculum/books, but college student volunteers will bring their applications, essays to share with students. A collection of sample Common App and supplemental essays will be provided.
Students will be working to apply to a list of 5 schools they have developed with CHEC College Counselor. Ms. Henry.
#WinterRead2020 Challenge
Welcome to the third annual Winter Reading Challenge! We join hundreds of other schools and libraries across the United States as participants in this exciting event. We challenge you to read at least 5 books during the month of January and track those books here in Beanstack. Share your progress on social media using #WinterRead2020!
Iconic publishing imprint Penguin Random House (PRH) is sponsoring this third annual Beanstack Winter Reading Challenge in support of public libraries, school systems, and YOU achieving your reading goals! Last year's Winter Reading Challenge enrolled 65,323 readers nationwide, who logged over 150,000 books and 13.5M minutes of reading.
Top-performing libraries and schools will earn the Golden Penguin and Random House awards. PRH pledges to donate $50,000 in prizes, including author visits and new books, to be shared among the winners.
Let's light up the mind this winter! Happy reading, LINCOLN KNIGHTS!
We Need Diverse Books Giveaway
Staff Technology Lessons
Do you want to implement more technology in your projects or with your departments but are unsure what to use? Are you wondering how to create or navigate using the tools shared by your school librarians? Contact Ms. Falkenberg (
angela.falkenberg@k12.dc.gov
) or pop by the library to schedule technology lessons. Lesson ideas include Office 365 apps, PPT alternative tools, book talks, video creations, podcasts, DC Library databases, and more. Library media specialists are both your instructional partners and technology navigators, engineers, and cheerleaders. When you are more confident using tech, students will be as well.
Teach Central America Resources

October 7-13 was recognized as Teach Central America Week but resources and lessons are applicable year round. "More than four million Central Americans reside in the United States and migration from the region is headline news. However, most schools teach very little about Central America, including the long history of U.S. involvement in the region." Find more resources about Central America here, including social justice books.
Local Events
Exploring Race, Representation, and History in Children's Literature
Saturday, January 11 @ 10:00 a.m. - 12:00 p.m.
"Many teachers face either the pressures to avoid difficult topics or to plunge in with little consideration of what is best for children at each stage of their development. This session will be a time for teachers to explore and discuss these issues surrounded by children's books in preparation for D.C. Area Black Lives Matter at School Week of Action." More information here.
DC Area Black Lives Matter at School Week of Action
February 3- 7, 2020
"From February 3-7, 2020, Teaching for Change's D.C. Area Educators for Social Justice, D.C. area educators, and community members will collaborate on the D.C. Area Black Lives Matter at School Week of Action. This week of action is built on the momentum of past local weeks of action and the National Black Lives Matter at School Week of Action campaign taking place in cities across the U.S. to promote a set of national demands based in the Black Lives Matter guiding principles that focus on improving the school experience for students of color.
The Black Lives Matter movement is a powerful, non-violent peace movement that systematically examines injustices that exist at the intersections of race, class, and gender; including mass incarceration, poverty, non-affordable housing, income disparity, homophobia, unfair immigration laws, gender inequality, and poor access to healthcare." More information
here
.
---
Please visit the Creative Teaching tab of the library website to explore 2020 (winter, fall and summer) funding opportunities before the deadline.
Third quarter is fast approaching, I am excited to be teaching A Conversation: Critical Approaches to Race, Ethnicity and Representation during 2nd period. We will visit some amazing places including, the Supreme Court to explore landmark cases, the Rayburn House Office Building, Russell Senate Office Building, University lectures and DC State Board of Education. Students will write an anthology that will be published during the start of the 2020-2021 school year and throughout the course, students will discover and rediscover humanity as a familial force.
AUTHOR VISITS
In partnership with Pen Faulkner, we have two incredible authors who will visit us on next week! If you and your class would like to attend, please let me know as soon as possible. We have 25 spots remaining per author visit.
Tuesday, January 7th, 2020 10:20 AM- 11:45 AM
Bell High School Library | A205
Slugg: A Boy's Life in the Age of Mass Incarceration is a blueprint for survival and a demonstration of the power of love, sacrifice, and service. The son of a Kingpin and the prince of a close-knit crime family, Tony Lewis Jr.'s life took a dramatic turn after his father's arrest in 1989. Washington D.C. stood as the murder capital of the country and Lewis was cast into the heart of the struggle, from a life of stability and riches to one of chaos and poverty. How does one make it in America, battling the breakdown of families, the plague of premature death and the hopelessness of being reviled, isolated, and forgotten? Tony Lewis' astonishing journey answers these questions and offers, for the first time, a close look at the familial residue of America's historic program of mass incarceration.
Tuesday, January 14th, 2020 10:20 AM- 11:45 AM
Bell High School Library | A205
Nicole Chung was born severely premature, placed for adoption by her Korean immigrant parents, and raised by a white family in a sheltered Oregon town. From early childhood, she heard the story of her adoption as a comforting, prepackaged myth. She believed that her biological parents had made the ultimate sacrifice in the hopes of giving her a better life; that forever feeling slightly out of place was simply her fate as a transracial adoptee. But as she grew up—facing prejudice her adoptive family couldn't see, finding her identity as an Asian American and a writer, becoming ever more curious about where she came from—she wondered if the story she'd been told was the whole truth.
---
OPPORTUNITY: SCHOLARSHIP FOR SUMMER EDUCATION CAMP - ORNITHOLOGY
Sharing Nature: An Educator's Week
Instructors share favorite methods/activities for engaging children and adults with nature
The scholarship opportunities for the following can be found here:
Learn practical approaches and add inspiration to your environmental education curriculum during this action-packed program. Our experienced and enthusiastic instructors share their favorite approaches, methods, and activities for engaging both children and adults with nature.
Workshops using techniques in art, music, theater, journaling, and other disciplines will be presented, as well as a host of classic Audubon Camp field trips, including a boat trip to the restored Atlantic Puffin and Tern colony on Eastern Egg Rock, intertidal explorations, and hiking through Hog Island's unspoiled spruce-fir forest. These experiences provide a wonderful opportunity to be learning outside in a beautiful setting, while also considering how you can take back some of these insights and methods to your students back home. We'll be exploring citizen science, creating some inquiry-based lessons on birds and other topics, and demonstrating both low and high-tech methods of teaching.
"Best workshop I have ever attended. No teacher left inside. All teachers deserve summer camp! Total stress relief, FUN, FUN, FUN!" - Deb, teacher, Alabama
Continuing Education Credits (CEUs) are available for completing the course from the University of Southern Maine (Please bring $20 for 4.5 credits to camp with you).
"I have been teaching for 25 years and have never experience a more well rounded and useful program than that offered to educators on Hog Island. It is nothing short of out of this world. The scope, variety and depth of material we learned was extensive, exciting and so much fun. The people were top notch and the food will make you sorry you have to go home!" - Tracey, teacher, NY
Please note that for these programs, there are NO prerequisites, and less experienced/enthusiastic spouses/friends are more than welcome to enroll in all sessions!
---
Office Depot has a Give Back to Schools program that provides 5% credit from people's purchases to help schools buy supplies throughout the year. Below is more info and our school ID numbers that people can share at in-store or online check out. The site provides graphics to share online as well.
'Simply make a purchase of qualifying school supplies, provide your school ID at checkout and your school will receive 5% back in credits for FREE supplies!'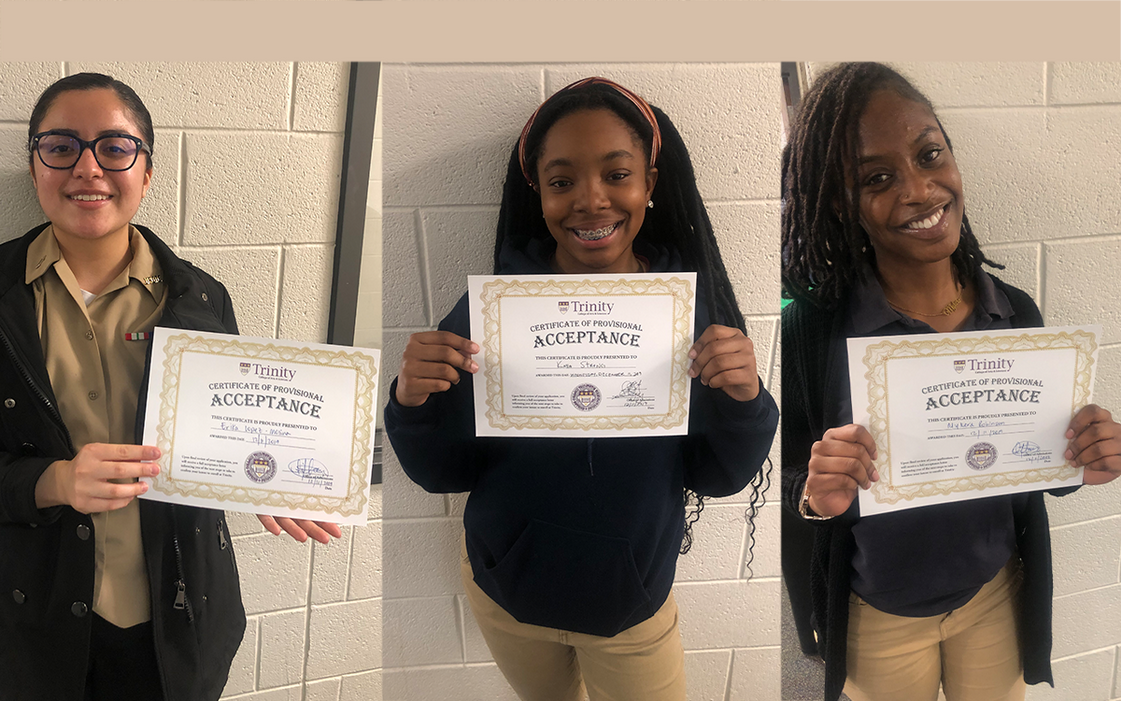 TRINITY UNIVERSITY ACCEPTS ERIKA LOPEZ MOLINA, KAYLA STRONG AND MYKERA ROBINSON
Below is the Google Survey/Referral link that the entire CHEC school community will be using to send behavior referrals. If you have any questions or concerns please reach out to your appropriate Dean directly.
Student Culture Intervention Form - Behavior Referral:
Please use this link to send any behavior concerns after using the 5-step discipline process and any care system you have in place to support your student's social-emotional learning. You may also use this link to bring to the Dean's attention the need for a restorative circle and/or when students are tardy to your class more than three times. The Dean Team will actively monitor this live document to support all teachers.
Students that are Out-of-Area
During the past school year, we noticed a pattern of middle and high school students wandering into the wrong school. For this new year, please be mindful that Middle School students should not be in the High School at all, and certainly not without a pass. High School students should only be in the Middle School on the Lincoln 3rd floor. The route for High School students to the 3rd floor Lincoln is through the Bell 2nd floor and on to Lincoln 2nd floor landing and up the stairs to the 3rd floor. They should not use the 1st or 2nd floor Lincoln to get to the 3rd floor Lincoln. Students that are not complying should be written a referral, so they can earn a consequence.
Detention is a first intervention we have for students to check and correct their behavior in your classrooms. Students being informed of this consequence is vital to the effectiveness of the consequence. Remember to use our 5 step process with fidelity so that our students will not earn a greater consequence of ISS and thus lose valuable class time
We always need more support at dismissal from 3:15pm until 3:35pm (High School), 4:15pm until 4:35pm (Middle School). Please follow students all the way out to the front of the building. Students should be encouraged to move on toward their bus stops/metro quickly. Teachers and staff that can make themselves available to stay out front will be greatly appreciated.
All lunches have their ups and their downs. We always appreciate additional supports in the cafeteria on days that teachers are available. Check-ins with students build relationships and adult presence supports our daily procedures in lunch.
Athletics are an integral part of the educational program and a means to accomplish the goals of education. Our athletic program exists for the welfare of students and the contributions it makes to their educational experience. Athletic participation builds self-esteem and confidence and provides the necessary tools for success. The interaction between individuals on the fields of sport teaches students the value of teamwork, while developing the proper competitive spirit, combined with a sense of fairness.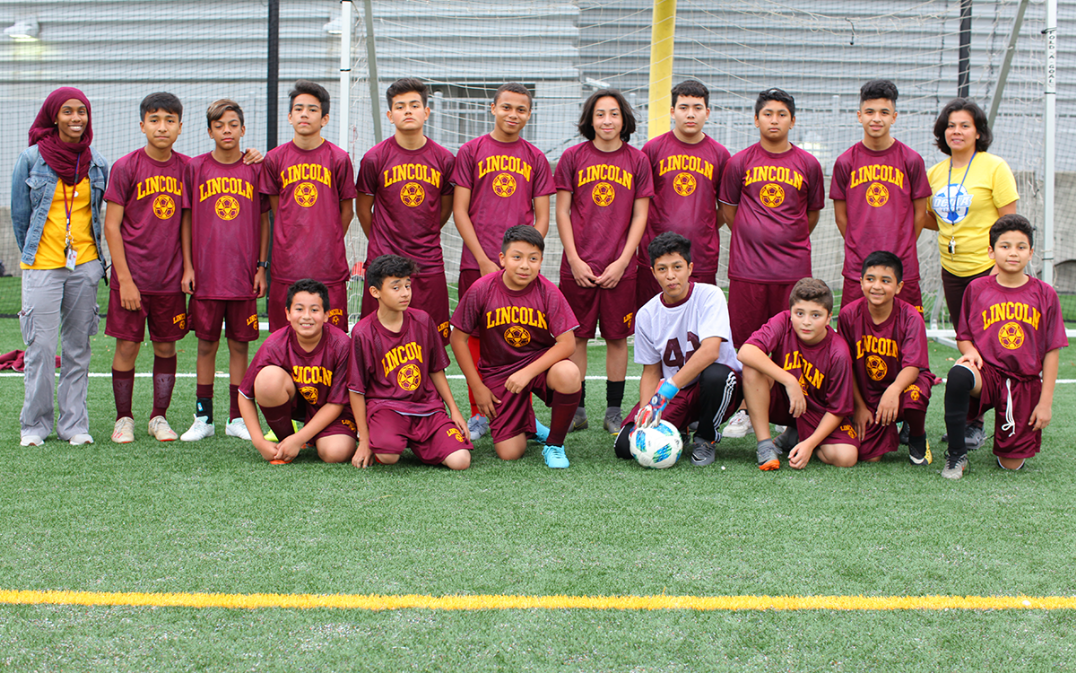 LINCOLN MS BOYS SOCCER TEAM SY 2019-20
The middle school girls basketball team defeated Takoma. The middle school boys basketball team lost to Takoma. The high school basketball teams defeated Cardozo but lost to Dunbar and Coolidge. In last week's DCIAA HS indoor track meet, our boys and girls teams finished 6th and 8th overall respectively out of 14 teams. Stephane Mankemi finished 1st in the long jump and 3rd in the 500m. Mondomdewa Kao finished 4th in the 800m and Natanmem Abebe finished 6th in the 1600m. Mihert Wondimagegm finished 3rd in the 1600m and 2nd in the 3200m, while Ariyah Green finished 6th in the 300m. Lastly, our girls 4X400m relay team finished 6th.
Junior Varsity Basketball: 5 - 7
Varsity Boys Basketball: 7 - 5
Varsity Girls Basketball: 2 - 10
Junior Varsity Basketball vs.
Roosevelt at CHEC @ 4:00
Varsity Girls Basketball vs.
Roosevelt at CHEC @ 5:30
Varsity Boys Basketball
vs. Roosevelt at CHEC @ 7:30
Middle School Girls Basketball vs. Francis Stevens at Francis Stevens @ 4:45
Middle School Boys Basketball vs. Francis Stevens at Francis Stevens @ 6:00
Tuesday, January 14, 2020
High School Swim Meet at Dunbar @ 5:30
Middle School Boys Basketball vs. Walker Jones at Walker Jones @ 6:00
Wednesday, January 15
, 2020
Junior Varsity Basketball vs. HD Woodson at HD Woodson @ 4:00
Varsity Girls Basketball vs. HD Woodson at HD Woodson @ 5:30
Varsity Boys Basketball vs. HD Woodson at HD Woodson @ 7:30
Thursday, January 16, 2020
Middle School Wrestling Meet at McKinley Tech @ 4:00
Saturday, January 18, 2020
Middle School Girls Basketball vs. Whittier at 4:45 @ Deal
Middle School Boys Basketball vs. Whittier at 6:00 @ Deal