CHEC bulletin for
Week of January 2
, 2020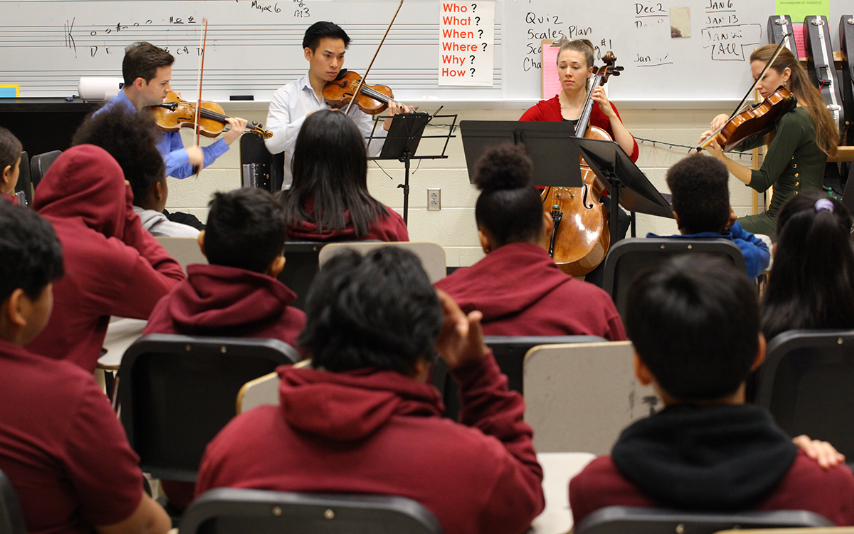 KENNEDY CENTER QUARTET PERFORMANCE FOR MIDDLE SCHOOL STUDENTS
MARIA TUKEVA'S (MT) MESSAGE:
Thursday, January 2, 2020
Department Planning Period Mtgs
Extended Day Mtg 3:30pm–5:30pm
Wednesday, January 8, 2020
Department Planning Period Meetings
Street Law Recruitment Auditorium 2pm
Thursday, January 9, 2020
ANET and AP Interim Schedule
Department Planning Period Meetings
Faculty Meeting – 3:30 PM
ANET and AP Interim Schedule
HAPPY 2020! LOOKING FORWARD TO SEMESTER 2
Welcome back to all faculty and staff from Holiday Break! As we end the second advisory, over the next three weeks we will be assessing learning through portfolio presentations and interim assessments. This is the time to engage students in reflection of what they have learned, and to differentiate instruction through station work so that students can work on the standards they need to improve. The end of the advisory provides for a powerful opportunity for students to synthesize what they have learned, and demonstrate how they can transfer their knowledge into new settings and contexts.
---
Kudos to Ms. Brown, Mr. Galvan, Ms Thweatt, Ms. Spinks, Ms. Lainez, and all who coordinated the 8th Grade High School Fair!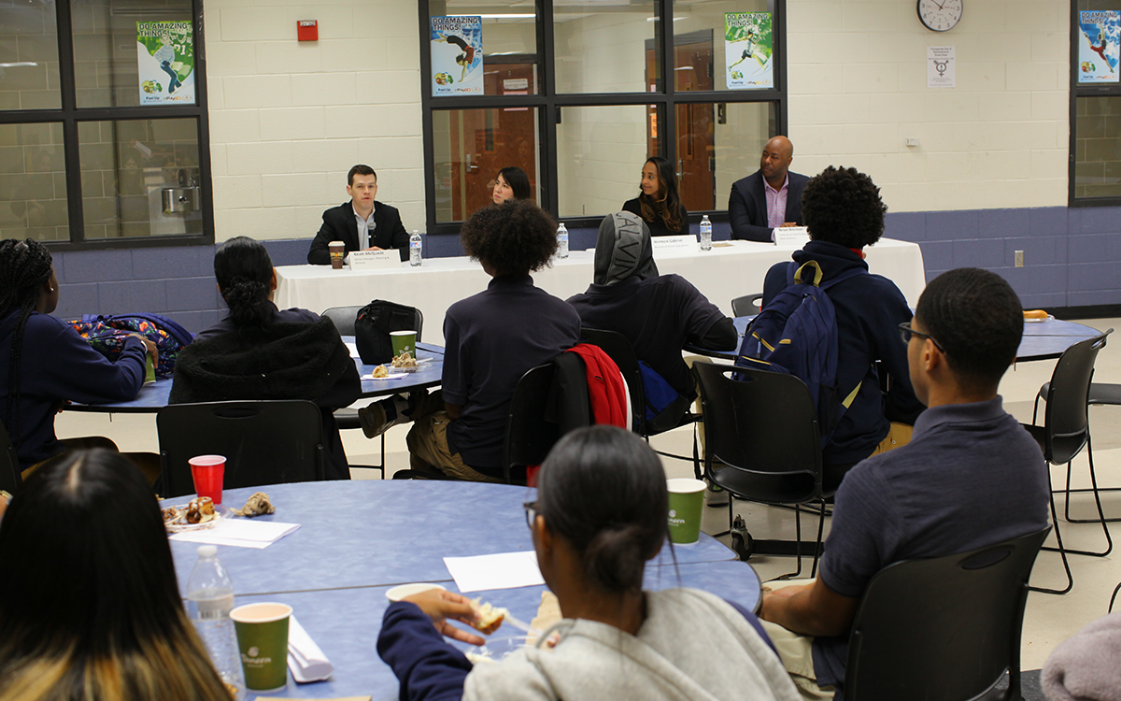 This is the eighth week of the Second Advisory! After break, it is important to maintain a sense of purpose and focus to classes, so that students find value in attending. We must be delivering full lessons every day, every period, and communicating this to students. This will ensure that our attendance stays high, and that students continue to learn. Please make your lessons for the two days when we return, some of your most compelling and interesting lessons! When we return from break it will be time to complete and revise the current GRASPS, and begin to prepare students for portfolio presentations and exams.
The Instructional Calendar is a living document that houses all of the major curricular requirements, assessments, and schoolwide events. Please check it weekly, as it changes as events are added or moved. Please note some additions - the specific dates for each interim have been added, so please check out the calendar! The calendar is curated by members of the Admin team, and Mr. Magee, Science LEAP lead, curates and adds events or items that are submitted by Department Chairs. If you have an event or item that you think should be added to the Instructional Calendar, please submit it to your Department Chairperson first, and then your Department Chair will submit for inclusion if appropriate.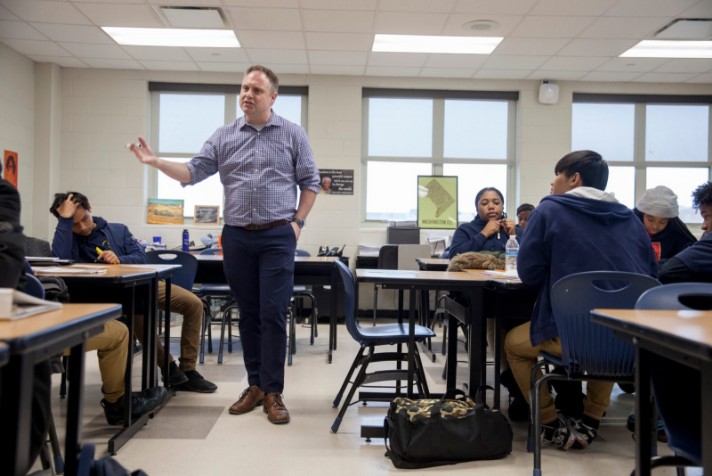 George Connor leads his government class at the Columbia Heights Educational Campus in a discussion about the impeachment process.
---
George Connor strolled the aisles of his fourth-floor classroom, prepared with an assignment.
"Give me a list of horrible things that could probably get a president removed from office," he asked the 12th-grade students in his class at Columbia Heights Educational Campus on a recent weekday morning.
Answers flowed from the teenagers.
Laundering money, one said. Abuse of power. Sexual misconduct. Interfering with elections.
"Gee, I wonder where we're getting some of these ideas from," Connor quipped.
In ordinary times, the 36-year-old teacher would spend a brief part of his U.S. government course explaining impeachment. But these are not ordinary times.
President Donald Trump was impeached by the House of Representatives Wednesday night on a mostly party-line vote, prompting a Senate trial on abuse of power and obstruction of justice charges.
Connor and other social studies teachers are teaching history as it unfolds. In classrooms across the D.C. region, they are bringing lessons about checks and balances to life with real-world examples. They are airing clips of impeachment hearings in class, challenging students to draw parallels between the Trump era and other presidencies.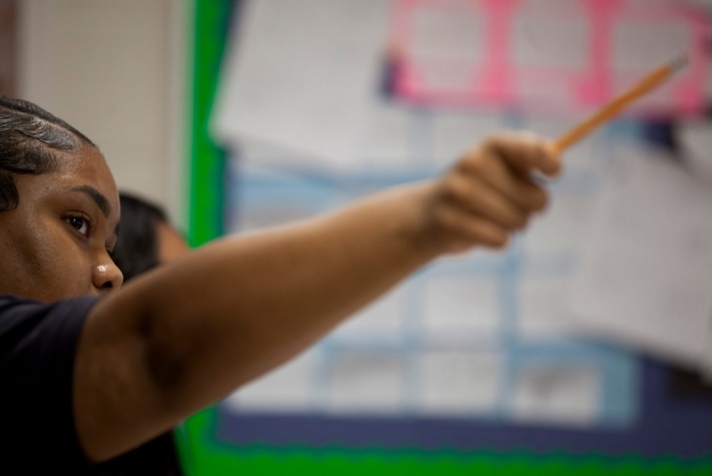 A student at the Columbia Heights Educational Campus points during a lesson about impeachment.
---
President Trump is the third president in the nation's history to be impeached. The two others — Bill Clinton and Andrew Johnson — were eventually acquitted in a Senate trial, the expected outcome for the current president.
The latest impeachment inquiry involves allegations that Trump withheld military aid to Ukraine to secure an investigation into former Vice President Joe Biden, a potential 2020 political rival.
The complicated and highly divisive process can lead to fraught discussions in class. Teachers say they are careful to remain objective and render facts about the procedure without injecting personal beliefs.
"I don't want to be accused of trying to influence students with whatever my political leanings or biases may be," said Todd Smith, chair of the social studies department at Southern High School in Harwood, Md. "I generally tend to be kind of reserved when it comes to talking about modern-day politics, because it can get so heated, it can get so contentious."
Smith, who teaches in a rural, Republican-leaning community, said he has not heard many students talk or ask about impeachment on their own.
But the topic has emerged in lessons about checks and balances and the rule of law. After the House of Representatives voted to impeach Trump this week, Smith devoted half a class period to cover the vote and the process moving forward.
"That's historic stuff," he said.
In liberal Arlington County, social studies teacher Michael Palermo said he thinks his students are paying close attention.
During lessons about the Enlightenment, Palermo said he usually introduces students to Montesquieu's ideas on the separation of powers. And in the past, he has used impeachment as an example of a legislative check on the president's power.
"Now that it's happening, that's something that I can point to that they'll be able to understand, they'll be able to connect with better," said Palermo, who is planning on holding a simulation of the Senate trial in class.
Even before the inquiry into Trump's dealings with Ukraine, his presidency and the hyper-partisan political climate have affected the way some teachers talk to students and teach government.
At the Columbia Heights Educational Campus, Connor still explains how a bill becomes a law. But he also feels he has to talk about how political gridlock has prevented Congress from passing laws.
After Trump was elected in 2016, Connor said the mood on campus was "somber." The city is heavily Democratic and students at the school are majority black and Hispanic.
He strives to remain apolitical while calming students' fears about immigration crackdowns and the threat to Deferred Action for Childhood Arrivals program, which allows children who were brought to the country illegally to stay in the United States.
It's the first impeachment any of the students in Connor's class have witnessed — the teenagers were not alive in 1998 when Clinton was impeached by the House and later acquitted of perjury and obstruction of justice by the U.S. Senate.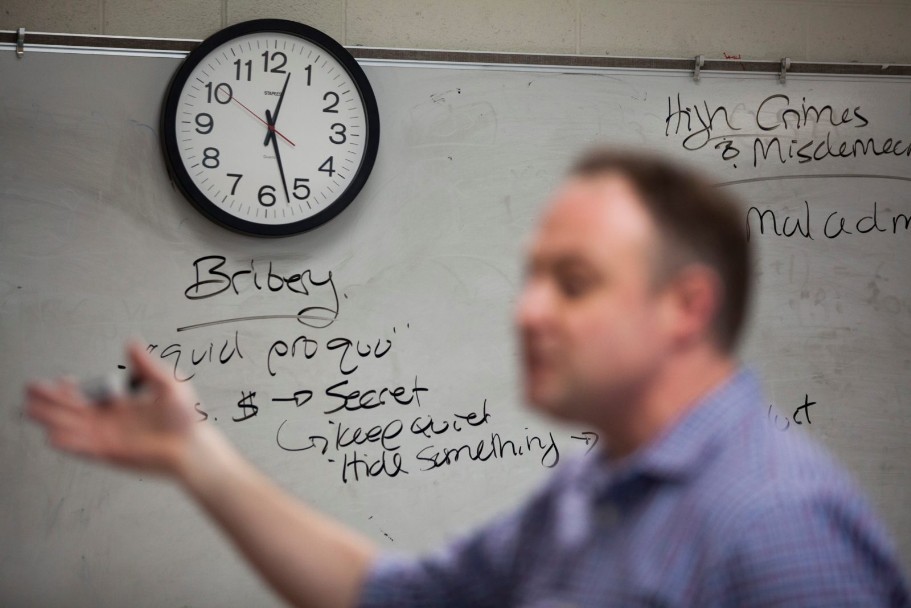 Connor asks students what they think could get a president impeached.
---
The teenagers are learning just how tough it is to remove a president from office.
"Growing up, I thought a group of people would vote or agree that this president is doing something wrong and that he would just be kicked out," said Jonathan Mendez, a 17-year-old. "It's actually a great deal of process that they have to go through."
Kayla Strong, a 17-year-old who wore an Obama sweatshirt, said she feels politicians sometimes use their platforms for the wrong reasons. They spout mean spirited thoughts on Twitter. They make rude comments at inappropriate times.
She said she feels the impeachment process is a respectful, orderly way for politicians to convey their thoughts.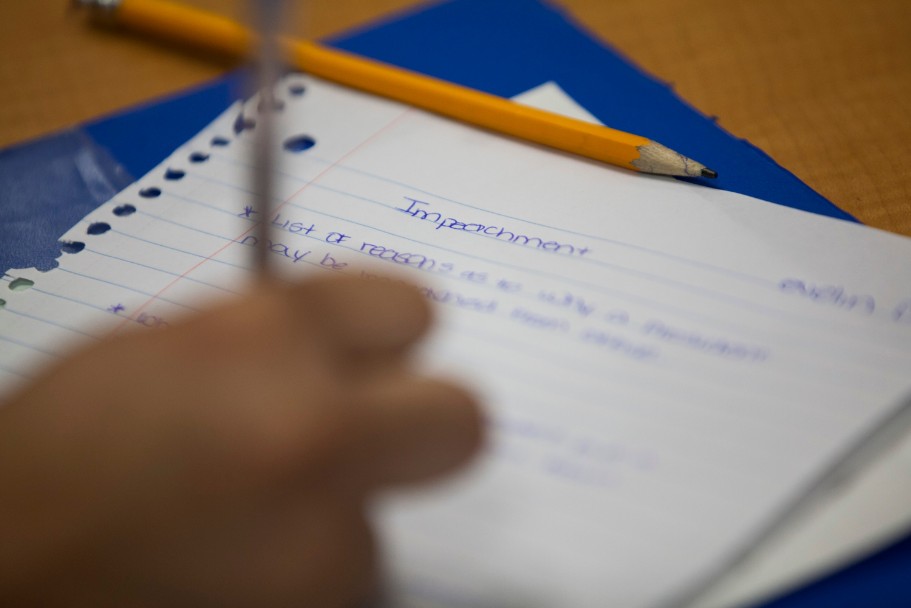 A student at the Columbia Heights Educational Campus takes notes in a class discussing impeachment. The teenager said she thinks impeachment was "a long time coming," citing the sexual misconduct allegations made against the president and the Russia investigation.
---
"He's the president, but I don't think anyone should be above the law," Strong said.
The Senate trial on abuse of power and obstruction of Congress is expected to begin in January.
When the time comes, Connor and his students will be paying attention.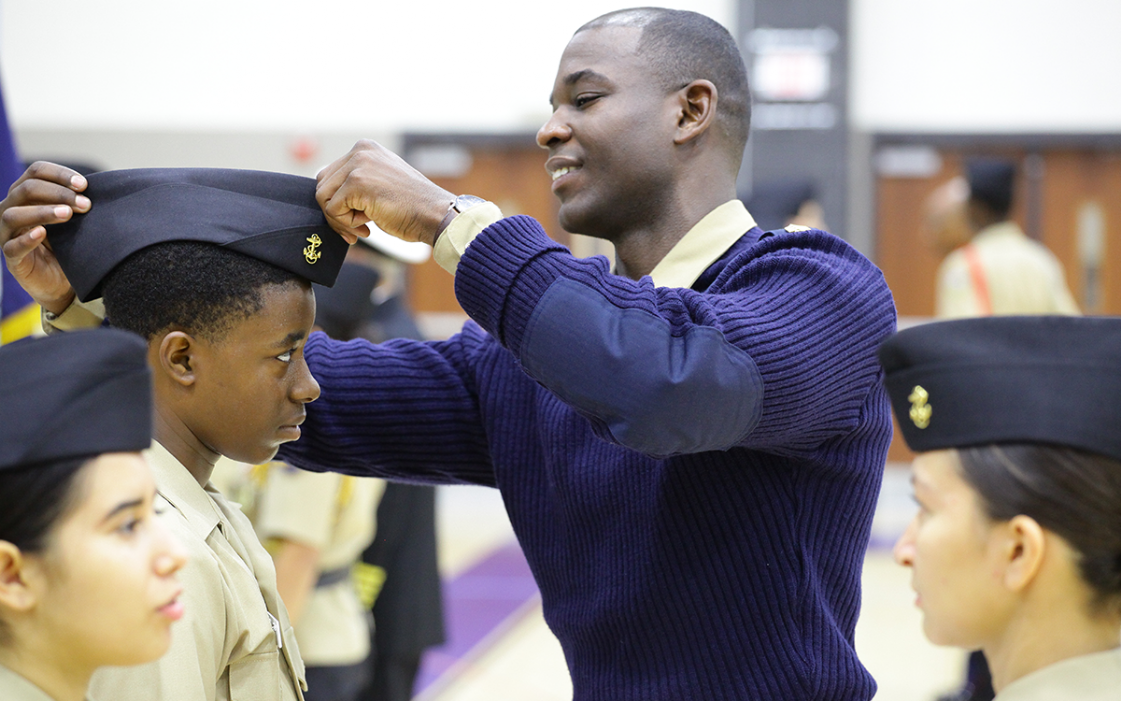 ANNUAL MILITARY INSPECTION AT CHEC
UPDATES FROM:
ACADEMIC LEADERSHIP TEAM
I
DUAL LANGUAGE
I
PROFESSIONAL DEVELOPMENT LINK
I
COLLEGE AND CAREER
I
LIBRARY UPDATE
I
SUMMER EDUCATION CAMP
I
OFFICE DEPOT GIVE BACK
I
The Academic Leadership Team (ALT) consists of all administrators, LEAP leads, Department Chairs, and any interested faculty or staff. Meetings are held twice a month, alternating between Early Release Days and morning meetings. The ALT team designs and monitors the Comprehensive School Plan. All are welcome to attend, either for one meeting or for all. At the December 13 meeting, the ALT team reviewed the data collected from our internal walk-throughs, and planned next steps and feedback.
The next ALT meeting will be Friday, January 10 at 7:30 am. During this meeting we will review the Star Framework Deep Dive and each subgroup will report out on their walk through data.
In the attached link, you can find the entire year schedule of ALT team meetings and proposed
meeting focus here
---
OPPORTUNITY FOR CHEC DUAL LANGUAGE STUDENTS
Can you help us spread the word?
We are providing a very exciting opportunity for dual language, middle and high schools students. We have reserved a space at the fair for DL students who offer any type of service paid/unpaid to their communities (e.g. tutoring, babysitting, translation, coaching, etc.). We will offer an exhibiting space free of charge. Would you help us spread the word? Here is the application form.
---
GREAT PROFESSIONAL DEVELOPMENT NEWSLETTER LINK
Here is a link for a monthly newsletter from OSSE about PD opportunities for a bunch of subjects/areas.
It has ELL, SpEd, SEL, H & PE, RTI, literacy, math and more.
---
COLLEGE APPLICATION WORKSHOPS
Time: Wednesday's after-school from 3:30 p.m. to 5:30 p.m. (Beginning October, 2019)
Length: The workshops begin first week of October and end by Christmas Break
Students: 25 to 30 students - ALL WELCOME!
Volunteer Duties: Volunteers will provide essay writing support – Common App Essays – helping decide structure, students have stories to share but need help capturing stories in an essay.
Additional Info: There is no need for curriculum/books, but college student volunteers will bring their applications, essays to share with students. A collection of sample Common App and supplemental essays will be provided.
Students will be working to apply to a list of 5 schools they have developed with CHEC College Counselor. Ms. Henry.
Math + Library Collaboration Ideas
Collaboration opportunities include soft skills (locating resources, how to solve life problems), math review via school scavenger hunt (bonus: students will learn what services and support are available to them), math inquiry mini-project (build those research skills!), library renovation project, and more. Browse through the Slides here and let's collaborate creatively to connect math to life! Books about math concepts and careers are readily available in Lincoln Library - check out these resources today.
We Need Diverse Books Giveaway
We Need Diverse Books is offering classroom sets (up to 20) of the 2019 Walter Award winners The Poet X by Elizabeth Acevedo or Ghost Boys by Jewell Parker Rhodes. Both are excellent books - Poet X is prose through the eyes of 15-year-old Xiomara as she deals with her family conflicts. Ghost Boys is written from the POV of a boy killed by police and he meets other well-known boys with similar experiences.
A class set could be a great way to build your classroom libraries, start a small book club (Ms. Falkenberg would be happy to help on the MS side), IR choices, or any other ideas floating in your creative minds.
Look at the form below (includes info about using the texts, permission slips, etc) and fill out if you're interested. You have until December 15th to enter.
Do you want to implement more technology in your projects or with your departments but are unsure what to use? Are you wondering how to create or navigate using the tools shared by your school librarians? Contact Ms. Falkenberg (angela.falkenberg@k12.dc.gov) or pop by the library to schedule technology lessons. Lesson ideas include Office 365 apps, PPT alternative tools, book talks, video creations, podcasts, DC Library databases, and more. Library media specialists are both your instructional partners and technology navigators, engineers, and cheerleaders. When you are more confident using tech, students will be as well.
---
Check out these articles from the Urban Institute!
​If you have any questions and/ or would like to schedule a class visit, please email, call or stop by the library | A205.
Check out the Bell High School Library
LGBTQIA Resources
for Educators and Staff, Students and Parents!
Exciting Books and Articles are located in the Bell Library!
The CHEC/ Bell High School Library would love to invite teachers and staff to reserve library space (check out the pictures) via our reservation platform, Skedda.
Once booking your first reservation you will be prompted to create a quick login. Users will be able to see when space is available and when space is unavailable. This will allow for transparency and comfort in knowing that the time that you have requested, is available. There is also a space for *notes. If you would like to request AV material (i.e. projector) I can have that available and set-up for you. The first space is the main library and the second space is Peace & Love Room/ Makerspace.
We have some amazing things planned for the 2019-2020 school year! Please check out the
Bell Library Website
with new programming, resources for students and parents and new faculty webinars.
In our Nations Capital and all over the world we have literary deserts that have prevented many from exploring the beauty of equitable literacy. I had the pleasure of being a part of a Summer Curriculum Development Institute at CHEC taught by Mr. Darry Strickland. Each participant developed a UbD (Understanding by Design), a framework used to improve student achievement. Because of the amazing feedback from all involved in the institute and students as well as new teachers, Bell Library's finished project is Building Through Community Relationships: Providing Opportunities to Literary Deserts. We have developed a new partnership with Christ House, a medical facility with "comprehensive and compassionate health care to sick, homeless persons in the District of Columbia, and to assist them in addressing critical issues to help break the cycle of homelessness." (christhouse.org)
The Bell Library along with students and educators will replenish their living room library and create a library in their 52-bed residence known as Kairos. "The Kairos Program participants are capable of living independently, but due to chronic illness, are unable to hold full-time employment. Volunteer service is a key element of the program and each member serves based on his gifts and abilities. They escort Christ House patients to medical appointments, staff the clothing room, work in the kitchen, and assist with mailings and other administrative activities. Some participants also work part-time jobs at Christ House or in the neighborhood." (https://christhouse.org/services-2/kairos-program/) Students will complete empathetic interviews and create a collection that will be sure to rival University of Michigan's- Cook Research Library. If you are interested in helping expand and create a library, please reach out to me!
DCPL Educator Cards will be in within the next few weeks. For new educators or educators who would like a new card, please email me.
I look forward to seeing you soon for a library tour and, serving you well. If you have any questions please don't hesitate to call, email or drop by the library- A205!
---
OPPORTUNITY: SCHOLARSHIP FOR SUMMER EDUCATION CAMP - ORNITHOLOGY
Sharing Nature: An Educator's Week
Instructors share favorite methods/activities for engaging children and adults with nature
Scholarship Opportunities for the following can be found here:
Diversity Scholarship Winners - please contact the program manager to register
Learn practical approaches and add inspiration to your environmental education curriculum during this action-packed program. Our experienced and enthusiastic instructors share their favorite approaches, methods, and activities for engaging both children and adults with nature.
Workshops using techniques in art, music, theater, journaling, and other disciplines will be presented, as well as a host of classic Audubon Camp field trips, including a boat trip to the restored Atlantic Puffin and Tern colony on Eastern Egg Rock, intertidal explorations, and hiking through Hog Island's unspoiled spruce-fir forest. These experiences provide a wonderful opportunity to be learning outside in a beautiful setting, while also considering how you can take back some of these insights and methods to your students back home. We'll be exploring citizen science, creating some inquiry-based lessons on birds and other topics, and demonstrating both low and high-tech methods of teaching.
"Best workshop I have ever attended. No teacher left inside. All teachers deserve summer camp! Total stress relief, FUN, FUN, FUN!" - Deb, teacher, Alabama
Continuing Education Credits (CEUs) are available for completing the course from the University of Southern Maine (Please bring $20 for 4.5 credits to camp with you).
Prices: The prices listed below are per person and include meals, housing, instruction and all boat trips. Participants must arrange transportation to and from the Audubon mainland property in Bremen at the start and end of the session (see directions page). Check with your local Audubon chapter or bird club to see if scholarships are available.
$1045 twin bed in the Queen Mary loft, 6 beds total (women only)



$1145 twin bed in a shared double, triple, or quad room, shared bathroom

$1295 Puffin room (2 twin beds, private 1/2 bath) located in Crow's Nest

$1445 single room, shared bathroom


$1445 Osprey room, Eider room, or Roseate room - double bed, private bath, ocean view (dbl occupancy)
"I have been teaching for 25 years and have never experience a more well rounded and useful program than that offered to educators on Hog Island. It is nothing short of out of this world. The scope, variety and depth of material we learned was extensive, exciting and so much fun. The people were top notch and the food will make you sorry you have to go home!" - Tracey, teacher, NY
Please note that for these programs, there are NO prerequisites, and less experienced/enthusiastic spouses/friends are more than welcome to enroll in all sessions!
---
Office Depot has a Give Back to Schools program that provides 5% credit from people's purchases to help schools buy supplies throughout the year. Below is more info and our school ID numbers that people can share at in-store or online check out. The site provides graphics to share online as well.
'Simply make a purchase of qualifying school supplies, provide your school ID at checkout and your school will receive 5% back in credits for FREE supplies!'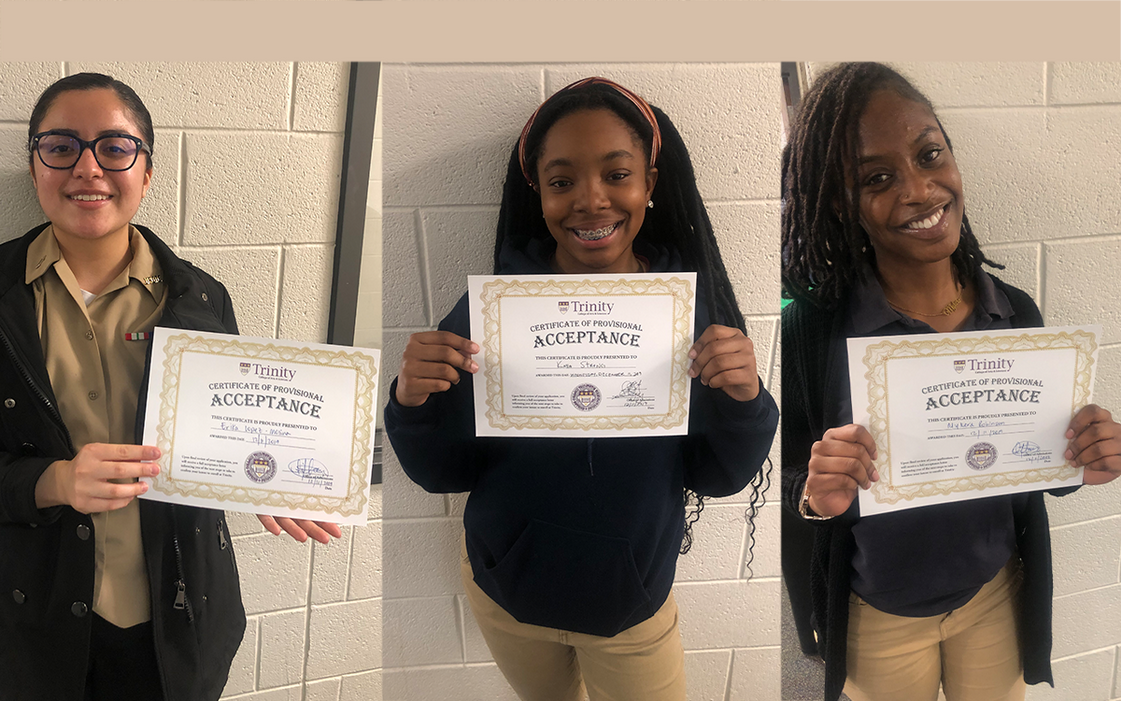 TRINITY UNIVERSITY ACCEPTS ERIKA LOPEZ MOLINA, KAYLA STRONG AND MYKERA ROBINSON
Below is the Google Survey/Referral link that the entire CHEC school community will be using to send behavior referrals. If you have any questions or concerns please reach out to your appropriate Dean directly.
Student Culture Intervention Form - Behavior Referral:
Please use this link to send any behavior concerns after using the 5-step discipline process and any care system you have in place to support your student's social-emotional learning. You may also use this link to bring to the Dean's attention the need for a restorative circle and/or when students are tardy to your class more than three times. The Dean Team will actively monitor this live document to support all teachers.
Students that are Out-of-Area
During the past school year, we noticed a pattern of middle and high school students wandering into the wrong school. For this new year, please be mindful that Middle School students should not be in the High School at all, and certainly not without a pass. High School students should only be in the Middle School on the Lincoln 3rd floor. The route for High School students to the 3rd floor Lincoln is through the Bell 2nd floor and on to Lincoln 2nd floor landing and up the stairs to the 3rd floor. They should not use the 1st or 2nd floor Lincoln to get to the 3rd floor Lincoln. Students that are not complying should be written a referral, so they can earn a consequence.
Detention is a first intervention we have for students to check and correct their behavior in your classrooms. Students being informed of this consequence is vital to the effectiveness of the consequence. Remember to use our 5 step process with fidelity so that our students will not earn a greater consequence of ISS and thus lose valuable class time
We always need more support at dismissal from 3:15pm until 3:35pm (High School), 4:15pm until 4:35pm (Middle School). Please follow students all the way out to the front of the building. Students should be encouraged to move on toward their bus stops/metro quickly. Teachers and staff that can make themselves available to stay out front will be greatly appreciated.
All lunches have their ups and their downs. We always appreciate additional supports in the cafeteria on days that teachers are available. Check-ins with students build relationships and adult presence supports our daily procedures in lunch.
Athletics are an integral part of the educational program and a means to accomplish the goals of education. Our athletic program exists for the welfare of students and the contributions it makes to their educational experience. Athletic participation builds self-esteem and confidence and provides the necessary tools for success. The interaction between individuals on the fields of sport teaches students the value of teamwork, while developing the proper competitive spirit, combined with a sense of fairness.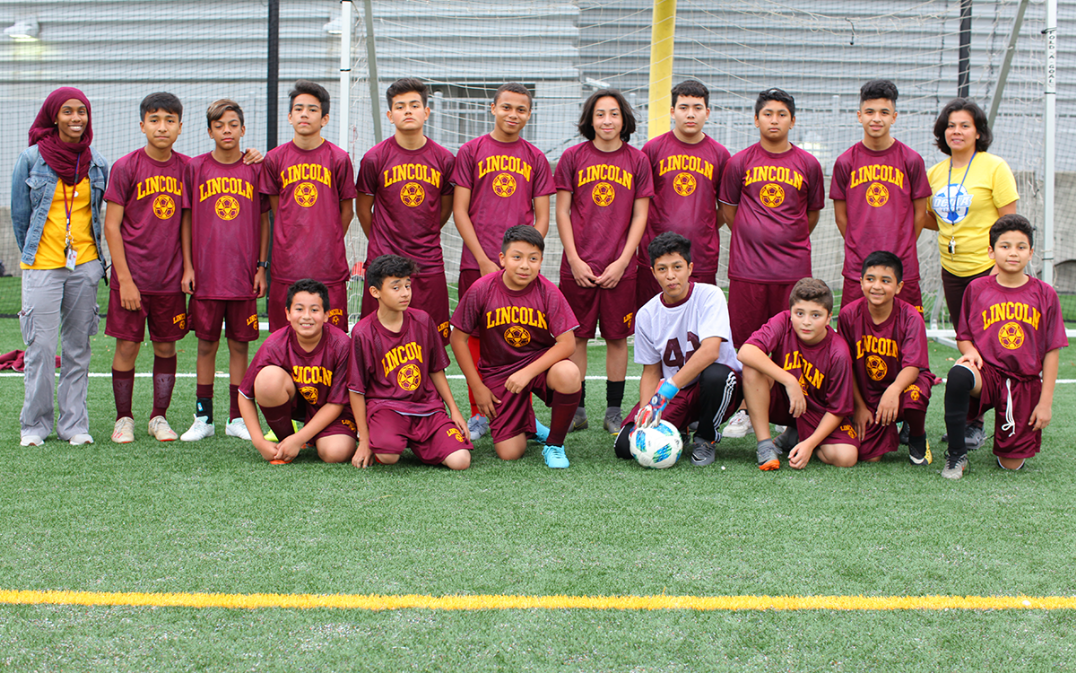 LINCOLN MS BOYS SOCCER TEAM SY 2019-20
The Varsity Girls Basketball Team lost both of its games during the Title IX Christmas tournament.
Junior Varsity Basketball: 4 – 4
Varsity Boys Basketball: 6 – 2
Varsity Girls Basketball: 1 – 7
Thursday, January 2, 2020
Wednesday, January 8, 2020
Thursday, January 9, 2020
Middle School Girls Basketball vs. Leckie at CHEC @ 4:45 p.m.
Middle School Boys Basketball vs. Leckie at CHEC @ 6:00 p.m.
Junior Varsity Basketball vs. Wilson at CHEC @ 4:00 p.m.
Varsity Girls Basketball vs. Wilson at CHEC @ 5:30 p.m.
Varsity Boys Basketball vs. Wilson at CHEC @ 7:30 p.m.
Saturday, January 11, 2020