CHEC'S ANNUAL INTERNATIONAL DINNER
Dear CHEC community,
Best wishes for a wonderful holiday season, with plenty of time with family, friends and loved ones, as well as rest – and fun! We have worked extremely hard during 2017, and have much to celebrate. There are so many indications that our students are growing and making progress, and it is due to our collaboration and dedication to every student's learning.
Thank you to all for your teamwork, your relentless pursuit of excellence, the commitment to our school mission, and the love you show for our students and their families every day. Happy Holidays and Happy New Year!!
-------------------------------------------------------
THERE ARE NO WORDS TO EXPRESS OUR GRATITUDE....
Shout out to Pankaj for organizing CHEC's booths at EdFest on Saturday December 9! Edfest is the district's recruiting fair for parents and families! Kudos to all who staffed our booths on Saturday – Ms. Edwards, Ms. West, Ms. Stevenson, Mr. Boone, Ms. Thweatt, Mr. Lessek, Ms. Hinkson, Ms. Strickland, and Ms. Pugh!!!
Kudos to the Music and Arts Department for outstanding performances at the International Dinner, and the Sounds of the Season Winter Showcase! For the past two weeks, the CHEC Music ensembles have been performing in a number of venues! Thank you and congratulations to Mr. Onley, Dr. Barnett, Ms. Lydia, Mr. Navas, Mr. Jacobs, Ms. McCulloch, Ms. Shaw, Ms. Garcia, Ms. Buckmon, and Mr. Daniels for coordinating these in school and out of school performances!! The talent of our CHEC Artists is growing every year! A special shout out to Mr. Onley's Jazz ensemble for playing on Sunday at the National Press club for Lt. Colonel Myles Caggins III promotion ceremony.
Shout out to all teachers and staff who coordinated or performed for the International Dinner – Ms. Colleen Baker, Amylia Barnett, Mr. Arango, Ms. Lydia, Heber Diaz, Ms. Alvarado, Ms. Ramirez, Ms. Tamdem, Mr. ARagian, Ms. Pugh, Mr. Navas, Mr. Onley and Mr. Jacobs!!
Kudos to Capt. Gantt, and Master Sergeant Deschamps for the outstanding performances of the NJROTC at all school events this month!!!
Shout out to Ms. McCulloch's AP Art students for creating their own calendar! It can be purchased for $10.00!
Shout out to Mr. Molina, Ms. Lucy Lemus, and all parents and volunteers who participated and organized the International Dinner!! The food was delicious and there was wonderful camaraderie!!
Shout out to all of the CHEC Family for doing an exemplary job during our Instructional Superintendent Walk through on December 8. A special thank you to all Assistant Principals and our Resident MJP Principal– Mr. Lessek, Ms. Thweatt, Ms. Edwards, Mr. Jones, Ms. Hinkson, Ms. West and Ms. Kush! They shared their data trackers and demonstrated our data driven instruction approach to IS Pinder. A special thank you also to all teachers he visited that day!!
Shout out to Mr. Magee and the Science Department for presenting at the ALT Team meeting last week! They did a great job of presenting student work!!!
Kudos to all who presented during our Faculty Meeting on Attendance, and all who facilitated discussion groups – Mr. Lessek, Ms. Thweatt, Ms. Warren, Ms. Whitaker, Ms. Exantus, and the Dean Team!!!

Shout out to counselors and Admin for holding student town halls and discussion groups on attendance!!!

Shout out to Mr. Molina and Ms. Lemus for organizing our Parent Attendance Meeting last week! There were about 200 parents in attendance!
Kudos to Ms. Penn and Mr. Lessek for coordinating the Verizon Stem Day at CHEC last week! Thanks to their efforts, every middle school student got to visit the STEM Learning lab!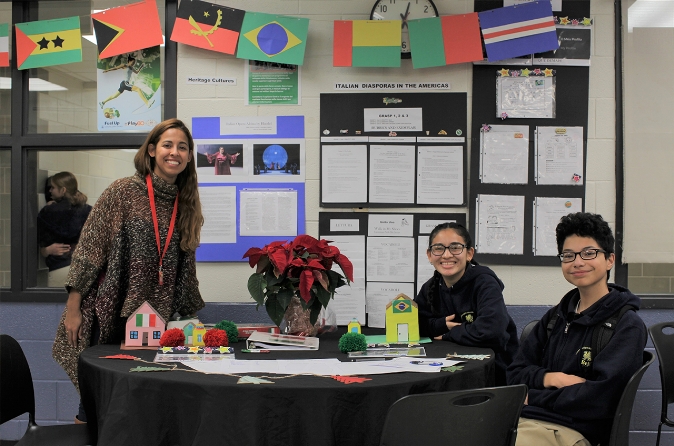 As we prepare for a well deserved rest, let's plan backwards from key instructional benchmarks in January, in order to start on the right foot when we return on January 3rd. Here are some key upcoming dates in January that have implications for instructional planning:
Date Change – Early Release Day has been changed from January 3 to January 10
Interims and Finals – January 11 and 12 (there are six instructional days from when we come back to the Interims and Finals)
Portfolio Presentations – January 17 and 18 (there is one instructional day between Interims/Finals and portfolio presentations)
End of the Advisory – January 19
The implications for the seven instructional days before interims/ finals and portfolios, means that preparation for both of those assessment events will need to be done in an integrated fashion over those seven days. Preparing students to organize their portfolio documents can even begin this week, and practice for the actual presentations can be done in a way that students are reviewing concepts and knowledge for the interim/final as well. The key to this is a strategic and tight instructional planning process over those seven days.
December 11 - December 15, 2017
IN THIS ISSUE

Leadership Team and Other Updates
Opportunities and Updates
Ambiente, creating a climate for learning
Upcoming Events and Activities
LAST WEEK'S RESULTS
The Middle School Boys Basketball team defeated Wheatley and Cardozo. The High School Girls Basketball defeated Cardozo and Mervo but lost to Anacostia and Roosevelt. The JV Boys Basketball team defeated Anacostia and Cardozo but lost to Roosevelt. The Varsity Boys Basketball team defeated Cardozo and lost to Anacostia and Roosevelt.
In the week of December 11th, the Middle School Girls Basketball team defeated West and lost to Deal. The Middle School Boys Basketball team lost to Deal and West. The Middle School Wrestling Team participated in its first match this past weekend. The High School Girls Basketball defeated Southwestern and lost to Sidwell Friends. The Junior Varsity Basketball Team defeated Georgetown Day. The Varsity Boys Basketball team lost to Georgetown Day and Seed.
The Washington Post (allmetsports.com) released its ALL MET teams for the fall sports season. CHEC had five student-athletes make the teams.
Edgar Ayala Honorable Mention
Ariana Reyes Honorable Mention
Ronnell St. John Honorable Mention
Teyonte McKenzie Honorable Mention
If you know or see any of these students, please congratulate them! Go Griffins!
-------------------------------------
LINCOLN

BELL

Junior Varsity Basketball – 3 - 1
Varsity Girls Basketball – 3 - 3
Varsity Boys Basketball – 1 - 4
THIS WEEK'S SPORTS SCHEDULE
Monday

Junior Varsity Basketball vs. Ron Brown at 4:00 @ Ron Brown
​Tuesday

Middle School Wrestling Jamboree at 4:30 @ Stuart Hobson
Wednesday
Indoor track Invitational at 2:00 at PG Sports and Learning Complex
Thursday
Friday

Varsity Boys Basketball vs. Thurgood Marshall at 4:30 @ Dunbar (Holiday Showcase)
​Saturday

Varsity Boys Basketball vs. Seed at 12:00 @ Dunbar (Holiday Showcase)
WEEKLY CALENDAR
Monday

Verizon STEM Bus on Campus
Verizon STEM media event in Model UN
11th and 12th Grades Honor Assembly 10AM
Wednesday

Thursday
11th and 12th Grades Honor Assembly 10AM
CHEC Music Department Winter Concert 6PM
MS incentive game of the month: Basketball (and PBIS dress-down opportunity)
UPCOMING EVENTS AND ACTIVITIES
CHEC Latin Jazz Ensemble Performances
Sunday, December 17, 2017
14th & Pennsylvania Ave. NW
Promotion Ceremony for Lt. Col. Myles Caggins, III
Saturday, February 17, 2018
Mid-Atlantic Jazz Festival
The MAJF High School Jazz Band and Combo Competition Hilton
1750 Rockville Pike, Rockville, Maryland 20852 All Day Event Performance Time: TBA
UPDATES FROM: LEADERSHIP STEM BUS CHEC
LIBRARIES
EMOC PGT
The Leadership Team will continue to meet on Wednesdays this year. Last meeting, the team worked on determining our progress in our CSP in the area of Science. Team members looked at student work in all science courses, and provided feedback on AP alignment. The team also brainstormed solutions. The notes from the meeting are attached in this link:
https://docs.google.com/document/d/1LQWlwwQam_X7VYhGKlAbRfmkzrJccQn11uEhAiml0wE/edit?usp=sharing.
The next meeting with be on Wednesday, January 3, and the Social Studies Department will present on the progress in Social Studies in relation to our CSP goals. The Leadership Team is a group of teachers, counsellors, and administrators who meet every week to discuss school needs, and plan for improvements. The Leadership Team designs the school's comprehensive school plan, and helps in its implementation. Please consider joining the Leadership Team this year. It is open to all faculty and staff. We need the involvement and voices of all. Remember, Leadership team meetings are open to all who are interested in schoolwide decision-making and leadership. You can come once, or as many times as you like, but please make your voice heard!
Students from Columbia Heights Educational Campus, a middle school, in Northwest Washington, D.C. turned into scientists as a mobile bus turned into Mars on Dec. 11.
CHEC LIBRARIES

Bell High School Library Internship Winter 2018
The CHEC/ Bell High School Library is seeking driven, creative, excited to-serve students to be Bell High School Library interns for Winter 2018 (January- May 2018). Interns will help lead programming, help to technologically advance the library, be a major part of the 25 Books Campaign Design Team, assist with data and collection management while sharing their knowledge and teen expertise! The deadline for applications and supplemental material is Tuesday, December 19, 2017, 3:30 PM. For more information please contact Christopher Stewart, Bell Librarian @ christopher.stewart2@dc.gov.
------------------------------
Schedule CHEC Library Visits
ATTN ALL CONTENTS: Schedule a visit to your Lincoln MS or Bell HS Library before winter break starts! Both libraries have thousands of print and electronic resources available to you and students to check out and read over break - A perfect opportunity to add to your 25 Books Campaign logging.
------------------------------
Beanstack Logging System is LIVE!
The creators have Beanstack have finished uploading all student and staff data so that you are now able to log in, register, and track your reading.
Student log ins are standard DCPS procedures: Username is STUDENT ID and password is DOB format: MMDDYY.
Teacher log in procedures: Username is first.last and password is District ID: 000#####
Log in and log your books at chec.beanstack.org
------------------------------
25 Books Campaign Registration & Login
Here is a link to the registration form to sign-up for a date and time for Mr. Stewart to register your class. The goal is to have every student registered before the beginning of winter break!
------------------------------
Hour of Code:
This past week, middle school students participated in the Hour of Code. This global movement happens each December in conjunction with Computer Science Week. Students picked from a variety of coding activities available in multiple languages including Angry Birds, Flappy Bird, Minecraft, and Google logo design. You can engage in the activities year round by visiting
http://www.code.org.
------------------------------
National Museum of the American Indian Visit
The CHEC/ Bell Library took students to The National Museum of the American Indian on Tuesday, November 28, 2017. Seventeen students and Ms. Exantus enjoyed a brisk walk, a museum tour, The imagiNATIONS Activity Center, lunch at The Mitsitam Cafe and a film in the LELAWI Theater entitled, Who We Are.
------------------------------
25 Books Campaign: Design Committee Meeting
Join your Columbia Heights Education Campus librarians, Christopher A. Stewart (Bell) and Angela Falkenberg (Lincoln), as we empower CHEC Scholars with the 25 Books Campaign initiative. Our mission is to develop students' momentum as passionate readers while continuing to maintain a high standard of engaged leaders within our culture of reading.
On Wednesday, December 13, 2017 at 2:15 *early dismissal
------------------------------
Bell Library Reservations
The CHEC Bell High School Library would love to invite teachers and staff to reserve library space via our new platform, Skedda (
https://reservechecbelllibrary.skedda.com/booking
). Once booking your first reservation you will be prompted to create a quick login. Users will be able to see when space is available and when space is unavailable. This will allow for transparency and comfort in knowing that the time that you have requested, is available. There is also a space for *notes. If you would like to request AV material (i.e. projector) I can have that available and set-up for you.
EMOC UPDATE
Being a teen can be really stressful! Mindfulness is a powerful way to handle stress, and live life more fully. Mindfulness is all about living fully in the present moment, without judgment, and with an attitude of kindness and curiosity. It's about breathing, noticing what's happening right here and now, sending a gentle smile to whatever you're experiencing in this moment (whether it's easy or difficult), and then letting it go. You can be mindful anytime, anywhere, no matter what you're doing. It sounds simple, but it's not always easy to do, especially when you are stressed! On December 8, 2017, our EMOC ambassadors began their journey into Mindfulness by visiting a local yoga studio and participating in a guided meditation. This will be the first installment of an 8-week program put on by Mindful Warrior Retreats for the EMOC!
The Bellmen boys reported:
"I haven't felt this peaceful in a long time"
"I wish we could do this every morning before starting classes"
"I felt like I was floating away and all my problems were gone"
Learn follow @checbellmen on Instagram and visit our website to learn more about our mission and upcoming events.
PERSONAL GROWTH TEAM

Interested in getting your students to visualize their hopes & dreams? The PGT team is offering Vision Board Workshops this week to Ms. Ferguson's classrooms and is available to provide workshops in your classrooms as well!
Students will explore not only what they want to see in their future but also how they want to feel in their future - students will have exemplars of vision boards to get the creative juices flowing and will have magazines, print outs, quote cards, etc to express their visions for their future!
Also, as a reminder, PLEASE REFER YOUR STUDENTS to sign up for the Vision Board Club afterschool on Wednesdays (non - early release days!)
VISION BOARD CLUB
Let's Create your Future…
Come work creatively with Ms. Crivelli & Ms. Pasha!
When: Wednesday (on NON early-release days)
Time: 3:15 p.m. - 4:15 p.m.
SIGN UP Sheet outside of A122! (for HS students)
Group "Sessions" will rotate with 6 students every 6-8 weeks. Student selections will go in order - FIRST COME FIRST SERVE!!!
We will contact you so you know when it's your turn to participate!
CREATING A CLIMATE FOR LEARNING. MIDDLE SCHOOL CAREER DAY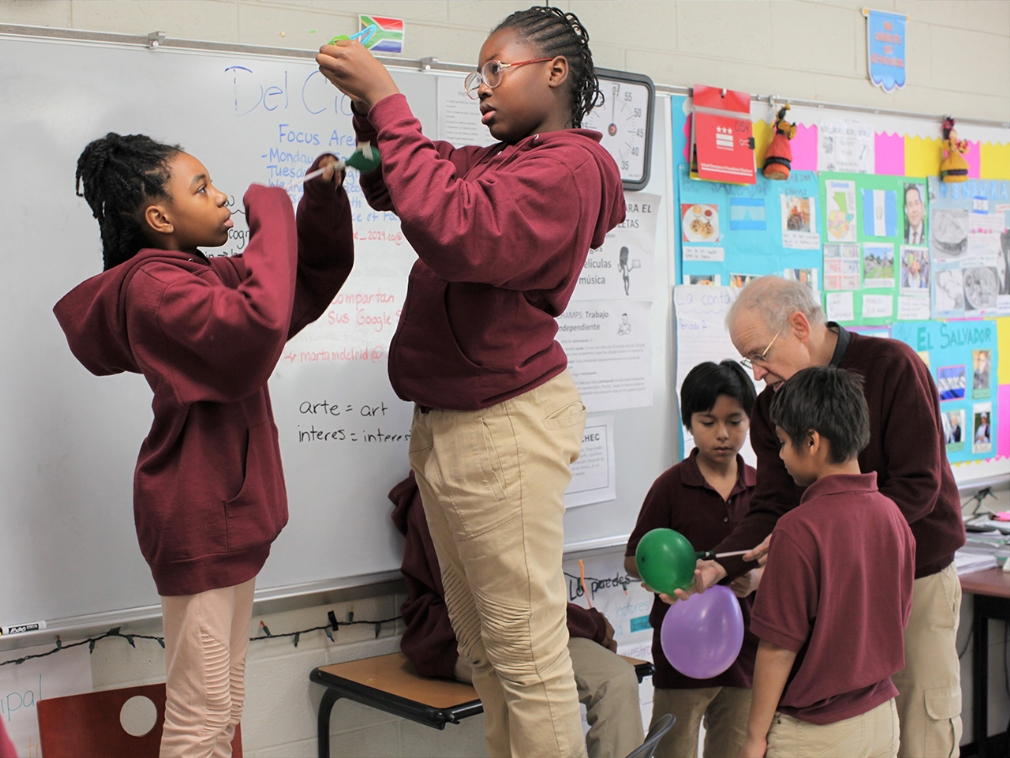 Eight Days of Learning!
We're down to EIGHT DAYS before our Winter Holidays—which means there are EIGHT IMPORTANT DAYS of LEARNING for our students. You've done a great job supporting students with tight lesson plans even on the odd days. Thanks for your diligence. Keep up the good work. Our focus of these next eight days of learning will be Motivating, Celebrating, and Supporting Scholars.
(High School) – December Winter Wonderland Dress Down Incentive!
Who? Students that have attended school every day during the last week school leading into the Winter Holidays will earn a dress down. (12/18/17-12/21/17)
(Middle School) – December Winter Wonderland Dance!
When? December 21st, 2017
What? A Winter Wonderland Dance
Who? Students that have attended school every day during the last week of school leading into to the Winter Holidays will earn the opportunity to participate in the dance. (12/18/17-12/21/17)
PBIS Points – Are you using them to identify appropriate behavior in the hallways/classrooms?
Incentive Hype – Let's get our students hyped for our Dress Down Day and Winter Wonderland Dance incentives!
Parent Contact – When you're reaching out to parents about their child, share something that you've seen their child do that makes you proud.
As you've noticed, many of our highest flying students tend to struggle more leading up into the holidays. Let's continue to encourage our students to keep going and work hard and be in school every day. Because when we support, they rise to the occasion. Also, we've noticed MANY of you are giving great positive feedback please keep up the great supportive work!
Please share these important reminders with students and parents as we near the holidays when parents often buy new items.
Sweaters/jackets – if they are out of uniform, they should be in lockers all day or confiscated. Lincoln and Bell sweaters can be bought from the Deans or the Main Office. Lincoln and Bell sweaters $21 and sweaters with the zipper $27.
Please call parents when you see students out of uniform and refusing to get in uniform to ensure it is very clear that they should be in full uniform at all times. Refer any further questions to Dean Aking, Dean Boone, Dean Galvan and Dean Pough.
Shirt tails – tucked in all day.
STAFF PRESENCE CHALLENGE:
How many of these areas can you provide extra support over the next eight days? Dismissal. Lunch Duty. Arrival. We always need more shining faces and are so grateful for those of you who join!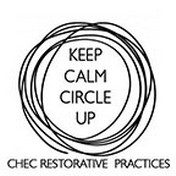 Restorative Justice in Oakland Schools: Tier One. Community Building Circle
VISITORS TO CHEC THIS WEEK: VERIZON STEM BUS
BELL WAS WELL REPRESENTED AT THE UNIFIED BOCCE CHAMPIONSHIPS!
CHEC was well-represented at the Special Olympics 2017 Youth Unified Bocce Championships on December 6th. Unified Sports brings together students with and without intellectual and developmental disabilities and partners receive community service hours for their participation. Athletes are provided with inclusive social opportunities, and all students build sportsmanship, gain leadership skills, and participate in friendly competition.
This year, CHEC had three teams --The Seniors won bronze: Devin Artis, Elvir Berisha, Joselin Hernandez, Nanci Larios, Jahad Shaw, Gabriel Siaw, Jose Villatoro, and Anthony Zapata. The Blue Griffins (11th graders) won silver: Jessica Amaya, Kevin Cruz, Jolien Curtis, Jennifer Garcia, Cintia Sosa, and Chen Ye. And the Yellow Griffins (10th graders) also brought home silver: Noelia Aguilar, Nelson Contreras, Brenda Flores, Victor Gomez, Jose Lopez, Samuel Payne, Meryem Yucel, and Enrique Zelaya-Lopez.
Thanks to all the teachers and staff who supported these students in participating--you're helping to build a more inclusive environment for all!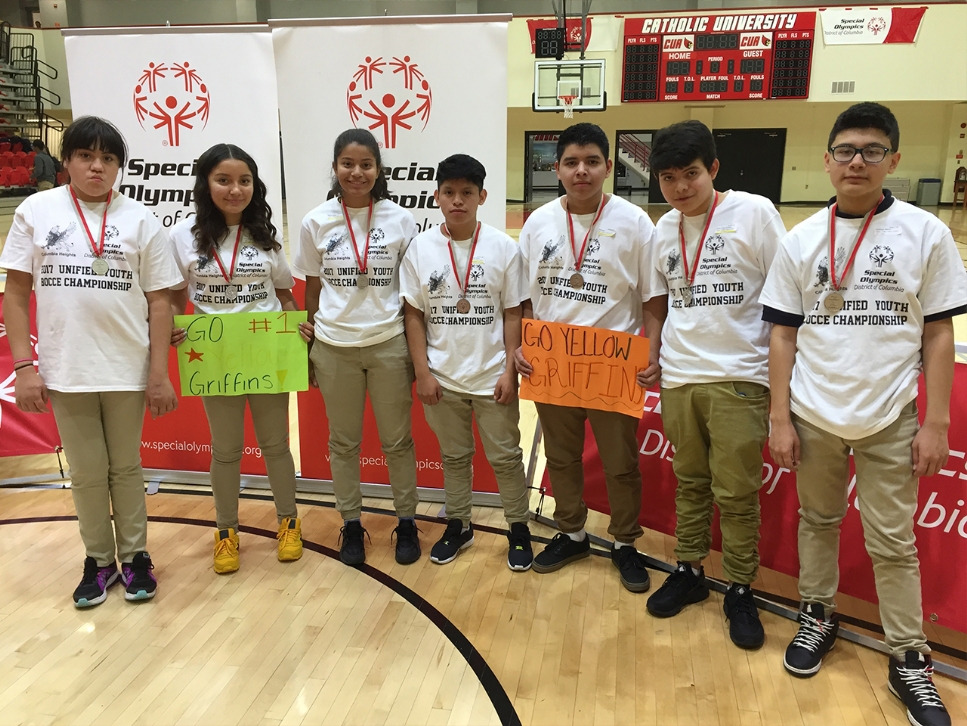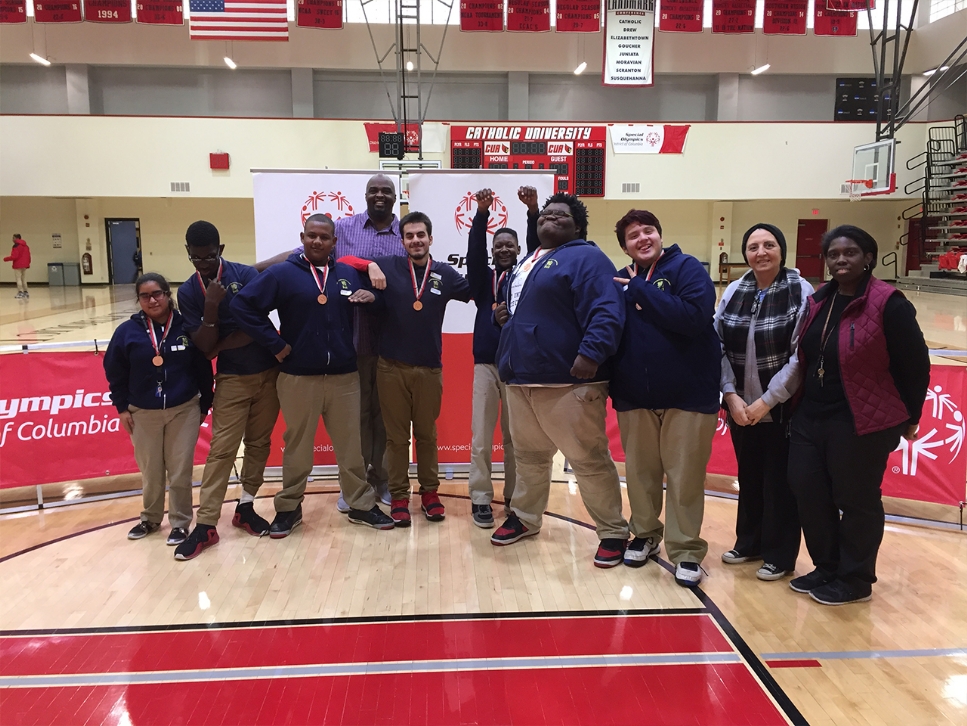 BELL AT STEM FOR HER BY AUDI
Bell girls gave an outstanding presentation at the STEM for Her by Audi event last week. Apart from being an eye opener, at so many different levels, for our girls it was an excellent opportunity for them to realize the power of STEM.
CHEC ROTC AT FRIENDS OF LATINO MUSEUM EVENT
On Wednesday evening, November 29th, the CHEC Bell Navy JROTC Color Guard presented the colors to start off a program held by the Friends of the Latino Museum. The event took place at the brand new Intercontinental Hotel on the recently renovated DC Wharf.
The goal of the Friends of the Latino Museum is to raise the funds to build a Latino Museum on the National Mall. This event was attended by at least three members of Congress, including Congresswoman Ileana Ros-Lehtinen, who represents Miami, FL. She was gracious enough to pose for photos with the CHEC cadets.
During the program, members of the Latino community were recognized for their dedicated efforts that have benefited the Latino community. Many of the awardees were current of former military members. One in particular was retired Navy Captain Frank Gamboa, Naval Academy class of 1958. He was one of the first Hispanic Americans to graduate from the Naval Academy and became the first Mexican-American to command a U.S. Navy warship.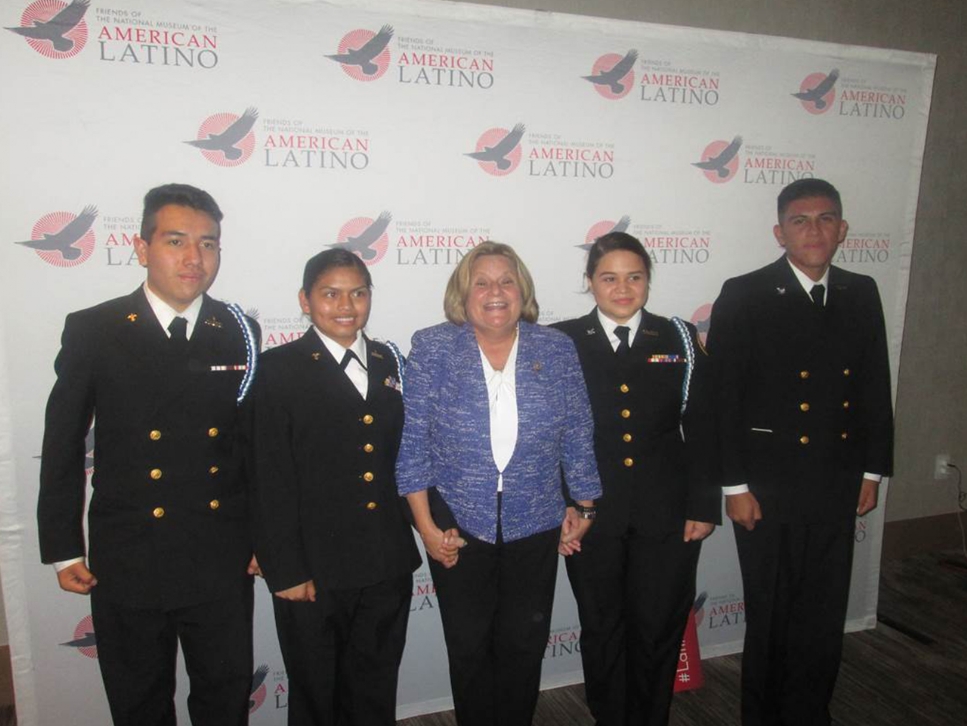 MESSAGE FROM ANDREI CALLEJAS, 2D LT. USAF
HOWARD UNIVERSITY COLLEGE OF MEDICINE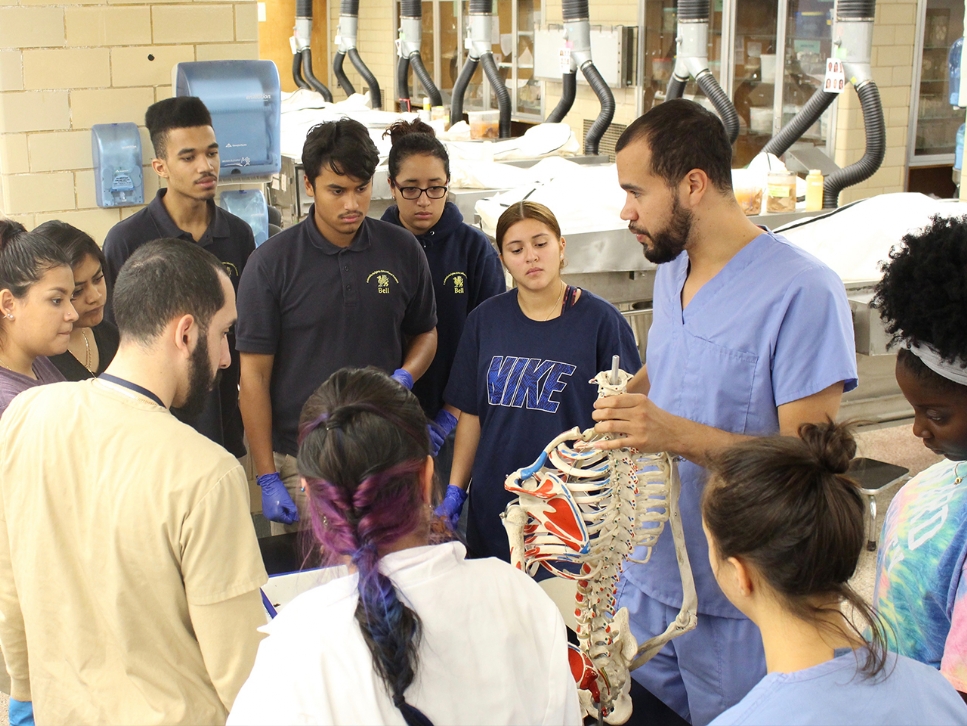 On 11/17/17, CHEC High School students were invited to Howard for a discussion within the Medical Mentorship Program (MMP). New students to the MMP were welcomed and they shared their stories as to why they are interested in medicine. This discussion also included topics such as applying to college, medical school student life, etc. Students went to a lab where they had a hands on anatomy session and explored the following anatomical parts/organs.
-Back muscles (Trapezius, spinal muscles)
-Lower limb muscles (soles, gastrocnemius, hamstrings, quads)
-Upper extremity muscles (biceps, triceps)
-Upper extremity innervation (brachial plexus)
-Central Nervous System (brain, cerebellum, brain stem, spinal cord)
-For many muscles, the innervation and blood supply were explored when applicable.
I am attaching a link to a folder that will have pictures of every session. Any cadaver parts in the pictures have either been blurred or cropped out of the picture, respecting the donor.
https://drive.google.com/drive/folders/1xU3jxdPIvEfwDkgnJvYxeLejVlQ9UBWb?usp=sharing
December session: We are still working on reserving the Clinical Skills Center at Howard for the vital signs clinic. The request form is pending per signature of LMSA's faculty advisor. The faculty advisor is a surgeon who returned the form in a format that was unable to open, we are having him sign it again and return it as a pdf. Regardless we are hoping for the next session to be on either Thursday 12/16/17 or Friday 12/17/17. We hope to have the exact date and time by Monday 12/13/17 close of business.
CHEC Debate Team

This past weekend, the CHEC Debate Team participated in the WUDL Holiday Tournament. This tournament marked CHEC's debut in the Varsity division, and Eric Clarke held his own. He placed 6th overall in the Division, and was named the 7th overall speaker.
We look forward to seeing more of the team at the Winter Classic at Alice Deal on Jan. 27th. Keep up the good work Coach Cohen!
Washington Urban Debate League