CITYBRIDGE BEST PRACTICES VISIT TO CHEC
CSP FOCUS THIS WEEK
This week we are focusing on our Literacy and Math Focus area of our CSP. The SMART Goals we have as a school for this area are:
Decrease Level 1 PARCC by 10% in ELA and Math

Increase Level 4/5 by 10% in ELA and Math

Decrease the achievement gap between ELL and non ELLs in ELA to 10% from 28%, and in Math to 7% from 14%.

Decrease the achievement gap between SPED and non SPED students
As you know, last year we made significant growth in both ELA and Math (6% and 11% respectively) however we still have a majority of students who are not testing at a college and career ready level, and we still have significant achievement gaps between our ELL and SPED population and our general population.
One of our CSP strategies designed to promote the growth of all students, and reduce achievement gaps, is Data Driven Instruction, or DDI. DDI is the process of designing interim assessments aligned to the PARCC or AP, and analyzing the data from these assessments by standard, in order to be able to differentiate for students, particularly for students who are experiencing gaps. In order to be able to make even more frequent shifts, we design short cycle assessments for every two weeks, in between interims, in order to continuously adjust to meet students' needs. The overall goal of DDI is to set up a process where we are responding to data in real time, and making the changes needed to have an impact on student learning. We do not want to arrive at the end of the year, and find out too late that we are not meeting our SMART Goals.
We are almost ready for our first Interim Assessments, which will be on October 19 and 20th. All teachers should be in the process of designing and preparing their assessments, and aligning them to state level or AP tests. Once the assessments have been designed and approved, our first step will be to conduct a prediction exercise, in which we use all data we have until now to predict how students will do on the assessment. This will let us know how valid and accurate our short cycles and other assessments have been in providing us a picture of how students are progressing.
We look forward to a successful first round of Interim Assessments, as we strive to reach our SMART goals for PARCC performance.
THERE ARE NO WORDS TO EXPRESS OUR GRATITUDE....
Shout out to Mr. Aguilar, Mr. Lopez and Ms. Alvarado for a wonderful Parent Meeting on Saturday, with ovr 50 parents in attendance!
Shout out to all Faculty and Staff for the outstanding IS Walk through on Thursday!!
KUDOS to Ms. Ermis for organizing the SMYAL presentation on LGBTQ youth for our Faculty meeting!
Shout out to all Summit classrooms for hosting the Citybridge visitors and to the teachers who sat on the panel – Ms. Ngacha, Mr. Broad, Ms. Penn Pearson, Mr. Cohen, Mr. Gonzalez, Mr. Rahman, and Ms. Abbondanza!!! The visitors had very positive feedback!!!
Kudos to Ms. Stevenson, Mr. Jackson, Ms. Buckmon, Ms. Lopez and all of the Hospitality students for hosting NAF President JD Hoyt and her team last week! The visitors were extremely impressed!!!
Shout out to Ms. Elmore for coordinating the Up With People show last week!! Kudos to all of the teachers who invited the young people to present to their classes!!
JD HOYE, PRESIDENT OF NATIONAL ACADEMY FOUNDATION (NAF) AND TEAM VISIT CHEC

October 9 - October 13, 2017
IN THIS ISSUE

Leadership Team and Other Updates
Opportunities and Updates
Ambiente, creating a climate for learning
Upcoming Events and Activities
LAST WEEK'S RESULTS
Congratulations to Primo Fogam and Ariana Reyes for being named Maxpreps players of the week for boys and girls soccer respectively. The middle school archery team defeated Johnson and lost to Kelly Miller. The middle school volleyball team defeated Jefferson and lost to Stuart Hobson. The middle school girls and boys soccer teams defeated Brookland. The high school girls soccer team defeated Dunbar. The high school boys soccer teams defeated Dunbar and Cardozo. The high school volleyball team defeated Dunbar and Anacostia. The high school football team defeated Cardozo.
THIS WEEK'S SPORTS SCHEDULE
Monday

​Tuesday

vs. Hardy at Hardy @4:30
vs. Deal at Roosevelt @4:30
vs. Eastern at Eastern @7:00
Wednesday
Middle School Boys Soccer
vs. MacFarland at Randall @ 3:30
Middle School Girls Soccer
vs. Hardy at Coolidge @ 4:30
vs. Oyster Adams at CHEC @ 5:30
Thursday
XC Invitational at
ARFH Soldiers
vs. Roosevelt at Roosevelt @ 4:00
vs. LaSalle Backus at CHEC @ 4:30
vs. Roosevelt at Eastern @ 5:00
Friday

High School Football vs. Cardozo
​Saturday

WEEKLY CALENDAR
Monday

SLC Morning Meeting
Wednesday

Thursday
Department Planning Period Meetings
Army Blues Band
CHEC Auditorium at 7p.m.
Transnational Latino Gangs and Iron Fist Gang Policies
from 5:30pm - 7:30pm
Hispanic Heritage Assembly 9:00 a.m.
UPCOMING EVENTS AND ACTIVITIES
October 16, 2017

Hispanic Heritage Production
CHEC Auditorium at 6:00pm
October 22, 2017
Marine Corp Marathon
National Mall
Checkpoint - During week 7, all students should be engaged in GRASPS 2.
Essential Practice and Strategy Highlight

This week we will highlight Socratic Seminar, one of the CHEC 7. When implemented effectively, Socratic Seminar represents the highest level of student centered inquiry, rigor, and higher order thinking of any other classroom strategy.
From "Read Write Think:"
"Socratic seminars are named for their embodiment of Socrates' belief in the power of asking questions, prize inquiry over information and discussion over debate. Socratic seminars acknowledge the highly social nature of learning and align with the work of John Dewey, Lev Vygotsky, Jean Piaget, and Paulo Friere.
Elfie Israel succinctly defines Socratic seminars and implies their rich benefits for students:
The Socratic seminar is a formal discussion, based on a text, in which the leader asks open-ended questions. Within the context of the discussion, students listen closely to the comments of others, thinking critically for themselves, and articulate their own thoughts and their responses to the thoughts of others. They learn to work cooperatively and to question intelligently and civilly. (89)
Israel, Elfie. "Examining Multiple Perspectives in Literature." In Inquiry and the Literary Text: Constructing Discussions n the English Classroom. James Holden and John S. Schmit, eds. Urbana, IL: NCTE, 2002."
The following URL provides a link to many resources on Socratic Seminar.
Effective implementation of Socratic Seminar, meets the criteria for Level 4 in the Essential Practices for EP 1A, 3A, 4A and 5A. Specifically in EP 1A –"Demonstrate interest in the thoughts, opinions, and well-being of each other; provide peers with meaningful and specific feedback and praise; productively collaborate across differences. In EP 3A, Socratic Seminar"prioritizes student talk and work time, structures the learning experience to be efficient and minimizes non instructional time, makes instructional moves that promote student centered learning. In EP 4A, "Students do the majority of the thinking and speaking about content; use most of the time to productively grapple with content; are responsible for most of the cognitive work; Respond to higher level questions and solve complex questions. " In EP 5A, "Reflect on their learning progress; can explain how the content and/or skill they are working on will set them up for success; reflect on their learning progress."
We have a number teachers, coaches and administrators who are proficient in Socratic Seminar. We will be offering professional development in this CHEC 7 strategy during our choice PD's on Early Release days. If you would like to see it modelled, and receive a personal professional development in this practice, please let your SLC Administrator know.
Curriculum Development Institute
This past summer, a number of CHEC teachers participated in our Curriculum Development Institute, and designed Unit and lesson plans aligned to AP Rigor. CHEC Social Studies Teacher Heber Diaz designed and demonstrated a lesson on inductive reasoning, and then used it with his class this year. Mr. Diaz described how it went in his class, "Today I delivered the inductive reasoning lesson for the concept of culture to my classes (the one that I developed during CDI this summer). I think it went very well. The kids seemed to really enjoy it- lots of debate about how to interpret culture!"
The lesson plan he developed and utilized is attached here. If you would like to try something like this, please see Mr. Diaz.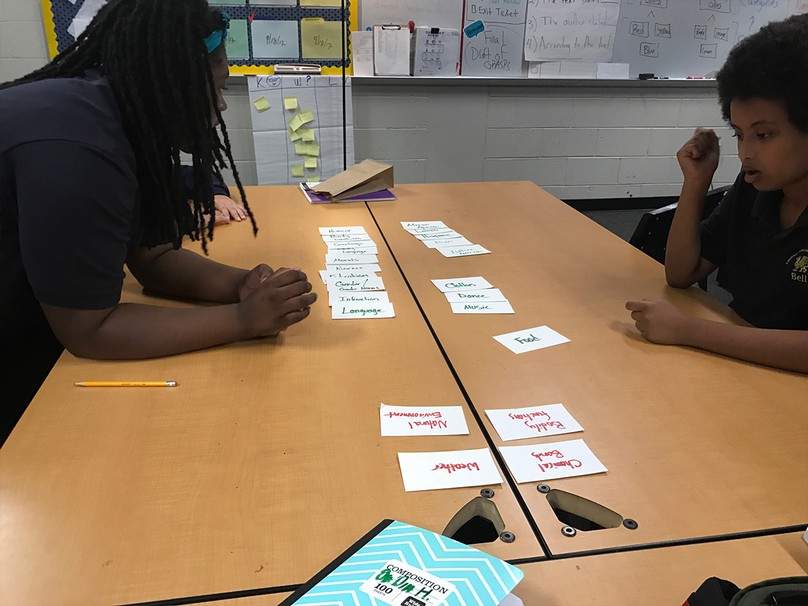 UPDATES FROM: LEADERSHIP LIBRARIES FLAMBOYAN EMOC
PGT LAYC
The Leadership Team will continue to meet on Wednesdays this year. Last meeting, on Wednesday September 27, the team worked on the Comprehensive School Plan and planning for presenting data regularly to measure progress toward our SMART Goals. The Team also reviewed student work from all disciplines, and looked for patterns of how the work reflects our schoolwide instructional priorities. Team members provided feedback and recommendations on the student work and on the CSP.
This week the Leadership Team will begin to provide data on the SMART goals progress to date, and will develop guidance for TAS, as well as plan for the prediction exercise. The Leadership Team is a group of teachers, counsellors, and administrators who meet every week to discuss school needs, and plan for improvements. The Leadership Team designs the school's comprehensive school plan, and helps in its implementation. Please consider joining the Leadership Team this year. It is open to all faculty and staff. We need the involvement and voices of all. Remember, Leadership team meetings are open to all who are interested in schoolwide decision-making and leadership. You can come once, or as many times as you like, but please make your voice heard!
CHEC LIBRARIES
As you schedule library use for resources, event space, and book check outs, please make sure you contact your librarian in advance (a few days preferably) so they and you can plan accordingly. We recognize and encourage flexibility, so please call ahead (MS - 4018; HS - 5118) to make sure we can accommodate space before you send small groups of students without prior reservation time. We can also come to your classroom with resources. We look forward to working with you!
FLAMBOYAN UPDATE

To date, we have 117 home visits completed by 43 teachers! Our numbers of home visits have doubled in one week!! Kudos to 7th, 9th, and 10th grade for once again having the highest numbers of home visits completed!
Please remember that our SLC goal for this year is to visit 100% of the families in our PLTs, and the sooner we can accomplish this the better results we'll see in our classrooms.
If you know your student has a sibling in another grade at CHEC please partner up with teachers who teach the student. This will offer a richer engagement.
Teachers! Have you been thinking about taking a World Language Class to better communicate and serve our students, families, and community all while earning CSC points!?!?!?! Sign up for a class on Edgenuity! All teachers should already have an account! Visit edgenuity.com, your username should be your email address and your password is teacher. If you have trouble, Contact the Edgenuity Support Team by phone at (877) 202-0338 ext. 3. Currently, they offer the following languages; Chinese, French, German, Latin, and Spanish!
If you have any questions please reach out to Ms. Whitaker room A 166 ex 5062 or Ms. Gonzalez room C218 ex. 4061.
EMOC
This month, CHEC EMOC will announce the opening of its exciting new challenge. Stay'n Charge is a lifestyle campaign that challenges you to increase your physical, mental, spiritual, financial, creative, and social success. Taking the challenge means taking charge of your success, and committing to 10 months of exploration, discovery, and growth. Winners of the Stay'n Charge challenge can earn scholarships, trips, and exclusive access to jobs and opportunities. Listen and watch for announcements about the site of our kickoff event, where we'll invite ALL of CHEC to learn about the program and how to get involved.
PERSONAL GROWTH TEAM

AWARENESS CAMPAIGNS @ CHEC:
October is... National Bullying Prevention Awareness Month!
Purpose: to encourage communities to work together to stop bullying & cyberbullying by increasing awareness of the prevalence and impact of bullying on all children of all ages.
*educators - take part in the action!
*encourage students to take action by participating in the anti-bullying activities & events throughout the month, including:
Make friends with someone you don't know at school
Challenge Others To Be Kind
October 11th is National Coming Out Day
Start the Week With Conversations Amongst Your Peers
FROM LATIN AMERICAN YOUTH CENTER (LAYC)

Received this and thought that it might benefit some at CHEC working on gang prevention. If you want to understand the recent (repeating pattern) surge of gang presence and activity in recent years here in our city be sure to come to the following event.
More importantly, it will highlight the importance of intentional and strategic visioning and development of programs that can prevent or intervene in the likelihood that a youth is thinking about choosing to be part of institutions that may at first promise all the youth needs that we as a community are supposed to provide but later become a brewing ground for never-ending violence and suffering.
Let's invite our circles in D.C. leadership to attend so they can get a glimpse of why we need more support to "intentionally" reach the most vulnerable in our city with targeted culturally relevant programming (if suppression entities intentionally target a certain population I believe we should equally target that same population with intense prevention and intervention services and resources).
Hope some of you can attend,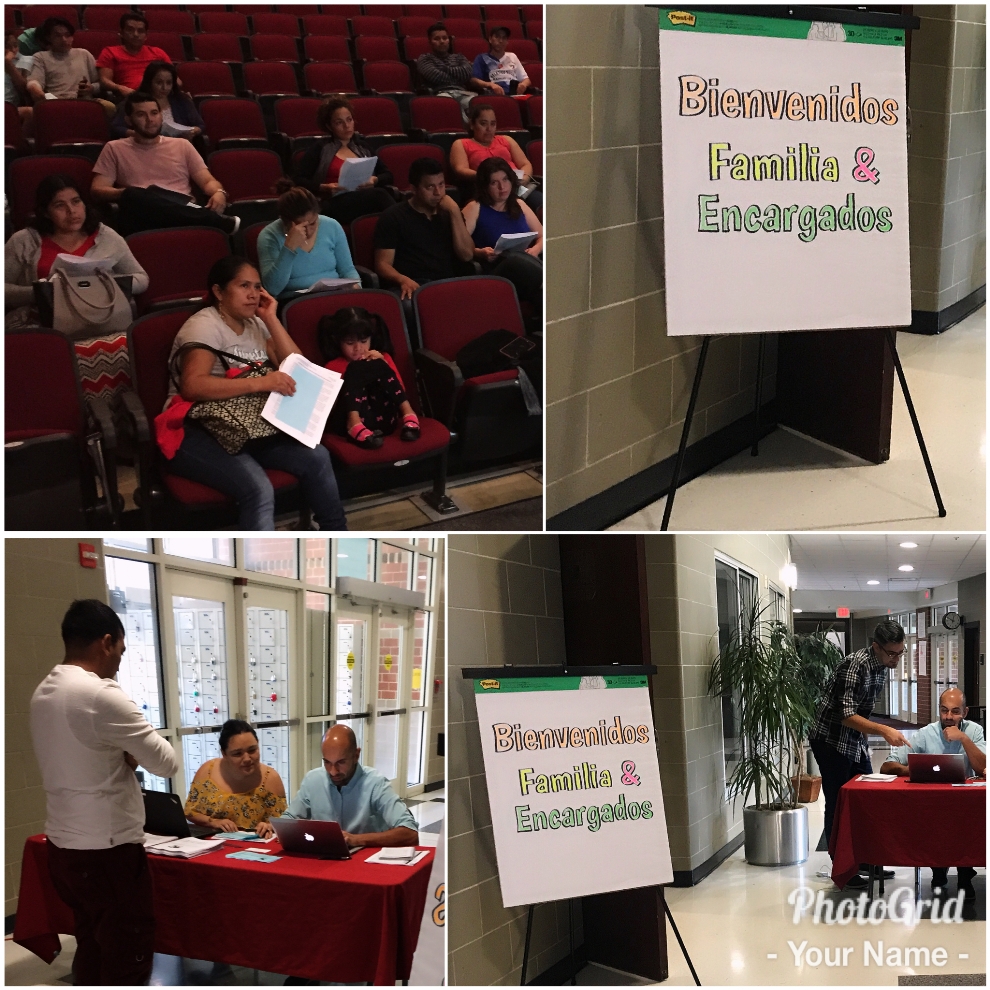 Greetings from the School Climate and Culture Team! October is National Bully Prevention Month where the goal is to encourage communities to work together to stop bullying and cyberbullying by increasing awareness of the prevalence and impact of bullying on all children of all ages.
Make friends with someone you don't know at school



During the week of October 10th the culture Team would like teachers and staff to encourage students to make friends with classmates. If you have noticed students who been isolated from others at school or who are new at school and it took time for them to make friends, please encourage them to talk and meet with new people.



Activities for the Classroom



Creating positive messages on post-its and handing them out to students at school



Hold a "kindness" dance at school



Creating anti-bullying videos



Sharing inspirational stories



This is your month to take leadership at your school and in the classroom and carry it through all-year-round! The Culture Team looks forward to hearing about your student led activities during National Bullying Prevention Awareness month.



The more awareness that is created during the month of October -- and all year round, you are one step closer to putting an end to bullying!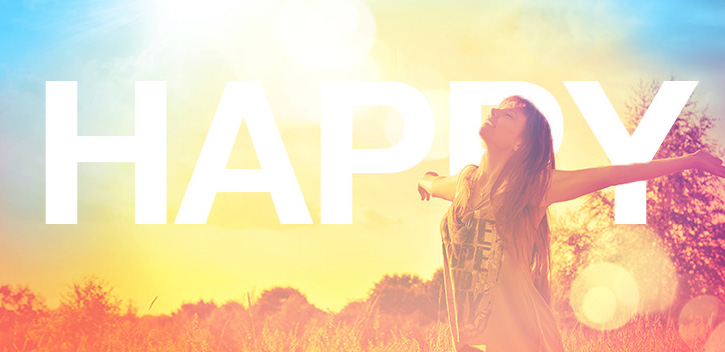 POSITIVE EMOTIONS ARE MEDICINE

It is generally agreed that positive emotions are crucial to our health, our relationships, and the quality of our lives. It turns out that research in the world of yoga has shown that there is a clear connection between positive emotions and yoga.
POSITIVE EMOTIONS HAVE A POSITIVE PHYSIOLOGICAL EFFECT.

Researchers argue that one of the evolutionary effects of positive emotions is their "undoing effects" on negative emotions. It's probably no surprise, then, that negative emotions increase the activation of the sympathetic nervous system. For example, you may have noticed that when you feel fear your heart rate increases, your breath constricts, and basic bodily functions, such as digestion, are stifled. This is a common outcome of negative emotions. Positive emotions, on the other hand, have a neutralizing effect on negative emotions by activating the para-sympathetic which moves the body into rest, digest, heal mode.
POSITIVE EMOTIONS INCREASE "THOUGHT-ACTION REPERTOIRES."

Another great phenomenon about positive emotions is that they increase the number of perceived actions a person can take in response to a feeling. When we are experiencing positive emotions, it is easier to imagine a variety of different responses to any given situation. Likewise, when we are experiencing negative emotions we have a limited number of perceived responses. Think about the well-known response to fear: fight, flight, or freeze. Not too many options, right? Positive emotions have the ability to broaden our attention and our actions—they have implicit benefits. People experiencing positive affect show patterns of thought that are notably unusual, flexible and inclusive, creative, integrative, open to information, and efficient.
YOGA INDUCES POSITIVE MIND-STATES.

How does this relate to yoga? In many studies (at Kripalu Center for Yoga and Health) before a yoga class participants have been invited to write about a current issue or struggle they are dealing with. Then, they practice yoga. At the end of the yoga class, they write about the troubling situation again and how they might take a step to resolve it. The consistent result: Participants almost always walk away from the experience with a clearer, more creative way to handle the situation—a way of managing the situation that had not occurred to them before the practice. Essentially, practicing yoga increases the "thought-action repertoire." There is something about yoga that helps to develop a new way of being and acting in the world.
Why? We know from research that yoga increases positive affect (or positive emotions) in participants. Yoga induces a positive mind state: We feel better after yoga, happier, more content, more at ease. Subsequently, when we are under the influence of a positive emotion it is easier to make choices that are more reflective, and, hopefully, more life-affirming.
HOW TO USE THIS INFORMATION IN DAILY LIFE.

Next time you notice you are experiencing a negative emotion, pause. Observe. See if when you feel a negative emotion like fear or anger your attention narrows. Likewise, when you are feeling happy or joyful, notice if your attention feels broader, if you can, think of the various ways you might respond to situations in your life. See if the theory is true for you. If you are experiencing a negative emotion take a few minutes to do your favorite yoga poses or yogic breathing. Perhaps you'll have more ideas afterward on how to manage whatever it may be that is bothering you. Use positive emotions as medicine.
YOU CAN BE A PART

At CHEC, you can come see for yourself if yoga sparks positivity for you. We practice together in community on Wednesdays at 4:30 in the Yoga Studio (E205). You don't need to know anything about yoga or already be flexible or in peak condition to join us. The thing is to get yourself to class and see if you can glean a benefit.
(Ref. Article by Angela Wilson, MA, RYT in Studies, News, and Trends, Yoga)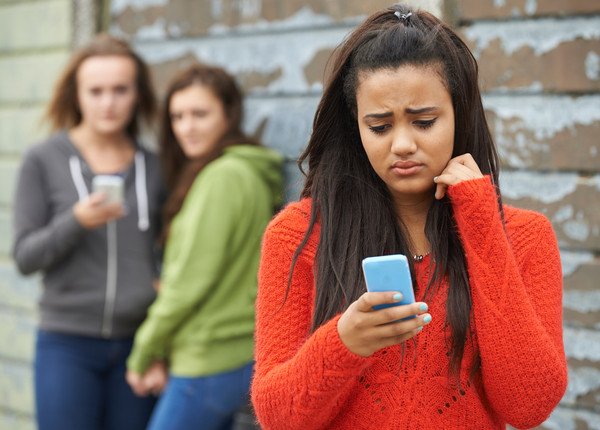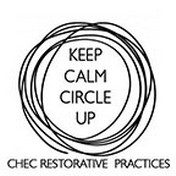 Let's Talk about Bullying Circle
PURPOSE
To increase our understanding of the impact of bullying behaviors; to increase the capacity to recognize bullying; to strengthen bystanders' ability to support targets of bullying.
MATERIALS
Talking piece, centerpiece items, bell or sound maker.
MINDFULNESS MOMENT
Pause, breathe, and listen to the sound.
VALUES ROUND
Please share a value that for you is connected to Respect. Write a list of those values as participants name them and place the list in the center of the Circle. Review the basic Circle guidelines.
INTRODUCE "ROUNDS"
A round is a pass of the talking piece around the Circle.
CIRCLE AGREEMENTS
Respect the Talking piece

Listen and speak from the heart

What is said here stays here, what is learned here leaves here

You may pass if you have nothing to add
CHECKIN ROUND If you were a kind of weather today, what would the weather be?
MAIN ACTIVITY Reflecting on Bullying Behavior and Our Options for Responding
ROUND What does it feel like to be bullied?
ROUND What actions make you feel bullied?
ROUND Why do you think that a person bullies?
ROUND Remember a time when you saw someone else being bullied. How did that feel?
ROUND What could you do the next time you see someone being bullied?
CHECKOUT ROUND What are you taking away from this Circle that could help you or someone else in the future?
CLOSING Create your own. Thank everyone for participating in the Circle today!