CHEC CELEBRATES NATIONAL CUSTODIAN APPRECIATION WEEK!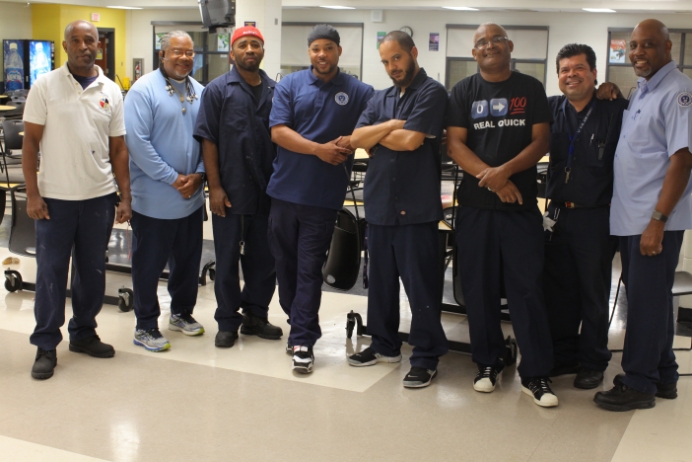 Pictured from left to right: Eligio Poole, James Tinner, Dwonne Washington,
Samuel Thornton,
Maji Jones, Rafael Figueroa, Jose Ramos and Christopher Best. We also thank Lystra Ready, Jesus Geronimo Greene and
Elmy
Bueno.
PRINCIPAL'S MESSAGE #1
CSP FOCUS THIS WEEK
By now, all of us should have read our School Comprehensive School Plan, which was provided in last week's bulletin. This week, we will focus on Social Emotional Learning, one of the four focus areas in the CSP. A key indicator of how well we are addressing students' social emotional learning is our daily attendance rate. Attendance is one of the most crucial factors in a child's success in school, and later in college and careers. A high attendance rate is foundational to reaching all of other goals. Here are some key facts about the importance of attendance:
Missing just 10% of the school year in early grades can leave many students struggling throughout elementary school.




By sixth grade, missing 18 days a year is strongly linked to dropping out of high school.




Chronic absence affects every grade level and can set preschoolers back for an incredibly long period of time.




Missing just two days a month can put students at risk of academic failure.




After 10 days of absences, a student is considered chronically absent – after 15 days, a student is considered truant.




In high school, according to DCPS metrics, missing one period is counted as missing one day.



The bottom line is – students cannot master the curriculum when they are not in class;
The Mayor's Office and DCPS are placing a great deal of emphasis and resources on improving attendance and combatting truancy. Every Day Counts is a citywide effort to engage parents, students and schools in emphasizing the importance of attendance. #EveryDayCounts@CHEC is our schoolwide effort to increase daily in seat attendance.
Last year, our attendance rate was 84%, which shows that we have much room for improvement. This year's attendance goal is 90%. In order to reach this goal, there are some basic required actions each of us must take. Specifically, we must all follow DCPS Student Attendance Policy.
1. After one (1) day of unexcused absence, the classroom teacher will contact the home.
2. After three (3) days of unexcused absences, teachers should contact the grade level counselor using a counseling referral form. Forms are available in the main office. Please note on that form what communication you have attempted prior to the counselor's referral.
3. After Five (5) days of unexcused absences at any point in the year the counselor must set up a parent conference and complete an SST report.
4. Ten (10) days of unexcused absences during any advisory will warrant immediate referral to Child and Family/Services. This referral will be done by the grade-level Counselor and the Social Worker, and approved by the SLC Administrator.
5. Fifteen (15) days of unexcused absences during any advisory will warrant a truancy court referral. This referral will be done by the grade-level Counselor and the Social Worker.
In addition to these basic actions and responsibilities, each SLC Administrator is developing a grade level action plan, with input of teachers, students and parents. We have funds and resources to support incentives, or administrative premium for teachers who want to serve as Attendance Leads. We look forward to engaging the school community in #EveryDayCounts@CHEC!!
THERE ARE NO WORDS TO EXPRESS OUR GRATITUDE....
Shout out to Mr. Onley and the CHEC Latin Jazz Band for their outstanding performance at the Any Given Child Press Conference!!
Shout out to all of our sports teams and coaches for their great efforts so far this year!!
Impact Cycle 1 for observations begins on October 2.
This week the Administrative Team will continue and complete calibration walks, so if you have not yet gone on a walk, and wish to, please sign up.
SLC Administrators will be providing follow up workshops on the Essential Practices next week, in response to feedback during the Faculty Meeting.
Pre-Conferences for the Cycle 1 observations will start next week, (October 9), and you will receive notification of these from the person who observes you.
The draft Commtiment to School Community
Rubric has been disseminated via email for comments and recommendations, and three optional feedback sessions have been scheduled for those who prefer to give the feedback in person.
Your TAS goals must be entered by October 19
th
, and this is a process that you will work on with your department chair.
We look forward to a positive and productive Impact.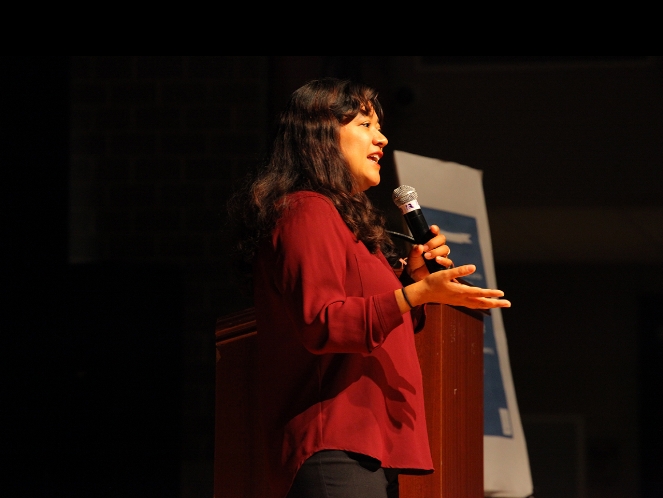 Author Reyna Grande speaks with 10th Grade Students
Checkpoint - During week 6, all students should be engaged in GRASPS 2.
Essential Practice and Strategy Highlight
This week we will highlight Accountable Talk, one of the CHEC 7. Accountable Talk refers to classroom conversations and talk that is meaningful, aligned to the academic activity, respectful, and mutually beneficial to both speaker and listener. Accountable talk is a strategy and skill that must be taught, modelled and consistently reinforced. Accountable talk stimulates higher-order thinking—helping students to learn, reflect on their learning, and communicate their knowledge and understanding. Here is a classroom visual that can be used to teach and reinforce Accountable talk.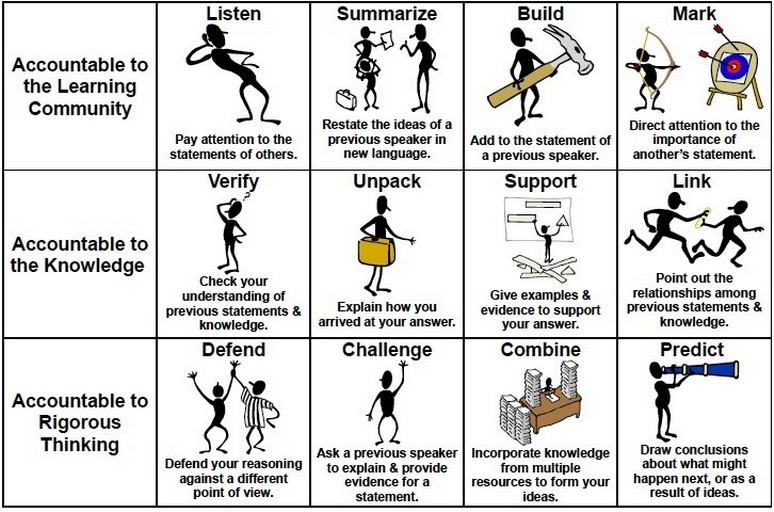 The following URL provides a link to many resources on Accountable Talk.
Effective implementation of Accountable Talk, meets the criteria for Level 4 in the Essential Practices for EP 1A, 3A, 4A and 5A. Specifically in EP 1A –"Demonstrate interest in the thoughts, opinions, and well being of each other; provide peers with meaningful and specific feedback and praise; productively collaborate across differences. In EP 3A, Accountable Talk "prioritizes student talk and work time, structures the learning experience to be efficient and minimizes non instructional time, makes instructional moves that promote student centred learning. In EP 4A, "Students do the majority of the thinking and speaking about content; use most of the time to productively grapple with content; are responsible for most of the cognitive work; Respond to higher level questions and solve complex questions. " In EP 5A, "Reflect on their learning progress; can explain how the content and/or skill they are working on will set them up for success; reflect on their learning progress."
We have a number teachers, coaches and administrators who are proficient in implementing Accountable Talk. We will be offering professional development in this CHEC 7 strategy during our choice PD's on Early Release days. If you would like to see it modelled, and receive a personal professional development in this practice, please let your SLC Administrator know.
October 2 - October 6, 2017
IN THIS ISSUE

Leadership Team and Other Updates
Opportunities and Updates
Ambiente, creating a climate for learning
Upcoming Events and Activities
LAST WEEK'S RESULTS
The Middle School Volleyball team lost to McKinley. The Middle School Girls Soccer team lost to Deal. The Middle School Boys Soccer team defeated Deal. The High School Girls and Boys Soccer teams defeated McKinley and School Without Walls. The High School Volleyball team lost to Scholl Without Walls and Banneker. The High School Football team defeated McKinley.
THIS WEEK'S SPORTS SCHEDULE
Monday

Middle School Volleyball vs. Stuart Hobson at Oyster Adams @ 4:30
​Tuesday

XC Invitational at Kenilworth @ 12:00
High School Boys Soccer vs. Dunbar at Riggs LaSalle @ 3:00
High School Girls Soccer vs. Dunbar at Riggs LaSalle @ 4:30
Middle School Archery vs. Kelly Miller at CHEC @ 4:30
High School Volleyball vs. Dunbar at Roosevelt @ 5:00
Wednesday
High School Girls Soccer vs. Ballou at Riggs LaSalle @ 3:00
High School Boys Soccer vs. Cardozo at Riggs LaSalle @ 4:30
Middle School Archery vs. Johnson at CHEC @ 4:30
High School Volleyball vs. Anacostia at Cardozo @ 5:00
Thursday
High School Girls Soccer vs. Ballou
at Riggs LaSalle @ 3:00
High School Boys Soccer vs. Cardozo
Middle School Archery vs. Johnson
Friday

High School Football vs. Cardozo
​Saturday

WEEKLY CALENDAR
Monday

SLC Morning Meeting
Build Your College List Week
College selection info. sessions for seniors
SLC Morning Meeting
Build Your College List Week
"What's Your Top Five?" Day in Advisory
Wednesday

Department Planning Period Meetings
October 6, 2017 TENTATIVE
Cocktail Reception for Mary's Center
Thursday
Department Planning Period Meetings
Up With People Assembly 10:30 – 11:30 (10-12 grades)
Up With People Assembly 1:30 – 2:30 (Middle School and 9th Grade)
Build Your College List Week
College selection info. sessions for seniors
VISITORS TO CHEC THIS WEEK
Wednesday, October 3
Instructional Superintendent David Pinder conducts the monthly Walk Through of CHEC classrooms



Thursday, October 5
National Academy Foundation National President visits CHEC



Students from Raymond Education Campus will visit CHEC from 10am-12:30pm



City Bridge Fellows visit CHEC to observe Summit classes, talk with teachers and students.
UPCOMING EVENTS AND ACTIVITIES
October 12 @ 5:30 pm - 7:30 pm
Transnational Latino Gangs and Iron Fist Gang Policies
read more
October 12, 2017
CHEC Auditorium at 7:00pm
October 16, 2017
Hispanic Heritage Production
CHEC Auditorium at 6:00pm
October 22, 2017
Marine Corp Marathon
National Mall
November 7, 2017
CHEC Latin Jazz Ensemble TENTATIVE
Department of Education Office of English Language Acquisition (
OELA)
Arlington, VA 22202 at 9:15am
CHEC Welcomes... Christopher Stewart, our new librarian.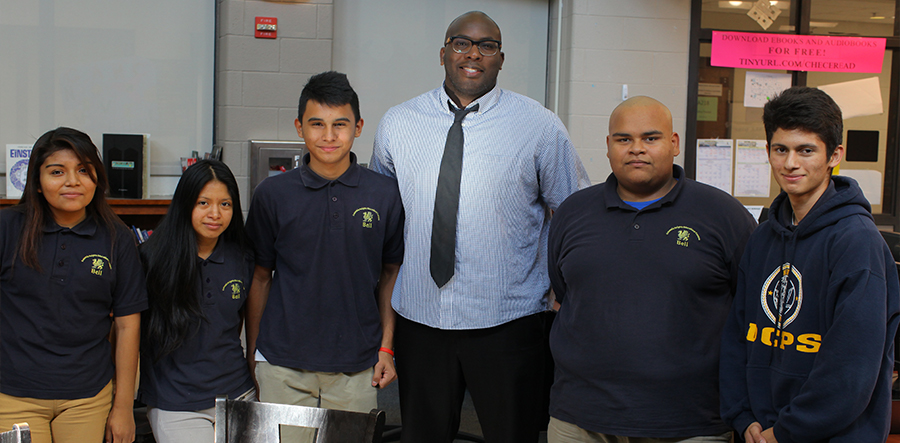 My name is Christopher Stewart. I am the new High School Librarian. I am a graduate of Saint Mary's College of Maryland with a degree in Political Science and, a Masters of Divinity and Masters of Theological Studies from Wesley Theological Seminary as a Missional fellow, with the following concentrations: poverty intervention/ prevention and, juvenile justice reform. I am a graduate of Catholic University of America, Masters in Library and Information Science.
I enjoy volunteering with Court Appointed Special Advocates (CASA) and the Washington Legal Clinic for the Homeless. It has allowed me the opportunity to be in an environment that promotes academia, literacy, advocacy and policy reform for children and young adults. I have volunteered in Ethiopia and Haiti, where I have created curriculum's for children.
I have served alongside the Prince George's County Memorial Library System and the District of Columbia Public Library (DCPL). I have thoroughly enjoyed being in spaces that advocate for educational empowerment. My partner and beautiful wife Jayasree and I have three children/ super heroes, Saaniya, Nadya and Christopher II.
I am really excited about serving the students, teachers and staff here at CHEC! I look forward to collaborating with teachers to conduct lightning sessions/ lectures on subject specific content or broad ranging literacy topics. In a few weeks, I will have a tentative fall/ winter 2017/ 2018 schedule of events Bell High School Library events!
I'm going to have a Meet & Greet w/ breakfast (continental) tomorrow, Wednesday, October 4, 2017 from 8 AM- 8:30 AM.
If you would like to schedule library time or a lecture, please contact me at stewartchris8@aol.com until my DC.gov email is activated. The High School Library extension is 5118.
UPDATES FROM: LEADERSHIP FACULTY MEETING
LIBRARIES PGT
The Leadership Team will continue to meet on Wednesdays this year. Last meeting, on Wednesday September 27, the team looked at student work from all departments and identified areas where it reflected our strategies from the Comprehensive School Plan. The team then reviewed the final CSP, and brainstormed how we should communicate the plan to all stakeholders, and what key metrics we should report on in order to measure our progress. The team also reviewed feedback on Impact from the faculty meeting, and worked on the design of the agenda for the early release professional development day. The Leadership Team is a group of teachers, counsellors, and administrators who meet every week to discuss school needs, and plan for improvements. The Leadership Team designs the school's comprehensive school plan, and helps in its implementation. Please consider joining the Leadership Team this year. It is open to all faculty and staff. We need the involvement and voices of all. Remember, Leadership team meetings are open to all who are interested in schoolwide decision-making and leadership. You can come once, or as many times as you like, but please make your voice heard!
OCTOBER FACULTY MEETING
This month's Faculty meeting (Thursday October 5) will be focused on empowering LGBTQ youth. It will be presented by SMYAL (Supporting and Mentoring Youth Advocates and Leaders)SMYAL was founded in 1984 to provide outreach, support, and advocacy for lesbian, gay bisexual, transgender, and questioning (LGBTQ) youth ages 13 to 21 in the Washington, DC Metropolitan Area. SMYAL is the region's premier organization dedicated solely to supporting LGBTQ youth and its mission is to promote and support self-confident, healthy, and productive lives for LGBTQ youth as they journey from adolescence into adulthood. The organization fulfills its mission through its commitment to programs in four key focus areas: (1) Housing for Homeless LGBTQ Youth (2) Youth Leadership Programming (3) Safe Social Programming and Services (4) and (5) Community Education and Outreach Programs. Many thanks to Ms. Ermis and Ms. Emilius, who sponsor our Gay/Straight Alliance and who arranged for this professional development opportunity.
CHEC LIBRARIES

Please welcome Christopher Stewart to the CHEC family as your Bell HS Librarian. You can now schedule class visits, book check outs, plan lessons, and more on a regular basis. His point of contact is stewartchris8@aol.com until his DC.gov email is activated. The HS Library extension is 5118. You can reach your MS Librarian, Angela Falkenberg, angela.falkenberg@dc.gov or Ext. 4018.
Reminders:
Be mindful of the amount of printing from the MS or HS libraries - it should be used as small print jobs only. Jams are happening more frequently due to higher volumes. Pick up papers in a timely manner to avoid wasteful recycling at the end of the day.
PERSONAL GROWTH CENTER
Opportunity for Classroom Workshops --- Substance Prevention

We are fortunate to have the DC Prevention Center (housed @ LAYC) offer 2-3 classroom workshops for 8 different CHEC classrooms (between MS & HS).
(So far, we have 3 teachers signed up: Ms. Ferguson, Ms. Alvarado, & Mr. Arabian. We want YOU to be the teacher to sign up and take advantage of this Tier II opportunity for your students!!)
What would the workshops look like?
The DC Prevention Center would structure their classroom workshops based on "Community Conversations", which would include a brief initial assessment, psycho-education around substance prevention, followed by 1-2 additional workshops in the same classrooms to deepen their Community Conversations regarding prevention and encourage more open dialogue with youth. Workshops can be offered in Spanish or English or bilingually.
Days/times for workshops are determined by teacher hosting the workshop.
What do I need to do if I am interested in having this workshop in my classroom?
Please contact Ms. Crivelli at paula.crivelli-diamond@dc.gov to sign up or if you have any questions.
CHEC Parent Workshops ----- beginning October 11 & 12!
Who? Any & all 6th-12th Grade CHEC Parents - please inform & encourage them to attend - anytime!
When? In Spanish, Wednesdays @ 9am
In English, Thursdays @ 9am
Where? TBD (Mr. Molina's Room/ MS/HS Library)
Displaced & Unaccompanied Youth
We have students that are considered "homeless/ displaced/ unaccompanied" at CHEC … please refer the names of any students that you believe may be living on their own, doubled up with other families, or living in shelters, etc. to:
(even if you are unsure of a students living situation, please email us!)
From the desk of our School Culture and Climate Team

We would like to thank Ms. Chatalian, Ms. Del-Cid, Mr. Broad and Mr. Cook for allowing to team to conduct our first collaborative school climate and culture walkthrough with central office on September 21, 2017. As a school team we will be conducting weekly walkthroughs of our community to ensure that our school culture is consistent across our campus. We would like to share with everyone our glows and grows form our first walkthrough so that we can be prepared for our unannounced central office observation. Our next walk through will occur anytime between October 2, 2017 and October 27, 2017.
Glows
Front Offices are identified in Spanish/ English for our visitors




Our monitors displayed current information




Our hallways reflected current data




Mission and Vision statements were visible on the floors




Community was clean and free of graffiti




Student expectations were posted at our entrances



Grows
Transition and front door entrance greetings




Use of positive narrative when greeting students at our doors and as we transition students in the hallway




Adults interacting with students in a way that is building positive relationships




Clearly our students understand our norms, expectations, and procedures for intake or dismissal



Each Floor:
Student Recognitions need to be intentional and being clear about why that student is being recognized. (Socio-Emotional growth should be named here too, not just academic) Photos of students are encouraged. Celebrating our students based on our monthly character traits is also appropriate.




Multiple data streams




Mission and Creed need to be posted




Expectations while in the hallway and cafeteria should be posted




Data walls should be updated with data no older than a month



Classrooms
Tardy Policy/Procedure needs to be posted outside of each classroom door




Discipline Ladder and consequences need to be posted (5 step process)




Student work- should have the date (and should be within 2-3 weeks) and should have specific teacher feedback on it (not just "good")




Vision and Mission statements need to be posted in all classrooms




Gym and dance classes need to have daily agendas, student expectations, mission, vision, and behavior ladder posted.




Agendas need to be posted to include do now (even if it is on the teacher's powerpoint)



As a school team we will be providing everyone with a copy of our school climate checklist so that we can self-assess our individual classroom readiness. This checklist will be collected on Friday September 29, 2017. We will also be sharing with everyone a copy of our Tardy Policy/Procedures, Revised Discipline Ladder, Vision, and Mission statements so that all of our classroom have a uniform appearance.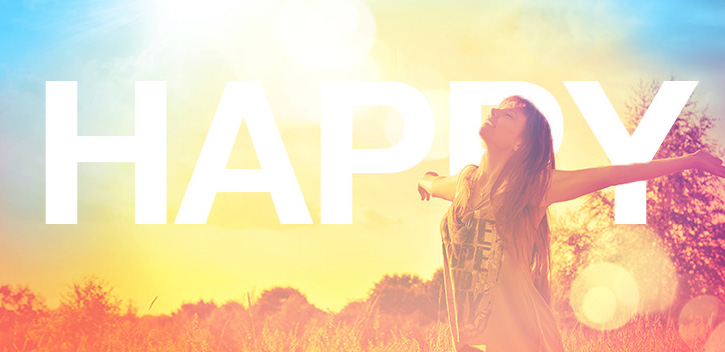 POSITIVE EMOTIONS ARE MEDICINE

It is generally agreed that positive emotions are crucial to our health, our relationships, and the quality of our lives. It turns out that research in the world of yoga has shown that there is a clear connection between positive emotions and yoga.
POSITIVE EMOTIONS HAVE A POSITIVE PHYSIOLOGICAL EFFECT.

Researchers argue that one of the evolutionary effects of positive emotions is their "undoing effects" on negative emotions. It's probably no surprise, then, that negative emotions increase the activation of the sympathetic nervous system. For example, you may have noticed that when you feel fear your heart rate increases, your breath constricts, and basic bodily functions, such as digestion, are stifled. This is a common outcome of negative emotions. Positive emotions, on the other hand, have a neutralizing effect on negative emotions by activating the para-sympathetic which moves the body into rest, digest, heal mode.
POSITIVE EMOTIONS INCREASE "THOUGHT-ACTION REPERTOIRES."

Another great phenomenon about positive emotions is that they increase the number of perceived actions a person can take in response to a feeling. When we are experiencing positive emotions, it is easier to imagine a variety of different responses to any given situation. Likewise, when we are experiencing negative emotions we have a limited number of perceived responses. Think about the well-known response to fear: fight, flight, or freeze. Not too many options, right? Positive emotions have the ability to broaden our attention and our actions—they have implicit benefits. People experiencing positive affect show patterns of thought that are notably unusual, flexible and inclusive, creative, integrative, open to information, and efficient.
YOGA INDUCES POSITIVE MIND-STATES.

How does this relate to yoga? In many studies (at Kripalu Center for Yoga and Health) before a yoga class participants have been invited to write about a current issue or struggle they are dealing with. Then, they practice yoga. At the end of the yoga class, they write about the troubling situation again and how they might take a step to resolve it. The consistent result: Participants almost always walk away from the experience with a clearer, more creative way to handle the situation—a way of managing the situation that had not occurred to them before the practice. Essentially, practicing yoga increases the "thought-action repertoire." There is something about yoga that helps to develop a new way of being and acting in the world.
Why? We know from research that yoga increases positive affect (or positive emotions) in participants. Yoga induces a positive mind state: We feel better after yoga, happier, more content, more at ease. Subsequently, when we are under the influence of a positive emotion it is easier to make choices that are more reflective, and, hopefully, more life-affirming.
HOW TO USE THIS INFORMATION IN DAILY LIFE.

Next time you notice you are experiencing a negative emotion, pause. Observe. See if when you feel a negative emotion like fear or anger your attention narrows. Likewise, when you are feeling happy or joyful, notice if your attention feels broader, if you can, think of the various ways you might respond to situations in your life. See if the theory is true for you. If you are experiencing a negative emotion take a few minutes to do your favorite yoga poses or yogic breathing. Perhaps you'll have more ideas afterward on how to manage whatever it may be that is bothering you. Use positive emotions as medicine.
YOU CAN BE A PART

At CHEC, you can come see for yourself if yoga sparks positivity for you. We practice together in community on Wednesdays at 4:30 in the Yoga Studio (E205). You don't need to know anything about yoga or already be flexible or in peak condition to join us. The thing is to get yourself to class and see if you can glean a benefit.
(Ref. Article by Angela Wilson, MA, RYT in Studies, News, and Trends, Yoga)
Checking-In with Guidelines Circle II
Taking the Temperature on the Classroom Climate
PURPOSE
To reflect on the success of the group in following the class agreements; to see if there are any changes needed in those agreements; and to help the group recommit to those agreements.
MATERIALS
Talking piece, flip chart, journals, pen/pencils.
PREPARATION
Arrange everyone in a circle of chairs with no other furniture. Post the guidelines where everyone can see them. Welcome to the space of the Circle.
MINDFULNESS
MOMENT
Pause, breathe, and listen to the sound.
OPENING
Read quote or create your own.
Think Positive
& Positive things
will happen
CHECK-IN ROUND
How are you doing? Is there anything particular on your mind that is important for us to know and that you feel comfortable sharing with the group?
MAIN
ACTIVITY
Reflecting on How Well the Group Is Following the Guidelines
Ask each person to look at the guidelines and think about how well the class as a whole is doing in honoring these guidelines in everyday interactions together. Emphasize that this is not about identifying any individuals or particular incidents. Ask each person to take notes in his/her journal, give a "grade" for the group, and then write why they gave that grade. Then ask each person to write in the journal one value or guideline that he or she believes the class is doing well on and one value or guideline that they observe people struggling with.
ROUND
What is your overall 'grade' for our class on honoring the guidelines? Can you tell us why you chose that grade?
ROUND
Now can you share the guideline you think we are doing well on? What makes you feel that way?
ROUND
Please share with us the value or guideline you think the class is struggling with the most. What makes you feel that way?
ROUND
What do you think might help the class practice the guidelines better? Are there any changes in the guidelines you would like to make? Any guidelines you would want to add?
ROUND
Pass the talking piece and ask if everyone is satisfied with the agreements and will agree to try to practice them to the best of their ability. Remind everyone that guidelines are there to help us be our best selves every day.
As long as we are willing to try, we are honoring the guidelines.
CHECK-OUT ROUND
How do you feel about the Circle today?
CLOSING
Re-read quote or create your own.
Think Positive and
Positive things
will happen!
Thank everyone for participating in the Circle!