DONORS HITEC FOUNDATION AND FREDDIE MAC AT RIBBON CUTTING FOR THE NEW TECH LAB AT LINCOLN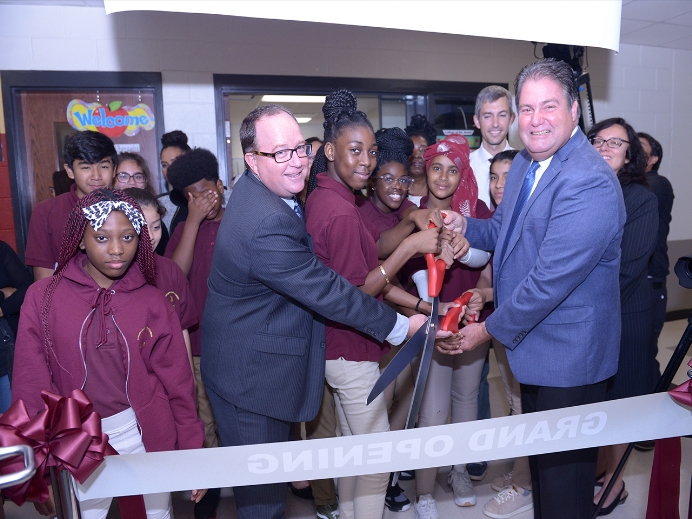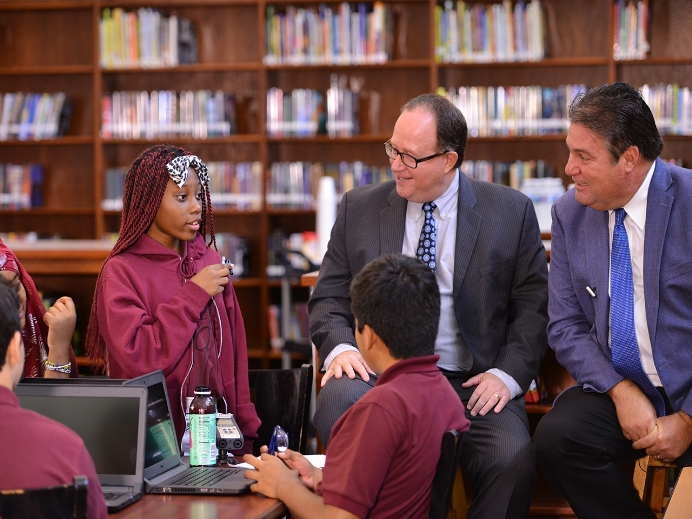 PRINCIPAL'S MESSAGE
Comprehensive School Plan for SY 2017-2018
Each year, all DCPS schools create a Comprehensive School Plan (CSP) to guide them in a process of needs assessment, goal setting, action planning and evaluation. It is a similar cycle to the one we use when we use data to drive our instruction.
The Comprehensive School Plan design has been adjusted this year, to make sure that our goals and actions are aligned to the new DCPS Strategic Plan. With the input of faculty, parents, and students, we have created a Comprehensive School Plan with four major Focus Areas – Literacy and Math, Socio Emotional Learning, College and Career Readiness, and Advanced Placement for All. Within each of these areas there are SMART Goals, Action Steps, Leading Indicators (metrics) and Resources needed.
This year's CSP builds on many of the practices we have been using and refining over the past several years, and is based on a needs assessment and analysis of last year's results. It is aligned to our school mission, and serves as a living document, one that we will check on regularly to determine what progress we are making, and adjusting as necessary. The CSP process is a guide for our Professional Learning Community, as it provides a focus on learning, depends on a collaborative culture, and has a results orientation.
In order to make the CSP a living document and roadmap for success, it is important that every stakeholder be familiar with its key elements. With this in mind, we will hold focus groups with staff, students and parents, to discuss and clarify how we are progressing towards our SMART goals. Every month, we will publish an update on our progress on the CSP. Every week in the bulletin we will highlight one of the focus areas. The Chancellor and Instructional Superintendents will be using the CSP as a lens for their visits to our school, and will be engaging students and teachers in discussing our progress.
Please take some time to read this year's CSP, and send any comments or questions you have. The plan can be reached at the following link. Thank you, as always, for your commitment and dedication to our school mission.
THERE ARE NO WORDS TO EXPRESS OUR GRATITUDE....
Shout out to the CHEC NJROTC Cadets who participated in the National Hispanic Heritage Month Program at the Court Services and Offender Supervision Agency (CSOSA) on September 20th. In addition to the color guards 22 cadets participated in the CSOSA fiesta that included song and dance.
Kudos to Ms. Thweatt and the Senior Counseling team for a great FAFSA night last week! Our goal is get all eligible students signed up for FAFSA by March 30!
Shout out to Mr. Lessek, Ms. Hinkson and the middle school team for a wonderful PARCC Parents night!
Kudos to Ms. Weiss, Mr. Rayamajhi, Mr. Duvall, and all members of the RJ team for organizing our Circle training during PD Early Release Day last week!
Shout out to Ms. Elmore, Ms. Thweatt, Mr. Jones, and the counseling team for coordinating our first Community Service Day last week!!
Shout out to the 10th Grade ELA Team – Ms. Malcolm, Ms. Emilius, Mr. Cohen, Ms. Joseph – for organizing the Author's Visit of Reyna Grande, author of The Distance Between Us!!!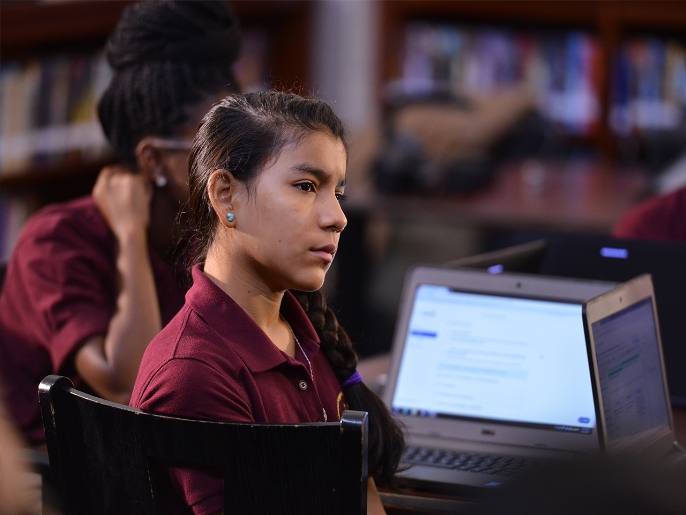 September 25 - September 29, 2017
IN THIS ISSUE

Leadership Team and Other Updates
Opportunities and Updates
Ambiente, creating a climate for learning
Upcoming Events and Activities
LAST WEEK'S RESULTS
The Middle School Volleyball team defeated Leckie. The middle school Girls Soccer team defeated Eliot-Hine and MacFarland. The Middle School Boys Soccer team defeated Hardy. The High School Boys Soccer team defeated Banneker and tied Wilson. The High School Volleyball team defeated Phelps and Eastern. The High School Football team lost to Wilson.
THIS WEEK'S SPORTS SCHEDULE
Monday

Middle School Volleyball vs. McKinley
​Tuesday

High School Girls Soccer vs. McKinley
at McKinley @ 4:00
High School Volleyball vs. School Without Walls at HD Woodson @ 5:00
High School Boys Soccer vs. McKinley
Wednesday
Middle School Boys Soccer vs. Deal
at Deal @ 4:00
Middle School Girls Soccer vs. Deal
Thursday
High School Boys Soccer vs. School Without Walls at Takoma @ 3:00
High School Girls Soccer vs. School Without Walls at Takoma @ 4:30
High School Volleyball vs. Banneker
Friday

High School Football vs. McKinley
​Saturday

WEEKLY CALENDAR
Monday

Department Planning Period Meetings
Thursday
Department Planning Period Meetings
No meetings
Any Given Child press conference
UPCOMING EVENTS AND ACTIVITIES
October 6, 2017 TENTATIVE
Cocktail Reception for Mary's Center
Washington, DC 20009 at 6:15pm-7:35pm
October 12, 2017
CHEC Auditorium at 7:00pm
October 16, 2017
Hispanic Heritage Production
CHEC Auditorium at 6:00pm
October 22, 2017
November 7, 2017
CHEC Latin Jazz Ensemble TENTATIVE
Department of Education Office of English Language Acquisition
(
OELA) Crystal Gateway Marriott
Arlington, VA 22202 at 9:15am
INSTRUCTION

Checkpoint - During week 6, all students should be engaged in GRASPS 2.
Essential Practice and Strategy Highlight
We are in the process of synthesizing all comments, recommendations and questions generated by our Staff Meeting on Impact and the Essential Practices. Once complete, we will provide a synthesis report and FAQ on planned next steps. Each week in the bulletin, we will explore a different strategy and how it supports the Essential Practices.
As we explored the questions, comments and recommendations that were made during our Staff Meeting on Impact, one of the key requests was to have more focus and professional development opportunities for specific instructional strategies. In other words, faculty are seeking to enhance their toolkit of strategies.
This week we will highlight Reciprocal Teaching. Reciprocal Teaching is a structured, collaborative group strategy in which students use cognitive strategies such as summarizing, questioning, clarifying and predicting in order to grapple and understand a complex text. Students are assigned and practice roles, taking turns being the "teacher." Students and teachers take turns leading the dialogue about the text, and utilizing textual evidence as a tool for learning and discussion. Reciprocal Teaching is one of our CHEC 7 strategies, and research confirms its effectiveness and impact on learning.
Effective implementation of Reciprocal Teaching, meets the criteria for Level 4 in the Essential Practices for EP 1B, 3A, and 4A and 4B. Specifically in EP 1B –"persevere when they struggle with challenging content or activities; demonstrate interest in what they are learning and doing; complete tasks and remain focused on learning; complete small group work. In EP 3A, Reciprocal Teaching "prioritizes student talk and work time, structures the learning experience to be efficient and minimizes non instructional time, makes instructional moves that promote student centered learning. In EP 4A and 4B, "Students do the majority of the thinking and speaking about content; use most of the time to productively grapple with content; are responsible for most of the cognitive work; Respond to higher level questions and solve complex questions.
We have a number teachers, coaches and administratos who are proficient in implementing Reciprocal Teaching. We will be offering professional development in this CHEC 7 strategy during our choice PD's on Early Release days. If you would like to see it modelled, and receive a personal professional development in this practice, please let your SLC Administrator know.
UPDATES FROM LEADERSHIP FORD THEATRE
LIBRARIES
FLAMBOYAN
The Leadership Team will continue to meet on Wednesdays this year. Last meeting, on Wednesday September 13, the team worked on the Comprehensive School Plan. Team members provided feedback and recommendations on the draft plan, and also identified use of the resources we will have available. CHEC has received $95,250 in additional funding to assist us in improving the achievement of our level 1 and 2 (PARCC) students. This week, the Team will review the revised draft of the plan, and begin to plan for updates and communication to the staff. The team will also review the feedback from the September Faculty meeting on Impact Evaluation, so that we can provide follow up. The Leadership Team is a group of teachers, counsellors, and administrators who meet every week to discuss school needs, and plan for improvements. The Leadership Team designs the school's comprehensive school plan, and helps in its implementation. Please consider joining the Leadership Team this year. It is open to all faculty and staff. We need the involvement and voices of all. Remember, Leadership team meetings are open to all who are interested in schoolwide decision-making and leadership. You can come once, or as many times as you like, but please make your voice heard!
FIELD TRIPS AND TAPAS: TWO GREAT OPPORTUNITIES FOR TEACHERS WITH FORD'S THEATRE
PLAN
FIELD TRIPS TO FORD'S THEATRE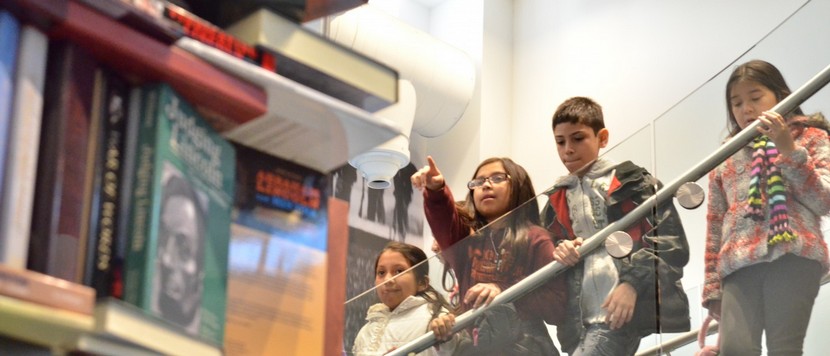 We want to welcome you and your students to Ford's Theatre this year to learn about Abraham Lincoln's presidency, assassination and legacy!
Tour the historic theatre and museum. Hear an interpretive talk from the Ford's stage and see the Box where President Lincoln was shot.
Uncover the fate of the conspirators and the manhunt for assassin John Wilkes Booth.
Learn how the Civil War transformed Washington from a sleepy, small town to a bustling capital city.
Explore Lincoln's legacy through interactive exhibits in our Center for Education and Leadership.
Field Trips are FREE for Title I 3rd-12th grade classes in the D.C.-metro area. Free buses are provided for qualifying schools located within the 495 Beltway.
YOU ARE INVITED TO TUDOR PLACE - TAPAS WITH TEACHERS
Join us and staff from five other local historic sites for an evening at Tudor Place in Georgetown. We'll treat you to appetizers, wine and door prizes, and you'll walk away with field trip information and resources that can help you bring history to life in your classroom. Learn
more here
:
FUTURE BUSINESS LEADER OF AMERICA
(FBLA)
Help DC Students Attend a Leadership Conference.
Our FBLA students need help covering the registration fee and hotel fees for the Future Business Leaders of America Fall Leadership Conference in New Orleans.
The CHEC FBLA has been fortunate enough to attend several leadership conferences in the past due to federal Perkins funding. Unfortunately, we are no longer able to use Perkins funds for out of state conferences. Your donation will help us bring the 2017-2018 DC FBLA State Officers to the Fall Leadership Conference in New Orleans where they will receive specialized officer training that will help our small chapter grow. These officers have never attended a national conference. Participation in the conference will help them to develop leadership skills and gain valuable information about careers and colleges. Most importantly, the officers will prove that students of color deserve to have a voice in the business world.
Your donation will help our student officers gain access to the FBLA Fall Leadership Conference where they will learn from business leaders and develop the confidence necessary to be successful at work and school. Please
follow this link to learn more:
CHEC LIBRARIES
September is Library Card Signup Month. Encourage students to visit Mt. Pleasant Public Library to ensure their DC One Cards are also activated as library cards. You can email me and/or public librarian Amanda Epperson (amanda.epperson@dc.gov) to schedule visits to our local library.
Teachers and students can check out e-books and audio books through Destiny Discover app or website (www.destinydiscover.com). Visit by selection District of Columbia, Columbia Heights EC Lincoln or Bell.
Password: Employee ID (available via PeopleSoft)
FLAMBOYAN UPDATE
To date, we have 58 home visits completed by 26 teachers! That's an increase of 26 home visits in one week!! Kudos to 7th, 9th, and 10th grade for having the highest numbers of home visits completed!
Teachers! Have you been thinking about taking a World Language Class to better communicate and serve our students, families, and community all while earning CSC points!?!?!?! Sign up for a class on Edgenuity! All teachers should already have an account! Visit edgenuity.com, your username should be your email address and your password is teacher. If you have trouble, Contact the Edgenuity Support Team by phone at (877) 202-0338 ext. 3. Currently, they offer the following languages; Chinese, French, German, Latin, and Spanish!
If you have any questions or concerns, please see Ms. Gonzalez and Ms. Whitaker for support!!
From the desk of our School Culture and Climate Team
We would like to thank Ms. Chatalian, Ms. Del-Cid, Mr. Broad and Mr. Cook for allowing to team to conduct our first collaborative school climate and culture walkthrough with central office on September 21, 2017. As a school team we will be conducting weekly walkthroughs of our community to ensure that our school culture is consistent across our campus. We would like to share with everyone our glows and grows form our first walkthrough so that we can be prepared for our unannounced central office observation. Our next walk through will occur anytime between October 2, 2017 and October 27, 2017.
Glows
Front Offices are identified in Spanish/ English for our visitors




Our monitors displayed current information




Our hallways reflected current data




Mission and Vision statements were visible on the floors




Community was clean and free of graffiti




Student expectations were posted at our entrances



Grows
Transition and front door entrance greetings




Use of positive narrative when greeting students at our doors and as we transition students in the hallway




Adults interacting with students in a way that is building positive relationships




Clearly our students understand our norms, expectations, and procedures for intake or dismissal



Each Floor:
Student Recognitions need to be intentional and being clear about why that student is being recognized. (Socio-Emotional growth should be named here too, not just academic) Photos of students are encouraged. Celebrating our students based on our monthly character traits is also appropriate.




Multiple data streams




Mission and Creed need to be posted




Expectations while in the hallway and cafeteria should be posted




Data walls should be updated with data no older than a month



Classrooms
Tardy Policy/Procedure needs to be posted outside of each classroom door




Discipline Ladder and consequences need to be posted (5 step process)




Student work- should have the date (and should be within 2-3 weeks) and should have specific teacher feedback on it (not just "good")




Vision and Mission statements need to be posted in all classrooms




Gym and dance classes need to have daily agendas, student expectations, mission, vision, and behavior ladder posted.




Agendas need to be posted to include do now (even if it is on the teacher's powerpoint)



As a school team we will be providing everyone with a copy of our school climate checklist so that we can self-assess our individual classroom readiness. This checklist will be collected on Friday September 29, 2017. We will also be sharing with everyone a copy of our Tardy Policy/Procedures, Revised Discipline Ladder, Vision, and Mission statements so that all of our classroom have a uniform appearance.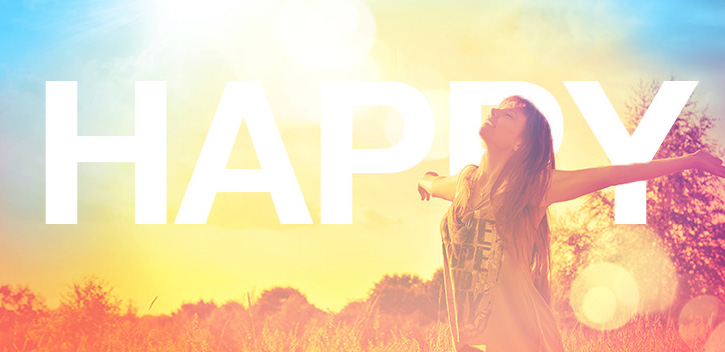 POSITIVE EMOTIONS ARE MEDICINE

It is generally agreed that positive emotions are crucial to our health, our relationships, and the quality of our lives. It turns out that research in the world of yoga has shown that there is a clear connection between positive emotions and yoga.
POSITIVE EMOTIONS HAVE A POSITIVE PHYSIOLOGICAL EFFECT.

Researchers argue that one of the evolutionary effects of positive emotions is their "undoing effects" on negative emotions. It's probably no surprise, then, that negative emotions increase the activation of the sympathetic nervous system. For example, you may have noticed that when you feel fear your heart rate increases, your breath constricts, and basic bodily functions, such as digestion, are stifled. This is a common outcome of negative emotions. Positive emotions, on the other hand, have a neutralizing effect on negative emotions by activating the para-sympathetic which moves the body into rest, digest, heal mode.
POSITIVE EMOTIONS INCREASE "THOUGHT-ACTION REPERTOIRES."

Another great phenomenon about positive emotions is that they increase the number of perceived actions a person can take in response to a feeling. When we are experiencing positive emotions, it is easier to imagine a variety of different responses to any given situation. Likewise, when we are experiencing negative emotions we have a limited number of perceived responses. Think about the well-known response to fear: fight, flight, or freeze. Not too many options, right? Positive emotions have the ability to broaden our attention and our actions—they have implicit benefits. People experiencing positive affect show patterns of thought that are notably unusual, flexible and inclusive, creative, integrative, open to information, and efficient.
YOGA INDUCES POSITIVE MIND-STATES.

How does this relate to yoga? In many studies (at Kripalu Center for Yoga and Health) before a yoga class participants have been invited to write about a current issue or struggle they are dealing with. Then, they practice yoga. At the end of the yoga class, they write about the troubling situation again and how they might take a step to resolve it. The consistent result: Participants almost always walk away from the experience with a clearer, more creative way to handle the situation—a way of managing the situation that had not occurred to them before the practice. Essentially, practicing yoga increases the "thought-action repertoire." There is something about yoga that helps to develop a new way of being and acting in the world.
Why? We know from research that yoga increases positive affect (or positive emotions) in participants. Yoga induces a positive mind state: We feel better after yoga, happier, more content, more at ease. Subsequently, when we are under the influence of a positive emotion it is easier to make choices that are more reflective, and, hopefully, more life-affirming.
HOW TO USE THIS INFORMATION IN DAILY LIFE.

Next time you notice you are experiencing a negative emotion, pause. Observe. See if when you feel a negative emotion like fear or anger your attention narrows. Likewise, when you are feeling happy or joyful, notice if your attention feels broader, if you can, think of the various ways you might respond to situations in your life. See if the theory is true for you. If you are experiencing a negative emotion take a few minutes to do your favorite yoga poses or yogic breathing. Perhaps you'll have more ideas afterward on how to manage whatever it may be that is bothering you. Use positive emotions as medicine.
YOU CAN BE A PART

At CHEC, you can come see for yourself if yoga sparks positivity for you. We practice together in community on Wednesdays at 4:30 in the Yoga Studio (E205). You don't need to know anything about yoga or already be flexible or in peak condition to join us. The thing is to get yourself to class and see if you can glean a benefit.
(Ref. Article by Angela Wilson, MA, RYT in Studies, News, and Trends, Yoga)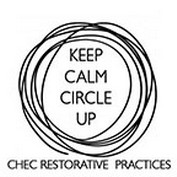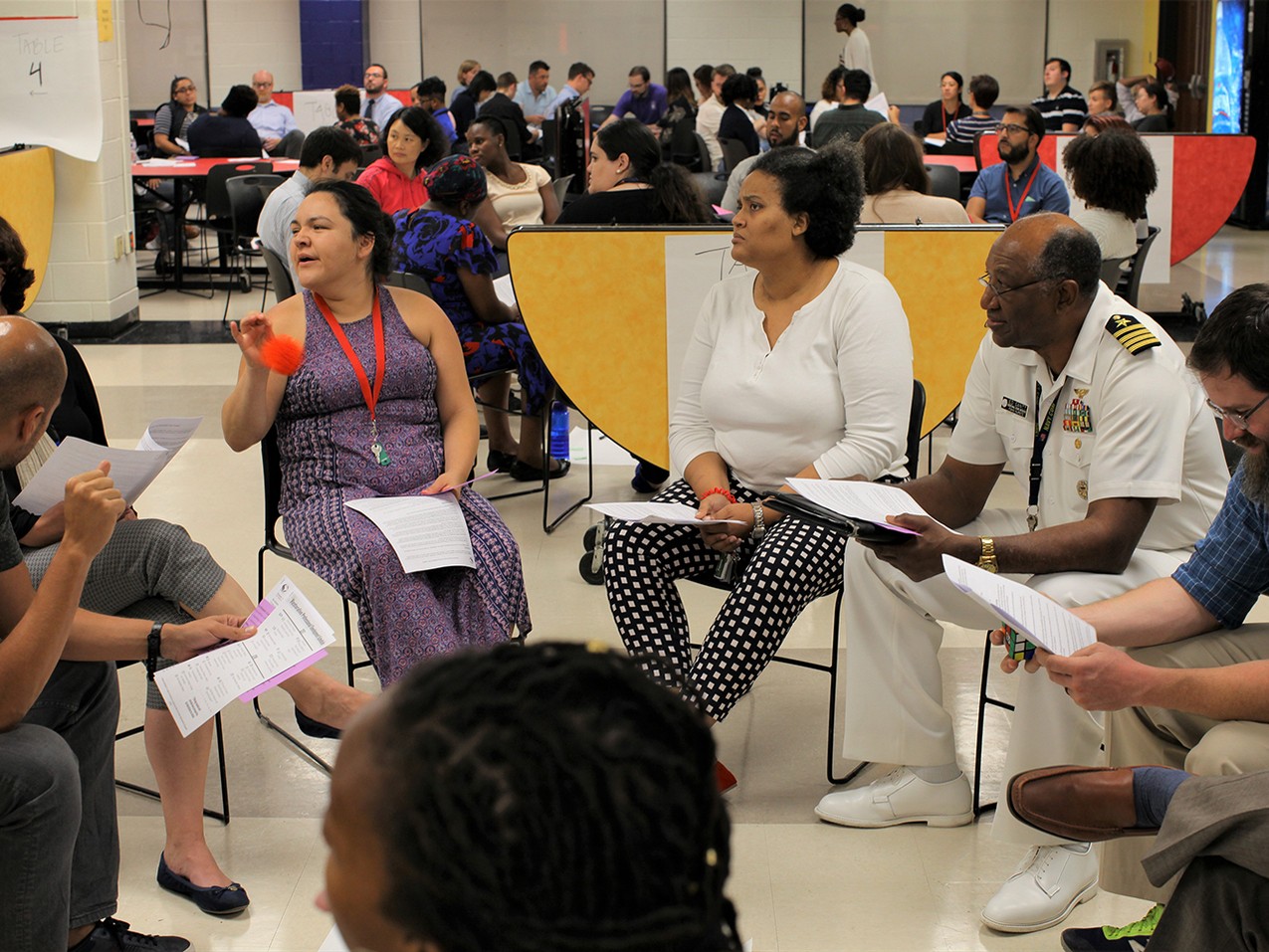 Thank you all for participating on Wednesday's circle facilitation workshop. We greatly appreciate your patience and cooperation especially since this was on a first day of early release. We also thank you for understanding that we squeezed as much content on core principles, circle facilitation and experiential circles as possible. We know that everyone could have benefited from more time to experience more interactive activities in the first part of the training. Your feedback on the evaluations is very helpful and we will use it to improve future professional development offerings.
You can find the questions and answers, comments, and suggestions from the workshop by clicking here.
Next Steps/Trainings/Support
Advisory and PLT Circle Plans
On Monday 9/25 and Tuesday 9/26 Middle School PLTs and High School Advisory will be running circles. If you've already run a Circle (ie, Community Circle suggested by the Advisory Team last week) you are ahead of the game. The focus of this circle is to introduce a different tool (circles) that fosters meaningful dialogue in the classroom. Please find the attachment with three circle outlines that build on each other to introduce the circle process and building a safe space to eventually talk about a wider range of topics.
SY 2017-2018 OSSE PDs
Bi-Weekly CHEC Staff/Teachers Circles and Short/Customized PDs
The CHEC Restorative School Team also invites you to bi-weekly Teacher/Staff Circles on Tuesdays at 3:30-4:15pm in Room E205 starting in October. These bi-weekly circle practices will be a support/learning space to to share what works, what doesn't work and explore topics and further skills to facilitate circles with your students.
Our Restorative DC consultants will be there as well to offer new skills and experiential activities to increase everyone's skill base for community-building circles as well as restorative responses to conflicts, issues and harm. We will get to explore and practice restorative language, affective statements, positive disciplines tools and skills, diversity and implicit bias awareness, trauma awareness, mindfulness, relationship building, restorative de-escalation, in-the-moment micro-circles, self-care/empathy, etc.
We'll see about adding in-house short experiential PDs to learn skills and tools from Positive Discipline, Collaborative Games, Nonviolent/Collaborative Communication, Motivational Interviewing, Interpersonal Neurobiology, Mindfulness and more.
Join the Restorative School Team!
We need teachers, students and parents to join this group that meets every other week to focus on whole-school implementation. If you have some energy and interest around this culture and climate approach, contact Suzannah Weiss, Pankaj or the Restorative DC consultants to see about joining the team. Contact info is at the bottom of this email.
If you would like to identify students as potential leaders in their own circles who might be interested in joining the Restorative School Team, please contact us as well with names.