BLACK HISTORY MONTH ASSEMBLY
CHEC and DCPS continue to join the voices of sorrow, condolence and outrage in the wake of the school tragedy in Parkland, Florida. Even as we support ourselves and our young people in coping with the feelings that have arisen from one more senseless school shooting, we are also united with other school communities as a force for advocacy of more effective gun control, policies, and laws. As educators, we are literally on the front lines, and our voices must be heard in this debate. Thank you to all for engaging our students in this important conversation, and guiding them to find their own way of involvement and advocacy. Young people around the country are willing to take on the status quo, and as a school committed to social justice, we stand with them. Your ideas and thoughts for involvement are welcomed and encouraged.
BUDGET FOR SCHOOL YEAR 2018-19
It is budget season once again, and we have just received our initial allocation for School Year 2018-19. Since we had a drop in enrollment this year, our budget for next year has been reduced significantly, by about $500,000. In addition, due to rising costs for positions, the buying power of the budget has been reduced significantly as well. This will necessitate cuts in spending, both personnel and non personnel.
The LSAT met on Thursday, February 22 to look at student data, needs, and programming, and to make recommendations for what to cut, and what to maintain. We will also be administering a budget survey, in order to gather ideas and thoughts from all staff members. Please look for the budget survey over the next day or two.
As always, our LSAT and parent association will be analyzing the funding data and per pupil allocations we have received. In previous years, we have brought to the attention of DCPS that our student allocation is not equitable when compared with other high schools with similar demographics. This has never been addressed adequately or responded to. We do not yet have comparative data, but once it is available, our LSAT, parents' association and student government will conduct an in depth analysis to share with the entire school community.
Thank you once again for your continued patience and support as we continue to work on the refinement of the attendance and grading policy. Due to our efforts throughout this year, last week's attendance increased to 88.%%! Congratulations to our winning grade levels – Grade 7, Grade 9, and Grade 11! They have taken the trophies for now!
Here are some additional updates:
Thanks to three of our great Math teachers, Mr. Rowe, Mr. Cabone and Mr. Broad, we are working on developing more timely period by period attendance reports, so that we can identify absent students in the moment and attempt to find them, intervene, and contact parents. In order to make this new reporting format effective, we need real time attendance data. For that reason, we are requiring that everyone enter attendance within the first 15 minutes of class, and update it before the end of class. Please see reminders on procedures below.
Attendance must be entered every day, during the first 15 minutes of each period. For example, the attendance for First period must be taken during first period. It is recommended that this be done during a Do Now, or during a work period. A student attendance manager can assist by taking it on paper, providing it to the teacher, and the teacher enters in Aspen.



Students who are late should be marked T, once they arrive to class, not Absent.



Create a routine or protocol for what to do or say when a student comes late to class – for example, have them call home on the spot, write a letter explaining why they are late, or do some kind of classroom restorative community service. Constantly verbally reinforce the importance of being on time.



The first time a student is absent unexcused, teachers are to call the parent and record the call results in the Journal part of Aspen. If the contact information is incorrect, please note the attempt, and inform Pankaj Rayamajhi of an incorrect contact number.



Follow up after absences and provide make up work, or keep a folder of make-up work in the room.



On progress reports and report cards, provide a comment if there is an attendance issue.



Create class incentives for perfect or improved attendance as a class.
THERE ARE NO WORDS TO EXPRESS OUR GRATITUDE....
A big congratulatory shout out to AP Studio Art student Galilea Soriano who received a Silver Key Award in the National Scholastic Art & Writing Awards.




Kudos to Mr. Bufford, Ms. Pugh, Ms. Castro, Ms. Blanco, and Ms. Elmore for presenting on the college career team work at last week's ALT Meeting. They did an outstanding job!




Shout out to Mr. Onley for an outstanding performance of the Latin Jazz Band at the Mid-Atlantic Jazz Festival this past Saturday!!!




Shout out to all of the Chaperones at Friday's Valentine Dance: Mr. Gallion, Pankaj, Mr. Galvan, Mr. Boone, Ms. Pugh, Ms. Thweatt, Mr. Molina, and Mr. Best.




Kudos to Dr. Barnett and Mr. Onley for bringing the Kankouran Dance group to perform for our students during Black History Month!!




Shout out to Ms. Exantus for coordinating a presentation by Courtland Cox last week!




Shout out to Ms. Kamal for organizing a Valentine's Mini Chess tournament after school last week!!




Kudo to Ms. Wei, Ms. Hua and Ms. Pugh for coordinating our Chinese class presentation in celebration of Chinese New Year at Deal last week!!!




Kudos to Ms. Whitaker, Ms. Pugh, and Ms. Castro for representing CHEC at the Graduation Summit last week, and developing action plans to promote the achievement of all students.




Shout out to Mr. Hunger for organizing the Poetry Club Valentine Raffle to raise funds!!!




Kudos to our Basketball Coaches for a great Basketball season.



March (5 - 16)
, 2018
IN THIS ISSUE

Leadership Team and Other Updates
Opportunities and Updates
Ambiente, creating a climate for learning
Upcoming Events and Activities
LAST WEEK'S RESULTS
Congratulations to the High School Cheerleading team that took 3rd place in the DCIAA Cheerleading Competition! Congratulations to the Varsity Girls Basketball team on a great season! The Varsity Girls defeated Roosevelt but lost to Georgetown Visitation in the State quarterfinals. The Bowling Team defeated Anacostia and Phelps. Spring sports begin this week.
-------------------------------------
Girls Basketball – 10 - 5
BELL

THIS WEEK'S SPORTS SCHEDULE
Monday

Bowling vs. Coolidge at Bolling AFB @ 4:00
​Tuesday

Flag Football vs. Phelps at Spingarn @ 5:00
Wednesday
Bowling vs. Dunbar at Bolling AFB @ 4:00
Thursday
Flag Football vs. HD Woodson at HD Woodson @ 5:00
Friday

​Saturday

HS BB vs. Model (Scrimmage) at Gallaudet @ 11:00
WEEKLY CALENDAR
Monday

College Visits – Virginia State University and Virginia Commonwealth University
9th Grade College Visits – Johns Hopkins and Morgan State University
Wednesday

Black History Month Assemblies 9:00 a.m. and 2:00 p.m.
Office of the Director of National Intelligence Visit – 1:30 p.m. – HS Library
Thursday

11th Grade College Visits – Catholic University and Howard University
Black History Month Movie Night – Malcolm X
Parent Conferences – No School for Students
UPCOMING EVENTS AND ACTIVITIES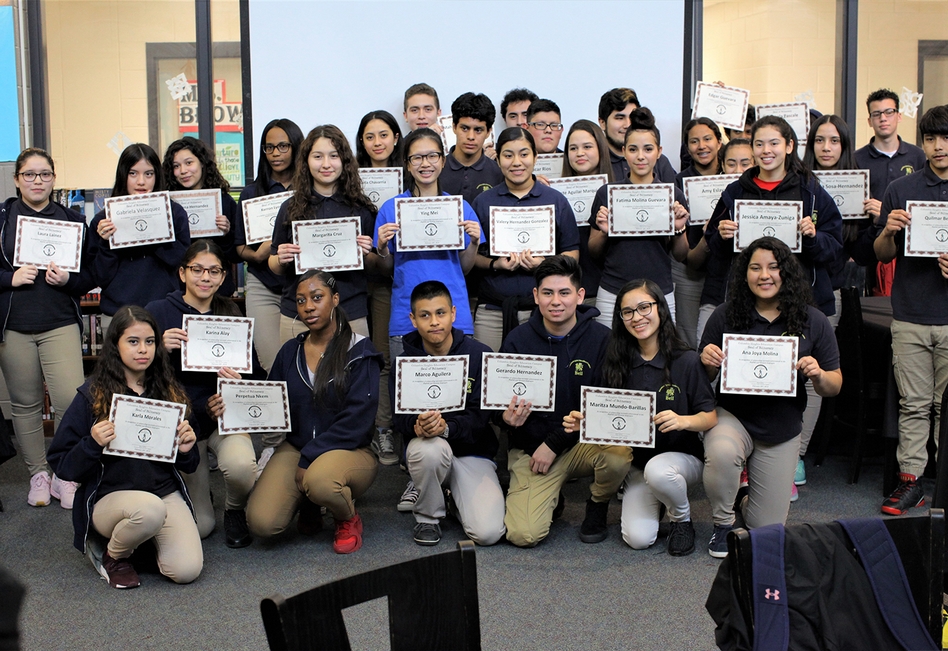 It is now Week 5 of the third advisory, and all students should have completed their first GRASPS. Exemplar GRASPS should be posted in every classroom, and in the SLC hallways, so that we can celebrate students meeting the standards. Students should also have completed the entry slip for this GRASPS, and reflected upon it, so that they will be ready to present their portfolios with an authentic explanation and defense of their work. We have been focusing on aligning our daily instruction and student work products to the GRASPS, so that each day students are able to make connections to the standards of the unit as they work on their project. The essential questions of the unit, as well as other higher order questions you develop, also guide students in making connections and developing their own unique perspective on the project. Thank you to all faculty and staff for guiding all students to successfully meeting the standards through their work on GRASPS.
Progress reports for all students are due on this Friday. Please make sure to include comments on student attendance and punctuality, so that parents will be aware if students are in danger of failing.
UPDATES FROM: LEADERSHIP BLACK HISTORY MONTH ACTIVITIES MS & HS LIBRARIES
LEADERSHIP TEAM

The Leadership Team will continue to meet on Wednesdays this year. Last meeting, the team worked on determining our progress in our CSP in the area of Dual Language, and College and Career Readiness. Team members looked at GRASPS, student work, and assessments, in order to provide feedback on alignment to AP.
The next meeting with be on Wednesday, March 7, and the College and Career team will lead us in developing a plan and template for incorporating college and career readiness curricula into our advisory program. The Leadership Team is a group of teachers, counsellors, and administrators who meet every week to discuss school needs, and plan for improvements. The Leadership Team designs the school's comprehensive school plan, and helps in its implementation. Please consider joining the Leadership Team this year. It is open to all faculty and staff. We need the involvement and voices of all. Remember, Leadership team meetings are open to all who are interested in schoolwide decision-making and leadership. You can come once, or as many times as you like, but please make your voice heard!
CHEC REGIONAL CHAMPION - PERCUSSION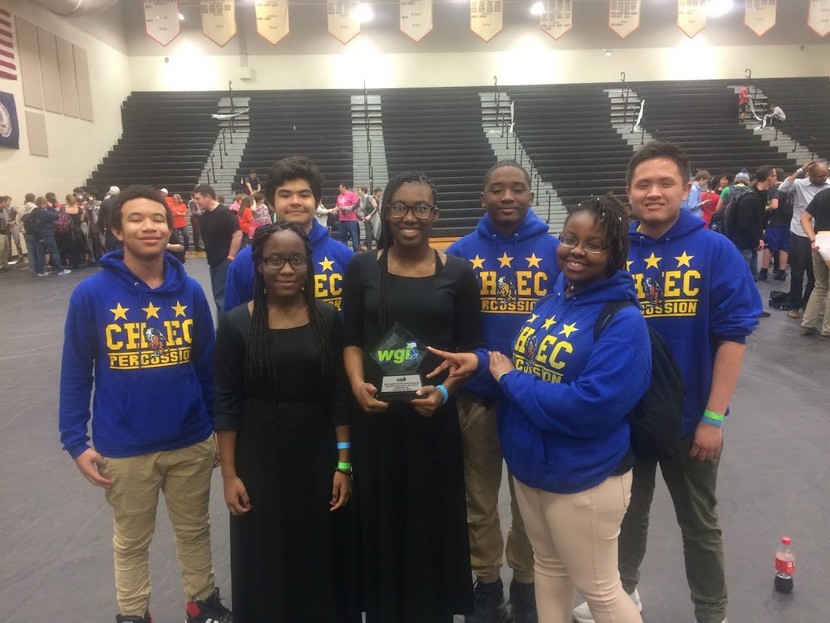 CHEC HOSPITALITY AND TOURISM ACADEMY
The CHEC Hospitality & Tourism Academy invites you to attend our Marketing Proposal Showcase on Thursday, March 8th. We are looking for career professionals to give feedback and vote on the strongest Creative Pitches in our Hospitality Marketing classes. Groups in each class have come up with a mock tourist attraction and mission statement for their business. Each student in the group will then pitch individual marketing plans/creative concepts to the "chiefs of their department" (or you - our career professionals). The winning concepts in each group will be used to build the larger culminating projects at the end of the term. [Light refreshments will be served.]
EMPOWERING MALES OF COLOR
On Wednesday, March 7, CHEC Bellmen will host an event for social justice. We are inviting school deans and resource officers to convene and explore relationships between students and authority figures in and beyond the school. Please accept this invitation to join us in the middle school library at 1:45pm for lunch and discussion.
We are also asking teachers and administrators to refer students to attend. We encourage teachers to think of how this event can supplement their class assignments and offer incentives for them to attend. Topics will include:
social justice

police brutality

school-to-prison pipeline/ prison-industrial complex

careers in law enforcement
Please share the names of your recommendations with us and let us know if you can attend.
2018 POETRY OUT LOUD – DISTRICT OF COLUMBIA FINALS
The DC Commission on the Arts and Humanities (CAH) is pleased to present the District of Columbia Finals for Poetry Out Loud in partnership with the National Endowment for the Arts and the Poetry Foundation. The program will take place at the DC Office of Cable Television, Film, Music & Entertainment on Thursday,
March 8, 2018. The event is free and open to the public.
Thursday, March 8, 2018 | 7 pm
DC Office of Cable Television, Film, Music & Entertainment
1899 9th Street NE, Washington, DC 20018
*Please note that seating is limited and that all attendees are requested to confirm attendance as soon as possible. RSVP here.
The competition starts at 7 pm and will feature performances by local artists and arts organizations. Renowned artist Joseph Green will host the event, with performances by Split This Rock's DC Youth Slam Poetry Team and Natalie Illum.
Ten high school students from DC public, charter and private schools will compete at the finals – including
CHEC student Xavier Boone: Banneker High School, Capital City Public Charter School, Cardozo High School, Columbia Heights Educational Campus, E.L. Haynes Public Charter School, Eastern High School, McKinley Technology High School, SEED Public Charter School, St. Anselm's Abbey School and Washington Latin Public Charter School
DCPS OFFICE OF SOCIAL EMOTIONAL ACADEMIC DEVELOPMENT TO FILM CHEC CLASSROOM ON MARCH 14TH
Lisa Luo, Filming Specialist for the IMPACT align team, is building a collection of videos that features excellent instruction in DCPS classrooms. On Wednesday, March 14, from 10:20am - 11:45am, the Film Team will visit Christopher Broad's classroom and film his instruction.
PROFESSIONAL DEVELOPMENT OPPORTUNITY
To all CHEC Faculty - If you are interested in attending the following presentation What All Teachers Need to Know About Language and Why, please submit an Administrative Leave Request to Ms. Tukeva
Presentation: What All Teachers Need to Know About Language and Why
Dr. Linda Harklau, University of Georgia
Dr. Donna Christian, Center for Applied Linguistics
Dr. Sarah Moore, Center for Applied Linguistics
Ms. Annie Duguay, Center for Applied Linguistics
Date: Wednesday, April 4, 2018
Time: 11:30 am - 12:00 pm Boxed Lunch Available
12:00 pm - 1:15 pm Presentation
1:15 pm - 1:30 pm Questions and Networking
Location: Center for Applied Linguistics
RSVP: Please confirm your attendance by March 30, 2018 by sending an email to info@cal.org.
Join CAL for this informative session designed to provide educators with a more in-depth understanding of the key role of language in schools, and its impact on teaching and learning.
Rising enrollments of students for whom English is not a first language mean that every teacher is not only a content area expert, but also a language teacher. Through the lens of the upcoming second edition of the widely-used What Teachers Need to Know About Language , Donna Christian will share highlights of why and what teachers need to know about language to work effectively with this growing population of students. Linda Harklau will focus on how this information relates to pre-service educators and teacher preparation at the university level. Spotlighting the importance of promoting language awareness for in-service teachers, Annie Duguay will share a sampling of CAL's PD materials that guide educators to explore the language demands of content lessons. Sarah Moore will discuss the critical role played by teachers as they interpret policy into practice and how they might function as educational linguists, with examples from CAL's current work with educators.
Linda Harklau -
Dr. Linda Harklau is a Professor in the TESOL and World Language Education Program and in the Linguistics Program at the University of Georgia (USA). Over the past 20 years, her research has examined factors affecting second language learning and academic achievement of immigrant youth in high school and college. A recipient of the TESOL Distinguished Research Award, her work has appeared in journals including TESOL Quarterly, Linguistics and Education, Educational Policy, Journal of Literacy Research, Journal of Second Language Writing, Teachers College Record, and Anthropology and Education Quarterly. She has co-edited three books and is well known for her work conceptualizing "Generation 1.5" students in the volume Generation 1.5 meets college composition. She has also researched and published in the area of qualitative research methodologies, particularly longitudinal case study. She contributed to TESOL Quarterly's first qualitative research guidelines and was lead editor of the Qualitative Research section of the Encyclopedia of Applied Linguistics (Wiley). She has served on the editorial board of Anthropology and Education Quarterly, TESOL Journal, TESOL Quarterly, and Reading Research Quarterly. She is President-elect (2018) of the American Association for Applied Linguistics (AAAL) and serves on the Board of Trustees for the Center for Applied Linguistics.
Donna Christian -
Dr. Donna Christian is Senior Fellow at the Center for Applied Linguistics (CAL). Christian has worked with CAL since 1974, focusing on the role of language in education, including issues of second language learning and dialect diversity. She held the position of President from 1994 to 2010. For over 30 years, she has been involved in research, professional development, and technical assistance related to two-way dual language education, including as a co-author of the CAL publication Guiding Principles for Dual Language Education and as guest editor of a special issue of International Multilingual Research Journal on dual language education. She is also a co-author of Dialects at School (with Jeff Reaser, Carolyn Adger, and Walt Wolfram), published in 2017. Christian is currently a member of the Steering Committee of The National Dual Language Immersion Research Alliance, an officer of The International Research Foundation on English Language Education (TIRF), and co-editor of the Language and Public Policy section of the journal Language (Linguistic Society of America). Along with Carolyn Adger and Catherine Snow, she is co-editor of the second edition of What Teachers Need to Know About Language set for publication in 2018.
Sarah C. K. Moore -
Dr. Sarah C. K. Moore is Program Director of PreK12 English Learner Education at the Center for Applied Linguistics (CAL), where she oversees projects addressing the educational needs of emergent bilingual students. Moore has led both pre- and in-service teacher preparation in a range of settings and across grade levels. Her work at CAL primarily focuses on mainstream educator professional development regarding sheltered instructional methods for ensuring students' development of both language and literacy, as well as content learning. She also directs CAL's Education Connections activities, which are funded by a series of philanthropic and other grants, including from the Bill and Melinda Gates Foundation, as well as through the Investing in Innovation initiative, under the U.S. Department of Education's Office of Innovation and Improvement. These investigate novel approaches to provision of professional development for K12 educators. Moore's research has addressed issues in educational equity, particularly pertaining to instructional program models, education policy interpretation, and language politics and policy. Her publications and edited volumes include Language policy processes and consequences: Arizona case studies (editor, Multilingual Matters, 2014) and Handbook of heritage, community, and Native American Languages: Research, policy, and practice (co-editor, Routledge, 2014). She is book review co-editor for the journal, Language Policy (Springer) and 2017/2018 Language Politics and Policy Strand Coordinator for the 2018 American Association of Applied Linguistics Annual Conference. Moore, with Lindsey A. Massoud and Joanna Duggan, is co-author of Chapter four in What Teachers Need to Know About Language, entitled Language and Instruction: Research-Based Lesson Planning and Delivery.
Annie Laurie Duguay -
Annie Laurie Duguay, Director of Language and Literacy, has been with the Center for Applied Linguistics since 2009. During this time she has had the opportunity to work on a variety of projects in the PreK-12 English Learner Program Area. Duguay directs and delivers professional development (PD) for educators working with English learners in school districts throughout the country. PD topics include the SIOP Model, the What's Different about Teaching Reading to Students Learning English program, Research-Based Vocabulary Instruction, and CAL's Hot Topics series (Listening & Speaking; Math & Science; and Developing Academic Literacy and Language in the Content Areas). Duguay also helps districts to identify their needs for professional development to improve educational outcomes for language learners. Additionally, she is a co-author on the CAL Practitioner Brief: Implementing the Common Core for English learners: Responding to common questions from educators. Duguay has worked on several vocabulary intervention projects. For the CREATE project (Center for Research on the Educational Achievement and Teaching of English Language Learners), Annie wrote sheltered science curriculum for middle grades English learners. Additionally, she worked on the NICHD-funded Vocabulary Instruction and Assessment of Spanish-speakers (VIAS) project, collaborating with the Research Core team to develop an instrument which measures teachers' knowledge of vocabulary development and instruction (Teachers' Knowledge of Vocabulary Survey).
CHEC LIBRARIES
DCPS & CHEC Reading Campaigns
Continue to encourage students, parents, and staff to read throughout the school year. You can track your progress through chec.beanstack.org. The DCPS district-wide reading challenge is currently at 2.6 million minutes - the goal is 3 million minutes by April 30th! We have read nearly 6,000 minutes. At CHEC, 6th grade currently leads the 25 Books Campaign with 737 logged books. Contact your librarians for any help or questions.
April is School Library Month
Annually, school libraries around the country celebrate School Library Month during April. Sponsored by American Association of School Librarians, the event celebrates the school libraries' mission to be equitable, approachable, and develop a personalized learning environment to best meet students' (and staff's) needs. Your CHEC librarians are thrilled to announce we've been chosen to host School Library Month spokesperson Jason Reynolds at the end of April. More details to come.
Read more here: http://www.ala.org/news/press-releases/2018/02/aasl-celebrates-2018-school-library-month-spokesperson-jason-reynolds
Middle School News
NEW E-books and Audio Books in MS Library Collection!
Recently purchase e-books and audio books are available for patron access and check out through the Destiny Discover website ( http://www.destinydiscover.com ) or app. Students can log in with Username / MMDDYY credentials and staff can log in with first.last / 000DistrictID credentials. New titles include the Dork Diaries series, A Tale Dark and Grim, Miles Morales, and more.
NEW Book Shipment Has Arrived!
In addition to new online resources, 400+ physical books have joined the Lincoln Library collection. Due to student demand, more graphic novels and further completion of popular book series are here. Other award-winning novels, nonfiction titles, and career information are available for check out. Schedule a class library visit or send students with a pass. Reading is not only an enjoyable activity but it will help students prepare for PARCC as they build their vocabulary skills, reading stamina, and comprehension of text.
Tips to Improve Reading Habits
Tip of the Week: Model reading for students. Students observe us each day and one of the best ways to get them reading is for them to see and know that you are reading too. Share an interesting passage with them, spend time on a book talk, actually read during the designated reading period.
Bell High School News
New Library Books and Resources Have Arrived!

Students asked and so, it is. The Bell Library is EXCITED to announce that we have received 200 + books and, over 800 are on the way. These online resources, audio books, videos and kits include: fiction, non-fiction, career and reference materials, foreign languages and graphic novels.
Please come check out materials and bring your classes! As a community of scholars and geniuses, we are bucking the trend and setting the precedent. Climb with US!
Bell Library Reservations
The CHEC Bell High School Library would love to invite teachers and staff to reserve library space via our new platform, Skedda (https://reservechecbelllibrary.skedda.com/booking). Once booking your first reservation you will be prompted to create a quick login. Users will be able to see when space is available and when space is unavailable. This will allow for transparency and comfort in knowing that the time that you have requested, is available. There is also a space for *notes. If you would like to request AV material (i.e. projector) I can have that available and set-up for you.
Bell Library Winter 2018 Technology Survey
Please take the CHEC Bell High School Library Technology Survey https://tinyurl.com/yav5bk73. If you have any questions, please feel free to reach out to Christopher A. Stewart, (Bell) Librarian via email:christopher.stewart2@dc.gov.
Bell High School Library Book Club
The Bell Book Club will challenge participants to think outside of the book and confront preconceived notions by having deep discussions and building relationships. Creating discourse that transcends generations, neighborhoods and households, makes us strong, courageous and intelligent.
Book: The Education of Margot Sanchez
Date: Wednesday, March 21, 2018
Time: 1:30 PM *Early Dismissal
Location: CHEC/ Bell High School Library
The Education of Margot Sanchez by Lilliam Rivera
Margot Sanchez is paying off her debts by working in her family's South Bronx grocery store, but she must make the right choices about her friends, her family, and Moises, the good looking but outspoken boy from the neighborhood.
Mr. Stewart, Bell Librarian, will have books available in the library beginning, Friday, March 9, 2018. Please let me know if books in alternate formats need to be ordered (i.e. LP, audio)

Light refreshments will be available.
Bell High School Writing Center
The goal of the Writing Center is to enhance the preexisting gifts and talents that all students possess. Students will share their drafts (at least 48 hours) in advance and, receive feedback within 48 hours.
The library will assist students with:
Interpreting a writing assignment




Creating ideas




Locating and sharpening a thesis statement




Organizing ideas and research




Developing a logical argument




Identifying recurrent errors and strategies for revising



Date: Tuesdays & Thursdays
Time: 8 AM- 8:50 AM & Lunch Periods
Location: CHEC/ Bell High School Library
Brunch with the CHEC/ Bell Librarian Food, Lit. & Book Discussion
Join us as we deepen the community bond through literary engagement and empowerment, we will discuss books, eat food and share stories that make us laugh, hope and dream.
Date: Wednesday, March 7, 2018
Location: Corner of 15th Street and Irving
Tech Talk and Makerspace Tuesday
Join the Bell Library as we discuss new and innovative technologies and create some of our own.
Date: Tuesday, March 13, 2018
Location: CHEC/ Bell High School Library
Women's History Month Celebration w/ Cortenia Smith as Harriet Tubman
This one-woman show reveals the true spirt of a legendary former slave, abolitionist and hero who defined courage and strength despite opposition. Drawn from the pages of history and passionately retold by actress extraordinaire, Ms. Cortenia Smith. Mrs. Tubman tells a story of survival, endurance and, faith (play written by Mojo Gentry).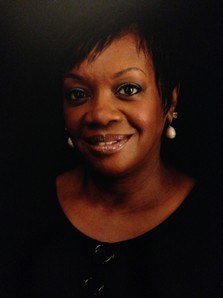 Date: Wednesday, March 14, 2018
Location: CHEC/ Bell High School Library
Women's History Month Bell High School ESSAY CONTEST
Question: Sexual abuse including but, not limited to sex trafficking (in the District of Columbia), salary discrepancies, race baiting and other forms of discrimination against women is prevalent. In the age of the #metoo movement, how can you speak up and out against the hatred your sisters experience?
Essay deadline: Friday, March 23, 2018
Announcement of Essay Contest winners: Wednesday, March 28, 2018
Location: Women's History luncheon in the Bell Library (contestants will read their essays).
VIRGINIA STATE UNIVERSITY VISIT W/ NYAH SCOTT BELL CLASS OF '17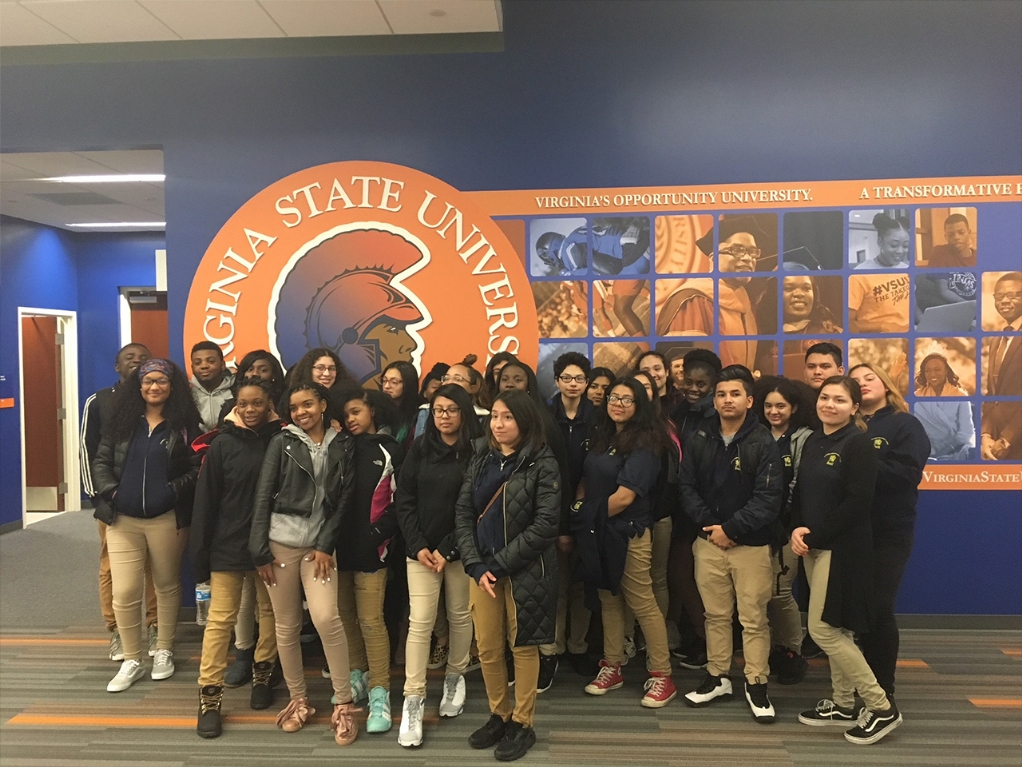 Lift every voice and sing / Till earth and heaven ring




Ring with the harmonies of Liberty;

Let our rejoicing rise, / high as the list'ning skies,

let it resound loud as the rolling sea.

Sing a song full of faith that the dark past has taught us,

Sing a song full of the hope that the present has brought us;

Facing the rising sun of our new day begun, / let us march on till victory is won.



– The Black American National Anthem, a poem by James Weldon Johnson in 1899, set to music by his brother John Rosamond Johnson in 1900
As we continue celebrating Black History month, consider these options to support students, to build character, and to reinforce positive behavior in our hallways and classrooms. Also, let's continue to encourage students to be in school every day and promote perfect attendance!
Kindness grams –

Encourage students to share with one another things that they respect about one another. Let this be a route to shout out those that we might not normally shout out.
Sweat the Small Stuff –

remember to address relational behavior before it escalates, before a full-blown referral/consequence is deserved. Greet students at your classroom doors and conduct pulse checks to ensure they are ready to learn before they enter your classrooms.
PBIS points –

Offer publicly PBIS points to students that make great improvements in their grades or behavior at the end of each week during February, even if they aren't perfect.



PLT Shout-outs –

Allow students to shout one another out in PLT by having them draw names out of a hat and share one thing that they respect about that person.



Reminders
Students that are Out-of-Area
We have noticed a number of middle and high school students that are wandering into the wrong school. Middle School students should not be in the High School at all, and certainly not without a pass. High School students should only be in the Middle School on the Lincoln 3rd floor. The route for High School students to the 3rd floor Lincoln is through the Bell 2nd floor and on to Lincoln 2nd floor landing and up the stairs to the 3rd floor. They should not use the 1st or 2nd floor Lincoln to get to the 3rd floor Lincoln. Students that are not complying should be written a referral, so they can earn a consequence.



Detention
Detention is a first intervention we have for students to check and correct their behavior in your classrooms. Students being informed of this consequence is vital to the effectiveness of the consequence. Remember to use our 5 step process with fidelity so that our students will not earn a greater consequence of ISS and thus lose valuable class time



Dismissal
We always need more support at dismissal from 3:15pm until 3:35pm (High School), 4:15pm until 4:35pm (Middle School). Please follow students all the way out to the front of the building. Students should be encouraged to move on toward their bus stops/metro quickly. Teachers and staff that can make themselves available to stay out front will be greatly appreciated.



Cafeteria Support
All lunches have their ups and their downs. We always appreciate additional supports in the cafeteria on days that teachers are available. Check-ins with students build relationships and adult presence supports our daily procedures in lunch.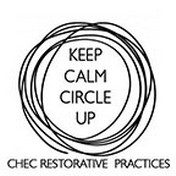 CIRCLE PROCESS
BLACK LIVES MATTER WEEK CIRCLE OUTLINE
A circle flow to encourage critical reflection and honest conversations about police violence and racial justice
Duration: approx. 50 min depending on number of students.
EXPERIENCED STUDENTS ARE NOT ENCOURAGED TO KEEP OR CO-KEEP.




MATERIALS / ROLES
CONTENT
1

Getting Ready and Welcome

Circle keeper arranges chairs in a perfect circle. Places centerpiece and talking piece(s) in the center of the circle. Gets everyone seated and ensures that everyone can see each other without moving. Welcomes everyone by saying it is Black Lives Matter week and we will be having a circle to explore this as a topic.

2

Opening ceremony




Circle keeper: have a quote, poem, or musical selection ready (some sample quotes below).

Ring a bell, use a mindful moment/breath. Read a quote or poem or play a musical piece.

3

Explain Centerpiece and Talking Piece




Circle keeper and talking piece

Tip: Take care to choose a talking piece that has personal significance and relates to the topic in some way

Explain how talking piece works and the significance of your chosen talking piece. Note the centerpiece usually sits in the middle of the circle on the floor, to help center the focus of the participants, while the talking piece helps everyone to listen to and focus on only one person talking at a time. Emphasize that passing is OK.



4

Review Guidelines




If you have developed them, remind the group of your classroom values and/or guidelines. If not, have everyone right down a value that is important for talking about this topic on a piece of paper and place it around the centerpiece. Then get consensus around the guidelines: 1) Respect the talking piece; 2) Speak and listen from the heart; and 3) Maintain confidentiality.



5

Opening round




The circle keeper prompts the round with a question and can model the length and depth of responses by going first before passing the talking piece to their right or left.




Prompt: Say your name and share "How do you feel in your body as we start a conversation about this topic?"



6

The circle keeper prompts the round with a question.

Prompt: Share a time when you saw or experienced an injustice.

7

Print and cut out the #LastWords and scatter around the center of the circle. Circle keeper explains them and prompts the round with a question.




Explain: Shirin-Banou Barghi created this series of graphics dedicated to those killed by police officers.

Prompt: What comes up for you seeing these?

8

The circle keeper prompts the round with a question.

Prompt: What has moved you in our circle?

9

Circle keeper. have a quote, poem, or musical selection ready (some sample quotes below).

Say a quote, read a poem or play a musical selection, ring bell.

10






Found at https://goodmenproject.com/featured-content/lastwords-tribute-victims-police-brutality-jvinc/
Sample Opening and Closing Quotes:
"If you want peace, work for Justice" – Pope Paul VI
"Justice is what love looks like in public" – Cornell West
"Our lives begin to end the day we become silent about things that matter." – Martin Luther King Jr.
"It always seems impossible until its done." – Nelson Mandela
"Justice will not be served until those who are unaffected are as outraged as those who are." – Benjamin Franklin
"If you want to join the fight for social justice you may win or lose, but just by being part of the struggle, you win, and your life will be better for it" – Howard Zinn
Join CHEC Yoga Wednesdays
7 Things I Wish I Knew Before Starting Yoga
I've played competitive sports since I was barely old enough to see over a soccer ball. In recent years, I've opted for cycling, the occasional 10K and lots of group-based high-intensity interval training — all things that let me channel my competitive edge. In short: I like to win.
I first tried yoga several years back with the goal of improving my flexibility. At the time, I considered it a chore, a functional activity to be endured for health reasons. I had no idea it was such a rich, multifaceted workout. Or that it could be so challenging. Or that I'd learn to love it.
Turns out, I didn't know much of anything. So below: seven things I wish I knew before starting yoga. May they help you on your path to yogic enlightenment … or your first class.
1.
NOT ALL YOGA IS THE SAME
Ashtanga, Bikram, hatha, vinyasa. Those are just four of the many styles of yoga, each incorporating different postures and sequences. For example, Ashtanga yoga is meant to feature the same poses in the same order, while vinyasa — often referred to as "flow" yoga — is often set to music, features smooth transitions between movements and will likely vary from one day to the next. There's a lot of variety within yoga, so it's worth experimenting with multiple styles to find the ones that suit you best. And while same-named styles may vary slightly from studio to studio, they're based on established principles and should feel familiar regardless of where you practice.
2.
IT'S NOT JUST PHYSICAL
Yoga is a lot more than twisting poses and downward-facing animals. The discipline itself dates back thousands of years and has strong roots in spiritualism. Physical movements and postures are one part of yoga, with other important factors including breath, meditation and mindfulness. After the end of a yoga class, it's common to feel rejuvenated, both mentally and physically.
3.
IT'S HARDER THAN IT LOOKS
Sure, my favorite pose is probably savasana, a resting pose where you literally just lie down on your back with your eyes closed. But yoga can incorporate challenging sequences, test your balance, require considerable strength and leave you dripping with sweat — often at the same time.
4. IT'S OK TO USE PROPS (OR REST)
Blocks, straps and other helpful props are available for a reason, and should be used liberally. Struggling to settle into a pose, and then staying there uncomfortably, can compromise form and even lead to injury. So put your hands on those blocks or employ a strap as needed. Another alternative: take a break. Drink some water, towel off or sink into child's pose — there's no shame in resting, and doing so keeps you fresh for what's to come.
5. YOU CAN GAIN SERIOUS STRENGTH
Yoga is a total body, low-impact workout that combines flexibility with strength. From chair pose, which is akin to holding a mini squat, to chaturanga — which moves your body from a high plank to low plank, working your core, chest and arms — several movements and postures increase muscular endurance and strength. The point is: You can get ripped doing yoga.
6. IT'S A CONSTANT WORK IN PROGRESS
That's why it's called a yoga "practice." You can't win at yoga, so drop your competitiveness at the door. That person next to you who's nailing all the postures and flipping up into a handstand … she's likely been practicing for years. Everyone must start somewhere, so don't get discouraged. Like anything else, you'll get better at yoga the more you do it, and there's always something new to learn.
It took me awhile to really embrace this mindset. Yoga is in-the-moment and adapted to the individual. What's right for you might not be right for me. What works for my body might not work for someone else's. There's no right or wrong. A successful yoga practice takes into account what your body needs at that particular time — whether it's a deep, challenging stretch assisted by the instructor or a few quiet moments to regain your breath.
VISITORS TO CHEC THIS WEEK: VERIZON STEM BUS
A team of CHEC AP Studio Art students have created a striking and collectible 2018 calendar – this beautiful work of art is available in the Art Department (please see Mandy McCulloch) for $10 each. Here is this month's page: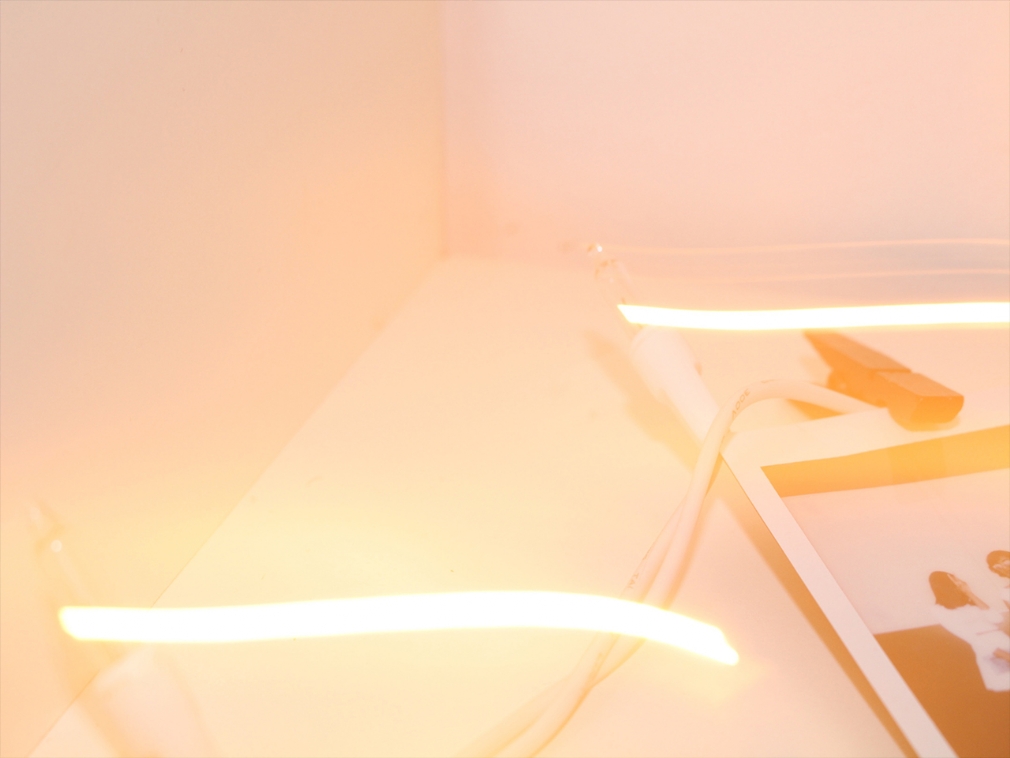 LETTER FROM JOSEPH TALARICO
I hope everyone is doing well. I am having a great experience over here, even though I really miss CHEC. I've been able to visit lots of schools, work with professors on my project, and learn about the European approach to language acquisition through an interdisciplinary lens. I've also started working with refugees, which has been very powerful. I'll be traveling soon to conferences in Finland and the Netherlands. I'm looking forward to returning to CHEC and sharing my findings.
In more exciting news, Biyeshi Kumsa won the Coca Cola Scholarship! She is one of only 150 students in the entire country to win this $20,000 scholarship that she can use whenever and however she wants over the next ten years. She was the only student from DC to receive the scholarship.
OUR 2018 COKE SCHOLARS
We are thrilled to announce our 30th class of Coca-Cola Scholars!
150 Coca-Cola Scholars have each received a $20,000 college scholarship and joined a family of alumni who are leading positive change in their communities and around the world.
The entire class of Scholars will attend the 2018 Scholars Weekend April 19-22, 2018, for a time of inspiration, fun, and camaraderie. Scholars will be honored at our 30th annual Scholars Banquet and participate in our Leadership Development Institute, an intensive leadership training during Scholars Weekend that challenges them to develop an inside-out leadership philosophy.
Share in their celebrations and follow their Scholars Weekend experience with #2018CokeScholars.
Biyeshi Kumsa – Washington, DC --- Columbia Heights Educational Campus
​On February 2nd, nine students and two staff braved the freezing temperatures and high winds to jump into ice cold water for the Special Olympics Polar Plunge! Jessica Amaya, Jocelyn Cruz, Jose Villatoro, Noelia Aguilar, Jahad Shaw, Omar Mendoza, Chen Ye, Meryem Yucel and Elvir Berisha were up to the challenge. Thank you to all the teachers and staff members who donated directly or indirectly through the Special Olympics Unified Club's snack sale. Our fundraising efforts paid off--we were neck and neck with Woodson until the end, but CHEC came out on top for the fundraising challenge! All funds raised go to Special Olympics providing Athletes with sports and social activities that promote healthy lifestyles and inclusive friendships.
Special Olympics Hill Day
Jennifer Garcia was chosen to represent DC for Special Olympics Hill Day, a day where Special Olympics delegations from across the country come to the District to speak to their representatives about the importance of Special Olympics and what Congress's funding means for people with intellectual and developmental disabilities--access to not only sports, but to social inclusion and healthcare. Along with SODC President/CEO Nicole Preston and Athlete Ambassador Novie Craven, Jennifer met with Eleanor Holmes Norton's staffer for health and education issues. In that meeting, Jennifer shared how Special Olympics has encouraged her to exercise by playing five different sports and helped her to make new friends through Unified activities at school and on the bocce court. After the meeting on the Hill, we headed to the Capitol Hill Club for lunch with Timothy Shriver, Chairman of Special Olympics, and Darrell Green, legendary cornerback for the Redskins. Jennifer got to try on his Super Bowl and Hall of Fame rings--they were so heavy!