AUREL NPOUNENGNONG'S SENIOR PORTFOLIO PRESENTATION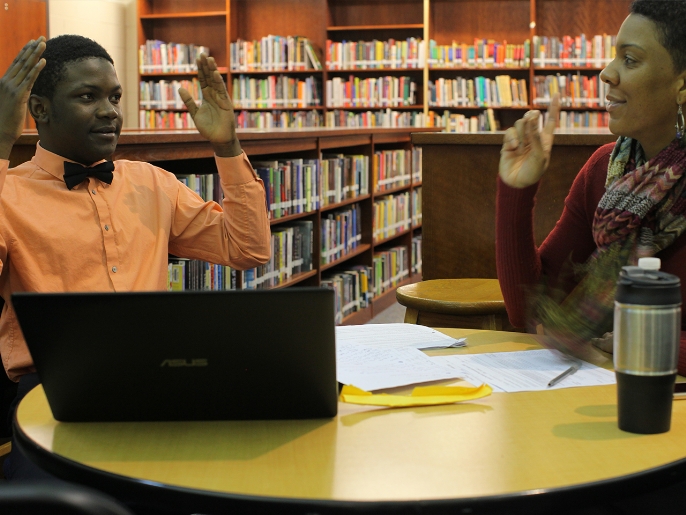 Dear CHEC community,
Thank you once again for your continued patience and support as we continue to work on the refinement of the attendance and grading policy.
Here are some additional updates:
As announced in our last month's PD Day Attendance Update, the CSC Rubric will be modified to remove references to passing rates.




An FA Appeal Form has been approved by DCPS, and is now available through the SLC administrators and Counselors




We have reorganized and adjusted our Credit Recovery Programs, and established and Alternative Path to Original Credit Program, to assist students who are off track. If you are interested in working after school in either of those programs, please see Ms. Whitaker.




DCPS has created a new policy that requires that students in Credit Recovery must achieve at least a B- grade in order to receive credit.




The FA grade in Aspen has been automated, so that students will automatically receive an FA if they have 10 or more unexcused absences. We will need to re-check all 2nd advisory grades, to make sure that all grade reductions for 5 to 9 absences have been made.
We will be publishing a full description of the two programs as they are finalized.
In order to achieve our attendance goals, we must make sure that school is engaging and inviting, and that we respond quickly to obstacles that students may be experiencing. We are working on further refining our attendance procedures, and fully defining the role of each member of the staff in making sure that accurate attendance is taken, and that all required interventions are made. With this in mind, there are several items that we need all teaches to collaborate with.
1) Attendance must be entered every day, during the first 15 minutes of each period. For example, the attendance for First period must be taken during first period. It is recommended that this be done during a Do Now, or during a work period. A student attendance manager can assist by taking it on paper, providing it to the teacher, and the teacher enters in Aspen.
2) Students who are late should be marked T, once they arrive to class, not Absent.
3) Create a routine or protocol for what to do or say when a student comes late to class – for example, have them call home on the spot, write a letter explaining why they are late, or do some kind of classroom restorative community service. Constantly verbally reinforce the importance of being on time.
3) The first time a student is absent unexcused, teachers are to call the parent and record the call results in the Journal part of Aspen. If the contact information is incorrect, please note the attempt, and inform Pankaj Rayamajhi of an incorrect contact number.
4) Follow up after absences and provide make up work, or keep a folder of make-up work in the room.
5) On progress reports and report cards, provide a comment if there is an attendance issue.
6) Create class incentives for perfect or improved attendance as a class.
As a school, we will be realigning resources to support improved attendance. This will include increasing the involvement and responsibilities of all office staff in attendance reporting and monitoring, hiring a part time data specialist to provide more in the moment reports and data that can be acted upon, grade level competitions and incentives, establishing an emergency resource fund for economic crises that may affect students, and increasing collaboration and communication among all Personal Growth Team members, counselors, administrators and teachers.
Thank you again for your commitment and support of making "Every Day Count," for our students!
THERE ARE NO WORDS TO EXPRESS OUR GRATITUDE....
FEBBRUARY 5TH - 9TH IS NATIONAL COUNSELING WEEK
This week we recognize our amazing CHEC Counseling Team and their unique contributions and the tremendous impact they have on helping CHEC students achieve school success. Our counselors play a huge role in building the culture and climate of our school – and within the school they are a crucial part in the linkage between students, parents, teachers, members of the Personal Growth and Administrative Teams. They are the passionate advocates for all of our students as allies to the college admissions professionals that are so important to our students' next academic vista. Please join me in an outsized CHEC thank you to Ms. Brown, Ms. Castro, Mr. Diaz, Ms. Iraheta, Ms. Lewis, Mr. Odom, Ms. Troy, and Mr. Yeboah.
Kudos to Mr. Hernandez, Ms. Ferreira, Ms. DelCid, Ms. Ramirez, Mr. AbuSabha, Ms. Perez, Ms. Sanchez, and Ms. Garcia Carmona for sharing their work at the last ALT Team Meeting. They did an outstanding job!




Shout out to Ms. Strickland for coordinating our Spelling Bee! A big thanks to our Pronouncer Captain Edward Gantt.




An extra special shout out to our ART team--Ms. Shaw and Ms. Mandy McCulloch, Ms. Hinkson. Gorgeous bees and sign.




Shout out to Coach A , Ms. Spinks, Mr. Jackson and the Hospitality Academy, as well as all Coaches of Fall Sports, for an outstanding Athletic Banquet last week!



VERIZON INNOVATIVE LEARNING SEMINAR WITH MS. PEDDYREDDY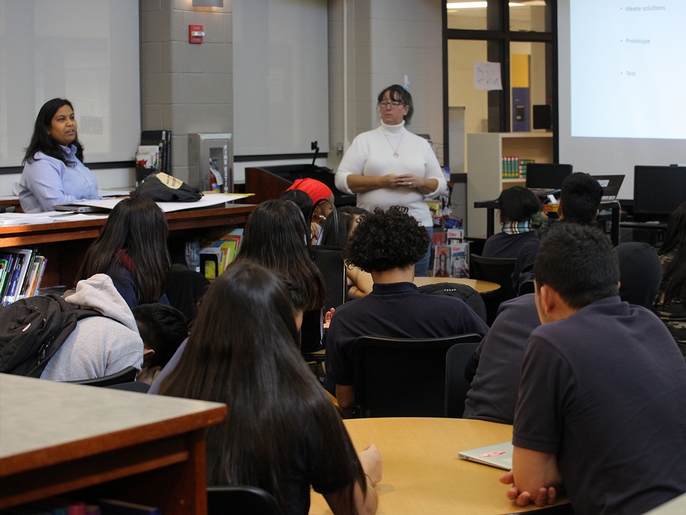 February 5 - February 9, 2018
IN THIS ISSUE

Leadership Team and Other Updates
Opportunities and Updates
Ambiente, creating a climate for learning
Upcoming Events and Activities
LAST WEEK'S RESULTS
Congratulations to the Lady Griffin Cheerleaders for taking 2nd place in the DCIAA Cheerleading Showcase. Congratulations to Andrae Green who was named to the All DCIAA Indoor Track Team. Congratulations to the Middle School Girls Basketball team for qualifying for the playoffs. The Middle School Girls Basketball Team defeated Walker Jones and lost to Takoma and Leckie. In the previous week they defeated Browne, Whittier, and Brightwood. The Middle School Boys Basketball Team lost to Walker Jones, Takoma, and Leckie. The Varsity Girls Basketball Team defeated McKinley and Phelps but lost to Capitol Christian Academy. The JV and Varsity Boys Basketball Teams defeated Phelps but lost to McKinley.
-------------------------------------
BELL

Junior Varsity Basketball – 7 - 6
Varsity Girls Basketball – 13 - 6
Varsity Boys Basketball – 5 - 11
THIS WEEK'S SPORTS SCHEDULE
Monday

Bowling vs. Dunbar at 4:00 @ Bolling AFB
Middle School Girls Basketball vs. West at 6:00 @ CHEC (Playoff Quarterfinals)
​Tuesday

Junior Varsity Basketball vs. School Without Walls 4:00 @ CHEC
Varsity Girls Basketball vs. School Without Walls 6:00 @ CHEC (Senior Night)
Varsity Boys Basketball vs. School Without Walls 8:00 @ CHEC (Senior Night)
Wednesday
Middle School Girls Basketball Playoffs continued vs. TBD at 4:45 @ TBD
Swim Meet at 5:30 @ Ballou
Thursday
Friday

​Saturday

WEEKLY CALENDAR
Monday

Senior Parent Meeting – Model UN 6:00 p.m.
Early Release Day
9:00 am to 12:00 pm Digging Up Dessa
(Kennedy Center 6th & 7th Grade Field Trip for 40 students)
11th Grade College Trip: Lincoln University & Cheyney - Bufford Cluster Bee @ 9 am
Thursday
Cluster Bee @ 9 am
Senior AP Lit Field Trip.
10:00 am to 1 pm Alvin Ailey (Kennedy Center Arts Department Field Trip for 50 Students)
2:00 pm SNCC Veteran Presentation (Exantus & Khafra)
Field Trip: Ms. Alvarado/Mr. Aguilar
9th Grade La Foto / A Selfie Affair Gala Hispanic Theatre
4:00 pm Black History Month Movie Night - Hidden Figures
UPCOMING EVENTS AND ACTIVITIES
CHEC Latin Jazz Ensemble Performances
Saturday, February 17, 2018
Mid-Atlantic Jazz Festival
The MAJF High School Jazz Band and Combo Competition Hilton
1750 Rockville Pike, Rockville, Maryland 20852 All Day Event Performance Time: TBA
It is now Week 3 of the third advisory, and all students should be completing or near to completing the first draft of their GRASPS. We have been focusing on aligning our daily instruction and student work products to the GRASPS, so that each day students are able to make connections to the standards of the unit as they work on their project. The essential questions of the unit, aws well as other higher order questions you develop, also guide students in making connections and developing their own unique perspective on the project. Thank you to all faculty and staff for guiding all students to successfully meeting the standards through their work on GRASPS.
Please let me know if you have any additional questions.
An El Tiempo Latino article about encouraging STEM subjects at CHEC – featuring Mr. Gonzalez.
UPDATES FROM: LEADERSHIP ENGLISH LANGUAGE LEARNES DCPS ART FLAMBOYAN LIBRARIES
LEADERSHIP TEAM

The Leadership Team will continue to meet on Wednesdays this year. Last meeting, the team worked on determining our progress in our CSP in the area of Dual Language Immersion. Team members looked at GRASPS, student work, and assessments, in order to provide feedback on alignment to the CSP and LEAP.
The next meeting with be on Wednesday, February 14, and we will have an overall analysis of progress towards the CSP. The Leadership Team is a group of teachers, counsellors, and administrators who meet every week to discuss school needs, and plan for improvements. The Leadership Team designs the school's comprehensive school plan, and helps in its implementation. Please consider joining the Leadership Team this year. It is open to all faculty and staff. We need the involvement and voices of all. Remember, Leadership team meetings are open to all who are interested in schoolwide decision-making and leadership. You can come once, or as many times as you like, but please make your voice heard!
MEETING THE NEEDS OF ENGLISH LANGUAGE LEARNERS
Submitted by Jorge Aguilar, ESL Department Chairperson
You have a new student(s), and he speaks very little English. His family has just moved to your town from San Salvador, and though he receives English as a Second Language (ESL) support, he will also be taking your class as a part of his core curriculum. How can you be a good teacher to someone who has a language barrier? Here is one strategy for you:
MAKE IT VISUAL: Avoid giving instructions in the air!!! ELL kids have a harder time processing spoken language. So instructions – even basic directions for classroom procedures – should be written on the board whenever possible. Challenging concepts should be diagrammed or supported with pictures. And modeling the steps of a process or showing students what a finished product should look like can go a long way toward helping students understand. Sometimes showing our students what to do is all they need in order to do it. Not only will this kind of nonlinguistic representation improve comprehension for ELL students, it will help all of your students grasp concepts better.
We would like to start the new semester by building better communication between classroom teachers and the ESL team, which will allow us to share strategies and techniques that support our students throughout the semester. The ESL Department will be visiting SLC and Department meetings to provide professional development and consultation on strategies for ELL's. Classroom teachers who need support with ESL students should communicate me (Mr. Aguilar) directly. Please share specific materials you need help with.
In that way, I will be able facilitate the support needed.
Thank you for your commitment and collaboration in meeting the needs of our English Language Learners.
FROM DCPS OFFICE OF TEACHING AND LEARNING
Please feel free to share the link (address below) to the sign up for the TPS trainings we will be holding for DCPS staff. We will hold our first session at Roosevelt on Wednesday, January 31, and will hold our second session on Thursday, February 1 at CHEC, making it convenient for any staff members interested. Both sessions will take place from 4:00-5:30. (Principal Tukeva graciously offered the auditorium. I do not anticipate having the numbers to justify the auditorium. Perhaps the UN (smaller) auditorium up front would be a better fit; I defer to the CHEC team. I will just need projection capabilities.)
LAD wanted to respond to school staff who were reaching out with questions around how they could learn more about TPS and the recent Trump decision to bring an end to the TPS for Salvadorans who were beneficiaries of that status. The session will provide school staff with information about TPS, why it was awarded, what the new changes mean, and what resources and supports can be shared with our families and school communities. All school staff is invited to sign up if they are interested.
Content Specialist, Secondary ESL
Coordinator, Itinerant ESL Services
Language Acquisition Division
Office of Teaching and Learning
Social Emotional Academic Development
District of Columbia Public Schools
GOOD NEWS FROM THE ARTS DEPARTMENT
The AP studio art students competed in The National Scholastic Art & Writing Awards and the following students were recognized with awards for their artworks:
Honorable Mention:
Accomplished works submitted to local programs showing great skill and potential.
Kelvin Hernandez, Artistic Defense
Silver Key Award:
Stand-out works submitted to local programs that demonstrate exceptional ability.
Janiyah Borges, Distant Snapshot
Gold Key Award:

The very best works submitted to local programs. Gold Key works are automatically considered for national–level recognition. Gold Key works are then judged nationally by an impressive panel of creative–industry experts to receive National Medals, including Gold, Silver, American Visions & Voices, Portfolio Silver with Distinction or Portfolio Gold Medals and Special Awards.
Kelvin Hernandez, Two Face
BLACK HISTORY MONTH ACTIVITIES
Together We Create
Honoring Unity, Ingenuity, Innovation, and Creativity in Black America
National Theme: African Americans in Time of War
Link with information updated daily:
ACTIVITIES
"Together We Create" Essay Writing Contest - Mr. Stewart
Door Decoration Contest - Ms. Exantus
Daily Announcements featuring famous Black Americans - Mr. Galvan
SGA Middle School Hallway Decoration - Ms. Gonzalez
Black History Month Movie Nights - Mr. Galvan
February 15 - 5 pm, Hidden Figures
February 23 - 4 pm, Lean on Me
PERFORMANCES
Kankouran Dance Company, 9 am for 6th to 9th grade, 10:30 am for 10th to 12th grade Auditorium
CHEC Wind Ensemble Elementary Outreach Program, All Day
Black History Month Assembly, 9 am for 6th to 9th grade, 2 pm for 10th to 12th grade, Auditorium
LECTURES AND PANELS
February 8 - SNCC Veteran - Courtland Cox, 2 pm Model UN
February 20 - Greek Life for Blacks and Latinos - Advisory
TBD - Captain Gantt - Speaking on the theme of "African Americans in Times of War"
TRIPS
February 2 - University of Maryland Eastern Shore College Trip for Music Department students
February 8 - Alvin Ailey Dance Company at the Kennedy Center for Music Department students
February 15, 22 - African American History Museum Trip for Library Interns
Assembly - Wednesday, February 28, 9 am and 2 pm
If you know any students who would like to perform or if you have an idea for a performance that you think would fit our theme for Black History Month, please reach out to Dr. Barnett at amylia.barnett@dc.gov
Rehearsals will be from 3:30 to 4:40 pm on Tuesday, February 6, Tuesday, February 13, Thursday, February 15, Tuesday, February 20, Thursday, February 22, and Monday, February 26
Dress Rehearsal - 3:30 pm to 5 pm Tuesday, February 27
ASSEMBLY
9 am for 6th grade to 9th grade
2 pm for 10th to 12th grade
ESSAY WRITING CONTEST INFORMATION - Mr. Stewart
Question: What does inequality and social injustice against blacks look like? There are the Garifuna in Honduras, Belize and Guatemala, blacks in India, China, Africa, America and, all over the world. Write about blacks in any part of the world and then discuss how they are treated. How can you make things better?
Essay announcement: Monday, February 5, 2018
Essay deadline: Thursday, February 15, 2018
Essay presentation/ speaking rehearsal:
Tuesday, February 20, 2018 3:20 PM
Wednesday, February 21, 2018 3:20 PM
Essay rehearsal in auditorium:
Tuesday, February 27, 2018 3:30 PM
Black History Month Assembly:
Wednesday, February 28, 2018
Question: Are we living in a post-racial society? How have your experiences shaped your understanding of this belief and, how can unified entities, creative partners and bold agitators confront the topic of race in White America?
Essay announcement: Monday, February 5, 2018
Essay deadline: Thursday, February 15, 2018
Essay presentation/ speaking rehearsal:
Tuesday, February 20, 2018 3:20 PM
Wednesday, February 21, 2018 3:20 PM
Essay rehearsal in auditorium:
Tuesday, February 27, 2018 3:30 PM
Black History Month Assembly:
Wednesday, February 28, 2018
DOOR DECORATION INFORMATION
Columbia Heights Education Campus
Teachers and Students you are invited to participate in our door decorating contest.
Deadline is: Friday, February 23, 2018
Grade level/SLC 1st place prize: OFF CAMPUS LUNCH
To date, we have 401 home visits! Great job CHEC team!!! Congrats to the 9th grade team for keeping the lead!!! 9th grade has visited 93 students which is 50% of the class of 2021 and is an increase of 2% from last week!!! Kudos to 7th grade for leading on the middle school side with 44!!!! The school as a whole has completed 12 visits in past week! Kudos to all! I know it is cold but please let's continue to push for home visits!! It is the start of the third term a perfect time to reach out to families!!!
Please remember that our SLC goal for this year is to visit 100% of the families in our PLTs, and the sooner we can accomplish this the better results we'll see in our classrooms.
Often times the school has tickets that are available free of charge for concerts and sporting events! Look for these opportunities to take students and their families for free! Engage them in conversation about their child's hopes and dreams and that will certainly count for a home visit!!
If you know your student has a sibling in another grade at CHEC please partner up with teachers who teach the student. This will offer a richer engagement. You CAN NOT do a home visit for a sibling if you do not teach them! Please give that opportunity for a teacher who teaches that child and partner up with them for a fruitful experience!
Teachers! Have you been thinking about taking a World Language Class to better communicate and serve our students, families, and community all while earning CSC points!?!?!?! Sign up for a class on Edgenuity! All teachers should already have an account! Visit edgenuity.com, your username should be your email address and your password is teacher. If you have trouble, Contact the Edgenuity Support Team by phone at (877) 202-0338 ext. 3. Currently, they offer the following languages; Chinese, French, German, Latin, and Spanish
CHEC LIBRARIES

------------------------------
Library Usage Reminder
When sending students to the library, please make sure they are only utilizing their respective middle or high school library. Except for a few previously determined exceptions, middle schoolers should only use the middle school library and high schoolers must use the high school library. Call your librarian (MS - ext 4018; HS - ext 5118) ahead of time to ensure there is space available for your students.
Thanks for your cooperation!
------------------------------
Log 25 Books Campaign Materials on Beanstack
As students finish reading, don't forget to take less than 5 minutes to log the titles for prizes!
Student log-ins are standard DCPS procedures: Username is STUDENT ID and password is DOB format: MMDDYY.
Teacher log in procedures: Username is first.last@dc.gov and password is District ID: 000#####
Log in and log your books at chec.beanstack.org
------------------------------
Summer Teacher Institute at Library of Congress
The Library of Congress is now accepting applications for its week-long summer institutes for K-12 educators. Held at the Library of Congress in Washington, D.C., this professional development opportunity provides educators of all disciplines with resources and strategies to effectively integrate primary sources into K-12 classroom teaching. Each session will focus on pedagogy, with an emphasis on supporting student engagement, critical thinking, and construction of knowledge. Applications are due March 21, 2018. More information found at the link below.
------------------------------
Webinar: Key Strategies to Making Access and Equity a Reality for ELL Students
Register for this webinar here. Takes place Monday, Feb. 12th at 3pm EST. Even if you cannot attend, register and a video to the webinar will be sent to you at a later date. Summary:
For many of the 4.5 million English Language Learners (ELLs) in U.S. elementary and middle school classrooms, learning and understanding the unique language of mathematics can be a challenge. An equitable math education is a pathway to help students grow into English-proficient learners and successful bilingual students. Providing access to educational opportunities is of paramount importance particularly considering the wide, pervasive gaps in math achievement.
In this edWebinar, Michele Dawson, Senior Director of Instructional Technology at Compton Unified School District in California, and Kelly Urlacher, Senior Curriculum Designer at DreamBox Learning, will discuss research-based approaches to improve access and equity for all learners, including how to:
Address key systemic areas of support for ELL students, including student-driven data, instructional practice, and parent/community engagement

Implement personalized, individualized, and blended models

Increase student and teacher engagement and motivation district wide

Develop innovative professional development models that enhance teacher practice in supporting all learners, including ELL students
------------------------------
Webinar: Best Practices to Empower Learners to be Lifelong Readers
Register for the edWeb webinar here. Takes place Monday, Feb. 12th at 6pm EST. Even if you cannot attend, register and a video to the webinar will be sent to you at a later date. Summary:
Educators play a vital role in curating lifelong literacy among their learners, but how exactly can they best help their students cultivate a love for reading? The work begins and ends in crafting an environment that inspires readers. Building a reading community that supports engagement with text in the form of reading, writing, listening, connecting and speaking is a pathway educators can take to create such an environment. Within an active and meaningful reading environment educators can dive into practices that inspire students to read more, stress the importance of picking books (and abandoning them!), and the role of personalized reading.
In this edWebinar, Instructional Coach at Lake Zurich Community Unit School District 95 in Illinois Billy Spicer will share practices to learn how to:
Unpack students' current mindset around reading

Help students build and maintain their unique reading identity

Abandon harmful labels and categories for readers

Create avenues to promote a growth mindset in reading

Plan sacred time for readers to discuss and process what they're reading

Create entry points for student choice and voice

Foster true engagement for independent reading versus strategic compliance

Leverage reading challenges
------------------------------
Lincoln Middle School Library Events
Middle school students have signed up to participate in Battle of the Books against other DC public, private, and charter schools on May 31, 2018. Students will meet once or twice weekly as needed during the lunch/recess period to prepare for the competition. They are expected to read the selected books as well as remain prepared for their classes.
------------------------------
25 Books Campaign Prizes

The first round of Out of Uniform passes took place January 24th. Over 70 middle school students were able to participate. The next Out of Uniform Day will be February 21st. Students will receive emails to claim their prize.
------------------------------
Lincoln Tech Team will continue weekly meetings on Mondays during extended day. Contact Ms. Falkenberg if there is a consistent technology issue you believe the tech team should address in meetings.
------------------------------
Black History Month Lincoln Middle School ESSAY CONTEST
Question: What does inequality and social injustice against blacks look like? There are the Garifuna in Honduras, Belize and Guatemala, blacks in India, China, Africa, America and, all over the world. Write about blacks in any part of the world and, discuss how they are treated. How can you make things better?
Essay deadline: Thursday, February 15, 2018
*e-mailed to Mr. Stewart, Bell Librarian, Christopher.stewart2@dc.gov
Essay presentation/ speaking rehearsal: Tuesday, February 20, 2018 3:20 PM AND/ OR Wednesday, February 21, 2018 3:20 PM
Essay rehearsal in auditorium: Tuesday, February 27, 2018 3:30 PM
*1st, 2nd and 3rd place prizes will be awarded to students for the most creative, thoughtful and intellectually stimulating essays.
------------------------------
Bell High School Library Events
Bell Library Reservations
The CHEC Bell High School Library would love to invite teachers and staff to reserve library space via our new platform, Skedda (https://reservechecbelllibrary.skedda.com/booking). Once booking your first reservation you will be prompted to create a quick login. Users will be able to see when space is available and when space is unavailable. This will allow for transparency and comfort in knowing that the time that you have requested, is available. There is also a space for *notes. If you would like to request AV material (i.e. projector) I can have that available and set-up for you.
------------------------------
Bell Library Winter 2018 Technology Survey
Please take the CHEC Bell High School Library Technology Survey https://tinyurl.com/yav5bk73. If you have any questions, please feel free to reach out to Christopher A. Stewart, (Bell) Librarian via email: christopher.stewart2@dc.gov.
------------------------------
Out of Uniform passes (i.e. after students have read 5 books) will be distributed on February 7th. Students will receive emails to claim their prize.
------------------------------
Bell High School Library Book Club
The Bell Book Club will challenge participants to think outside of the book and confront preconceived notions by having deep discussions and building relationships. Creating discourse that transcends generations, neighborhoods and households, makes us strong, courageous and intelligent.
Book: The Hate You Give by Angie Thomas
Date: Wednesday, February 21, 2018
Time: 1:30 PM *Early Dismissal
Location: CHEC/ Bell High School Library
The Hate You Give by Angie Thomas
Sixteen-year-old Starr Carter moves between two worlds: the poor neighborhood where she lives and the fancy suburban prep school she attends. The uneasy balance between these worlds is shattered when Starr witnesses the fatal shooting of her childhood best friend Khalil at the hands of a police officer. Khalil was unarmed.
Soon afterward, his death is a national headline. Some are calling him a thug, maybe even a drug dealer and a gangbanger. Protesters are taking to the streets in Khalil's name. Some cops and the local drug lord try to intimidate Starr and her family. What everyone wants to know is: what really went down that night? And the only person alive who can answer that is Starr.
But what Starr does or does not say could upend her community. It could also endanger her life.
(provided by the publisher)
• Mr. Stewart, Bell Librarian, will have books available in the library beginning, Friday, February 10, 2018. Please let me know if books in alternate formats need to be ordered (i.e. LP, audio)
• Light refreshments will be available.
------------------------------
Bell High School Writing Center
The goal of the Writing Center is to enhance the preexisting gifts and talents that all students possess. Students will share their drafts (at least 48 hours) in advance and, receive feedback within 48 hours.
The library will assist students with:
Interpreting a writing assignment

Creating ideas

Locating and sharpening a thesis statement

Organizing ideas and research

Developing a logical argument

Identifying recurrent errors and strategies for revising
Date: Tuesdays & Thursdays
Time: 8 AM- 8:50 AM & Lunch Periods
Location: CHEC/ Bell High School Library
Tech Talk and Makerspace Tuesday
Join the Bell Library as we discuss new and innovative technologies and create some of our own.
Date: Tuesday, February 6, 2018
Location: CHEC/ Bell High School Library
Black History Month Bell High School ESSAY CONTEST
Question: Are we living in a post-racial society? How have your experiences shaped your understanding of this belief and, how can unified entities, creative partners and, bold agitators confront the topic of race in White America?
Essay deadline: Thursday, February 15, 2018
*e-mailed to Mr. Stewart, CHEC/ Bell Librarian, Christopher.stewart2@dc.gov
Essay presentation/ speaking rehearsal: Tuesday, February 20, 2018 3:20 PM AND/ OR Wednesday, February 21, 2018 3:20 PM
Essay rehearsal in auditorium: Tuesday, February 27, 2018 3:30 PM
*1st, 2nd and 3rd place prizes will be awarded to students for the most creative, thoughtful and intellectually stimulating essays.
JUNIOR AND SENIOR ASSEMBLY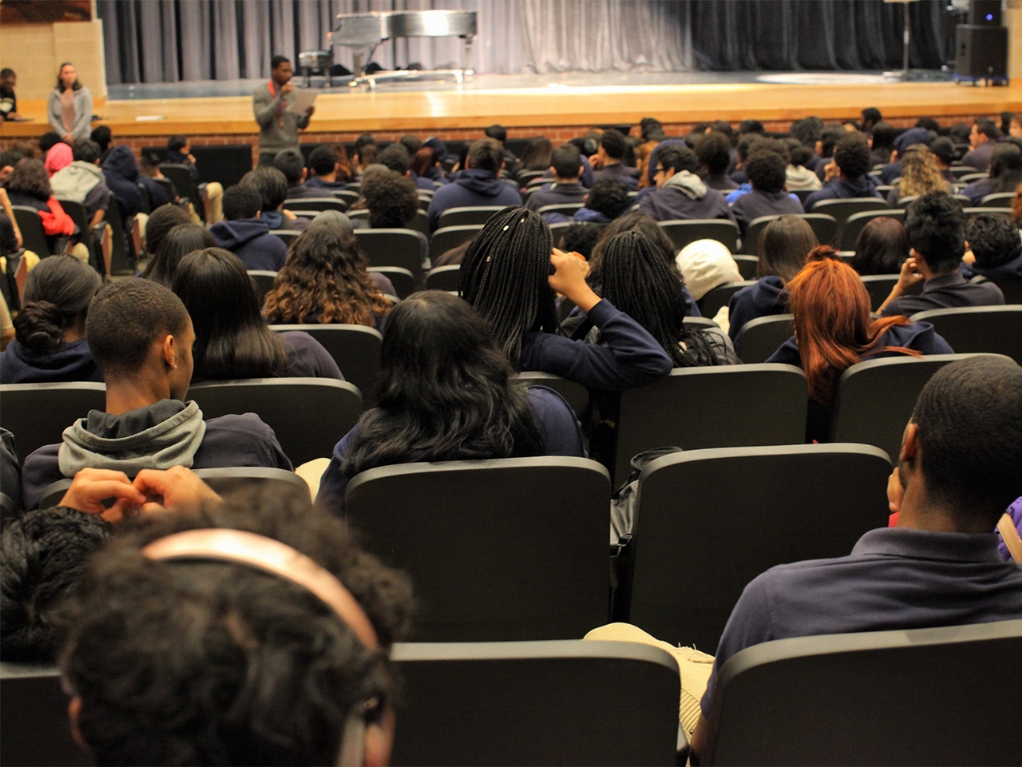 CULTURE UPDATES
February is both African American history month and the month of LOVE. There are multiple opportunities to take advantage of these themes, and to be honest, our data shows that our students need it. Our data has shown there has been a dramatic spike in conflicts relating to relational aggression—both bullying and physical altercations. Dr. King spoke frequently of a Beloved Community and in 1957 said the following, which would be beneficial for us and our students to reflect upon:
"Love is creative and redemptive. Love builds up and unites; hate tears down and destroys. The aftermath of the 'fight with fire' method which you suggest is bitterness and chaos; the aftermath of the love method is reconciliation and creation of the beloved community. Physical force can repress, restrain, coerce, destroy, but it cannot create and organize anything permanent; only love can do that. Yes, love—which means understanding, creative, redemptive goodwill, even for one's enemies—is the solution to the race problem."
And today in 2018, this good word is not just about race. It's about respect and opportunity for our students and their peers. As you plan your class lessons, consider how you can incorporate these themes into your day-to-day encounters with our students.
Below are a few other ideas to get your started.
Kindness grams

– Encourage students to share with one another things that they respect about one another. Let this be a route to shout out those that we might not normally shout out.



Sweat the Small Stuff

– remember to address relational behavior before it escalates, before a full-blown referral/consequence is deserved. Greet students at your classroom doors and conduct pulse checks to ensure they are ready to learn before they enter your classrooms.



PBIS points

– Offer publicly PBIS points to students that make great improvements in their grades or behavior at the end of each week during February, even if they aren't perfect.



PLT Shout-outs

– Allow students to shout one another out in PLT by having them draw names out of a hat and share one thing that they respect about that person.



REMINDERS

Students that are Out-of-Area
We have noticed a number of middle and high school students that are wandering into the wrong school. Middle School students should not be in the High School at all, and certainly not without a pass. High School students should only be in the Middle School on the Lincoln 3rd floor. The route for High School students to the 3rd floor Lincoln is through the Bell 2nd floor and on to Lincoln 2nd floor landing and up the stairs to the
3rd floor. They should not use the 1st or 2nd floor Lincoln to get to the 3rd floor Lincoln. Students that are not complying should be written a referral, so they can earn a consequence.
DETENTION
Detention is a first intervention we have for students to check and correct their behavior in your classrooms. Students being informed of this consequence is vital to the effectiveness of the consequence. Remember to use our 5 step process with fidelity so that our students will not earn a greater consequence of ISS and thus lose valuable class time
DISMISSAL
We always need more support at dismissal from 3:15pm until 3:35pm (High School), 4:15pm until 4:35pm (Middle School). Please follow students all the way out to the front of the building. Students should be encouraged to move on toward their bus stops/metro quickly. Teachers and staff that can make themselves available to stay out front will be greatly appreciated.
CAFETERIA SUPPORT
All lunches have their ups and their downs. We always appreciate additional supports in the cafeteria on days that teachers are available. Check-ins with students build relationships and adult presence supports our daily procedures in lunch.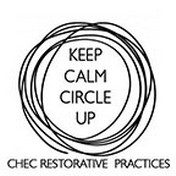 Restorative Justice in Oakland Schools: Tier One. Community Building Circle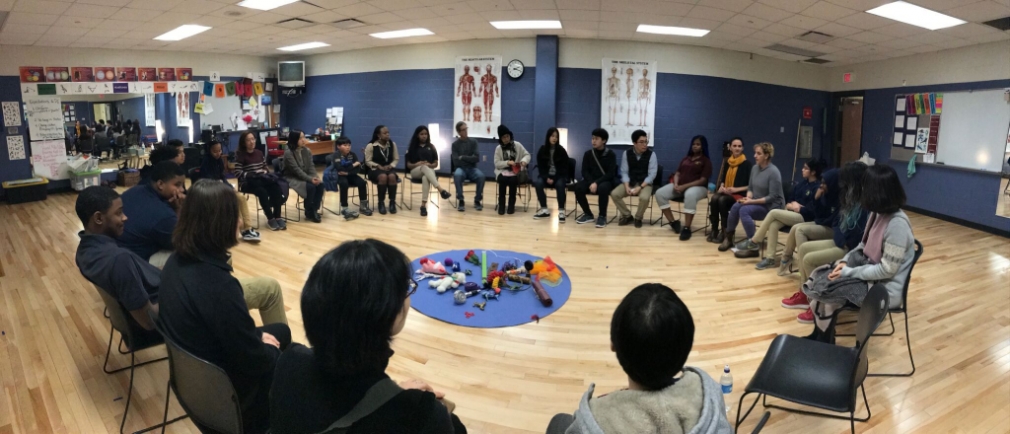 Jae Young Lee, director of the Korea Peacebuilding Institute (KOPI), which involves advancing restorative justice in schools, lead a delegation of 23 South Korean educators to the U.S. on January 15-23. They visited Eastern Mennonite University and Washington, D.C. They were interested in visiting 'restorative schools' and to learn from teachers and students' experiences. Most of participants had gone through restorative justice/discipline workshops.
We met in Circle in the Yoga/Dance Studio and shared stories which made for a really quick connection with people from the other side of the world. It was with great enthusiasm that the CHEC students shared about what Circle means to them and how CHEC uses the process in different ways. Thank you to Restorative DC, our partners in Whole School RJ Implementation.
VISITORS TO CHEC THIS WEEK: VERIZON STEM BUS
AMAZING CHEC STUDENT ART FOR 2018 CALENDAR !