CONGRATULATIONS TO 2018 STANDING OVATION RECIPIENT, GLORIA HERNANDEZ!!!!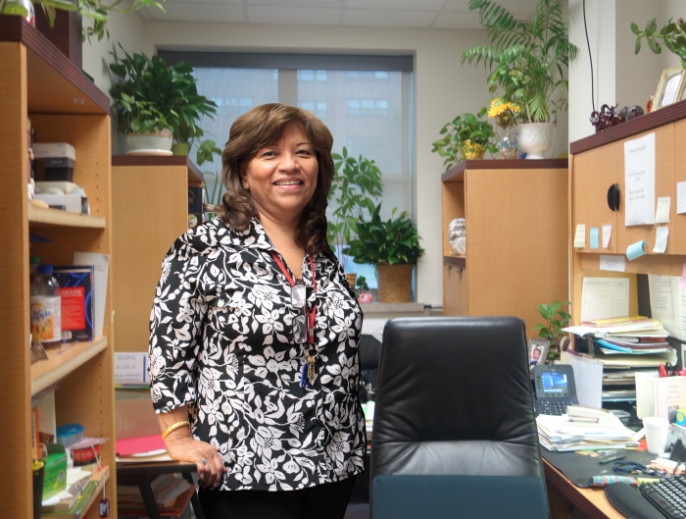 Dear CHEC community,
We are proud to announce that CHEC's very own Gloria Hernandez, Coordinator of Strategy and Logistics, has been honored by the DC Public Education Fund with a 2018 Standing Ovation Award – the Rubenstein Award for Excellence Among School Staff.
This is such a well-deserved recognition for the relentless professionalism, dedication and integrity that Ms. Hernandez has always given to the CHEC community. She is the heartbeat of this campus and a stalwart who works tirelessly to ensure that all students and families have an advocate. She also helps faculty, staff and administrators remain on mission by arming us with the supplies and logistical supports needed to succeed professionally. Through the years she has given CHEC the highest standards of empathy and compassion in every single interaction with all members of the CHEC family – there are hundreds, perhaps thousands of parents who trace their positive affinity with this school to Ms. Hernandez' acts of kindness and impeccable counsel. Professionally, Ms. Hernandez has devoted 37 years to our community. Please join with me in congratulating her when you next see her – the smile she reflects back will definitely lift your spirits!
Ms. Hernandez will receive her award at the annual Standing Ovation for DC Public Schools, on Thursday, February 8th, at The Anthem.
------------------
Dear CHEC Students:
Last night, a news report concerning the attendance rates at Columbia Heights Education Campus aired on a local news station. As you know, we have been communicating with you and your parents throughout the year about the importance of regular attendance at school.
Last month, DC Public Schools, alongside the Office of the State Superintendent for Education, announced a district-wide examination of adherence to attendance and grading policies across all high schools. Next week, a full report on the status of attendance and grades in all high schools will be published.
In the news story last night , the reporter showed a case of a CHEC student with excessive absences passing a course in the first advisory. He implied that this was something that was happening with the majority of students and grades, however we have reviewed our grades and attendance for the first advisory, and this has happened in a only a small percentage of cases.
The problem with reports like this is that they do not tell the full story, and they do not have full information on how our school addresses issues of attendance or grading. The reporter did not even try to get information from the school in order to support his allegations. In addition, somehow the reporter gained access to confidential student records that he should not have. The story does not reflect the great work and accomplishments of you as students. We are looking through all of the report cards from last year and this year to date, to gather definitive data on how many students with excessive unexcused absences passed their courses. We will make any improvements that need to be made.
So far this year, our daily attendance rate is 87%, up from 84% last year. And as you know we have supports, interventions, counseling, and after school programs to assist all of our students in getting to school on time every day.
I believe in the CHEC community—our students, our staff, and our families. I know that, together, we will move forward with a positive school year as we continue to address the issues of attendance and grading. It is important now that we focus on our learning and progress, and that we stay united as a school community to demonstrate our pride, poise and perseverance as scholars. It is important that we share the positive stories of what all of us are doing, and how you as students are overcoming many obstacles every day, in order to come to school on time, and complete your education. Let's take this as an opportunity to rededicate ourselves to coming to school every day and achieving at our highest level.
We will be following up on all aspects of this situation, to include preparing a response to the news story. There will be opportunities for you as students to get involved in this response.
We will be holding an open parent and student meeting on Tuesday, January 16 at 6:00 pm, to answer any concerns or questions the school community may have. We will also be scheduling grade level meetings and discussions about this issue. You can contact any of your teachers, counselors, administrators or Ms. Tukeva with your questions or concerns.
It it is to be – it is up to us!!
THERE ARE NO WORDS TO EXPRESS OUR GRATITUDE....
Shout out to the Saturday Academy Team – Ms. Ermis, Ms. Emilius, Mr. Galvan, Mr. Jones, Mr. Salas, Mr. Talarico, and Ms. Whitaker for the strong showing for the Saturday Academy for ELL's – 29 students braved the cold weather! We are aiming for even more next weekend!
Shout out to Jessica Alvarado and Wendy Pugh for all their hard work in launching a Rotary Interact Club at CHEC. Because of their efforts, our students performed a variety of impactful community service projects such as laying wreaths at the Tomb of the Unknown Soldier at Arlington Cemetry over the holidays. Our students were honored with an induction and pinning ceremony by the President of the DC Rotary Club earlier in the week.
Kudos to all Facilitators at Early Release Day – Dr. Barnett, Mr. Jones, Mr. Caceres, Mr. Broad, Mr. Cabone, Ms. Emami, Ms. Baker Hoffman, Ms. Chiu, Ms. Hinkson, Ms. Strickland, Mr. Talarico, Mr. Connor, Mr. Hernandez, Ms. Weiss, Mr. Duvall, Mr. Magee, Ms. McCulloch! A great Choice PD Day!
Shout Out to the Ops Department and the LEAP Leaders for a great LEAP Session at CHEC!
Kudos to the Social Studies Team for their presentation of student work at the ALT Team Meeting last week!
Shout out to Captain Gantt, Master Sergeant DesChamps and the Cadets for successfully passing the NJROTC inspection last week!
January 8 - January 12, 2018
IN THIS ISSUE

Leadership Team and Other Updates
Opportunities and Updates
Ambiente, creating a climate for learning
Upcoming Events and Activities
DC INTERSCHOLASTIC ATHLETIC ASSOCIATION (DCIAA) NEWS
On behalf of the DCIAA, we would like to congratulate the following student-athlete as the first recipient of the DCIAA's Most Outstanding Senior Athlete Award for the District of Columbia Public Schools.
What an accomplishment! The DCIAA will host an end of the year banquet in their honor. In preparation for the banquet, the recipient student-athletes are invited to attend a photo shoot. The dress code for the photo shoot is professional. Congratulations, Miamour!
LAST WEEK'S RESULTS
Congratulations to our High School Indoor Track Team for a strong showing at last week's DCIAA developmental meet. Edgar Ayala and Andrae Green placed 2nd in the 1600m and 300m respectively. Additionally, our 4 X 200 team, consisting of Jaymond Kelly, Khavan Malloy, Andrae Green, and Brenden Edwards placed 2nd as well. The High School Girls Varsity Basketball Team defeated Wilson. Our Junior Varsity and Varsity Boys Basketball Teams lost to Wilson.
-------------------------------------
BELL

Junior Varsity Basketball – 3 - 3
Varsity Girls Basketball – 6 - 4
Varsity Boys Basketball – 1 - 7
THIS WEEK'S SPORTS SCHEDULE
Monday

Varsity Boys Basketball vs. Don Bosco
​Tuesday

Middle School Wrestling Jamboree
at 4:30 @ Johnson
Middle School Girls Basketball vs. Francis Stevens at 6:00 @ CHEC
Wednesday
Junior Varsity Basketball vs. Ballou
at 4:00 @ CHEC
Varsity Girls Basketball vs. Ballou
Varsity Boys Basketball vs. Ballou
Thursday
Middle School Boys Basketball vs. Oyster Adams at 4:45 @ CHEC
Friday

Varsity Girls Basketball vs. Banneker
at 5:00 @ CHEC
Varsity Boys Basketball vs. Banneker
​Saturday

Middle School Boys Basketball vs Raymond at 4:45 @ Jefferson
WEEKLY CALENDAR
Monday

Early Release Day
Academic Leadership Team Meeting
Thursday
UPCOMING EVENTS AND ACTIVITIES
CHEC Latin Jazz Ensemble Performances
Saturday, February 17, 2018
Mid-Atlantic Jazz Festival
The MAJF High School Jazz Band and Combo Competition Hilton
1750 Rockville Pike, Rockville, Maryland 20852 All Day Event Performance Time: TBA
STUDENTS WORKING ON THEIR GRASP PORTFOLIOS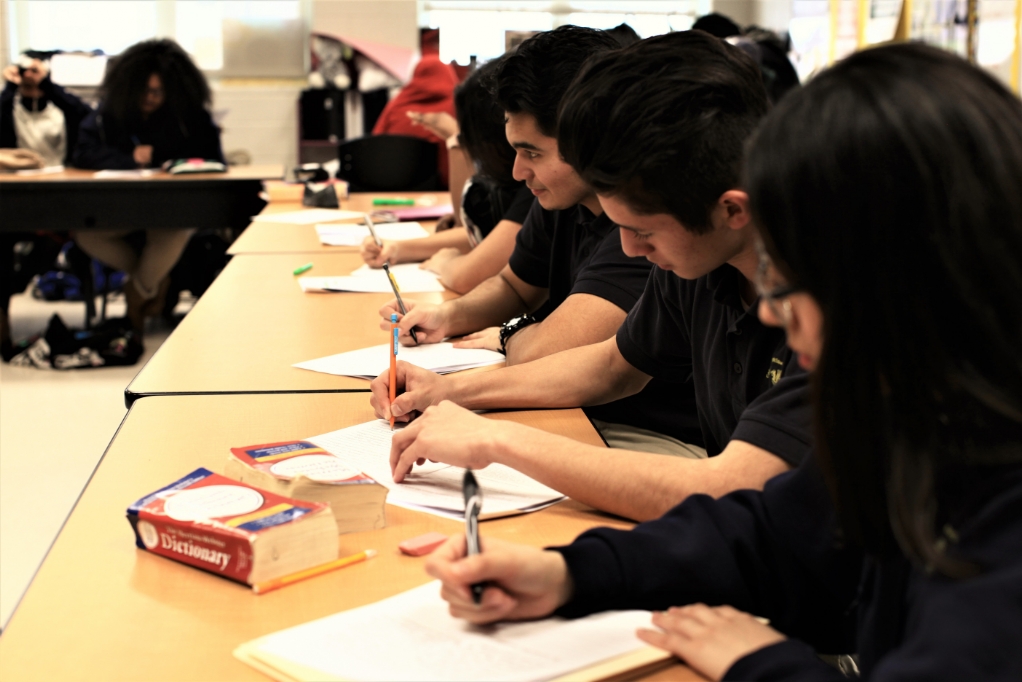 It is time to focus and make every minute count. We have key assessments coming up to end the advisory, and as usual, we want to make sure the assessment conditions are well organized and promote students best effort.
Date Change – Early Release Day has been changed from January 3 to January 10
Interims and Finals – January 11 and 12 (there are six instructional days from when we come back to the Interims and Finals)
Portfolio Presentations – January 17 and 18 (there is one instructional day between Interims/Finals and portfolio presentations)
End of the Advisory – January 19
The implications for the seven instructional days before interims/ finals and portfolios, means that preparation for both of those assessment events will need to be done in an integrated fashion over those seven days. Preparing students to organize their portfolio documents should begin this week, and practice for the actual presentations can be done in a way that students are reviewing concepts and knowledge for the interim/final as well. The key to this is a strategic and tight instructional planning process over these seven days. Please be sure to remind students of upcoming assessments, as well as any assignments or work they need to make up before the advisory ends.
UPDATES FROM: LEADERSHIP FLAMBOYAN LIBRARIES PGT
The Leadership Team will continue to meet on Wednesdays this year. Last meeting, the team worked on determining our progress in our CSP in the area of Science. Team members looked at GRASPS, student work, and assessments, in order to provide feedback on alignment to AP.
The next meeting with be on Wednesday, January 17. The Leadership Team is a group of teachers, counsellors, and administrators who meet every week to discuss school needs, and plan for improvements. The Leadership Team designs the school's comprehensive school plan, and helps in its implementation. Please consider joining the Leadership Team this year. It is open to all faculty and staff. We need the involvement and voices of all. Remember, Leadership team meetings are open to all who are interested in schoolwide decision-making and leadership. You can come once, or as many times as you like, but please make your voice heard!
To date, we have 378 home visits completed by 88 teachers! Great job!!! Congrats to the 9th grade team keeping the lead!! 9th grade has visited 85 students which is 47% of the class of 2021!!! Kudos to 7th grade for leading on the middle school side with 43!!!!!
Please remember that our SLC goal for this year is to visit 100% of the families in our PLTs, and the sooner we can accomplish this the better results we'll see in our classrooms.
*Helpful Hints*
​Often times the school has tickets that are available free of charge for concerts and sporting events! Look for these opportunities to take students and their families for free! Engage them in conversation about their child's hopes and dreams and that will certainly count for a home visit!!
If you know your student has a sibling in another grade at CHEC please partner up with teachers who teach the student. This will offer a richer engagement. You CAN NOT do a home visit for a sibling and you don't teach them! Please give that opportunity for a teacher who teaches that child!
Also...
Teachers! Have you been thinking about taking a World Language Class to better communicate and serve our students, families, and community all while earning CSC points!?!?!?! Sign up for a class on Edgenuity! All teachers should already have an account! Visit edgenuity.com, your username should be your email address and your password is teacher. If you have trouble, Contact the Edgenuity Support Team by phone at (877) 202-0338 ext. 3. Currently, they offer the following languages; Chinese, French, German, Latin, and Spanish!​
When sending students to the library, please make sure they are only utilizing their respective middle or high school library. Except for a few previously determined exceptions, middle schoolers should only use the middle school library and high schoolers must use the high school library. Call your librarian (MS - ext 4018; HS - ext 5118) ahead of time to ensure there is space available for your students.
Thanks for your cooperation!
------------------------------
CHEC Libraries Closed 1/9 & 1/11
LEAP will use both libraries Tuesday, Jan. 9th and Thursday, Jan. 11th for PD sessions.
As a result, both libraries will be closed to printing and library use for those days
. However, your librarians are mobile! Schedule an in-class lesson or book mobile visit so that students (and you!) can access resources.
------------------------------
Bell High School Writing Center
The goal of the Writing Center is to enhance the preexisting gifts and talents that all students possess. Students will share their drafts (at least 48 hours) in advance and, receive feedback within 48 hours. More details to be announced.
Date: Tuesday, January 16, 2018
Location: CHEC/ Bell High School Library
------------------------------
Bell High School Library Book Club
The Bell Book Club will challenge participants to think outside of the book and confront preconceived notions by having deep discussions and building relationships. Creating discourse that transcends generations, neighborhoods and households, makes us strong, courageous and intelligent. Bring your favorite book (s). Students will choose books for future Book Club discussions at our first meeting. Students, parents, teachers and staff are welcome to come!
Date: Wednesday, January 24, 2018
Time: 2:15 PM *Early Dismissal
Location: CHEC/ Bell High School Library
------------------------------
Beanstack Logging System is LIVE!
The creators have Beanstack have finished uploading all student and staff data so that you are now able to log in, register, and track your reading. Currently, sixth grade has the most books logged with 285. Tenth grade follows closely with 252. Students will receive emails through their DCPS accounts when they have earned prizes.
Student log ins are standard DCPS procedures: Username is STUDENT ID and password is DOB format: MMDDYY.
Teacher log in procedures: Username is first.last and password is District ID: 000#####
Log in and log your books at chec.beanstack.org
At this week's Faculty Meeting, The PGT Team will be providing a brief overview on Mandatory reporting! An email is being sent out this week to all staff with the official DCPS policy regarding Mandatory Reporting for all DCPS employees.
What does every one of us need to remember when it comes to Mandatory Reporting?
Anyone involved in the care or welfare of children under the age of 18 are considered Mandatory Reporters and are required by law to report any concerns around child abuse and/or neglect.
LEGAL EXPERT MR. YUVORA NONG COUNSELS CHEC ON TPS AND DACA
CHEC ROTARY INTERACT CEREMONY
Winter RESET!
Happy New Year, CHEC Family! It was so good to see everyone comeback with your new dos and renewed energy. Thank you for coming in strong and ready to work, tweak and reset our systems for supporting our students.
In December we together worked hard to motivate, celebrate and support our students, didn't we? Did you sense the atmosphere? The data reflected in our attendance the last week of school where we had over 88% of students report to school. This was because of how we together were able to motivate, celebrate and support our students! Thank you for your diligence—there is much to celebrate!
Continue to use the systems that we created at the beginning of the year. Use them we renewed vigilance. Remember the choices that we as adults make directly impact the behaviors that our student choose.
Please don't lose sight of the following:
Please do not lose sight of each of the following below, as they are crucial to maintaining and improving the culture that we desire:
Uniforms
Please share these important reminders with students and parents.
Sweaters/jackets – if they are out of uniform, they should be in lockers all day or confiscated. Lincoln and Bell sweaters can be bought from the Deans or the Main Office. Lincoln and Bell sweaters $21 and sweaters with the zipper $27.
Please call parents when you see students out of uniform and refusing to get in uniform to ensure it is very clear that they should be in full uniform at all times. Refer any further questions to Dean Aking, Dean Boone and Dean Galvan.
Detention
Detention is a first intervention we have for students to check and correct their behavior in your classrooms. Students being informed of this consequence is vital to the effectiveness of the consequence. Remember to use our 5 step process with fidelity so that our students will not earn a greater consequence of ISS and thus lose valuable class time
Dismissal
We always need more support at dismissal from 3:15pm until 3:35pm (High School), 4:15pm until 4:35pm (Middle School). Please follow students all the way out to the front of the building. Students should be encouraged to move on toward their bus stops/metro quickly. Teachers and staff that can make themselves available to stay out front will be greatly appreciated.
Cafeteria Support
All lunches have their ups and their downs. We always appreciate additional supports in the cafeteria on days that teachers are available. Check-ins with students build relationships and adult presence supports our daily procedures in lunch.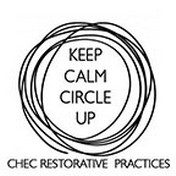 Restorative Justice in Oakland Schools: Tier One. Community Building Circle
VISITORS TO CHEC THIS WEEK: VERIZON STEM BUS
AMAZING CHEC STUDENT ART FOR 2018 CALENDAR !