CHANCELLOR WILSON MEETS WITH CHEC STUDENTS AND FACULTY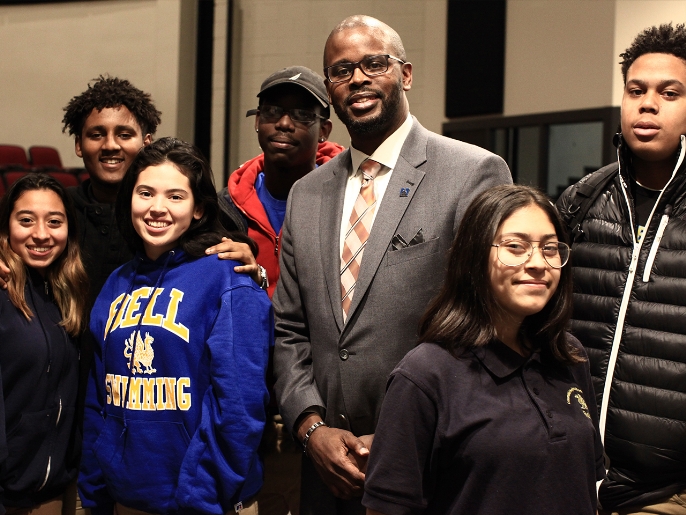 The Second Semester of School Year 2017-18 is underway, and we have successfully completed two advisories of the school year. Last week's portfolio presentations were the culminating event, and students demonstrated their master of content and transfer skills.
It was a pleasure to visit classrooms, and see all students taking ownership of their learning by organizing their products, and explaining their learning to their classmates and teachers. The importance of the act of speaking to a small group, organizing thoughts and materials, and connecting learning to themes, cannot be overemphasized. These are the kinds of skills students will need in college and the world of work. Overall, we are improving every advisory in the number of students presenting, and the level of authenticity of their presentations. Almost all student are able to connect their learning to their grade level global theme, and to social justice. Student interest in social justice issues continues to grow and develop. We are seeing writing products in almost all classes.
For this coming advisory, there are several areas we should focus on in order to take the presentations to a more rigorous level.
All students need to have a graded, revised GRASPS in hand in order to truly defend their work and demonstrate mastery of concepts and skills. This means that we need plan our workshop periods so that all students are writing (problem solving), peer reviewing with a rubric, and revising their work to standard. When the first portfolio product is complete in week 4, students should reflect, possibly do a mini presentation, complete their entry slip, and place it in their portfolio.



Students must learn at the beginning of each unit, how to develop higher order content related questions to ask each other before and during the presentations. Working together with the teachers, students can learn how develop questions that propel their own learning and the learning of their classmates. These are questions that should be asked throughout the unit, and must require students to delve into the content and concepts, use academic terms to discuss their understanding, and cite textual evidence in their own writing to support their points.



We need to provide a little more time for presentation, questions and feedback. There is a lot of rich discussion to be had, and we want to make sure students have time to not only present, but to discuss with their classmates.



Parent presence changes the whole atmosphere, and inspires not only those whose parents have come, but the entire class. Invitations to parents should start now, and they can be enhanced by sharing the essential questions with parents so they can come ready to participate actively. We had a total of 155 parents attend over the two days. This is a little over 10% of our parent community, and I am sure we can build to a higher percentage in Advisory 3.



In order to support the portfolio process, all SLC meetings this advisory will be focused on sharing student work best practices, and challenges. SLC's will be planning backwards from the next portfolio presentations, and at each meeting we will be looking at student work aligned to the GRASPS and power standards.
Thank you once again for your continued patience and support as we continue to work on the refinement of the attendance and grading policy. As discussed in our faculty meetings, in reviewing our data, we have seen that while there has not been an extremely high level of students with excessive unexcused absences graduating or being promoted, there have been some, and our goal is not only that students be held accountable for attendance, but that students actually attend regularly and punctually. If you would like to see the full report of DCPS high schools and attendance and grading, please to go
the following link:
In order to achieve our attendance goals, we must make sure that school is engaging and inviting, and that we respond quickly to obstacles that students may be experiencing.
We are working on further refining our attendance procedures, and fully defining the role of each member of the staff in making sure that accurate attendance is taken, and that all required interventions are made. With this in mind, there are several items that we need all teaches to collaborate with.
1) Attendance must be entered every day, during each period. For example, the attendance for First period must be taken during first period. It is recommended that this be done during a Do Now, or during a work period. A student attendance manager can assist by taking it on paper, providing it to the teacher, and the teacher enters in Aspen.
2) Students who are late should be marked T, once they arrive to class, not Absent.
3) The first time a student is absent unexcused, teachers are to call the parent and record the call results in the Journal part of Aspen. If the contact information is incorrect, please note the attempt, and inform Pankaj Rayamajhi of an incorrect contact number.
4) Follow up after absences and provide make up work, or keep a folder of make up work in the room.
5) On progress reports and report cards, provide a comment if there is an attendance issue.
6) Create class incentives for perfect or improved attendance as a class.
As a school, we will be realigning resources to support improved attendance. This will include increasing the involvement and responsibilities of all office staff in attendance reporting and monitoring, hiring a part time data specialist to provide more in the moment reports and data that can be acted upon, grade level competitions and incentives, establishing an emergency resource fund for economic crises that may affect students, and increasing collaboration and communication among all Personal Growth Team members, counselors, administrators and teachers.
These are the latest updates received from DCPS Central Office in relation to reporting grades and attendance.
Mark Student Earned during the Graded Instructional Period




Reported Grade Reduction as a result of the 5 Day FA Policy Rule




The form for FA Appeals is being reviewed by DCPS, and as yet has not been approved for use. We still do not have clarity on the process, so our message to students is that there is a process for appealing an FA or a grade reduction due to unexcused absences, and a written format for this will be provided by the end of this week. They will have 30 days within which to file their appeal.

Thank you for your continued patience as we move through this process
January 22 - January 26, 2018
IN THIS ISSUE

Leadership Team and Other Updates
Opportunities and Updates
Ambiente, creating a climate for learning
Upcoming Events and Activities
DC INTERSCHOLASTIC ATHLETIC ASSOCIATION (DCIAA) NEWS
On behalf of the DCIAA, we would like to congratulate the following student-athlete as the first recipient of the DCIAA's Most Outstanding Senior Athlete Award for the District of Columbia Public Schools.
What an accomplishment! The DCIAA will host an end of the year banquet in their honor. In preparation for the banquet, the recipient student-athletes are invited to attend a photo shoot. The dress code for the photo shoot is professional. Congratulations, Miamour!
LAST WEEK'S RESULTS
Congratulations to the swim team on a good meet. Stephane Mankemi took 2nd place in the Boys 50m Freestyle. Additionally, our Relay Team consisting of Jessica Amaya, Jocelyn Cruz, Alexa Bonilla, and Sabrina Sanabria placed 3rd both in the 200m Freestyle and 200m Medley Relays. The Middle School Girls Basketball team defeated Johnson and Francis Stevens. The Middle School Boys Basketball Team defeated Johnson and Raymond and lost to Truesdell and Oyster Adams. The Varsity Girls Basketball Team defeated Eastern, Ballou, and Banneker. The Junior Varsity Boys Basketball Team defeated Eastern and lost to Ballou. The Varsity Boys Basketball Team defeated Ballou and Banneker and lost to Eastern.
-------------------------------------
BELL

Junior Varsity Basketball – 4 - 4
Varsity Girls Basketball – 9 - 4
Varsity Boys Basketball – 3 - 8
THIS WEEK'S SPORTS SCHEDULE
Monday

Junior Varsity Basketball
vs. Coolidge at 4:00 @ CHEC
vs. Coolidge at 6:00 @ CHEC
vs. Coolidge at 8:00 @ CHEC
Swim Meet at 5:30 @ Dunbar
​Tuesday

Middle School Girls Basketball
vs. Browne at 4:45 @ CHEC
Middle School Boys Basketball
Wednesday
Junior Varsity Basketball
vs. HD Woodson at 4:00 @ HD Woodson
vs. HD Woodson at 6:00 @ HD Woodson
vs. HD Woodson at 8:00 @ HD Woodson
Indoor Track Championships
at 1:00 @ PG Sports and Learning Complex
Thursday
Middle School Girls Basketball
vs. Whitter at 4:45 @ CHEC
Middle School Boys Basketball
vs Whittier at 6:00 @ CHEC
Friday

Junior Varsity Basketball
vs. Dunbar at 4:00 @ CHEC
vs. Dunbar at 6:00 @ CHEC
vs. Dunbar at 8:00 @ CHEC
​Saturday

Middle School Girls Basketball
vs. Brightwood at 2:00 @ CHEC
Middle School Boys Basketball
vs Brightwood at 3:15 @ CHEC
WEEKLY CALENDAR
Monday

SRI testing ELA classes (grades 6 - 10)
Academy of Hospitality and Tourism Town Hall
Wednesday

Early Release Day -
American, Georgetown,
George Washington College Tour - Bufford
Thursday
MS incentive: Dance during extended day
MS field trip to AFI Theater for a 10am movie (200 students)
T2 MARKS DUE IN ASPEN TODAY
UPCOMING EVENTS AND ACTIVITIES
CHEC Latin Jazz Ensemble Performances
Saturday, February 17, 2018
Mid-Atlantic Jazz Festival
The MAJF High School Jazz Band and Combo Competition Hilton
1750 Rockville Pike, Rockville, Maryland 20852 All Day Event Performance Time: TBA
THERE ARE NO WORDS TO EXPRESS OUR GRATITUDE....
Kudos to all of our Math and ELA Facilitators of PARCC Training at Early Release Day –Mr. Caceres, Mr. Broad, Mr. Cabone, Ms. Emami, Ms. Baker Hoffman, and Ms. Chiu!!!




Kudos to our PGT team for their presentation on Mandated Reporting at our Last Faculty Meeting!!




Shout out to Ms. Weiss, Mr. Duvall, Pankaj and our RJ team for hosting Korean Visitors this week! They were truly impressed with our RJ initiative!!!

Shout out to all LEAP Leaders and Department Chairs for leading their departments in successful completion of all interims and analysis of data on the January 19th PD Day!!!

Shout out to Captain Gantt, Master Sergeant DesChamps and the Cadets for successfully passing the NJROTC inspection last week!

Thank you to all with the preparations for the Spelling Bee 2018. A big thanks to our Pronouncer Captain Edward Gantt.

An extra special shout out to our ART team--Ms. Shaw and Ms. Mandy McCulloch, Ms. Hinkson. Gorgeous bees and sign.



STUDENTS WORKING ON THEIR GRASP PORTFOLIOS
For all faculty; the following information will allow you to gain access to our student data when a student switches out of a class.
During our Mastery Connect Session a number of individual were concerned that they could not access their student's data if a student is switched out of their class and placed in another section. I am happy to announce that we do have access to our student's data when they switch between sections.
Below are instructions for teachers on how to see scores from students that were previously in their tracker(s).
From within the tracker, click on the orange three-line action button, and choose the option 'Classroom Settings'. On the pop up window, choose the option for 'Include scores from former students', then hit 'Save'. This will show former students inside this tracker, their name's will be in a light gray text to show that they are former students.
Here are some screenshots for better clarity: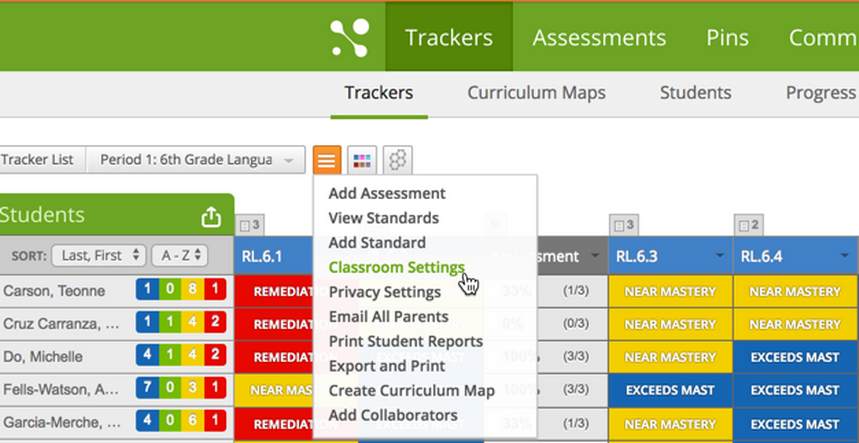 Please let me know if you have any additional questions.
UPDATES FROM: LEADERSHIP DCPS FLAMBOYAN LIBRARIES PGT
LEADERSHIP TEAM

The Leadership Team will continue to meet on Wednesdays this year. Last meeting, the team worked on determining our progress in our CSP in the area of Science. Team members looked at GRASPS, student work, and assessments, in order to provide feedback on alignment to AP.
The next meeting with be on Wednesday, January 24. The Leadership Team is a group of teachers, counsellors, and administrators who meet every week to discuss school needs, and plan for improvements. The Leadership Team designs the school's comprehensive school plan, and helps in its implementation. Please consider joining the Leadership Team this year. It is open to all faculty and staff. We need the involvement and voices of all. Remember, Leadership team meetings are open to all who are interested in schoolwide decision-making and leadership. You can come once, or as many times as you like, but please make your voice heard!
AN IMPORTANT MESSAGE FROM DCPS EMPLOYMENT SERVICES
Yesterday, you received an email from the Chancellor regarding the District's stance on sexual harassment and the trainings that staff are required to complete. These trainings are mandatory for all DCPS employees and must be completed by Wednesday, February 28. Please review the training details below.
Once you click on the link above, you will be directed to log into SkillPort. If this is your first time logging into SkillPort, please follow the instructions below to begin.



Begin the log-in process by typing in your PeopleSoft username (typically "firstname.lastname") in the User ID field
Click on "Forgot Password"
Click on "Send me a new password"
You will then receive a new email to your dc.gov account with the subject line "Your SkillPort Learning Credentials"
Log-in by entering your User ID and the new system-generated password
This training must be completed by

Wednesday, February 28.

Please note that completion will be closely monitored, so ensure that you complete this requirement as soon as possible.
All employees must also acknowledge the DC Sexual Harassment Policy via PeopleSoft.
To view and acknowledge the policy, please log onto your PeopleSoft account (ess.dc.gov) and use the attached job aid to complete this process.
If you are a supervisor, you are required to complete an in-person supervisor response training, in addition to the requirements noted above. These trainings will be held between
Thursday, February 1 and Friday, February 23
, and additional details regarding these events will be provided via email in the near future.
Questions regarding these trainings can be directed to DCHR at (202) 442-9700.
ES Communications
Employee Services
To date, we have 389 home visits completed by 88 teachers! Great job!!! Congrats to the 9th grade team keeping the lead!! 9th grade has visited 87 students which is 48% of the class of 2021 which is an increase of 1% from last week!!! Kudos to 7th grade for leading on the middle school side with 43 which is the same for last week!!!!! The school as a whole completed 11 visits last week! Kudos to all! I know it is cold but lets please continue to push for home visits!!

*Helpful Hints*

​Often times the school has tickets that are available free of charge for concerts and sporting events! Look for these opportunities to take students and their families for free! Engage them in conversation about their child's hopes and dreams and that will certainly count for a home visit!! If you know your student has a sibling in another grade at CHEC please partner up with teachers who teach the student. This will offer a richer engagement. You CAN NOT do a home visit for a sibling and you don't teach them! Please give that opportunity for a teacher who teaches that child!


Also...

Teachers! Have you been thinking about taking a World Language Class to better communicate and serve our students, families, and community all while earning CSC points!?!?!?! Sign up for a class on Edgenuity! All teachers should already have an account! Visit edgenuity.com, your username should be your email address and your password is teacher. If you have trouble, Contact the Edgenuity Support Team by phone at (877) 202-0338 ext. 3. Currently, they offer the following languages; Chinese, French, German, Latin, and Spanish!​
CHEC LIBRARIES

------------------------------
CHEC Libraries Reminder
When sending students to the library, please make sure they are only utilizing their respective middle or high school library. Except for a few previously determined exceptions, middle schoolers should only use the middle school library and high schoolers must use the high school library. Call your librarian (MS - ext 4018; HS - ext 5118) ahead of time to ensure there is space available for your students.
Thanks for your cooperation!
------------------------------
CHEC Libraries Closed 1/9 & 1/11
LEAP will use both libraries Tuesday, Jan. 9th and Thursday, Jan. 11th for PD sessions.
As a result, both libraries will be closed to printing and library use for those days
. However, your librarians are mobile! Schedule an in-class lesson or book mobile visit so that students (and you!) can access resources.
------------------------------
Bell High School Writing Center
The goal of the Writing Center is to enhance the preexisting gifts and talents that all students possess. Students will share their drafts (at least 48 hours) in advance and, receive feedback within 48 hours. More details to be announced.
The library will assist students with:
- Interpreting a writing assignment
- Locating and sharpening a thesis statement
- Organizing ideas and research
- Developing a logical argument
- Identifying recurrent errors and strategies for revising
Date: Tuesdays & Thursdays
Time: 8 AM- 8:50 AM & Lunch Periods
Location: CHEC/ Bell High School Library
------------------------------
Bell High School Library Book Club

The Bell Book Club will challenge participants to think outside of the book and confront preconceived notions by having deep discussions and building relationships. Creating discourse that transcends generations, neighborhoods and households, makes us strong, courageous and intelligent. Bring your favorite book (s). Students will choose books for future Book Club discussions at our first meeting. Students, parents, teachers and staff are welcome to come!
Date: Wednesday, January 24, 2018
Time: 2:15 PM *Early Dismissal
Location: CHEC/ Bell High School Library
------------------------------
Tech Talk and Makerspace Tuesday
​Join the Bell Library as we discuss new and innovative technologies and create some of our own.
Date: Tuesdays, January 23, 2018
Location: CHEC/ Bell High School Library
------------------------------
Summer Teacher Institute at Library of Congress
The Library of Congress is now accepting applications for its week-long summer institutes for K-12 educators. Held at the Library of Congress in Washington, D.C., this professional development opportunity provides educators of all disciplines with resources and strategies to effectively integrate primary sources into K-12 classroom teaching. Each session will focus on pedagogy, with an emphasis on supporting student engagement, critical thinking, and construction of knowledge. Applications are due March 21, 2018. More information found at the link below.
------------------------------
Beanstack Logging System is LIVE!
The creators have Beanstack have finished uploading all student and staff data so that you are now able to log in, register, and track your reading. Currently, sixth grade has the most books logged with 285. Tenth grade follows closely with 252. Students will receive emails through their DCPS accounts when they have earned prizes.
Student log ins are standard DCPS procedures: Username is STUDENT ID and password is DOB format: MMDDYY.
Teacher log in procedures: Username is first.last and password is District ID: 000#####
Log in and log your books at chec.beanstack.org
The first round of Out of Uniform passes are being distributed to MS students who have reached 5 books. Have students check their mydcps email to see if they received a special notification! Out of Uniform will take place January 24th.
------------------------------
Talk & Q & A with Franklin Gardia, US Representative (Shadow), District of Columbia
Join us as Rep. Garcia discuss' the importance of education, reading, Statehood, Immigration, Temporary Protected Status (TPS) and other areas of interest that the audience would like to discuss.
*refreshments will be served
Date: Wednesday, January 31, 2018
Location: CHEC/ Bell High School Library
PERSONAL GROWTH TEAM

Data Results -- Pre/Post Tests, Mandatory Reporting mini-workshop @ Faculty Meeting, 1/11
A total of 88 pre & post surveys were completed by CHEC Faculty.
Here is the breakdown of data analysis...
75% were 100% correct (66 out of 88)
19% had 1 incorrect answer (17 out of 88)
.01% had 2 incorrect (1 out of 88)
.02% had 3 incorrect (2 out of 88)
.02% had 4 incorrect (2 out of 88)
0% had 5 incorrect (0 out of 88)
69% had 100% correct (61 out of 88)
5% had 1 incorrect (61 out of 88)
0% had more than 1 incorrect (0 out of 88)
25% did not complete the post survey (22 out of 88)
Of the incorrect answers on the Pre-Survey (24%)-
on Q #1, 2 were incorrect
on Q #5, 4 were incorrect
To review the correct answers from the Pre/Post Test:
Mandatory Reporting Pre/Post Test --- ANSWERS
1- All DCPS employees are Mandatory Reporters ----- TRUE
2- If I believe someone else has already made a report to MPD & CFSA, I do not need to make a report (if you are the staff member who initially received the report of abuse/neglect) -------- FALSE
3- I should investigate allegations myself before making a report ----- FALSE
4- I can ask/consult with CFSA if I am unsure whether what I've learned could constitute abuse or neglect-- TRUE
5- I have to make a report IMMEDIATELY upon learning about the suspected abuse or neglect--- TRUE
Please consult with any PGT member if you have any additional questions or concerns regarding Mandatory Reporting!
2018 SPELLING BEE CHAMPIONS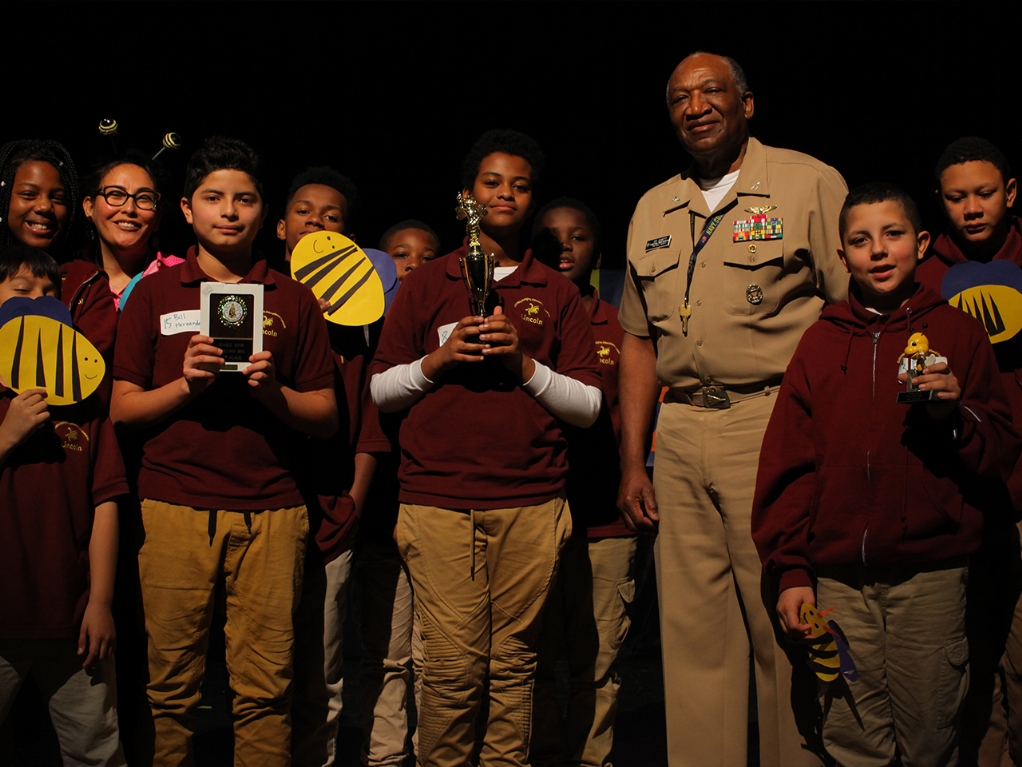 Culture Update
We had a great week back after the holidays and have a lot to celebrate with our students. We held multiple uniform sweeps. Students were being supported left-and-right and encouraged to do their best at all times. Consider how you will promote a positive culture in your classrooms by using our PBIS points system this week.
Please remind students of the following during this week:
Jackets and non-uniform sweaters remain in lockers throughout the day.




Tardy Sweeps will continue throughout 2018, so be sure to be in class before the bells rings!



Students that are Out-of-Area
We have noticed a number of middle and high school students that are wandering into the wrong school. Middle School students should not be in the High School at all, and certainly not without a pass. High School students should only be in the Middle School on the Lincoln 3rd floor. The route for High School students to the 3rd floor Lincoln is through the Bell 2nd floor and on to Lincoln 2nd floor landing and up the stairs to the
3rd floor. They should not use the 1st or 2nd floor Lincoln to get to the 3rd floor Lincoln. Students that are not complying should be written a referral, so they can earn a consequence.
Detention
Detention is a first intervention we have for students to check and correct their behavior in your classrooms. Students being informed of this consequence is vital to the effectiveness of the consequence. Remember to use our 5 step process with fidelity so that our students will not earn a greater consequence of ISS and thus lose valuable class time
Dismissal
We always need more support at dismissal from 3:15pm until 3:35pm (High School), 4:15pm until 4:35pm (Middle School). Please follow students all the way out to the front of the building. Students should be encouraged to move on toward their bus stops/metro quickly. Teachers and staff that can make themselves available to stay out front will be greatly appreciated.
Cafeteria Support
All lunches have their ups and their downs. We always appreciate additional supports in the cafeteria on days that teachers are available. Check-ins with students build relationships and adult presence supports our daily procedures in lunch.
CHEC Spelling Bee – Ms. Strickland
Congratulations to our CHAMPION Spelling Bee Winners!
Champion--Jeba Chemeda--with Kindle
2nd place--Bill Hernandez --with Kindle
3rd place--Erickson Turcios Canales
4th place runner up--Jered Alberto Turcios
Thank you to all with the preparations for the Spelling Bee 2018. A big thanks to our Pronouncer Captain Edward Gantt.




A huge thanks to the Mistress of Ceremony, Ms. Maria Tukeva, for explaining the importance of spelling especially on resumes (French spelling) and professional writing.




An extra special shout out to our ART team--Ms. Shaw and Ms. Mandy McCulloch, Ms. Hinkson. Gorgeous bees and sign.




A big shout out to our custodial staff, Mr. Best, Mr. Gallion, Mr. Pankaj that heads all operations. Mr. Onley and Mr. Gallion for music.




Captain Gantt and Master Sargent Deschamps for the color guard.




Thanks to all the high school students.




All the PLT teachers for the classroom bees and preparations.




Mr. Aking for holding down the fort of discipline and allowing Jeysen and me to interrupt the meaty discussion on positive interactions at school (Sorry).




Ms. Hanlon for locking the auditorium door. Ms. Brown for locating students.




Thank you to Ms. Hinkson for beautiful signage and appreciation for all.




Shout out to Ms. Lewis is being a shepherd.




Mr. Lessek and Ms. Hinkson along with all the PLT teachers in releasing students and making announcements about the bee. Gracias Mr. Pankaj for the agua.




Ms. Dora with the subs and with the radio and copy queen. Mr. Winer thank you for the pictures and the batteries.




Billy Oliva for certificates. Below is the link to the final bees that were invited based on their interest on the bee program page.




A big thank you for all being patient and appreciative of the Spelling Bee adjustments for this SY 2017-18. CHEC ROCKS!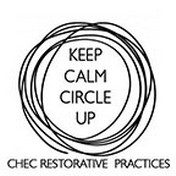 Restorative Justice in Oakland Schools: Tier One. Community Building Circle
VISITORS TO CHEC THIS WEEK: VERIZON STEM BUS
AMAZING CHEC STUDENT ART FOR 2018 CALENDAR !