KENNEDY CENTER STORYTELLING RESIDENT CANDACE THURSDAY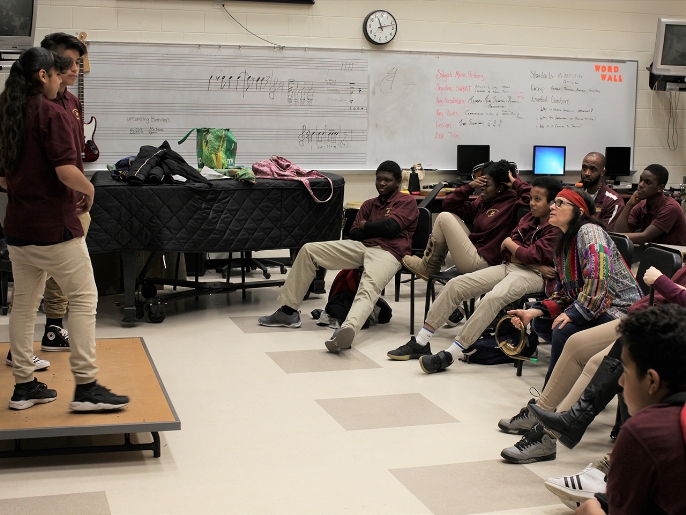 Dear CHEC community,
Happy New Year and welcome back after a well deserved holiday break! Best wishes for a peaceful and fulfilling 2018! I hope everyone had a chance to recharge and rejuvenate, and spend time with friends and family. The time for reflection over break always inspires me to make resolutions for the new year. One aspect of my work I have resolved is to increase, is my interaction and engagement with parents, in a variety of settings. I plan to seek out smaller settings to get to know family members on a more personal level. Now is a good time to share any resolutions you may have with students, and find out what their hopes and dreams are for this coming year. Let's make 2018 a positive and memorable year for the entire CHEC family!
THERE ARE NO WORDS TO EXPRESS OUR GRATITUDE....
Shout out to the Ops Team and Maintenance Team for working over the holiday break to make sure our building was clean and ready for teachers and students to start the new year!!!




Kudos to Mr. Tobias and Mr. Rayamajhi for working with central office aides over the holiday to inventory, tag, and prepare all devices for students!




Shout out to the Athletic Department, specifically the Boys and Girls Basketball Teams for participating in Holiday Tournaments!! Kudos to Coach A for coordinating our events!!!



LATINO MAGAZINE INVITES CHEC TO CAREER FORUM
It is time to focus and make every minute count. We have key assessments coming up to end the advisory, and as usual, we want to make sure the assessment conditions are well organized and promote students best effort.
Date Change – Early Release Day has been changed from January 3 to January 10




Interims and Finals – January 11 and 12 (there are six instructional days from when we come back to the Interims and Finals)




Portfolio Presentations – January 17 and 18 (there is one instructional day between Interims/Finals and portfolio presentations)




End of the Advisory – January 19



The implications for the seven instructional days before interims/ finals and portfolios, means that preparation for both of those assessment events will need to be done in an integrated fashion over those seven days. Preparing students to organize their portfolio documents should begin this week, and practice for the actual presentations can be done in a way that students are reviewing concepts and knowledge for the interim/final as well. The key to this is a strategic and tight instructional planning process over these seven days. Please be sure to remind students of upcoming assessments, as well as any assignments or work they need to make up before the advisory ends.
January 2 - January 5, 2017
IN THIS ISSUE

Leadership Team and Other Updates
Opportunities and Updates
Ambiente, creating a climate for learning
Upcoming Events and Activities
LAST WEEK'S RESULTS
The high school girls basketball team competed in the annual Title IX tournament defeating Chesapeake Math and IT North and Surratsville and losing to Pikesville. The varsity boys basketball team completed in the Dunbar Holiday Showcase and lost to Thurgood Marshall and Seed.
The Washington Post (allmetsports.com) released its ALL MET teams for the fall sports season. CHEC had five student-athletes make the teams.
Edgar Ayala Honorable Mention
Ariana Reyes Honorable Mention
Ronnell St. John Honorable Mention
Teyonte McKenzie Honorable Mention
f
-------------------------------------
LINCOLN

BELL

Junior Varsity Basketball – 3 - 2
Varsity Girls Basketball – 5 - 4
Varsity Boys Basketball – 1 - 6
THIS WEEK'S SPORTS SCHEDULE
Monday

​Tuesday

Wednesday
Indoor track Invitational at 2:00 at PG Sports and Learning Complex
Thursday
Middle School Girls Basketball vs. Johnson at 4:45 @ CHEC
Middle School Boys Basketball vs. Johnson at 6:00 @ CHEC
Friday

Junior Varsity Basketball vs. Wilson at 4:00 @ CHEC
Varsity Girls Basketball vs. Wilson at 6:00 @ CHEC
Varsity Boys Basketball vs. Wilson at 8:00 @ CHEC
​Saturday

WEEKLY CALENDAR
Monday

SLC Morning Meeting
Academic Leadership Team Meeting
Thursday
SLC Morning Meeting
Department Planning Period Meeting
Department Planning Period Meeting
MS Spelling Bee – Auditorium 9:00 a.m. – 11:00 a.m.
UPCOMING EVENTS AND ACTIVITIES
CHEC Latin Jazz Ensemble Performances
Saturday, February 17, 2018
Mid-Atlantic Jazz Festival
The MAJF High School Jazz Band and Combo Competition Hilton
1750 Rockville Pike, Rockville, Maryland 20852 All Day Event Performance Time: TBA
UPDATES FROM: FACULTY MTG LEADERSHIP GLOBALIZE DC
LIBRARIES
JANUARY FACULTY MEETING
The January Faculty meeting will be held on January 11, due to the ALT Meeting this week. The agenda will be provided next week.
The Leadership Team will continue to meet on Wednesdays this year. Last meeting, the team worked on determining our progress in our CSP in the area of Science. Team members looked at GRASPS, student work, and assessments, in order to provide feedback on AP alignment. The notes from the meeting are attached in this link:
The next meeting with be on Wednesday, January 3, and the Social Studies Department will present on the progress in Social Studies on aligning GRASPS to AP rigor. The Leadership Team is a group of teachers, counsellors, and administrators who meet every week to discuss school needs, and plan for improvements. The Leadership Team designs the school's comprehensive school plan, and helps in its implementation. Please consider joining the Leadership Team this year. It is open to all faculty and staff. We need the involvement and voices of all. Remember, Leadership team meetings are open to all who are interested in schoolwide decision-making and leadership. You can come once, or as many times as you like, but please make your voice heard!
GLOBALIZE DC
CHEC partner Globalize DC has been selected for a Japanese government sponsored educational trip to Japan, called a Kakehashi exchange, February 19-27. Students from CHEC enrolled in the Japanese class were selected to participate:
Jamilet Rivera,
Emely Flores,
Dawit Amare,
Juliana Franco,
Jasmine Alarcon
CHEC LIBRARIES

------------------------------
Schedule CHEC Library Visits
ATTN ALL CONTENTS: Schedule a visit to your Lincoln MS or Bell HS Library before winter break starts! Both libraries have thousands of print and electronic resources available to you and students to check out and read over break - A perfect opportunity to add to your 25 Books Campaign logging.
------------------------------
Beanstack Logging System is LIVE!
The creators have Beanstack have finished uploading all student and staff data so that you are now able to log in, register, and track your reading.
Student log ins are standard DCPS procedures: Username is STUDENT ID and password is DOB format: MMDDYY.
Teacher log in procedures: Username is first.last and password is District ID: 000#####
Log in and log your books at chec.beanstack.org
------------------------------
Bell Library Reservations
The CHEC Bell High School Library would love to invite teachers and staff to reserve library space via our new platform, Skedda (
https://reservechecbelllibrary.skedda.com/booking
). Once booking your first reservation you will be prompted to create a quick login. Users will be able to see when space is available and when space is unavailable. This will allow for transparency and comfort in knowing that the time that you have requested, is available. There is also a space for *notes. If you would like to request AV material (i.e. projector) I can have that available and set-up for you.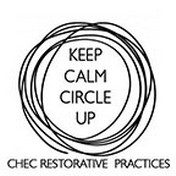 Restorative Justice in Oakland Schools: Tier One. Community Building Circle
VISITORS TO CHEC THIS WEEK: VERIZON STEM BUS
AMAZING CHEC STUDENT ART FOR 2018 CALENDAR !