CHEC bulletin for Week of October 29, 2018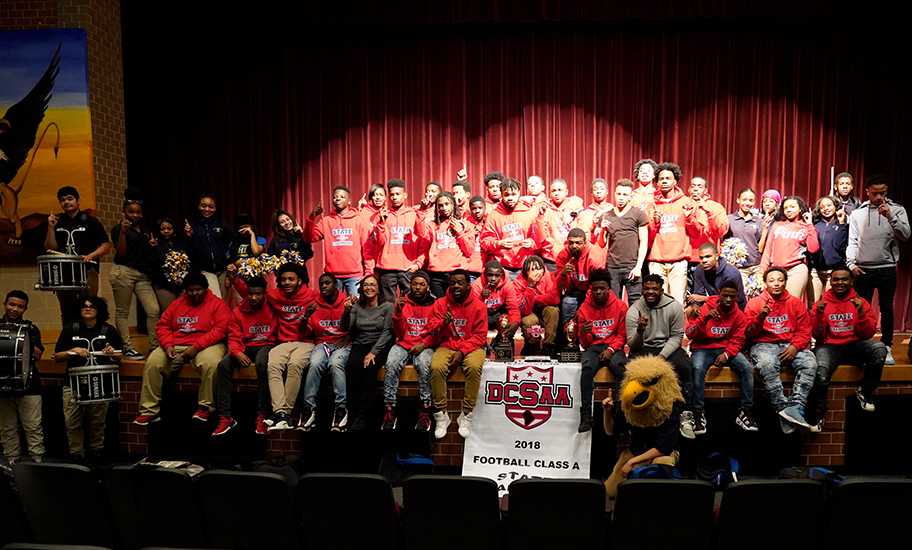 CHEC FOOTBALL TEAM WINS DECSAA STATE CHAMPIONSHIP. GO GRIFFINS!
MARIA TUKEVA'S (MT) MESSAGE:
WELCOME BACK FROM BREAK!
We hope that everyone has had a wonderful Thanksgiving Break, and is refreshed and rejuvenated! As the holiday season continues, it is important to exercise self care, and be attuned to our students and their families as they may confront stresses during the holidays. We look forward to finishing 2018 strong!
Within the next two weeks, the Office of State Education (OSSE) will be releasing the School Report Cards. The DC School Report Card helps parents understand how a school is doing with all of its students, in addition to helpful information about the school itself, including the closest public transportation routes, academic programs and extra-curricular options, the best contact person for parents and families, and more. The DC School Report Card will help parents answer some of the most crucial questions about your child's current school, and is a first step for parents and families thinking about their child's next educational step.
As part of the Report Card, every school's performance is measured and rated by the annual STAR (School Transparency and Reporting) Framework. Schools receive a rating from one to five stars, five being the highest. The ratings are based on metrics for academic achievement, academic growth, school environment, and language acquisition. The metrics are all disaggregated by subgroups, so that there is a focus on attaining equitable outcomes for all students. The metrics are quite complex, and in order to make sure we as a school community and parent community understand what they mean for our continued growth, we will have a series of meetings over the next few weeks with staff, parents, and the Local School Advisory Team (LSAT).
Once we receive our STAR rating, we will share it with the entire community, and delve into the specific data points, to celebrate our strengths, and build on our areas of growth. The STAR rating metrics are aligned to our Comprehensive School Plan, so we will not have to change directions or focus. We look forward to receiving our STAR rating and utilizing the data to continually refine our instructional program.
SHOUT OUT TO COACH TYSON, COACH A, COACH DUVALL, COACH WEST, AND THE CHEC GRIFFINS FOOTBALL TEAM FOR WINNING THE DCIAA AND STATE CHAMPIONSHIPS!!!
Shout out to Ms. Dulce Nunez for presenting to our parent group on the dangers of human trafficking!!!
Shout out to Mr. Talarico and Ms. Henry for assisting our students in meeting the deadline for the OSSE Scholars!
Shout out to Ms. Thweatt, Ms. Warren and all of the facilitators for our faculty meeting! Ms. Malcolm, Mr. Talarico, Mr. Aguilar, Mr. Schutt, Ms. Athmer, Ms. Penn, Ms. Crivelli, Ms. Henry and Ms. Ermis!!
Kudos to Ms. Penn-Pearson for coordinating our Verizon site visit, and for Mr. Lopez Febres, Ms. Chatalian and Ms. Ryan for hosting visitors!!
Shout out to all of our Camp Horizons Chaperones for doing an outstanding job of building leadership among our students – Ms. Weiss, Ms. Gonzalez, Mr. Olson, Mr. Gonzalez, Ms. Carino, Mr. Caceres, Ms. Bruggeman, Ms. Alvarado, Mr. Alvarado, Mr. Ellingsen!!!
CHEC was nominated for two Standing Ovation Awards – one for Empowered Team and one for Families Together! Kudos to members of our faculty who supported the site visits by hosting classroom visits and meeting with the selection panel members – Mr. Boone, Mr. Magee, Mr. Talarico, Ms. McCulloch, Ms. Alvarado, Ms. Whitaker, Ms. Chiu, Ms. Chatalian, Ms. Bernard, Ms. Peddyreddy, Ms. Warren, Ms. Yanez, Ms. Gonzalez, Mr. Molina, Ms. L. Lemus!!!! Thank you for sharing all that we do at CHEC!!
Kudos to all teachers whose classes were visited and who represented CHEC in our Instructional Superintendent Walk! Classes were randomly selected by the IS and his team, and the feedback was extremely positive!! Shout out to Ms. Abbondanza, Mr. Hunter, Ms. Hartwill, Mr. Zinzarella, Ms. Emilius, Mr. Cohen, Mr. Rowe, Ms. Ngacha, Ms. Ferreira, and Mr. Olson.
Shout out to Ms. Spinks and Ms. Thweatt for coordinating our Senior Convocation!!!
Monday, November 26, 2018
Tuesday, November 27, 2018
Wednesday,
November 28, 2018
Early Release Day- Departmental Curriculum Development Time, PLT Reset for Middle School and 9
th
Grade
Academic Leadership Team Meeting
Thursday, November 29, 2018
Departmental Planning Period Meeting
Friday, November 30, 2018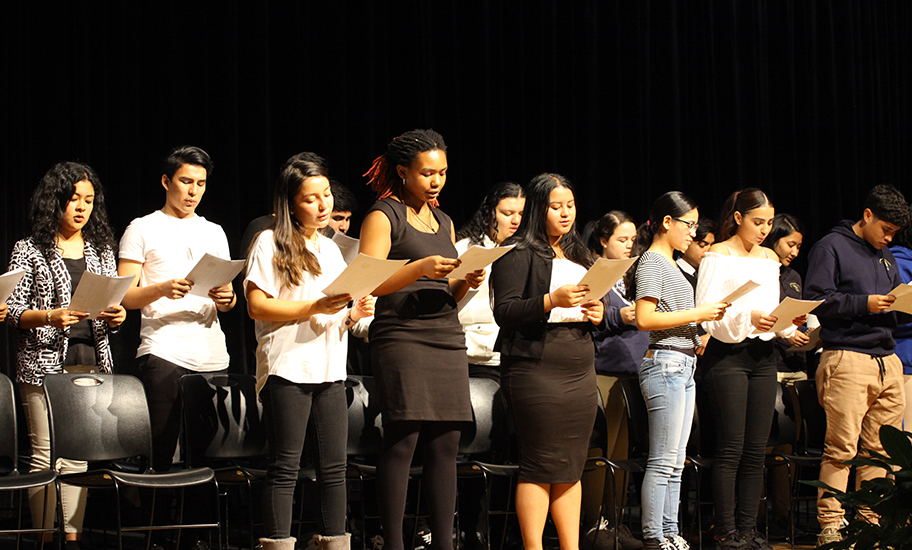 CHEC NATIONAL HONOR SOCIETY AT THE 2018 CONVOCATION
We will be doing further training for all staff to further improve our school culture and climate. The following are suggestions as we go forward that will help us to keep student safe and accountable and promote consistency in and out the classroom.
Build Positive Relationships

Follow the CHEC 5 Step Process

Proximity

Utilize Restorative Justice

Stay in constant communication with student and parent (Give positive praises and updates)

Restitution Speeches (Involve Culture Team)

Tap into student's interest (Sports, Performing Arts, etc.)

Tap into school resources (Social Workers, Mary's Center, etc.)

PBIS and/or in class incentives

Utilize a plan for success
Please make sure to use the new updated referral sheet that is attached to log behavioral infractions.
Please don't lose sight of the following:
Please do not lose sight of each of the following below, as they are crucial to maintaining and improving the culture that we desire:
Please share these important reminders with students and parents.
Sweaters/jackets – if they are out of uniform, they should be in lockers all day or confiscated. Lincoln and Bell sweaters can be bought from the Deans or the Main Office. Lincoln and Bell sweaters $21 and sweaters with the zipper $27.

Please call parents when you see students out of uniform and refusing to get in uniform to ensure it is very clear that they should be in full uniform at all times. Refer any further questions to Dean Aking, Dean Boone and Dean Galvan.
Detention is a first intervention we have for students to check and correct their behavior in your classrooms. Students being informed of this consequence is vital to the effectiveness of the consequence. Remember to use our 5 step process with fidelity so that our students will not earn a greater consequence of ISS and thus lose valuable class time.



We always need more support at dismissal from 3:15pm until 3:35pm (High School), 4:15pm until 4:35pm (Middle School). Please follow students all the way out to the front of the building. Students should be encouraged to move on toward their bus stops/metro quickly. Teachers and staff that can make themselves available to stay out front will be greatly appreciated.



All lunches have their ups and their downs. We always appreciate additional supports in the cafeteria on days that teachers are available. Check-ins with students build relationships and adult presence supports our daily procedures in lunch.
Athletics are an integral part of the educational program and a means to accomplish the goals of education. Our athletic program exists for the welfare of students and the contributions it makes to their educational experience. Athletic participation builds self-esteem and confidence and provides the necessary tools for success. The interaction between individuals on the fields of sport teaches students the value of teamwork, while developing the proper competitive spirit, combined with a sense of fairness.
2018 DCSAA FOOTBALL CHAMPS!!!
Congratulations to Coach Tyson and the High School Football team on winning both the DCIAA & DCSAA Championships. Please congratulate all the players and coaching staff when you see them. The winter sports' season begins this week for high school. Please come out and support your Griffins!
Congratulations to Coach Ferguson and the Middle School Archery Team on a great season. The Archery team finished the season with a loss to Stuart Hobson. Congratulations also to our High School Boys Soccer, Girls Soccer, and Volleyball teams who all qualified for their respective state tournaments. The High School Boys Soccer team lost to Wilson in the state quarterfinals. The High School Girls Soccer team defeated School Without Walls in the state quarterfinals but lost to Georgetown Day in the semi-finals. The High School Volleyball team lost to Washington International in the state quarterfinals.
Varsity Girls Basketball: 0 - 0
Junior Varsity Basketball: 0 - 0
Varsity Basketball: 0 - 0
Varsity Basketball Scrimmage at St. Anselm @ 5:30 p.m
Varsity Girls Basketball vs. IDEA Public Charter School at IDEA Public Charter School @ 2:00 p.m.
Varsity Basketball vs. IDEA Public Charter School at IDEA Public Charter School @ 4:00 p.m.